MARJCC's Meet the Author Jewish Book Series
When:
February 23, 2022 1:00 PM
Where:
Sanford L. Ziff Campus
18900 NE 25 Street
North Miami Beach, FL 33180
Organizer:
Amy Erez
Contact:
David Surowitz at davids@marjcc.org ((305) 439-9922)
Cost:
Complimentary
Summary:
Author Annette Libeskind Berkovits discusses her soon-to-be-released historical novel, The Corset Maker, on Wednesday, February 23, at 1:00 p.m., at the Michael-Ann Russell Jewish Community Center located at 18900 NE 25th Avenue, in North Miami Beach.
Event Details
Description
This presentation is part of the MARJCC's complimentary Meet the Author Jewish Book Series presented in partnership with Chabad Chayil, Mishkan Miami of the Greater Miami Jewish Federation, and Temple Sinai of North Dade.

The central character in The Corset Maker is inspired by the author's mother's life, Dora Libeskind, and portrayed through the eyes of Rifka Berg, a young Orthodox Jewish girl who rebels against her family. With its beginning in 1930 Warsaw, the story, spanning several decades, takes Rifka from her native Poland to countries that include France, Palestine, and Spain—in a journey of self-discovery and survival.

Prior to The Corset Maker, Berkovits, a scientist, educator, and conservationist, has published two memoirs–In the Unlikeliest of Places: How Nachman Libeskind Survived the Nazis, Gulags and Soviet Communism and Confessions of An Accidental Zoo Curator, and has penned a poetry book, Erythra Thalassa: Brain Disputed.

Light refreshments will be served at the program, and at its conclusion, books will be available for purchase and signing by the author.

The Meet the Author Jewish Books Series is made possible, in part, "With the support of the Miami-Dade County Department of Cultural Affairs and the Cultural Affairs Council, the Miami-Dade County Mayor and Board of County Commissioners" and the Florida Division of Arts and Culture.
Address
Sanford L. Ziff Campus
18900 NE 25 Street
North Miami Beach, FL 33180
Directions
Get detailed directions and more on Google Maps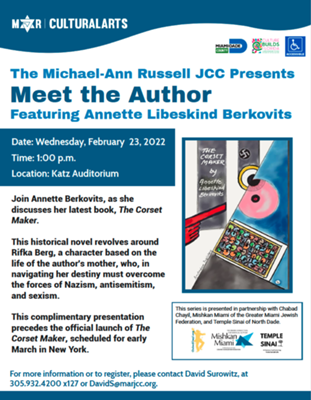 Actions
2022-02-23 13:00:00 2022-02-23 13:00:00 America/New_York MARJCC's Meet the Author Jewish Book Series Author Annette Libeskind Berkovits discusses her soon-to-be-released historical novel, The Corset Maker, on Wednesday, February 23, at 1:00 p.m., at the Michael-Ann Russell Jewish Community Center located at 18900 NE 25th Avenue, in North Miami Beach. (http://jewishmiami.org/events/marjccs_meet_the_author_jewish_book_series) Sanford L. Ziff Campus, North Miami Beach, FL 33180 Amy Erez davids@marjcc.org