Pride Shabbat with Repair the World Miami, Keshet, & OneTable!
When:
March 31, 2023 7:00 PM to 9:00 PM
Where:
Dear Eleanor
120 NE 27th St.
Miami, FL 33137
Organizer:
Delayna Feuerzeig
Contact:
Delayna Feuerzeig at

[email protected]

Cost:
$14
Summary:
Join Repair the World Miami, Keshet, and OneTable for Pride Shabbat on Friday, March 31st from 7-9 pm at Dear Eleanor!
More information
Event Details
Description
We are coming together to curate an evening that explores with you the intersections of Judaism, social change, and queerness over a delicious and connecting dinner. We welcome the Queer Jewish community and all allies to engage in this meaningful evening.

We will bring in Shabbat promptly at 7 pm with a Queer take on ritual. Over a delicious SuViche dinner and drinks, we will reflect on Queer and Jewish identities, Shabbat, and avenues of advocacy.

Register at the link in our bio, $14 early bird tickets are available until March 22nd! We don't want cost to be a barrier to you. Please reach out to Delayna at [email protected] for more information or for a discounted/free ticket!

For more information about the organizations partnering on this event, visit: weRepair.org/Miami / onetable.org / keshetonline.org
http://bit.ly/41V9nW3
Address
Dear Eleanor
120 NE 27th St.
Miami, FL 33137
Directions
Get detailed directions and more on Google Maps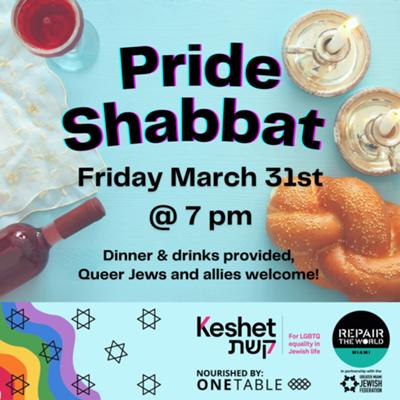 Actions
2023-03-31 19:00:00 2023-03-31 21:00:00 America/New_York Pride Shabbat with Repair the World Miami, Keshet, & OneTable! Join Repair the World Miami, Keshet, and OneTable for Pride Shabbat on Friday, March 31st from 7-9 pm at Dear Eleanor! (http://jewishmiami.org/events/pride_shabbat_with_repair_the_world_miami_keshet_onetable) Dear Eleanor, Miami, FL 33137 Delayna Feuerzeig [email protected]