Tisha b'Av Ceremony
When:
August 6, 2022 9:00 PM to 11:00 PM
Where:
Miami Beach
Please contact [email protected]
FL 33140
Contact:
rabbi Marc Philippe at

[email protected]

((305) 409-2611)
Cost:
free
Summary:
TISHA B'AV, with the traditional reading of the Book of Lamentations.
More information
Event Details
Description
TISHA B'AV

The saddest day in the Jewish calendar offers an awesome opportunity: To transform darkness into Light.

As we chant the Book of Lamentations and sing appropriate songs, we will manifest PEACE, LIGHT and BLESSINGS.

For more information, please visit kodeshhouse.org

Welcome!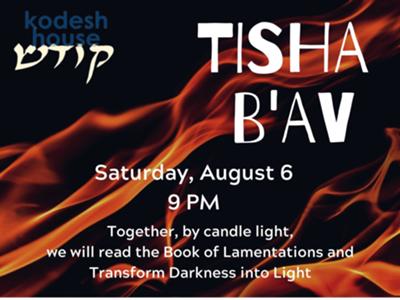 Register
To register for this event, please click here.