We are United - March in Unity
When:
November 5, 2023 3:00 PM to 6:00 PM
Where:
Freedom Tower at Miami Dade College
600 Biscayne Blvd.
Miami, FL 33132
Contact:
Matt Anderson at

[email protected]

Summary:
We invite you to join our Miami Movement to March in unison against hate on November 5, 2023. To register please click on More information below:
More information
Event Details
Description
ROUTE: We will begin at the Freedom Tower which is a symbol of hope, courage, opportunity, and the quest for freedom. Ending at the Underline which is a symbol of a more connected Miami.
In this country, hate motivated attacks, antisemitism, and Islamophobia, have reached an unprecedented high.
Mosaic Miami has joined forces with South Florida community leaders and organizations in the spirit of the belief that we're better off united, regardless of race, color, religion, origin, and political affiliation. Yearning for the days when people had constructive conversations despite having differences and we are determined to bring those days back.
Address
Freedom Tower at Miami Dade College
600 Biscayne Blvd.
Miami, FL 33132
Directions
Parking is available at Miami Dade College Campus (parking lot) at the base of the Freedom Tower. 500 NE 2nd Avenue Miami FL 33132.
Get detailed directions and more on Google Maps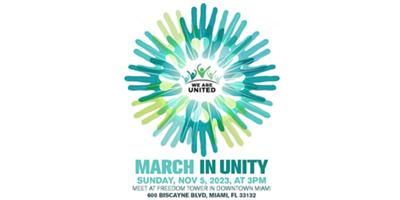 Actions
2023-11-05 15:00:00 2023-11-05 18:00:00 America/New_York We are United - March in Unity We invite you to join our Miami Movement to March in unison against hate on November 5, 2023. To register please click on More information below: (http://jewishmiami.org/events/we_are_united___march_in_unity) Freedom Tower at Miami Dade College, Miami, FL 33132 [email protected]