24th Annual "Ministering to the Elderly" Conference on Thursday, May 30, 2019
In Search of A Good Death
What constitutes a "good death" and how can we help those in our care achieve this goal? In the modern medical culture in America, these questions impact many of us in fundamental ways, yet the road map to that good death is often unclear. It is time to have a conversation about the capacity and limits of health care to heal, what we mean by quality of life and how those values express themselves in our lives.
The traditional paradigm where the doctor decides and the patient has no input in medical decision making is no longer seen as the right one. The conventional role of physicians to preserve and extend the life of patients at all costs has also come into question. And the need to involve others — such the patient, loved ones, other medical staff, social workers and chaplains — is now widely recognized. We need to balance medical interventions and the welfare and comfort of the person nearing the end of life. In short, the new paradigm calls for a "good death."
This new paradigm involves all those who are part of the patient's immediate circle, because everybody has something vital to contribute to the decision making — not just the physician. Everybody has a role and everybody can be a hero. And so we ask ourselves: What is my role in dealing with my doctors about my end-of-life prospects? What is my role in the search for a "good death" for my loved one or my patient? What are my responsibilities as part of this new paradigm? How can I be a new kind of hero?
The Program
This year's conference will be led by Dr. Jessica N. Zitter, a noted physician, palliative care expert and medical ethicist. Dr. Zitter calls us to rethink the role that each one of us has in deciding the best course of action when someone is near the end of life and to revisit what we mean by being a hero in such a situation.
Dr. Zitter will lead conference participants in the discussion of our individual roles in searching for a "good death." She will touch upon models of ethical decision making that allow us to identify the values at stake, to recognize the relation between such values and to gauge how they apply to the patient's situation. The program will help us assess how our values influence the end-of-life decisions and devise a strategy in each individual case to deal with tensions that arise between conflicting values. The conference also will also discuss ethical frameworks for decision making, helping us establish a dialogue between all parties concerned, formulate patient-centered care plans that respect cultural and personal backgrounds and beliefs, and examine the challenges that autonomy may pose in end-of-life care.
Continuing education credits will be available for mental health care professionals, guardians and nursing home administrators.
Miami Jewish Health
Ruby Auditorium
5200 NE 2ndAve
Miami, FL 33137

8:00 a.m. – 1:30 p.m.

$36 per person

Includes CE credit, continental breakfast and lunch.
Miami Jewish Health maintains a traditional kosher kitchen but is not under an external kosher supervision agency. Please call 786.866.8621 if you request a kosher certified meal (KM Hashgacha) or if you have a special dietary request.
Sponsorships and exhibit tables available. Call 786.866.8621 for more information.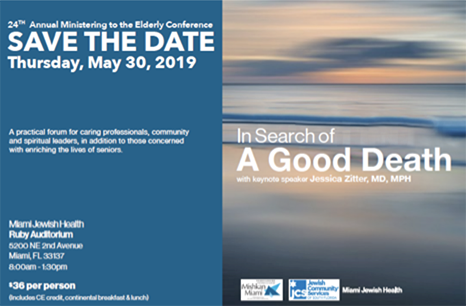 *Jewish Community Services of South Florida (JCS) has been approved by the Florida Board of Psychology and the Florida Board of Clinical Social Work, Marriage and Family Therapy and Mental Health Counseling to sponsor 3.5 continuing education credits for mental health professionals. Also, The South Florida Guardianship Association has been approved by the Florida Statewide Public Guardianship of ce for 4 CEUs for guardians. Continuing education credit will also be available for nurses.