Dec 3, 2018
Ethiopian-Israelis Benefit From Your Federation Donation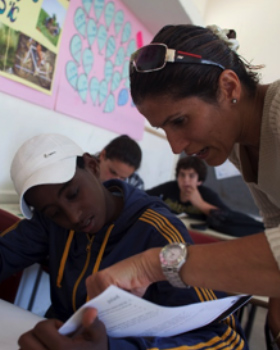 Your donation to the Annual Federation/UJA Campaign is helping strengthen the Ethiopian-Israeli community in Israel. In addition to supporting programs that focus on education and teacher training, Federation dollars are funding a variety of initiatives in 2019. From academic guidance and legal counsel to empowering adolescent girls, Federation is committed to helping Ethiopian-Israelis bridge the gap in social, educational and cultural acclimation to their new home.
These include PUSH, which offers free academic help to underprivileged students in Jerusalem and Haifa; Tebaka, which provides complimentary legal counsel to those seeking resolution with such issues as discrimination, pension and medical leave disputes; Yemin Orde Youth Village, for an empowerment program for adolescent girls and Olim Beyahad, for a media initiative to change perceptions about the Ethiopian-Israeli community.
To learn about other ways your Annual Campaign donation support the Ethiopian-Israeli community, click here.