May 2, 2023
Women's Amutot Initiative Study Trip Explores Impact of Community Dollars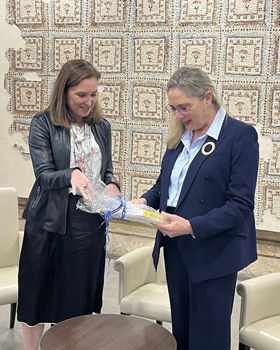 Immediately following the Israel 75 Miami Mega Mission, a group of women from Miami embarked on a special mission of their own: the Women's Amutot Initiative Committee Israel Study Trip. From April 27 to May 1, participants met with almost half of the 22 Israeli nonprofit organizations that our community dollars support to improve the lives of women and girls in Israel. "If we can better their lives, it benefits all of Israeli society," said Ilene Kossman, Chair of the Women's Amutot Initiative Committee. Founded 22 years ago, the Women's Amutot Initiative provides funding through a gender lens to programs that focus on economic and social empowerment, leadership development and protecting women against violence. 
Highlights of the trip included a personal meeting with Israel's First Lady Michal Herzog at the President's residence, where they discussed the impact of women helping women; a lunch meeting with Amira Ahronoviz, CEO of Federation's overseas partner The Jewish Agency for Israel, where the conversation centered around the vital connections between Israel and Miami and the state of immigration; and an afternoon with Israeli Lions of Judah.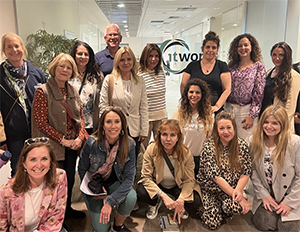 The participants had the opportunity to visit professionals and program recipients from the following organizations:
Women's Spirit, which promotes financial independence for women survivors of violence by providing employment assistance, emotional support and advocacy
Adva Center, which works to create sustainable change to the lives of women through engaging in research and policy monitoring, advocacy, popular education and community action projects on issues like Israel's housing crisis and equal pay
WePower, which promotes women's leadership to high levels of decision-making and elected positions, training women to run for municipal council or mayoral positions, as well as promoting gender equality
Jasmine, which trains women to enable them to serve on various board of directors positions at companies or nonprofit organizations
Michal Sela Forum, which works to eliminate domestic violence through innovation and technological tools
ITWorks, which is working with single mothers throughout Israel to provide vocational technological and soft skills training, as well as job placement assistance to narrow the income gap for this group
The Association of Rape Crisis Centers in Israel, which supports survivors of sexual violence by advocating for them and advancing laws and policies on their behalf
Center for Women's Justice (CWJ) and Mavoi Satum, which are collaborating on a project to mainstream the concept of prenuptial and post-nuptial agreements to ensure women are protected in the case of divorce. CWJ is a public-interest law organization leading in defending the basic human rights of Jewish women in Israel to equality, dignity and justice within Jewish law. Mavoi Satum spearheads change through ongoing legal and psychological support of individual cases of women who have been denied or are awaiting a get.
The group also heard from Sheatufim – Collective Impact, an alliance to prevent intimate partner violence by bringing together government, business and social sectors
To learn more about Federation's Women's Amutot Initiative, click here or contact Dahlia Bendavid, Director of Israel & Overseas, at dbendavid@gmjf.org or 786.866.8445.