It's Happening In Miami
Posts by Liat S
Enjoy an amazing evening of celebration on Miami Beach. Featuring: unlimited vodka, unlimited latkes, music from DJ Eran Hersh, our famous Dreidel Pool, and more.
Join us on Wednesday, December 8th, 2021 @ Sky Yard Miami Beach for our annual Chanukah celebration!
8:00pm-11:00pm features unlimited Vodka, with standard mixers, Venue will remain open with regular pricing after 11:00pm.
The Chanukah Grand Klezmer Concert will provide a safe opportunity for senior citizens to get out and celebrate. There are 2 seating options: Upstairs for those that wish to wear masks and social distance. Downstairs there are no restrictions. The concert will feature Cantor Zevy Steiger from Belgium together with 3 Klezmer musicians to thrill the audience. Special Bonus! Cheese and wine tasting display together with other Chanukah delicacies. Buy tickets at the door. Reservations are appreciated. Please call (305) 770-4540 or email reserve@UnitedJewishGenerations.com
Shul of Bal Harbour
The Museum of Contemporary Art North Miami is pleased to announce its forthcoming exhibition My Name is Maryan—a monographic presentation of four decades of paintings, sculptures, drawings and film by the iconoclastic, ground-breaking Polish-born artist Maryan. The exhibition opens to the public on November 17, 2021, and will remain on view until March 20, 2022. The exhibition reception will take place on December 2, in conjunction with Miami Art Week.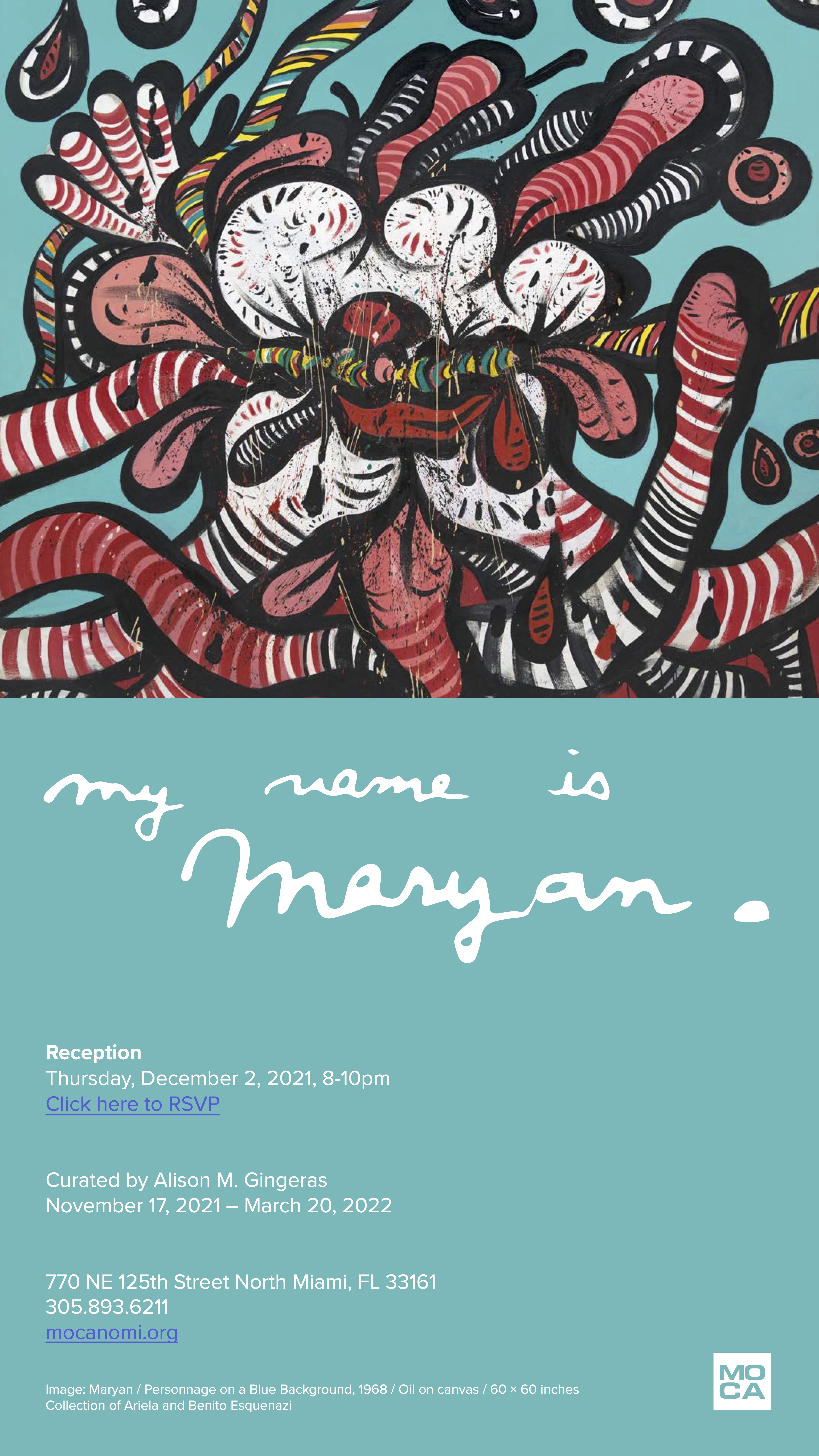 Join the Jewish Museum of Florida-FIU for a Challah-day cook-along with Miami-based chef and Jewish educator Romi Naparstek! In this unique class, we'll blend Shabbat and Thanksgiving traditions to make Cranberry Orange Challah. We will also discuss some other variations and alternatives to spice up your holiday menu! Get your ingredients ready at home to cook-along or join us on screen for a demo as we come together to bake in community.
November 16, 2021 7:00 PM to 8:00 PM
Contact Luna Goldberg at lugoldbe@fiu.edu
Romi Naparstek is passionate about helping others discover the joy of homemade pastries. With a desire to expand her baking skills and knowledge, Romi attended the Argentine Institute of Gastronomy in Buenos Aires in 2015 where she mastered techniques to become a professional baker. That same year, she opened La Romi Bakery. As the founder of La Romi Bakery, a baking school in Miami, she brings decades of experience as an educator to create cooking classes to help her students foster creativity, independence and confidence in the kitchen. Romi believes the kitchen is like a playground–a place to experiment, learn and have fun. She invites anyone to wants to experience the joys of baking to get messy in her kitchen.
This complimentary program is sponsored by the Greater Miami Jewish Federation Incubator Grant.
For the past 39 years, we have had the opportunity of bringing a community together to share in an intergenerational experience. The MAR-JCC Hebraica Maccabi Games is an Olympic-style sporting competition. This week-long athletic event features over 700 competitive games in 13 different sports including Basketball, Swimming, Track and Field, Tennis, Soccer, Volleyball, Flag-Football, and more. The Games attract about 2000 registered athletes, and up to 3,000 spectators daily. All participants - children, college age and adults are divided into 8 teams (named after participant countries of origin). The children's teams are then divided by age/school grade. Over the years, the games have added programs and activities that promote socialization "off the field" including a dance competition, bingo games, chess, bowling tournament, and an evening of domino. During this time, friendships and connections are created. The Maccabi Games, organized by a committee of dedicated volunteers and staff members, has established itself as South Florida's leading Jewish sporting event. Individuals and families from all over North Miami Dade County, as well as other areas of South Florida, the United States, Latin America, and Israel come together at the Maccabi Games to take part in a unique event that helps to maintain cultural ties, while promoting friendly competition and camaraderie, in a family friendly setting.
November 18, 2021 6:00 PM to November 28, 2021 4:00 PM
Where: Michael-Ann Russell JCC
18900 NE 25th Avenue
North Miami Beach, FL 33180

Diane Azout at diania@marjcc.org ((305) 932-4200)

History of the Event Maccabi Games was first organized in 1982, when a small group of Latin Jewish immigrants decided to continue the tradition of these Games that were so popular in their native Latin American countries. From its inception, athletes would register for the Games by country of origin, allowing them to maintain cultural ties to the countries from which they emigrated. Thirty six years ago, there were 350 children and adults, divided into four teams. Today, the Games have become a reflection of South Florida's large and diverse Latin Jewish population, but also embraces participation by the total Jewish community