It's Happening In Miami
Posts by Liat S
Best known for her GRAMMY® Award winning children's album, 'All the Ladies' (a female empowerment folk collection!), singer-songwriter Joanie Leeds will be joining us for a weekend of music, worship and family fun activities. Her music has been featured in The New York Times, People Magazine, Parents Magazine, Billboard and The Washington Post | joanieleeds.com https://www.tsnd.org/smf22
THE MAIN EVENT
4/10 @ 4pm: OUTDOOR FAMILY CONCERT | BYOB (bring your own BLANKET) and join us on the lawn for this all ages musical event. Arts & crafts stations, face painting and more. Kosher food, dessert and, of course, a Joanie Leeds CONCERT! (Tix info below)
4pm Concert 5pm fun Activities & Food/dessert (for purchase)
TICKETS: https://www.tsnd.org/smf22
Other Weekend Events:
4/8 @ 6:15pm: SHABBAT W/ JOANIE LEEDS | Join us for a special musical shabbat featuring Joanie Leeds. In person or streaming on www.tsnd.tv (FREE)
4/9 @ 7/8pm: COFFEE HOUSE SHOW | Join us for an intimate, sit-down show for adults. Acoustic sounds, meet the artist and storytelling. (Tix info below)
7pm Patron "Exclusive" Cocktail party 8pm show After show drinks & dessert for all
TICKETS: tsnd.org/smf22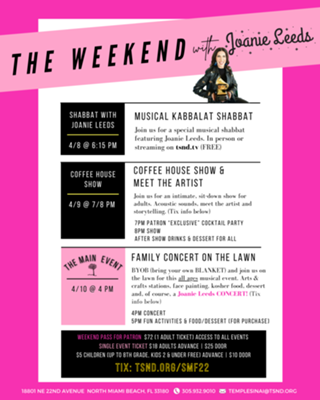 Join attorneys, scientists, investors, entrepreneurs, and the Jewish National Fund-USA community for an exclusive panel discussion with industry experts from the BioTech and MedTech sectors of Israel and the USA. Hear about groundbreaking medical advancements and the impact JNF-USA's programs have at ADI Negev Neuro Rehabilitation Hospital, Halutza Medical Center, Upper Eastern Galilee Medical Center, and Baruch Padeh-Poriya Medical Center-Rehabilitation Center.
To register online: http://jnf.org/innovations
If you have questions, contact: Michael Teichberg, Director, North Dade and Broward 305.682.0025 x897 mteichberg@jnf.org
Emmannuil Grinsphun, Chairman Board of Trustee, Jewish Community in Moldova, Ukraine will be the guest speaker at Temple Emanu-El on Miami Beach Saturday, March 26 at 10 am in the Sanctuary
Everyone is welcome!
LIVE STREAM is also available
Choose any day of the week to give back from the comfort of your own home. Volunteer for the Camillus House Casserole of Kindness program. From your kitchen to their hearts, volunteers are asked cook one of three meals and deliver it to the shelter. This is a fun, easy and meaningful way to do something good!
March 21, 2022 9:00 AM to March 25, 2022 4:00 PM
Lori Tabachnikoff at ltabachnikoff@gmjf.org
With everything going on in the world right now, it's easy to feel helpless and unsure of how you can make a difference in the lives of the countless individuals who are struggling during these times. During Good Deeds Days, organized by Federation's Jewish Volunteer Center (JVC), you can support vulnerable populations right here in our community. In partnership with Repair the World and the Arison Family Foundation, Good Deeds Days offers a full range of hands-on service opportunities.
Participants can distribute food at one of Federation's Free Kosher Food Distribution Drive-Thrus; tend crops at an urban garden; make sandwiches for those experiencing food insecurity; and deliver Passover food baskets during Jewish Community Services of South Florida's annual Matzah Mitzvah.
Come together and volunteer with your friends and family to make phone calls for the Annual Greater Miami Jewish Federation/UJA Campaign and help raise critical dollars to support our Jewish community.
ZOA Florida's flagship fundraising event of the year, honoring those who have gone above and beyond for Israel and stand out as true Heroes for Israel.
February 24, 2022 6:00 PM to 9:00 PM
Reservations, Sponsorships, and Ads/Tributes may be made:
ONLINE: http://weblink.donorperfect.com/flheroesforisrael2022
Help honor these incredible Heroes for Israel for everything they have done and continue to do for Israel and the Jewish people: Amb. David Friedman, Mayor Gabriel Groisman, and Rabbi Ariel Yeshurun/Skylake Synagogue! Your efforts support the continued joint work of ZOA and our honorees, and all of ZOA's crucial work in Israel activism and combatting antisemitism, on campuses, on Capitol Hill, and in the courts with ZOA's Center for Law and Justice. We welcome and encourage participation at every level. Those who wish to sponsor but are unable to attend in person may have any extra tickets go towards sponsoring students, for which they will be recognized.