Announcing Greater Miami Jewish Federation Coronavirus Community Resource Page. Visit JewishMiami.org/covid19 now to stay connected and up-to-date during the coronavirus crisis.
Join us on Thursday, April 23 at 5:30 for the 36th Annual Judicial Reception.
Click here to RSVP.
CANCELED: A presentation by Seffi Kogen, AJC Global Director, Young Leadership.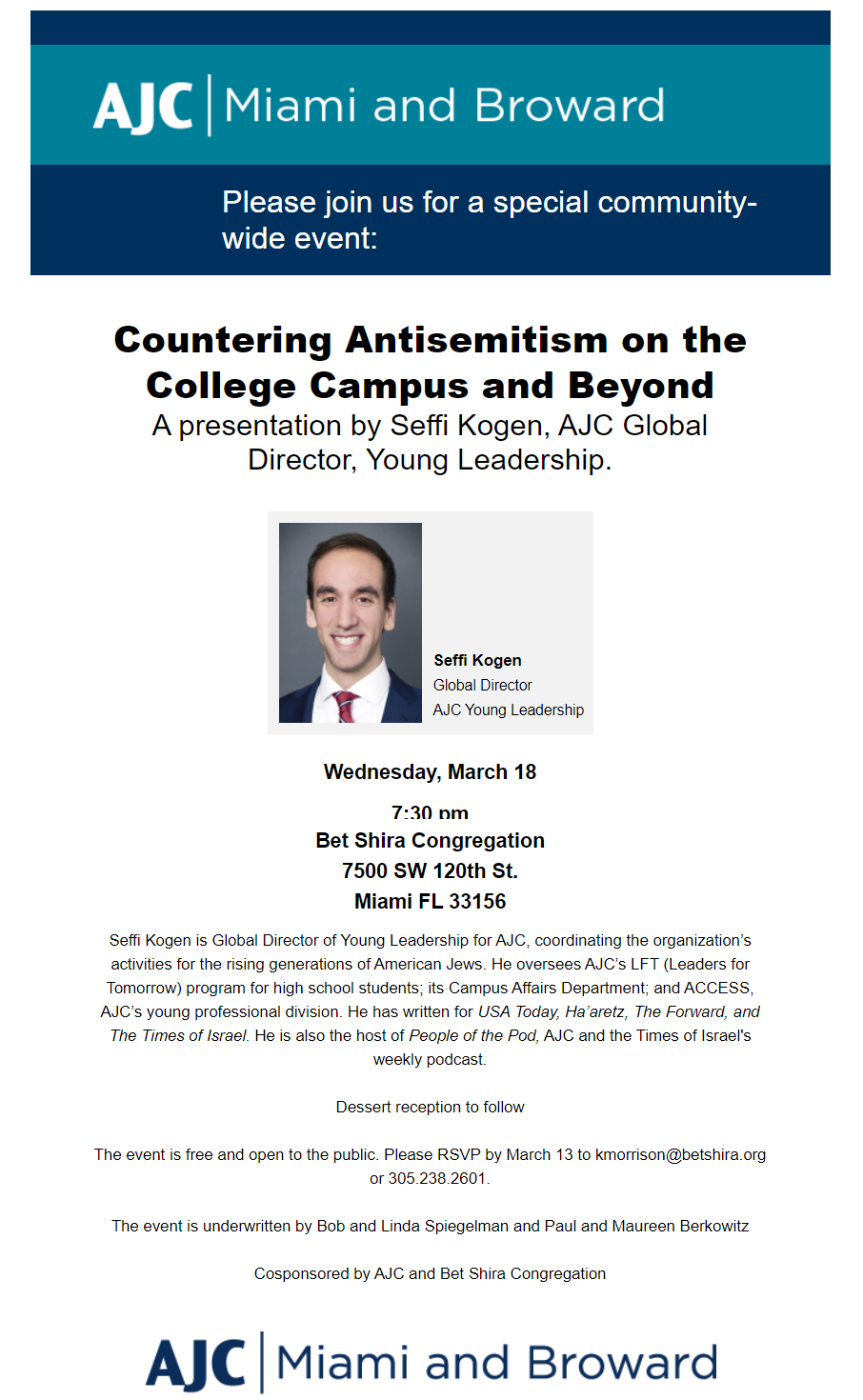 POSTPONED: CAJE "Comedy for a Cause" Celebration
Honoring Morrie Siegel (CAJE Chair), Mojdeh K. Danial, Laura Koffsky, & Tara Solomiany (Miami's Leo Martin March of the Living Strategic Plan Chairs)
For their deep commitment to ensuring a strong future for Miami's Leo Martin March of the Living.
CAJE is a vital component of our Jewish community and our educational system.
For more information visit caje-miami.org/celebration
Thursday, March 26, 2020
6 PM Registration | 6:30 - 9 PM Dinner & Program
Temple Beth Sholom 4144 Chase Avenue, Miami Beach

This worldwide effort advocates for inclusion of people with disabilities and mental health conditions to be active participants in Jewish life. Federation is proud to help local organizations raise disability awareness, remove barriers and celebrate diversity in our community. This month's activities include a special story time with PJ Library, an inclusive Shabbat service, a Tu B'Shvat celebration, a scavenger hunt and much more. For more information and to RSVP, click here.
The Greater Miami Jewish Federation is joining our global Jewish community in response to the 6.4 magnitude earthquake that struck southwestern Puerto Rico on January 7 along with the ones that followed it in the consecutive days.
It is estimated that 2,000 people were displaced and are living in temporary shelters as a result of structural damage to their residences. While power has been restored to parts of the island, many areas remain without electricity. The government of Puerto Rico has identified the need for basic supplies such as water, food and medical supplies as well as tents and cots to assist with sheltering those displaced and water sanitation efforts.
One hundred percent of all contributions will be directed to assist victims of the disaster relief fund you designate.
Donation checks should be mailed and made payable to the Greater Miami Jewish Federation, 4200 Biscayne Boulevard, Miami, FL 33137. Please note in the memo "Puerto Rico Earthquake Relief". For assistance, you may also call 305.576.4000.