In these challenging times, we know how difficult things are. Join us for an hour of Jewish-themed, stress-reducing strategies, entertainment and socialization for parents. You will receive a home-delivered kosher meal so you can participate without worrying about preparing dinner for your family. Program registration includes all three sessions.

Thursday, December 3, 2020 at 8 p.m.

Thursday, January 7, 2021 at 8 p.m.

Thursday, February 4, 2021 at 8 p.m.

CLICK HERE TO REGISTER
No cost to attend | Space is limited
RSVP by Monday, November 30 at 10 a.m.
Please join The Network for a mind-blowing and magical evening featuring Alan Chamo: World-renowned mentalist.

Using cutting-edge psychological and persuasive techniques to read minds and amaze audiences around the world, Alan presents a fast-paced, intimate and interactive experience where you will spend as much time laughing as you will scratching your head, wondering, "How did that just happen?"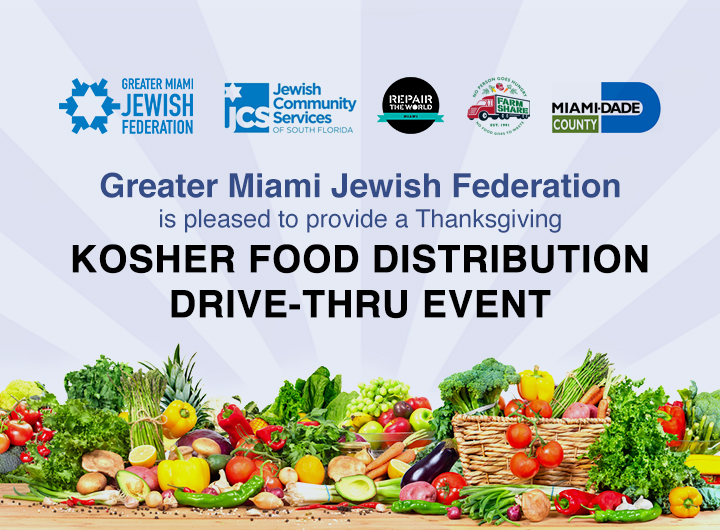 WEDNESDAY, NOVEMBER 25, 2020

First come, first served while supplies last.
Please do not arrive before 9 a.m.

Greater Miami Jewish Federation
Stanley C. Myers Building
4200 Biscayne Boulevard

Wednesday, November 18 at 8 p.m.
Virtual event via Zoom

BEYOND THE GHETTO GATES: A NOVEL
BY MICHELLE CAMERON

Curl up with a good book and then join us online for a discussion with the author. Even if you don't have time to read the book first...we want to see you online!

Give Miami Day is almost here! This year, you can begin participating early starting on Monday, November 16 through Give Miami Day on Thursday November, 19.
Donate on givemiamiday.org/jewishmiami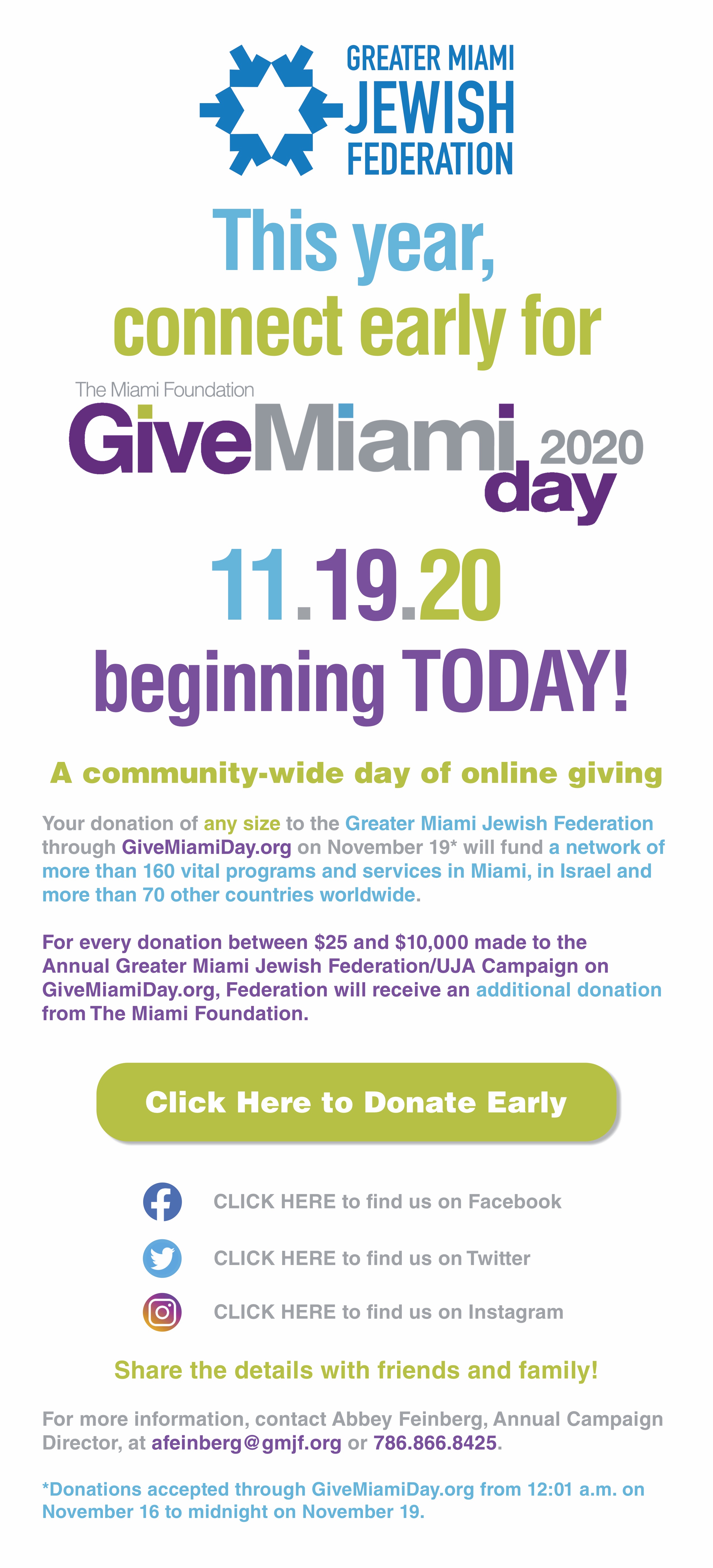 The Greater Miami Jewish Federation has established an Emergency Relief Fund to assist people affected by Hurricanes Eta and Iota in Central America. As always, Federation will absorb all administrative costs so that 100 percent of funds collected will be used to provide critically needed aid to people in Central America impacted by the disaster.
Our community has decades of experience with hurricanes. We understand the devastation and suffering that follow a catastrophic storm like Hurricanes Eta and Iota. Even in the midst of our own crisis, let us join together to help people affected — wherever they may live — to rebuild their lives.
The legacy of the Holocaust will be considered through cultural, scholarly and personal perspectives through a series of enlightening film presentations, lectures and community discussions during Holocaust Education Week, November 9-13, 2020.
Holocaust Education Week is a community-wide program of the Holocaust Memorial Miami Beach, a Committee of the Greater Miami Jewish Federation.
All programming will be virtual and is free and open to the public. Advance registration is required. Access to each event will be e-mailed following registration confirmation.
"In memory of our father, Auschwitz Survivor Siggi B. Wilzig, and our mother, Naomi Wilzig" Donated by their children, Ivan, Sherry and Alan
Join the Holocaust Memorial Miami Beach, Greater Miami Jewish Federation and Miami Jewish Film Festival for a day of films examining the Holocaust. The curated selections can be streamed free of charge beginning Sunday, November 8, 10 a.m.
Click here to register.
Please join the Greater Miami Jewish Federation, Jewish Volunteer Center and South Dade Branch for our first drive-thru toy drive in partnership with area synagogues.
Wednesday, November 11
10-11:30 AM
Dave and Mary Alper JCC
Building 3 - Circular Driveway
11155 SW 112th Avenue, Miami

Volunteer hours are available upon request.

For more information, please contact
Revital Zaldeti at 786.866.8411 or rzaldeti@gmjf.org.