Join us as we honor the outgoing Boards and celebrate the installation of the incoming Executive and Constituent Area Boards.
Click here to RSVP
Join the Greater Miami Jewish Federation and the Holocaust Memorial Miami Beach on Sunday, April 28 at 6:30 p.m. to commemorate Yom HaShoah — Holocaust Remembrance Day. The powerful program includes an eyewitness account from a survivor, a candle lighting ceremony and musical selections.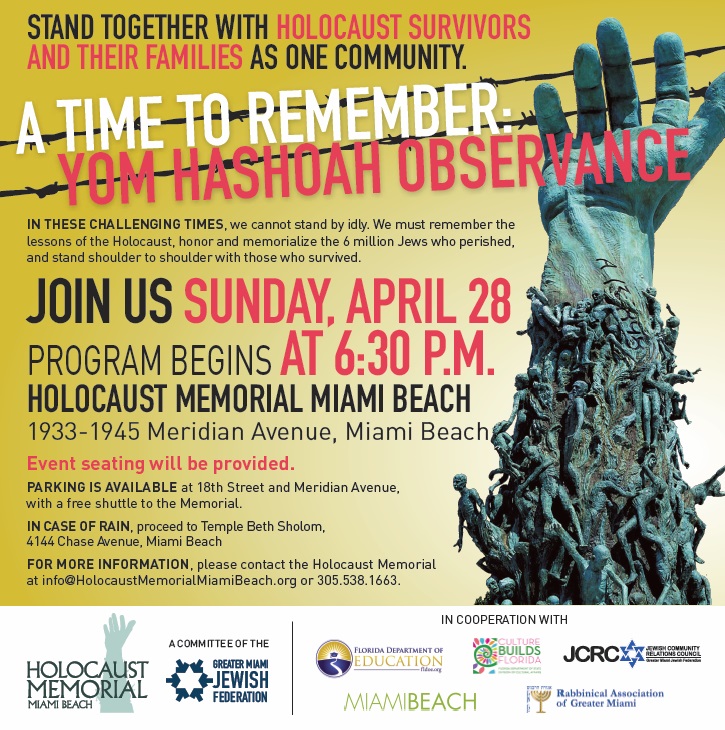 Join hundreds of people to honor dedicated individuals for their service to the Jewish community and elect new leadership at the Greater Miami Jewish Federation's 81st Annual Meeting on Friday, May 31 at Hilton Miami Downtown, 1601 Biscayne Boulevard.
Click here to RSVP.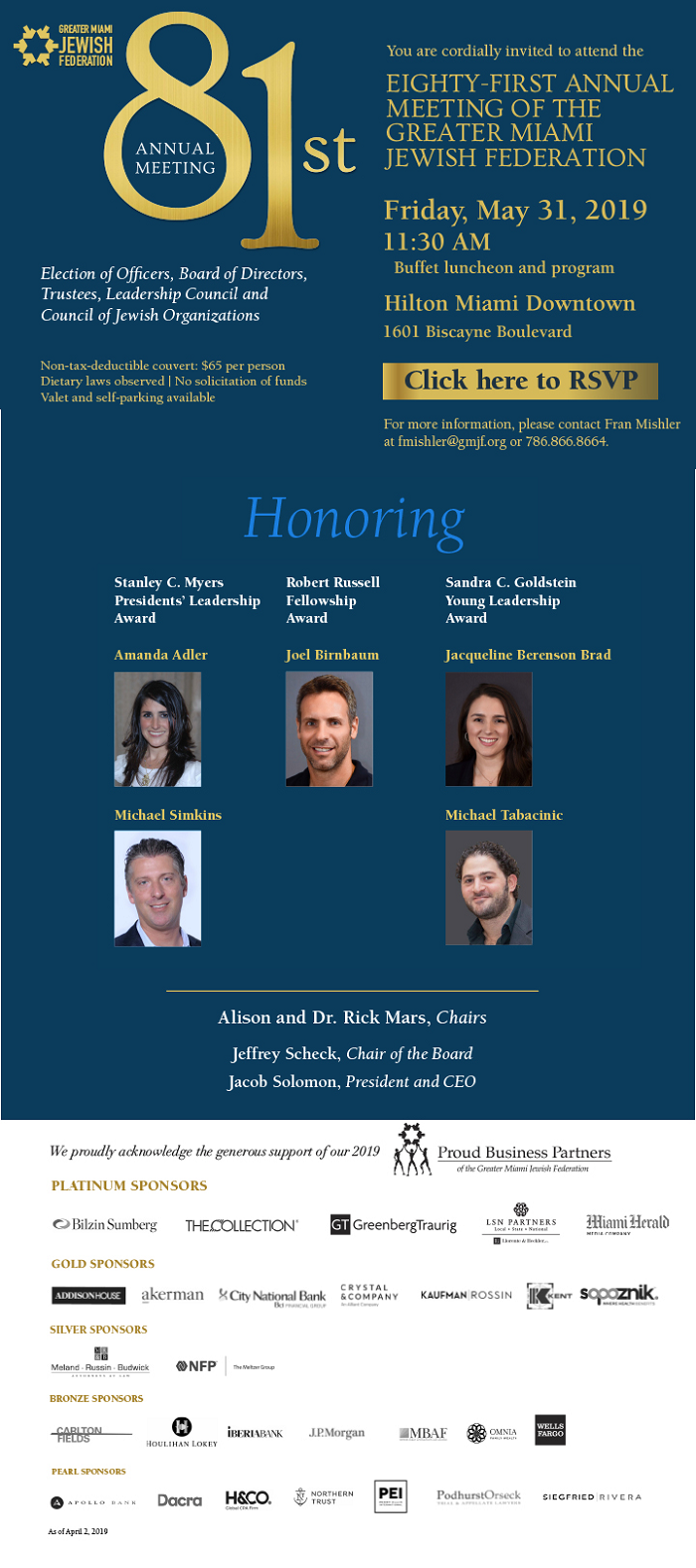 Yodeah will be speaking on BRCA mutations during Shabbat Services on Friday, April 12. at Temple Beth Sholom on Miami Beach. Join and learn about the very high incidence of BRCA mutations AND provide solutions to help prevent cancer. Saliva testing will be available on site.
This program is sponsored in part by a Jewish Incubator Grant from the Greater Miami Jewish Federation.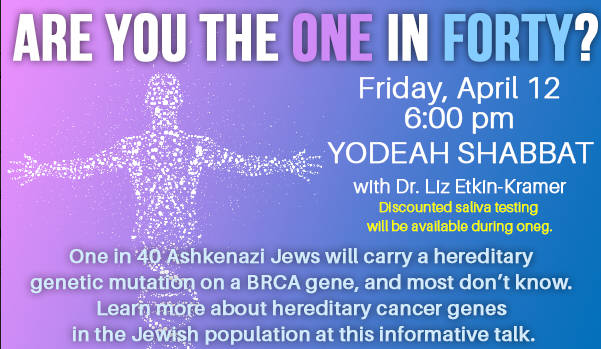 Tune in Sunday, April 28 on WPBT at 5:00 p.m. (Miami) and at noon in Palm Beach on WXEL for a screening of A Call to Remember. This remarkable life-affirming story that reflects the extensive collaboration between director Ken Winikur, Miami Holocaust survivor David Schaecter, and world-renowned Holocaust scholar Michael Berenbaum, who also produced the film.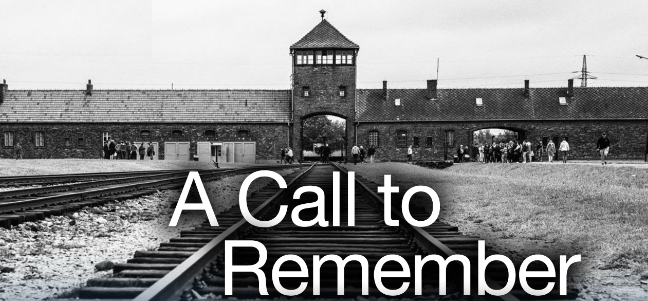 This seder is designed to be an enriching, fun experience for adults 18 and over who have cognitive or physical challenges. A volunteer will be partnered with each participant who may also be accompanied by a companion, caregiver or a family member. The seder is during Passover on Wednesday, April 24th from 3-5 p.m. at the synagogue in North Miami Beach.
Reservations are a must and should be made by April 15th. To reserve or for more information, email contact name and phone number to Rich Berger, Beth Torah co-president at rberger@btbrc.org or call the synagogue office at 305-932-2829.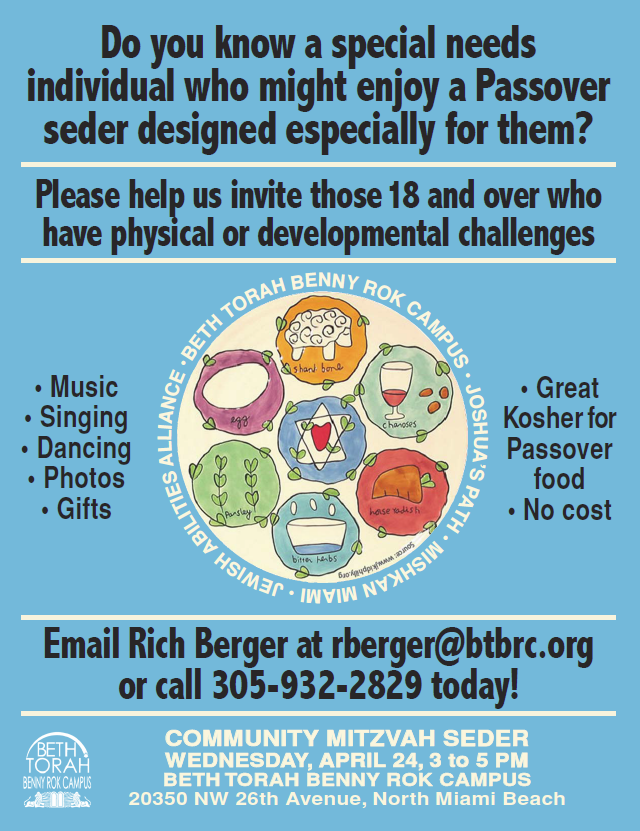 Grief is most definitely not a 'one size fits all'. Modern Loss is a web-based platform to provide support, founded by Jewish entrepreneur and former Colbert Report writer Rebecca Soffer and award-wining writer and journalist Gabrielle Birkner. The book of the same name shares modern stories of loss, which are insightful, touching, provocative and even 'scandalous'. In our culture, where people sometimes feel unsafe to share, the movement they have begun tries to reclaim grief as part of the tapestry of our lives. In doing so, they have supported thousands on their journeys. Join Federation's spiritual support director, Rabbi Frederick Klein, as he engages Rebecca and Gabrielle in a conversation about their own stories of loss, share surprising stories from others and help us to reframe how we can support friends and loved ones while going through their own grief. The book and their stories are surprisingly inspiring and will inspire you as well. As their tagline says: Candid conversation about grief. Beginners welcome. Sponsored by the the MARJCC/Sanford L. Ziff Campus. Mishkan Miami of the Greater Miami Jewish Federation and Jewish Book Council. Books will be available for purchase. Call Rabbi Klein at 305-576-4000 for more information.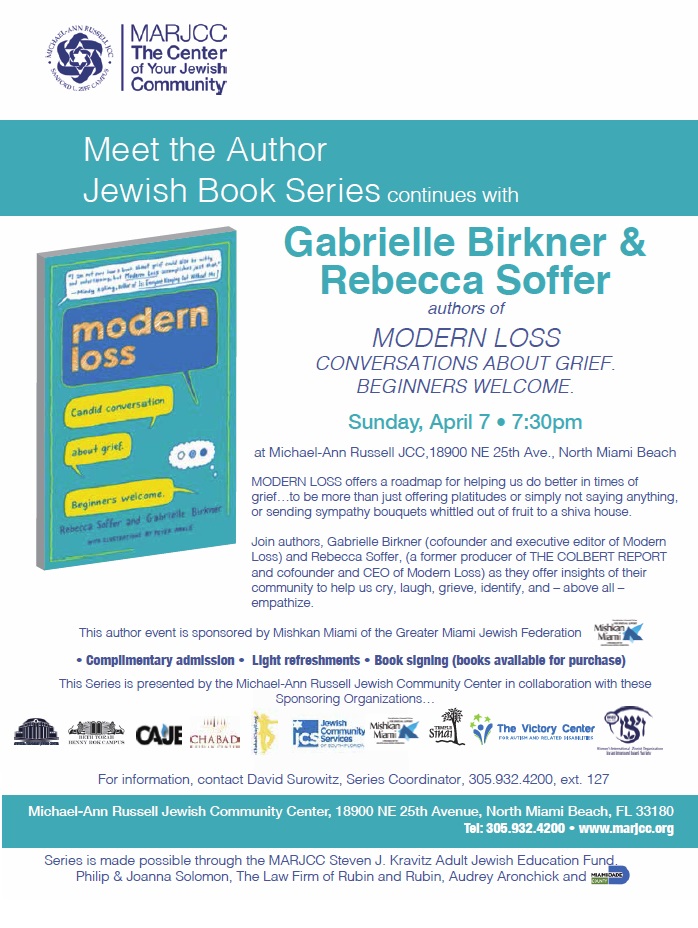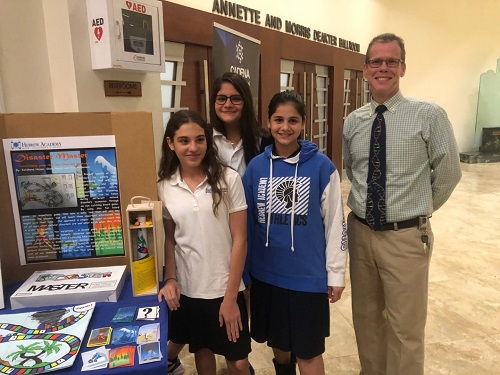 On Thursday, March 14, Hebrew Academy Middle School students competed in the 3rd Annual Cadena Initiative Social Entrepreneurship Competition, at Beth Torah Benny Rok Campus, against teams from other local Jewish Day Schools. Their objective was to come up with an idea that could be used before, during, or after a natural disaster in an underprivileged community. Students researched different disasters and areas they are likely to occur.
With the guidance of Middle School Science Teacher, Mr. Gonzalez, our 8th graders Bat Sheva Hazan, Rina Askenazi-Cohen, Shira Mayer won first place in the competition for the second year! They created a board game titled "Skilled Survivor," which teaches children how to handle and protect themselves during a natural disaster in a fun and innovative way. As first place winners for South Florida, they will now move on to the international competition in Mexico City in May. If their idea wins, Cadena will invest in their concept, bring it to life, and install it in the communities around the world that would benefit from the warning system to help save lives.

Here is more information about the Cadena Initiative:
The Cadena Initiative is a humanitarian non-profit organization committed to providing aid, hand in hand, to people affected by natural disasters around the world. The foundation develops long-lasting, cost-efficient solutions that enhance the quality of living for vulnerable communities around the world. The Cadena Foundation is an ambassador to the United Nations, serving as an official spokesperson in resilience strategies, and an active participant in the United Nations World Humanitarian Summit. Cadena is the only Jewish Latin American member of the START Network, the largest humanitarian group of leading NGO's.