JCS and Greater Miami Jewish Federation are joining together to fight food insufficiency in Miami.
Volunteer and help deliver Rosh Hashanah food baskets to homebound seniors during JCS annual Milk & Honey food distribution event.
Assemble Baskets from 9 – 10 a.m.
Deliver from 10 – 11:15 a.m.

North Location: Aventura Turnberry Jewish Center
South Location: Temple Judea

For group registration, contact Marian Mendelsohn at 305.403.6539 or mmendelsohn@jcsfl.org.
To help members of our vibrant Jewish community choose a place to worship, Federation and the Rabbinical Association of Greater Miami have compiled a directory of area synagogues. We encourage you to review this list and contact a synagogue for membership information.

Make this Jewish New Year a time for renewal for you and your family, and a time to find personal meaning and spiritual connection with your community. Synagogues provide ongoing opportunities to study, experience, and enjoy being connected to Miami's Jewish community throughout the year. Click here for a thoughtful article on the benefits of synagogue membership.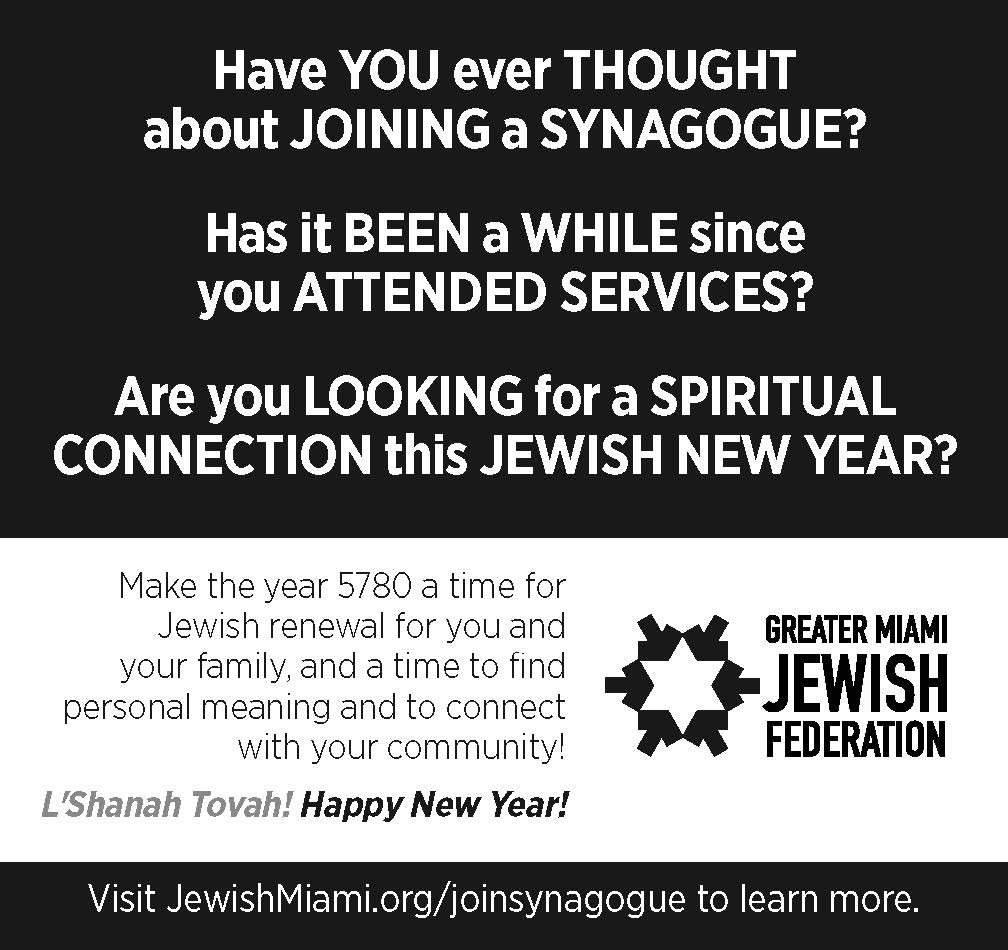 Please join the Jewish, pro-Israel and LGBTQ communities as we celebrate pride and progress in Israel and Miami. A Wider Bridge's National Outreach Director, Quentin Hill, will give a talk about the important work of advancing equality in Israel and equality for Israel.
FRIDAY, SEPTEMBER 6TH 8:00 PM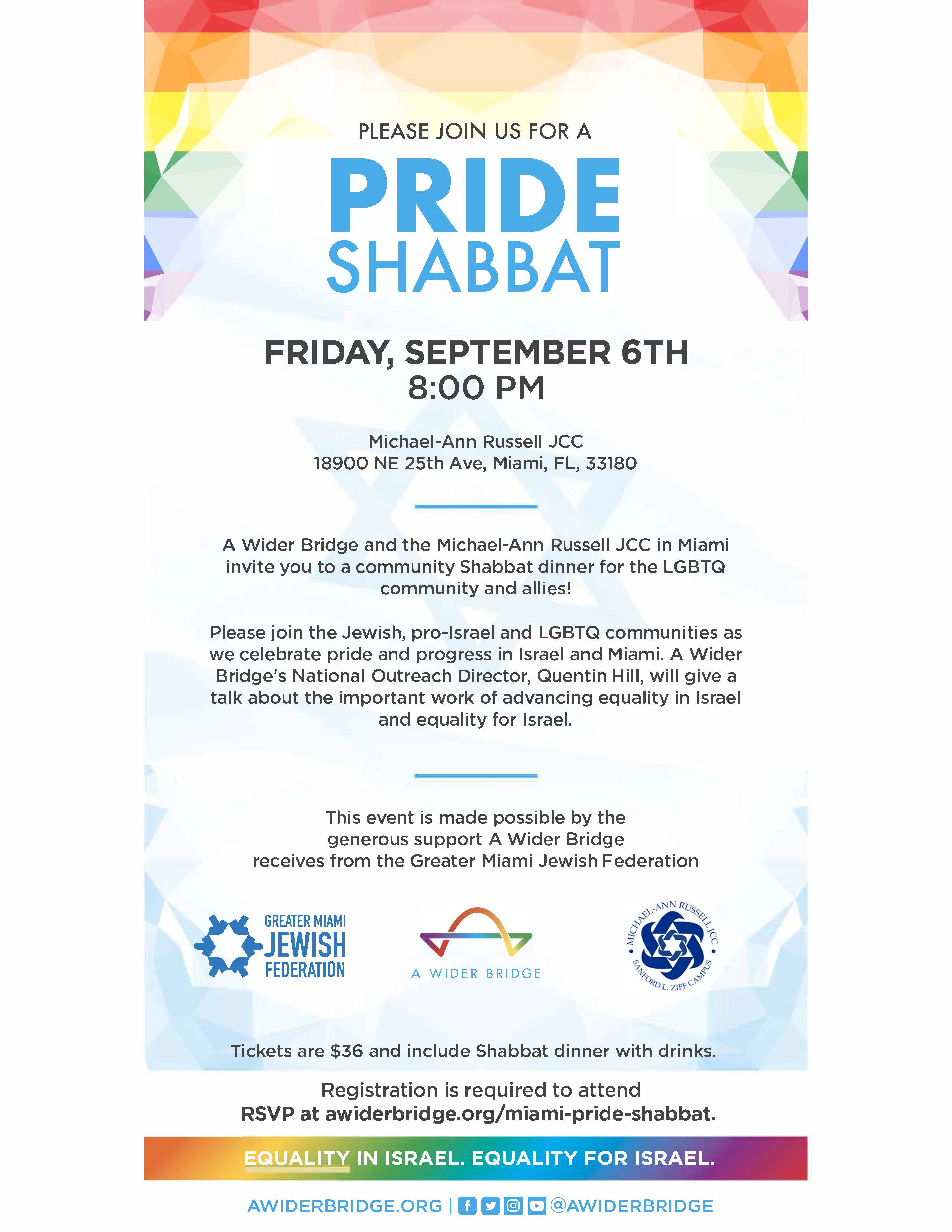 Federation is looking for recipients of a new, free program that will serve Miami-Dade County Holocaust survivors. If you were born before February 28, 1946, even if you were not interned in a concentration camp, you may be eligible for assistance. We are here to help. Call the Helpline at 305.576.6550, run by Federation partner Jewish Community Services (JCS) of South Florida, and someone will determine if you meet the qualifications. If you are not currently a JCS client, this program may be able to help you. If you have previously applied for services, but have been denied help, you may now be eligible.
August 8, 2019 from 11AM - 1PM
The tour includes an overview of the more than 100 years of Jewish history of Miami Beach; discussion of significant Jewish people and organizations, both present and past, in Miami Beach; and a review of various architectural styles found in the city, including Jewish contributions.
$15 JMOF-FIU Members; $20 Non-Members
Meeting point: Jewish Museum of Florida-FIU, 301 Washington Avenue, Miami Beach, FL 33139
Click here to Register
Join us for the 9th Annual YJP Miami White Party at SKY ROOFTOP LOUNGE
Get Dressed in White and Meet 100s of Miami's Young Jewish Adult Community on this special holiday of Tu'BAv - The Jewish Holiday of Romance.
Thursday, August 15th- 8:00pm
Gain Access here
at SKY ROOFTOP
35 SE 9th Street
Miami, FL 33131

Open Bar - Tapas - Sushi - DJ at SKY ROOFTOP

RSVP $25 Before July 10th
$30 Until July 25th
$36 Until August 8th
$40 After
$45 Door Price

Corporate Sponsorships Available contact Chaim@YJPMiami.com
JCS and the Second Generation of Miami-Dade Holocaust Survivors Inc.
Invite Holocaust Survivors in Miami to join us at
CAFÉ EUROPA SUMMER LUNCHEON Sunday - Aug 4 11:30 am

Covert: $10 Mitzvah donation p/p to MDHS Emergency Assistance
Buses are provided by reservation only.
Advanced registration is required.

For Questions, call JCS' Donna Cutler at 305-933-9820.

Beth Torah Benny Rok Campus | 20350 NE 26th Avenue North Miami Beach, FL 33180
JEWISH LATIN CENTER PRESENTS -
JEWISH LATIN CENTER SUMMER VIBES COCKTAIL HOUR

Thursday, July 25th- 7:30pm

Blackbird Ordinary
729 SW 1th Ave
Miami, FL 33130

Click here to RSVP
Happy Hour - Welcome Drink - Finger Foods - Live Music - Great Vibes
$10 Until July 15th
$15 Until July 25th
$18 Door Price

Join us for a conversation with Jacob Baime, Executive Director of the Israel on Campus Coalition. Baime is one of the leading advocates in the pro-Israel arena, and he will talk about the work his organization does on college campuses.
SAAM SLS Brickell
1300 S Miami Ave, Miami, FL 33130

$10 *BGS/ Caucus Society, $18 regular admission, $25 day of.
Click here to RSVP
*Ben Gurion Society and Caucus Members, please click here for special pricing.

Kosher food options will be available.