For a complete and timely schedule and other television providers, go to www.jbstv.org
Martin Luther King, Jr. Tribute
Commemorating the birthday of Martin Luther King, Jr. Monday - 7:30pm & 2am; Wednesday - 1:30pm
Heschel & King-Susannah Heschel
Susannah Heschel, Prof. of Jewish Studies at Dartmouth College and daughter of Abraham Joshua Heschel, discusses her father's relationship with Dr. Martin Luther King, Jr., and a philosophy of Jewish political action. From Center for Jewish History, NYC. Monday - 8pm & 1am; Tuesday - 2 pm
L'Chayim: Clarence Jones
As America honors Dr. Martin Luther King, Jr., his attorney and confidant, Clarence Jones, discusses the "I Have A Dream Speech;" describes how the Jewish community made the Civil Rights Movement possible; and condemns Black anti-Semitism and Palestinian violence. Monday - 9pm & Midnight; Tuesday - 3pm
Israel Briefing: Amir Ebstein
IDF Brigadier General Amir Ebstein, Commander of the IDF Northern Formation at the Lebanese border, discusses his initiative to include Israeli women as combat soldiers; the Hareidi draft; the Iranian threat; and terrorist warfare. With Benjamin Anthony. Tuesday - 7pm & 1am; Thursday - 1pm
ADL Conf: Embracing Diversity
A discussion of how more racially and ethnically diverse Jewish institutions address white supremacy. With Ella Adhanan (Silicon Valley Bank), Carly Pildis (Zioness), Yoshi Silverstein (Hazon), Julian Voloj (Be'chol Lashon) and moderator Liat Altman (ADL). From ADL's 2019 "Never Is Now" Conference at the Javits Center in NYC. Tuesday - 8 pm & 1:30am; Thursday - 2pm
ZOA Gala: Danon/O'Brien/Pirro
Amb. Danny Danon, National Security Advisor Robert O'Brien, Florida Gov. Ron deSantis, Fox Host Jeanine Pirro, entrepreneur Bob Shillman & Chinese billionaire Bruno Wu headline the ZOA's 2019 Louis Brandeis Award Dinner. With Mort Klein & Mistress of Ceremonies Rita Crosby.
Wednesday - 7pm & 1am; Friday - 1pm; Saturday - 7pm & 1:30am
Today (Sunday): Raphael Shore (Jerusalem U)
Rabbi Raphael Shore discusses his film-based organizations, "Jerusalem U" and "The Clarion Project," and the work he is doing to educate Jews and to expose the dangers of Islamic extremism. L'Chayim with Mark S. Golub. Today (Sunday) - Noon & 6pm; Monday – 3pm
Tuesday: Itamar Marcus
Itamar Marcus of "Palestinian Media Watch," which monitors what Palestinians say in Arabic on PA Television and the PA website, speaks to whether there is a "moderate" Palestinian leadership with which Israel can make peace.
Tuesday - 9pm & Midnight; Wednesday - 3pm
Wednesday: Jonathan Sacks
The former Chief Orthodox Rabbi of the UK, Rabbi Lord Jonathan Sacks, describes how meeting the Lubavitcher Rebbe and Rav Joseph Soloveitchik changed his life; his years as Chief Rabbi; and his evolution on Jewish pluralism.
Wednesday - 9pm & Midnight; Thursday - 3pm
Thursday: Attorney Jay Goldberg
Criminal law attorney and US Constitutional scholar Jay Goldberg discusses his career as both prosecutor and defense attorney in some of the nation's most high-profile cases described in his autobiography The Courtroom is My Theater. With Mark S. Golub. Thursday - 9pm & Midnight; Friday - 2pm
Saturday: Catch The Jew-Tenenbom
Journalist Tuvia Tenenbom discusses his break from his ultra-Orthodox childhood in B'nei B'rak, and the upsetting realities he chronicles in his book "Catch The Jew!" - conversations which show how Palestinians and Israelis are worlds apart.
Saturday - 6pm
92nd Street Y: Obama's Rabbi Cousin
Meet Michelle Obama's first cousin (once removed), Rabbi Capers Funnye, who discusses his conversion to Judaism, his work in Africa, and what the black Jewish experience is like in America.
Sunday - 8am & 2am; Monday - 10pm & 4am; Wednesday - 10:30am; Friday - 8pm & 1am; Saturday - 3pm
In the News: World Zionist Elections
Herbert Block, Executive Director of the American Zionist Movement, describes how the World Zionist Congress elections are conducted and why they are important for world Jewry. With Shahar Azani.
Sunday – 5:30pm; Monday – 3:30am, 8:30am, 12:30pm
From the Aleph-Bet: Lesson 1
The Hebrew letters "Sin," Koof" and "Ion" are introduced.
Monday - 9am & 4:30pm; Saturday - 11am
Flamenco Sephardit will be performed on Sunday, January 26th at 7 PM.
Experience the intense passion of pure Flamenco fused with the Jewish Ladino tradition of Spain. Temple Emanu-El, 1701 Washington Avenue, Miami Beach.
Tickets are $25 in advance, $30 day of show, VIP $65 includes first 5 rows seating, hors d'oeuvres, cocktail, meet and greet with cast.
www.flamencosephardit.com (800) 515-1831.
Tuesday, February 4th 7 PM
Learn the difference between Royal Flush, Straight Flush, Four of a Kind, Full House, Flush, Straight, Three of a Kind, Two Pair, Pair and High Card.
Open to players of all levels, including beginners. Refreshments and light snacks provided.
$18 for Temple Emanu-El members $25 for Non-members BYOB must be Kosher alcohol Visit tesobe.org to RSVP
Temple Emanu-El 1701 Washington Avenue, Miami Beach
On Thursday January 23, 7:30 PM Temple Beth Am Pinecrest Florida Socol Family Speakers Series Presents: Yaakov Katz Editor in Chief Jerusalem Post: Shadow Strike:Inside Israel's Secret Mission to Eliminate Syrian Nuclear Power. He will also address the current geo political as well as internal issues affecting Israel today. Free and open to the public. Book signing and reception to follow
JWorks Miami invites you to attend a FREE Interviewing Skills Workshop on Thursday, January 30th, 10:30am-12:30pm
Please RSVP at JWorks Miami - RSVP is required! The workshop will begin promptly at 10:30am, please arrive a few minutes prior and dress to impress, business casual is recommended.
Just landed the interview of your dreams? Awesome. Now, we're here to help you out and make sure you score that great job, too.
Before your next interview, brush up on interviewing basics, learn how to research a company and put together a strategic prep plan, and learn smart ways to handle any question or scenario thrown your way. We'll also show you how to follow up afterward (in a non-annoying way, of course).
Some topics we will cover:
* What to Wear!
* Frequently asked interview questions
* What not to say
* Researching the company
* Good questions to ask the interviewer
* Following up – Thank You notes
* Mock interview - time permitting
These events are also a great way for JWorks Miami staff to get to know you! Please note, we are unable to refer you to available opportunities unless we have met you in person.
All events will be held at:
Greater Miami Jewish Federation
4200 Biscayne Blvd,
Miami, FL 33137
Parking lot entrance is on Federal Highway, parallel to Biscayne Blvd. Map
If you have any questions please visit our website or call us at 305-403-6554.
We look forward to seeing you!
The JWorks Miami Team
JWorks Miami is a partnership of the Greater Miami Jewish Federation and
Jewish Community Services of South Florida
www.jworksmiami.org
jobs@jworksmiami.org
305-403-6554, option 1
THURSDAY, JANUARY 23RD - 7:30 PM - 9:00 PM
Proceeds to benefit the Jerusalmi Family Education Fund. RSVP NOW
The Greater Miami Jewish Federation is joining our global Jewish community in response to the 6.4 magnitude earthquake that struck southwestern Puerto Rico on January 7 along with the ones that followed it in the consecutive days.
It is estimated that 2,000 people were displaced and are living in temporary shelters as a result of structural damage to their residences. While power has been restored to parts of the island, many areas remain without electricity. The government of Puerto Rico has identified the need for basic supplies such as water, food and medical supplies as well as tents and cots to assist with sheltering those displaced and water sanitation efforts.
One hundred percent of all contributions will be directed to assist victims of the disaster relief fund you designate.
Donation checks should be mailed and made payable to the Greater Miami Jewish Federation, 4200 Biscayne Boulevard, Miami, FL 33137. Please note in the memo "Puerto Rico Earthquake Relief". For assistance, you may also call 305.576.4000.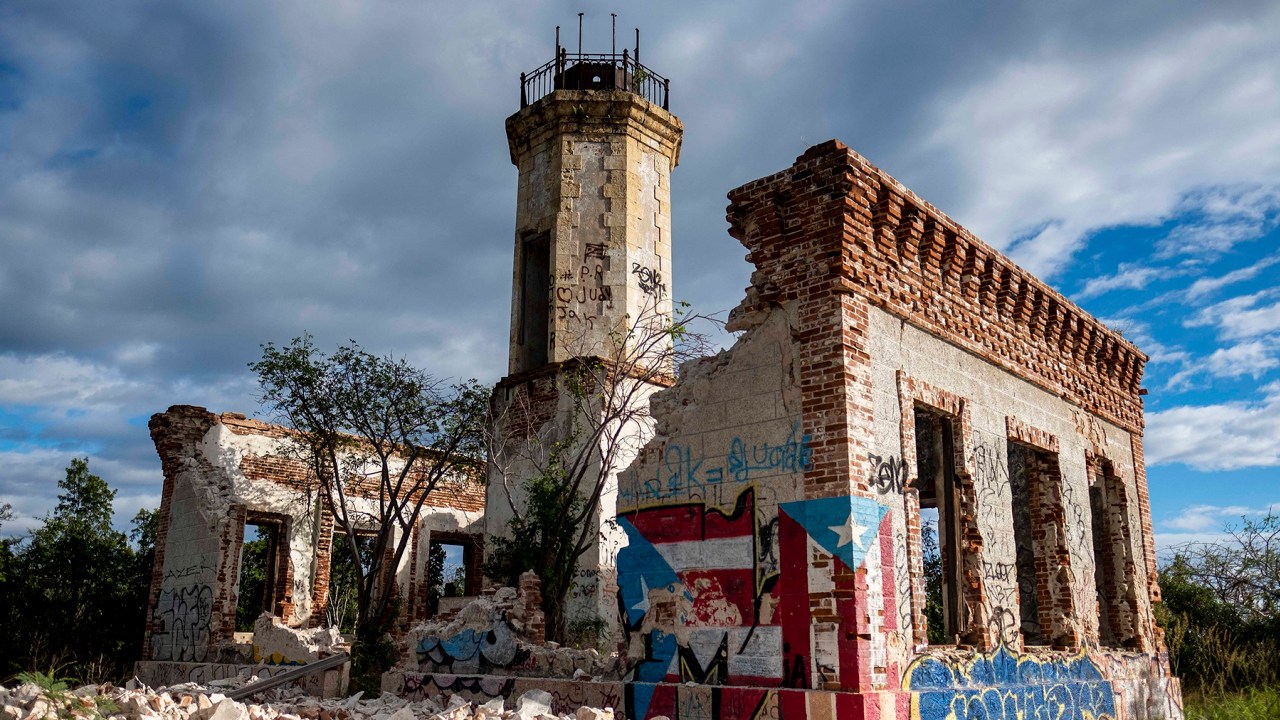 Calling all teen leaders! Travel to Israel and get high school credit for it!
The Stephen Muss Impact Fellowship (http://www.amhsi.org/stephen-muss-impact-fellowship/) gives a select group of high school students the opportunity of a lifetime to spend a high school semester studying in Israel. Participants study abroad at Alexander Muss High School in Israel (AMHSI-JNF) and then return home as ambassadors for Israel and future Jewish change-makers. Made possible by Stephen Muss and Federation, the program is now accepting applications for Fall 2020, Miami's 3rd cohort!
The application deadline has been extended to February 16, 2020.
The fellowship includes:
Full tuition,* housing and meals
Leadership training
Workshops on critical thinking, social media, marketing and public speaking
Serve as a liaison to media
*Full tuition covered minus $500 deposit. All Impact Fellows are also required to fulfill a $1000 fundraising goal.
Click here for details and to apply, or contact Alicia Press, apress@amhsi.org or 954.817.7108.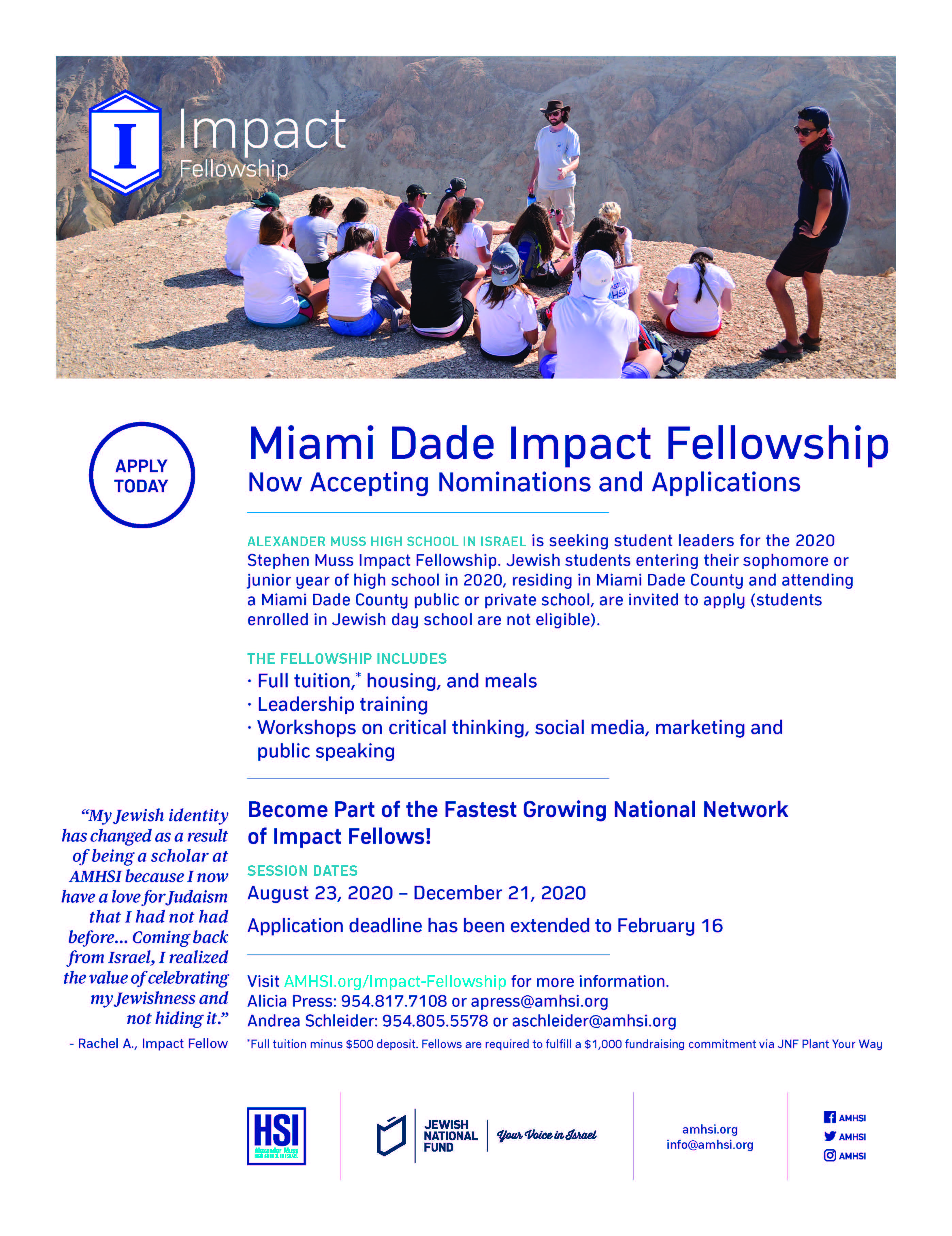 For a complete and timely schedule and other television providers, go to www.jbstv.org
In The News: No Hate No Fear & Soleimani
Thane Rosenbaum and Shahar Azani discuss "No Hate, No Fear" rallies by American Jewry in response to the violence against Orthodox Jews by the African-American community; and the U.S. killing of Iranian mass murderer Qasem Soliemani. With Mark S. Golub. Today (Sunday) – 8:30am & 4:30 pm
Antisemitism Epidemic: Josef Gluck
Josef Gluck, who saved lives during the attack in Monsey NY, recounts the events of the harrowing night and describes the way in which the Orthodox Jews of Monsey have been changed by the nightmare. JBS's Antisemitism Epidemic with Mark S. Golub Today (Sunday) 11:30pm & 3:30am; Monday - 8:30am & 12:30pm
Cinematheque: Roberta Grossman
Documentarian Roberta Grossman discusses her film "Who Will Write Our History?" which tells the story of the Oyneg Shabes Archive which recorded Jewish life in the Warsaw Ghetto. Jewish Cinematheque with Jewish film scholar Eric Goldman. Monday - 7:30pm & 2am; Wednesday - 1:30pm
Oz & Appelfeld (N. Aschkenasy)
Prof. Nehama Aschkenasy discusses the epic works of two Israeli literary giants, Amos Oz and Aharon Appelfeld, both of whom died in 2018. By the University of Connecticut Center for Judaic Studies and Contemporary Jewish Life at UConn in Stamford, CT. Monday - 8pm & 1am; Wednesday - 2 pm; Thursday – 10pm & 2am; Saturday - 8pm & 1am
Rabin Medical Center Gala
The 20th Annual Gala of the American Friends of the Rabin Medical Center (Petach Tikva Israel) with NJ Gov Phil Murphy, former Bank of Israel Governor Stanley Fisher, and cancer specialist Dr. Kenneth Offit. With Michelle Divon from Plaza Hotel, NYC. Tuesday - 7pm & 1:30am; Thursday - 2pm
L'Chayim: Raphael Shore (Jer U)
Rabbi Raphael Shore discusses his film-based organizations, "Jerusalem U" and "The Clarion Project," and the work he is doing to educate Jews and to expose the dangers of Islamic extremism. L'Chayim with Mark S. Golub. Wednesday - 9pm & Midnight; Thursday - 3pm
Today (Sunday): Yiscah Smith
Yiscah Smith, author of "40 Years in the Wilderness: My Journey to Authentic Living," describes her transition from life as an Orthodox man in Jerusalem to an observant Jewish woman who travels the world as a spiritual activist. Noon & 6pm; Monday – 3pm
Monday: Joshua Safran
Joshua Safran, author of "Free Spirit: Growing up On the Road and Off the Grid", discusses his memoir, about the most unconventional childhood, his return to and love for Judaism, and his work as a women's rights activist.
9pm & Midnight; Tuesday - 3pm
Tuesday: Transcending Loss
Robin Kanarek, who lost her teenage son David to cancer, describes how she has been able to continue to embrace life and why she feels the development of palliative care is so essential for patients of all ages. With Rabbi Mark S. Golub. 9pm & Midnight; Wednesday - 3pm
Thursday Ken Spiro on Values
Aish HaTorah lecturer and author Ken Spiro ("World Perfect" and "Destiny") discusses antisemitism as anti-Zionism, American Jewry and today's Democratic party, and the core values of Jewish idealism. With Mark S. Golub on L'Chayim. 9pm & Midnight; Friday - 2pm
Saturday: Fauda-Yaakov Daniel
Yaakov Daniel, who plays a leading role in the hit Israeli series Fauda about an Israeli unit that must deal with Palestinian terrorists on the West Bank, describes his personal story and his feelings for the series seen on Netflix. With Mark S. Golub. Saturday - 6pm
92nd Street Y: Harold Kushner on Fear
Author of "When Bad Things Happen to Good People," Rabbi Harold Kushner offers his perspective on coping with personal tragedies in discussing his latest book, "Overcoming Life's Disappointments," based on the life of Moses in the Torah.
Sunday - 8am & 2am; Monday - 10pm & 4am; Wednesday - 10:30am; Friday - 8pm & 1am; Saturday - 3pm
From the Aleph-Bet: Lesson 12
Learn the letter "Mem," rules for the pronounced "Sh'vah," and conclude the Pay letter family that start Hebrew words Purim and Passover Monday - 9am & 4:30pm; Wednesday - 7pm; Saturday - 11am