It's Happening In Miami
Recent posts tagged: north dade
Posted by Noa Waks on 03/29/2023 @ 06:25 PM
Register now before tickets sell out!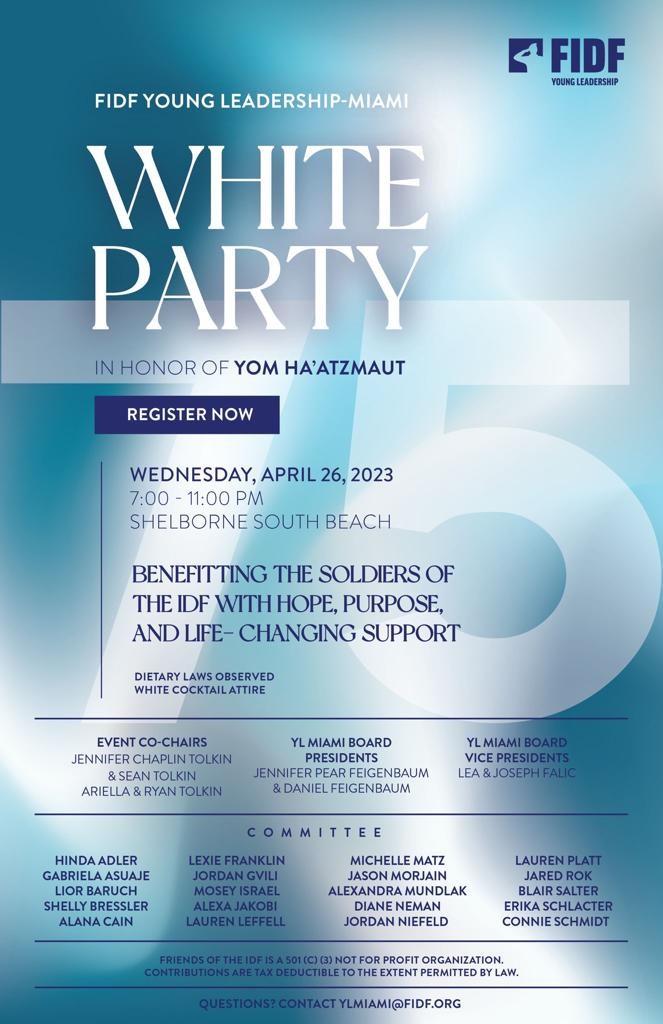 Posted by Noa Waks on 03/29/2023 @ 01:13 PM
The Greater Miami Jewish Federation will conduct a Food Distribution Drive-Thru event in response to ongoing food insecurity in the surrounding community.
WHEN: Friday, April 14, 2023 9 A.M. – 11 A.M.
WHERE: Greater Miami Jewish Federation Stanley C. Myers Building (Parking Lot) 4200 Biscayne Boulevard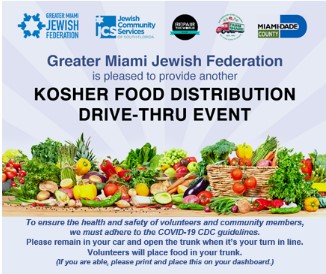 Posted by Noa Waks on 03/29/2023 @ 01:01 PM
Purchase your ticket today.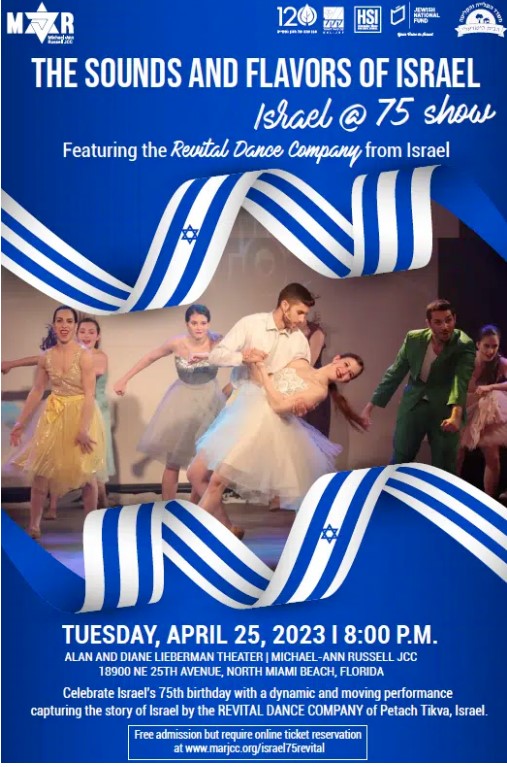 Posted by Noa Waks on 03/29/2023 @ 12:50 PM
In 1948, Stan Andrews, an assimilated American Jew and WWII veteran, became one of the first fighter pilots in the Israeli air force. Jeffrey and Craig Weiss have uncovered the story of a Jewish hero in the mold of a Leon Uris character.
Join us on April 19, 2023 from 7:30 PM to 9:00 PM at the Alper JCC Miami to hear about Andrews short but dazzling life, including his transition from a brilliant student and artist into a daring bomber pilot in the Pacific, his post-war studies and romance in L.A., and then his unexpected and fateful decision to fight for a Jewish state, ultimately disappearing in a dramatic bombing raid.
Address: Alper JCC Miami | 11155 SW 112 Avenue | Miami, FL 33176
Cost: $10
Questions? Contact Marcy Levitt at mlevitt@alperjcc.org
Posted by Noa Waks on 03/28/2023 @ 08:16 PM
The Miami Jewish Abilities Alliance, a Federation program, is recruiting volunteers for its Passover Special Mitzvah Seder, a holiday event designed specifically for Jewish adults with developmental and physical challenges on Monday, April 10 at 2 p.m. at Beth Torah Benny Rok Campus in Aventura. Volunteers are needed to serve as one-on-one companions for the participants and guide them through the Seder service and dinner. Help is also needed for setup and serving. The afternoon has been structured to accommodate adults with disabilities, including seating with no more than seven people per table. Each guest will receive a filled Seder plate, a unique Haggadah in Pictures and a song sheet. There will be singing of prayers and songs with the words projected on a screen to make it easy to follow along. Souvenir photos will be available and each participant will leave with a plush frog keepsake. To register as a volunteer click here and to contact the organizers for more details, send an email to specialmitzvahseder@btbrc.org. To learn more about JAA, click here.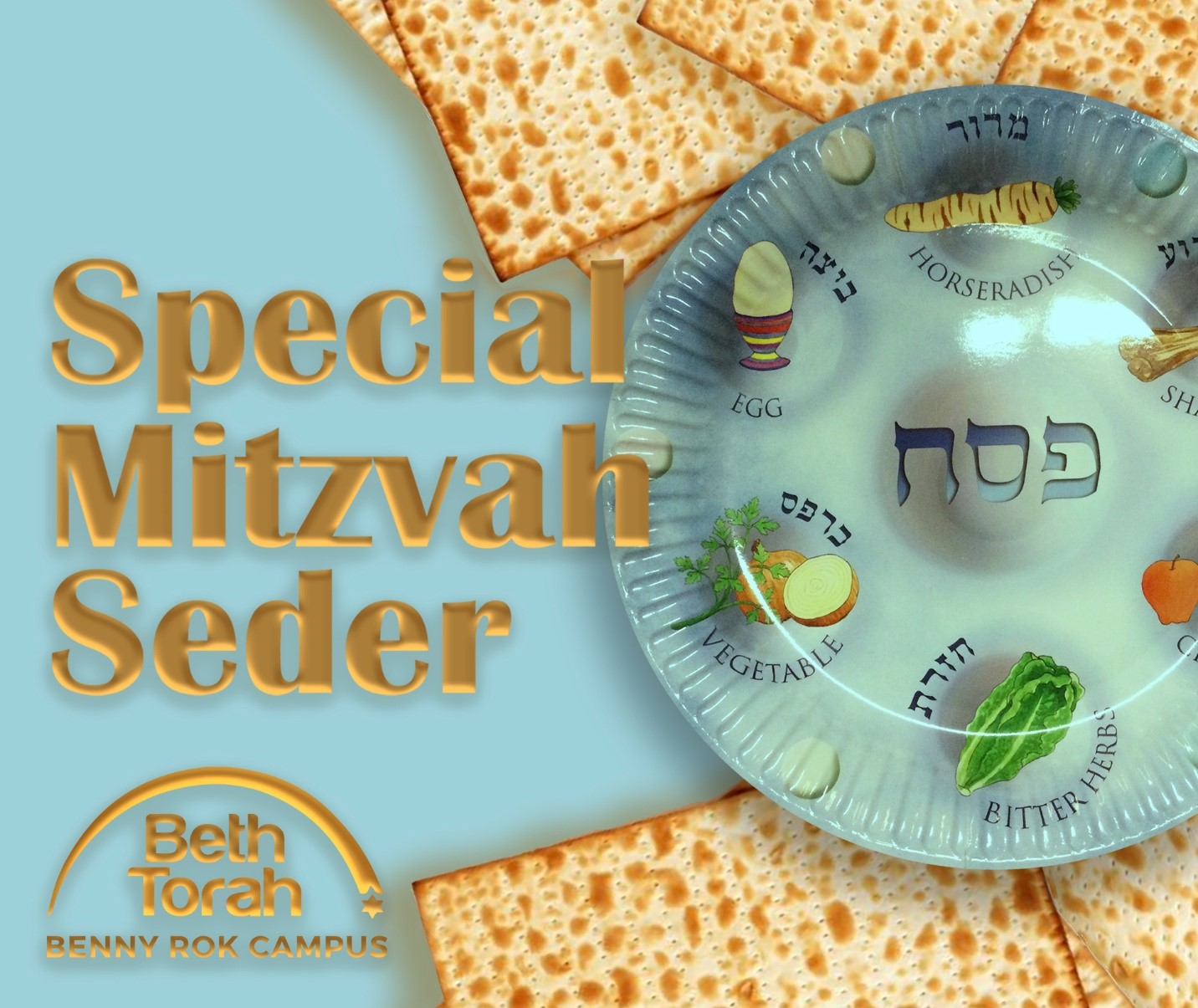 Posted by Noa Waks on 03/28/2023 @ 07:57 PM
Come together as a community on Sunday, April 16 at 6 p.m. for a Yom HaShoah observance program at the Holocaust Memorial Miami Beach. Join us as we remember the Holocaust, commemorate the 80th anniversary of the Warsaw Ghetto Uprising, memorialize the 6 million Jews who were murdered and honor the Survivors. In addition, the Holocaust Memorial is seeking volunteers to read the names of those who perished. To volunteer, call 305.538.1663. For more information click here. The Holocaust Memorial Miami Beach is a Committee of the Greater Miami Jewish Federation.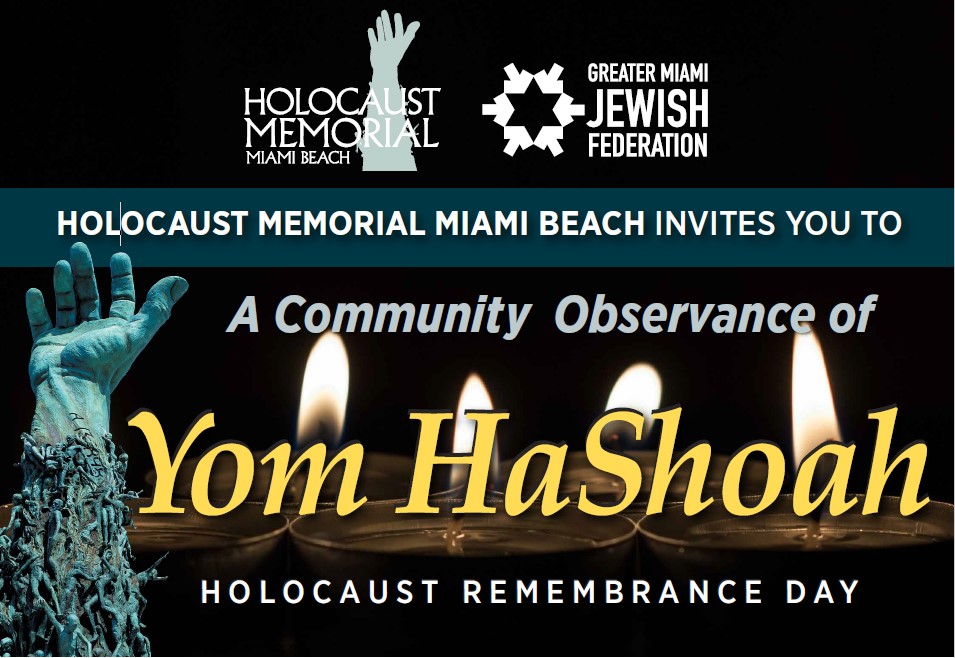 Watch JBS on Comcast X-1 Box Ch 1684, Atlantic Broadband 168, Hotwire Ch 269, DirecTV Ch 388, Blue Stream Ch 110, streamed on Roku under "educational", Apple TV, Amazon Fire TV and jbstv.org. For a complete and timely schedule and other television providers, go to www.jbstv.org
Eye on Israel: Ofir Gendelman
Ofir Gendelman, a trailblazer who's been Israel's Spokesperson in the Arab Media for the past 17 years, shares his personal journey in learning Arabic and discusses challenges and opportunities in working with Arab Media. Monday - 8:00pm Tuesday - 1:00am & 11:30am Friday - 10:00pm
Srugim Episode 7 You Will Stop Being Afraid
Yifat wrestles with her feelings for Nati, Hodaya's religious conflict causes a fight at Shabbat dinner, and sparks start to fly between Reut and her Torah tutor. Monday - 7:00pm Tuesday - 2:00am & 10:00am Thursday - 2:00pm Saturday - 10:00pm
MirYam Institute: Saudi-Iran Rapprochement
MirYam Institute co-founder Benjamin Anthony is joined by author, professor, and former deputy national security adviser in Israel, Chuck Freilich, and Lt. Col. Yochai Guiski (IDF Ret.) to assess the context and implications of the recently announced Chinese-brokered rapprochement between Saudi Arabia and Iran. Tuesday- 8:00pm Wednesday - 12:00am & 1:00pm Thursday - 5:00am Saturday - 7:00pm
Robert Siegel: U.S.-Israel Relations
Ambassador Martin S. Indyk, (Council on Foreign Relations), Lucy Kurtzer-Ellenbogen (U.S. Institute of Peace) and David Makovsky (Washington Institute for Near East Policy) look at the myriad crises in Israel and discuss how the U.S. should respond. Wednesday - 8:00pm Thursday - 2:00am & 11:00am Saturday - 8:00pm
In the News: Women Making Peace
Valerie Leiser Greenfeld, a leader with proven success in building innovative technology companies for collaboration in Abraham Accords countries, discusses Doves, her organization that seeks to bring women together to promote education and peace in the Mideast. With Shahar Azani. Monday - 6:30pm & 11:30pm Tuesday - 8:30am & 12:30pm Saturday - 11:30pm
Thinking Out Loud: ADL report
Micah Halpern discusses the new alarming ADL report on antisemitism, especially as it pertains to schools, and asks if there is any way to reverse the trend. Wednesday - 6:30pm & 11:30pm Thursday - 8:30am & 12:30pm
Good Week Israel: Jerusalem Marathon, Red Flag & Tower of David
Stories include JNF USA preserving Israel's modern history, Israel and US air forces begin military exercise, The Tower of David is named one of the World's Greatest Places, and wine from the Carmel Winery. Tuesday - 6:30pm & 11:30pm Wednesday - 8:30am & 12:30pm
Top Story: Israel's Culture Wars
Jonathan Tobin discusses the ongoing fight over judicial reform in Israel with JNS columnist Ruthie Blum, who describes the pushback against the legal overhaul as a battle of not only religion but of class and income. Thursday - 8:00pm Friday - 1:00am &10:00am Saturday - 5:00am
On L'Chayim
Phyllis Chesler on Feminism
Bestselling author, scholar and one of the Jewish community's iconic feminists, Phyllis Chesler discusses her autobiography, A Politically Incorrect Feminist, the betrayal of the American feminist movement, and more. Wednesday - 9:00pm & Midnight
Thursday - 3:00pm
Jewish Studies
Talmud Study: On Condition
The Talmud's emphasis on details and stipulations in matters of Jewish law, and why every word of the Torah has a purpose is examined Sunday - 9:00am Tuesday - 9:00am & 5:00pm Wednesday- 7:00pm
Talmud Study: Get A Rabbi
The importance and subtleties of Torah study, according to Jewish tradition, is examined Today (Sunday) - 9:30am Tuesday - 9:30am & 5:30pm Thursday - 7:00pm
Jewish 101: Name of God
When Moses asks for God's name, the answer Moses receives reveals the Jewish Tradition's understanding of God. Sunday - 10:00am Monday - 5:00am Wednesday - 9:00am & 5:00pm Friday - 1:00pm
REFORM AND ORTHODOX SHABBAT SERVICES
FRIDAY EVENING SHABBAT SERVICES
REFORM: CENTRAL SYNAGOGUE Closed Captioned 6:00pm, 11:30pm & 2:00am
ORTHODOX: HAMPTON SYNAGOGUE With Hebrew, transliteration and English subtitles 7:30pm & 10:30pm
SATURDAY MORNING SHABBAT SERVICES
REFORM: CENTRAL SYNAGOGUE Closed Captioned 9:30am & 1:00pm
ORTHODOX: HAMPTON SYNAGOGUE With Hebrew, transliteration and English subtitles 11:00am & 2:30pm
Edith Samers Vice President 203.536.6914 (cell phone) JBS Jewish Broadcasting Service, a 501c3 fulltime television channel Website: jbstv.org
Watch JBS on Comcast X-1 Box Ch 1684, Atlantic Broadband 168, Hotwire Ch 269, DirecTV Ch 388, Blue Stream Ch 110, streamed on Roku under "educational", Apple TV, Amazon Fire TV and jbstv.org. For a complete and timely schedule and other television providers, go to www.jbstv.org
Eye on Israel: Ofir Gendelman
Ofir Gendelman, a trailblazer who's been Israel's Spokesperson in the Arab Media for the past 17 years, shares his personal journey in learning Arabic and discusses challenges and opportunities in working with Arab Media. Monday - 8:00pm Tuesday - 1:00am & 11:30am Friday - 10:00pm
Srugim Episode 7 You Will Stop Being Afraid
Yifat wrestles with her feelings for Nati, Hodaya's religious conflict causes a fight at Shabbat dinner, and sparks start to fly between Reut and her Torah tutor. Monday - 7:00pm Tuesday - 2:00am & 10:00am Thursday - 2:00pm Saturday - 10:00pm
MirYam Institute: Saudi-Iran Rapprochement
MirYam Institute co-founder Benjamin Anthony is joined by author, professor, and former deputy national security adviser in Israel, Chuck Freilich, and Lt. Col. Yochai Guiski (IDF Ret.) to assess the context and implications of the recently announced Chinese-brokered rapprochement between Saudi Arabia and Iran. Tuesday- 8:00pm Wednesday - 12:00am & 1:00pm Thursday - 5:00am Saturday - 7:00pm
Robert Siegel: U.S.-Israel Relations
Ambassador Martin S. Indyk, (Council on Foreign Relations), Lucy Kurtzer-Ellenbogen (U.S. Institute of Peace) and David Makovsky (Washington Institute for Near East Policy) look at the myriad crises in Israel and discuss how the U.S. should respond. Wednesday - 8:00pm Thursday - 2:00am & 11:00am Saturday - 8:00pm
In the News: Women Making Peace
Valerie Leiser Greenfeld, a leader with proven success in building innovative technology companies for collaboration in Abraham Accords countries, discusses Doves, her organization that seeks to bring women together to promote education and peace in the Mideast. With Shahar Azani. Monday - 6:30pm & 11:30pm Tuesday - 8:30am & 12:30pm Saturday - 11:30pm
Thinking Out Loud: ADL report
Micah Halpern discusses the new alarming ADL report on antisemitism, especially as it pertains to schools, and asks if there is any way to reverse the trend. Wednesday - 6:30pm & 11:30pm Thursday - 8:30am & 12:30pm
Good Week Israel: Jerusalem Marathon, Red Flag & Tower of David
Stories include JNF USA preserving Israel's modern history, Israel and US air forces begin military exercise, The Tower of David is named one of the World's Greatest Places, and wine from the Carmel Winery. Tuesday - 6:30pm & 11:30pm Wednesday - 8:30am & 12:30pm
Top Story: Israel's Culture Wars
Jonathan Tobin discusses the ongoing fight over judicial reform in Israel with JNS columnist Ruthie Blum, who describes the pushback against the legal overhaul as a battle of not only religion but of class and income. Thursday - 8:00pm Friday - 1:00am &10:00am Saturday - 5:00am
On L'Chayim
Phyllis Chesler on Feminism
Bestselling author, scholar and one of the Jewish community's iconic feminists, Phyllis Chesler discusses her autobiography, A Politically Incorrect Feminist, the betrayal of the American feminist movement, and more. Wednesday - 9:00pm & Midnight
Thursday - 3:00pm
Jewish Studies
Talmud Study: On Condition
The Talmud's emphasis on details and stipulations in matters of Jewish law, and why every word of the Torah has a purpose is examined Sunday - 9:00am Tuesday - 9:00am & 5:00pm Wednesday- 7:00pm
Talmud Study: Get A Rabbi
The importance and subtleties of Torah study, according to Jewish tradition, is examined Today (Sunday) - 9:30am Tuesday - 9:30am & 5:30pm Thursday - 7:00pm
Jewish 101: Name of God
When Moses asks for God's name, the answer Moses receives reveals the Jewish Tradition's understanding of God. Sunday - 10:00am Monday - 5:00am Wednesday - 9:00am & 5:00pm Friday - 1:00pm
REFORM AND ORTHODOX SHABBAT SERVICES
FRIDAY EVENING SHABBAT SERVICES
REFORM: CENTRAL SYNAGOGUE Closed Captioned 6:00pm, 11:30pm & 2:00am
ORTHODOX: HAMPTON SYNAGOGUE With Hebrew, transliteration and English subtitles 7:30pm & 10:30pm
SATURDAY MORNING SHABBAT SERVICES
REFORM: CENTRAL SYNAGOGUE Closed Captioned 9:30am & 1:00pm
ORTHODOX: HAMPTON SYNAGOGUE With Hebrew, transliteration and English subtitles 11:00am & 2:30pm
Edith Samers Vice President 203.536.6914 (cell phone) JBS Jewish Broadcasting Service, a 501c3 fulltime television channel Website: jbstv.org
Watch JBS on Comcast X-1 Box Ch 1684, Atlantic Broadband 168, Hotwire Ch 269, DirecTV Ch 388, Blue Stream Ch 110, streamed on Roku under "educational", Apple TV, Amazon Fire TV and jbstv.org. For a complete and timely schedule and other television providers, go to www.jbstv.org
Religious Zionist MK Simcha Rothman
Simcha Rothman, a Religious Zionist Member of Knesset, chair of the Knesset's Constitution, Law & Justice committee, and an architect of Israel's legal reforms, joins MirYam Institute co-founder Benjamin Anthony to discuss the controversial reforms in front of an audience of US Army officers. Tuesday - 9:00pm & Midnight Wednesday - 3:00pm Saturday - 6:00pm
Likud MK Dan Illouz
An advocate for the judicial reform, MK Illouz tells the Jerusalem Press Club that despite demonstrations and the many calls for compromise, Israel's coalition government is moving forward with legal reform legislation in the Knesset. Wednesday - 2:30pm Thursday - 4:30am & 7:30pm
In the Spotlight: Judith Rosenbaum
Abigail Pogrebin is joined by the CEO of the Jewish Women's Archive, Judith Rosenbaum, who describes her vital organization which offers digital access to the true tales of Jewish women throughout history who have impacted medicine, politics, business, film, ritual, liturgy, law, justice, literature, and learning. Monday - 8:00pm Tuesday - 1:00am & 11:00am Wednesday - 5:30am Friday - 2:00pm
Srugim: "A New Song" EPISODE 6
Things get complicated between Amir and his ex-wife, Reut refuses to take no for an answer from a reluctant Torah reading tutor, and Nati reconnects with an old flame, causing Yifat to rethink her feelings, Monday - 7:00pm Tuesday - 2:00am & 10:00am Wednesday - 5:00am Thursday - 2:30pm Friday - 2:00am Saturday - 10:00pm
Rabbi Hirsch: Force of Habit
Looking at descriptions of the tabernacle in the Torah, Rabbi Hirsch examines the disconnect inherent in how the Torah focuses on the minute detail of the shelter's construction rather than on its symbolism of morality and justice. Tuesday - 7:00pm Wednesday - 2:30am, 9:30am & 5:30pm Thursday 4:30am Friday - 11:00am Saturday - 4:00pm
Pope Francis and Jewish-Christian Relations
As the Catholic church marks the 60th anniversary of Vatican II, Rabbi Noam Marans (AJC's Director of Interreligious and Intergroup Relations) and papal historian Christopher Bellitto (Kean University) review the influence of Pope Francis on Jewish-Christian relations, in a program from Iona University. Tuesday- 7:30pm Wednesday - 1:00am & 1:00pm Saturday - 7:00pm
In The News: Relations with India
Jason Isaacson, chief policy and political affairs officer at the American Jewish Committee, talks about the AJC Delegation's visit to India, cooperation between India, the US and Israel, and how that engagement positively impacts the region and beyond. Today (Sunday) - 5:30pm
Thinking Out Loud: Micah Halpern on a new Gallup Poll
The numbers are not encouraging. For the first time ever, Democrats 48-38 favor the Palestinians over Israel. Micah explains what is happening and why, and most importantly gives a plan help view Israel in a more positive light." Wednesday - 6:30pm & 11:30pm Thursday - 8:30am & 12:30pm
Good Week Israel: Noa Kirel Song, Manor Solomon & Marriage Online
Stories include rave reviews for the song "Unicorn," Israeli soccer star Solomon signs with Premier League, couples marry online and the Tura Winery and wine of the week. Tuesday - 6:30pm & 11:30pm Wednesday - 3:30am, 8:30am & 12:30pm
Top Story: Eric Cohen on Jewish Values
Jonathan Tobin speaks with Tikvah Fund executive director Eric Cohen who argues for a revival of classical Jewish education and a renewed emphasis on Jewish values, which he argues could lead to the strengthening and repair of today's society. Thursday - 8:00pm Friday - 1:00am &10:00am Saturday - 5:00am
L'CHAYIM Conversations on issues of importance to the Jewish community with Mark S. Golub z"l
Rabbi Angela W. Buchdahl
Angela Warnick Buchdahl, senior rabbi of NYC's Central Synagogue, describes growing up with innate spirituality and a lifelong love of Judaism, her struggles with identity and acceptance as an Asian-American Jew, her journey to leading Central and more. Today (Sunday) - 12:00 Noon
Rabba Sara Hurwitz
Rabba Sara Hurwitz, the first female Orthodox rabbi and co-founder and president of Maharat, the first institution to ordain Orthodox women as clergy, describes her personal journey, her commitment to Jewish Law (Halacha) and issues of concern to Orthodox women. Today (Sunday) 6:00pm
Paula Eiselt - 93 Queen
Filmmaker Paula Eiselt discusses her documentary 93 Queen, which follows an Orthodox mother of six on her quest to create a female ambulance service which evokes fierce opposition from her Chasidic community.
Monday - 9:00pm & Midnight Tuesday - 3:00pm
Timna Park in Israel
David Chudnow describes how his father Avrum (z"l) conceived and created a national park in the Sinai Dessert, and Professor Erez Ben-Yosef (Tel Aviv University) discuss the remarkable finds at the park's copper mines dating back to the Iron Age.
Wednesday - 9:00pm & Midnight Thursday - 3:00pm
Letty Cottin Pogrebin
Pioneering feminist Letty Cottin Pogrebin, activist, author and co-founding editor of Ms. Magazine, discusses her personal Jewish journey and shares her view of Jewish life today. Thursday - 9:00pm & Midnight Friday - 3:00pm
JEWISH STUDIES
Talmud Study with Rabbi Mordechai Becher Lessons premiere every Sunday at 9am ET
Talmud Study: Pray For Rain
How the Jewish view of life is revealed in the traditional prayers for rain Today (Sunday) - 9:00am Monday - 4:00am Tuesday - 9:00am & 5:00pm Wednesday- 7:00pm
Talmud Study: Tattooing
What one does or does not owe a person who does one a favor is the topic of Rabbi Mordechai Becher's Talmud lesson on this week's "Dimensions of the Daf" Today (Sunday) - 9:30am Monday - 4:30am Tuesday - 9:30am & 5:30pm Thursday - 7:00pm
A pluralistic introduction to the teachings, ideas and values of the Jewish Tradition with Rabbi Mark S. Golub z"l Lessons premiere every Sunday at 10am ET
Hineni
A continuing introduction to the philosophy of Judaism through Moses' encounter at the Burning Bush. Whose voice does Moses hear from the Bush? What does the answer "Hineni" imply? What does Moses ask of God? "Jewish 101". Today (Sunday) - 10:00am Monday - 5:00am Wednesday - 9:00am & 5:00pm Thursday - 4:00am Friday - 1:00pm
REFORM AND ORTHODOX SHABBAT SERVICES
FRIDAY EVENING SHABBAT SERVICES
REFORM: CENTRAL SYNAGOGUE Closed Captioned 6:00pm, 11:30pm & 2:00am
ORTHODOX: HAMPTON SYNAGOGUE With Hebrew, transliteration and English subtitles 7:30pm & 10:30pm
SATURDAY MORNING SHABBAT SERVICES
REFORM: CENTRAL SYNAGOGUE Closed Captioned 9:30am & 1:00pm
ORTHODOX: HAMPTON SYNAGOGUE With Hebrew, transliteration and English subtitles 11:00am & 2:30pm
Edith Samers Vice President 203.536.6914 (cell phone) JBS Jewish Broadcasting Service, a 501c3 fulltime television channel Website: jbstv.org
March 30th, 7 PM at Beth Torah Benny Rok Campus 20350 NE 26th Ave, Miami, FL 33180