JCS and GMJF are joining together to fight food insufficiency in Miami.
Two Great Locations. One Amazing Mission.
North Location: Aventura Turnberry Jewish Center | 20400 NE 30th Ave Aventura, FL 33180
South Location: Beth David Congregation | 2625 SW 3rd Ave Miami, FL 33129
Volunteer to deliver Passover food baskets to homebound seniors during JCS' annual food distribution event.
Basket packing starts at 9:00 AM
Deliver from 10 – 11:15 AM
For questions, contact Marian Mendelsohn at 305.403.6539 or mmendelsohn@jcsfl.org.
Please join the women of North Dade for this exciting event about how to navigate peer pressure, self esteem and staying above social influence/ pressures. Embrace the joy of missing out, and get rid of the fear of missing out.
For more information and to RSVP contact wp@gmjf.org or 786.866.8441.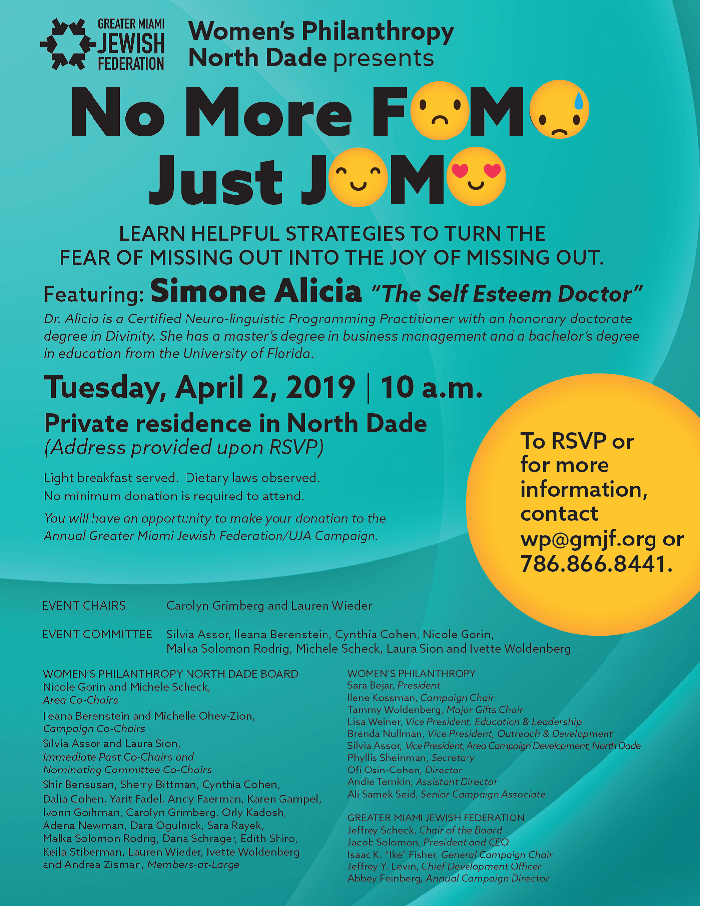 Join Temple Sinai of North Dade for our Annual Cantor Shulkes Spring Music Fest featuring Jewish bluegrass sensation Nefesh Mountain! Saturday, April 6th!
The FIDF Young Leadership are turning it up for Miami's Music Week and celebrating Purim with the HOTTEST party in South Florida at the 2019 White Party "Masquerade"!
Join young professionals from all across South Florida as we celebrate in style at our NEW location the legendary "Moore Building" located in stylish Miami Design District. The evening will be filled with:
-Dancing -Music -Gourmet food -Premium Open Bar -And much much more!
Come eat, drink, celebrate, donate and participate!
Event Co-Chairs: Zoe Robins Hinda Adler Andor Tobelem
Tickets: Regular $105 (till 3/21) Door $125
To purchase tickets: FIDF.org/WhiteParty2019
The FIDF YL Miami White Party is 21 and over. All attendees must present a valid photo ID. No refunds.
For more information about the 17th Annual FIDF YL White Party, please contact Elana Kashti, Development Associate, at Elana.Kashti@fidf.org or 305-354-8233
Join us Sunday, April 14 at Temple Beth Sholom for CAJE Celebration of Learning Honoring Maxine E. Schwartz.
CAJE is a vital component of our Jewish community and our educational system. Your support demonstrates your passion in making sure quality Jewish education remains strong and vibrant in Miami for years to come!
Click here to RSVP.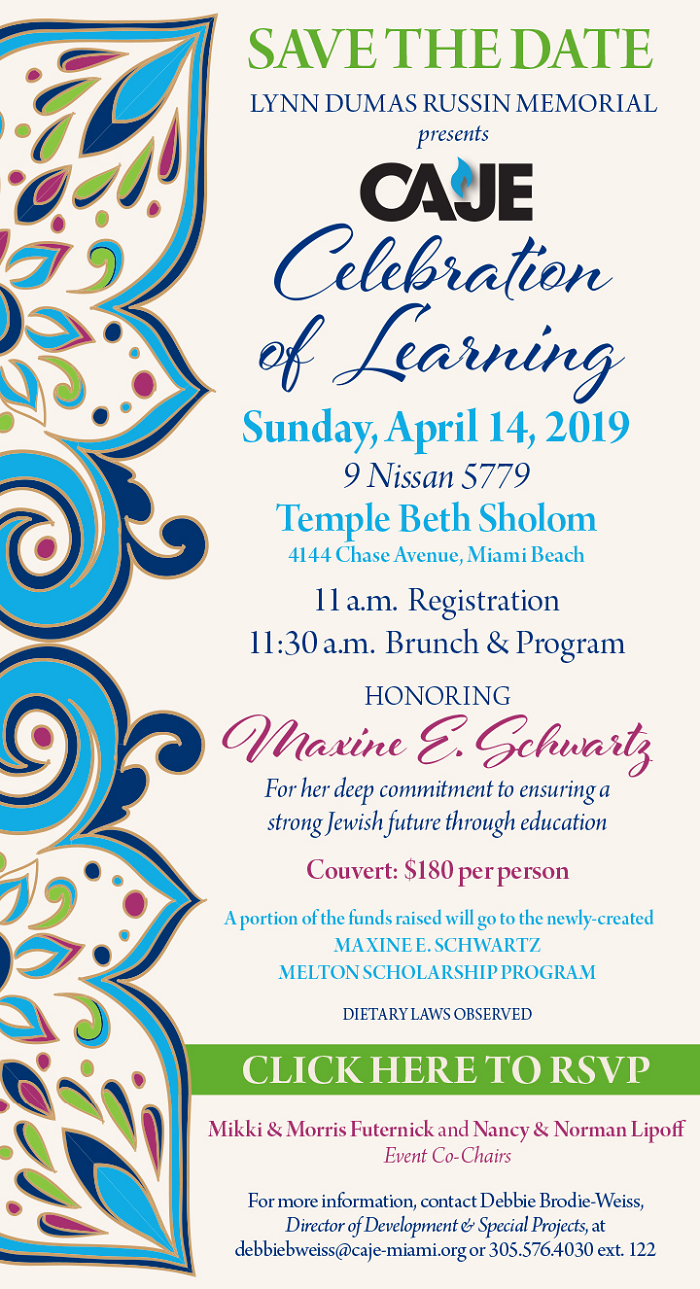 A night about Israel with Gabriel Ben Tasgal. Current Israel Affairs: 2019 Elections, peace plans and anti-Semitism.
Click here to RSVP.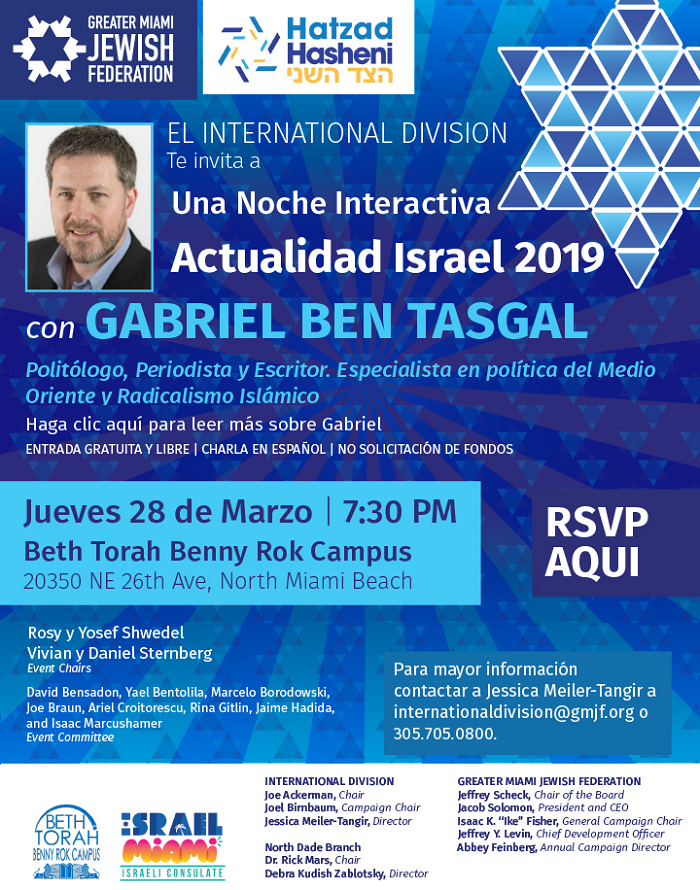 For a complete schedule, go to www.jbstv.org
Wisdom of Maimonides: Jeff Katz
New York Attorney Jeffrey Katz, author of The Secret Life: A Book of Wisdom from the Great Teacher, discusses Jewish values through the lens of the great Jewish philosopher Maimonides. A program of ISGAP from the ISGAP Center in NYC. Monday - 7:30pm & 2am; Wednesday - 1:30pm
Stories & Songs of Elie Wiesel
Cantor Deborah Katchko-Gray describes the influence studying with Elie Wiesel had on her and plays some of the songs she sang with him. For Holocaust Remembrance Day, a program by The Jewish Historical Society of Fairfield County, at JCC of Stamford, Ct. Monday - 8pm & 1am; Tuesday - 2pm; Saturday - 8pm & 2am
Ken Spiro: 7 Jewish Wonders
Rabbi Ken Spiro (Senior Lecturer for AISH HaTorah & Jerusalem U, and author of World Perfect: The Jewish Impact on Civilization) discusses 7 characteristics of Jewish history which reflect a profound connection to Biblical prophecy. A program of Dr. Naomi VIlko from Congregation Kehilath Jeshurun, NYC. Tuesday - 8pm & 1am; Wednesday - 2pm; Saturday - 7pm & 4am
L'Chayim: Matthew Lazar - Zamir
Matthew "Mati" Lazar, founding director of the Zamir Choral Foundation, describes his Jewish background and his love of music; and the Jewish philosophy and joys of Zamir - especially the international teen HaZamir Chorale (performing March 31, 2019 at 4pm at David Geffen Hall). Tuesday - 9pm & Midnight; Wednesday - 3pm; Next Sunday - Noon & 6pm
Talmud: Purim
Rabbi Mordechai Becher, Senior Lecturer with Gateways and author of Gateways to Judaism, shares photos of ancient artifacts, excavations and other images to explore the historical background of the Purim story. On JBS's "Dimensions of the Daf." This Morning (Sunday) - 9am; Tuesday - 9am & 4:30pm; Wednesday - 7pm & 2:30am
92Y: Borsch Belt Comics
The influence of Borscht-Belt comedians on mainstream American humor is outlined in glowing terms by critically acclaimed writer Warren Adler in conversation with Brooklyn-born comic Stewie Stone. From New York's 92nd Street Y .Sunday - 8pm & 1am; Monday - 10pm & 4am; Wednesday - 10:30am; Friday - 8pm & 1am; Saturday - 3pm
Film: Circumcise Me
Through stand-up comedy and personal reflections, Chris Yisroel Campbell tells how he, son of an ex-nun and a Catholic schoolteacher, converted to Judaism (3 times), made Aliyah and struggles with spirituality after friends were murdered in a terrorist bombing. Sunday - 9pm & Midnight; Thursday - 10:30am; Friday - 9pm & 4am
Jewish 101: Purim Peeves
In a special "Jewish 101" Purim edition, Rabbi Mark S. Golub shares five of his pet peeves relating to modern Jewish thought. Wednesday - 10am & 5:30pm; Thursday - 11:30am
92Y: Gene Wilder z"l
The late Jewish comic genius Gene Wilder talks with Wendy Wasserstein about his life and work. From the 92nd Street Y in New York City. Wednesday - 7:30pm & 1am
92Y: The Films of Mel Brooks
The films of Mel Brooks are discussed by Professor Jeremy Dauber, Professor of Yiddish Language, Literature, and Culture at Columbia University. From New York's 92nd Street Y. Wednesday - 8:14pm & 1:44am; Thursday - 2pm
L'Chayim: Jackie Mason
One of American Jewry's iconic comedians, Jackie Mason, reflects upon his choice to give up the Orthodox rabbinate for the world of comedy, discusses his controversial career, and shares some of his observations on Jewish life today. Wednesday - 9pm & Midnight; Thursday - 3pm
The Art of the Kvetch
A discussion of the "kvetch" (complaining) on Jewish humor, and its implications for Jewish secular culture. With Michael Wex (Born to Kvetch), Val Vinokur & Noah Isenberg (The New School) and Jeffrey Israel (Williams College). At The New School in NY. Wednesday - 10pm; Thursday - 1pm
Jewish Comedy of Elon Gold
Jewish standup comedian Elon Gold tells stories about his life, from hosting a Chabad Telethon, to impressions of his own rabbi's ill-fated attempts at standup comedy. From the 2017 AIPAC National Policy Conference. Thursday - 12:30pm
L'Chayim: A Jew Grows in Brooklyn - Jake Ehrenreich
Entertainer, musician and author Jake Ehrenreich (star of The Jake Ehrenreich Show on JBS) shares intimate stories about growing up with survivor parents and his struggles with being different; and discusses his book and one-man show, "A Jew Grows In Brooklyn."
Thursday - 9pm & Midnight; Friday - 3pm
Shalom Kids - Mr. Bookstein's Store: For Purim
Celebrate Purim at Mr. Bookstein's Store as Shifra, Darah, and Fella prepare to dress in costumes, hear the Megillah of Esther, and celebrate the joyous holiday. Sunday- 7:30am & 4pm; Monday - 7am; Wednesday - 7:30am & 4pm; Thursday - 7am
The Purim Story
The story of Esther, Mordechai and Haman is read by Jan Weiss. Monday - 7:30am; Tuesday - 7am; Thursday - 7:30am
Purim Puppets
For Purim, ventriloquist Jonathan Geffner and his hilarious puppet partners perform songs and tell stories while visiting Mr. Bookstein's Store to celebrate the Jewish holiday. A special "Megillah Mishigas" presentation for children. Tuesday - 7:30am & 4pm; Wednesday - 7am
Muzika: Idan Raichel
One of Israel's most popular musical artists, award winning singer and song-writer Idan Raichel, is profiled in JBS's weekly music series, "Muzika." Friday - 10:30pm
Deborah Lipstadt on Antisemitism Today - Noon & 6pm; Monday - 3pm
Janusz Makuch: Polish Jewish Culture Monday - 9pm & Midnight; Tuesday - 3pm
Allen Lewis Rickman: Yiddish Theater Saturday - 6pm
In The News: Eli Lake on Democrats
Bloomberg syndicated columnist Eli Lake analyzes the Democratic leadership's failure to adequately respond to the antisemitic remarks of Ilhan Omar and discusses the implications for the future of the Democratic Party. Sunday - 5:30pm & 11:30pm; Monday - 3:30am, 8:30am & 12:30pm
"A Touch Away" An Israeli television eight-episode mini-series set in Bnei Brak, a city to the east of Tel Aviv – Ep 6
Thursday - 8pm & 2am; Saturday - 10:30pm & 1:30am; Next Sunday - 2pm & 4am; Next Tuesday - 7pm & 2am
Edith Samers Vice President 203.536.6914 (cell phone) JBS Jewish Broadcasting Service, a 501c3 fulltime television channel
Michael- Ann Russell JCC invites you to a Community Purim Celebration on Thursday, March 21 from 3 to 7 PM. Families can enjoy delicious Kosher food for purchase. The event will feature Free Musical Performance by Noam Agami, Drum Circle by Music Box Productions, Reading of the Meguilah, Face Painting, Purim Art Project, Crate your Purim Masks, Soccer Challenge, Carnival attraction, and much more.
Location of Purim Celebration: Scheck Family Plaza at the Michael-Ann Russell JCC - 18900 NE 25th Avenue - North Miami Beach, Florida 33180 Information: Diania@marjcc.org or 305 932-4200 ext 119
The primary vision of the JTP is to provide Jewish tennis players an exclusive professional program to achieve a top world competitive level. Our vision combines high quality education with a deep connection to Jewish culture and Israel.*
The JTP's team decided that there is no better way to launch the JTP than to honor two of the greatest Israeli tennis legends, Shahar Peer and Shlomo Glickstein. Shahar and Shlomo are the perfect examples of what we strive for with our elite platform. They are a true representative of the organization visions and values.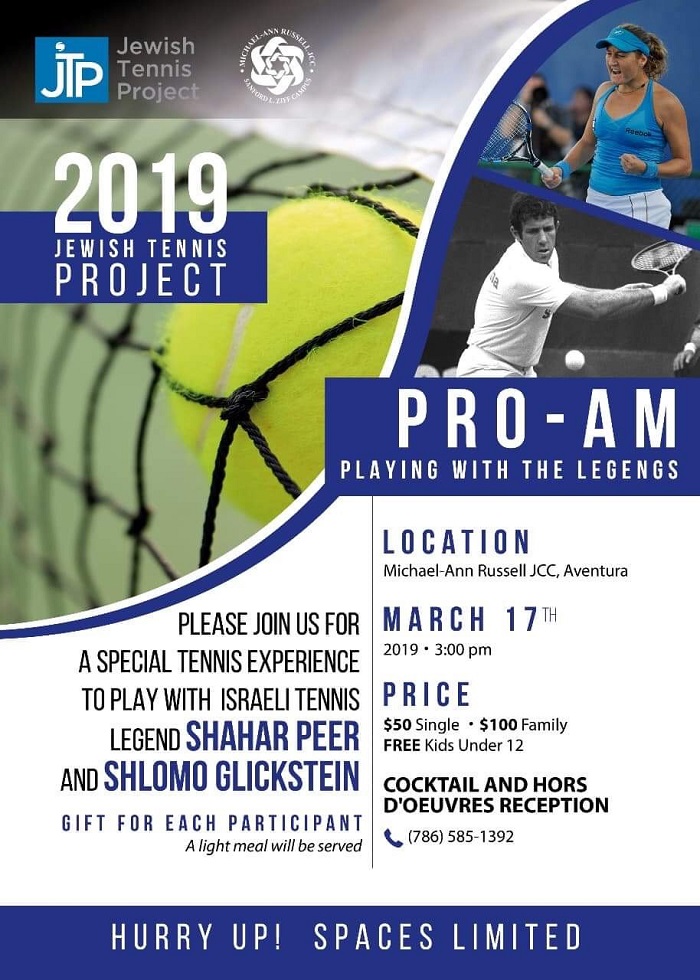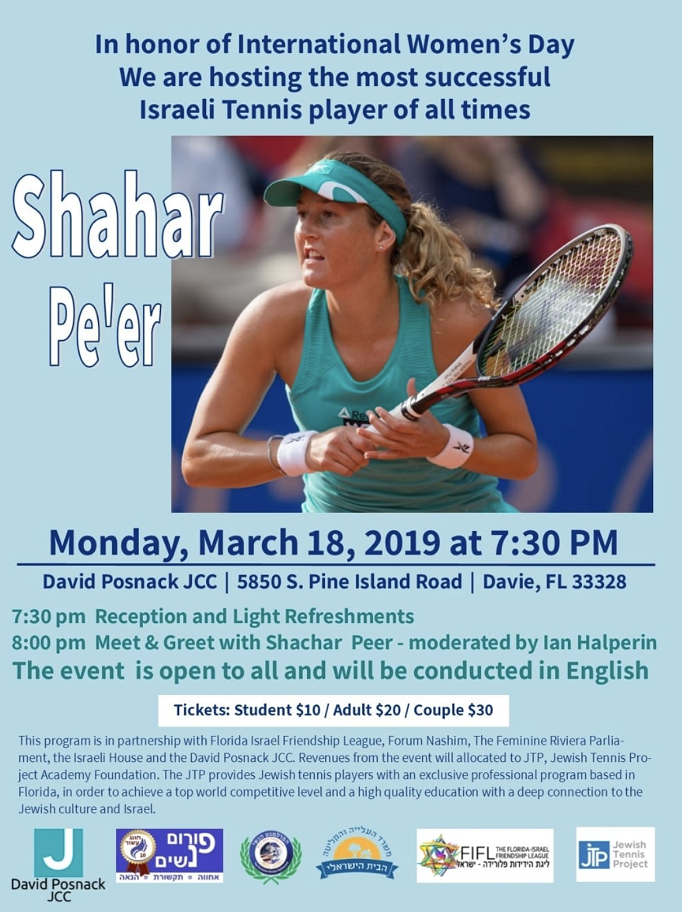 For a complete schedule, go to www.jbstv.org
In Recognition of Women's History Month:
Israeli Feminist Icon: Alice Shalvi
Holocaust survivor, founder of the Israel Women's Network and Israel Prize laureate Alice Shalvi (90+ years), reflects on her life's journey which she describes in her memoir"Never a Native." With Kathleen Peratis a program of the Marlene Meyerson JCC of Manhattan, Lilith magazine and New Israel Fund at B'nai Jeshurun Congregation in NYC. Tuesday - 8pm & 1am; Thursday - 2pm; Saturday - 7pm & 2:30am
L'Chayim: American Feminist Icon Letty Pogrebin
Letty Cottin Pogrebin, one of America's pioneering feminists (Ms. Magazine) and author of ten books ("Single Jewish Male Seeking Soul Mate"), describes her personal Jewish journey and shares her view of Jewish life today. Tuesday - 9pm & Midnight; Wednesday - 3pm
L'Chayim: Deborah Lipstadt
Holocaust historian Deborah Lipstadt (Dorot Professor of Modern Jewish History and Holocaust Studies at Emory University), discusses her celebrated victory over a British Holocaust denier (told in the 2016 movie Denial starring Rachel Weisz) and assesses the dangers of contemporary antisemitism she addresses in her new book, Antisemitism: Here and Now. Wednesday - 9pm & Midnight; Thursday - 3pm; Next Sunday - Noon & 6pm
L'Chayim: Story of "Ruckie" Freier ("93 Queen")
Filmmaker Paula Eiselt discusses her documentary movie "93 Queen," which follows a group of Orthodox women led by Rachel "Ruchie" Freier as they shake the status quo of their Chasidic community by trying to create a female ambulance service. Thursday - 9pm & Midnight; Friday - 3pm
Film: Lea and Darija
The story of 13-year-olds Lea Deutsch and Darija Gasteiger (the Croatian "Shirley Temples") who become stars of 1940's musical theater in Zagreb until the Nazi invasion put their friendship to the test. English subtitles. Sunday - 9pm & Midnight; Friday - 9pm & 4am
Also:
IPF: Understanding The Political Gap
Michelle Goldberg (NY Times), Dan Shapiro (former US Amb. to Israel), Mona Charen (columnist), Michael Doran (Hudson Institute) and Jonathan Greenblatt (ADL) take part in the Israel Policy Forum's "Across The Divide." A program in association with the ADL & The Streicker Center at Temple Emanu-El, NYC. Monday - 8pm & 1am; Wednesday - 2pm; Saturday - 8pm & 4am
92Y: Simon Schama - Jews Pt 2
Historian and author Simon Schama discusses part two of his BBC/PBS series, "The Story of the Jews," which chronicles Jewish history from the Jews' expulsion from Spain in 1492 through the end of the 19th Century and the birth of early Zionism. Tonight (Sunday) - 8pm & 2am; Monday - 10pm & 4am; Wednesday - 10:30am; Friday - 8pm & 1am; Saturday - 3pm
L'Chayim: Mark Langfan - Map Of The West Bank
Mark Langfan, President of Americans For A Safe Israel and an expert on water on the West Bank, uses a relief map to illustrate the problems that would be created for Israel were the West Bank high ground to come under Palestinian control. Monday - 9pm & Midnight; Tuesday - 3pm
"A Touch Away" Ep-5
Thursday - 8pm & 2am; Saturday - 10:30pm & 1:30am; Next Sunday - 2pm & 4am; Next Tuesday - 7pm & 2am
L'Chayim: Danny Ayalon on Israeli Politics
Former Israeli U.S. Amb. Danny Ayalon discusses issues surrounding the upcoming Israeli elections in April including Prime Minister Netanyahu's possible indictment and his support of a Kahane-like party. Today (Sunday) - Noon & 6pm; Monday - 3pm
ITN: Rettig Gur on Netanyahu
Political correspondent and analyst for The Times of Israel, Haviv Rettig Gur, describes the Israeli people's response to Benjamin Netanyahu's probable indictment and discusses the possible ramifications on Israeli elections.
Today (Sunday) - 5:30pm
ITN: Dershowitz on Netanyahu & Yoffie
Alan Dershowitz explains why he is troubled by the impending indictment of Prime Minister Netanyahu as a threat to Israeli democracy, and answers Rabbi Eric Yoffie's criticism of him published in Haaretz.
Tonight (Sunday) - 11:30pm & 3:30am; Monday - 8:30am & 12:30pm
Edith Samers Vice President 203.536.6914 (cell phone) JBS Jewish Broadcasting Service, a 501c3 fulltime television channel