Watch JBS on Comcast X1 Box Ch 1684, Atlantic Broadband Ch 168, Hotwire Ch 269, DirecTV Ch 388, Blue Stream Ch 110, streamed on Roku under "educational", Apple TV, Amazon Fire TV and jbstv.org. For a complete and timely schedule and other television providers, go to www.jbstv.org
L'Chayim: Neshama Carlebach
Grammy Award winning singer, songwriter and educator Neshama Carlebach talks about her personal journey, her music and how she has overcome the cancel culture that impacted her life and career.
Wednesday - 9pm & Midnight; Thursday - 3:00pm
Nikki Haley & Danny Danon
Former U.S. U.N. Ambassador Nikki Haley and Israeli U.N. Ambassador Danny Danon discusses issues challenging Israel; and Israeli innovators address a post-Covid world. With Liz Claman (Fox Business) from the 2020 DiploTech Global Summit of The Jerusalem Post. Monday - 8:00pm & 1:00am; Wednesday - 2:00pm; Saturday - 8:00pm
High-Tech in the Holy City
Hebrew University President Asher Cohen discusses how his institution is working to turn Jerusalem into Israel's newest start-up hotspot through advances in science and medicine. With Tammy Ben-Haim (Israeli Embassy) by HU and Israeli U.S. Embassy. Tuesday - 8:00pm & 1:30am; Thursday - 2:00pm; Saturday - 7pm; Sunday - 4am
Also On L'Chayim
Natan Sharansky
In a special 2-hour feature edition of L'Chayim, Soviet Refusnik and Dissident, Israeli political leader and Jewish Agency Head, Natan Sharansky, details his life in the former Soviet Union described in his book "Never Alone." With Mark S. Golub. Sunday - 12 Noon & 6pm; Monday - 3pm
Dr. Mordechai Kedar Pt. 1
Mordechai Kedar, a leading scholar on Arab culture (Bar Ilan University), addresses the profound misconceptions Americans have about the structure and mentality of the Palestinian world and offers an alternative peace plan. Monday - 9:00pm & 12 Midnight; Tuesday - 3:00pm
Dr. Mordechai Kedar Pt. 2
Dr. Mordechai Kedar Pt. 2 Mordechai Kedar, a leading scholar on Arab culture (Bar Ilan University), explains why the Arab world needs to recognize Israel as a Jewish State and why the issue of Palestinian refugees reflects an anti-Israel bias. Tuesday - 9:00pm & 2:00am; Wednesday - 3:00pm
Timna Park in Israel
David Chudnow describes how his father Avrum (z"l) conceived and created a national park in the Sinai Dessert and Prof. Erez Ben-Yosef (Tel Aviv U.) discuss the remarkable finds at the park's copper mines dating back to the Iron Age.
Thursday - 9:00pm & 2:00am; Friday - 3:00pm
"Tevye Raw" - Rickman
Veteran movie (A Serious Man), television (Boardwalk Empire) and Yiddish stage actor Allen Lewis Rickman discusses his love of Yiddish and his production "Tevye Served Raw," which he wrote, directed and plays the title role. Saturday - 6:00pm & 12 Midnight
Dershow: A Call For Unity
Alan Dershowitz calls upon all Trump supporters to unite behind President Biden and explains why he is so pleased with many of Joe Biden's cabinet selections – especially Antony Blinken for Secretary of State. From the daily podcast "The Dershow." Monday - 6:30pm, 11:30pm; Tuesday - 3:30am, 8:30am & 12:30pm
Thinking Out Loud-Micah Halpern
JBS journalist Micah Halpern discusses the potential long-term effects of the Covid pandemic on Jewish life; and comments on the deaths of renowned Jewish philanthropist Sheldon Adelson and charismatic Jewish educator Mel Reisfield. Wednesday - 6:30pm & 11:30pm; Thursday - 3:30am, 8:30am & 12:30pm; Friday - 4:30pm; Saturday - 5:30pm
In The News: Israeli Arabs & Elections
Yoseph Haddad, Israeli-Arab activist, educator and cofounder of the Israeli NGO "Together-Vouch for Each Other," discusses the potential for further integration of Israeli Arabs in Israel's political process in the upcoming elections. With Shahar Azani. Sunday - 5:30pm, 11:30pm; Monday - 3:30am, 8:30am & 12:30pm
In The News: Israeli Politics & Election
Lahav Harkov, Senior Contributing Editor of The Jerusalem Post who reports on and analyzes the Knesset and Israeli politics, discusses the political maneuverings as Israel approaches its next election this March. JBS's "In The News" with Shahar Azani. Thursday - 6:30pm, 11:30pm; Friday - 3:30am, 8:30am & 12:30pm
From The Aleph Bet: Lesson 4
Learn three new Hebrew letters: Aleph, Final Mem, and Lamed and a new Hebrew word Monday - 9:00am & 5:00pm; Tuesday - 7:00pm; Friday - 5:00am; Saturday - 8:00am
The Jewish Story: Christianity
The story of Jesus, and why Judaism is separate and distinct from Christianity, in the series "The Jewish Story Explained," from OpenDor Media with host Rivka Deray. Monday - 7:30pm & 2:45am; Wednesday - 1:15pm; Friday - 5:15am
Talmud Study: Tu B'shvat
On January 20-21, as Jews celebrate Tu B'Shvat -- the Jewish "New Year for Trees" when trees begin to bloom in the Land of Israel, Rabbi Mordechai Becher (Gateways) discusses the Talmudic view of the holiday on JBS's "Dimensions of the Daf." Sunday - 9:00am; Tuesday - 9:00am & 4:30pm; Thursday - 9:00am & 7:00pm; Friday - 4:30am
Talmud Study: Not Taken Literally
As the Jewish world reads "B'Shalach" from the Book of Exodus, describing the miracle of the Red Sea, Rabbi Mordechai Becher (Gateways) discusses the Talmud prohibition against reading certain Torah passages literally on JBS's "Dimensions of the Daf." Sunday - 9:30am; Tuesday - 9:30am & 5:00pm; Thursday - 7:30pm; Friday - 4:30am
Jewish 101: God's Second Name
When Moses asks for God's name, the answer Moses receives reveals the Jewish Tradition's understanding of God. "Jewish 101" is a continuing JBS series exploring the basic philosophy of Judaism with host Rabbi Mark S. Golub. Sunday - 10am
Jewish 101: Miracles
As the Jewish community reads the account in Exodus of the Red Sea, Rabbi Mark S. Golub discusses the classic midrash in which the Rabbis suggest the meaning of "miracle," as they describe how the sea only split when Nachshon plunged into the waters. Wednesday - 9am & 4:30pm; Friday - 1:00pm
92nd Street Y: Naomi Levy
Rabbi Naomi Levy, founder of the "Nashuva" Jewish spiritual movement, discusses her book, Einstein & the Rabbi, about the meaning & purpose of the soul inspired by an Albert Einstein correspondence. With Julianna Margulies at the 92nd Street Y in NY. Sunday - 8:00pm & 2:00am; Monday - 10:00pm; Tuesday - 4am; Wednesday - 10:30am; Saturday - 1:00am & 4pm
From Date To Mate: Episode 4
Justin dates someone new, while Daniel lovingly thinks "out of the box" to help Zoe celebrate Passover. Today (Sunday) - 10:30pm & 1:00am; Monday - 10:00am & 5:30pm; Wednesday - 10:30pm; Thursday - 4:30pm; Friday - 9:30pm; Saturday - 11:30pm
FRIDAY EVENING SHABBAT SERVICES
REFORM: CENTRAL SYNAGOGUE 6pm, 11:30pm & 2:00am
ORTHODOX: HAMPTON SYNAGOGUE With Hebrew, Transliteration and English subtitles 7:30pm & 10:30pm
SATURDAY MORNING SHABBAT SERVICES
REFORM: CENTRAL SYNAGOGUE 9:30am & 1pm
ORTHODOX: HAMPTON SYNAGOGUE With Hebrew, Transliteration and English subtitles 11am & 2:30pm
*Edith Samers Vice President 203.536.6914 (cell phone) JBS Jewish Broadcasting Service, a 501c3 fulltime television channel Website: jbstv.org *
Jennifer Steil, author of Exile Music, will be in conversation about her novel.
January 27, 2021 12:30 PM to 2:00 PM
Based on an unexplored slice of World War II history, Exile Music is the captivating story of a young Jewish girl whose family flees refined and urbane Vienna for safe harbor in the mountains of Bolivia.
Click here for more info and tickets.
An open webinar for the community, a great workout with the best Israeli self-defense experts to learn important skills in a fun environment from the comfort of your home. Open for all ages, fitness level, and physical abilities
Level Aleph is our core program, teaching you the most important self-defense tools to evade a situation and get home safe. This course consists of six instructor-led classes. After completing each class, you will unlock videos to drill the techniques more! Each course takes about 10-12 hours of class and practice time to complete.
Sign-up for free to register via our website. All are welcome! https://standstrong.org/event
To ensure the health and safety of volunteers and community members, we must adhere to the COVID-19 CDC guidelines. Masks are required. Please remain in your car and open the trunk when it's your turn in line. Volunteers will place food in your trunk. (If you are able, please print and place this on your dashboard.)
Thursday, January 28
9-11 a.m.
First come, first served while supplies last.
Please do not arrive before 9 a.m.

Greater Miami Jewish Federation
Stanley C. Myers Building
4200 Biscayne Boulevard

This Kosher Food Distribution Event has been
generously underwritten by:
Yleana & Yoram Izhak
and
Janice & Alan Lipton

Farm Share, Inc. is an equal opportunity provider.

I'm so excited my broken Marriage has been restored.
We recently made up, even though it was difficult. It's been more than a month now, and everything feels like it's returned to normal. He has begun to treat me better, and it's been a healing process for both of us. The nightmare that had lasted for almost 2 years before we broke up is finally over. It's like we fell in love all over again! We've both put the past behind us, and are trying to move forward – and for the first time in a long time, the future looks a lot brighter.I can't express in words how grateful I am to this spell caster ..
Email Buddha: buddhalovespell@gmail.com
Join Beth Torah's Rabbi Rojzman, Cantor Gastón, and Cantorial Soloist Evelyn Goldfinger for a special evening of moving spiritual, gospel music and Jewish prayers to uplift your spirit!
STREAMING LIVE, FRIDAY, JANUARY 22 AT 7:00 PM @ btbrc.org
OPEN TO THE COMMUNITY – FREE OF CHARGE
Sponsored by the Consulate General of Israel in Miami
With Special Guests:
The Church of the Open Door Choir
The Miami Temple Adventist Church Choir
The Florida Memorial University Chamber Ensemble
Singer Tianna Strong
Dr. Nelson Hall as music director
For more information and to attend virtually, click here: btbrc.org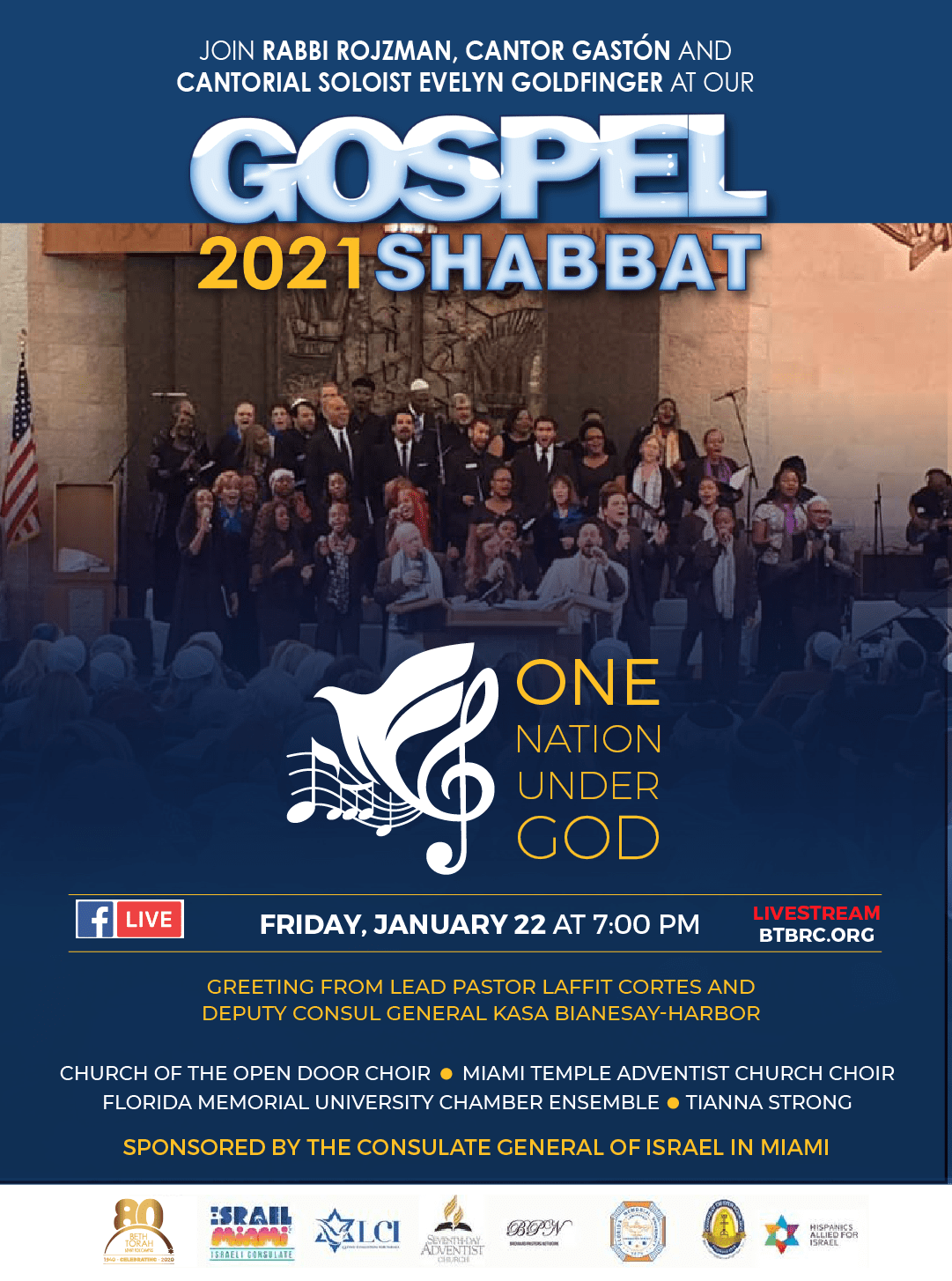 Beth Torah Benny Rok Campus Culture Club Lecture
TUESDAY, FEBRUARY 23 AT 7:30 PM VIA ZOOM
Culture Club is pleased to welcome Shoshana Bryen, Senior Director of the Jewish Policy Center, to speak on the subect: Israel and the Middle East. What Now?
Bryen is a leading specialist in Middle East affairs. The depth and breadth of her knowledge and understanding, along with her ability to clearly present facts without political overtones or wishful thinking, makes her a particularly eloquent speaker.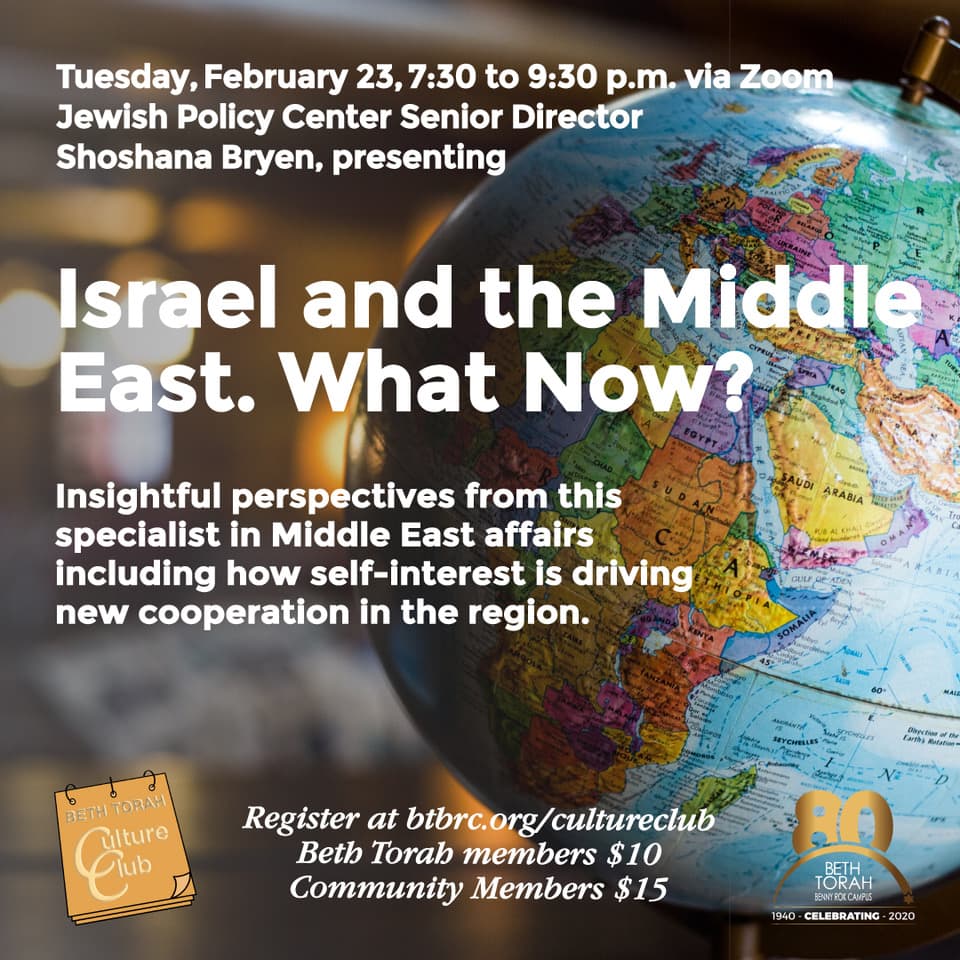 Formerly Executive Director and Senior Director for Security Policy at the Jewish Institute for National Security of America (JINSA), Bryen was author of the widely republished JINSA Reports. She has worked with the Strategic Studies Institute of the U.S. Army War College and the Institute for National Security Studies in Tel Aviv, and lectured at the National Defense University in Washington.
Bryen coordinated programs in the Middle East that allowed more than 450 U.S. military officers to engage in discussions of issues that both unite and divide the United States, Israel and Jordan. She also created a program to take cadets and midshipmen of U.S. service academies to Israel for a three-week work/study program giving hundreds of future officers a positive, in-depth experience in Israel. She has taken Turkish and Israeli military officers to speak at the U.S. service academies and has lectured at the academies as well.
In addition to the JINSA Reports, Bryen's work has appeared in The Wall Street Journal, the New York Sun and Defense News, to name a few, and Culture Club is fortunate to have the opportunity to hear her perspectives on this critical and timely subject.
Register here: https://btbrc.shulcloud.com/form/culture-club-israel-middle-east.html
NOT YOUR GRANDMA'S BINGO
Beth Torah Benny Rok Campus Sisterhood
SUNDAY, JANUARY 24, 11 AM VIA ZOOM
Jukebox Bingo is not your grandma's bingo. It is run by a DJ who combines music and music trivia to create an entertaining game appropriate for the whole family. Listen to the tune and sing along — or even dance a few steps. Or, if you're stumped, unscramble the anagram that will be posted.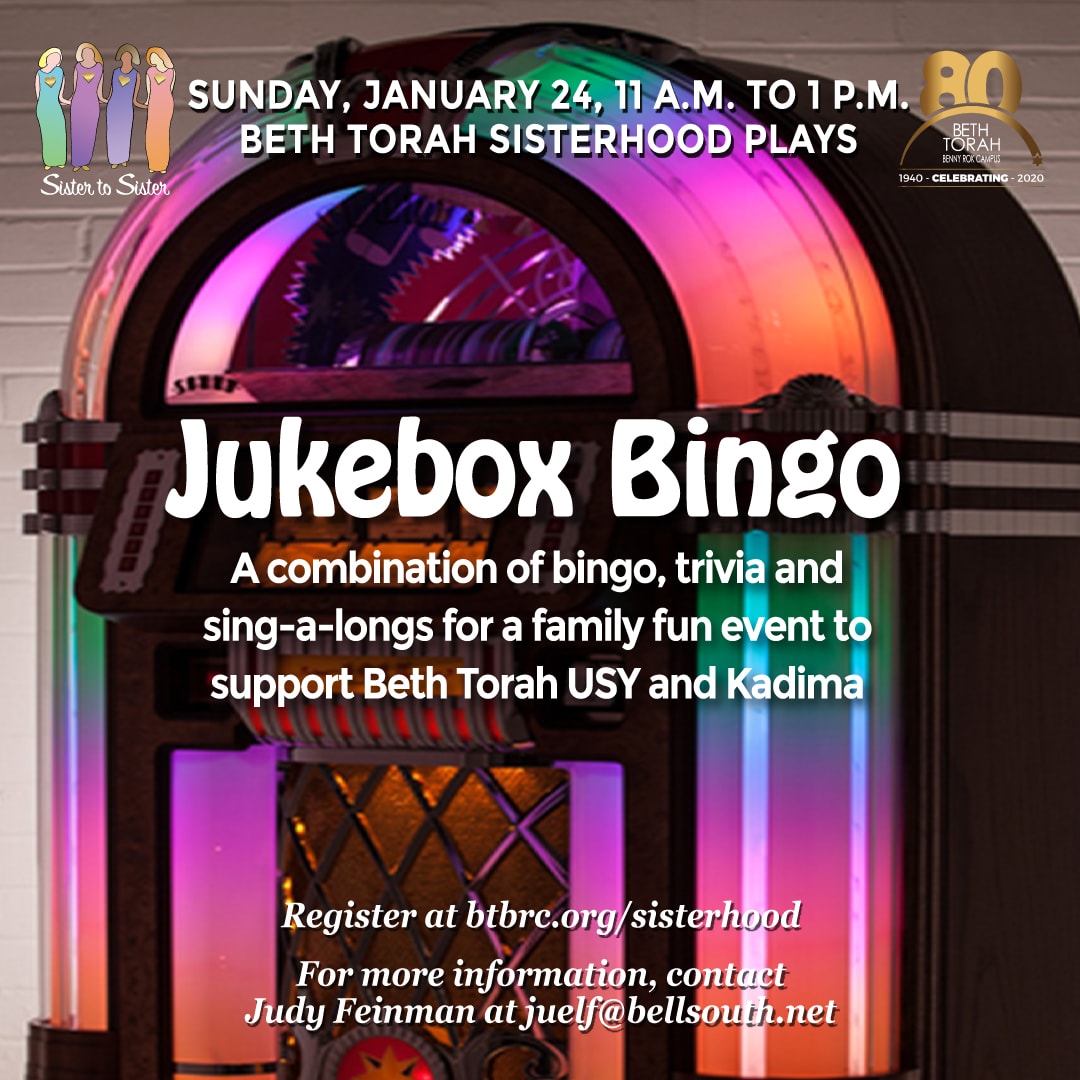 There will be two games, each with prizes for the first two winners. The themes will be Broadway Show Tunes followed by Generational Music spanning the 50s through the 90s.
Registration is $18 which includes three cards for both games. Additional cards are available for $5.
Zoom link and pdf files of the cards will be sent out the morning of January 22nd.
For questions or more information, contact Judy Feinman at juelf@bellsouth.net.
Proceeds go to support Beth Torah USY and Kadima.
Register no later than January 21st at https://btbrc.shulcloud.com/form/jukebox-bingo.html
HOW DOES JUDAISM INFLUENCE AMERICAN POPULAR CULTURE, ESPECIALLY ROCK MUSIC. WHAT ARE THE JEWISH VOICES AND WHAT ARE THOSE VOICES SAYING?
Beth Torah Benny Rok Campus Culture Club Lecture
THURSDAY, JANUARY 21 AT 7:30 PM VIA ZOOM
One of the most fascinating and enigmatic singer/songwriters of the late '60s, Leonard Cohen retained an audience until his death in 2016, even though he often temporarily moved away from music. Among musical figures from the '60s who continued to work in the 21st century, Cohen commanded the attention of critics and younger musicians more than any others with the exceptions of Bob Dylan and Paul Simon.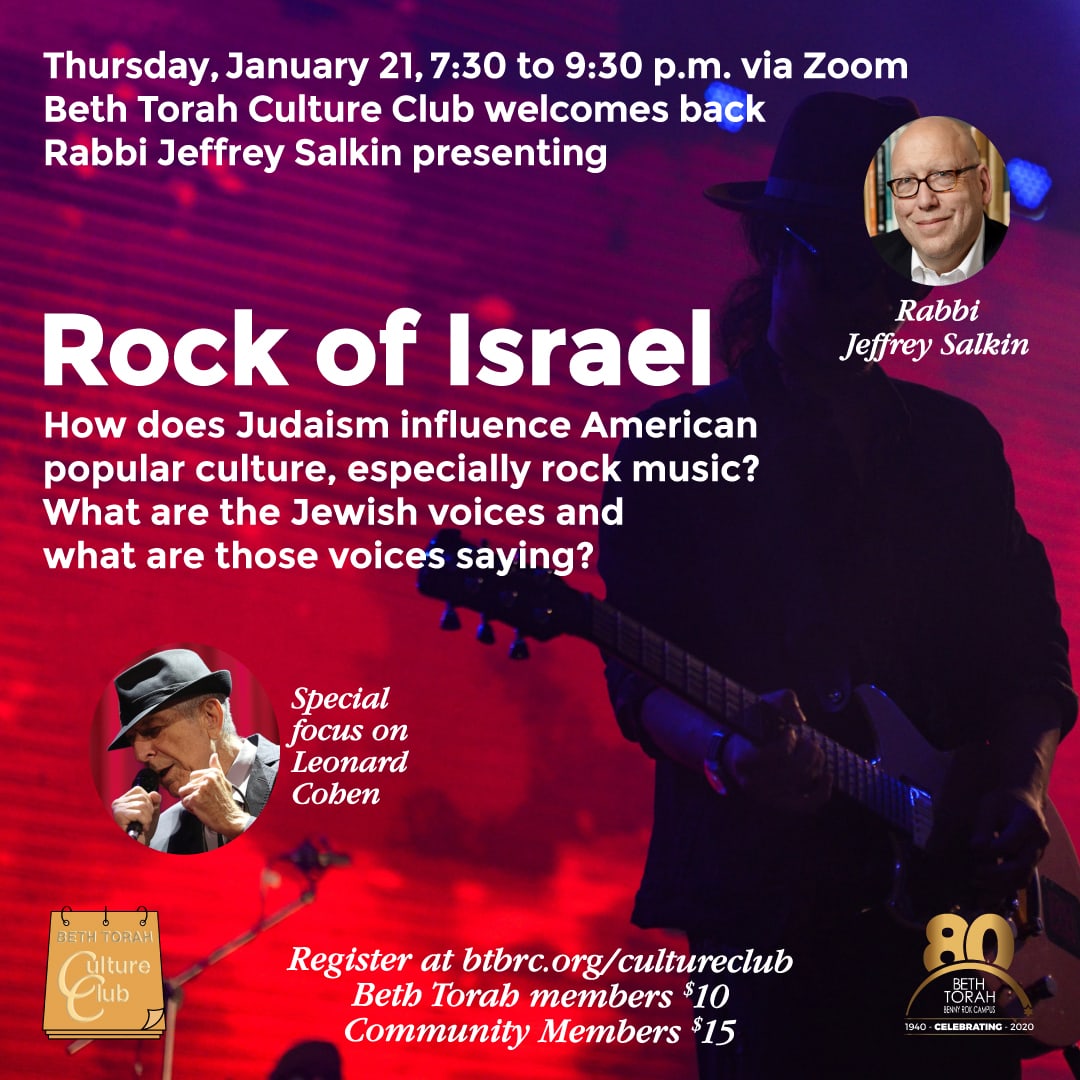 Culture Club is pleased to welcome Rabbi Jeffrey Salkin — who entertained and informed us at his 2020 lecture focused on Bob Dylan — to do the same with Leonard Cohen.
With the regular appearance of his award-winning blog, "Martini Judaism: for those who want to be shaken and stirred," published by the Religion News Service, Jeffrey Salkin is one of American Judaism's most prolific and most-quoted rabbis and thought leaders.
Since his first book, Putting God on the Guest List: How to Reclaim The Spiritual Meaning of Your Child's Bar or Bat Mitzvah (Jewish Lights Publishing), Rabbi Salkin has been known for his writing, teaching and activism. His books are on such topics as making Jewish ritual meaningful; struggling with the meaning of masculinity in today's world; interpreting Israel and Zionism to Jews and non-Jews; and the task of reclaiming Judaism's central role as a "takes-no-prisoners, speak-truth-to-power-and-culture religious tradition."
Rabbi Salkin's essays have appeared in the Washington Post, The Huffington Post, Tablet, Mosaic, Forward and JTA. He has discussed the American political scene on CNN and the BBC. He has contributed articles to scholarly journals and several of his books have won national awards. In July, 2020, Rabbi Salkin delivered the keynote on religion to the Chautauqua Institution known for its summer program of performing arts, lectures, concerts, interfaith programs, and recreational activities.
Rabbi Salkin serves as the senior rabbi of Temple Israel in West Palm Beach, Florida
Register at: https://btbrc.shulcloud.com/form/culture-club-rock-israel.html
Watch JBS on Comcast X1 Box Ch 1684, Atlantic Broadband Ch 168, Hotwire Ch 269, DirecTV Ch 388, Blue Stream Ch 110, streamed on Roku under "educational", Apple TV, Amazon Fire TV and jbstv.org. For a complete and timely schedule and other television providers, go to www.jbstv.org
L'Chayim: Natan Sharansky
In a special 2-hour feature edition of L'Chayim, Soviet Refusnik and Dissident, Israeli political leader and Jewish Agency Head, Natan Sharansky, details his life in the former Soviet Union and his struggle for Jewish identity and freedom, described in the first section of his new memoir "Never Alone – Prison, Politics and My People," which he co-authored with Gil troy. Wednesday – 9:00pm & Midnight; Thursday - 3:00pm
Menachem Begin's Contribution
A discussion of the unique values Menachem Begin brought to Israeli politics and the relationship between Israel and American Jews with Malcolm Hoenlein (Presidents Conference) and Dan Meridor (former Israeli Minister). By Menachem Begin Heritage Center. Tuesday - 8:00pm & 1:30am; Thursday - 2:00pm; Saturday - 7pm
Also On L'Chayim
Sunday: Robert Siegel
Award winning journalist, Robert Siegel (former producer/host of NPR's "All Things Considered"), discusses his long career in broadcasting and speaks about the challenges confronting journalists today. Today (Sunday) - 12 Noon & 6pm; Monday - 3pm
Tuesday: Fauda Star Lior Raz
The co-creator and star of the hit Israeli series on Netflix, Fauda, discusses how the action series draws a sharp distinction between Palestinian violence and the Israeli response while portraying the humanity of both societies. Tuesday - 9:00pm & 2:00am; Wednesday - 3:00pm
Thursday: SJP Report - Charles Small
Founding Director and President of ISGAP Charles Small discusses his organization's research on Students For Justice In Palestine (SJP) and the BDS movement, and the urgency of combatting antisemitism today. Thursday - 9:00pm & 2:00am; Friday - 3:00pm
Saturday: Transcending Loss-Robin Kanarek
Robin Kanarek, who lost her teenage son David to cancer, describes how she has been able to continue to embrace life and why she feels the development of palliative care is so essential for patients of all ages Saturday - 6:00pm & 12 Midnight
Thinking Out Loud: Virus Protocol
JBS journalist Micah Halpern addresses the way the coronavirus has affected the Jewish community and reviews an interview with Hezbollah leader Hasan Nasrallah. Wednesday - 6:30pm & 11:30pm; Thursday - 3:30am, 8:30am & 12:30pm; Friday - 4:30pm; Saturday - 5:30pm
In The News: Israel and Covid Vaccines
Dr. Asher Salmon, Director of the International Relations Department at Israel's Ministry of Health, provides an update on Israel's quarantine and vaccination efforts, as well as its cooperation with the Palestinians and other nations. With Shahar Azani. Sunday - 5:30pm, 11:30pm; Monday - 3:30am, 8:30am & 12:30pm
CELEBRATING MARTIN LUTHER KING, JR.
92nd Street Y: Obama's Rabbi Cousin-Rabbi Capers Funnye
Meet Michelle Obama's first cousin (once removed), Rabbi Capers Funnye, who discusses his conversion to Judaism, his work in Africa, and what the black Jewish experience is like in America. Sunday - 8:00pm & 2:00am; Monday - 10:00pm; Tuesday - 4am; Wednesday - 10:30am; Saturday - 1:00am & 4pm
Martin Luther King, Jr. Tribute
Commemorating the birthday of Martin Luther King, Jr. Monday - 6:30pm, 11:30pm; Tuesday - 3:30am, 8:30am & 12:30pm
Heschel & King – Eisen (Limmud)
Dr. Arnold Eisen, Chancellor of the Jewish Theological Seminary, discusses the pioneering work of Rabbi Abraham Joshua Heschel and his influence on Dr. Martin Luther King Jr. in a talk entitled, "The Politics Of Prophecy." JBS coverage of Limmud NY 2016. Monday- 7:00pm & 2:00am
Heschel & King: Susannah Heschel
Susannah Heschel, Professor of Jewish Studies at Dartmouth College and daughter of Abraham Joshua Heschel, discusses her father's relationship with Dr. Martin Luther King, Jr., and a philosophy of Jewish political action. From Center for Jewish History, NYC. Monday- 8:00pm & 1:00am
I Have a Dream: Clarence Jones
Meet Clarence Jones, a personal friend of Martin Luther King, Jr. who helped create the I Have A Dream speech.
Monday - 9:00pm & 12 Midnight; Tuesday - 3:00pm
From Date To Mate: Episode 3
Drama unfolds as cast members of "From Date to Mate" face consequences of their actions in trying to find that perfect match. A JBS original production of a mock reality series following four Jewish singles navigating the New York singles' scene. Created by Sloan Copeland.
Sunday- 10:00pm & 1:00am; Monday - 10:00am & 5:30pm; Thursday - 1:30pm; Saturday - 10:30pm & 2:00am
Talmud Study: All Jews Are Friends
"All Jews Are Friends," based on Hagigah 26, is the title of this edition of Dimensions of the Daf. Sunday - 9:00am; Tuesday - 9:00am & 4:30pm; Thursday - 7:00pm; Friday - 4:00am
Talmud Study: Doodles and Margins
Rabbi Mordechai Becher (Senior Lecturer, Gateways) discusses doodles that appear in the margins of ancient Jewish texts (including Maimonides') which show how human culture has not changed in thousands of years.
Sunday - 9:30am; Tuesday - 9:30am & 5:00pm; Thursday - 7:30pm; Friday - 4:30am
Jewish 101: Name of God
When Moses asks for God's name, the answer Moses receives reveals the Jewish Tradition's understanding of God. "Jewish 101" is a continuing Shalom TV series exploring the basic philosophy of Judaism with host Rabbi Mark S. Golub. Sunday - 10am
Jewish 101: God's Second Name
Study the two names of God given to Moses at the Burning Bush (Exodus 3) that serve as the basis for the Jewish understanding of the reality of God. "Jewish 101" is an original JBS series hosted by Rabbi Mark S. Golub. Wednesday - 9am & 4:30pm; Friday - 1:00pm
AND LEARN TO READ HEBREW ON JBS
From The Aleph Bet: Lesson 3
Learn the letter "Bet" and how to read the most important word in the experience of Judaism. Monday - 9:00am & 4:30pm; Tuesday - 7:00pm; Friday - 5:00am; Saturday - 8:00am
FRIDAY EVENING SHABBAT SERVICES
REFORM: CENTRAL SYNAGOGUE 6pm, 11:30pm & 2:00am
ORTHODOX: HAMPTON SYNAGOGUE With Hebrew, Transliteration and English subtitles 7:30pm & 10:30pm
SATURDAY MORNING SHABBAT SERVICES
REFORM: CENTRAL SYNAGOGUE 9:30am & 1pm
ORTHODOX: HAMPTON SYNAGOGUE With Hebrew, Transliteration and English subtitles 11am & 2:30pm
Edith Samers Vice President 203.536.6914 (cell phone) JBS Jewish Broadcasting Service, a 501c3 fulltime television channel Website: jbstv.org