Join us Wednesday, February 6, for a panel conversation moderated by Carol Brick-Turin.
Email wp@gmjf.org to RSVP.

How do you spell inspiration? J-A-C-K-O, as in Virginia A. Jacko, President and CEO of Miami Lighthouse For The Blind. Virginia will speak on her book, "The Blind Visionary", which explains her journey through blindness, and how it is possible to lead a productive and full life while blind. One of only a handful of blind chief executives in our country, on her watch Miami Lighthouse has become an innovation engine, heralded globally for its leadership and management. From facilitating fully equipped mobile optometric offices traveling to schools throughout Florida, a pre-school created for blind early learners, to providing consulting service for compliant websites for many types of business, Ms. Jacko has achieved an enviable record of outstanding accomplishments.
Virginia will also speak about her recent trip to Israel; visiting institutions for the blind there, providing a unique opportunity to exchange curricula, pedagogy, and share descriptions of their respective facilities, and seeking to identify commonalities and differences in order to learn from each other.
Ms. Jacko will speak on Friday, February 8th, during the evening Shabbat service at Ahavat Olam, a Kendall synagogue located at 10755 SW 112 Street, on the grounds of Killian Pines United Methodist Church. The service begins at 7:45 p.m. Don't miss this extraordinary and kindhearted dynamo! For further information, please call 305 412-4240 or write members@ahavatolam.org
92Y: Author David Grossman
Israeli author David Grossman discusses his novel A Horse Walks into a Bar and parts of the book are read aloud and performed. From the 92nd Street Y in New York with fellow author Nicole Krauss. Tonight (Sun) - 8pm & 1:30am; Monday - 10pm & 4am; Wednesday - 10:30am; Friday - 8:30pm & 1am; Saturday - 3pm & 5am
Glick, Shaked, Soloveichik, Hertog
At the Second Annual Jewish Leadership Conference on "Jews and Conservativism," Roger Hertog (Tikvah Fund Chairman and President of the Hertog Foundation), Caroline Glick (Jerusalem Post), Ayelet Shaked (Israel's Justice Minister) and Rabbi Meir Soloveichik (Congregation address aspects of Jewish conservativism in Israel and America. Monday - 7:30pm & 1pm; Wednesday - 1:30pm; Saturday - 7pm & 1:30am
Tribute To Charles Krauthammer z"l
Conservative columnist, author and TV commentator Charles Krauthammer z"l is remembered by Bill Kristol (Weekly Standard), Rich Lowry (National Review) and Matthew Continetti (Washington Free Beacon). At 2018 Jewish Leadership Conference on "Jews and Conservativism" at the Grand Hyatt Hotel in NYC. Tuesday - 8pm & 1am; Thursday - 2pm; Saturday - 11am & 4am
L'Chayim: Abigail Pogrebin
Abigail Pogrebin, former producer for "60 Minutes" and author of "Stars of David" and "One and the Same: My Life as an Identical Twin," describes growing up with a famous mother (feminist Letty Pogrebin) and reflects upon her own Jewish journey. Mon - 9pm & Midnight; Tue - 3pm
L'Chayim: Letty Pogrebin
Letty Cottin Pogrebin, one of America's pioneering feminists (Ms. Magazine) and author of ten books ("Single Jewish Male Seeking Soul Mate"), describes her personal Jewish journey and shares her view of Jewish life today. Tue - 9pm & Midnight; Wed - 3pm
Jewish Film Festival: The Law
The powerful story of Simone Viel, who survived Auschwitz to become a champion of women's rights in post-war France, serving as Minister of Health and helping to legalize abortion in the 1970's. Starring Emmanuelle Devos and directed by Christian Faure. Today (Sunday) - 9:30pm & Midnight; Friday - 9pm & 4am
Francis Bok & Charles Jacobs: Slave Trade Survivor Wednesday - 9pm & Midnight; Thursday - 3pm
Stuart Weinblatt: Confronting Illness Thursday - 9pm & Midnight; Friday - 3pm
Tuvia Tenenbom: "The Lies They Tell" Saturday - 6pm
ITN: David Harris on Rep. Tlaib
David Harris, CEO of the American Jewish Committee, explains his concerns with the statements of freshman Rep. Rashida Tlaib (D-MI) who criticized US Senators supporting anti-BDS legislation claiming they are forgetting which country they represent. Tonight (Sunday) - 11:30pm; Monday - 3:30am, 8:30am, 12:30pm
Talmud: Dimensions of the Daf
As the Jewish world reads Parashat B'Shalakh and the parting of the Red Sea, JBS presents Rabbi Mordechai Becher discussing when the Torah is not to be taken literally Sunday 9:30am; Tuesday 9:30am & 5pm; Thursday 7:30pm
Jewish 101: Miracle of Nachshon
The Rabbinic tradition's notion of "a miracle" and what really caused the Red Sea to split. Sunday 10am;Wednesday 9am & 4:30pm; Friday 1pm
Shabbat Shirah: Jules Frankel z"l
To celebrate Shabbat Shirah (Sabbath of Song), in memory of Miriam's and Moses' leading the Israelites in song after crossing the Red Sea, JBS replays an annual concert of one of American Jewry's foremost lay leaders and song leaders Jules Frankel's (z"l), as he is joined by song-leader and composer Steve Dropkin.From the East Brunswick New Jersey Jewish Center (2012). Friday - 7:30pm
From The Aleph Bet"
The Easiest & Most Friendly Way To Learn To Read Hebrew Mondays - 9am & 4:30pm; Wednesdays - 7pm; Saturdays - 9am
Edith Samers Vice President 203.536.6914 (cell phone) JBS Jewish Broadcasting Service, a 501c3 fulltime television channel
The Family Shul | 2601 NE 211th Terr, Miami, FL 33180 Saturday, February 9th at 7:30pm
Join us for Havdala & a special family film promoting inclusion. Featuring "Front of the Class" (an inpirational and moving film) fit for all ages. Refreshments will be served! No charge. The perfect way to spend Saturday Night with the family!
"Refusing to be beaten by his affliction, Tourette's syndrome sufferer Brad Cohen vows to become a teacher, overcoming prejudice, ignorance and fear as he struggles to make his dream come true".
To RSVP call (305) 770-1919 or visit www.chabadhcayil.org/4261423
A Multigenerational Experience For the Entire Family
For up-to-the minute schedules, go to jbstv.org
Outspoken: BDS & Violence
Brooke Goldstein speaks with Marc Greendorfer (Zachor Legal Institute), Gabriel Groisman (Mayor of Bal Harbour, FL) and photojournalist Jonathan Alpeyrie about the way in which the BDS movement is organized and funded by groups committed to violence. Monday - 8pm & 1:30pm; Wednesday - 2pm; Saturday - 7pm & 2am
"From The Aleph Bet"
The Easiest & Most Friendly Way To Learn To Read Hebrew Mondays - 9am & 4:30pm Wednesdays - 7pm; Saturdays - 9am
The Brooklyn Jewish Hall Of Fame - 2018
Founding chair of the Brooklyn Jewish Historical Howard Teich and co-chair Sarina Roffé welcome the 4th class of inductees into the Brooklyn Jewish Hall of Fame including David G. Greenfield (CEO and Exec Dir., Met Council), Rabbi Alvin Kass (Chief Chaplain, NYC Police Department), Henry B. Gutman (Brooklyn Bridge Park Corporation Board of Directors ), Rachel Freier (Civil Court Judge, New York State), Adam Richman (author, actor TV personality "Man vs. Food", Ferne Pearlstein (documentary filmmaker), Cecelia Margules (musician), Eleanor Reissa (director, playwright, Yiddish Performer) and Charley Rosen (author and former basketball coach) for Abraham Becker (NYU basketball). From the Brooklyn Historical Society in Brooklyn, NY. Tuesday - 8pm & 1am;Thursday - 2pm
L'Chayim: Shlomo Riskin and Kenneth Brander
The founding dean and Chancellor Emeritus of Ohr Torah Stone educational institutions, Shlomo Riskin, and the new President of Ohr Torah Stone, Kenneth Brander, share their perspectives on women in Judaism and explain how the essence of Torah is to be a loving person. Wednesday - 9pm & Midnight; Thursday - 3pm; Next Sunday - Noon & 6pm
ITN: Gil Troy on Israeli Political Upheaval
Gil Troy, Prof. of History at McGill University and Jerusalem Post columnist, analyzes the dramatic moves of Israeli politicians who are switching and creating new political parties, including Naftali Bennett, Ayelet Shaked, Caroline Glick, Michael Oren, Tzipi Livni and Gen. Benny Gantz. Sunday - 5:30pm, 11:30pm, 3:30am; Monday - 8:30am & 12:30pm
On L'Chayim This Week:
Itamar Marcus: Palestinian Media Watch Monday - 9pm & Midnight; Tuesday - 3pm
Deborah Dash Moore & Jeffrey Gurock: Jewish New York Tuesday - 9pm & Midnight; Wednesday - 3pm
Bassem Eid: A Palestinian View Wednesday - 9pm & Midnight; Thursday - 3pm
Submitted by: Edith Samers Vice President 203.536.6914 (cell phone) JBS Jewish Broadcasting Service, a 501c3 fulltime television channel
The future is in your genes! Join the Women's Philanthropy Miami Beach board for an exciting eye-opening event featuring Dr. Liz Etkin-Kramer, M.D and Debbie Wasserman, M.S. Saliva-based testing will be available on site through Color Genomics lab.
Please email wp@gmjf.org to RSVP.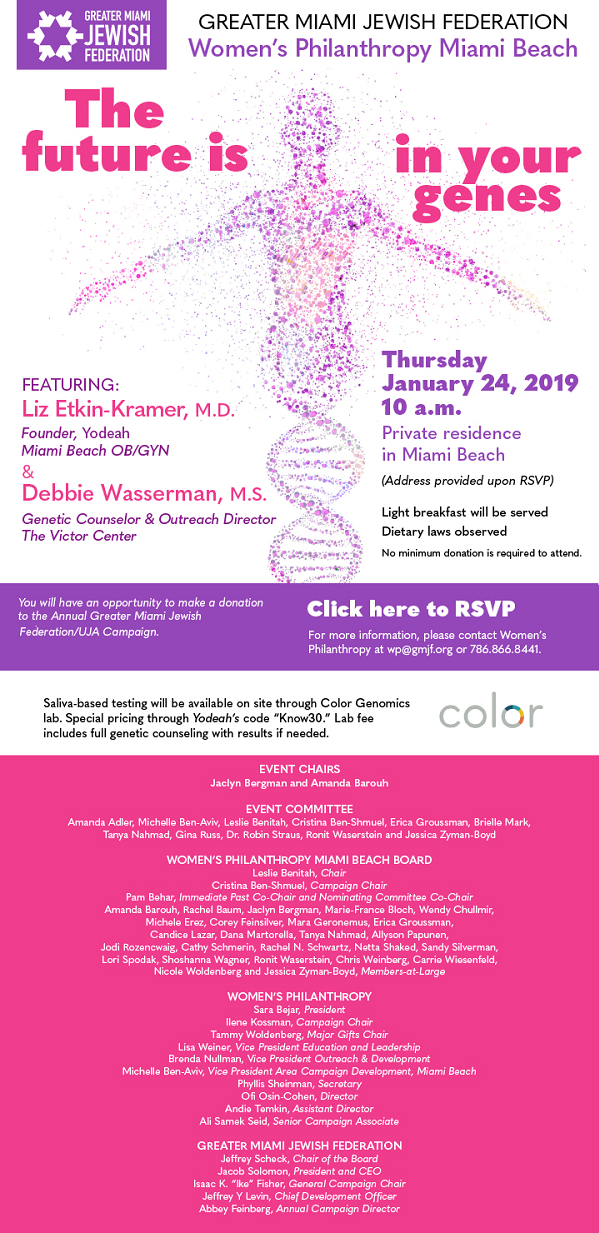 Posted by JTFisher on 01/03/2019 @ 01:47 PM
Judy Fisher, former Development Professional in south Florida's Jewish Community recently released her third novel, "Voices from the Ledge." Set in Miami, Judy explores the concept of suicidal ideation (in a fictional circumstance) with a strong positive message. In fact, every book she writes introduces the reader into serious concepts, but in a lighter, fictional way.
Most people think about ending it all at least once in their lives. Judy is glad she didn't. Her writing began as an empty nester blog to fill time that was previously spent tending to her husband and two children. As she wrote and gained followers, she decided to try pure fiction.
She felt that a lot of women, especially of her generation, struggled with many fears, questions and issues growing up in the 1960's and 1970's, and many still carry those fears coupled with the shame, embarrassment and skeletons that affect the way they live their lives even today. She was one of them, and her mission is to help one woman, anywoman, anywhere. If that happens, NYT Bestseller list be dxxned!
With two grown children, Judy now resides in Aventura with one four-legged child named Alexander, her husband and her mother. She enjoys reading, writing and live theater.
Sundays, Starting January 13th 12:00pm Drawing Lessons 1:00pm Painting Lessons
Ages 6 and up. Come for one or both.
$60 per month per class. $80 for both classes. $20/30 for individual weeks.
Chabad Chayil, 2601 NE 211 Ter. Miami, FL 33180 Register at (305)770-1919 or ChabadChayil.org/4251835
Jake Ehrenreich Show #2: J Budd
Singer Julie Budd and cast members from the Yiddish production of "Fiddler On The Roof" are Jake Ehrenreich's guests on JBS's new series, "The Jake Ehrenreich Show," with Jake's inducting Sid Caesar into the Catskills Hall of Fame. Taped before a live audience at the Triad Theater in Manhattan. Saturday - 8pm & 1am; Next Sunday - 10pm
Jackie Mason
Stand-up comedian Jackie Mason performs his one-man hit Broadway show, "The World According To Me," for which he won a "Special Tony Award" in 1987. Monday (1 ½ Hours with L'Chayim) - 9pm & Midnight; Saturday Night - 9pm & Midnight
Tzipi Livni-Israel Policy Forum
Israeli Opposition Leader Tzipi Livni (Hatuna Party) explains her disagreements with Prime Minister Netanyahu. From the 2018 Israel Policy Forum reaffirming a commitment to a Two-State Solution Wednesday - 8pm & 1am; Thursday - 2pm; Saturday - 8pm & 2am
Gun Violence & Religion
A discussion of Jewish and Catholic perspectives on gun control with Tobias Winright (Prof. of Theological Ethics, St. Louis U) and Rabbi Joel Mosbacher (Temple Shaaray Tefila, NYC). By AJC Westchester/Fairfield, from Iona College, New Rochelle, NY. Thursday - 8pm & 1am; Friday - 2pm;Saturday - 7pm & 4am
ITN: Israeli Coalition Falls
Political analyst for The Times of Israel, Haviv Rettig Gur, discusses PM Netanyahu's political future with the collapse of his government, and Israeli reaction to Pres. Trump's decision to withdraw American troops from Syria. Today (Sunday) - 5:30pm, 11:30pm, 3:30am; Monday – 8:30 am & 12:30pm
L'Chayim Round Table: Year End Retrospective - Part 2
In Part 2 of a Year End Retrospective, Thane Rosenbaum, Eric Yoffie, Betty Ehrenberg and Charles Small discuss Jewish criticism of Israel, assimilation and the future of Jewish pluralism; and offer their choices of "Jewish Person of the Year." Today (Sunday) - Noon & 6pm; Monday - 3pm
L'Chayim Round Table: Year End Retrospective - Parts 1 & 2 Tuesday (New Year's Day) - 3-6pm
In Memoriam 2018
Remembering Jews who passed in 2018 including Amos Oz, Bernard Lewis, Philip Roth, Charles Krauthammer, Neil Simon, Howard Sachar, Rabbi Rachel Cowan, Rabbi Aaron Panken, Herb London, Harvey Kaylie, Ari Fuld and 11 members of the Tree of Life Synagogue in Pittsburgh. Today (Sunday) - 1:30pm & 7:30pm; Monday - 4:30pm; Tuesday - 6pm
Posted by:Edith Samers, Vice President 203.536.6914 (cell phone) JBS Jewish Broadcasting Service, a 501c3 fulltime television channel