Posted by Noa Waks on 03/29/2023 @ 01:13 PM
The Greater Miami Jewish Federation will conduct a Food Distribution Drive-Thru event in response to ongoing food insecurity in the surrounding community.
WHEN: Friday, April 14, 2023 9 A.M. – 11 A.M.
WHERE: Greater Miami Jewish Federation Stanley C. Myers Building (Parking Lot) 4200 Biscayne Boulevard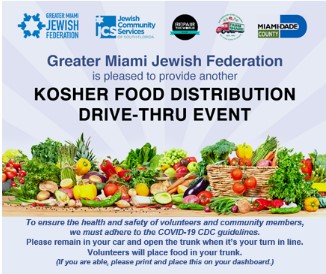 Posted by Noa Waks on 03/29/2023 @ 01:01 PM
Purchase your ticket today.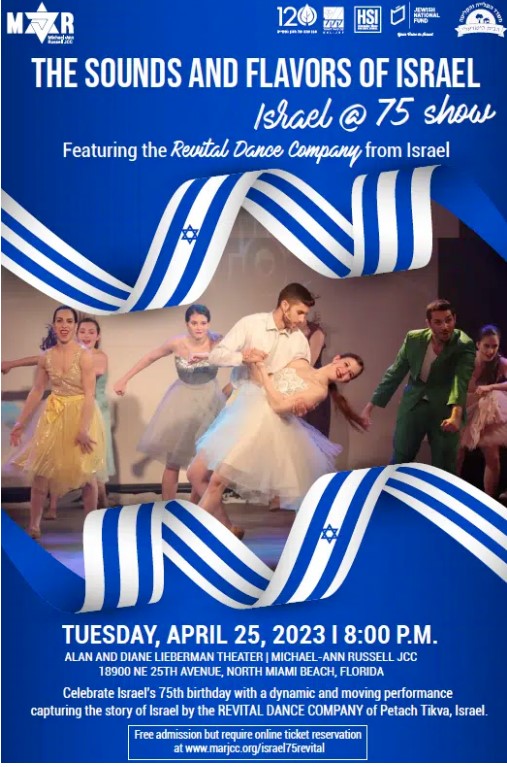 Posted by Noa Waks on 03/28/2023 @ 08:16 PM
The Miami Jewish Abilities Alliance, a Federation program, is recruiting volunteers for its Passover Special Mitzvah Seder, a holiday event designed specifically for Jewish adults with developmental and physical challenges on Monday, April 10 at 2 p.m. at Beth Torah Benny Rok Campus in Aventura. Volunteers are needed to serve as one-on-one companions for the participants and guide them through the Seder service and dinner. Help is also needed for setup and serving. The afternoon has been structured to accommodate adults with disabilities, including seating with no more than seven people per table. Each guest will receive a filled Seder plate, a unique Haggadah in Pictures and a song sheet. There will be singing of prayers and songs with the words projected on a screen to make it easy to follow along. Souvenir photos will be available and each participant will leave with a plush frog keepsake. To register as a volunteer click here and to contact the organizers for more details, send an email to specialmitzvahseder@btbrc.org. To learn more about JAA, click here.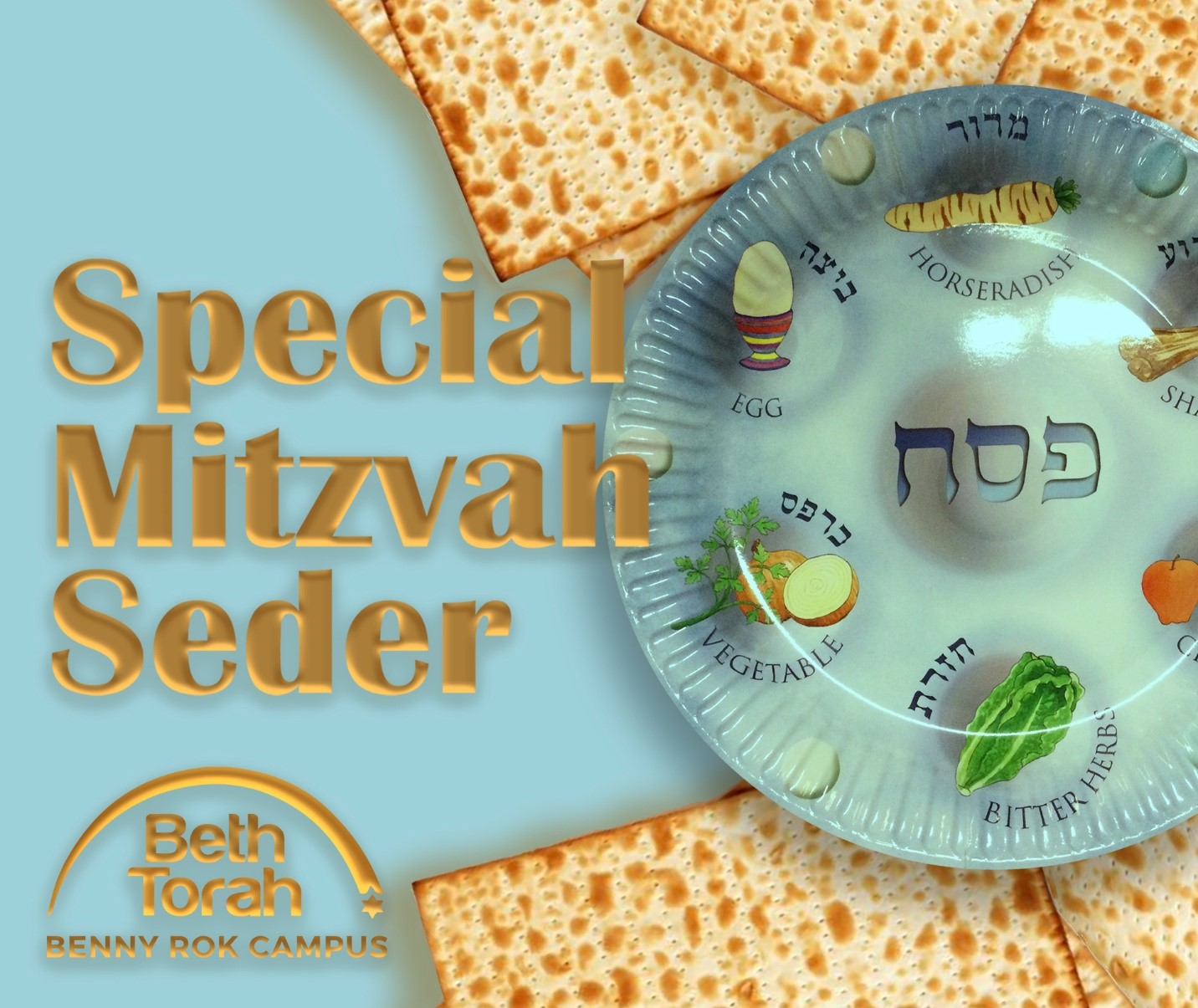 Posted by Noa Waks on 03/28/2023 @ 07:57 PM
Come together as a community on Sunday, April 16 at 6 p.m. for a Yom HaShoah observance program at the Holocaust Memorial Miami Beach. Join us as we remember the Holocaust, commemorate the 80th anniversary of the Warsaw Ghetto Uprising, memorialize the 6 million Jews who were murdered and honor the Survivors. In addition, the Holocaust Memorial is seeking volunteers to read the names of those who perished. To volunteer, call 305.538.1663. For more information click here. The Holocaust Memorial Miami Beach is a Committee of the Greater Miami Jewish Federation.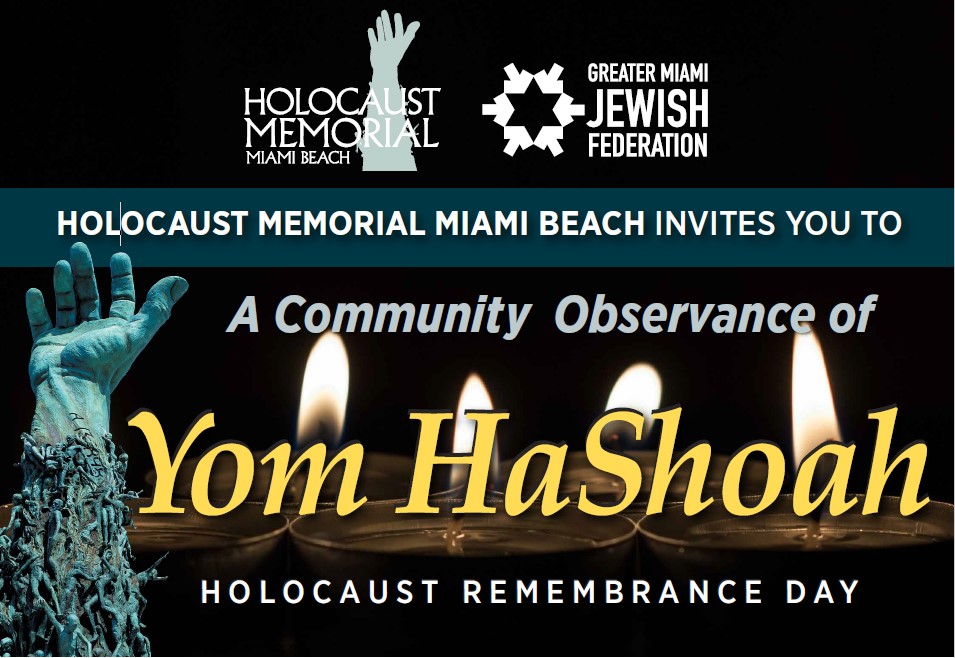 Watch JBS on Comcast X-1 Box Ch 1684, Atlantic Broadband 168, Hotwire Ch 269, DirecTV Ch 388, Blue Stream Ch 110, streamed on Roku under "educational", Apple TV, Amazon Fire TV and jbstv.org. For a complete and timely schedule and other television providers, go to www.jbstv.org
PROGRAMS
92nd Street Y: Michael Schur & Jon Stewart
Michael Schur, Emmy Award-winning television writer and creator of beloved sitcoms The Good Place and Parks and Recreation, sits with former Daily Show host Jon Stewart for a lively conversation about writing television with a moral compass, how the changing values of society should or should not impact comedy, the creativity involved in their work, and other ideas from Schur's new book How To Be Perfect. Sunday - 8:00pm & Midnight Tuesday - 1:00pm Wednesday - 9:30am Saturday - 7:30pm
Srugim: Not Kosher Episode 4
Kosher observance is tested in more ways than one, as Hodaya has a date with her non-religious crush, Nati is suspicious of the hospital cafeteria's kosher certification, and Yifat pursues a date with one of her clients. Monday - 7:00pm Tuesday - 2:30am & 10:00am Wednesday - 5:30am Thursday - 2:00pm Friday - 2:00am Saturday - 10:30pm
Eye on Israel: Uri Dromi
Uri Dromi, CEO and Founder of the Jerusalem Press Club, joins Shahar Azani to discuss the changing landscape of the international media's coverage of Israel, current trends, and his vast media experience, including working under Prime Minister Yitzhak Rabin. Monday - 8:00pm Tuesday - 1:30am Wednesday - 1:00pm Thursday - 11:30am Friday - 1:30pm
Eric Goldman's Jewish Cinematheque: Cinema Sabaya
Israeli director Orit Fouks Rotem and actress Dana Ivgy join Eric to discuss Cinema Sabaya, their award-winning film about a group of Arab and Jewish women who attend a documentary workshop and learn to challenge their preconceived beliefs and come together as mothers, wives, and women through filmmaking. Monday - 8:30pm Tuesday - 1:00am Wednesday - 1:30pm Thursday - 2:30am & 10:30pm Saturday - 7:00pm
Rabbi Hirsch: Deep Purple
Addressing his congregation of the Stephen Wise Free Synagogue in New York City, Rabbi Hirsch finds inspiration in the recent discovery by Israeli archaeologists of textile scraps containing the brilliant color purple, the same as mentioned in the Torah in reference to King Solomon's court. Tuesday - 7:00pm Wednesday - 5:00am & 5:30pm Thursday - 4:30am Friday - 11:00am Saturday - 1:00am & 4:00pm
The State of Antisemitism in America
AJC leaders Holly Huffnagle (U.S. Director for Combating Antisemitism), Meggie Wyschogrod Fredman (Senior Director of the Alexander Young Leadership Department), and Melanie Maron Pell (Chief Field Operations Officer) address a range of issues relating to how American Jews are experiencing and confronting antisemitism in 2023. Tuesday- 8:00pm Wednesday - 2:00am & 2:00pm Friday - 2:00pm
CELEBRATING PURIM
Services from The Hampton Synagogue
Rabbi Marc Schneier speaks on the meaning and customs of Purim, followed by a full Megillah reading by Rabbi Avraham Bronstein. Pre-recorded from The Hampton Synagogue with on-screen Hebrew transcription and English translation. Monday - 7:30pm & 10:30pm Tuesday - 11:30am & 5pm
PURIM FOR CHILDREN
Mr. Bookstein's Store
The holiday of Purim is celebrated at Mr. Bookstein's Store with Shifra, Darah, and Fella. A JBS original children's series. Monday - 7:00am & 4:00pm Tuesday - 7:30am & 4pm
Purim Story
Learn about the holiday of Purim, and why it is celebrated as a day of joy by the Jewish people in this illustrated tale. Read by Ruth Golub. Tuesday - 7:00am & 4:00pm
Purim Puppets
For Purim, ventriloquist Jonathan Geffner and his hilarious puppet partners perform songs and tell stories while visiting Mr. Bookstein's Store to celebrate the Jewish holiday. A special "Megillah Mishigas" presentation for children. Tuesday - 7:30am & 4:30pm
NEWS & ANALYSIS
In The News: Abrahamic Family House
Rabbi Elie Abadie, Senior Rabbi of the Jewish Council of the Emirates discusses the significance of the opening of this first-of-its-kind complex which houses a mosque, a church and a synagogue , its message of tolerance and what it means for the Jewish community in the Gulf and the region as a whole. With Teisha Bader. Sunday - 5:30pm
In The News: Ukraine, One Year Later
Chief Rabbi of Ukraine, Rabbi Moshe Azman, speaks to Teisha Bader during a quick trip to Washington to meet with members of Congress & Jewish leaders, to raise awareness about the urgent humanitarian needs of the people of Ukraine and the Jewish community, as the country marks one year since the Russian assault. Monday - 6:30pm & 11:30pm Tuesday - 3:30am, 8:30am & 12:30pm Saturday - 11:30pm
Thinking Out Loud: Judicial Reform
Micah Halpern discusses how the US Jews and Israel are at a disconnect over Judicial Reform and how they can be bridged. Wednesday - 6:30pm & 11:30pm Thursday - 8:30am & 12:30pm
Good Week Israel: The UN, Space IL & American Rock
The United Nations passes a statement condemning Israeli settlement policy, the co-founder and CEO of Space IL discusses Israel's next moon mission, and a popular American rock band is scheduled to perform in Israel this summer. Tuesday - 6:30pm & 11:30pm Wednesday - 3:30am, 8:30am & 12:30pm
Top Story with Jonathan Tobin: Markowicz & Mandel
Jonathan Tobin speaks with authors, journalists, and mothers Bethany Mandel and Karol Markowicz, who discuss their views on how the pandemic weaponized the woke left's efforts to use tactics to silence dissent. Thursday - 8:00pm Friday - 1:00am, 5:00am & 10:00am Saturday - 4:30am
On L'Chayim
Shai Held Part 1
Shai Held, Founding President, Dean and Chair in Jewish Thought of Hadar Institute, discusses growing up with Survivor Zionist parents and how his upbringing shaped his life and Jewish journey. (Part 1 of 2) Sunday - 12:00 Noon
Shai Held Part 2
Shai Held talks theology, his understanding of God and his approach to teaching the Jewish Tradition in part two. Sunday 6:00pm
Jeffrey S. Gurock - Jews of Harlem
Jeffrey S. Gurock, Libby M. Klaperman Professor of Jewish History at Yeshiva University, discusses the evolution of the Jewish community of Harlem, New York, and the revival of Jewish life there today. Monday - 3:00pm
Shalom Habibi - Comedy Duo
The Muslim-Jewish duo of Yeganeh Mafaher and Eitan Levine discuss the respective personal journeys that led them to team up to create their stand-up "Shalom Habibi Comedy Tour."
Monday - 9pm & Midnight
Tuesday - 3:00pm Saturday - 6:00pm
Jackie Mason z"l
One of America's leading comedians, Jackie Mason z"l, talks seriously about his decision to break with his family's tradition of serving as a rabbi, how his comedy grows out of his understanding of human nature, and how he feels about Israeli and American Jewry. Tuesday - 9:00pm & Midnight
Wednesday - 3:00pm
Ben Dror Yemini
Israeli journalist Ben-Dror Yemini discusses the myths associated with the Israeli-Palestinian conflict and speaks about the reasons Palestinian leaders do not want a Two-State Solution. Wednesday - 9:00pm & Midnight Thursday - 3:00pm
Andrew Rehfeld HUC-JIR
Andrew Rehfeld, President of the Reform Movement's rabbinical school HUC-JIR, discusses his vision of Reform Judaism, and responds to criticisms that Reform rabbis are not schooled in Talmud and are often unfairly critical of Israel.
Thursday - 9:00pm & Midnight Friday - 3:00pm
JEWISH STUDIES
Purim Peeves
Rabbi Mark S. Golub z"l shares five of his pet Jewish peeves. Today (Sunday) - 10:00am Monday - 5:00am Wednesday - 9:00am & 5:00pm Thursday - 4:00am Friday - 1:00pm
Talmud Study with Rabbi Mordechai Becher
Talmud Study: Purim Rabbi Mordechai Becher shares photos of ancient artifacts, excavations and other images to explore the historical background of the holiday of Purim. Sunday - 9:00am Monday - 4:00am Tuesday - 9:00am & 5:00pm Wednesday- 7:00pm
Talmud Study: Was Abraham Observant?
Rabbi Becher discusses how the Talmud deals with Abraham's following Jewish Law before the Torah was given at Mt. Sinai. Sunday - 9:30am Monday - 4:30am Tuesday - 9:30am & 5:30pm Thursday - 7:00pm
REFORM AND ORTHODOX SHABBAT SERVICES
FRIDAY EVENING SHABBAT SERVICES
REFORM: CENTRAL SYNAGOGUE Closed Captioned 6:00pm, 11:30pm & 2:00am
ORTHODOX: HAMPTON SYNAGOGUE With Hebrew, transliteration and English subtitles 7:30pm & 10:30pm
SATURDAY MORNING SHABBAT SERVICES
REFORM: CENTRAL SYNAGOGUE Closed Captioned 9:30am & 1:00pm
ORTHODOX: HAMPTON SYNAGOGUE With Hebrew, transliteration and English subtitles 11:00am & 2:30pm
Edith Samers Vice President 203.536.6914 (cell phone) JBS Jewish Broadcasting Service, a 501c3 fulltime television channel Website: jbstv.org
Come celebrate Purim at Temple Moses! Fun for all the family. Monday March 6 at Temple Moses(1200 Normandy Dr, Miami Beach). Doors open at 6pm for kids program, 6:45pm 1st Megillah reading, 7:30pm Food for sale, 8:15pm Concert featuring singer Ezzi from L.A! 9:30pm post concert featuring guest artist Daniel. Amazing magic show, human wheel and prizes for all kids! Register Online at templemoses.com/purimnight
Camp Klurman is a fun-filled summer to remember. We are committed to providing an excellent, safe, well-rounded blend of traditional day camp activities, daily instructional swim/boating, sports, performing arts, robotics, in-house entertainment, various specialty camps, and a Kosher lunch. Fun-loving, dynamic staff will facilitate your child's summer of a lifetime, filled with excitement and adventure! Register Today!
Please join us for the Gordon School Open House for Kindergaten-5th grade on March 2, 2023 at 10am at the Gordon School of Beth David Congregation. Come and learn about our school, academics, Jewish curriculum, and tour our beautiful outdoor space. Please RSVP at admissions@gordonschoolmiami.org and visit our website at gordonschoolmiami.org.
Posted by Noa Waks on 02/09/2023 @ 12:46 PM
Join us at our Community Mega Challah Bake on Thursday, February 9, 2023 at 6 PM for an evening of unity and inspiration as we preform this mitzvah.
Cost: $25 Per Person | $180 Table for 8
Where: Michael-Ann Russell JCC 18900 NE 25th Avenue North Miami Beach, FL 33180
Questions? Contact Diane Azout at diania@marjcc.org (305) 932-4200)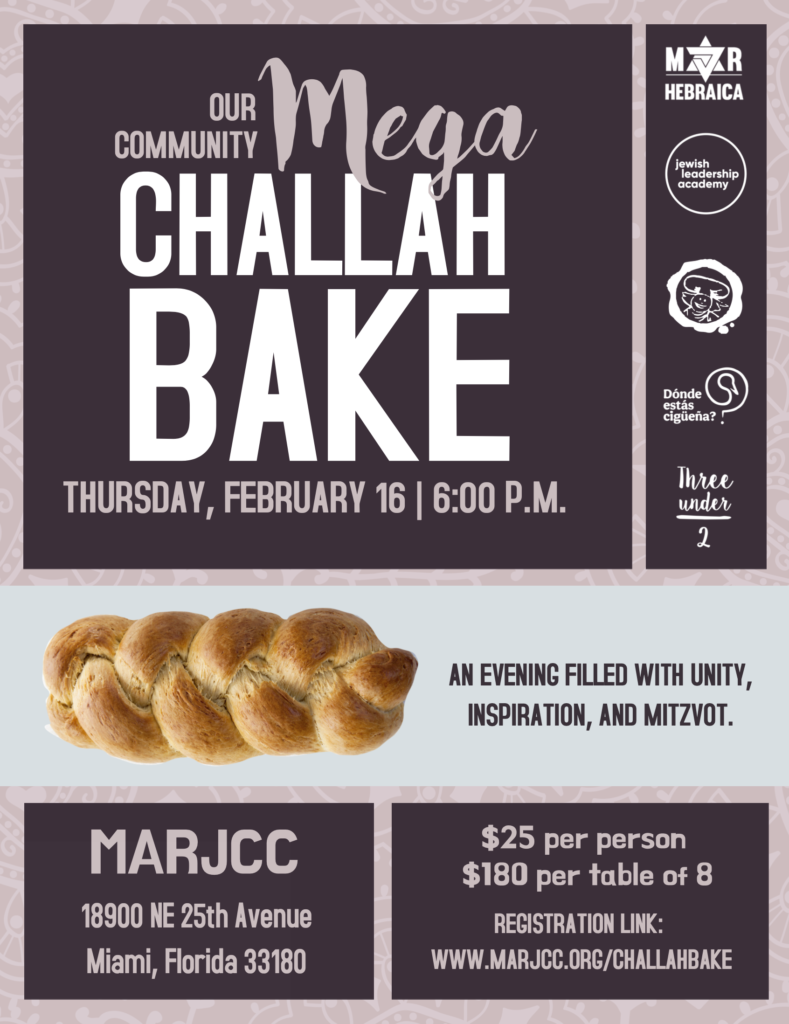 Posted by Noa Waks on 02/08/2023 @ 11:42 AM
When devastating earthquakes rocked Turkey and Syria earlier this week, killing thousands and injuring tens of thousands more, the Greater Miami Jewish Federation immediately responded with an emergency relief fund to bolster support for our overseas partners already on the ground administering critical humanitarian aid.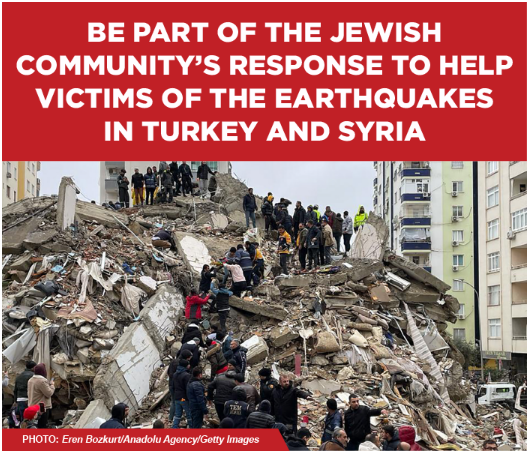 Please click here to make a secure donation now to the Turkey-Syria Earthquakes Emergency Fund online. Among the organizations assisting in the rescue and relief organizations are Federation partners including IsraAID, distributing life-saving assistance and winter items in Turkey, where the impact of the earthquake coupled with freezing conditions have left those affected by the catastrophic events extra vulnerable. IsraAID'S emergency response team includes specialists in water filtration, sanitation and hygiene; mental health and emergency logistics to bring urgent help to those in dire need. Overseas partner United Hatzalah of Israel has sent a delegation of 25 first responders and experts in search and rescue to Turkey to assist in rescue operations and provide medical assistance. Magen David Adom, another Federation beneficiary, will support Israel's military rescue delegation in Turkey, sending paramedics and EMTs trained in rescuing the injured from the rubble and treating "crush syndrome," a potentially fatal condition. As always, Federation will absorb all administrative costs so that 100 percent of funds collected for the Turkey-Syria Earthquakes Emergency Fund will go directly to those impacted by the disaster.
You may also call 305.576.4000 to make a donation.