Posted by Noa Waks on 12/07/2022 @ 01:33 PM
At Chanukah, a time of miracles, give the Gift of Israel, a Federation savings plan that allows you to invest in a child's future Israel experience and receive matching funds from Federation and local participating synagogues.
When you register for this unique program, your family's annual contributions of $100 will be matched by Federation and select local synagogues to accrue a significant portion of the cost for any number of peer-based Jewish educational programs in Israel. If you're not a member of a participating synagogue, you can still receive an annual $100 matching contribution from Federation. Families that enroll beginning in kindergarten can save as much as $3,000, plus interest! Accumulated funds may be accessed for Israel programs from eighth grade until age 26. Friends and relatives may also contribute to your child's Gift of Israel account in honor of B'nai Mitzvah, graduation and other celebrations. Gift of Israel parents Jennie and Jeffrey Bernstein say, "By the time [our children] were ready to go on their high school program, the money made a huge dent in what would otherwise have been an expensive summer." Click here to learn more or enroll in the Gift of Israel Savings Plan.
Posted by Noa Waks on 12/07/2022 @ 01:30 PM
At the end of November, Federation officially launched our BeWell Youth Mental Health Initiative, following nearly a year of close collaboration with our subsidiary agency the Center for the Advancement of Jewish Education (CAJE) and our primary human services partner Jewish Community Services of South Florida (JCS).
Nearly 60 people representing 23 local organizations attended the kickoff, where the group worked together to address the youth mental health crisis. Under the leadership of Elise Scheck Bonwitt, as well as the critical involvement of Dr. Edith Shiro and Carly Orshan, the group unveiled the results of a Federation-commissioned youth mental health survey and came up with a number of recommendations our community can implement to address this national epidemic. We also unveiled a new Youth Mental Health helpline — available by phone or text message — that will be advertised in private areas (such as bathroom stalls) at all 10 Federation-funded Jewish day schools, along with synagogues, JCCs and other places frequented by teens and young adults. Together, we look forward to providing our community's youth, their parents and professionals who work with them, the tools and resources to support their mental well-being.
Posted by Noa Waks on 12/07/2022 @ 01:19 PM
The Greater Miami Jewish Federation will conduct a Food Distribution Drive-Thru event in response to ongoing food insecurity in the surrounding community.
WHEN: Friday, December 16, 2022 9 A.M. – 11 A.M.
WHERE: Greater Miami Jewish Federation Stanley C. Myers Building (Parking Lot) 4200 Biscayne Boulevard
Federation has conducted monthly Food Distribution Drive-Thru events since March 2020. Each of these events has provided food supplies for 1,300 to 1,500 South Florida residents. While the drive-thru is open to all in need, it is a unique opportunity for members of the Jewish community who follow strict kosher dietary laws. Federation thanks the many donors who have helped the community bring food to the hungry during this difficult time when so many are experiencing food insecurity.
The Food Distribution Drive-Thru is being coordinated by Federation's Jewish Volunteer Center in partnership with Jewish Community Services of South Florida and Repair the World.
Cars can only enter through the Federation building's west gate on Federal Highway from the northbound lane, then make a right into the parking lot. Once inside, vehicles will be directed into lines where food packages will be distributed. Recipients must remain in their cars. Volunteers will place packages of food in the trunk of each recipient's car after it enters the parking lot.
NOTE TO EDITORS: Media are recommended to park along Federal Highway on the west side of the Federation Building, as the parking lot will be full. Representatives from Federation and Jewish Community Services will be available for interviews. For more information, contact David Stiefel at dstiefel@greatcom.com or 305.448.1456.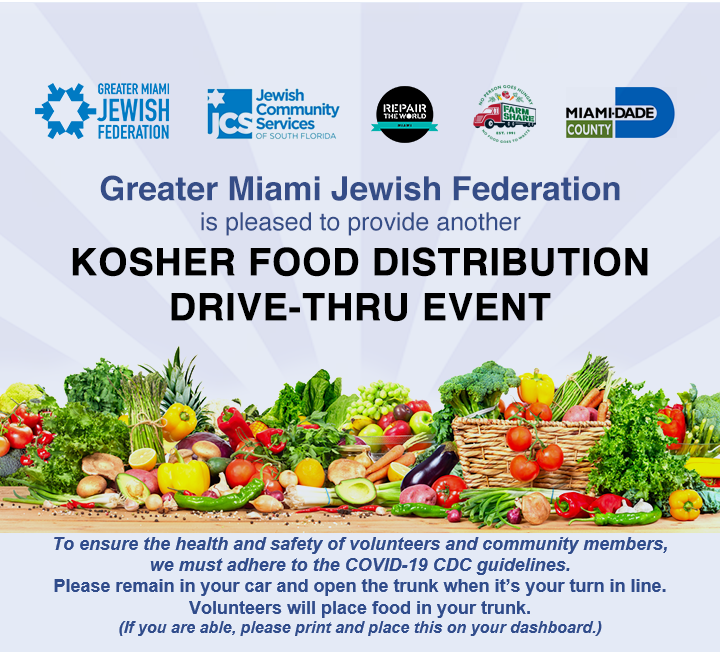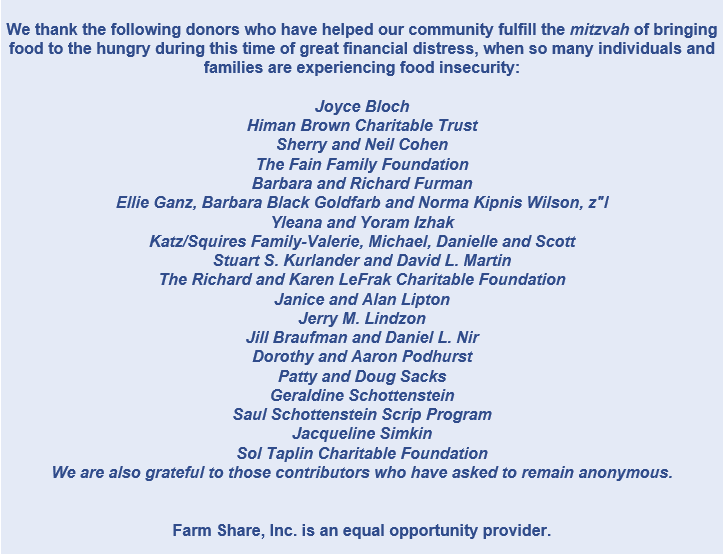 Posted by Noa Waks on 12/02/2022 @ 02:18 PM
Op-Ed as appeared in the Miami Herald on Thursday, December 1, 2022. To read the full article, please click here.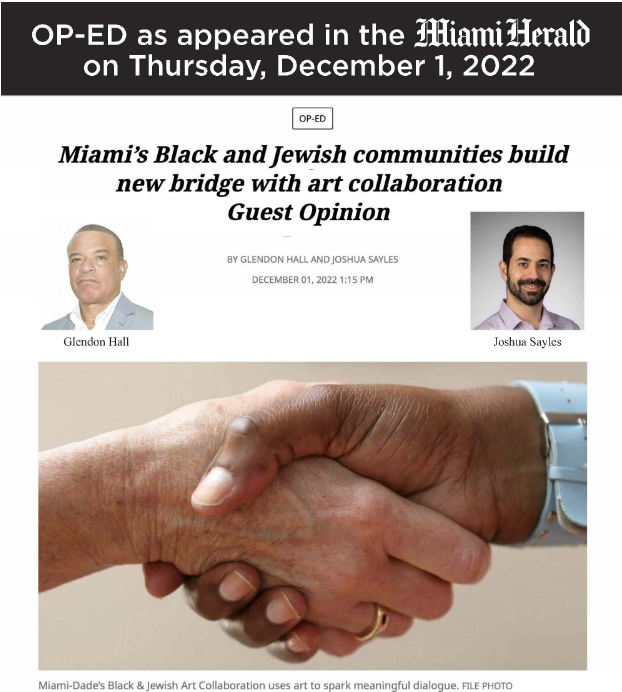 Miami Works, a group exhibition of Miami-based artists Opening Wednesday November 30th through January 28, 2023 at Temple Emanu-El's new Blu Sky Gallery in the Blank Chapel 1701 Washington Avenue, Miami Beach
Blu Sky Gallery will be open as follow: 1. Open hours for Art Week: 1. 2. Thursday, Dec 1st 2-7 PM 3. Friday, Dec 2nd 1-6 PM 4. Saturday, Dec 3rd 2-7 PM 5. Sunday, Dec 4th 10 AM - 2 PM 1. Open hours Dec 9th - Jan 28th (Closed Dec 23-23 and Dec 30-Jan 1) 1. Fridays 2-6 PM 2. Saturdays 1-5 PM 3. Sundays 1-5 PM 4. Or By Appointment
Miami Works features seven internationally renowned artists: Charo Oquet, Emilio Martinez, Horst Kohlem, Kim Keever, Rafael Vargas Bernard,
Sandra Ramos, and Sheila Elias who live and work in Miami. The works of art selected vary in media and content reflecting Miami's exciting cultural mix.
The art was curated by Diane W. Camber and generously supported by the Blavatnik Family Foundation and Temple Emanu-El.
Posted by Noa Waks on 12/01/2022 @ 08:21 AM
Our mission is to create a unique live experience uniting Jews from diverse backgrounds and to celebrate the impact Jewish comics currently play in our comedy landscape.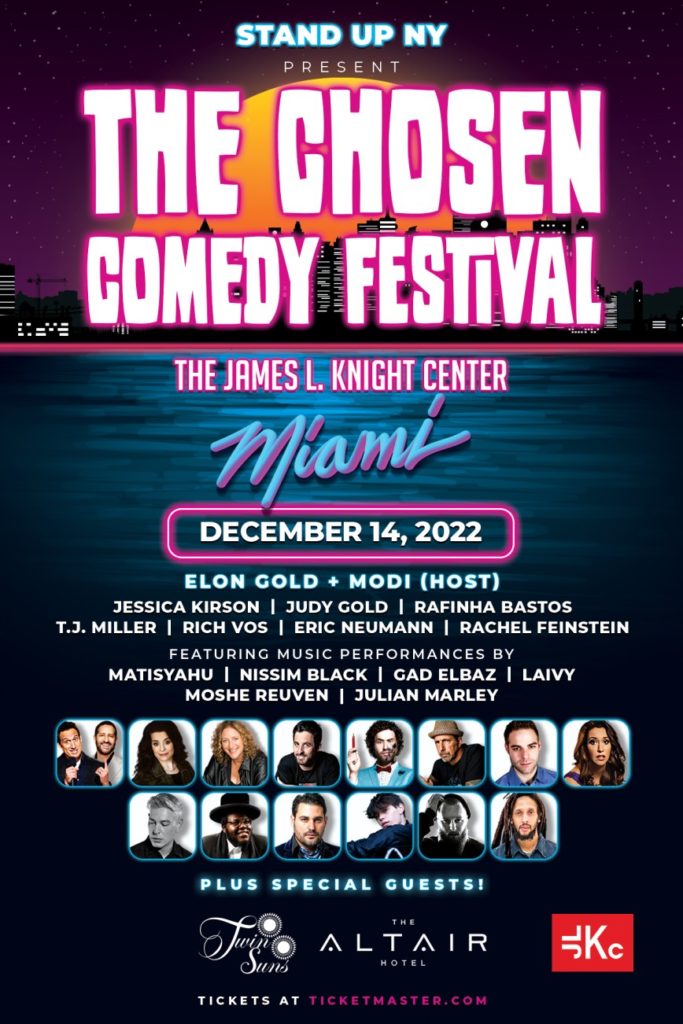 Posted by Noa Waks on 11/30/2022 @ 02:53 PM
Do you know a Jewish teen who has demonstrated leadership and a dedication to tikkun olam (repairing the world)?
Nominate them now for a Diller Teen Tikkun Olam Award! Each year, the Helen Diller Family Foundation awards 15 Jewish teens (AGES 13-19) throughout the US with $36,000 in recognition of their exceptional leadership and engagement in visionary service projects that embody the value of tikkun olam (repairing the world). Since 2017, two winners have come from our Miami community: Oliver Stern and Daniel Solomon (pictured above). Nominees must have the ability to impact and engage a growing number of individuals either as partners, participants or beneficiaries; show dedication to their projects over time; and articulate in their own words the history, meaning, goals, impact and significance of the project. For more information and to complete the nomination form, due Thursday, December 22, click here.

Posted by Noa Waks on 11/30/2022 @ 02:44 PM
Would you like your child's classroom to share in the fun and universal values of this seasonal celebration? Become a PJ Story Squad volunteer today to help make it happen.
To volunteer, please contact Amanda Burns at aburns@gmjf.org.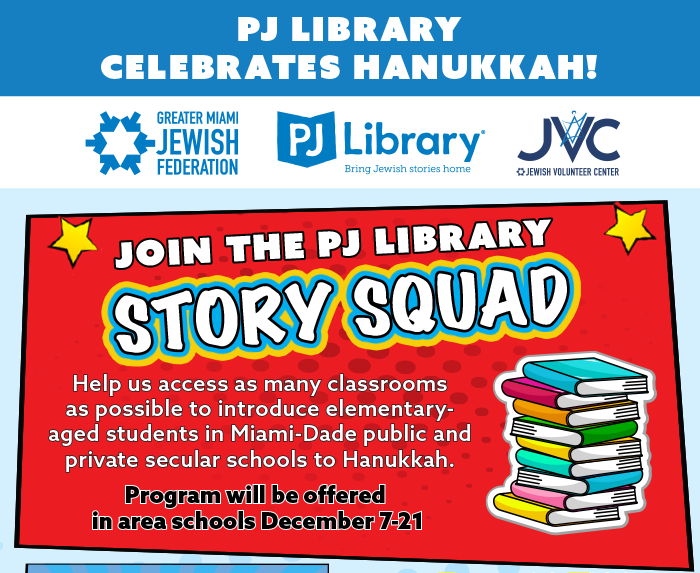 Posted by Noa Waks on 11/29/2022 @ 12:22 PM
American Friends of the Israel Philharmonic invites you to join us for a special performance by young, dynamic prodigy Pianist: YOAV LEVANON.
Israeli teenager, has won countless awards starting at the age of five, performing on prestigious stages including Carnegie Hall, the Verbier Festival in Switzerland and received the young talent award from Queen Sophia of Spain.
⚡️ Date: Monday, December 5, 2022
⚡️ Time: 7:00 p.m.
⚡️ Location: The Alan and Diane Lieberman Theater
Michael-Ann Russell JCC - 18900 NE 25th Avenue, North Miami Beach, FL 33180
Space is limited.
For tickets, please click here.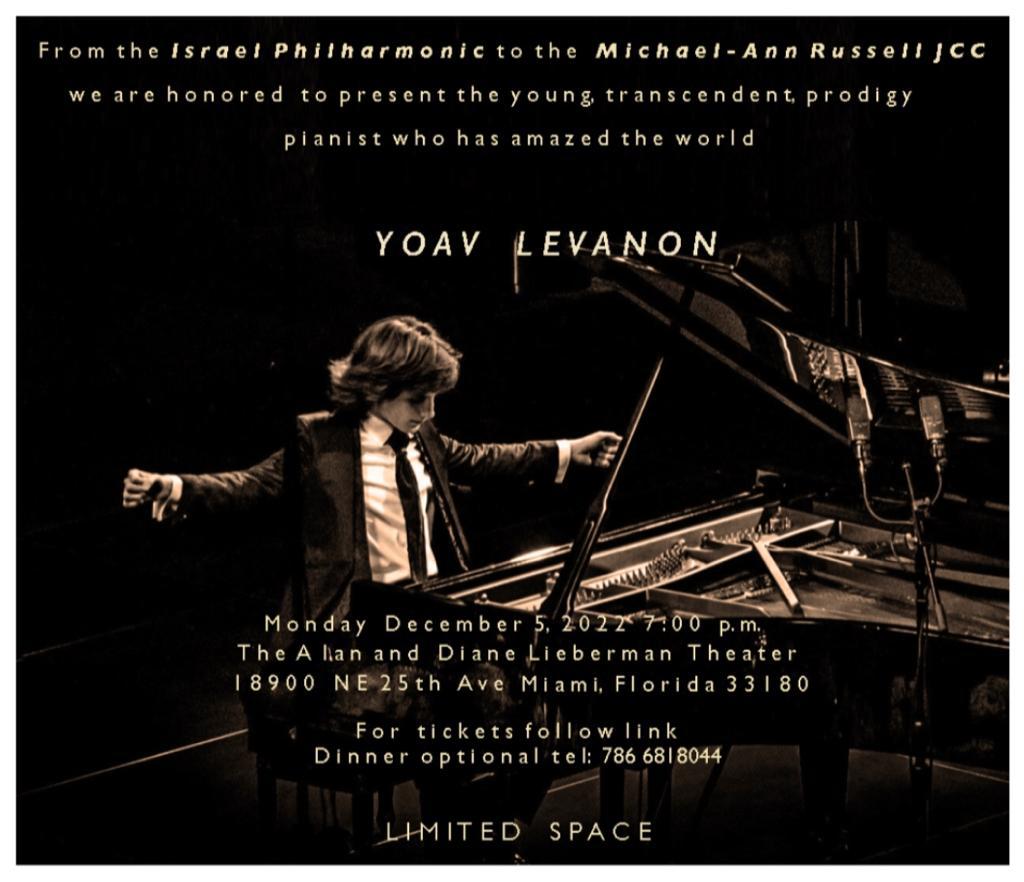 Posted by Noa Waks on 11/22/2022 @ 02:03 PM
Shine A Light on Antisemitism and Racism at the Miami Beach JCC.