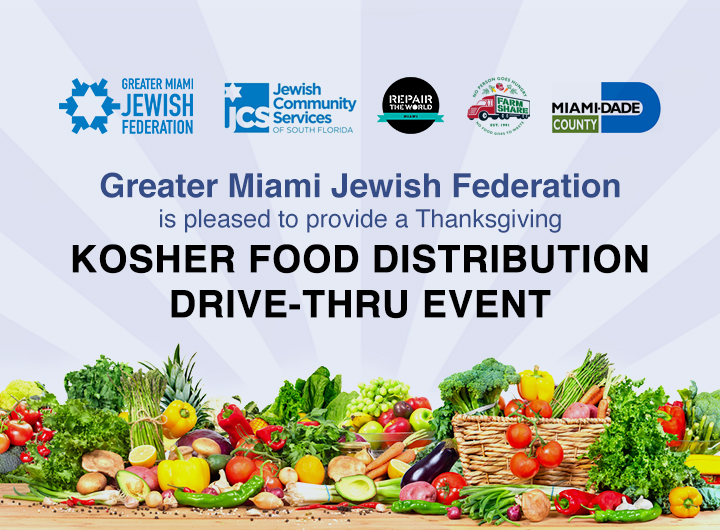 WEDNESDAY, NOVEMBER 25, 2020

First come, first served while supplies last.
Please do not arrive before 9 a.m.

Greater Miami Jewish Federation
Stanley C. Myers Building
4200 Biscayne Boulevard

Coronavirus has changed how we work and live. We are all missing the camaraderie of our workplace, the zen of our favorite yoga class or the endorphins of our CrossFit group. Explore our list of resources that will help you be fulfilled and enjoy activities in new and different ways.
Keep up with your fitness routine in the comfort of your own home by clicking here for more than 100 workouts. There is something here for everyone, from high intensity interval training designed to improve strength and fitness fast, dance fitness workouts, a martial arts inspired program, a postpartum series and workouts for kids.
From babies to adults, click here for the resources the Galbut Family Miami Beach JCC Simkins on the Family Campus has posted to enjoy the water.
Be active, tone your body and feel great with these at-home workouts. Fitness instructors from the Galbut Family Miami Beach JCC Simkins on the Family Campus have posted virtual workouts here to maintain a fitness routine during these extraordinary times.
Natan Sharansky, former Chairman of the Executive of The Jewish Agency for Israel, a freedom fighter and Zionist who was imprisoned in isolation for many years by the Soviets, shares some advice here for people who are in quarantine and to help us all deal with the coronavirus crisis.
The Dave and Mary Alper Jewish Community Center has posted ways for all ages to enjoy the water. From babies to adults, here are resources to have fun in the water.
Whether you are interested in a light workout or intense action, the Michael-Ann Russell JCC has fitness classes for all levels. You can work out with the expert MAR-JCC fitness staff with their livestreamed classes on the MAR-JCC fitness Facebook page. The schedule is updated on a regular basis.
Telemedicine During the Coronavirus Crisis
Visit a doctor and receive medical advice from your living room
Click here for more information.
Baptist Health South Florida is Offering a Free Care on Demand Consultation With Code CARE19 here.
Chaplains from Mishkan Miami - The Jewish Connection for Spiritual Support, a program of the Greater Miami Jewish Federation, have created and compiled prayers, poetry and reflections to help us face life in the time of COVID-19. Click here to access them.
The Blue Dove Foundation addresses the issues of mental illness and substance abuse in the Jewish community and beyond. For an array of articles, information and resources about physical and mental health,click here.
If you can't go to the training room, bring the training to you! That's the approach of Jewish Sports Now, a website providing elite skills and fitness instruction for amateur Jewish athletes during the Coronavirus pandemic. The site offers free access to a library of training videos for baseball, basketball, lacrosse, soccer, tennis and general fitness, assembled by leading professional coaches across the Jewish sports and fitness world. Visit here to register.
Join PJ Library, the Network and the Jewish Volunteer Center as we model kindness and teach gratitude.
During these difficult times, it is more important than ever to appreciate all our blessings – both large and small. To help, our Jewish tradition teaches us about the concept of hakarat hatov, which translates to "recognizing the good" all around us. Practicing this Jewish value helps children (and us grownups!) remember to be thankful for our lives.
This month, through the "13th Annual Season of Giving: Reimagined", we invite all families to help others and use these experiences to engage your children in the practice of gratitude.
As PJ Library families, we are grateful for all we have and have made a special commitment to support our Community Toy Drive.
Please join us in making this holiday season special for less-advantaged kids by purchasing toys. Confirm your participation here (https://jewishmiami.org/resources/community_directory/events/rsvp/network_jvc_toy_drive_w_pj_library_rsvp/) and you'll receive both a link to our Amazon Wish List and a special "PJ Library Gratitude Fun Guide" which will help you teach your kids about gratitude and instill a lasting practice of hakarat hatov in your home.
Thank you for joining us and helping to make this holiday season special for all!
PJ LIBRARY KIDS: SHINE YOUR LIGHT!
At Chanukah, we celebrate how light – in all its forms – can triumph over any darkness. Creating this light in every moment and every interaction is a choice. Whether it's a meal for someone hungry, support for a friend in crisis or simply a smile and kind word for someone in need, making light is what it's about.
On December 13 at 3:00 pm, we will make all kinds of light as we enjoy a Chanukah story time, create our very own Dreidel Suncatchers and build delicious Marshmallow Menorahs!
Experience the beauty of Chanukah, from the comfort of your own home, Join us because together, we shine so bright!!
You'll need the following supplies: Paper Scissors Contact paper Tissue paper Marshmallows Frosting Sprinkles Gelt (chocolate coins) Pretzel sticks
Conveniently shop for missing supplies here: https://smile.amazon.com/hz/wishlist/ls/3O2IRTUABUT76?&sort=default
ZOOM link provided with RSVP RSVP here: https://jewishmiami.org/resources/community_directory/events/rsvp/pj_library_chanukah_at_mcm_event_rsvp
Start Up Your Future with Miami's Onward Israel Summer 2021 Internship in Tel Aviv
June 2 – July 27, 2021
Apply now, space is limited!
Miami's Onward Israel Internship in Tel Aviv offers exciting and immersive resume building opportunities. This highly subsidized eight-week summer internship provides a global, cross-cultural experience in Israel while working with Israeli peers.
Live in Tel Aviv while developing your professional future.
Work in your area of interest according to your skills.
Build your resume through a highly subsidized eight-week internship.
Onward Israel is intended for Jewish undergraduate students between the ages of 19-27.
Miami's Onward Israel summer internship in Tel Aviv is operated through a partnership between the Beacon and Shapira Foundations and other leading philanthropists, The Jewish Agency for Israel, Masa Israel Journey, and the Greater Miami Jewish Federation. Trip organizer: Tlalim.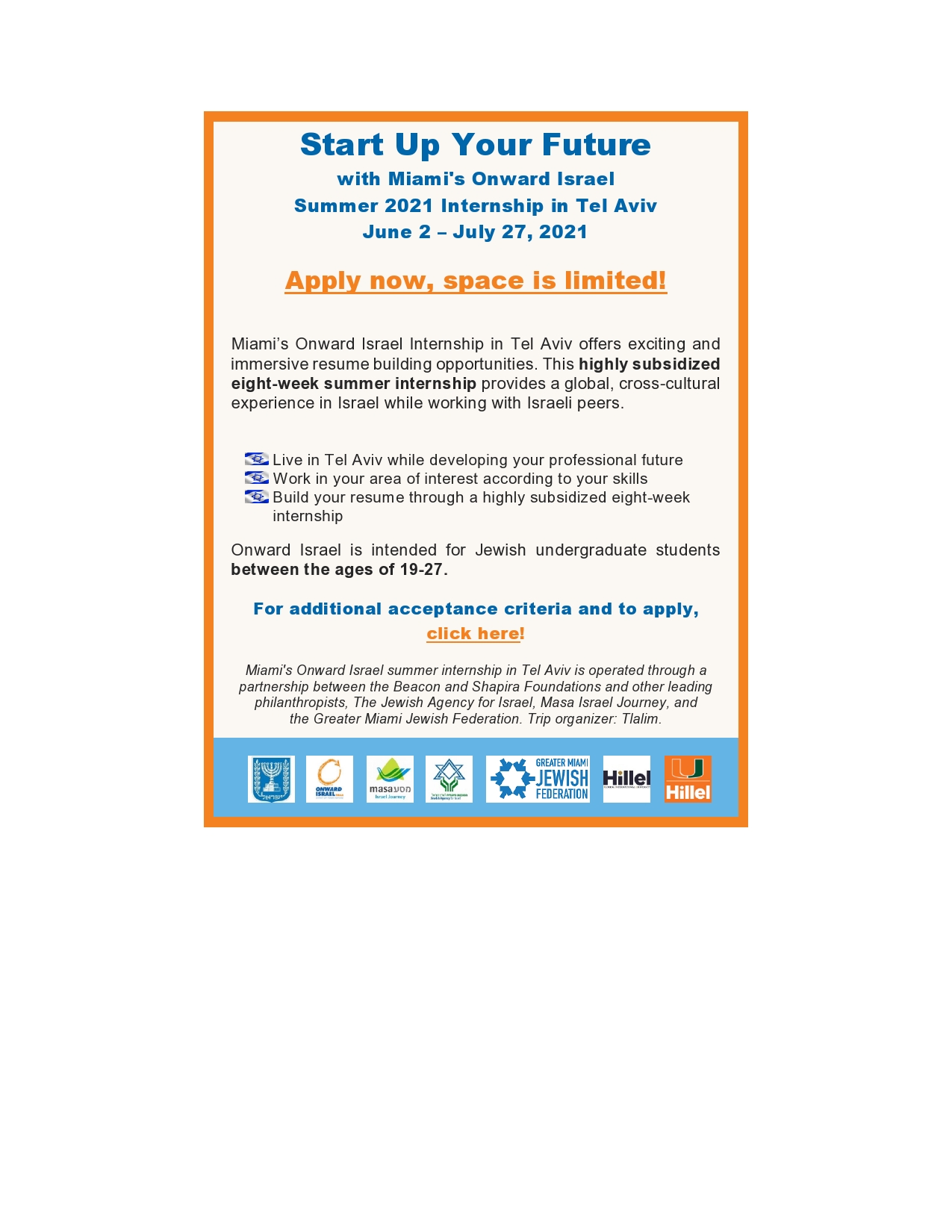 Give Miami Day is almost here! This year, you can begin participating early starting on Monday, November 16 through Give Miami Day on Thursday November, 19.
Donate on givemiamiday.org/jewishmiami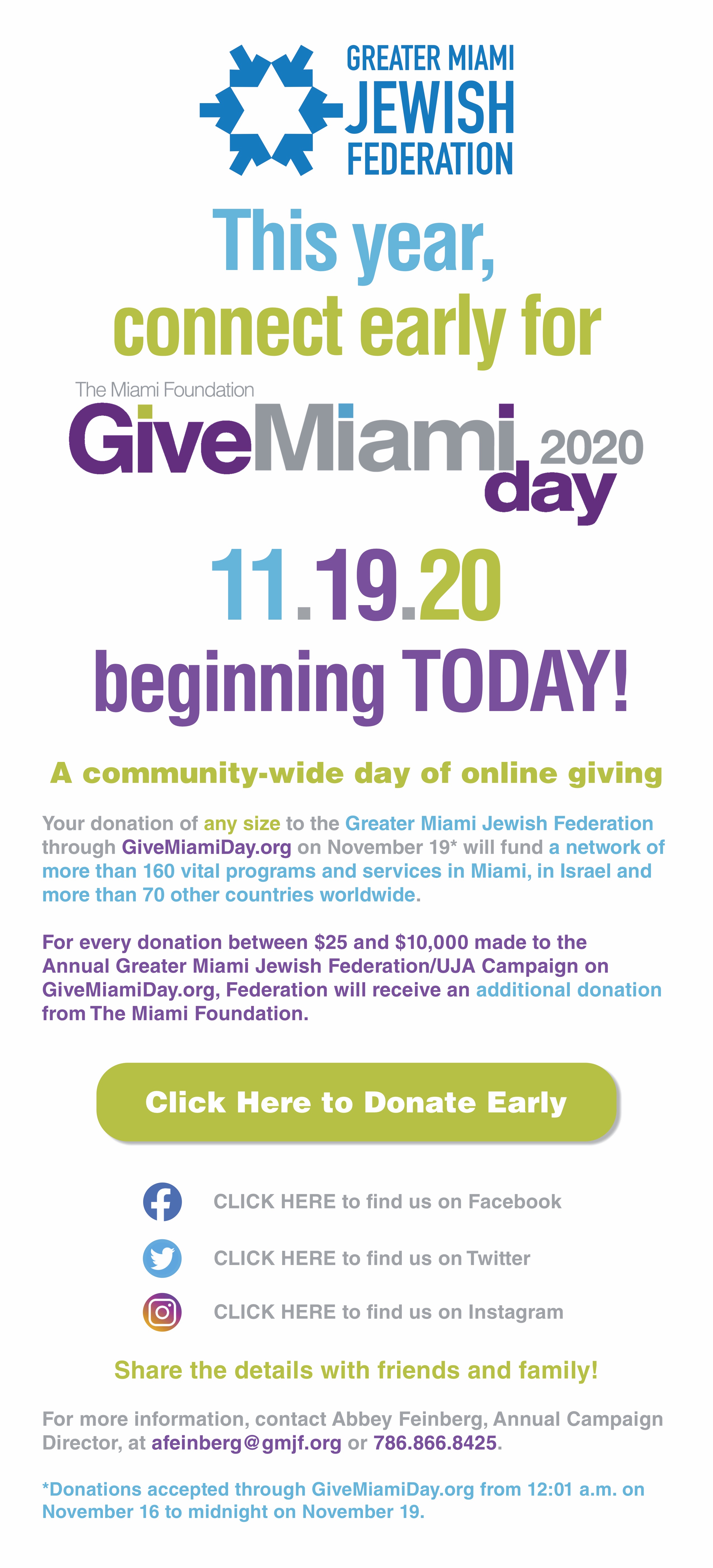 The Greater Miami Jewish Federation has established an Emergency Relief Fund to assist people affected by Hurricane Eta in Central America. As always, Federation will absorb all administrative costs so that 100 percent of funds collected will be used to provide critically needed aid to people in Central America impacted by the disaster.
Our community has decades of experience with hurricanes. We understand the devastation and suffering that follow a catastrophic storm like Hurricane Eta. Even in the midst of our own crisis, let us join together to help people affected — wherever they may live — to rebuild their lives.
Sharsheret: The Jewish Breast & Ovarian Cancer Community supports Jewish women and families facing breast and ovarian cancer. All of the organization's services are available online and over the phone, including peer support, connection to social workers and web-based resources. During a time when immunocompromised women are losing their support networks because of social distancing, these critical resources are incredibly important.
JWorks Miami has moved operations online to continue helping Jewish job-seekers in Miami-Dade County find a job. The program helps residents develop resumes and cover letters, hosts mock interviews (which will be online during the COVID-19 outbreak) and network with potential employers. The program is free to job seekers and employers through a partnership between the Greater Miami Jewish Federation and Jewish Community Services of South Florida.
To learn more, CLICK HERE.