Come learn about GAP YEAR in Israel opportunities with Masa Israel on Tuesday, Nov. 19 in the Greater Miami Jewish Federation board room from 6:30 - 8:30 p.m. Bring your high school student for some food and fun, and to meet with organizers from programs throughout Israel!
Give Miami Day is back and bigger than ever! Join the movement and let's make November 21st another record-breaking Give Miami Day!
This year, take it a step further and build out a Champion Page to help spread the word and fundraise for the Greater Miami Jewish Federation, click here to create the page and get it ready for Give Miami Day!
North Miami Beach, Florida – Nearly 100,000 students from more than 40 countries tuned into Global Maker Day 2019 headquarters at Scheck Hillel Community School, on Tuesday, October 29. This was the first time the international event was hosted by a Florida school. From Lower School through Upper School, students presented innovations. The organizing team was impressed by Scheck Hillel's embrace of the maker movement and how faculty are incorporating it schoolwide.
"We are so thankful to Scheck Hillel for hosting us here, being so warm and inviting and also being an inspiration to so many other schools [so] that they can be doing the same thing with their students today," said Jaime Donally, Founder, #GlobalMakerDay.
Culminating the day of learning, Nancy Penchev, Scheck Hillel's I lab Instructor was named the newest addition to the event's global leadership team.
About Scheck Hillel Community School
Scheck Hillel Community School educates and inspires students 18 months-Grade 12 to become exemplary global citizens with enduring Jewish identity and values through an individualized college preparatory curriculum highlighted by Design/STEM, Capstone, college dual enrollment, arts, athletics and community service. Its 14-acres include a 115,000-sq.-ft athletic complex with academic expansion plans. Set within a nurturing, diverse community, Scheck Hillel is one of the world's largest Jewish community day schools and a National Blue Ribbon School of Excellence. For more information about Scheck Hillel Community School or to arrange a visit to the school, please contact our Admissions office at 305.931.2831x173 or write to admissions@eHillel.org.
CALLING ALL VOLUNTEERS! Will you please join our PJ Story Squad? This outstanding group of volunteers will help us bring a PJ Library Chanukah to hundreds of kids in public and private SECULAR schools throughout Miami-Dade. Last year, we reached more than 700 kids! This year, Alexandra Alazrachi & Lauren Borowsky will be co-chairing this initiative and we want to expand even more!! Here's how YOU can help:
VOLUNTEER YOURSELF & INVITE FRIENDS TO JOIN -Share this with everyone you know (volunteer training will take place on December 4 at 10 am and volunteers will be deployed December 9-20) RECRUIT SCHOOLS - If you are a parent at a public or private SECULAR school (or know someone who is), please ask your school's administration to agree to have us and we will work with them on scheduling. Email us at jprevor@gmjf.org.
Thanks in advance for your help - together, we can bring a tremendous amount of light (PJ Library style!!) to hundreds of local kids this Chanukah.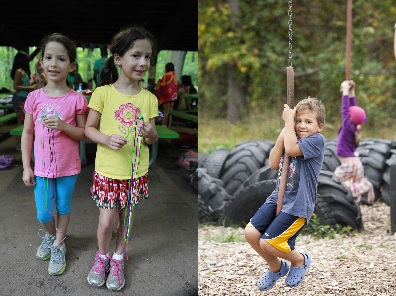 The Greater Miami Jewish Federation is now accepting applications for 2020 Need-Based Jewish Overnight Summer Camp Scholarships for children between the ages of 8 and 17, to help make Jewish overnight summer camps more affordable for Miami-Dade County families.
Camper Eligibility Criteria:
• Miami-Dade County resident
• Ages 8 – 17
• Completed online application, see link below
• 2018 income tax return (Form 1040)
• Camp acceptance letter or invoice

Camp Eligibility:
• Funding assistance is available for Jewish overnight camps listed on the Foundation for Jewish Camp website, click here to find an eligible camp
• summer camp must be located in the United States
• Financial assistance is limited to one session only

Application deadline is Thursday, January 30, 2020 at 11:59 PM. Late applications will not be accepted.
Recognizing that Jewish overnight camp is a significant vehicle for Jewish engagement, the Annual Federation /UJA Campaign has allocated $100,000 each year since 2002 for funding assistance. Last year, nearly 200 need-based scholarships were awarded to children, enabling them to attend a variety of overnight camps from all religious streams, as well as JCC overnight programs and youth group movements.
Additional Funding Resources:
• Foundation for Jewish Camp Scholarship Directory
• Contact your camp administrator to inquire about financial assistance
• Contact your rabbi or synagogue
• Interest free loans are available through the Hebrew Free Loan Association, 305.692.7555

For more information, call 786.866.8431 or email icohen@gmjf.org


A Multigenerational Experience for the Entire Family at Beth Torah Benny Rok Campus
Wednesday December 11, 2019 6:00pm
A different way to celebrate Chanukkah, hosted by Silvio Berlfein and Martin Sipicki
Hadassah Annual Hanukkah Concert with the North Miami Pops Band
 December 8, 3 PM at The Palace, One Andalucia Avenue, Coral Gables, 33134

 Transportation provided, leaving Temple Menorah, 620 75th St, Miami Beach 
             at 1:15 promptly! Valet parking avaiable at The Palace.

Reservations required - We cannot accept checks at the door. Contribution $30 per person.
Please make out checks to Hadassah and mail to:
P.O. Box 546166, Surfside,FL 33154-0166
Indicate whether you will require transportation or if you will use The Palace valet.
         Please send checks no later than November 15th.

For a complete and timely schedule and more places to see JBS, go to www.jbstv.org
And you can now watch JBS on: El Al to and from Israel. Select JBS programming is now available on El Al's premiere In Flight Entertainment Package on its Dreamliner flights.
Programs
L'Chayim: Actress Ayelet Zurer
Award-winning Israeli Actress Ayelet Zurer discusses her feelings about acting and creating art, and describes portraying the Haredi widow "Elisheva" on the hit Israeli series on Netflix, Shtisel. With Mark S. Golub. Wednesday - 9pm & 12am; Thursday 3 pm
2019 FIDF Gala
The 2019 Friends of the IDF NY Gala is highlighted by Maj. Gen Yoel Strick (IDF Ground Forces Commander); by personal stories from IDF soldiers; and a musical presentation by the IDF Musical Ensemble.Hosted by Michelle Makori at the Hilton Hotel in NYC. Monday - 8pm & 1am; Wednesday - 2pm; Saturday - 8pm &1:30am
AJC Stands With The Kurds
The American Jewish Committee convenes a meeting in support of the Kurds in Syria. With Harriet Schleifer (AJC National Pres), David Harris (AJC CEO) & Simone Rodan-Benzaquen (Dir, AJC Europe) speaking with Kurdish journalist Majeed Gly. (Oct 2019) Tuesday - 8pm & 2am; Thursday - 2pm; Saturday - 7pm
Also on L'Chayim
Sunday: Ken Spiro on God
Rabbi, historian and Aish HaTorah senior lecturer, Ken Spiro (author of Destiny – Why A Tiny Nation Plays Such A Huge Role In History), discusses the Jewish understanding of God. With Mark S. Golub on L'Chayim. Sunday – Noon; Monday - 3pm
Monday: FIDF-Peter Weintraub
Rabbi Peter Weintraub, Dinner Chair of the 2015 FIDF Gala at the Waldorf Astoria, describes how he fell in love with Israel; his son's wedding in Caesaria; running a company in Sderot; and the importance of the FIDF. L'Chayim with Mark S. Golub. Monday - 9pm & Midnight; Tuesday - 3pm
Tuesday: Meir Kahane Remembered
In November 1990, Rabbi Meir Kahane was murdered in a Manhattan hotel. The controversial leader of the Jewish Defense League and Kach Party in Israel is remembered in excerpts of "L'Chayim" interviews.
Tuesday - 9pm & Midnight; Wednesday - 3pm
Yitzhak Rabin z"l
Excerpts of a 1981 interview with Yitzhak Rabin on his role as Chief of Staff during the 1967 Six Day War are showcased in a tribute to the slain Israeli Prime Minister who was awarded the Nobel Peace Prize for his efforts at Oslo. Tuesday – 9:30pm & 12:30am; Wednesday – 3:30pm
Thursday: Cindy Grosz
Columnist, author, lifestyle blogger, marketing specialist and Israel activist Cindy Grosz shares her perspectives on the Jewish community's perspective on President Donald Trump. With Mark S. Golub on L'Chayim.
Thursday - 9pm & Midnight; Friday - 3pm
Saturday: Nobel Laureate Kandel
Eric Kandel, professor of Biochemistry & Biophysics at Columbia University, talks about leaving Austria during World War II, his relationship with Vienna today, and his life work studying the brain & the mind as a Nobel Prize-winning neuroscientist. Saturday 6pm
92nd Street Y: Charles Bronfman
One of the Jewish communities leading philanthropists and co-founder of Birthright Israel, Charles Bronfman, discusses his personal life with Rabbi Peter Rubenstein, Director of Jewish Community and Bronfman Center for Jewish Life at the 92nd Street Y. Tonight (Sunday) – 8:30pm; Monday – 10:00pm; Wednesday - 10:30am; Friday – 8pm & 1am; Saturday - 3pm
A Touch Away
A story of forbidden love and secrets when a secular Jewish family from Russia moves in next to a Haredi family - and their daughter, about to be part of an arranged marriage, falls in love with the charismatic son. In Hebrew with English Subtitles. Episode 1 Sunday 7pm &1am; Tuesday 10:30am; Wednesday 5am; Thursday 9am & 4:30pm
Episode 2
Mintz family arrives at Israel. After four years that they haven't met, Zorik is truly excited to re-unite with his family. In Hebrew with English Subtitles. Saturday – 7pm & 2:30am
From the Aleph-Bet: Lesson 1
Learn the Hebrew letter Shin, as well as Hebrew vowels, on this first teaching episode of "From the Aleph Bet" series 1 Monday 9am; Thursday – 4am; Saturday - 11am
From the Aleph-Bet: Lesson 2
The Hebrew letter "Tuf" is introduced on this second lesson Monday - 9am & 4:30pm; Wednesday 7pm; Thursday – 4:35am; Saturday – 11:30am
For those who cannot attend services, JBS offers Kabbalat Shabbat services from a modern Orthodox synagogue, The Hampton Synagogue of West Hampton Beach, NY; and Shabbat Services from Reform synagogue, Central Synagogue of New York City
Kabbalat Shabbat - 4:50pm Friday night Shabbat Services - 6pm, 11pm & 2am Saturday morning Shabbat Services 9:30 am
Three leaders in NA'AMAT USA, OR CHAPTER, S.FL. will co-chair the 27th annual dinner honoring NORA AND CARLOS STOLEAR on Wednesday, Nov. 20th at the Aventura Turnberry Jewish Center, 20400 NE 30th Ave. Aventura, Fl. at 6 pm.
Nora and Carlos Stolear are both accomplished professionals and benefactors that relocated to South Florida in 2004. Carlos is a Holocaust survivor. They joined NA'AMAT International, a movement of more than 300,000 members in nine countries, to help their cause.
Raquel Rub, NA'AMAT S.FL. Council President, Matilde Behar, NA'AMAT "OR" President, and Rebeca Yohai, National Board Member, stated that the dinner and entertainment are open to members, families, and community for a $100 contribution per person. Dietary laws observed. Reservations are available by phoning 305-965-4779 and 786-483-3312, or email naamator@yahoo.com.
Please join us to personally meet JONATHAN MORALES, the hero who captured the shooter and saved the lives of his fellow congregants, at Chabad of Poway, San Diego, California.
Proceeds of the event will go towards repairing the damage caused to several NA'AMAT daycare centers, by missiles directed to the Israeli population. We are a network of dynamic volunteers, dedicated to social justice, child and family welfare and gender equality in the workforce in Israel. We continue financing the programs and services developed over 92 years of existence with our sister organization, NA'AMAT ISRAEL. Daycare centers, domestic violence center in Tel Aviv, 17 vocational high schools, graduate and post-graduate scholarships, and much more.
https://www.tbsmb.org/shirchadash# We are excited for our annual URJ Camp Shabbat, Friday, November 15th. Services begin at 6PM featuring guest artist Dan Nichols, followed by an Oneg Shabbat in our Palm Plaza, featuring child-friendly finger foods, s'mores and a song session with Dan. Camp Directors from several of our URJ summer camps will be on hand to speak to our families. If you are considering a well-rounded Jewish camping experience for your children, don't miss this opportunity to learn first-hand from our Directors and alumni. We hope to see you on November 15. For further information on URJ Camps and guest artist, Dan Nichols: https://urjyouth.org/camps/ https://www.dannicholsmusic.com/