Hadassah Inter-American Chapter cordially invites you to join us at our ANNUAL BRUNCH To benefit Hadassah Medical Organizaton, home of the state of the art Mother and Child Pavilion
 Honoring Jewish Women who make a difference in our community
 LILY LIBHABER, PERLA TACHER, SARA GOSER, HILDINE POTASHNIK

     Strictly Kosher Brunch Sunday, June 30, 2019 at 12:00 pm
      Tower 41, 4101 Pine Tree Drive, Miami Beach, FL 33140

Couvert $75.00 per person - Complimentary Valet Parking - Entertainment
Please make your check payable to Hadassah and mail to:
Inter-American Chapter of Hadassah, P.O. Box 546166, Surfside, FL 33154-3166
Please RSVP by June 15th
Join the FIDF YL on Friday, May 31st, 2019 at a very special Sushi Shabbat Dinner featuring IDF soldier guest speaker as we celebrate the 52nd Jerusalem Day and honor the soldiers who defend Israel and their sacrifices made on Jerusalem Day.
Event Chairs: Nicole Gomez, Joanna Kohen & Jennie Rimon
Cost: $75pp - Limited seating. Must RSVP by 5/29
Includes: Pre-fixed FIsh, Sushi & Tapas Dinner (Dietary laws observed)
Date: Friday, May 31, 2019
Time: 7pm Cocktails, 8pm Kiddush & Dinner
Location: 26 Sushi &Tapas (9487 Harding Ave Surfside, FL 33154)
To RSVP: www.FIDF.org/JerusalemDayShabbat or call 305-354-8233
Event and Table Sponsorship opportunities are available. Please contact Elana Kashti for more info at Elana.Kashti@fidf.org or call 305-354-8233
Friends of the Israel Defense Forces is a 501(c)(3) not for profit organization. Contributions are tax-deductible to the extent permitted by law. The portion of your contribution deemed to be for goods and services will not be deductible.
Posted by Yodeah on 05/07/2019 @ 08:33 AM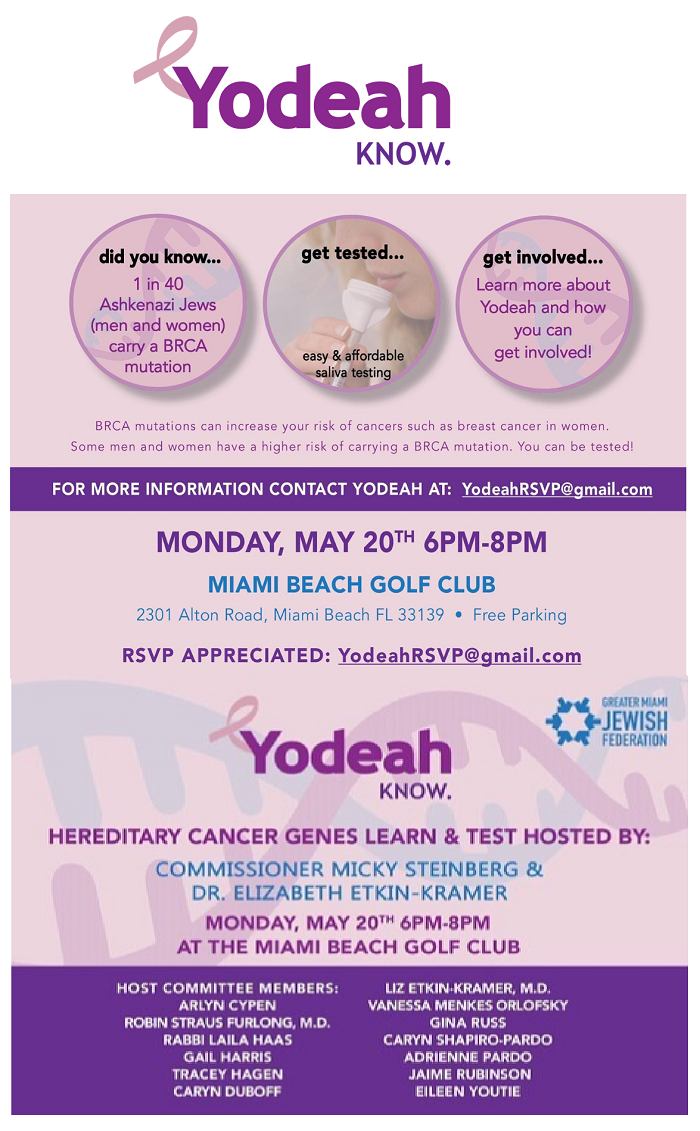 www.yodeah.org
Celebrate Israel 71 with your community on May 9th (6pm-10pm) with music, singing, dancers. Special performances and choral arrangements. Shopping and food available from various vendors. A portion of proceeds raised will benefit Leket Israel, the National Food Bank of Israel.
Marketplace Vendors welcome to participate, please contact Mark Flaxer in the synagogue office, (305) 937-1880 for details.
Join the PJ Our Way Kids' Committee for a thrilling escape room experience based on the book "Click Here to Start"!
May 5 at 4 pm at the South Beach Escape Room - 235 Lincoln Rd.Suite 400 Miami Beach Fl 33139
RSVP here: https://jewishmiami.org/resources/community_directory/events/rsvp/pj_our_way_escape_room_team_project_rsvp/
Join us for a special Mother's Day. An event supporting the women and children at JCS Shalom Bayit Jewish Domestic Abuse Program
Sunday May 5, 10:00am Beth Torah Beny Rok Campus
Space is limited REGISTER HERE
On April 25 at 8:30 am at Buchanan Ingersoll & Rooney PC (One Biscayne Tower Two South Biscayne Boulevard, Suite 1500), join us for quality time with a true expert. Ask him everything you wish you had time to ask your pediatrician. Learn the secrets to getting your baby to sleep through the night and so much more! RSVP here: https://jewishmiami.org/resources/community_directory/events/rsvp/pjlibrary_sleep_other_hacks_free_rsvp/.
Join the Greater Miami Jewish Federation and the Holocaust Memorial Miami Beach on Sunday, April 28 at 6:30 p.m. to commemorate Yom HaShoah — Holocaust Remembrance Day. The powerful program includes an eyewitness account from a survivor, a candle lighting ceremony and musical selections.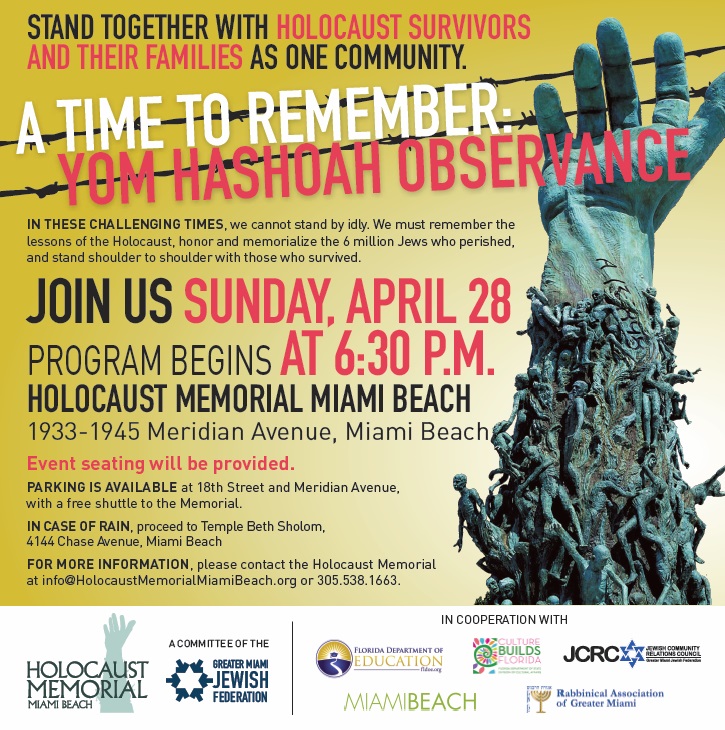 Join us for a festive Shabbat B'Yachad
Friday May 10, 7:00pm
Sorry, REGISTRATION IS CLOSED