Come learn about GAP YEAR in Israel opportunities with Masa Israel on Tuesday, Nov. 19 in the Greater Miami Jewish Federation board room from 6:30 - 8:30 p.m. Bring your high school student for some food and fun, and to meet with organizers from programs throughout Israel!
Give Miami Day is back and bigger than ever! Join the movement and let's make November 21st another record-breaking Give Miami Day!
This year, take it a step further and build out a Champion Page to help spread the word and fundraise for the Greater Miami Jewish Federation, click here to create the page and get it ready for Give Miami Day!
CALLING ALL VOLUNTEERS! Will you please join our PJ Story Squad? This outstanding group of volunteers will help us bring a PJ Library Chanukah to hundreds of kids in public and private SECULAR schools throughout Miami-Dade. Last year, we reached more than 700 kids! This year, Alexandra Alazrachi & Lauren Borowsky will be co-chairing this initiative and we want to expand even more!! Here's how YOU can help:
VOLUNTEER YOURSELF & INVITE FRIENDS TO JOIN -Share this with everyone you know (volunteer training will take place on December 4 at 10 am and volunteers will be deployed December 9-20) RECRUIT SCHOOLS - If you are a parent at a public or private SECULAR school (or know someone who is), please ask your school's administration to agree to have us and we will work with them on scheduling. Email us at jprevor@gmjf.org.
Thanks in advance for your help - together, we can bring a tremendous amount of light (PJ Library style!!) to hundreds of local kids this Chanukah.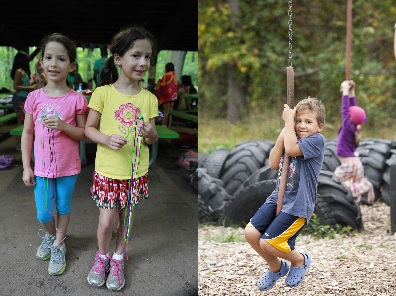 The Greater Miami Jewish Federation is now accepting applications for 2020 Need-Based Jewish Overnight Summer Camp Scholarships for children between the ages of 8 and 17, to help make Jewish overnight summer camps more affordable for Miami-Dade County families.
Camper Eligibility Criteria:
• Miami-Dade County resident
• Ages 8 – 17
• Completed online application, see link below
• 2018 income tax return (Form 1040)
• Camp acceptance letter or invoice

Camp Eligibility:
• Funding assistance is available for Jewish overnight camps listed on the Foundation for Jewish Camp website, click here to find an eligible camp
• summer camp must be located in the United States
• Financial assistance is limited to one session only

Application deadline is Thursday, January 30, 2020 at 11:59 PM. Late applications will not be accepted.
Recognizing that Jewish overnight camp is a significant vehicle for Jewish engagement, the Annual Federation /UJA Campaign has allocated $100,000 each year since 2002 for funding assistance. Last year, nearly 200 need-based scholarships were awarded to children, enabling them to attend a variety of overnight camps from all religious streams, as well as JCC overnight programs and youth group movements.
Additional Funding Resources:
• Foundation for Jewish Camp Scholarship Directory
• Contact your camp administrator to inquire about financial assistance
• Contact your rabbi or synagogue
• Interest free loans are available through the Hebrew Free Loan Association, 305.692.7555

For more information, call 786.866.8431 or email icohen@gmjf.org


A Multigenerational Experience for the Entire Family at Beth Torah Benny Rok Campus
Wednesday December 11, 2019 6:00pm
A different way to celebrate Chanukkah, hosted by Silvio Berlfein and Martin Sipicki
Hadassah Annual Hanukkah Concert with the North Miami Pops Band
 December 8, 3 PM at The Palace, One Andalucia Avenue, Coral Gables, 33134

 Transportation provided, leaving Temple Menorah, 620 75th St, Miami Beach 
             at 1:15 promptly! Valet parking avaiable at The Palace.

Reservations required - We cannot accept checks at the door. Contribution $30 per person.
Please make out checks to Hadassah and mail to:
P.O. Box 546166, Surfside,FL 33154-0166
Indicate whether you will require transportation or if you will use The Palace valet.
         Please send checks no later than November 15th.

Three leaders in NA'AMAT USA, OR CHAPTER, S.FL. will co-chair the 27th annual dinner honoring NORA AND CARLOS STOLEAR on Wednesday, Nov. 20th at the Aventura Turnberry Jewish Center, 20400 NE 30th Ave. Aventura, Fl. at 6 pm.
Nora and Carlos Stolear are both accomplished professionals and benefactors that relocated to South Florida in 2004. Carlos is a Holocaust survivor. They joined NA'AMAT International, a movement of more than 300,000 members in nine countries, to help their cause.
Raquel Rub, NA'AMAT S.FL. Council President, Matilde Behar, NA'AMAT "OR" President, and Rebeca Yohai, National Board Member, stated that the dinner and entertainment are open to members, families, and community for a $100 contribution per person. Dietary laws observed. Reservations are available by phoning 305-965-4779 and 786-483-3312, or email naamator@yahoo.com.
Please join us to personally meet JONATHAN MORALES, the hero who captured the shooter and saved the lives of his fellow congregants, at Chabad of Poway, San Diego, California.
Proceeds of the event will go towards repairing the damage caused to several NA'AMAT daycare centers, by missiles directed to the Israeli population. We are a network of dynamic volunteers, dedicated to social justice, child and family welfare and gender equality in the workforce in Israel. We continue financing the programs and services developed over 92 years of existence with our sister organization, NA'AMAT ISRAEL. Daycare centers, domestic violence center in Tel Aviv, 17 vocational high schools, graduate and post-graduate scholarships, and much more.
Posted by Hadas75 on 10/30/2019 @ 04:49 PM
Join us on November 11th to support Israeli children battling cancer and their families
Honoring: Mr. Chaim Katzman Founder & CEO of Gazit Globe and National president of Larger Than Life
Featuring:the Global Music Icon Idan Raichel
Where:Beth Torah Benny Rok Campus 20350 NE 26th Ave. North Miami Beach, FL 33160
When: November 11th 2019 Reception starts at 7:00pm.
For tickets 1.888.644.4040
https://largerthanlifeusa.org/gala-tickets-miami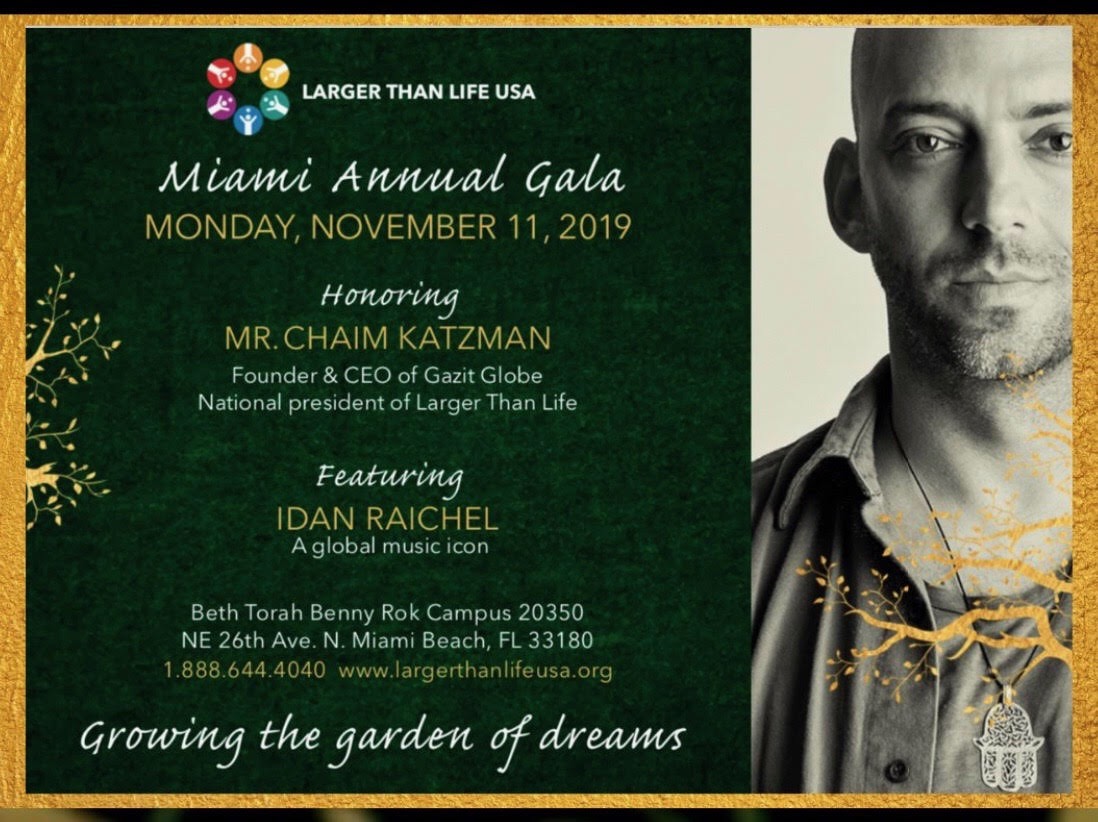 Join Event Chairs: Tori Greene, Chelsea Sheridan and Brooke Walis for an afternoon of Engaging Enlightenment
A dynamic, communal response to the topic of sustainability, joined together by motivated individuals who are seeking to create a stronger movement within their personal and environmental health.
DATE: Sunday, November 3 TIME: 4-6:30pm Location: Cannabinoid Health Institute, 74 NW 25th Street, Miami, FL 33127*
*There is a free parking lot next to the venue. In addition, there is a free parking lot on 24th Street across from the Wynwood Arcade.
Thank you to our event sponsors! 84 West Events, Cannabinoid Health Institute, Greater Miami Jewish Federation, Hungry Harvest
Everyone is Welcome!
Ticket Price: $36 For details and to RSVP visit: NCJWMiami.org
For questions and more information, contact us at info@ncjwmiami.org or 305.697.9028
Through the Jewish concept of "Tikkun Olam" or "Repair of the World" as inspiration for this event, we aim to create a space that recharges the individual, which in turn ignites creativity, possibility, and motivation around environmental sustainability within the community we share together.
Tactile Intentionality: Sound bath frequencies, guided meditation, and light yoga will shift attention inwards. Led by Nour Kawa. Please bring a yoga mat our blanket.
Lite Bites: In collaboration with Hungry Harvest, snacking takes on a whole new meaning: food sustainability.
Sustainability Panel + Community Huddle Five of Miami's leading sustainability pioneers offer realistic ways to bring sustainable practices into our everyday lives, both as the individual and as a community.
Moderator: Chelsea Sheridan, MScN CNS Panelists: Alison Bauer, Hungry Harvest / Myk Likhov, Modern Om / Sabina Osman, UNLITTER / Dr. Michelle Weiner, DO, MPH, Cannabinoid Health Institute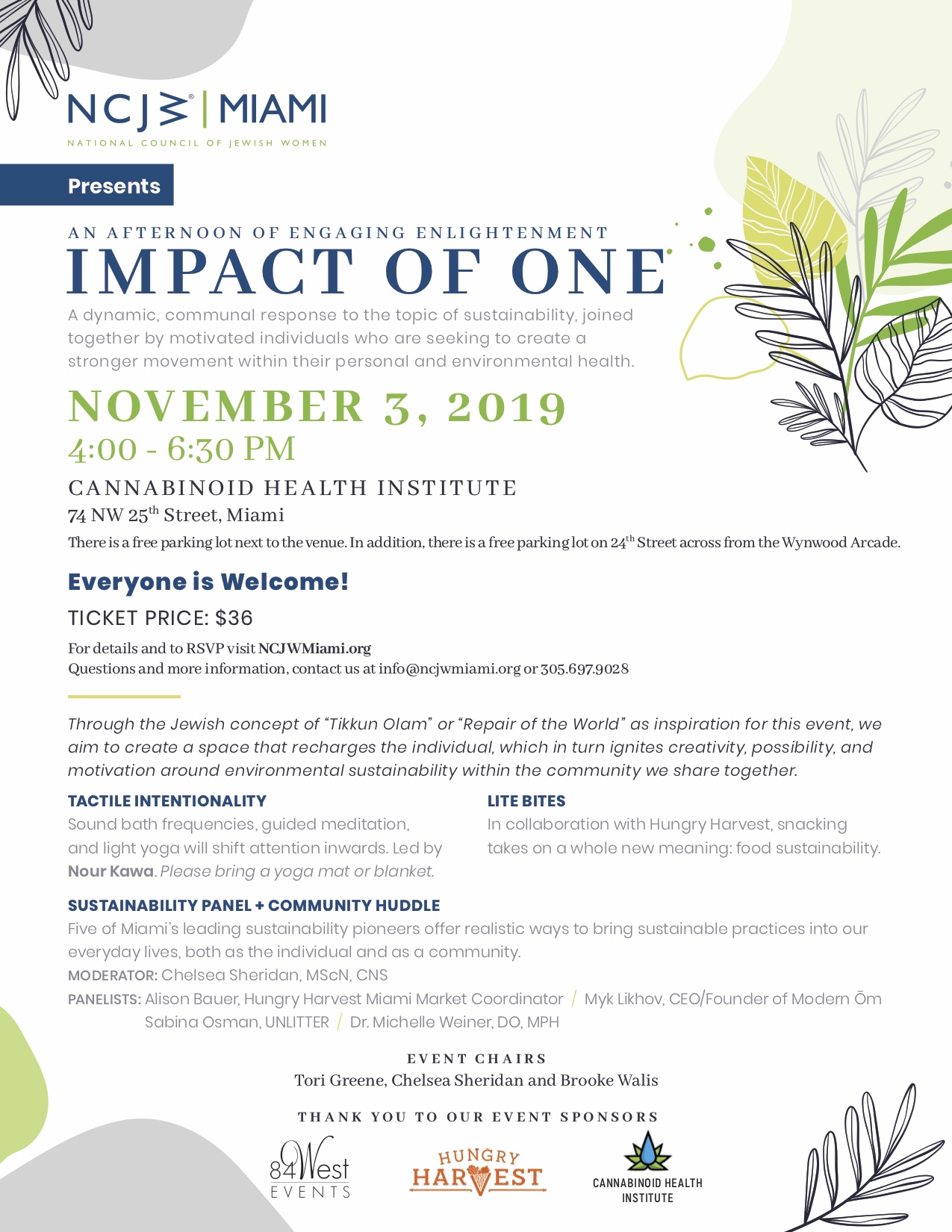 Commemorating the 81st Anniversary of the Night of Broken Glass