Steak & Scotch
5:30 pm | Thursday, October 5 | $45.00 (NON-MEMBERS)
Full Dinner with salad, sides, and desserts. Scotch and Bourbon BYOB.
Please RSVP by noon on September 29 on the tesobe.org site, or phone (305) 538-2503
Our steak order will be based on the number of RSVP's received.
Temple Emanu-El | 1701 Washington Ave. Miami Beach, FL 33139 |
(305) 538-2503
ShirAnit supports mourners completely free of cost.
We set up the shiva home by covering mirrors, providing low seats, Kaddish cards, sidurs, books on mourning, among other items.
Our mission is to lighten the load for all Jewish mourners, elevate the souls of the departed by providing opportunities to do mitzvot in their name, and enable friends and families of the mourner to focus on supporting the mourner.
Call us any time: +1 (305) 707-7724
Do you have family or friends buried in local cemeteries? How can you meaningfully reflect upon the lives of those who came before? How can the memory of the past give you direction moving forward?
Join us for the Annual Communal High Holiday Memorial Services (Kever Avot) Sunday, September 10, 2023, 10-10:45 a.m., hosted by community rabbis, cantors and chaplains
For many of us, the past few years were marked by loss and death, and some of us grieved in isolation. While the pandemic was hard on all, it was particularly difficult for those who grieved. Join us together as communities as we remember those who are no longer with us and celebrate their lives. Following the short program at the cemeteries listed below, you will be able to visit the graves of families and friends with materials we will provide.
Locations:
Beth David Memorial Gardens Levitt-Weinstein 3201 N. 72nd Avenue, Hollywood
Lakeside Memorial Park 10301 NW 25th Street, Miami
Mount Nebo Kendall Memorial Gardens 5900 SW 77th Avenue, Miami
Mount Nebo Miami Memorial Gardens 5505 NW 3rd Street, Miami
Walk-ins are welcome. Open to the public. Free of charge. No solicitation of funds. You do not need to have a loved one buried at these cemeteries to participate.
ZOOM INFORMATION
We encourage all to attend, as you can be with others and visit the cemetery.
For those unable to join in person, we can provide a Zoom link before the event. Please register by CLICKING HERE.
When we consider the meaning and purpose of our lives, the High Holiday season is the perfect time to remember those who had a special impact upon us. For this reason, it is a popular custom to visit cemeteries during this time of year. This custom, called Kever Avot (graves of our parents), is an opportunity to remember and celebrate the souls of those who are no longer with us and reflect upon our own mortality and our role in this life. Join us as we come together in memory and prayer and light a yahrtzeit candle for those who brought light into our lives.
Chaplains from the Greater Miami Jewish Federation and L'Chaim Jewish Hospice Program, along with local clergy, will be available to provide resources and support.
This program is supported by Tikvateinu: Together Finding Hope and Healing Following Loss: A Jewish Community Initiative Supported by Mishkan Miami of the Greater Miami Jewish Federation and L'Chaim Jewish Hospice Program.
Everyone will be provided with a brief prayer to use for future visits.
For more information, please contact Rabbi Frederick L. Klein at the Greater Miami Jewish Federation at RabbiKlein@gmjf.org or 786.866.8486.
The Greater Miami Jewish Federation and the Rabbinical Association of Greater Miami, together with more than 30 participating synagogues, are offering free seating to unaffiliated members of our community through the High Holiday Welcome Program.
If you have not already made plans to attend Rosh Hashanah and Yom Kippur services, we encourage you to join a synagogue. But if you can't do so in time for the holidays, you may attend services at one of the synagogues where we have arranged for a limited number of individual seats at no charge.
The program is made possible by donations to the Annual Greater Miami Jewish Federation/UJA Campaign. Online registrations may be made at jewishmiami.org from Monday, August 28, through Sunday, September 10.
CLICK HERE TO REGISTER FOR FREE HIGH HOLIDAY SEATS
All denominations of observance are welcome. Advance reservations are required.
May 5784 be a sweet year for you and your family, full of peace and happiness!
Wednesday, July 12 at 7-9 p.m.
American Jewish Committee's Latin American Task Force together with Beth Torah Benny Rok Campus, in partnership with many of South Florida's Jewish organizations are honored to be organizing one of South Florida's most important annual events.
The AMIA Commemoration Ceremony honors the victims of the 1994 bombing of the Jewish Community Center of Buenos Aires and is one of the few events bringing together both the Jewish and Latino communities. We hope you will join us.
Beth Torah Benny Rok Campus 20350 NE 26th Avenue, Aventura
Purchase raffle by August 13. Drawing on August 15.
Win $10,000.00 CASH + other great prizes, while supporting CKids, CTeen, The Family Shul & Dade County's only daily Jewish afterschool program! Find out how to be a guaranteed winner at ChabadChayil.org/raffle.
Posted by Noa Waks on 05/11/2023 @ 05:45 PM
Please join the Jewish Museum of Florida - FIU on Sunday, May 21 at 2:00pm for the Exhibition Opening Reception and Curator Talk given by Kenneth Helphand, Philip H. Knight Professor of Landscape Architecture Emeritus University of Oregon.
Upon Thy Gates, The Elaine K. and Norman Winik Mezuzah Collection comes to JMOF-FIU from the Oregon Museum of the Jewish People and Center for Holocaust Education in Portland. Curated by Kenneth Helphand, the exhibition presents 73 mezuzahs collected by the Winiks that represent a wide range of styles, materials, and Jewish symbols. The mezuzahs were created in places all over the world, including Israel, the United States, Denmark, England, Ethiopia, Germany, the Netherlands, India, Iran, Italy, Morocco, Poland, and Yemen and date from the late 18th to the 21st century. The exhibition is sponsored at JMOF-FIU by John & Jo Sumberg and will be on display from May 10 thru August 6, 2023.
Buy tickets [here].(https://secure.qgiv.com/for/jmoffiu/event/uponthygatesopeningreceptioncuratortalk/embed/)
Posted by Noa Waks on 05/11/2023 @ 11:15 AM
Please join Jewish Community Services of South Florida for their Annual Meeting on May 31st, 6:00 PM, at Paradise Plaza Event Space in the Miami Design District! Celebrate JCS staff, funders, partners, and beloved community as we close out the 2022-2023 fiscal year.
Keynote Speaker: Greg Schneider, Executive Vice President, Conference on Jewish Material Claims Against Germany (Claims Conference)
Couvert: $36 per person; Dress: Cocktail Attire
For questions regarding sponsorship, please contact Morgan Weinblatt, Director of Resource Development and Engagement, at mweinblatt@jcsfl.org
For questions regarding the event, please contact Adriana Cano, Event Specialist, at acano@jcsfl.org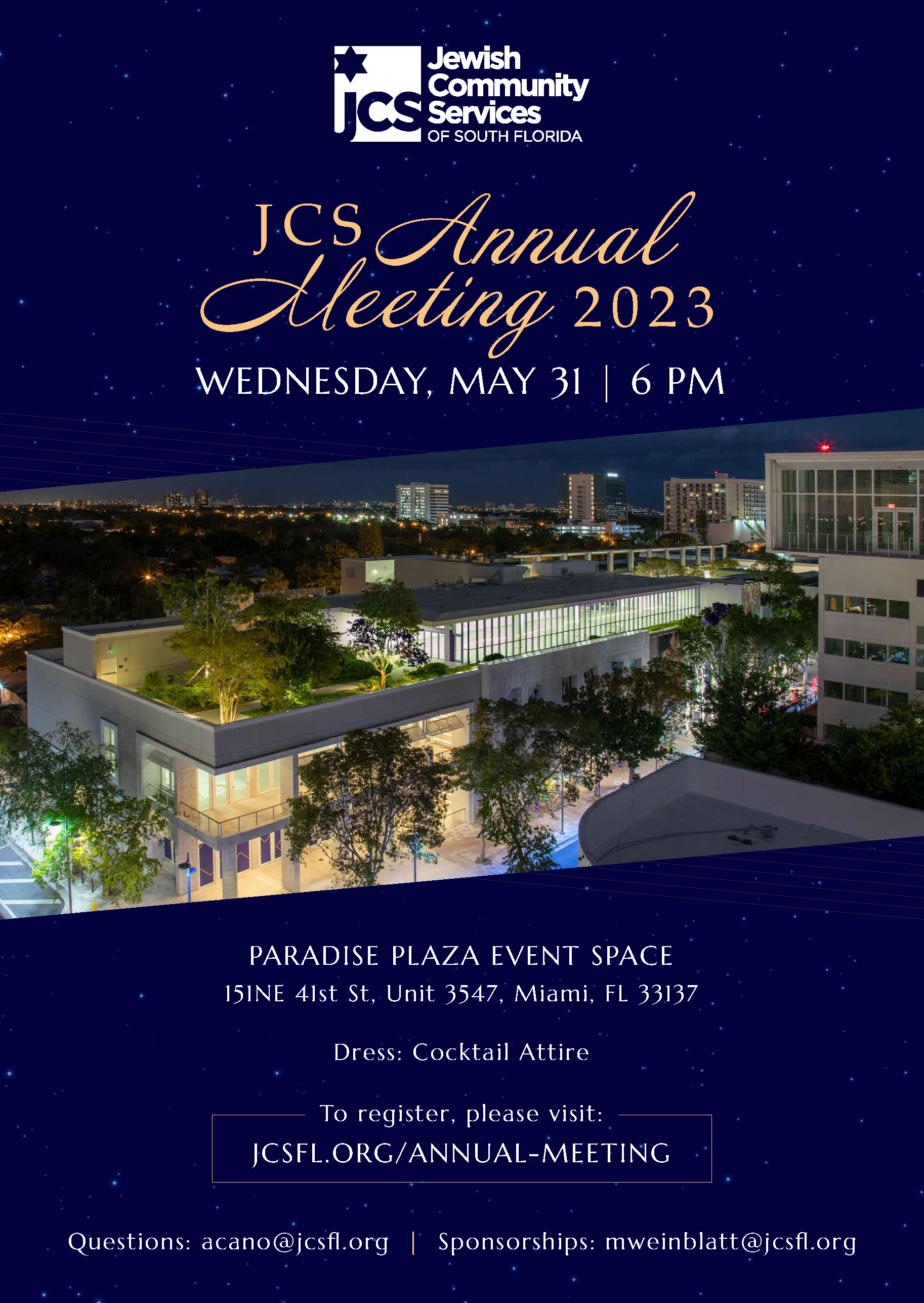 Posted by Noa Waks on 05/10/2023 @ 02:30 PM
A concert celebrating the original compositions of Cantor Rachelle Nelson.
With professional choir, cantors, soloists, instrumentalists, and singers, and the Aventura Turnberry Jewish Center Community Choir. Dr. Alan Mason and Cantor Rachelle Nelson, program directors.
Sunday afternoon, May 21, 2023 at 4pm.
To learn more click here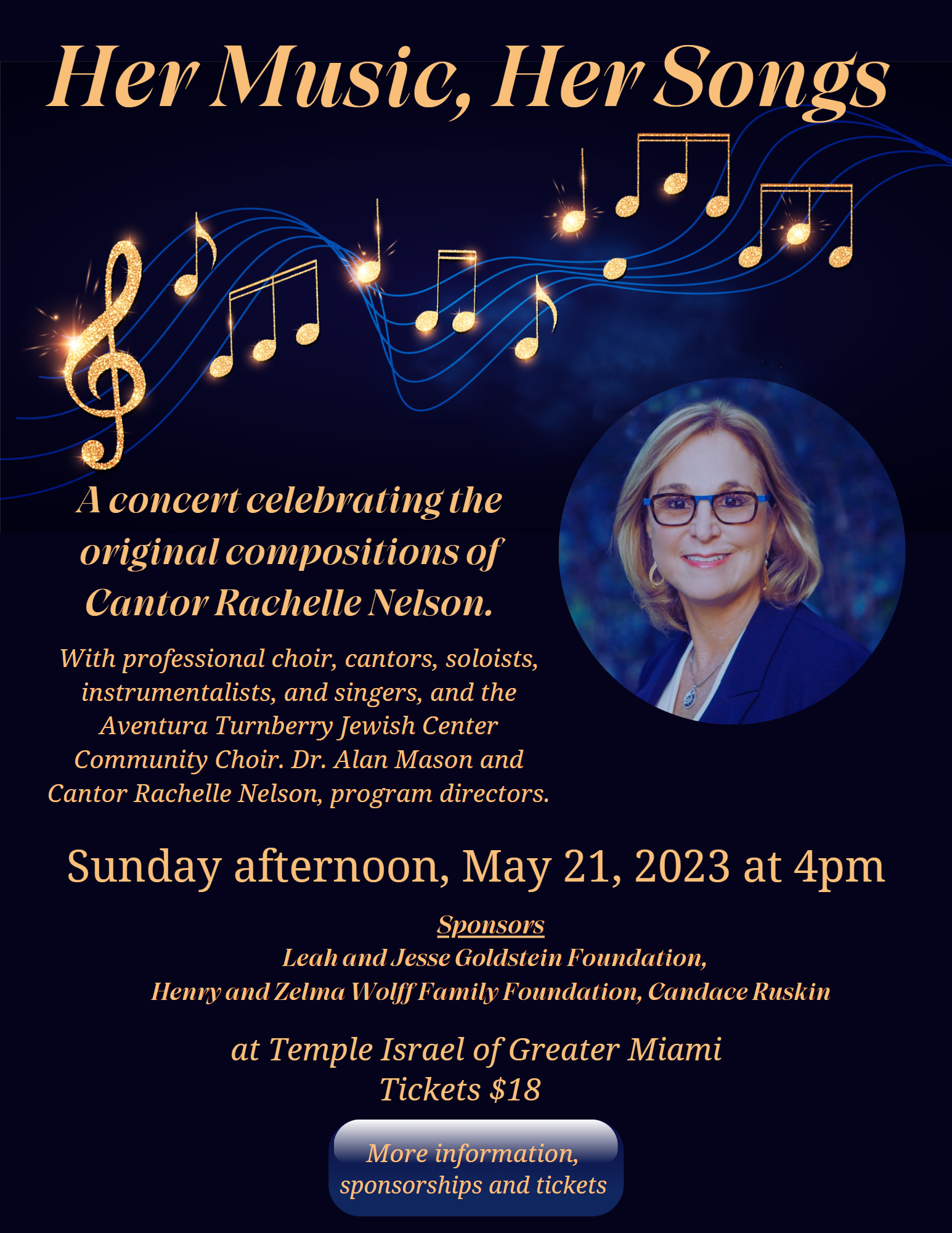 Posted by Noa Waks on 05/10/2023 @ 02:19 PM
AJC's Judge Learned Hand Award was established in memory of a legendary figure, Judge Learned Hand, Senior Judge of the United States Court of Appeals for the Second Circuit from 1924 to 1951. Widely admired as a dean among American jurists, Judge Learned Hand was famous for the extensive range of decisions he rendered in more than two thousand cases. The award is presented to outstanding leaders of the legal profession who exemplify the high principles for which Judge Hand was known.
When:
May 18, 2023 6:00 PM to 9:00 PM
Where:
PO Box 164706 Miami, FL 33116
Organizer:
Michael Winograd
Contact:
Nancy Reinhard at reinhardn@ajc.org ((305) 670-1019)
Cost:
Call for information .