FIDF Young Leadership & The Dezer Family present the 15th Annual Casino Night
FIDF Young Leadership Greater Miami cordially invites you to a Miami inspired evening of all you can drink spirits, gourmet cuisine, live music and dancing, casino-style gaming, silent auction, raffle and more!
The 15th Annual FIDF YL Casino Night is expected to draw over 700 young professionals from the South Florida area. Casino Night is sure to sell out; please purchase your tickets early!
November 9th, 2019: 9:00pm-1:00am

Tickets: Early Bird $85 (by Oct 16) | Regular $105 (by Nov 6) | Door $125

To purchase tickets: www.fidf.org/casino19
Event Chairs: Brett David & Alexander Goldstein
Host Committee: Hinda Adler, Michael A. Behar, Oriah Ben-Gal, Rachel Bicky, Jordan Cohen, Chani Ettelson, Daniel Feigenbaum, Lexie Franklin, Albert Ghitis, Evan Glassman, Gina Goldberg, Nicole Gomez, Lior Kadoch, Joana Kohen, Orpaz Levy, Uri Man, Michelle Matz, Frank Matz, Brad Meier , Carly Nathanson, Elan Neuman, Jordan Niefeld, Michael Pear, Jennifer Pear-Feigenbaum, Ofir Pinkweiss, Marisa Potter, Rosa Quiroz, Devorah Shagalov, Nicole Shubert, Eric Steinlauf, Michael Szanto, Michael Tabacinic, Andor Tobelem, Maya Tzur, Shari Wolkenfeld, Janine Wolman
Come eat, drink, celebrate, donate and participate!
The FIDF YL Greater Miami Casino Night is 21 and over. All attendees must present a valid photo ID. No refunds.
For more information about Sponsorship Packages, Spotlight Branding Options, and the 15th Annual FIDF YL Casino Night, please contact Elana Kashti, Development Associate, at Elana.Kashti@fidf.org or 305-354-8233.
An RSVP to the Facebook invitation is NOT an RSVP to the Gala!
A YIDDISH MINI-FEST - SEPTEMBER 13-15, 2019
Presented By: Yiddishkayt Initiative & The Betsy - South Beach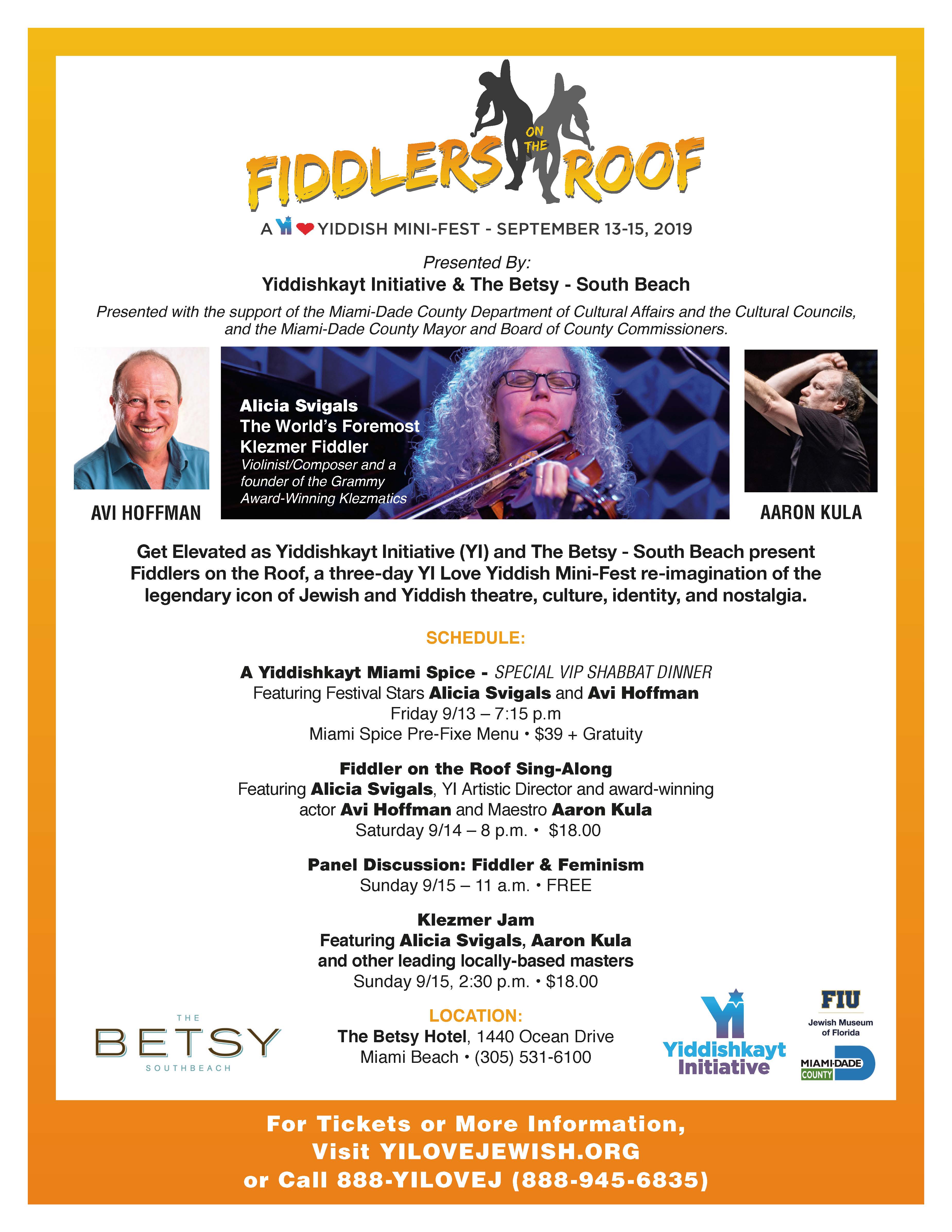 Sunset Over Miami is Federation's largest event for real estate professionals. The event offers every participant valuable networking opportunities with veterans and newcomers in the industry. Each year the event showcases a unique space in Miami and typically over 500 guests. Federation's Real Estate Division encourages the involvement of architects, brokers, builders, developers, contractors and professionals affiliated with these trades in supporting the philanthropic work of the Greater Miami Jewish Federation. Sponsorship opportunities available.
Click here for more information and here to RSVP.

The Greater Miami Jewish Federation has established an Emergency Relief Fund to assist those affected by Hurricane Dorian.
One hundred percent of funds donated to Hurricane Dorian relief will be used to provide critically needed aid to those in the Bahamas and other affected areas.
Click here to make a donation.
While no one knows the ultimate path of the storm, the extent of the need is already clear.
Our community has decades of experience with hurricanes. We understand the devastation and suffering that follows a catastrophic storm like Hurricane Dorian. Let us join together to help those affected — wherever they may live — to rebuild their lives. We cannot help but be grateful to have been spared a direct hit in Miami-Dade County. Please give as generously as you can to assist with the immediate needs in the aftermath and long-term recovery for those who were not as fortunate.
We will continue to monitor the storm and assess its impact on other communities so we can provide assistance to those affected.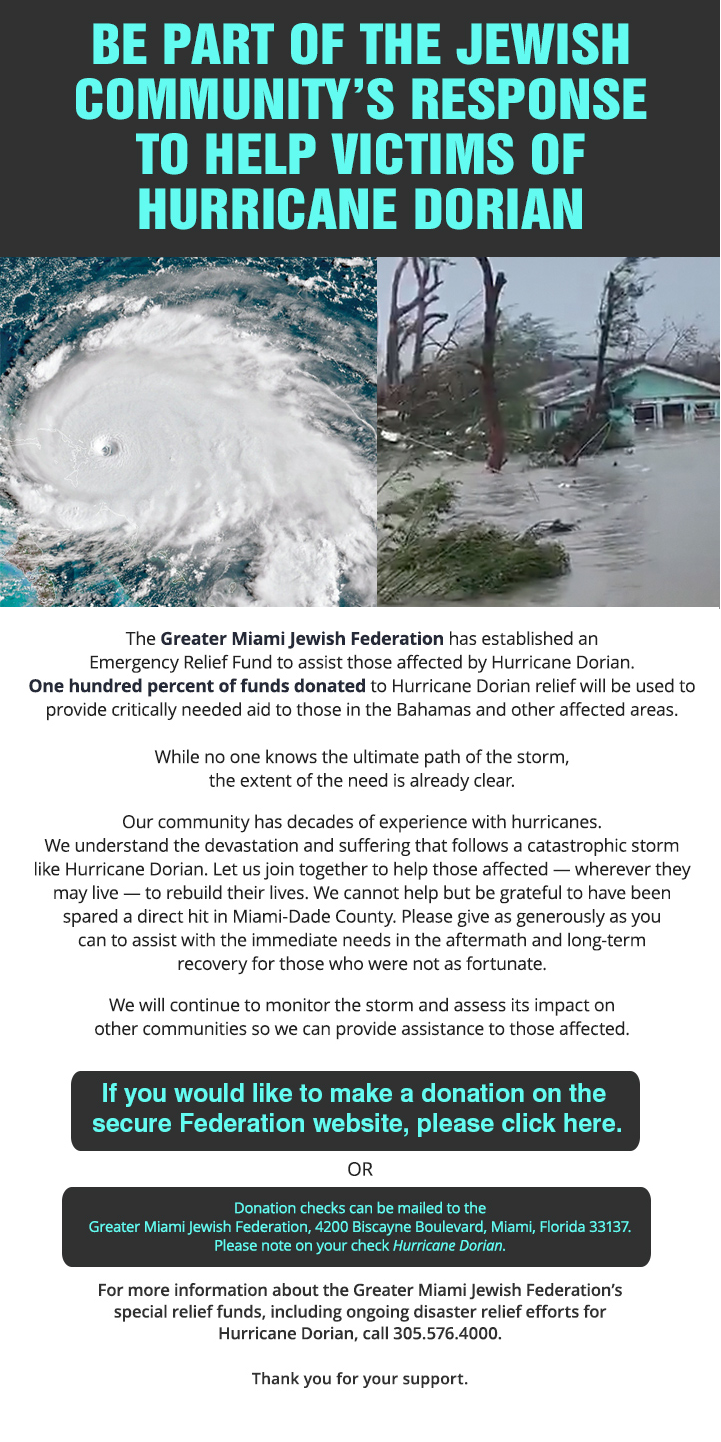 Since 1999, the High Holiday Welcome Program – a joint venture of the Greater Miami Jewish Federation, the Rabbinical Association of Greater Miami and participating area synagogues – has enabled tens of thousands of worshippers to enjoy Rosh Hashanah and Yom Kippur services at no cost to participants.
Through allocations from the Annual Federation/UJA Campaign, as well as supplemental gifts from generous donors, Federation has underwritten the cost of High Holiday seats so that every Jewish person in Miami-Dade County has the opportunity to take part in these meaningful days of prayer.
Seats are offered to members of Miami's Jewish community who are unaffiliated with a community synagogue.Advance reservations are required to accommodate the large number of worshippers and to ensure security.
Click here to view this year's participating synagogues.
Seating reservations will be available:
Monday, September 9 through Friday, September 20 For quick online registration 24/7, please CLICK HERE.
To reserve by phone, call one of our operators at 305-373-SEAT (7328) during the following hours: (Please note, phone lines will be busy. We highly encourage online reservations, they are faster, with no time spent waiting for an available operator.
First Day: Monday, September 9 from 12 noon to 5 p.m.
All other weekdays: (Mon – Thurs) 9 a.m. to 5 p.m.
Fridays: 9 a.m. to 4 p.m.
Free seating reservations close on Friday, September 20 at 4 p.m. After this time, please contact a synagogue directly to inquire about seating availability.
Posted by aholtz on 08/26/2019 @ 02:18 PM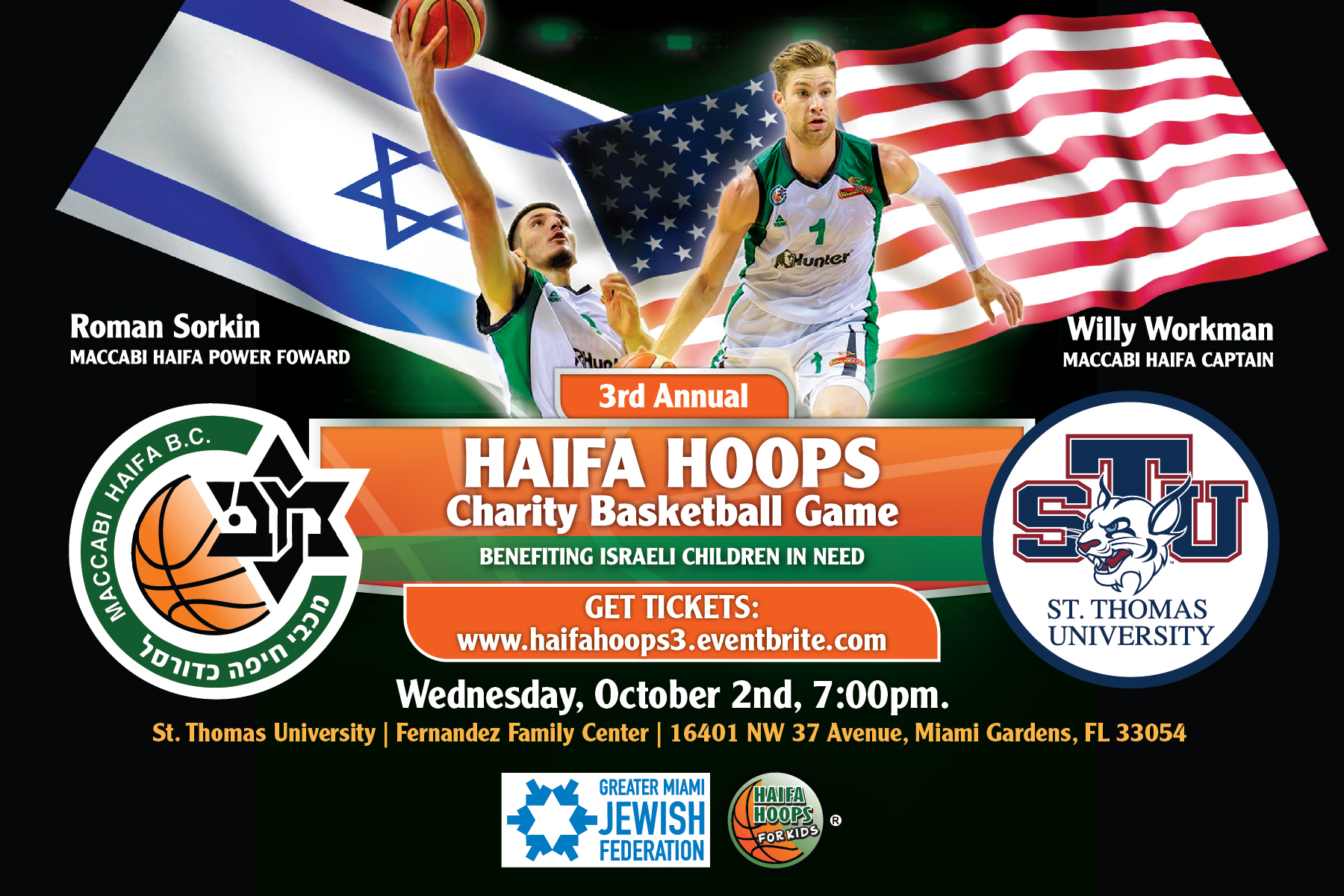 Hi Friends and Family of the Greater Miami Jewish Federation,
As you may know, Maccabi Haifa will be back in the U.S to kickoff the 2019-2020 season and NBA Tour!
This year, the team will be back at St. Thomas University on Wednesday, October 2nd at 7pm, for their 3rd annual Haifa Hoops for Kids charity basketball game! The proceeds generated for the event will go towards the team's charity, Haifa Hoops for Kids, which seeks to benefit under-privileged and needy children in Israel by allowing them to participate in basketball clinics year round and attend the basketball games in Haifa free-of-charge.
Please join us in attending the game to support the team and organization. Tickets for the game range from $20-$100. Sponsorship opportunities and donations to Haifa Hoops for Kids will be available shortly. Yalla Maccabi!
Ticket Link:
https://www.eventbrite.com/e/3rd-annual-haifa-hoops-for-kids-charity-basketball-game-tickets-66344874305

The Greater Miami Jewish Federation is now accepting applications for its 2020 Jewish Incubator Grants, which will award nonprofits eager to strengthen Miami's Jewish community through innovative and impactful programs. Organizations, synagogues, agencies and schools with compelling and creative ideas that support social service, educational or Jewish-identity building activities are invited to apply.
Applications are due no later than 4 p.m. on Friday, September 6, 2019.
JCS and Greater Miami Jewish Federation are joining together to fight food insufficiency in Miami.
Volunteer and help deliver Rosh Hashanah food baskets to homebound seniors during JCS annual Milk & Honey food distribution event.
Assemble Baskets from 9 – 10 a.m.
Deliver from 10 – 11:15 a.m.

North Location: Aventura Turnberry Jewish Center
South Location: Temple Judea

For group registration, contact Marian Mendelsohn at 305.403.6539 or mmendelsohn@jcsfl.org.
To help members of our vibrant Jewish community choose a place to worship, Federation and the Rabbinical Association of Greater Miami have compiled a directory of area synagogues. We encourage you to review this list and contact a synagogue for membership information.

Make this Jewish New Year a time for renewal for you and your family, and a time to find personal meaning and spiritual connection with your community. Synagogues provide ongoing opportunities to study, experience, and enjoy being connected to Miami's Jewish community throughout the year. Click here for a thoughtful article on the benefits of synagogue membership.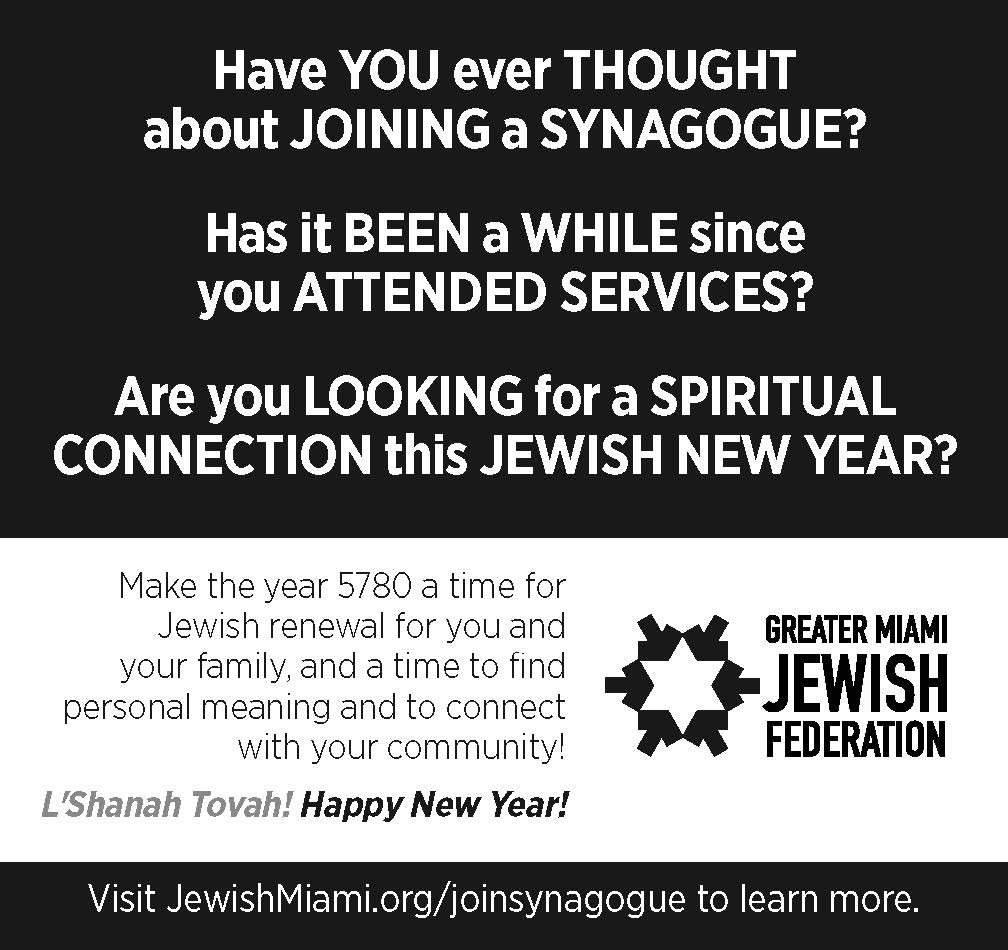 Hadassah Inter-American Chapter cordially invites you to join us at our ANNUAL BRUNCH To benefit Hadassah Medical Organizaton, home of the state of the art Mother and Child Pavilion
 Honoring Jewish Women who make a difference in our community
 LILY LIBHABER, PERLA TACHER, SARA GOSER, HILDINE POTASHNIK

     Strictly Kosher Brunch Sunday, June 30, 2019 at 12:00 pm
      Tower 41, 4101 Pine Tree Drive, Miami Beach, FL 33140

Couvert $75.00 per person - Complimentary Valet Parking - Entertainment
Please make your check payable to Hadassah and mail to:
Inter-American Chapter of Hadassah, P.O. Box 546166, Surfside, FL 33154-3166
Please RSVP by June 15th