Posted by Noa Waks on 03/29/2023 @ 06:25 PM
Register now before tickets sell out!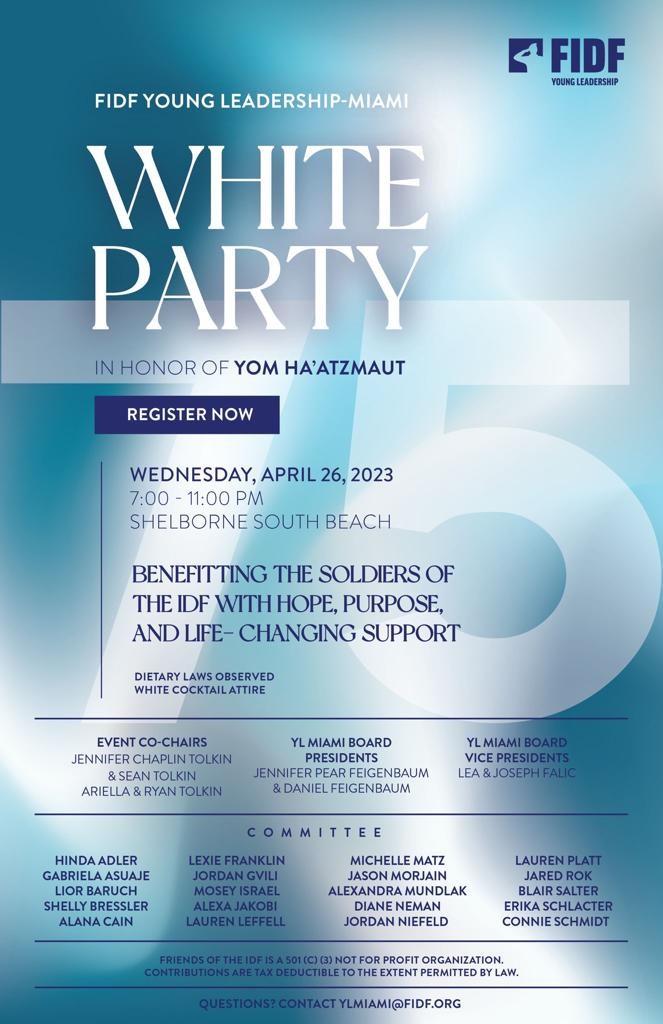 Posted by Noa Waks on 03/29/2023 @ 01:13 PM
The Greater Miami Jewish Federation will conduct a Food Distribution Drive-Thru event in response to ongoing food insecurity in the surrounding community.
WHEN: Friday, April 14, 2023 9 A.M. – 11 A.M.
WHERE: Greater Miami Jewish Federation Stanley C. Myers Building (Parking Lot) 4200 Biscayne Boulevard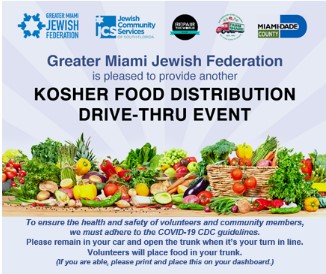 Posted by Noa Waks on 03/29/2023 @ 01:01 PM
Purchase your ticket today.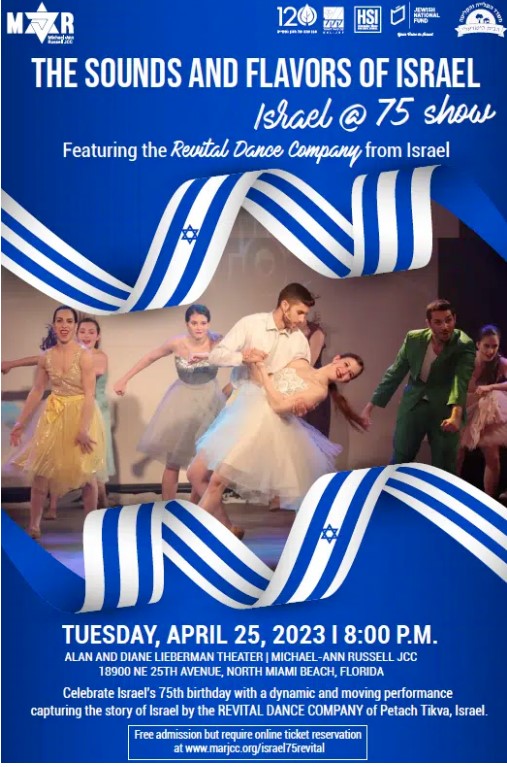 Posted by Noa Waks on 03/28/2023 @ 08:16 PM
The Miami Jewish Abilities Alliance, a Federation program, is recruiting volunteers for its Passover Special Mitzvah Seder, a holiday event designed specifically for Jewish adults with developmental and physical challenges on Monday, April 10 at 2 p.m. at Beth Torah Benny Rok Campus in Aventura. Volunteers are needed to serve as one-on-one companions for the participants and guide them through the Seder service and dinner. Help is also needed for setup and serving. The afternoon has been structured to accommodate adults with disabilities, including seating with no more than seven people per table. Each guest will receive a filled Seder plate, a unique Haggadah in Pictures and a song sheet. There will be singing of prayers and songs with the words projected on a screen to make it easy to follow along. Souvenir photos will be available and each participant will leave with a plush frog keepsake. To register as a volunteer click here and to contact the organizers for more details, send an email to specialmitzvahseder@btbrc.org. To learn more about JAA, click here.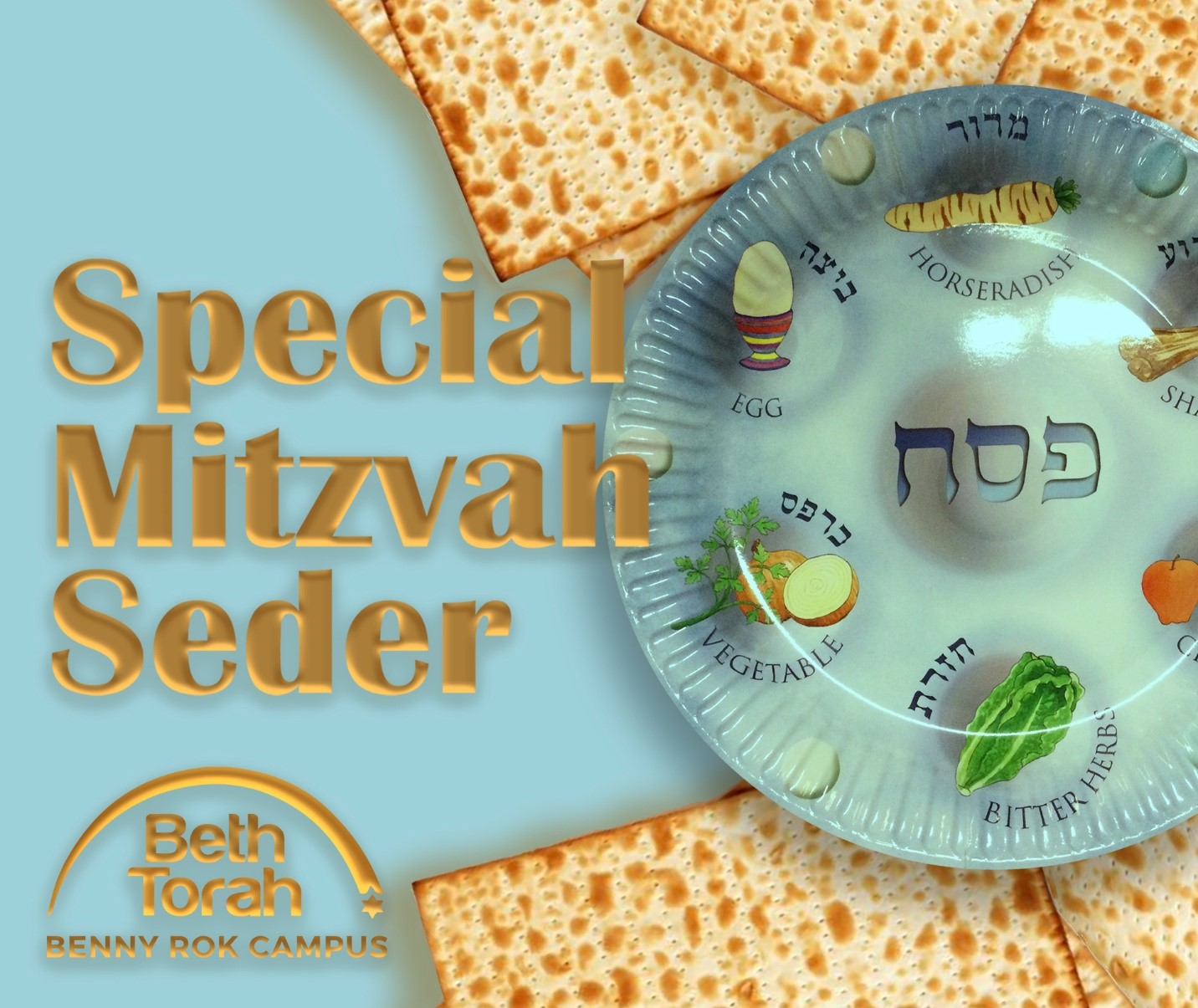 Posted by Noa Waks on 03/28/2023 @ 07:57 PM
Come together as a community on Sunday, April 16 at 6 p.m. for a Yom HaShoah observance program at the Holocaust Memorial Miami Beach. Join us as we remember the Holocaust, commemorate the 80th anniversary of the Warsaw Ghetto Uprising, memorialize the 6 million Jews who were murdered and honor the Survivors. In addition, the Holocaust Memorial is seeking volunteers to read the names of those who perished. To volunteer, call 305.538.1663. For more information click here. The Holocaust Memorial Miami Beach is a Committee of the Greater Miami Jewish Federation.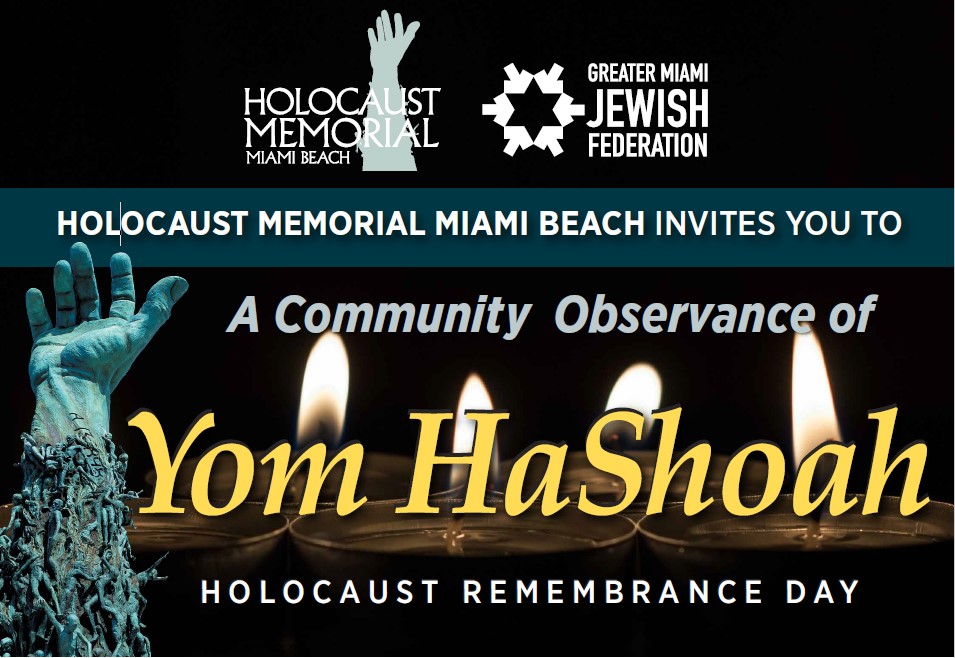 The Community is invited to join us on March 9th for a Casino Royale Purim Masquerade Party. Enjoy a gourmet strolling dinner, passed hors d'oeuvres, Dim Sum, Panini Stations, Sliders, Sushi & Poke Stations, and so much more. While trying your luck at the tables or slots for fabulous prizes, from hotel stays, spa days, to free memberships, gift certificates and more.
Adults Only | Open Bar | Music
CLICK HERE TO RSVP Aventura Turnberry Jewish Center 2040 NE 30th Avenue, Aventura, FL 33180
Posted by Noa Waks on 02/09/2023 @ 05:25 PM
Join Women's Philanthropy at the Mindy Solomon Gallery on Thursday, February 23 from 6:30pm-8:30pm for Otherwordly, an art exhibition and talk featuring works by Rodrigo Valenzuela, Jeremy Olson and Melanie Daniel. The Mindy Solomon Gallery, established in 2009, serves as an incubator for dynamic artists establishing their creative voices and exploring a broad range of exhibition possibilities.
Cost: $18 PER PERSON
Limited Space | Street Parking Available | Dietary Laws Observed
RSVP here by Monday, February 20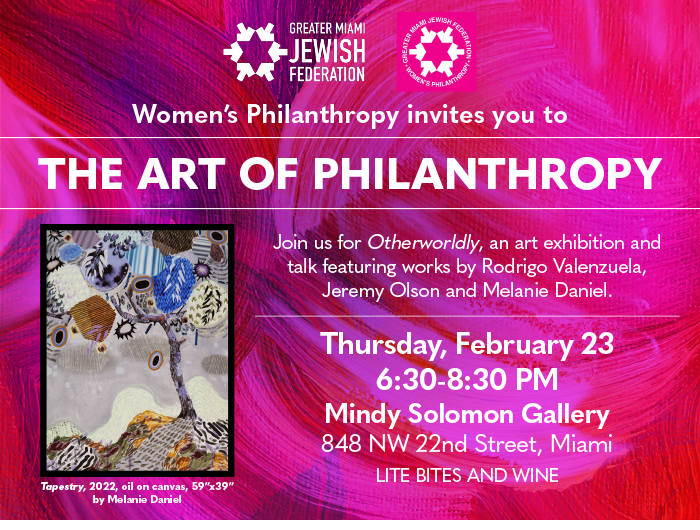 Posted by Noa Waks on 02/09/2023 @ 12:46 PM
Join us at our Community Mega Challah Bake on Thursday, February 9, 2023 at 6 PM for an evening of unity and inspiration as we preform this mitzvah.
Cost: $25 Per Person | $180 Table for 8
Where: Michael-Ann Russell JCC 18900 NE 25th Avenue North Miami Beach, FL 33180
Questions? Contact Diane Azout at diania@marjcc.org (305) 932-4200)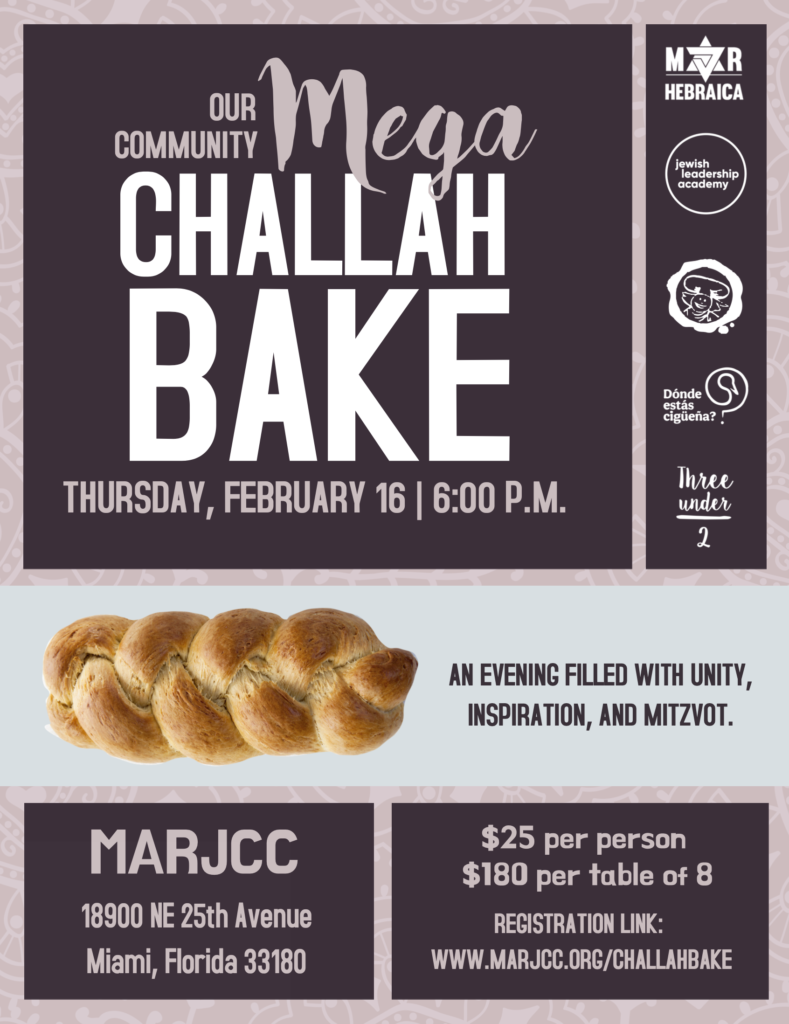 Posted by Noa Waks on 02/08/2023 @ 11:42 AM
When devastating earthquakes rocked Turkey and Syria earlier this week, killing thousands and injuring tens of thousands more, the Greater Miami Jewish Federation immediately responded with an emergency relief fund to bolster support for our overseas partners already on the ground administering critical humanitarian aid.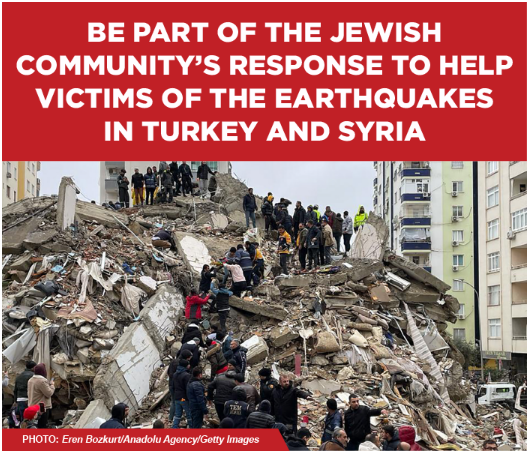 Please click here to make a secure donation now to the Turkey-Syria Earthquakes Emergency Fund online. Among the organizations assisting in the rescue and relief organizations are Federation partners including IsraAID, distributing life-saving assistance and winter items in Turkey, where the impact of the earthquake coupled with freezing conditions have left those affected by the catastrophic events extra vulnerable. IsraAID'S emergency response team includes specialists in water filtration, sanitation and hygiene; mental health and emergency logistics to bring urgent help to those in dire need. Overseas partner United Hatzalah of Israel has sent a delegation of 25 first responders and experts in search and rescue to Turkey to assist in rescue operations and provide medical assistance. Magen David Adom, another Federation beneficiary, will support Israel's military rescue delegation in Turkey, sending paramedics and EMTs trained in rescuing the injured from the rubble and treating "crush syndrome," a potentially fatal condition. As always, Federation will absorb all administrative costs so that 100 percent of funds collected for the Turkey-Syria Earthquakes Emergency Fund will go directly to those impacted by the disaster.
You may also call 305.576.4000 to make a donation.
Posted by Noa Waks on 02/02/2023 @ 08:49 AM
Help restore natural areas in Miami-Dade and celebrate Tu BiShvat with a free Jackfruit tree to take home. Take part in the Environmentally Endangered Lands Program cleanup event Monday, February 6 at County-Line Scrub Preserve (NE 215 Street East of San Simeon Way) and celebrate Tu BiShvat. Be part of a team that helps restore environmentally sensitive lands and take a tour.
Email eel@miamidade.gov to register for the event and to get your free jackfruit tree. Learn more.