For a complete and timely schedule, go to www.jbstv.org
From The Aleph Bet: Hebrew: For Rosh Hashanah
Learn Hebrew words associated with Rosh Hashanah, and the Hebrew greeting for the holiday Monday – 9am & 4:30pm; Wednesday 7pm; Thursday – 4am
Talmud Study: Shofar of Freedom
The commandment to hear the Shofar, and how the Jewish Tradition links it to a call to "freedom". With Mordechai Becher, Senior Lecturer for Gateways and author of "Gateway To Judaism". Tuesday – 9am & 4:30pm; Thursday – 7pm; Friday – 4am
L'Chayim: Rabbis Reflect On High Holidays
Rabbis discuss the themes they believe are important to address in High Holiday sermons. With Chaim Steinmetz (Kehilath Jerhurun, NYC), Lauren Grabelle Herrmann (SAJ, NYC) and Marcelo Kormis (Beth El, Fairfield, CT). Part 1 of 2. Wednesday - 9pm & 12am; Thursday – 3pm; Friday – 9am
Talmud Study: The Binding of Isaac
The Akedah, "The Binding of Isaac," is for many the most troubling and misunderstood passage in the Torah. Hear why it was revolutionary and liberating for its time and how it remains a powerful message for our own time. With Mordechai Becher, Senior Lecturer for Gateways and author of "Gateway To Judaism". Tuesday – 9:30am & 5pm; Thursday – 7:30pm; Friday – 4:30am
L'Chayim Today (Sunday) – Nobel Laureate Kandel
Eric Kandel, professor of Biochemistry & Biophysics at Columbia University, talks about leaving Austria during World War II, his relationship with Vienna today, and his life work studying the brain & the mind as a Nobel Prize-winning neuroscientist. Today – Noon & 6pm
L'Chayim Monday – Second Generation
Jewish activist, Dr. Naomi Vilko (practicing psychiatrist), talks personally about the pains and challenges of being the child of Holocaust Survivors and shares her concerns with the Claims Conference and the Jewish far left.
Monday – 9pm & Midnight; Tuesday – 3pm
L'Chayim Tuesday – New Kosher Cuisine
The author of "New Kosher Cuisine," Helen Nash discusses her personal Jewish journey and why she wrote the most recent of her three kosher cookbooks. Tuesday – 9pm & Midnight; Wednesday – 3pm
L'Chayim Thursday – One's Jewish Legacy
Daniel Cohen, senior rabbi of Congregation Agudath Sholom in Stamford, talks about a moment in all of our lives when we experience a wake-up call Thursday - 9pm & Midnight; Friday - 3pm
L'Chayim Saturday – Hammerman on "Mensch" Pt 1
Rabbi Joshuah Hammerman (Temple Beth El, Stamford, Ct and Jewish Week columnist) discusses the Jewish values embodied in the Yiddish word "mensch" which he writes about in Mensch Marks: Life Lessons from a Human Rabbi Saturday - 6pm
Film: Brothers
Two brothers, one a secular kibbutznik and one a Torah scholar from America who has come to defend Hareidim from the draft – reunite and clash over philosophies, mirroring the conflict between politics and Judaism in Israel. Directed by Igaal Niddam. Tonight (Sunday) – Midnight; Friday Night – 9pm & 4am
Roosevelt, Wise & The Holocaust
Holocaust scholar Rafael Medoff ("The Jews Should Keep Quiet: Franklin D. Roosevelt, Rabbi Stephen S. Wise, and the Holocaust") suggests why F.D.R. failed to save European Jewry in World War II and how Wise was complicit. With Thane Rosenbaum. Monday – 7:30pm & 2am; Wednesday – 1:30pm
Antisemitism: Carr and Lipstadt
Elan Carr, Deborah Lipstadt, Rabbi Chaim Steinmetz and Stephen Savitsky discuss global antisemitism and the importance of Jewish unity. With Rabbi Elie Abadie, a program of the Bnai Zion Foundation at Congregation Kehilath Jeshurun in Manhattan. Tuesday - 8pm & 1am; Thursday – 2pm; Saturday – 2pm
Election Results Round Table
JBS's Mark S. Golub hosts a panel analyzing the Israeli election results of Tuesday, September 17, 2019 with Abe Foxman, Jodi Rudoren, Steven Frank and Thane Rosenbaum. Today 4:30pm
92Y: Jonathan Sacks/Simon Schama
Rabbi Lord Jonathan Sacks (former Chief Rabbi of the U.K. & Visiting Prof, Yeshiva U.) and Simon Schama (Prof of Art History, Columbia U.) discuss the essence of Jewish identity with former TV news anchor David Gregory. From the 92nd Street Y in NYC. Sunday - 8pm & 2am; Monday - 10pm & 4:00am; Wednesday - 10:30am; Friday – 8pm; Saturday - 3pm
For a complete and timely schedule, go to www.jbstv.org
Israeli Election Results
JBS presents a report on the results of Israeli elections of Tuesday, September 17, 2019. Tuesday – 6pm; 11pm; Wednesday - 3am, 6am, 8am, Noon
Election Round Table
A JBS panel discusses the implications of the Israeli elections results of Tuesday, September 17, 2019. Wednesday – 7pm & 1am; Friday – 1pm; Saturday – 6pm
Cinematheque: Tel Aviv On Fire
Arab Israeli co-writer and director of the 2019 hit Israeli comedy "Tel Aviv on Fire," Sameh Zoabi, describes how his film depicts a Palestinian working on a Jerusalem soap opera becoming friends with an Israeli checkpoint commander. Eric Goldman. Monday – 7:30pm & 2am; Wednesday – 1pm; Saturday – 7:30pm
JOFA-Jewish Reproductive Rights
JOFA (Jewish Orthodox Feminist Alliance) discusses reproductive rights with Dr. Elana Stein Hain (Hartman Institute), Gail Katz (JOFA) and Dr. Susan Lobel (Met. Reproductive Medicine). With Dr. Michal Raucher (Rutgers). At Sixth Street Synagogue NYC. Monday – 8pm & 1am; Wednesday – 2pm;Friday – 4am; Saturday – 8pm
Omar & Tlaib & Lies: Mort Klein
ZOA Executive Director Mort Klein offers his opinion on Israel's banning Rep. Omar and Rep. Tlaib, and analyzes Pres. Trump's relationship to Israel, A program of the ZOA, hosted by Congregation Bnai Yeshurun in Teaneck, NJ (2019) Tuesday - 8pm & 1am; Thursday – 2pm; Friday – 5am
L'Chayim Today (Sunday) – Shai Held PT 1
Shai Held, Founding President, Dean and Chair in Jewish Thought of Hadar Institute, discusses growing up with Survivor Zionist parents and how his upbringing shaped his life and Jewish journey. With Mark S. Golub. (Part 1 of 2) Today – Noon
L'Chayim Today (Sunday) - Shai Held PT 2
Shai Held talks theology, his understanding of God and his approach to teaching the Jewish Tradition in part two of a conversation with Mark S. Golub on L'Chayim.
Today - 6 pm; Monday–3pm
L'Chayim Monday – Letty Pogrebin
Letty Cottin Pogrebin, a pioneering feminists (co-founding editor of Ms. Magazine) & author of ten books, including "Single Jewish Male Seeking Soul Mate", discusses her personal Jewish journey and shares her view of Jewish life today. Monday – 9pm & Midnight; Tuesday – 3pm
L'Chayim Tuesday – Oslo Syndrome-Levin Historian and psychiatrist Kenneth Levin suggests why some American Jews are anti- Israel as a means of feeling more comfortable and accepted in a non-Jewish society, similar to the pattern described in his book The Oslo Syndrome. Tuesday – 9pm & 12am; Wednesday – 3pm
L'Chayim:Nobel Laureate Kandel
Eric Kandel, professor of Biochemistry & Biophysics at Columbia University, talks about leaving Austria during World War II, his relationship with Vienna today, and his life work studying the brain & the mind as a Nobel Prize-winning neuroscientist. Wednesday - 9pm & 12am;
Thursday – 3pm (12noon PT)
L'Chayim Thursday – LGBTQ in Israel
Tyler Gregory discusses his work as executive director of A Wider Bridge, a North American organization working to create equality in Israel by expanding LGBTQ inclusion in Israel, and equality for all Israelis. Thursday - 9pm & Midnight; Friday - 3pm
92nd Street Y: Gregory & Brown on Faith
TV Journalist David Gregory, author of "How's Your Faith," & Jewish ethicist Erica Brown, author of "Take Your Faith To Work," discuss faith & Jewish identity. With Rabbi Peter Rubinstein, Dir. of the Bronfman Center for Jewish Life at the 92Y in NY. Sunday - 8pm & 1am; Monday - 10pm & 4:30am; Wednesday - 10:30am; Friday – 8pm; Saturday - 3pm
Film:Iranium
Detailing the threat of a nuclear Iran through rarely seen footage of Iranian leaders, this doc. shows the nature of the Iranian regime and their use of terror, as well as outlining Middle East and Western world scenarios should Iran become nuclear.
Tonight (Sunday) – Midnight; Friday Night – 9:30pm & 4am
American Zionist Jew Today
This past week, YouTube classified a JBS in which Rabbi Mark S. Golub, President of JBS, defined what it means for a liberal Jew to be an American Zionist in the 21st Century. After protest and a formal appeal by JBS, YouTube restored the program. We are replaying the program this week for anyone who may have missed its initial airing or who wishes to watch it again. With Rabbi Gordon Yaffe at the Pollack Lecture, Congregation L'Dor V'Dor, Oakland Little Neck Jewish Center, NY.
Today (Sunday) – 3pm; Monday – 4am & 10:30am; Wednesday – 9am & 4:30pm
A YIDDISH MINI-FEST - SEPTEMBER 13-15, 2019
Presented By: Yiddishkayt Initiative & The Betsy - South Beach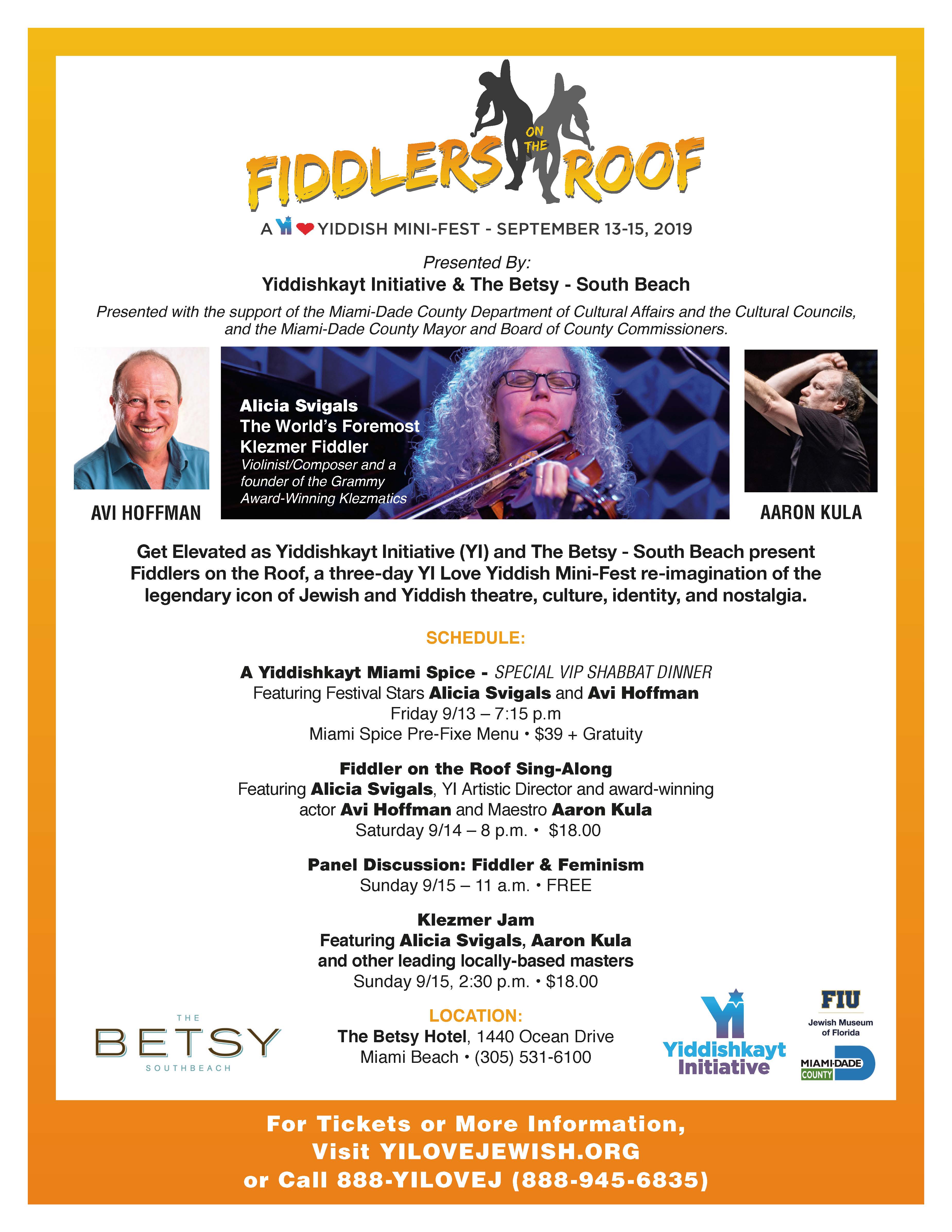 North Miami Beach - Fifty-two 2019 AP Scholar Awards were granted to Scheck Hillel Community School students in recognition of their exceptional achievement on AP exams, continuing a Scheck Hillel tradition.
The College Board's Advanced Placement Program (AP) provides willing and academically prepared students with the opportunity to take rigorous college-level courses while still in high school, and to earn college credit, advanced placement, or both for successful performance on the AP exams. The College Board recognizes several levels of achievement based on students' performance on AP exams.
"Congratulations to Scheck Hillel Community School's 2019 AP Scholar Award recipients, their families and our faculty," said Vanessa Donaher, Scheck Hillel's Head of School. "Such outstanding academic achievement comes from dedication and commitment shared by all."
Two Scheck Hillel students qualified for the National AP Scholar Award by earning an average score of at least 4 on all AP exams taken, and scores of 4 or higher on eight or more of these exams. These students are Gabrielle Kurzer '20 and Class of 2019 Salutatorian Matias Lancewicki (Cornell University, Gap Year: Mayanot Institute of Jewish Studies).
Eighteen Scheck Hillel students qualified for the AP Scholar with Distinction Award by earning an average score of at least 3.5 on all AP exams taken, and scores of 3 or higher on five or more of these exams. These students are Jonathan Abbo '19 (Tulane University), Olga Benacerraf '20, Moises Bensadon '19 (Tel Aviv University), Gabriela Bentolila '19 (University of Miami, Gap Year: Bar Ilan Experience), Jaime Bursztyn '20, Class of 2019 Valedictorian Raquel DiMitri (University of Miami - Foote Fellows Honors Program), Danielle Esquenazi '20, Tali Finger, Eli Gelb '20, Myles Gilbert '20, Leah Grobman '20, Gabrielle Kurzer '20, Matias Lancewicki '19, Rotem Miara '20, Jayme Podgorowiez '19 (University of Miami), Alex Wagenberg '20, Danit Weitzman '20 and Mauricio Woldenberg '20.
Eight students qualified for the AP Scholar with Honor Award by earning an average score of at least 3.25 on all AP exams taken and scores of 3 or higher on four or more of these exams. These students are Daniela Abbo '20, Alan Berkman '20, Anna Freiman '21, Alexandra Gelman '20, Frida Herdan '20, Emily Rodman '19 (University of Miami), Yael Sefchovich '20 and Ilana Stiberman '21.
The final 24 students qualified for AP Scholar Awards by completing three or more AP exams with scores of 3 or higher. These students are Natalie Abramowitz '21, Shelly Albergel '19 (IDC Herzliya/Israel Defense Forces), Yael Algranatti '21, Tanya Almog '21, Joi Alon '20, Esther Benasayag '19 (Northeastern University, Gap Year: Shnat Hajshara), Sarah Benoliel '19 (University of Miami, Gap Year: Bar Ilan Experience), Joseph Bensabat '19 (University of Florida), Alexa Cohen '19 (Vanderbilt University), Alli Dronsick '21, Nicole Feldman '21, Ashley Fincheltub '20, Mauricio Fuhrman '21, Jake Gelb '21, Ariel Grobman '19 (Indiana University Bloomington), Emily Kriger '19 (University of Central Florida), Samuel Levy '20, Maya Rodrig '20, Amanda Scheck '19 (University of Michigan, Gap Year: Young Judaea Year Course), Shira Sredni '20, David Szkolnik '19 (University of Florida), Danielle Waijman '19 (University of Central Florida), Alejandro Wakszol '21 and Albert Wolak '19 (Babson College).
Scheck Hillel offers 19 AP courses and more than 50% of Scheck Hillel's High School students maximize this opportunity to earn college credit or Advanced Placement and stand out in the college admission process. Each exam is developed by a committee of college and university faculty and AP teachers, ensuring they are aligned with the same high standards expected by college faculty at some of the nation's leading universities.
About Scheck Hillel Community School
Scheck Hillel Community School educates and inspires students 18 months-Grade 12 to become exemplary global citizens with enduring Jewish identity and values through an individualized college preparatory curriculum highlighted by Design/STEM, Capstone, college dual enrollment, arts, athletics and community service. Its 14-acres include a 115,000-sq.-ft athletic complex with academic expansion plans. Set within a nurturing, diverse community, Scheck Hillel is one of the world's largest Jewish community day schools and a National Blue Ribbon School of Excellence. For more information about Scheck Hillel Community School or to arrange a visit to the school, please contact our Admissions office at 305.931.2831x173 or write to admissions@eHillel.org.
Sunset Over Miami is Federation's largest event for real estate professionals. The event offers every participant valuable networking opportunities with veterans and newcomers in the industry. Each year the event showcases a unique space in Miami and typically over 500 guests. Federation's Real Estate Division encourages the involvement of architects, brokers, builders, developers, contractors and professionals affiliated with these trades in supporting the philanthropic work of the Greater Miami Jewish Federation. Sponsorship opportunities available.
Click here for more information and here to RSVP.

For a complete and timely schedule, go to www.jbstv.org
L'Chayim: Shai Held Pt 1
Shai Held, Founding President, Dean and Chair in Jewish Thought of Hadar Institute, discusses growing up the child of Survivor Zionist parents and how his upbringing shaped his life and Jewish journey. Wednesday - 9pm & 12am; Thursday – 3pm
L'Chayim: Shai Held Pt 2
Shai Held, talks theology, his understanding of God and his approach to teaching the Jewish Tradition in part two of a conversation with Mark S. Golub on L'Chayim.
Thursday - 9pm & Midnight; Friday - 3pm
92nd Street Y: Levy & Schama on America
Bernard-Henri Lévy, one of the West's leading intellectuals, discusses the changing role of America on the global political scene with historian Simon Schama, author of The Empire & the Five Kings: America's Abdication and the Fate of the World. Tonight (Sunday) – 8pm & 1am; Monday - 10pm & 4am; Wednesday - 10:30am; Friday – 8pm; Saturday - 3pm
Creativity & Making Money-Daniel Lapin
Orthodox rabbi and author Daniel Lapin, head of the "American Alliance of Jews and Christians," discusses how creativity and imagination goes into making money. Monday – 8:30pm & 1am; Wednesday – 2:30pm; Saturday – 7pm & 2:30am
American Zionist Jew Today
What it means for a liberal Jew to be an American Zionist in the 21st Century is discussed by Rabbi Mark S. Golub, President of JBS. With Rabbi Gordon Yaffe at the Pollack Lecture, Congregation L'Dor V'Dor, Oakland Little Neck Jewish Center, NY.
Tuesday - 7pm & 1am; Thursday - 1pm
L'Chayim: Pay Czar Feinberg
Kenneth Feinberg, the "Pay Czar" who distributed $7 billion to victims of 9/11 for the United States government, talks about his experience with 9/11 families and his concerns for the Jewish future. Monday – 9pm & Midnight; Tuesday – 3pm
L'Chayim: 9/11 Remembered
One World Trade Center survivor Ari Schonbrun; NYPD Detective Morty Dzikansky; and Liz Goren, a psychotherapist who counsels survivors, tell their personal stories and reflect upon the meaning of 9/11 as Americans and as Jews. Tuesday – 9pm & 12am; Wednesday – 3pm
Faith to Faith: 9/11 Terrorism
Debra Burlingame, sister of Charles Burlingame, the pilot of American Airlines flight 77, discusses the tragedy of 9/11 with Rabbi Joseph Potasnik on "Faith To Faith." Tuesday – 2pm; Wednesday 7pm; Thursday – 1pm
Students & 9/11
Author Michelle Haimoff discusses her first novel, "These Days Are Ours," which tells the story of recent college graduates finding themselves in the chaos of New York City following 9/11. With Connie Martinson on "Connie Martinson Talks Books." Tuesday – 2:30pm; Wednesday – 7:30pm & 5:30am
Jake Ehrenreich Show - Tovah Feldshuh, Sarge and Elaine Grossinger
Jake Ehrenreich welcomes comedian Sarge; star of stage, screen and television Tovah Feldshuh; and First Lady of the Catskills Resorts, Elaine Grossinger, who is inducted into the Catskills Hall of Fame. Sunday – 1:30pm, 9:30pm & 2:30am; Tuesday - 10:30am; Wednesday – 4:30am; Thursday 10pm & 1:30pm
Film: The Making Of A Martyr
Interviews with Palestinian terrorists show the horrific child-abuse in Muslim culture in which children are indoctrinated & encouraged to become suicide bombers out of hatred for Jews & Israel. Produced by Brooke Goldstein & Alistair Leyland. (2006) Sunday– Midnight; Friday Night – 9:30pm & 4am
New Weekly Series: Good Day Israel
A look at all that is happening in Israel -- including culture, travel, food, religion, innovation and humanitarian initiatives. A production of ILTV.tv in Jerusalem. Thursday 6:30pm; Friday 3:30am, 8:30am & 12:30pm
The Greater Miami Jewish Federation has established an Emergency Relief Fund to assist those affected by Hurricane Dorian.
One hundred percent of funds donated to Hurricane Dorian relief will be used to provide critically needed aid to those in the Bahamas and other affected areas.
Click here to make a donation.
While no one knows the ultimate path of the storm, the extent of the need is already clear.
Our community has decades of experience with hurricanes. We understand the devastation and suffering that follows a catastrophic storm like Hurricane Dorian. Let us join together to help those affected — wherever they may live — to rebuild their lives. We cannot help but be grateful to have been spared a direct hit in Miami-Dade County. Please give as generously as you can to assist with the immediate needs in the aftermath and long-term recovery for those who were not as fortunate.
We will continue to monitor the storm and assess its impact on other communities so we can provide assistance to those affected.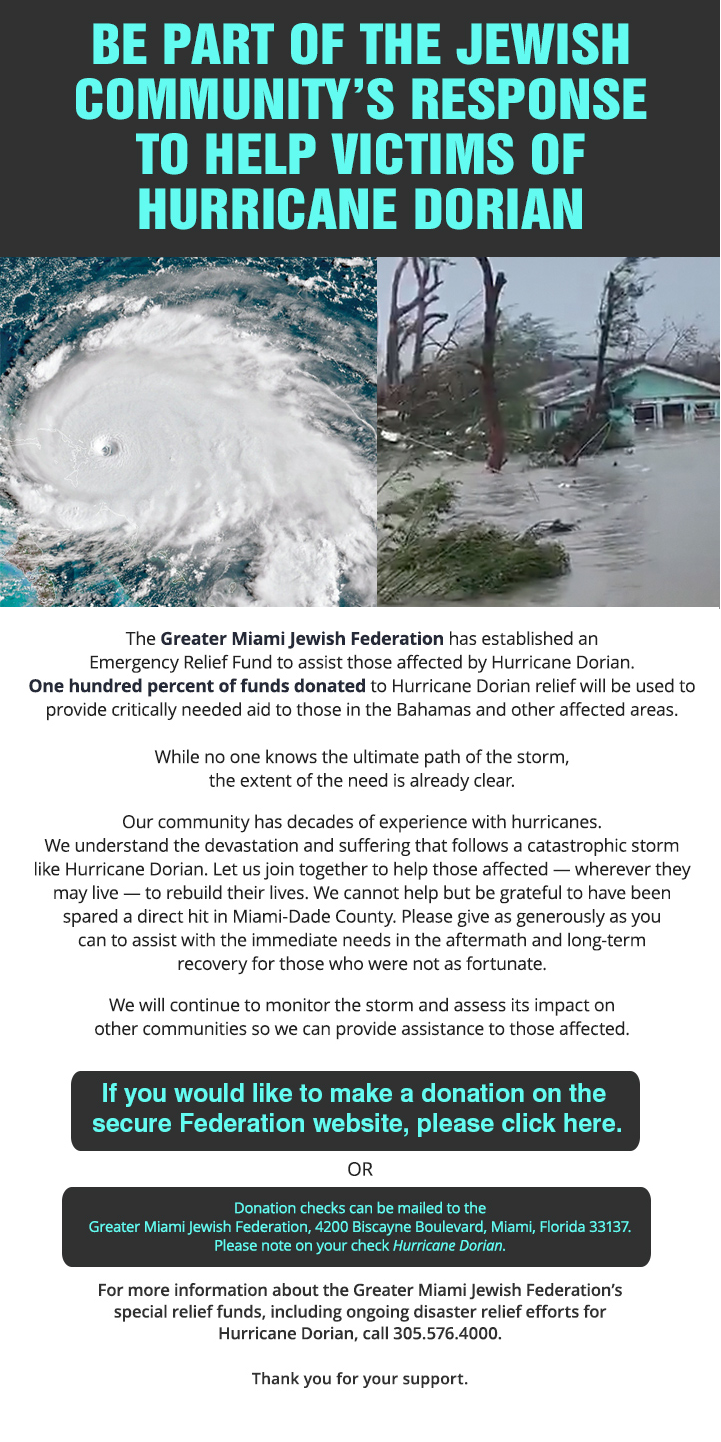 Since 1999, the High Holiday Welcome Program – a joint venture of the Greater Miami Jewish Federation, the Rabbinical Association of Greater Miami and participating area synagogues – has enabled tens of thousands of worshippers to enjoy Rosh Hashanah and Yom Kippur services at no cost to participants.
Through allocations from the Annual Federation/UJA Campaign, as well as supplemental gifts from generous donors, Federation has underwritten the cost of High Holiday seats so that every Jewish person in Miami-Dade County has the opportunity to take part in these meaningful days of prayer.
Seats are offered to members of Miami's Jewish community who are unaffiliated with a community synagogue.Advance reservations are required to accommodate the large number of worshippers and to ensure security.
Click here to view this year's participating synagogues.
Seating reservations will be available:
Monday, September 9 through Friday, September 20 For quick online registration 24/7, please CLICK HERE.
To reserve by phone, call one of our operators at 305-373-SEAT (7328) during the following hours: (Please note, phone lines will be busy. We highly encourage online reservations, they are faster, with no time spent waiting for an available operator.
First Day: Monday, September 9 from 12 noon to 5 p.m.
All other weekdays: (Mon – Thurs) 9 a.m. to 5 p.m.
Fridays: 9 a.m. to 4 p.m.
Free seating reservations close on Friday, September 20 at 4 p.m. After this time, please contact a synagogue directly to inquire about seating availability.
Posted by aholtz on 08/26/2019 @ 02:18 PM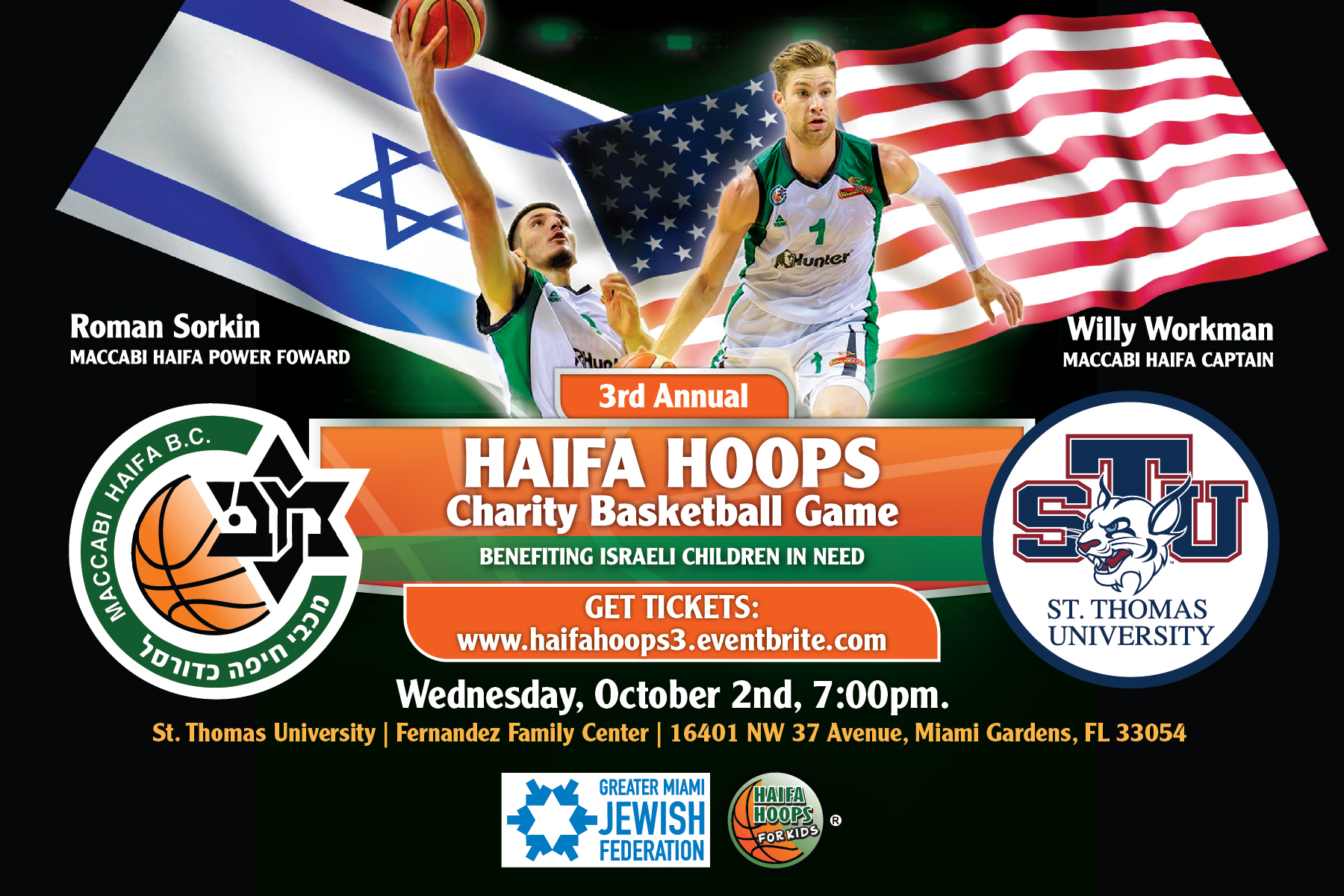 Hi Friends and Family of the Greater Miami Jewish Federation,
As you may know, Maccabi Haifa will be back in the U.S to kickoff the 2019-2020 season and NBA Tour!
This year, the team will be back at St. Thomas University on Wednesday, October 2nd at 7pm, for their 3rd annual Haifa Hoops for Kids charity basketball game! The proceeds generated for the event will go towards the team's charity, Haifa Hoops for Kids, which seeks to benefit under-privileged and needy children in Israel by allowing them to participate in basketball clinics year round and attend the basketball games in Haifa free-of-charge.
Please join us in attending the game to support the team and organization. Tickets for the game range from $20-$100. Sponsorship opportunities and donations to Haifa Hoops for Kids will be available shortly. Yalla Maccabi!
Ticket Link:
https://www.eventbrite.com/e/3rd-annual-haifa-hoops-for-kids-charity-basketball-game-tickets-66344874305
For a complete and timely schedule, go to www.jbstv.org
In The News: Thane Rosenbaum on Omar/Tlaib/Trump
Mark S. Golub & Thane Rosenbaum discusses the criticism of Israel over its decision to ban Rep. Omar & Rep. Tlaib from visiting "Palestine," Omar's questioning Israeli democracy & U.S. foreign aid, and Pres Trump's tweet about Jews who vote Democratic. Sunday – Noon & 6pm; Monday– 3pm
In The News: Danny Ayalon on Israel Ban
Former Israeli U.S. Ambassador, Danny Aylon, offers his perspective on Israel's decision to ban Rep. Ilhan Omar and Rep. Rashida Tlaib from entering the country; the role of Pres. Trump; and the shift within the Democratic Party. With Mark S. Golub. Sunday 8:30am
In The News: Omar vs Israel
Dr. William Devlin, Sheikh Musa Dramah and Alan Dershowitz express their criticism of Rep. Ilhan Omar's anti-Israel statements about Israeli Democracy and U.S. foreign aid to Israel. With Mark S. Golub Sunday 11:30pm; Monday 3:30am, 8:30am & 12:30pm
DOJ Panel on Antisemtism: AG William Barr
Attorney General William Barr's opening remarks are followed by a panel discussion with Elliot Zweig (MEMRI), Chris Hardee (DOJ), Jason Isaacson (AJC) and Eugene Kontorovich (Prof. of Law). With Eli Lake (Bloomberg) at the DOJ in Washington, DC. Monday - 7:30pm & 1am; Wednesday - 1:30pm; Saturday – 7:30pm & 1:30am
DOJ Panel on Antisemtism
Sec. of Education Betsy DeVos' opening remarks are followed by a panel discussion with Charles Small (ISGAP), Jonathan Tobin (JNS), Alyza Lewin (Brandeis) & William Jacobson (Cornell Law). With Claire McCusker Murray (DOJ) at DOJ in Washington, DC. Tuesday - 7:30pm & 1am; Thursday 1:30pm
L'Chayim: Cindy Grosz – Jewish Activist
Columnist, author, lifestyle blogger, marketing specialist and Israel activist Cindy Grosz shares her perspectives on the Jewish community's perspective on President Donald Trump. With Mark S. Golub on L'Chayim.
Wednesday - 9pm & 12am; Thursday – 3pm; Saturday – 6pm
Tal Keinan (Part 1)
Israeli financier and former IDF fighter pilot Tal Keinan, author of "God Is In The Crowd", explains why he sees American Jewry on the decline and in danger of "dying in its sleep." Monday – 9pm & Midnight; Tuesday – 3pm
Tal Keinan (Part 2)
Part 2 of a conversation with American-born Israeli entrepreneur and financier Tal Keinan, who discusses his concerns over the future of the Jewish People, and other ideas from his book "God Is In The Crowd". Tuesday – 9:30pm & 12:30am; Wednesday – 3:30pm
Brooke Goldstein
Brooke Goldstein describes the way her film "The Making of a Martyr" documents how Palestinians abuse their children; and discusses why she created The Lawfare Project to fight antisemitism in courts of law around the world. Thursday - 9pm & Midnight; Friday - 3pm
92nd Street Y: Living Well, Aging Well
Rabbi Harold Kushner (When Bad Things Happen to Good People and Nine Essential Things I've Learned About Life) joins Rabbi Rachel Cowan (Wise Aging) to discuss what it means to live a good life. With Rabbi Peter J. Rubinstein of the 92nd St. Y in NYC. Sunday – 8pm & 1am; Monday - 10pm & 4am; Wednesday - 10:30am; Friday – 1am; Saturday - 3pm
Jake Ehrenreich Show
Jake welcomes star of stage, screen, TV and Yiddish theater, Mike Burstyn and a great American comic Shecky Greene - whom Jake also inducts into the Catskills Hall of Fame. Saturday (Aug 31) – 7pm & 2am
Vanessa Hidary and Ron Eliran
Israel's Ambassador of Song Ron Eliran performs some of his most well-known songs (Sharm el Sheikh) and Vanessa Hidary (Hebrew Mamita) recites her poem on Jewish identity; and Jake inducts Steve Lawrence and Eydie Gorme (z"l) into the Catskills Hall of Fame. Sunday – 2pm; Tuesday - 10:30am; Wednesday - 5am;Thursday 10:30pm & 2pm
Film: The Forgotten Refugee
Michael Grynszpan's documentary tells the little known story of the mass expulsion of Jews from Arab countries and Iran in the 20th century after richly contributing to these cultures. Produced by Avi Goldwasser of the David Project and IsraTV. Sunday- 9pm and Midnight; Friday Night – 9pm & 4am