Wednesday, June 30 at 8 p.m.
Virtual event via Zoom
PERIOD. END OF SENTENCE. BY ANITA DIAMANTE
From beloved New York Times bestselling author and award-winning journalist Anita Diamant comes a timely collection of essays to help inspire period positive activism around the globe. With a foreword by Melissa Berton, Founder of The Pad Project, and a producer of the Oscar winning documentary that inspired the book, Period. End of Sentence. is an essential read for anyone interested in empowering women, girls and others around the world.
Join National Women's Philanthropy for a special edition of Our Shared Shelf, featuring Anita and Melissa in conversation with Jessica Zachs, founder and chairwoman of Dignity Grows, a nonprofit which provides menstrual and comprehensive hygiene products to women and girls in need. It was sparked by the Period. End of Sentence. documentary and created in partnership with the Jewish Federation of Greater Hartford.
Join us online for a discussion even if you don't have time to read the book or watch the film...we want to see you on Zoom! All female philanthropists can join this event. No fee to participate. Submit questions ahead of time here.
Order the book on Amazon here. Watch the film on Netflix or Youtube.
Zoom link provided after registration.
June 24, 2021 10:30 AM to 12:30 PM
This free event hosted by the JWorks Miami team will help you brush up on your interviewing skills so you can strategically prepare for your upcoming interviews.
These are some of the topics we will cover:
Preparing for the interview
Frequently asked interview questions
What not to say
Researching the company
Good questions to ask the interviewer
Following up and Thank You notes
Mock interview - time permitting
We hope you can attend! The workshop will begin promptly at 10:30 am. Business casual attire is recommended.
The Zoom link will be sent to you on June 23rd.
Please RSVP at www.jworksmiami.org under the Events tab - for security purposes your RSVP is required!
This is a great opportunity to network, brush up on your job search skills, and for JWorks Miami staff to get to know you! Please note, we are unable to refer you to available opportunities unless we have met you in person or virtually.
If you have any questions please visit our website or call us at 305-403-6554.
Watch JBS on Comcast X-1 Box Ch 1684, Atlantic Broadband 168, Hotwire Ch 269, DirecTV Ch 388, Blue Stream Ch 110, streamed on Roku under "educational", Apple TV, Amazon Fire TV and jbstv.org. For a complete and timely schedule and other television providers, go to www.jbstv.org
Congressional Tribute to Abe Foxman
American leaders pay tribute to the ADL's National Director Emeritus Abe Foxman, a leading voice on the subject of antisemitism who has helped shape the U.S. into a wondrous diaspora home for the Jewish people. Monday - 7:30pm & 2:30am; Tuesday - 10:30pm & 2:00am; Wednesday - 1:30pm; Thursday - 5:30am
ADL Day of Action Against Antisemitism
ADL and many other major American Jewish organizations join together in convening government officials, Jewish community leaders, civil rights organizations and others to raise awareness and demand action against the surge in antisemitism in the U.S. and around the world. Monday - 8:00pm & 1:00am; Wednesday - 2:00pm; Saturday - 7:00pm & 4:00am
MirYam Institute: Analyzing Guardian of the Walls
LT. Col. Yochai Guiski (IDF, Ret.) examines the wider implications of the latest chapter in the decades long conflict between Israel and its enemies, especially vis-à-vis Hezbollah in Lebanon. A program of the MirYam Institute, with Benjamin Anthony. Tuesday - 8:00pm & 1:00am; Thursday - 2:00pm; Saturday - 8:00pm; Sunday June 20 - 2:00am
On L'Chayim
Sunday: Danny Ayalon - Six-Day War Former Israeli U.S. Ambassador Danny Ayalon recalls what It was like to be a young boy in the harrowing days preceding the Six-Day War of 1967 and the euphoria that followed; and discusses the war's impact on Israel today. Sunday - 12 Noon & 6:00pm; Monday - 3:00pm
Monday: Avi Goldwasser - Hate Spaces (Part 1)
Film producer Avi Goldwasser describes how he became committed to fighting anti-Israel BDS forces on college campuses and how he came to create the film "Hate Spaces - The Politics Of Intolerance On Campus." Monday - 9:00pm & 12 Midnight; Tuesday - 3:00pm
Tuesday: Avi Goldwasser - Hate Spaces (Part 2) Avi Goldwasser, who also produced the documentary film "The Forgotten Refugees," discusses the degree to which "anti-Israel" is veiled antisemitism, and what he believes motivates Jews who vilify Israel.
Tuesday - 9:00pm & 12 Midnight; Wednesday - 3:00pm
Wednesday: Tyler Gregory - LGBTQ in Israel
Tyler Gregory discusses his work as executive director of A Wider Bridge, a North American organization working to create equality in Israel by expanding LGBTQ inclusion in Israel, and equality for all Israelis.
Wednesday - 9:00pm & Midnight; Thursday - 3:00pm
Thursday: Harriet Schleifer - AJC
Harriet Schleifer, Chair of the AJC's Board of Governors at the time of filming (and now President), discusses the key challenges facing American Jewish life including the lack of education in the Jewish community and the lack of engagement of Jewish youth. Thursday - 9:00pm & Midnight; Friday - 3:00pm
Saturday: H. Alan Scott - Mormon Convert
Comedian & writer H. Alan Scott discusses his personal journey that led him from his Mormon upbringing to a gay Jewish convert; and explains why he always felt he was "Jewish." Saturday - 6:00pm
Jewish Studies
Talmud Study: Responsibility to Others
The Talmudic view of one's responsibility to other people is discussed by Rabbi Mordechai Becher in a lesson called "He's My Brother, He Ain't Heavy" Sunday - 9:00am; Tuesday - 9:00am & 4:30pm; Thursday - 7:00pm; Friday - 4:00am
Talmud Study: Does the End Justify the Means?
When a sin is committed for the sake of a mitzvah, how does the Jewish tradition address the Issue? Sunday- 9:30am; Tuesday - 9:30am & 5:00pm; Thursday - 7:30pm; Friday - 4:30am
From The Aleph Bet: Lesson 23
Breaking simple and complicated Hebrew words into syllables. Monday - 9:00am & 4:30pm; Tuesday - 7:00pm; Wednesday - 4:00am; Thursday - 1:00pm; Friday - 5:00am; Saturday - 8:00am
Jewish 101: God Unseen
The radical Jewish notion that God is "unseen," and how one can never "prove" that God is real, are two themes addressed on this episode of "Jewish 101" (which also reviews the story of the Golden Calf). Wednesday - 9:00am & 4:30pm; Friday - 1:00pm
92nd Street Y: Simon Schama (Jews Pt 2)
Historian and author Simon Schama discusses part two of his BBC/PBS series, "The Story of the Jews," which chronicles Jewish history from the Jews' expulsion from Spain in 1492 through the end of the 19th Century and the birth of early Zionism. Sunday - 8:00pm & 2:00am; Monday - 10:00pm; Tuesday - 4:00am & 10:00am; Wednesday - 10:30am; Saturday - 1:00am & 4:00pm
Friday Evening Shabbat Services
Reform: Central Synagogue 6:00pm, 11:30pm & 2:00am
Orthodox: Hampton Synagogue With Hebrew, Transliteration And English Subtitles 7:30pm & 10:30pm
Saturday Morning Shabbat Services
Reform: Central Synagogue 9:30am & 1pm
Orthodox: Hampton Synagogue With Hebrew, Transliteration And English Subtitles 11:00am and 2:30pm
Edith Samers Vice President 203.536.6914 (cell phone) JBS Jewish Broadcasting Service, a 501c3 fulltime television channel Website: jbstv.org
Please share #CandleLightingForOneness throughout social media!
Take a look at the steps below to see how you can get involved.
A Candle Lighting Campaign for Oneness
On Friday, June 18th please participate in lighting candles.
In accordance with Jewish tradition, candles are lit 18 minutes before sunset on Friday night.
In a time of increasing darkness, invite in The Light of HaShem (a Hebrew word for God, meaning The Name).
Join the Jewish community in these traditions to honor and amplify the light within us all and invite peace into the world.
Bring Light into the World
Candles on Friday night mark the beginning of Shabbat/Sabbath - a time to disconnect from the outer world and tune into the light within us. Together, let's light candles and meditate on the flickering flame with ONE prayer to bring more light into the world.
Sing For Peace
After lighting the candles, we'll sing a song of peace, Shalom Aleichem – May Peace Be Upon You.
Share Sacred Blessings
Share blessings of lights and peace, and acts of goodness with your loved ones and community.
"When they go low, we go Hashem" - @lizzysavestsky
Monday Night Class with Steve Eisenberg- weekly Torah portion.
Event is both in person & on Zoom
Parsha Chukkat- Life..The Imponderable Human Experience
EVERY WEEK ON MONDAY 7:15pm EST - Chai-ppy hour-food & wine 8:00pm EST Class starts on Zoom
Please share this class with friend!
RSVP FOR ADDRESS OR TO SPONSOR: seisenberg93@gmail.com
About Steve Eisenberg: A risk arbitrage specialist who previously served as a Vice President at Bear Stearns and a Managing Director at the investment firm Ehrenkrantz King Nussbaum, Inc., Steve juggles a demanding Wall Street career with a passionate commitment to Jewish outreach programming. In addition to delivering JICNY's flagship weekly Torah class on Monday evenings he also manages JICNY's Job Assistance website and coordinates the organization's networking events. A gifted speaker and a celebrated educator, Steve is frequently invited to speak at events around the world and develops programs for outreach organizations across the United States.
MORE INFO HERE: www.jicny.com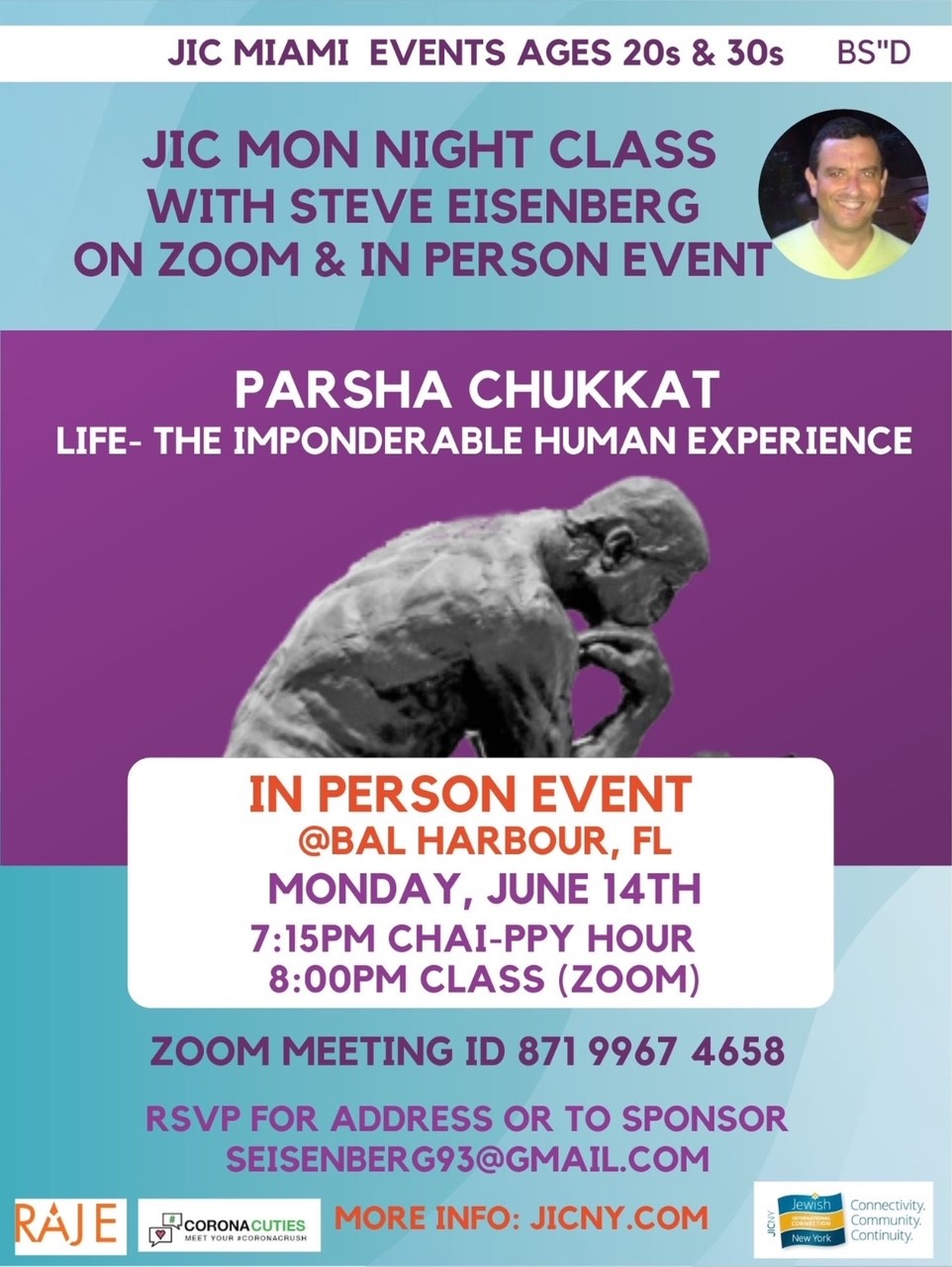 Dear Friends!
What do JIC, RAJE, and Corona Cuties have in common?? They know how to throw an awesome Shabbat Dinner!
Join us on Friday, June 25th for a delicious and beautiful Shabbat Dinner celebrating our community in South Florida.
Event for YJP's in their 20's and 30's!
$36 Early Bird Pricing / $54 starting Monday, June 21st so get your tickets asap!
Limited spots are available! Our last event sold out in a few days, don't be left out!
The exact location will be sent the night before the dinner for security purposes. It will be in the Bal Harbour area of Miami.
For more info please email: Steve Eisenberg at seisenberg93@gmail.com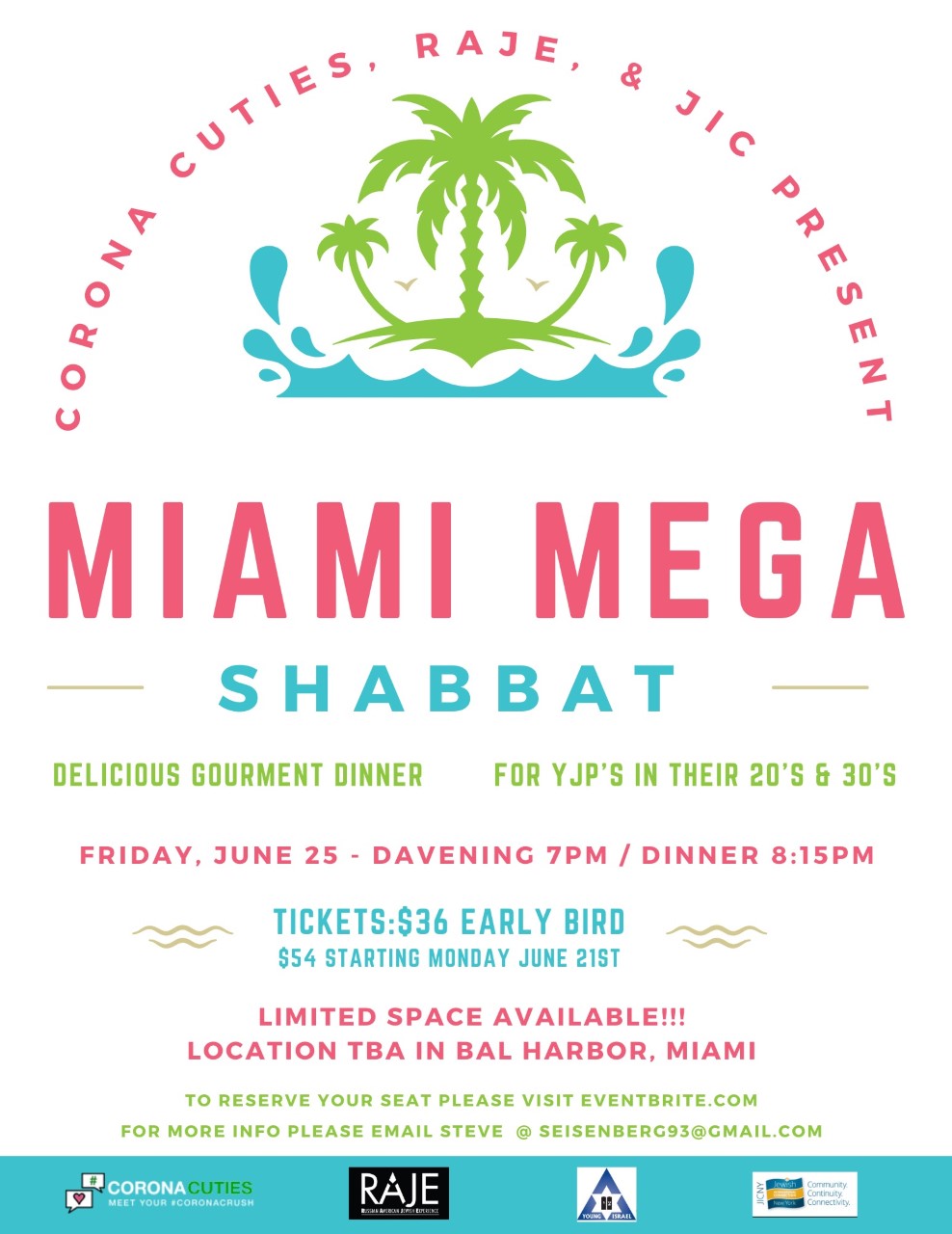 Virtual Kotel Tunnel Tour
June 23, 2021 11:00 AM to 12:00 PM
Contact Ellen Kula at ekula@hadassah.org for more information.
Cost: $54.00 for two programs
Wednesday, June 16 at 8 p.m.
Virtual event via Zoom
LOVE IS A REBELLIOUS BIRD BY ELAYNE KLASSON
Curl up with a good book and then join us online for a discussion with the author. Even if you don't have time to read the book first...we want to see you online!