For a complete and timely schedule, go to www.jbstv.org
92Y: Jonathan Sacks - Extremism
Rabbi Lord Jonathan Sacks, former Chief Rabbi of the UK and author of "Not In God's Name," discusses "altruistic evil" and the need to confront religious violence and intolerance in our times. L'Chayim: Transcending Loss Tonight (Sunday) - 8pm & 1:30am; Monday - 10pm & 4am; Wednesday - 10:30am; Friday - 8pm & 1am; Saturday - 3pm
AIPAC 2019: Nikki Haley
Former U.N. Ambassador Nikki Haley addresses the 2019 AIPAC National Policy Conference in Washington, D.C. Monday - 9:40am & 5:10pm
Jewish Cinematheque-Sasson Gabay
Veteran Israeli actor Sasson Gabay discusses playing the lead role in "The Band's Visit" in both the movie (for which he won an Israeli Ophir Award) and as a replacement for Tony Shalhoub in the Tony Award winning Broadway production. With Eric Goldman. Monday - 7:30pm; Tuesday - 2am; Wednesday - 1:30pm
AZM: Uri Regev-Religious Diversity
Israeli Reform Rabbi Uri Regev (CEO of Hiddush - For Religious Freedom and Equality) discusses the challenge of creating a unified State of Israel that is both Jewish and democratic.At the 2019 American Zionist Movement Biennial Assembly in NYC. Monday - 8pm & 1am; Wednesday - 2pm; Saturday - 8pm & 2am
L'Chayim: Miss Israel (Titi)
"Titi" Aynaw discusses her journey from her hometown in Ethiopia to aliyah to Israel, to serving in the IDF, to becoming the first Ethiopian Miss Israel in 2013. Today (Sunday) - Noon & 6pm; Monday - 3pm
L'Chayim: Abe Foxman, Pt 1
Abe Foxman, who had a 50 year career with the ADL and served for 28 as its National Director, reflects upon his extraordinary story of survival -- becoming a "Hidden Child" cared for by his Polish Christian Nanny, who after the war bitterly fought Abe's natural parents for custody Monday - 9pm & Midnight; Tuesday – 3pm
L'Chayim: Abe Foxman, Pt 2
In part two, Abe Foxman discusses the way in which critique in the Jewish community has become a "blood sport;" the controversies over his successor, Jonathan Greenblatt; and controversy over "inclusiveness" in the Jewish community and J Street. Tuesday - 9pm & Midnight; Wednesday - 3pm
For Lag B'Omer Jewish 101-Not Good To Be Alone
What is the first evil of human existence and what is at the heart of being a complete human being? These are questions addressed in the Jewish reading of Genesis Chapter 2 in an ongoing study of Jewish values. Wednesday - 9am & 4:30pm
Talmud: Marriage
"Eight Blessings One Wedding," on the theme of marriage as found in Talmud tractates Kesuvos 7 and 8, is presented by Rabbi Mordechai Becher on this episode of JBS's "Dimensions of the Daf," an original series on Talmud study. Wednesday - 7:40pm & 4:30am
Finding A Mate - Neil Maron (UTJ)
Clinical psychologist and family therapist Neil Maron contrasts the idea of B'shert and the importance of being open-minded in dating. From the Union for Traditional Judaism's "Finding Love in the Jewish Community." At Long Beach Hotel in Long Beach, NY. Wednesday - 8:20pm & 5:20am
Online Dating
Marc Goldmann, founder of Jewish online dating service "Saw You At Sinai," discusses the role of online dating in finding a mate. From the Union for Traditional Judaism's "Finding Love in the Jewish Community." At Long Beach Hotel in Long Beach, NY.
Thursday - 7:30pm & 4am; Friday - 4:30am
Timeless: Love, Morgenthau & Me
Pulitzer Prize-winner Lucinda Franks discusses her new memoir, "Timeless: Love, Morgenthau and Me" with her husband, former Manhattan D.A. Robert M. Morgenthau, and former CBS News anchor Dan Rather. At The Skirball Center of Temple Emanu-El in NYC. Thursday - 8pm & 1am; Friday - 2pm
L'Chayim: Love for Lag B'Omer Dr. Aaron Ben Ze'ev, former President of the University of Haifa, professor of philosophy and author of "Love Online", sits to discuss the psychology of love. Thursday 9pm and Midnight; Friday 3pm
UTJ: Shidduch (Marriage) Crisis
Sharon Weiss-Greenberg (Exec. Dir, Jewish Orthodox Feminist Alliance) discusses her research on Orthodox Jews' feelings towards dating. From the Union for Traditional Judaism's "Finding Love in the Jewish Community." Long Beach Hotel, Long Beach, NY. Thursday - 10pm; Friday - 2am
For Memorial Day UTJ: Shidduch (Marriage) Crisis
Sharon Weiss-Greenberg (Exec. Dir, Jewish Orthodox Feminist Alliance) discusses her research on Orthodox Jews' feelings towards dating. From the Union for Traditional Judaism's "Finding Love in the Jewish Community." Long Beach Hotel, Long Beach, NY. Thursday - 10pm; Friday - 2am
PREMIER Kabbalat Shabbat Service from the Hampton Synagogue
JBS presents the Kabbalat Shabbat Service from Hampton Synagogue in Westhampton, New York, one of the premiere modern Orthodox synagogues on the American Jewish scene, with founding Rabbi Marc Schneier, Cantor Netanel Hershtik and Maestro Izchak Haimov and the Hampton Synagogue choir. Friday Night - 7pm
Central Synagogue Services
Following the Kabbalat Shabbat Service, JBS will televise Friday Night Services from New York's Central Synagogue, one of the leading Reform synagogues in America. Friday Night - 7:35pm & 11pm
Edith Samers Vice President 203.536.6914 (cell phone) JBS Jewish Broadcasting Service, a 501c3 fulltime television channel
Join the FIDF YL on Friday, May 31st, 2019 at a very special Sushi Shabbat Dinner featuring IDF soldier guest speaker as we celebrate the 52nd Jerusalem Day and honor the soldiers who defend Israel and their sacrifices made on Jerusalem Day.
Event Chairs: Nicole Gomez, Joanna Kohen & Jennie Rimon
Cost: $75pp - Limited seating. Must RSVP by 5/29
Includes: Pre-fixed FIsh, Sushi & Tapas Dinner (Dietary laws observed)
Date: Friday, May 31, 2019
Time: 7pm Cocktails, 8pm Kiddush & Dinner
Location: 26 Sushi &Tapas (9487 Harding Ave Surfside, FL 33154)
To RSVP: www.FIDF.org/JerusalemDayShabbat or call 305-354-8233
Event and Table Sponsorship opportunities are available. Please contact Elana Kashti for more info at Elana.Kashti@fidf.org or call 305-354-8233
Friends of the Israel Defense Forces is a 501(c)(3) not for profit organization. Contributions are tax-deductible to the extent permitted by law. The portion of your contribution deemed to be for goods and services will not be deductible.
For a complete and timely schedule, go to www.jbstv.org
L'Chayim: Woman of Valor
For Mother's Day, Sara Esther Crispe (TheJewishWoman.org) and Rabbi Jeffrey Segelman (Westchester Jewish Center) discuss Mark Pearlman's book, "More Precious than Pearls: A Prayer for the Women of Valor in Our Lives," recited on Shabbat. Today - 12 Noon and 6pm; Monday - 3pm
Mamadrama
With characteristic Jewish humor, iconic filmmakers Paul Mazursky, and Paul Bogart join Larry Peerce and actress Lainie Kazan in reflecting (with disarming candor) on their own Jewish mothers and how they influenced their on-screen portrayals. Tonight - 9pm and Midnight
92nd Street Y: Judy Gold
Comedian Judy Gold talks about her standup show, her Jewish mother, and life on the road as a female comic in conversation with entertainment journalist Eddy Friedfeld. Taped before a live audience at New York's 92nd Street Y. Today - 8pm; Monday - 2am and 10pm; Tuesday - 4am; Wednesday - 10:30am; Friday - 8pm; Saturday - 1am and 3pm
AZM: Israel on Campus
A workshop in ways to combat Israel-bashing on college campuses entitled "Promoting Zionism and Israel Engagement on Campus." With university leaders Leonard Saxe (Brandeis), Andrew Getraer (Rutgers), Yoni Nirenberg (LIU) at 2019 AZM Biennial in NYC. Tuesday - 7pm; Wednesday - 1am; Thursday - 1pm; Saturday - 7pm
In The News: Jack Rosen-Jewish Caucus
In the face of expressions of antisemitism in Congress, Jack Rosen, Chairman of the American Jewish Congress, explains why he advocates a "Jewish Caucus" in Congress to engage in negotiations with other Congressional groups. With Mark S. Golub. Monday - 6:30pm and 11:30pm; Tuesday - 3:30am, 8:30am and 12:30pm
Bronx Jewish Hall of Fame
The 4th annual inductions ceremony into the "Bronx Jewish Hall of Fame" including the Hon. Betty Weinberg Ellerin, Rabbi Levi Shemtov and Renee Wexler Taylor Bologna,. With remarks from Bronx Jewish Historical Initiative founder Howard Teich. Monday - 8pm; Tuesday - 1am; Thursday - 1am; Saturday - 8pm
L'Chayim: Miss Israel (Titi)
"Titi" Aynaw discusses her journey from her hometown in Ethiopia to aliyah to Israel, to serving in the IDF, to becoming the first Ethiopian Miss Israel in 2013. L'Chayim with Mark S. Golub. Wednesday - 9pm and Midnight; Thursday - 3pm
Edith Samers Vice President 203.536.6914 (cell phone) JBS Jewish Broadcasting Service, a 501c3 fulltime television channel
Yehudi Presents: Olami Professional Circles
For more information click here.
Olami Professional Circles is a global network of professionals committed to using Jewish teachings and values to realize their potential. After a successful launch this past Fall in NYC, Mentorship Circles is launching this Summer in Miami to enable young adults to gain mentorship opportunities and learn from Jewish teachings and values on what it means to be a successful Jewish professional.
Over four Wednesday night sessions, including an upscale dinner and open bar, young professionals will each be paired in small groups with a passionate and successful Jewish industry executive and mentor. Each week they will engage in a topic about professional success through discussions drawing on Jewish teachings and values. Then, the whole group will hear from a Featured Speaker about the same week's topic, sharing personal stories with audience interaction.
Professional Circles is intended for Jewish professionals in their 20's & 30's who are looking to build a community that is committed to balancing business and Jewish values.
Posted by Yodeah on 05/07/2019 @ 08:33 AM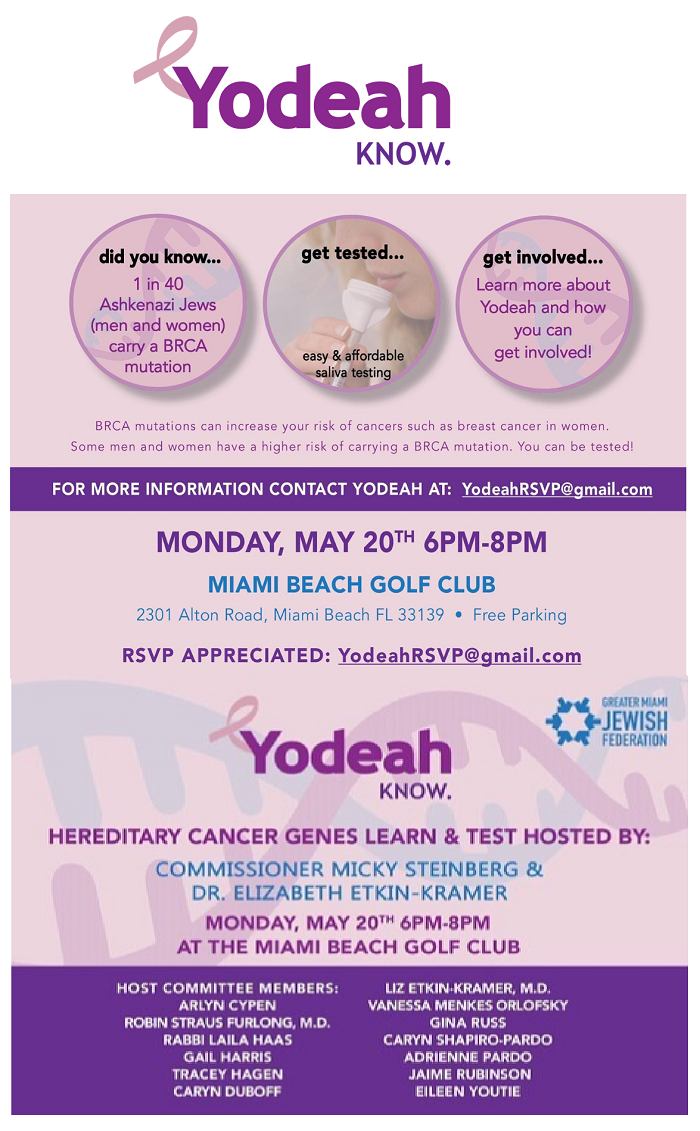 www.yodeah.org
*For a complete and timely schedule, go to www.jbstv.org *
92Y: Israeli U.S. Amb. Ron Dermer Israel's Amb. to Washington, Ron Dermer, discusses a range of issues relating to the State of Israel in conversation with novelist and Director of the Forum on Law, Culture and Society. From the 92nd Street Y in NYC. Sunday - 8pm & 1:30am; Monday - 10pm & 4am; Wednesday - 10:30am; Friday - 8pm & 1am; Saturday - 3pm
AZM: Gil Troy-U.S. Zionism Historian and author Gil Troy (The Zionist Ideas) discusses "The Future of Zionism In America." From the 2019 American Zionist Movement Biennial Assembly, Unity and Community: Bringing Together the Many Voices of Zionism in New York City. Monday - 8pm & 1am; Wednesday - 2pm; Saturday - 8pm & 1:30am
ITN: Poway Murder - Thane Rosenbaum JBS President Mark S. Golub offers his commentary on the horrific murder of Lori Gilbert-Kaye and the wounding of three others in a Chabad synagogue on Passover, and novelist Thane Rosenbaum (Director of Forum On Law Culture and Society) shares his reaction to the tragedy. Sunday- 8:30am
FOR YOM HAZIKARON - DAY OF REMEMBRANCE
L'Chayim: Esther Wachsman Esther Wachsman, mother of kidnapped Israeli soldier, Nachshon Wachsman, talks about the failed rescue attempt to save her son's life and the painful dilemma Israel confronts when it must decide when to trade imprisoned Palestinians for Israeli soldiers. Tuesday - 3pm
L'Chayim: Israel Sorrow/Heroism Miriam Peretz ("Miriam's Song") describes her experience as a mother who lost two sons in the war with Palestinians while each was serving in the IDF's elite Golani Brigade - and how she has transcended her sorrow.
Tuesday - 9pm & Midnight
Yom HaZikaron Siren Join symbolically with the People of Israel as the Jewish nation stands in silence during a one minute of a national siren at 8pm Israel time (1pm New York time) and during for two minutes the next day at 11am Israel time.
(JBS will also sound the siren at 8pm and 11am New York time in solidarity with Israel.) Tuesday - 1pm & 8pm ; Wednesday - 4am
Natan Alterman's "The Silver Platter" - recited by Mike Burstyn Natan Alterman's 1947 poem The Silver Platter, traditionally read in Israel for Yom HaZikaron, is recited by Israeli star of stage, screen and television Mike Burstyn. Following Sound of Siren
FOR YOM HAATZMAUT - ISRAEL INDEPENDENCE DAY
Hero Of 1948 War Joe Aboudi, an 18-year old member of the Palmach in 1948, recounts how he helped stop the Egyptian advance in the Negev during the days leading up to Israel's War of Independence. Monday - 9pm & Midnight
L'Chayim: Operation Aliyah Bet Murray Greenfield, founder of Gefen Publishing and author of The Jews' Secret Fleet, describes his participation in the naval operation know as "The Exodus," which smuggled Holocaust survivors into pre-state Palestine in defiance of the British naval blockade. Wednesday - 3pm
Witness To Statehood For Israel's independence day, fifth generation Sabra Rochelle Etingin recounts her experience as a young girl growing up in Israel during the birth of the Jewish State of Israel. Wednesday - 9pm & Midnight; Thursday - 3pm
L'Chayim: Abba Eban In a L'Chayim classic for Yom Ha'atzmaut, Abba Eban z"l (1915-2002), best known for his years of service to Israel in the UN, recounts his involvement in the Zionist dream and the dramatic moments leading up to the creation of the modern Jewish State. Thursday - 9pm & Midnight; Friday - 3pm
L'Chayim: Commander Lebovitz Eugene Aryeh Lebovitz, commander of troops in Haifa during the 1948 War of Independence, reminisces about his survival at Auschwitz, his running the British blockade, and his ongoing work on behalf of Israel and Jewish life. Saturday - 6pm
LIVE THURSDAY – 6 pm CELEBRATING YOM HAATZMAUT Join JBS as Rabbi Mark S. Golub takes viewer phone calls and plays videos celebrating Israel Independence Day. LIVE Thursday - 6pm
Inside Israel Israel Inside: How a Small Nation Makes a Big Difference is Tal Ben-Shahar's documentary film that explores the positive characteristics of Israeli society from a humanistic, psychological, and emotional perspective. By Imagination Productions. Tuesday - 2pm; Saturday - 1pm
Jake Ehrenreich Show-Ron Eliran & Mamita Jake welcome Israel's Ambassador of Song Ron Eliran who performs some of his most well-known songs (including Sharm el Sheikh), and Vanessa Hidary (The Hebrew Mamita) who recites her powerful poem on Jewish identity. Jake also inducts Steve and Eydie (z"l) Gorme into the Catskills Hall of Fame. Sunday)- 10:30pm & 2:30am; Friday - 10:30am
Israel Journey A magical journey through the modern state of Israel, centered on the beauty, mystery, and spirituality of Jerusalem. "Berel Wein's Israel Journey: Jerusalem" is hosted by Wayne Kopping and was produced by the Destiny Foundation. Thursday - 10:30am; Saturday - 9pm & Midnight
Mordechai Becher: Talmud - "Our Historic Homeland"; Talmud - Promise of Aliyah" Sunday- 9am; Tuesday - 9am & 4:30pm; Thursday - 7pm & 4am
ITN: Poway Murder - Eye Witness Shimon Abitbul, Deputy Director of the Israeli Magen David Adom in Kiryath Shmonah, who was visiting his daughter in Poway, CA for his grandson's brit milah, describes the scene at the Chabad Synagogue during the murderous attack. Today (Sunday) - 5:30pm & 11:30pm; Monday - 3:30am, 8:30am & 12:30pm
Edith Samers Vice President 203.536.6914 (cell phone) JBS Jewish Broadcasting Service, a 501c3 fulltime television channel
Yom Ha'atz Miami
Thursday, May 9, 2019 | 8pm
Get ready for The Tribe's most anticipated party of the year –Yom Ha'atz Miami! Celebrate Israel's independence day in true Miami fashion, at the W Miami Rooftop overlooking the Brickell skyline. Enjoy an epic night of music by DJ Eran Hersh, cocktails, henna tattoos and more.
Join us on May 9th for an unforgettable experience celebrating Yom Ha'atzmaut!
8:00pm: 1-Hour Sponsored Bar | 9:00pm: Cash bar, Drink Specials, and Hors D'oeuvres.
Admission includes:
Comp Drinks 8-9pm
Music by Eran Hersh
Food
Israeli Snacks & Swag
Henna Tattoos
Celebrate Israel 71 with your community on May 9th (6pm-10pm) with music, singing, dancers. Special performances and choral arrangements. Shopping and food available from various vendors. A portion of proceeds raised will benefit Leket Israel, the National Food Bank of Israel.
Marketplace Vendors welcome to participate, please contact Mark Flaxer in the synagogue office, (305) 937-1880 for details.
Join us for a special Mother's Day. An event supporting the women and children at JCS Shalom Bayit Jewish Domestic Abuse Program
Sunday May 5, 10:00am Beth Torah Beny Rok Campus
Space is limited REGISTER HERE