Watch JBS on Comcast X-1 Box Ch 1684, Atlantic Broadband 168, Hotwire Ch 269, DirecTV Ch 388, Blue Stream Ch 110, streamed on Roku under "educational", Apple TV, Amazon Fire TV and jbstv.org. For a complete and timely schedule and other television providers, go to www.jbstv.org
L'Chayim: Letty Cottin Pogrebin
Activist, author, feminist icon and co-founder of Ms. magazine, Letty Cottin Pogrebin, discusses the notion of Jewish exceptionalism, and how the experiences of hiding and lying for survival are all part of Jewish heritage, as she describes in her new book, Shanda: A Memoir of Shame and Secrecy Wednesday - 9:00pm & Midnight Thursday - 3:00pm Saturday - 6:00pm
Interfaith Thanksgiving Service (LIVE)
Members of Central Synagogue and Saint Peter's Church come together for an inspiring evening of gratitude, fellowship, song, and prayer in their annual Interfaith Thanksgiving Service, live from Central Synagogue in New York City. Sunday - 6:30pm LIVE Monday - 2:00am Tuesday - 10:00pm Thursday - 8:00pm & 1:00am
In the Spotlight: Mark Oppenheimer
Mark Oppenheimer (Senior Editor, Tablet) joins Abigail Pogrebin to discuss his podcast, "Gatecrashers," that tells the story of how Jews fought for acceptance at Ivy League schools, and how the experience shaped American higher education. Monday - 8:00pm & 1:00am Tuesday - 11:30am Thursday - 7:30pm & 2:00am Saturday - 7:30pm
Rabbi Hirsch: Some Thoughts on Organic Chemistry
Rabbi Ammiel Hirsch looks to the Tower of Babel story as he discusses the central Jewish preoccupations of education, rigorous study and debating how science and technology can help bring about a better future.
Tuesday- 7:00pm & 2:30am Wednesday - 9:30am Friday - 11:00am Saturday - 4:00pm
FIDF Gala 2022
Israeli Prime Minister Yair Lapid joined FIDF supporters from across the country to salute Israel's brave soldiers at the FIDF New York Gala, which was held in tribute to outgoing Chairman Peter Weintraub, and featured active-duty soldiers and other special guests. Tuesday- 7:30pm & 1:00am Wednesday - 1:30pm Friday - 9:30am
Author Discussion Series: Joshua Cohen
Joshua Cohen discusses The Netanyahus: An Account of a Minor and Ultimately Even Negligible Episode in the History of a Very Famous Family, his 2021 novel that blends history, fiction and humor, and was awarded the 2022 Pulitzer Prize for Fiction Wednesday - 7:30pm & 1:30am Thursday - 10:35am & 2:30am Friday - 9:00am Saturday - 5:30am & 10:30pm
Rabbi on the Sidelines: Dani Menkin
Dani Menkin, Israeli Academy Award-winning filmmaker of Aulcie, the story of a basketball legend who led Maccabi Tel Aviv to an upset win in the European Championship, joins Rabbi Sherman for a discussion of relations between the Israeli, Jewish and black community. Follow on Twitter @RabbiESherman, Instagram @rabbi_erez_sherman, and Facebook @SinaiTempleLA. Sunday - 7:30pm
In the News: Sarit Zehavi
Sarit Zehavi, Founder and CEO, Alma Research and Education Center, discusses Israel's recent maritime agreement with Lebanon, as well as overall challenges for Israel up north with Iran and Hezbollah. With Shahar Azani on location on the northern border of Israel.
Sunday - 5:30pm
In The News: Holly Huffnagle on Dave Chappelle on Saturday Night Live
Holly Huffnagle, American Jewish Committee U.S. Director for Combating Antisemitism, weighs in on the monologue delivered by comedian Dave Chappelle on Saturday Night Live that has been criticized for normalizing antisemitic tropes. With Teisha Bader. Monday - 6:30pm & 11:30pm Tuesday - 3:30am, 8:30am & 12:30pm Saturday - 11:30pm
Thinking Out Loud: JBS journalist Micah Halpern
This week, Micah discusses his definitions of "Jew Hatred" versus "Antisemitism," and how the recent dustups with celebrities in hot water figure into this continuum. He elaborates further on this theme with a nationwide roundup: he declares that it's "Back to the Future" with the numerous heinous attacks against Jews all across America that echo an ugly past. Wednesday - 6:30pm & 11:30pm Thursday - 3:30am, 8:30am & 12:30pm Saturday - 5:30pm
The Dershow: Virginia Giuffre may have erred
As Alan Dershowitz discusses the recent news that his eight years of fighting sexual misconduct allegations in court have ended, he wonders how the court of public opinion, and all those who blacklisted him, will receive the development Tuesday - 6:30pm & 11:30pm Wednesday - 3:30am, 8:30am & 12:30pm
On L'Chayim
Ruth Wisse
Ruth Wisse, Professor Emeritus at Harvard, discusses the BDS Movement and the Jewish community's response; reflects on aspects of Jewish life; and describes her online course on George Eliot's last and most controversial novel, Daniel Deronda. Sunday - 12:00 Noon
Alan Dershowitz - Guilt By Accusation
Alan Dershowitz, author, activist and Harvard Law Professor Emeritus, implores viewers to look at the reality and facts of his involvement with Epstein, Giuffre and Trump, as Mark S. Golub interrogates him on the issues that cost him his reputation. Monday - 3:00pm
Jerome Chanes - JFK and Israel
On the Anniversary of John F. Kennedy's assassination in Dallas, Texas (November 22, 1963), Professor Jerome Chanes of the Center for Jewish Studies at CUNY's Gradate Center discusses the profound positive impact President Kennedy had on U.S.-Israeli relations. Monday - 9:00pm & Midnight
Tuesday - 3:00pm
Peter Weintraub - FIDF
Rabbi Peter Weintraub, former FIDF National Chairman, describes how he fell in love with Israel; his son's wedding in Caesarea; running a company in Sderot; and the importance of the FIDF.
Tuesday - 9:00pm & Midnight Wednesday - 3:00pm
Jeffrey Gurock - Jews & America
Jeffrey Gurock, professor of American Jewish History at Yeshiva University, describes aspects of the Jewish experience in America. Thursday - 9:00pm & Midnight Friday - 3:00pm
JEWISH STUDIES
Jewish 101: Creation
Explore the values of Torah through the rabbinic midrash (interpretation) to The Story of Creation (Genesis Chapter 1), and learn why the Jewish tradition does not read the story literally Sunday - 10:00am Monday - 5:00am Wednesday - 9:00am & 5:00pm Thursday - 4:00am Friday - 1:00pm
Hebrew: Lesson 16
Learn about exceptions to vowel pronunciation and review the entire Hebrew alphabet Monday - 9:00am & 5:00pm Thursday - 10:00am & 5:00pm Friday - 4:00am
Talmud Study: Blessings
Rabbi Mordechai Becher discusses the history and nuances of Jewish blessings, their Hebrew translations, etymology, and deeper meanings as reminders to appreciate and value everything we use, see, and encounter within our daily lives. On Dimensions of the Daf. Sunday - 9:00am Monday - 4:00am Tuesday - 9:00am & 5:00pm Wednesday- 7:00pm
Talmud Study: Change and Grow
Drawing from a series of traditional commentaries, Rabbi Mordechai Becher explores the Talmudic notion of a person's ability to change and grow through one's actions and prayers Sunday - 9:30am Monday - 4:30am Tuesday - 9:30am & 5:30pm Thursday - 7:00pm
REFORM AND ORTHODOX SHABBAT SERVICES
FRIDAY EVENING SHABBAT SERVICES
REFORM: CENTRAL SYNAGOGUE Closed Captioned 6:00pm, 11:30pm & 2:00am
ORTHODOX: HAMPTON SYNAGOGUE With Hebrew, transliteration and English subtitles 7:30pm & 10:30pm
SATURDAY MORNING SHABBAT SERVICES
REFORM: CENTRAL SYNAGOGUE Closed Captioned 9:30am & 1:00pm
ORTHODOX: HAMPTON SYNAGOGUE With Hebrew, transliteration and English subtitles 11:00am & 2:30pm
Edith Samers Vice President 203.536.6914 (cell phone) JBS Jewish Broadcasting Service, a 501c3 fulltime television channel Website: jbstv.org
Posted by Noa Waks on 11/17/2022 @ 02:34 PM
Did you know that 90 cents of every dollar you donate to the Annual Greater Miami Jewish Federation/UJA Campaign goes directly to impactful programs and services?
Working every day in Miami, in Israel and in more than 70 other countries around the globe, Federation knows the communities in need, responds with technical expertise and spends every donation in a wise and effective manner. Want to learn more? Click here to read about our story today, key priorities, who Federation is helping, how Federation allocates your donations – and how you can get involved. You can also watch brief videos to hear directly from several Federation leaders on why they trust Federation.
Click here to learn more.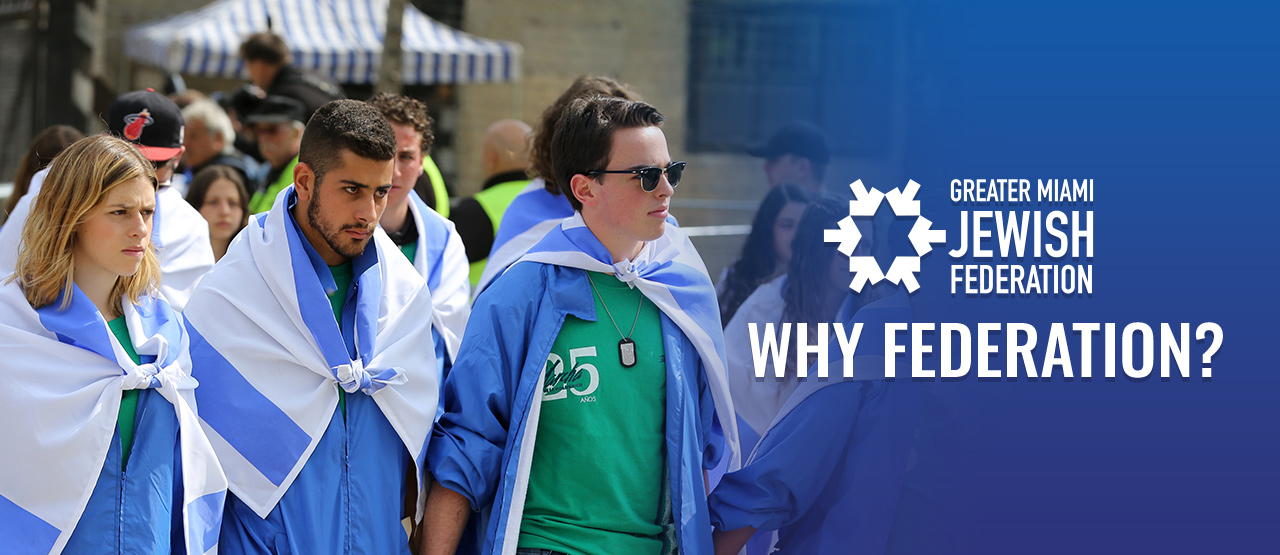 Posted by Noa Waks on 11/17/2022 @ 11:11 AM
Is Israel calling your name? Apply now to spend eight weeks working in a professional internship while living in Tel Aviv this summer through Onward Israel.
The highly subsidized program is supported by Federation, The Jewish Agency for Israel, the Beacon and Shapira Foundations and other philanthropists. For more information and to apply, click here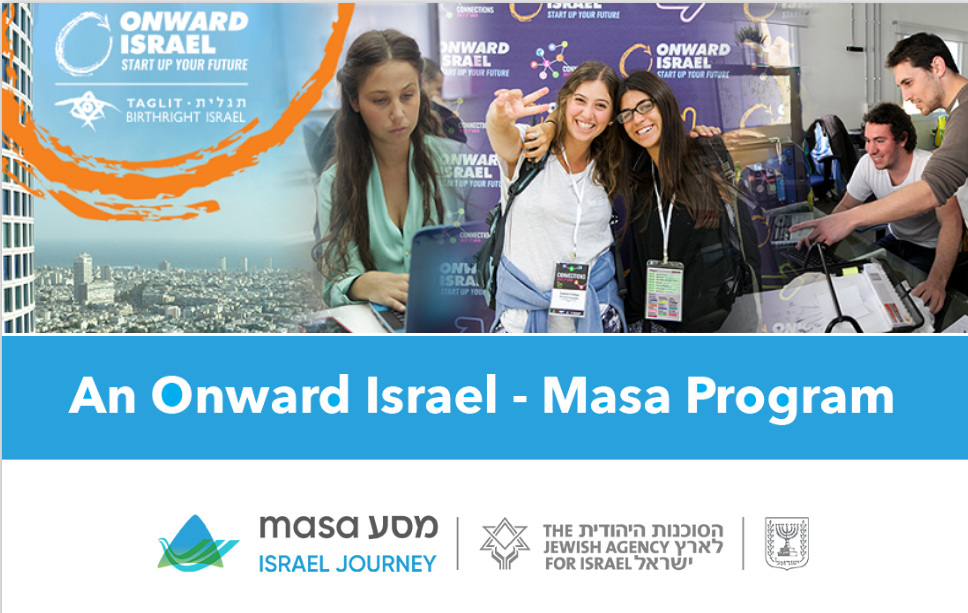 Posted by Noa Waks on 11/17/2022 @ 10:50 AM
Jewish Life Television, the nation's premier 24-7 English language, Jewish-themed television network, has now been added to the QXC channel line-up. QXC serves several multi-dwelling residential complexes throughout the State of Florida in Broward, Martin, Miami-Dade, Palm Beach, Sarasota, and Volusia Counties. QXC video subscribers can watch JLTV 24/7 on Channel 300.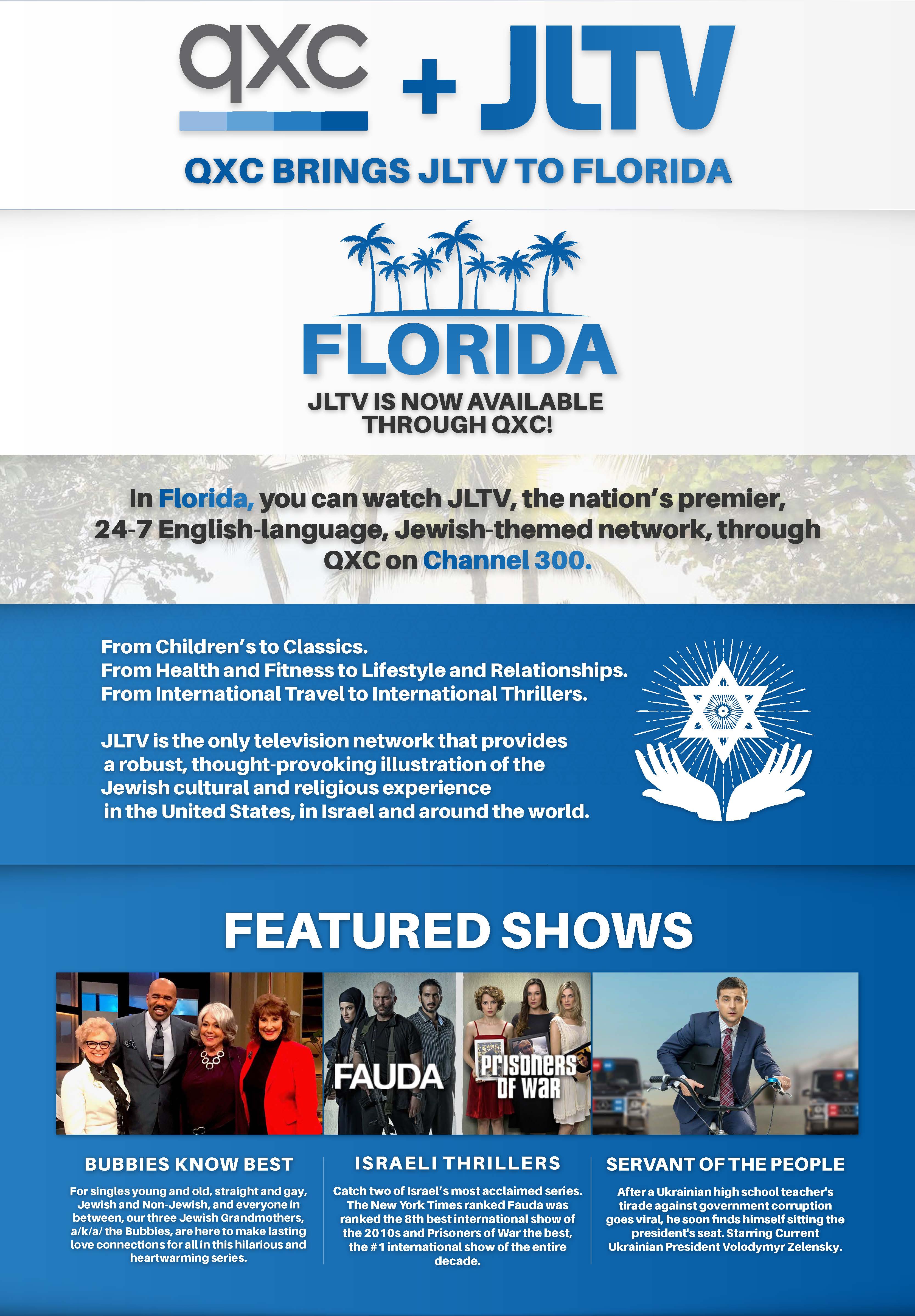 Posted by Noa Waks on 11/15/2022 @ 05:07 PM
Voices of Jewish Refugees from Islamic Lands: Yom Haplitim Family Heritage and Remembrance moderated by Dr. Henry Green. The program includes survivor testimonials, video presentations, and distinguished community leaders.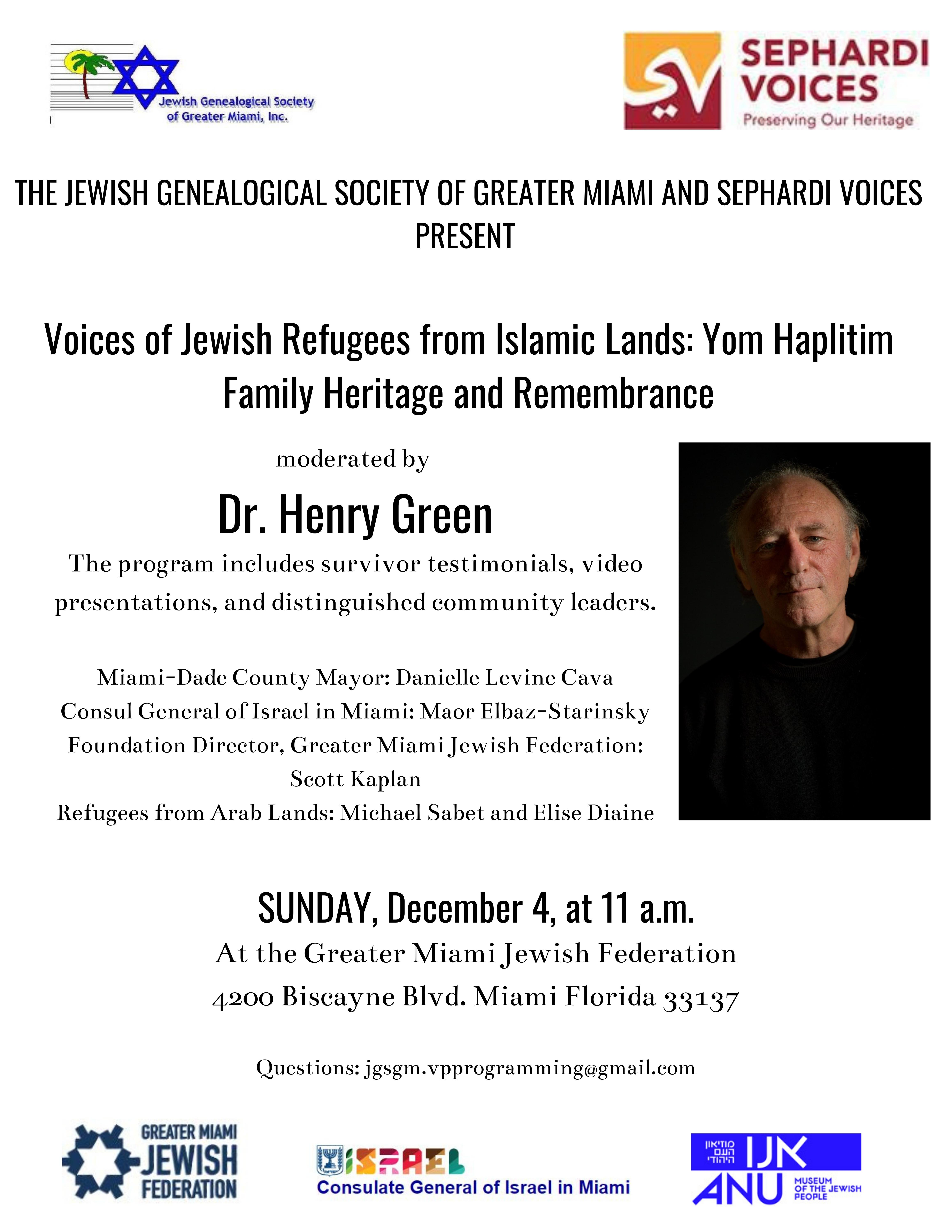 Watch JBS on Comcast X-1 Box Ch 1684, Atlantic Broadband 168, Hotwire Ch 269, DirecTV Ch 388, Blue Stream Ch 110, streamed on Roku under "educational", Apple TV, Amazon Fire TV and jbstv.org. For a complete and timely schedule and other television providers, go to www.jbstv.org
L'Chayim: Alan Dershowitz - Guilt By Accusation
Alan Dershowitz, author, activist and Harvard Law Professor Emeritus, implores viewers to look at the reality and facts of his involvement with Epstein, Giuffre and Trump, as Mark S. Golub interrogates him on the issues that cost him his reputation.
Wednesday - 9:00pm & Midnight Thursday - 3:00pm
In the Spotlight: Yiddish Fiddler
As the beloved, award-winning production of Fiddler on the Roof in Yiddish returns to New York City by popular demand, Abigail Pogrebin is joined by Steven Skybell, the actor portraying Tevye, and Zalmen Mlotek, artistic director of the National Yiddish Theatre - Folksbiene, to discuss the limited engagement revival. Monday - 8:00pm & 1:00am Tuesday - 11:00am Wednesday - 2:00am
Thursday - 10:00pm Saturday - 7:00pm
Access Israel & War in Ukraine
Access Israel's Michal Rimon (CEO) and Yuval Wagner (founder and president) of describe how their organization is helping to evacuate elderly people and people with disabilities from the ever-shifting war zone in Ukraine. Tuesday- 8:00pm & 1:00am Wednesday - 11:00am
Author Discussion Series: Eleanor Reissa
Actress, director, playwright and English / Yiddish storyteller, Eleanor Reissa discusses The Letters Project: A Daughter's Journey, her tough, honest, and often funny memoir that takes readers back in time through Germany and Israel, on a trip through her family's past. With Rabbi Avraham Bronstein in a program of The Hampton Synagogue. Wednesday - 7:30pm & 1:30am Thursday - 10:30am & 2:30am Friday - 2:30am Saturday - 5:30am & 10:30pm
Robert Siegel: Cancer Research
In a program recorded during October's Breast Cancer Awareness Month, Robert Siegel discusses the latest in cancer research, looking especially at links between cancer and genetics, with doctors Susan Domcheck (Exective Director, Basser Center for BRCA, University of Pennsylvania), Larry Norton (Medical Director, Evelyn H. Lauder Breast Center, Memorial Sloan Kettering) and Yael Goldberg (Deputy Director, Recanati Genetics Institute, Rabin Medical Center). A program of AFRMC. Wednesday - 8:00pm & 2:00am Thursday - 1:00pm Friday - 5:00am
Kristallnacht: Let There Be Light (2022)
The International March of the Living presents highlights of 2022 Kristallnacht commemorations from around the world, including survivor testimonies from eyewitnesses of the tragic events, and other moving moments from commemorations held in Israel, Austria, Germany and the UAE, where Dubai's first Holocaust memorial was a powerful symbol of reconciliation. Thursday - 7:30pm & 1:00am Friday - 1:30pm
Saturday - 9:00pm
Rabbi on the Sidelines: Meredith Shiner
Meredith Shiner, award-winning journalist, former national political reporter and commentator, joins Rabbi Sherman to discuss the intersection of sports and politics, as she explores in her Tablet podcast, "The Franchise: Jews, Sports, and America". Follow on Twitter @RabbiESherman, Instagram @rabbi_erez_sherman, and Facebook @SinaiTempleLA. Sunday - 7:00pm & 2:00am Tuesday - 10:00am Thursday - 5:00am
In the News: Israel's Next Government
Following Israel's national elections, JBS Senior Vice President Shahar Azani, on location in Israel, sits down with Israeli author and political pundit, Ben-Dror Yemini, to discuss what's in the cards for Israel's next government.
Sunday - 5:30pm
In the News: Sarit Zehavi
Sarit Zehavi (Founder and CEO, Alma Research and Education Center) discusses Iran, Hezbollah, the latest gas agreement with Lebanon and overall challenges for Israel up north, with Shahar Azani on location in Tel Aviv Monday - 6:30pm & 11:30pm Tuesday - 3:30am, 8:30am & 12:30pm Saturday - 11:30pm
The Dershow: Ending Racial Quotas?
Harvard Law Professor Emeritus Alan Dershowitz examines college admissions practices, looking at the history and fairness of racial quotas for universities in the case of Harvard and others. Tuesday - 6:30pm & 11:30pm Wednesday - 3:30am, 8:30am & 12:30pm
Thinking Out Loud: US Elections
JBS journalist Micah Halpern discusses the ramifications of elections and the meaning of "stable" democracy; there are always winners and losers, and everyone gets a chance to be each. Wednesday - 6:30pm & 11:30pm Thursday - 3:30am, 8:30am & 12:30pm Saturday - 5:30pm
On L'Chayim
Zach Iscol
Zach Iscol, a decorated Marine who served two terms in Iraq, explains why he joined the Marines, how he experienced the war and the bonds he forged with his Iraqi translator, and he now feels about military conflict. Sunday - 12:00 Noon
Ayelet Zurer
Award-winning Israeli Actress Ayelet Zurer discusses her feelings about acting and creating art and describes portraying the Haredi widow "Elisheva" on the hit Israeli series on Netflix, Shtisel. Sunday - 6:00 pm
Monday - 3:00pm
Sheldon Harnick
Sheldon Harnick, the Tony Award-winning lyricist of "Fiddler On The Roof," describes his Jewish background and how he came to work with composer Jerry Bock, and tells stories about the show celebrating its 50th anniversary. Monday - 9:00pm & Midnight
Tuesday - 3:00pm Saturday - 6:00pm
Beit Ruth Village
The Beit Ruth Educational and Therapeutic Village is a therapeutic residence and school for vulnerable and at-risk teen girls who have been removed from their family homes by court order as a result of severe emotional abuse. Tuesday - 9:00pm & Midnight Wednesday - 3:00pm
Ruth Wisse
Ruth Wisse, Professor Emeritus at Harvard, discusses the BDS Movement and the Jewish community's response; reflects on aspects of Jewish life; and describes her online course on George Eliot's last and most controversial novel, Daniel Deronda. Thursday - 9:00pm & Midnight Friday - 3:00pm
JEWISH STUDIES
Jewish 101: Threefold Blessing
Learn about Shabbat and how the rabbis' interpretation of the Creation Story's threefold blessing given to human beings in Genesis Chapter 1 suggests a role most people don't normally imagine. Sunday - 10:00am Monday - 5:00am Wednesday - 9:00am & 5:00pm Thursday - 4:00am Friday - 1:00pm
From the Aleph Bet
Hebrew: Lesson 15
Complete the Hebrew alphabet and learn to read an important word containing "Vuv" Monday - 9:00am & 5:00pm Thursday - 10:00am & 5:00pm Friday - 4:00am
Talmud Study: Moral Choices
Rabbi Mordechai Becher discusses Talmudic passages which relate to the moral dilemma posed by self-driving cars when, in an emergency, technology must program to sacrifice passengers or pedestrians. Sunday - 9:00am Monday - 4:00am Tuesday - 9:00am & 5:00pm Wednesday- 7:00pm
Talmud Study: Polygamy in the Torah Was Polygamy Normal? A lesson based on Kesuvos 90a
**Sunday - 9:30am Monday - 4:30am Tuesday - 9:30am & 5:30pm Thursday - 7:00pm
REFORM AND ORTHODOX SHABBAT SERVICES
FRIDAY EVENING SHABBAT SERVICES
REFORM: CENTRAL SYNAGOGUE Closed Captioned 6:00pm, 11:30pm & 2:00am
ORTHODOX: HAMPTON SYNAGOGUE With Hebrew, transliteration and English subtitles 7:30pm & 10:30pm
SATURDAY MORNING SHABBAT SERVICES
REFORM: CENTRAL SYNAGOGUE Closed Captioned 9:30am & 1:00pm
ORTHODOX: HAMPTON SYNAGOGUE With Hebrew, transliteration and English subtitles 11:00am & 2:30pm
Edith Samers Vice President 203.536.6914 (cell phone) JBS Jewish Broadcasting Service, a 501c3 fulltime television channel Website: jbstv.org
Posted by Noa Waks on 11/10/2022 @ 10:10 AM
Children are growing up in a world that is new to many of us. Terms like "non-dominant identities, REDI (racial equity, diversity and inclusion), transgender and nonbinary" may feel unfamiliar and even uncomfortable. These sessions will provide us with foundational knowledge, shared language, and inclusive practices so that we can better demonstrate our unconditional love and support for the important young people in our lives. Join us for a two-part series by the Union for Reform Judaism, Jewish Grandparents Network, and Keshet to support you in providing affirming spaces for gender-expansive, non-binary, and transgender young people.
Session 1 L'Dor Va'Dor: Affirming and Loving Your Transgender, Non-Binary, and Gender Expansive Grandchildren
Tuesday, November 29, 4-5 PM ET with Tracey Labgold (she/her), Keshet Florida Education & Training Manager
Are you a grandparent or another cherished elder of a child or young person who is expressing their gender in expansive ways? Do you want to learn more about how to celebrate them and show that you love them for who they are? Issues they're grappling with, the words and terms and pronouns they're using, and the lives they're living are new to so many of us. Join us for a frank and informative "gender 101" session that's geared towards you!
Talk Back Q&A – What's a Grandparent to Do?
Thursday, December 1, 1-2 PM ET with Tracey Labgold, Keshet Florida Education & Training Manager
Bring your specific questions about anything that came up for you in the November 29th session.
Session 2 Creating Safe & Affirming Spaces for Our Grandchildren: Addressing Racism, Transphobia, and Lack of Disabilities Inclusion in Our Communities
Thursday, December 15, 7-8:30 PM ET with Yolanda Savage-Narva (she/her), URJ Director, Racial Equity, Diversity and Inclusion (REDI) and Rachel Hall (she/her), URJ REDI Program Manager
As grandparents we have vital roles to play in making our grandchildren feel loved and embraced for who they are and who they become. Through our words and our actions, we can make their path in life smoother. Learn to embrace the language of inclusion and to recognize and prevent racism, homophobia, transphobia, and other forms of oppression in our communities and in our families.
Talk Back Q&A – What's a Grandparent to Do?
Wednesday, December 21, 1-2 PM ET with Rachel Hall, URJ REDI Program Manager
Bring your specific questions about anything that came up for you in the December 21st session.
Posted by Noa Waks on 11/09/2022 @ 03:08 PM
The Greater Miami Jewish Federation will conduct a Food Distribution Drive-Thru event in response to ongoing food insecurity in the surrounding community. This month's event will feature a number of food items commonly associated with the Thanksgiving feast.
WHEN: Friday, November 18, 2022 9 A.M. – 11 A.M.
WHERE: Greater Miami Jewish Federation Stanley C. Myers Building (Parking Lot) 4200 Biscayne Boulevard
Participants will receive sweet potatoes, green beans, cranberry sauce and pumpkin-pie filling, as well as kosher meat and non-perishable food products, challah loaves and other locally grown fruits and vegetables. Food packages will be distributed on a first-come, first-served basis.
Federation has conducted monthly Food Distribution Drive-Thru events since March 2020. Each of these events has provided food supplies for 1,300 to 1,500 South Florida residents. While the drive-thru is open to all in need, it is a unique opportunity for members of the Jewish community who follow strict kosher dietary laws. Federation thanks the many donors who have helped the community bring food to the hungry during this difficult time when so many are experiencing food insecurity.
The Food Distribution Drive-Thru is being coordinated by Federation's Jewish Volunteer Center in partnership with Jewish Community Services of South Florida and Repair the World.
Cars can only enter through the Federation building's west gate on Federal Highway from the northbound lane, then make a right into the parking lot. Once inside, vehicles will be directed into lines where food packages will be distributed. Recipients must remain in their cars. Volunteers will place packages of food in the trunk of each recipient's car after it enters the parking lot.
NOTE TO EDITORS: Media are recommended to park along Federal Highway on the west side of the Federation Building, as the parking lot will be full. Representatives from Federation and Jewish Community Services will be available for interviews. For more information, contact David Stiefel at dstiefel@greatcom.com or 305.448.1456.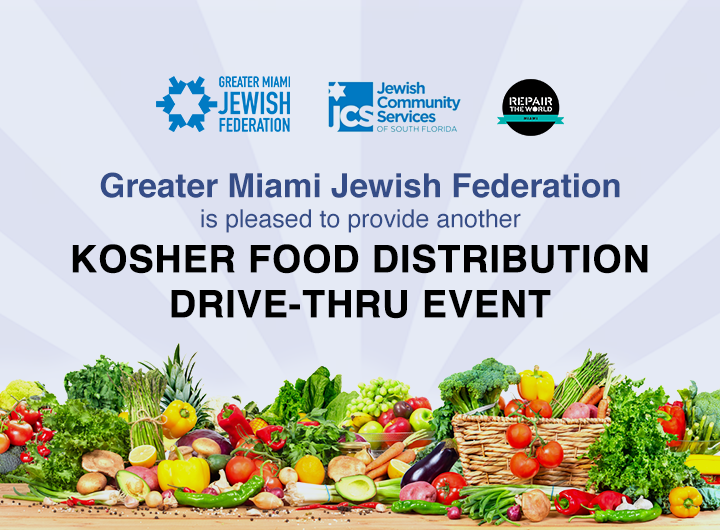 Posted by Noa Waks on 11/09/2022 @ 11:09 AM
Boost the impact of your donation to the Annual Greater Miami Jewish Federation/UJA Campaign by contributing on Give Miami Day on Thursday, November 17.
Donations accepted through GiveMiamiDay.org on November 17 from 12:01 a.m. to midnight. Early giving begins November 14.
For every donation between $25 and $10,000 made to Federation, we will receive a bonus gift from The Miami Foundation. This includes any new pledge or payment on an existing pledge. Last year, you helped raise more than $1.2 million in 24 hours, supporting a network of more than 160 critical programs and services in Miami, in Israel and more than 70 other countries worldwide. This year, donations will be accepted beginning on Monday, November 14, offering three extra days to leverage your philanthropy. For more information, please contact Annual Campaign Director Abbey Feinberg at afeinberg@gmjf.org or 786.866.8425.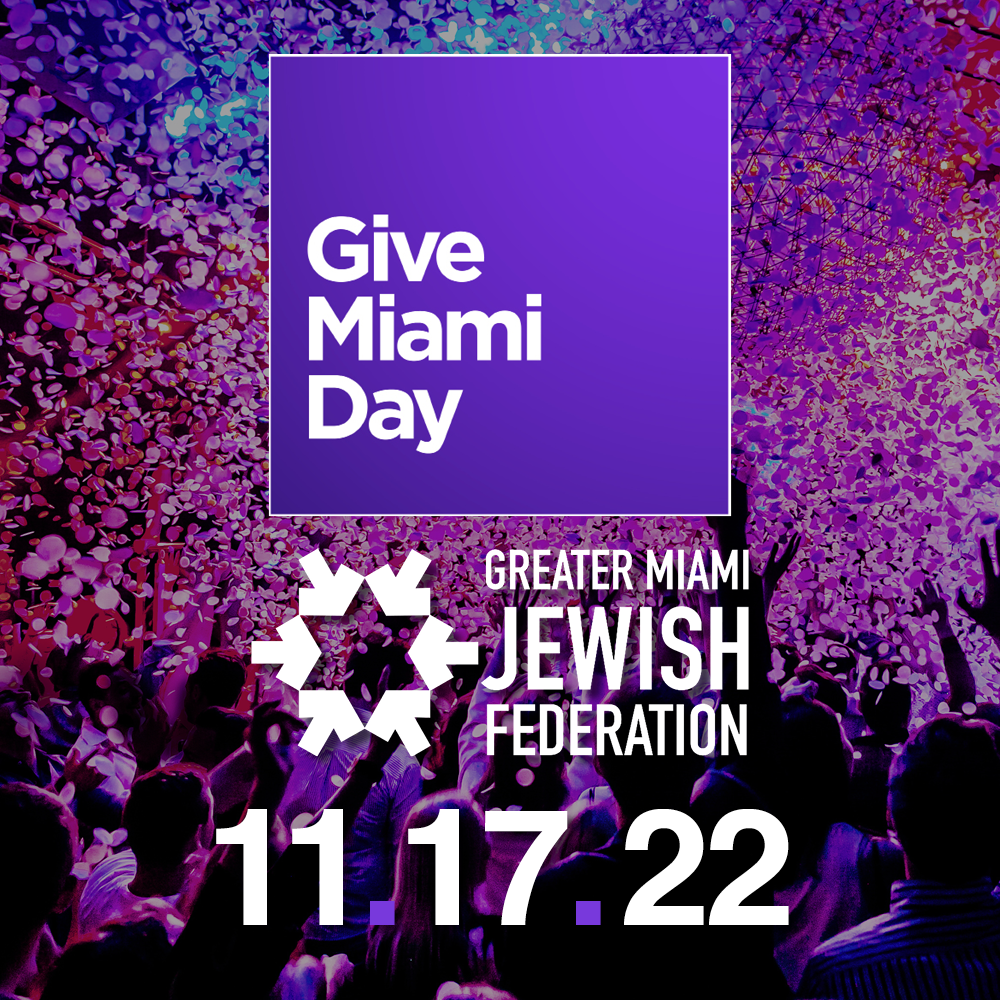 Posted by Noa Waks on 11/09/2022 @ 10:11 AM
We Will Not Be Silent (January 6 – 29) by David Meyers is the story of 21-year-old German college student Sophie Scholl – who, with her brother, courageously led a major act of civil disobedience against Hitler and his fascist regime. Scholl's moral strength is tested while being interrogated for her crimes, leading her to question whether to save her own life or continue her righteous crusade. Based on true events, WE WILL NOT BE SILENT is a provocative and timely new work that examines the role of ordinary people in extraordinary times. This production is produced with support from the University of Miami Sue & Leonard Miller Center for Contemporary Judaic Studies. Special student matinees for the production (January 20 and 27 at 10:30 am) are sponsored by The Green Family Foundation.