JCS and GMJF are joining together to fight food insufficiency in Miami.
Two Great Locations. One Amazing Mission.
North Location: Aventura Turnberry Jewish Center | 20400 NE 30th Ave Aventura, FL 33180
South Location: Beth David Congregation | 2625 SW 3rd Ave Miami, FL 33129
Volunteer to deliver Passover food baskets to homebound seniors during JCS' annual food distribution event.
Basket packing starts at 9:00 AM
Deliver from 10 – 11:15 AM
For questions, contact Marian Mendelsohn at 305.403.6539 or mmendelsohn@jcsfl.org.
Please join the women of North Dade for this exciting event about how to navigate peer pressure, self esteem and staying above social influence/ pressures. Embrace the joy of missing out, and get rid of the fear of missing out.
For more information and to RSVP contact wp@gmjf.org or 786.866.8441.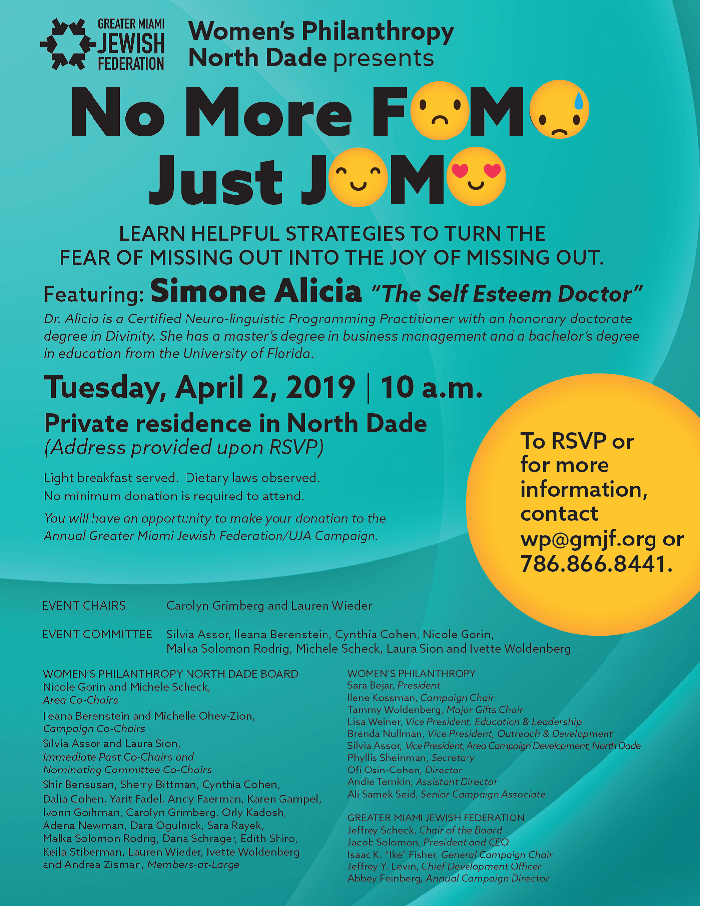 Join Temple Sinai of North Dade for our Annual Cantor Shulkes Spring Music Fest featuring Jewish bluegrass sensation Nefesh Mountain! Saturday, April 6th!
JMOF-FIU will honor four outstanding women on Sunday, April 7, 2019 at 23rd Annual Breaking the Glass Ceiling Awards Luncheon and Program. The Museum is proud to recognize this year's honorees: Susan Brustman, Michele Oka Doner, Mera Rubell & Elizabeth Schwartz and to welcome them into our prestigious group of nearly 100 Breaking the Glass Ceiling honorees to date. Click here to purchase ticketshttps://secure.qgiv.com/for/jmoffiu/event/797769/
The FIDF Young Leadership are turning it up for Miami's Music Week and celebrating Purim with the HOTTEST party in South Florida at the 2019 White Party "Masquerade"!
Join young professionals from all across South Florida as we celebrate in style at our NEW location the legendary "Moore Building" located in stylish Miami Design District. The evening will be filled with:
-Dancing -Music -Gourmet food -Premium Open Bar -And much much more!
Come eat, drink, celebrate, donate and participate!
Event Co-Chairs: Zoe Robins Hinda Adler Andor Tobelem
Tickets: Regular $105 (till 3/21) Door $125
To purchase tickets: FIDF.org/WhiteParty2019
The FIDF YL Miami White Party is 21 and over. All attendees must present a valid photo ID. No refunds.
For more information about the 17th Annual FIDF YL White Party, please contact Elana Kashti, Development Associate, at Elana.Kashti@fidf.org or 305-354-8233
Join us Sunday, April 14 at Temple Beth Sholom for CAJE Celebration of Learning Honoring Maxine E. Schwartz.
CAJE is a vital component of our Jewish community and our educational system. Your support demonstrates your passion in making sure quality Jewish education remains strong and vibrant in Miami for years to come!
Click here to RSVP.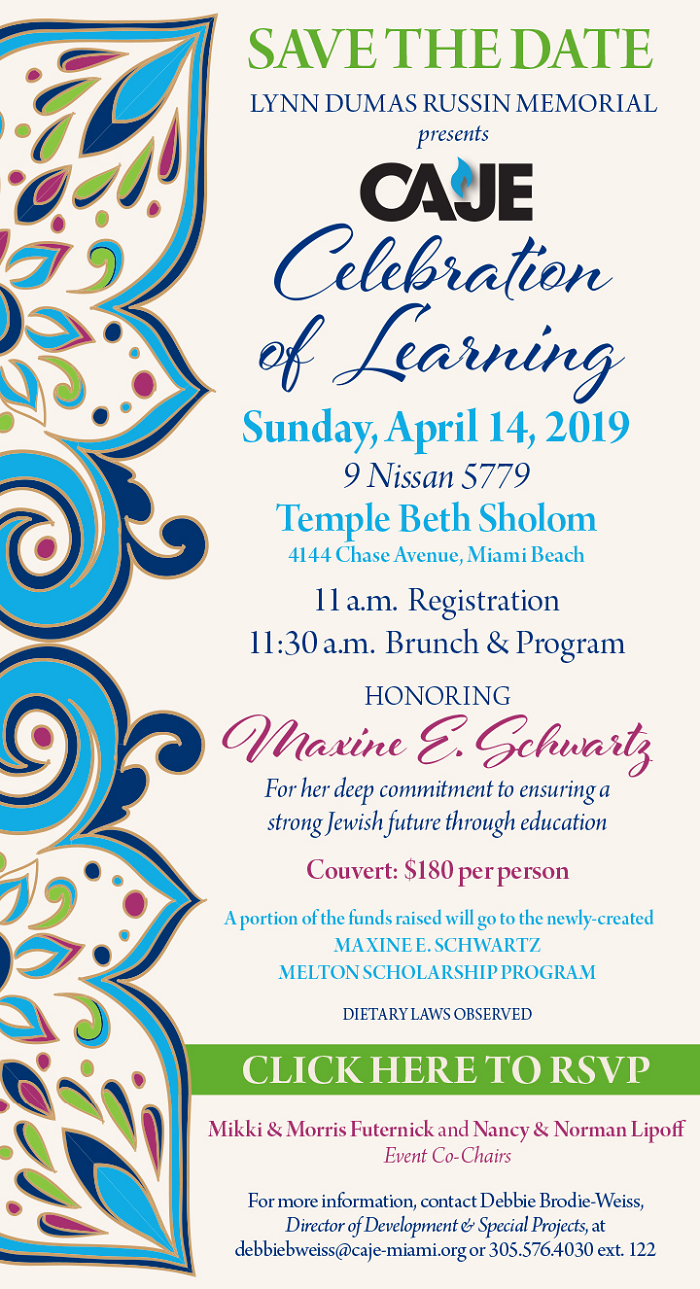 Posted by cbk203 on 03/19/2019 @ 10:11 PM
"The Association for Jewish Special Education (AJSE) will be celebrating Purim at Temple Beth Am on Thursday, March 21, from 4pm to 6pm.
The Jewish adult special needs community is welcomed, along with their friends and interested volunteers. The program includes the Reading of the Megillah by Rabbi Jaime Aklepi, holiday music, games and refreshments. There is no charge. For further information and to RSVP, please contact Charlotte at 305-205-3846, charlotk@bellsouth.net or Benee at 1-954-442-9624, benehow@gmail.com.
"The AJSE is a 40+ year-old, local, private organization, with the mission to provide holiday celebrations for Jewish adults with developmental disabilities and their friends, and is supported by the Greater Miami Jewish Federation."
Please let us know if you are coming! We want to make sure we have enough refreshments!
A night about Israel with Gabriel Ben Tasgal. Current Israel Affairs: 2019 Elections, peace plans and anti-Semitism.
Click here to RSVP.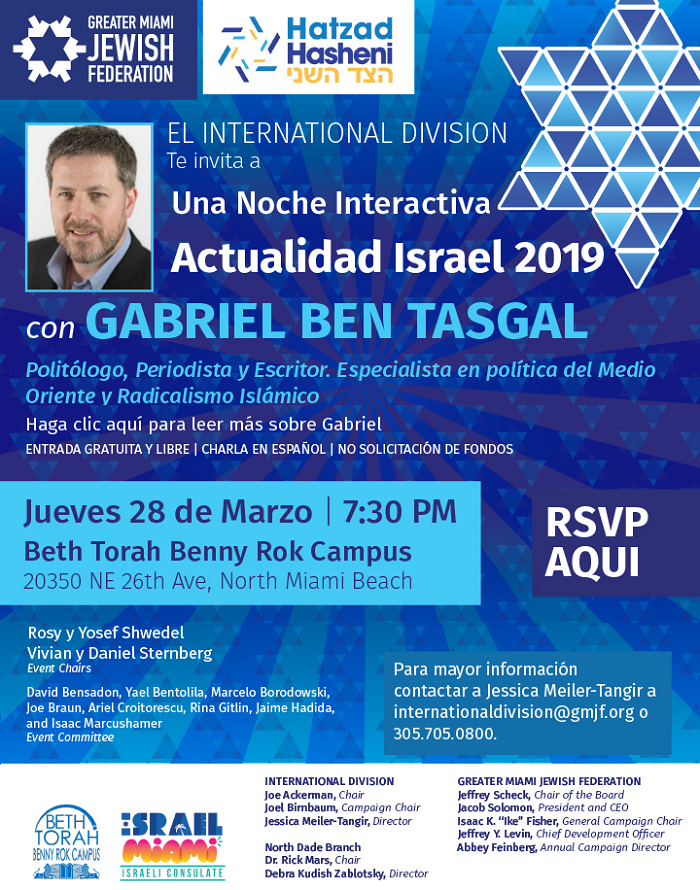 A discussion on healthy living, plant-based cuisine and Jewish perspectives.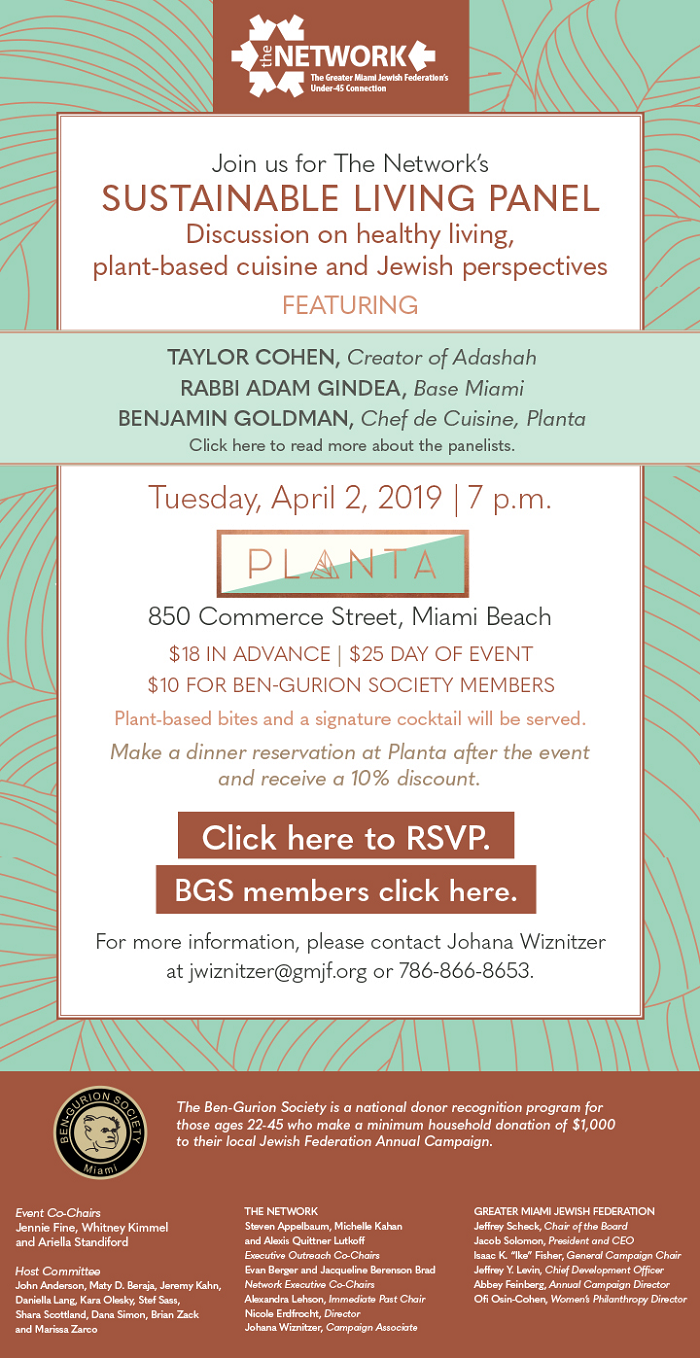 May 17-19
Experience a spirited Shabbat in Crown Heights, Brooklyn! Visit the heart of the Chassidic Chabad Community, 770, the Ohel and more. Gourmet meals, inspiring lectures & accommodations are included. Cost $259 per adult & $100 per child.
Find out more and register at (305) 770-1919 or www.ChabadChayil.org/BrooklynShabbat.