Watch JBS on Comcast X-1 Box Ch 1684, Atlantic Broadband 168, Hotwire Ch 269, DirecTV Ch 388, Blue Stream Ch 110, streamed on Roku under "educational", Apple TV, Amazon Fire TV and jbstv.org. For a complete and timely schedule and other television providers, go to www.jbstv.org
FIDF Live: Yom Ha'Atzmaut
In celebration of Israel's 73rd birthday, hear from Israeli leadership, sing with the IDF musical ensemble, and meet the Sabras and soldiers who help shape the modern Jewish State. A special edition of FIDF Live for Yom Ha'Atzmaut Monday - 7:00pm & 2:00am; Wednesday - 1:00pm; Thursday - 5:30am; Saturday - 7:00pm & 2:00am
Ehud Barak: Israel's Future
Former Israeli PM Ehud Barak addresses a range of topics including the Iranian nuclear threat, the new peace accords with several Arab states, the electoral stalemate and more during American University's Amos Perlmutter Memorial Lecture. Monday - 8:00pm & 1:00am; Wednesday - 2:00pm; Saturday - 8:00pm & 1:00am
Climate Crisis: A Path Forward
Environmentalists address the global climate crisis and discuss a coherent and achievable path forward that Federations and Jewish organizations can use to tackle the challenges and opportunities the crisis presents. A program from the JFNA GA 2020. Tuesday - 7:30pm & 2:00am; Thursday - 1:30pm
Israel and Climate Change
How the climate crisis will affect the hot, dry climate of Israel in the coming decades is discussed by a panel of experts in a program of the JCPA, the Israel Consulate of New York and Hazon. Wednesday - 8:00pm & 1:30am; Friday – 2:00pm; Saturday - 10:00pm & 4:00am
In The News: Israel-UAE Budding Peace
Months after signing the Abraham Accords, what does Israel-UAE relations look like, and what is being done to promote peace between both countries? Ambassador Eitan Na'eh, Israel's first ever Head of Mission to the UAE, shares his experience. With Shahar Azani. Monday - 6:30pm, 11:30pm; Tuesday - 3:30am, 8:30am & 12:30pm; Saturday - 11:30pm
Thinking Out Loud: With Micha Halperin
"Thinking Out Loud" journalist and commentator, Micah Halpern, discusses the variations in COVID compliance inside synagogues as religious institutions start to reopen (both in Israel and the U.S.) and vaccinations become more widespread also, the shadowy "proxy war" that is happening between Israel and Iran, consisting of torpedo attacks on large ships Wednesday - 6:30pm & 11:30pm; Thursday - 3:30am, 8:30am & 12:30pm
On L'Chayim
Sunday - Witness To Statehood
For Israel's independence day, fifth generation Sabra Rochelle Etingin recounts her experience as a young girl growing up in Israel during the birth of the Jewish State of Israel. A conversation with Mark S. Golub for Yom Ha'atzmaut. Sunday - 12 Noon & 6:00pm; Monday – 3:00pm
Monday: Settler Leader Dilmoni
Yigal Dilmoni, CEO of the Yesha Council of communities on the West Ridge (West Bank) of Israel, describes plans to expand settler communities and shares his perspective on the Israel-Palestinian conflict.
Monday - 9:00pm & 12 Midnight; Tuesday - 3:00pm
Tuesday: Dershowitz, Abrams, Strossen
Three giants in the field of First Amendment Law – Floyd Abrams (Supreme Court Litigant), Alan Dershowitz (Harvard Law) & Nadine Strossen (ACLU) explore concepts of "Free Speech," "Hate Speech" and "Cancel Culture." 2-Hr special. Tuesday - 9:00pm & 2:00am; Wednesday - 3:00pm
Wednesday: Cast of Shtisel
Three stars of the hit Israeli series Shtisel -- Michael Aloni (Kive), Dov Glickman (Shulem) and Neta Riskin (Giti) -- speak about their Jewish backgrounds and how playing Chasidic Jews may have changed their Jewish identities. Wednesday - 9:00pm & Midnight; Thursday - 3:00pm
Thursday: Actress Ayelet Zurer
Award-winning Israeli Actress Ayelet Zurer discusses her feelings about acting and creating art, and describes portraying the Haredi widow "Elisheva" on the hit Israeli series on Netflix, Shtisel. Thursday - 9:00pm & Midnight; Friday - 3:00pm
Saturday: Team Israel Baseball
From Israel's National Baseball Team, Eric Holtz (Manager), Eric Brodkowitz (Pitcher) and Peter Kurz (General Manager) discuss the thrill of the team's winning a spot for the first time in the Olympics (Summer 2021 in Tokyo).
Saturday - 6:00pm
JEWISH STUDIES
Talmud Study: Ecology and Torah
A fascinating explanation of the Jewish view of "nature"--how nature is like looking into the mind of God is presented on this edition of "Dimensions of the Daf" Sunday - 9:00am; Tuesday - 9:00am & 4:30pm; Thursday - 7:00pm; Friday - 4:00am
Talmud Study: Capital Punishment
Rabbi Mordechai Becher discusses the Talmudic view of Capital Punishment and the strict restrictions on its application. Sunday - 9:30am;Tuesday - 9:30am & 5:00pm; Thursday - 7:30pm; Friday - 4:30am
From The Aleph Bet: Lesson 15
Complete the Hebrew alphabet and learn to read an important word containing a "Vuv," on this episode on "From the Aleph-Bet" series 1. Monday - 9:00am & 4:30pm; Tuesday - 7:00pm; Wednesday - 4:30am; Thursday - 1:00pm; Saturday - 8:00am
Jewish 101: Torah Poetry
Is the Torah "poetry" according to the Jewish Tradition? And what is the "essence" of Torah? Wednesday - 9:00am; Friday - 1:00pm
92nd Street Y: David Grossman
Israeli author David Grossman discusses his novel A Horse Walks into a Bar and parts of the book are read aloud and performed. From the 92nd Street Y in New York with fellow author Nicole Krauss. Sunday - 8:00pm & 2:00am; Monday - 10:00pm; Tuesday - 4:00am & 10:30am; Wednesday - 10:30am; Saturday - 1:00am & 4:00pm
Friday Evening Shabbat Services
Reform: Central Synagogue 6:00pm, 11:30pm & 2:00am
Orthodox: Hampton Synagogue With Hebrew, Transliteration and English subtitles 7:30pm & 10:30pm
Saturday Morning Shabbat Service
Reform:Central Synagogue 9:30am & 1p
Orthodox: Hampton Synagogue With Hebrew, Transliteration and English subtitles 11:00am & 2:30pm
Edith Samers Vice President 203.536.6914 (cell phone) JBS Jewish Broadcasting Service, a 501c3 fulltime television channel Website: jbstv.org
APRIL IS AUTISM AWARENESS MONTH
Join us on Thursday, April 22 at 7:30 p.m. for Severe Autism: A Conversation For Caregivers via Zoom
WITH SPEAKERS:
Dr. Michael Alessandri, Executive Director, University of Miami-Nova Southeastern University Center for Autism and Related Disabilities
Amy S. F. Lutz, Author, Founding Board Member, National Council on Severe Autism
Nancy Zaretsky, Inclusion Specialist, Greater Miami Jewish Federation
When: April 25, 2021 9:00 AM
Where: Tropical Park 7900 SW 40th Street Miami, FL 33155
Contact: Russell Eckert at russelle@friendshipcirclemiami.org ((305) 234-5654)
Cost: $25 entry fee
Summary: Walking4Friendship raises crucial funds and awareness that benefit children and adults with special needs. http://friendshipcirclemiami.org
When: April 22, 2021 7:00 PM to 8:00 PM
Where: Alper JCC 11155 SW 112 Ave Miami, FL 33176
Organizer: Jenine Simon
Contact: Jenine Simon at jsimon@alperjcc.org ((305) 271-9000 251)
Cost: $20, children under 12 are free
Summary: Join the JCC for an outdoor concert featuring award-winning cellist, Ashley Garritson accompanied by Dr. Marie Jureit-Beamish on piano.
APRIL 22 at 7:00 pm $20 per person children under 12 Free
Please join us at JWorks Miami free Networking and Informational Interview Skills Workshop on Thursday, May 20th, 10:30am-12:30 pm. We hope you can attend this morning session! The workshop will begin promptly at 10:30am, please arrive a few minutes prior and dress to impress. Business casual is recommended and video is required.
Please RSVP at JWorks Miami event - your RSVP is required!
This is going to be a great workshop, we will be providing useful advice on how to build a network for greater success! Some of the topics to be covered include: What is networking? How to craft an impactful elevator pitch Networking tips to expand your circle Hidden job market Informational interview The idea is to develop a network of friendly people who share information to help each other. It is best known as a strategy for opening the hidden job market, for getting a good job. Because many jobs (some would say most) are not advertised, it is essential that you develop friendly relationships with people who can tip you off to job openings -- perhaps even introduce you to the person who is doing the hiring. There is some truth in, "It's not what you know, but who you know."
This is a great opportunity to network and also brush up on your job search skills. Our events are also a great opportunity for JWorks Miami staff to get to know you! Please note, we are unable to refer you to available opportunities unless we have met you in person.
If you have any questions please visit our website or call us at 305-403-6554.
We look forward to seeing you!
The JWorks Miami Team JWorks Miami is a partnership of the Greater Miami Jewish Federation and Jewish Community Services of South Florida www.jworksmiami.org jobs@jworksmiami.org 305-403-6554
Follow us! LinkedIn Facebook Instagram
New Documentary
Dates: April 14 - 29
Location: Virtual Screening at the Miami Jewish Film Festival
Ticket Price: FREE
Summary:
Imprisoned by the Soviets. Orphaned by the Holocaust. Elected Prime Minister. Crowned peacemaker by the Nobel Prize Committee. Disgraced by the Lebanon War. Menachem Begin was a pillar of the State of Israel and a tireless fighter for the Jewish people. He was, at the same time, a controversial leader.
His life is a nuanced and complicated canvas that tells the story of key events in the history of modern Israel and its relationship to its Middle East neighbors. With evocative imagery, rarely seen archival materials, and revealing interviews with those who knew him, UPHEAVAL portrays the life and essence of this brilliant, tough, complex, loving, and proud man who never compromised when the survival of Israel and the Jewish people were at stake.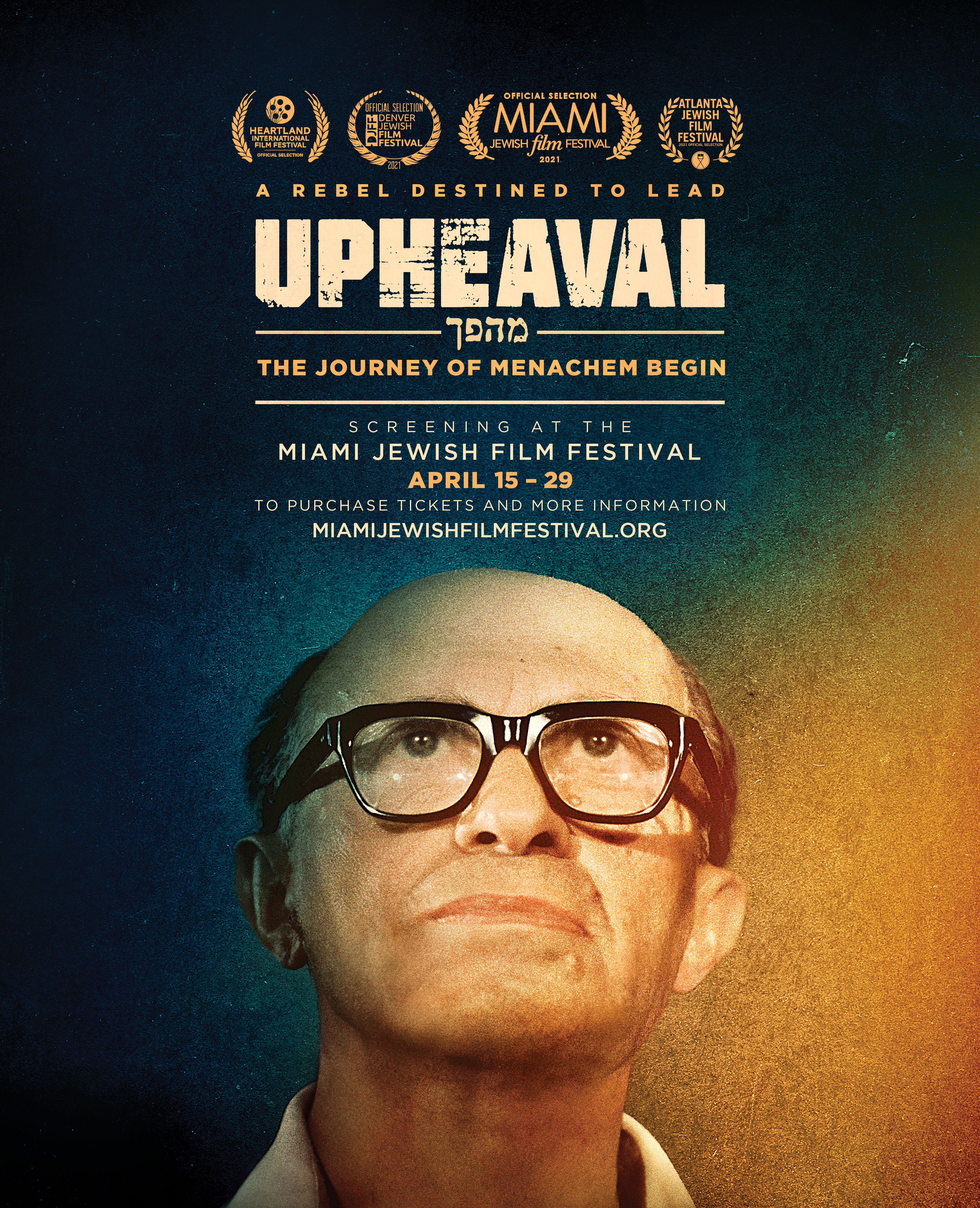 Eshel Has Launched Its First-Ever Grandparents Group!
Grandparents with LGBTQ+ grandchildren from traditional communities gather and learn how to understand and support an LGBTQ+ grandchild and their family. The purpose of this group is to meet and socialize with other grandparents, to gain support from one another, and to share experiences.
Where: Zoom. Login information is sent via email to those who have registered.
When: The second Wednesday of each month at 8:00 pm – 9:00 pm EST. The next meeting will be held on April 14, 2021.
Click here to register. For inquiries, call 724-374-3501
Funded by Greater Miami Jewish Federation
Confidentiality honored
A virtual event with author Lisa Novick Goldberg...The true story of how a Jewish New Yorker's familial relations to the Mafia profoundly shaped her life.
DATE: April 22, 2021
TIME: 11:00am
Zoom Link provided upon RSVP
To RSVP: Click here