Join us on Shavuot as we hear the 10 commandments read from the Torah Scroll and enjoy a delicious Ice Cream Party with 49+ Topping Combos and a full Kids Program!
Sunday, June 9, 10:30am The Family Shul, 2601 NE 211 Terr, Miami, FL 33180
Information at (305) 770-1919 or www.ChabadChayil.org
Saturday, June 1st, 10:30 am Chabad Chayil, 2601 NE 211 Terr. Miami, FL 33180
Inviting all children (and parents!) to a Mega Kids Shabbat Party! Celebrating all of those who have a birthday in the Hebrew month of Sivan! Everyone is invited so please join us for Tefillah, Treats, Games, and Special Entertainment!
RSVP at www.ChabadChayil.org/3825418
Learn about your Jewish birthday at http://www.chabadchayil.org/birthday
ASYMMETRIES is a visual journey through 40 pairs of images that depict the unimaginable contrasts the Jewish people have had to endure over the last 80 years, from dehumanization and mass murder in the Holocaust to a renaissance of Jewish life in the State of Israel.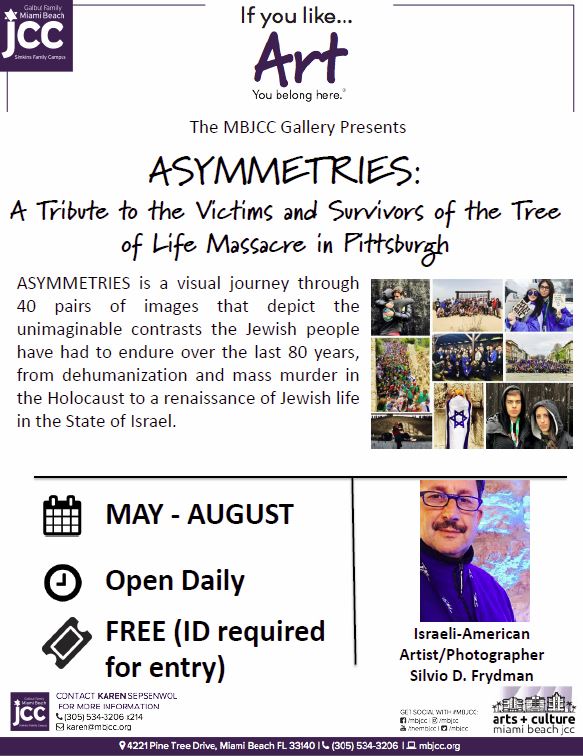 Posted by focifo on 05/21/2019 @ 06:01 AM
Essays are common in elementary, middle, high school and college, and you may even need to write essays in the business world (although they are usually called "reports" at that point). An essay is defined as "a short piece of writing that expresses information as well as the writer's opinion.
Got Essay Due Tomorrow? Paper-now is the place where you can get urgent help with essays 24/7. Simply place your order and download the professionally written paper three hours later! The best writing help from a TOP term paper writers Before discussing the custom term paper writing services, it's important to figure out what term papers are and how they should be written.
A term paper is a research assignment that must be completed by the end of the semester. It is used to evaluate the comprehension capability of a student as well as to award academic scores. It can contain a broad topic or a set of questions that compile the subject for thorough research.
To write a proper term paper, one should adhere the following structure
1) Cover page: On the first page, a student must indicate the topic, their name and that of their tutor and the submission date. The arrangement of these components can vary based on the requirements of the assignment.
2) Abstract: This is a brief introduction of the details you want to analyze in the paper. When read, a person can know the content of the paper and the flow of ideas.
3) Introduction: An introduction should be placed right after the abstract. This section should contain background information about the matter in hand. In the end, an explanation of how ideas will be discussed must be given.
4) Discussion/Body: This is where an in-depth analysis of the topic is written. It is a compilation of the research findings. If sources are used, proper citations must be provided. Transitional words must be used to create an excellent flow of the work and enable a reader to move from one idea to the other.
5) Results: Here, indicate how the findings in your study have influenced your thinking about the topic. Moreover, indicate the shortcomings of the research and give recommendations. You should also let the writer know if more research is required on the subject.
6) Conclusion: You should finish your term paper by briefly summarizing all the information that you have discussed in the paper.
7) References: After the conclusion, indicate all the sources that you have used to gather or support your points. When it comes to custom paper writing, the reference and cover page sections are not considered in the word count. essay writing
Shabbat Lag b'Omer.
Welcome to the Rebbe's Table. A Kabbalistic evening with special dishes and stories.
Each guest will receive Kabbalistic treasures.
Friday, May 24th
Temple Emanu-El of South Beach 1701 Washington Ave Miami Beach, Florida 33139
RSVP at www.tesobe.org or ca (305) 538-2503.
$36 pp. $14 bottle of wine.
For a complete and timely schedule, go to www.jbstv.org
92Y: Jonathan Sacks - Extremism
Rabbi Lord Jonathan Sacks, former Chief Rabbi of the UK and author of "Not In God's Name," discusses "altruistic evil" and the need to confront religious violence and intolerance in our times. L'Chayim: Transcending Loss Tonight (Sunday) - 8pm & 1:30am; Monday - 10pm & 4am; Wednesday - 10:30am; Friday - 8pm & 1am; Saturday - 3pm
AIPAC 2019: Nikki Haley
Former U.N. Ambassador Nikki Haley addresses the 2019 AIPAC National Policy Conference in Washington, D.C. Monday - 9:40am & 5:10pm
Jewish Cinematheque-Sasson Gabay
Veteran Israeli actor Sasson Gabay discusses playing the lead role in "The Band's Visit" in both the movie (for which he won an Israeli Ophir Award) and as a replacement for Tony Shalhoub in the Tony Award winning Broadway production. With Eric Goldman. Monday - 7:30pm; Tuesday - 2am; Wednesday - 1:30pm
AZM: Uri Regev-Religious Diversity
Israeli Reform Rabbi Uri Regev (CEO of Hiddush - For Religious Freedom and Equality) discusses the challenge of creating a unified State of Israel that is both Jewish and democratic.At the 2019 American Zionist Movement Biennial Assembly in NYC. Monday - 8pm & 1am; Wednesday - 2pm; Saturday - 8pm & 2am
L'Chayim: Miss Israel (Titi)
"Titi" Aynaw discusses her journey from her hometown in Ethiopia to aliyah to Israel, to serving in the IDF, to becoming the first Ethiopian Miss Israel in 2013. Today (Sunday) - Noon & 6pm; Monday - 3pm
L'Chayim: Abe Foxman, Pt 1
Abe Foxman, who had a 50 year career with the ADL and served for 28 as its National Director, reflects upon his extraordinary story of survival -- becoming a "Hidden Child" cared for by his Polish Christian Nanny, who after the war bitterly fought Abe's natural parents for custody Monday - 9pm & Midnight; Tuesday – 3pm
L'Chayim: Abe Foxman, Pt 2
In part two, Abe Foxman discusses the way in which critique in the Jewish community has become a "blood sport;" the controversies over his successor, Jonathan Greenblatt; and controversy over "inclusiveness" in the Jewish community and J Street. Tuesday - 9pm & Midnight; Wednesday - 3pm
For Lag B'Omer Jewish 101-Not Good To Be Alone
What is the first evil of human existence and what is at the heart of being a complete human being? These are questions addressed in the Jewish reading of Genesis Chapter 2 in an ongoing study of Jewish values. Wednesday - 9am & 4:30pm
Talmud: Marriage
"Eight Blessings One Wedding," on the theme of marriage as found in Talmud tractates Kesuvos 7 and 8, is presented by Rabbi Mordechai Becher on this episode of JBS's "Dimensions of the Daf," an original series on Talmud study. Wednesday - 7:40pm & 4:30am
Finding A Mate - Neil Maron (UTJ)
Clinical psychologist and family therapist Neil Maron contrasts the idea of B'shert and the importance of being open-minded in dating. From the Union for Traditional Judaism's "Finding Love in the Jewish Community." At Long Beach Hotel in Long Beach, NY. Wednesday - 8:20pm & 5:20am
Online Dating
Marc Goldmann, founder of Jewish online dating service "Saw You At Sinai," discusses the role of online dating in finding a mate. From the Union for Traditional Judaism's "Finding Love in the Jewish Community." At Long Beach Hotel in Long Beach, NY.
Thursday - 7:30pm & 4am; Friday - 4:30am
Timeless: Love, Morgenthau & Me
Pulitzer Prize-winner Lucinda Franks discusses her new memoir, "Timeless: Love, Morgenthau and Me" with her husband, former Manhattan D.A. Robert M. Morgenthau, and former CBS News anchor Dan Rather. At The Skirball Center of Temple Emanu-El in NYC. Thursday - 8pm & 1am; Friday - 2pm
L'Chayim: Love for Lag B'Omer Dr. Aaron Ben Ze'ev, former President of the University of Haifa, professor of philosophy and author of "Love Online", sits to discuss the psychology of love. Thursday 9pm and Midnight; Friday 3pm
UTJ: Shidduch (Marriage) Crisis
Sharon Weiss-Greenberg (Exec. Dir, Jewish Orthodox Feminist Alliance) discusses her research on Orthodox Jews' feelings towards dating. From the Union for Traditional Judaism's "Finding Love in the Jewish Community." Long Beach Hotel, Long Beach, NY. Thursday - 10pm; Friday - 2am
For Memorial Day UTJ: Shidduch (Marriage) Crisis
Sharon Weiss-Greenberg (Exec. Dir, Jewish Orthodox Feminist Alliance) discusses her research on Orthodox Jews' feelings towards dating. From the Union for Traditional Judaism's "Finding Love in the Jewish Community." Long Beach Hotel, Long Beach, NY. Thursday - 10pm; Friday - 2am
PREMIER Kabbalat Shabbat Service from the Hampton Synagogue
JBS presents the Kabbalat Shabbat Service from Hampton Synagogue in Westhampton, New York, one of the premiere modern Orthodox synagogues on the American Jewish scene, with founding Rabbi Marc Schneier, Cantor Netanel Hershtik and Maestro Izchak Haimov and the Hampton Synagogue choir. Friday Night - 7pm
Central Synagogue Services
Following the Kabbalat Shabbat Service, JBS will televise Friday Night Services from New York's Central Synagogue, one of the leading Reform synagogues in America. Friday Night - 7:35pm & 11pm
Edith Samers Vice President 203.536.6914 (cell phone) JBS Jewish Broadcasting Service, a 501c3 fulltime television channel
Chabad Chayil, 2601 NE 211 Terrace, North Miami Beach, FL 33180 Starting June 12 for Boys & Girls, Ages 4-9! Includes: Field Trips, Swimming, Cooking, Sports, Arts & Crafts, Survival, Crazy Science, Kabala 101, Team Building & Tons of Fun! Includes Breakfast, Snacks, Hot Lunch, Early drop-off & late pick-up!
Information at www.ChabadChayil.org/camp or (305) 770-1919
Thursday, May 23, 3:30pm Highland Oaks Park Laser Tag | Parade-A-Thon | Music Games BBQ Dinner | Fun for Everyone | No Charge Jump-start the Parade-A-Thon now &/or RSVP at (305) 770-1919 or ChabadChayil.org/parade
Join the FIDF YL on Friday, May 31st, 2019 at a very special Sushi Shabbat Dinner featuring IDF soldier guest speaker as we celebrate the 52nd Jerusalem Day and honor the soldiers who defend Israel and their sacrifices made on Jerusalem Day.
Event Chairs: Nicole Gomez, Joanna Kohen & Jennie Rimon
Cost: $75pp - Limited seating. Must RSVP by 5/29
Includes: Pre-fixed FIsh, Sushi & Tapas Dinner (Dietary laws observed)
Date: Friday, May 31, 2019
Time: 7pm Cocktails, 8pm Kiddush & Dinner
Location: 26 Sushi &Tapas (9487 Harding Ave Surfside, FL 33154)
To RSVP: www.FIDF.org/JerusalemDayShabbat or call 305-354-8233
Event and Table Sponsorship opportunities are available. Please contact Elana Kashti for more info at Elana.Kashti@fidf.org or call 305-354-8233
Friends of the Israel Defense Forces is a 501(c)(3) not for profit organization. Contributions are tax-deductible to the extent permitted by law. The portion of your contribution deemed to be for goods and services will not be deductible.
Join The Network for Mitzvahs & Mimosas
GIVE A CHALLAH. GET A CHALLAH. Make a challah for yourself and a second* to share with families in need.
Sunday, May 19 | 11 a.m. CIC Miami 1951 NW 7th Avenue, Suite 600, Miami $18 per person (Couvert is not tax-deductible) Includes brunch and mimosas plus ingredients and cooking utensils for making challah.
For more information, please contact Johana Wiznitzer at jwiznitzer@gmjf.org or 786.866.8653.