Join PJ Library, the Network and the Jewish Volunteer Center as we model kindness and teach gratitude.
During these difficult times, it is more important than ever to appreciate all our blessings – both large and small. To help, our Jewish tradition teaches us about the concept of hakarat hatov, which translates to "recognizing the good" all around us. Practicing this Jewish value helps children (and us grownups!) remember to be thankful for our lives.
This month, through the "13th Annual Season of Giving: Reimagined", we invite all families to help others and use these experiences to engage your children in the practice of gratitude.
As PJ Library families, we are grateful for all we have and have made a special commitment to support our Community Toy Drive.
Please join us in making this holiday season special for less-advantaged kids by purchasing toys. Confirm your participation here (https://jewishmiami.org/resources/community_directory/events/rsvp/network_jvc_toy_drive_w_pj_library_rsvp/) and you'll receive both a link to our Amazon Wish List and a special "PJ Library Gratitude Fun Guide" which will help you teach your kids about gratitude and instill a lasting practice of hakarat hatov in your home.
Thank you for joining us and helping to make this holiday season special for all!
PJ LIBRARY KIDS: SHINE YOUR LIGHT!
At Chanukah, we celebrate how light – in all its forms – can triumph over any darkness. Creating this light in every moment and every interaction is a choice. Whether it's a meal for someone hungry, support for a friend in crisis or simply a smile and kind word for someone in need, making light is what it's about.
On December 13 at 3:00 pm, we will make all kinds of light as we enjoy a Chanukah story time, create our very own Dreidel Suncatchers and build delicious Marshmallow Menorahs!
Experience the beauty of Chanukah, from the comfort of your own home, Join us because together, we shine so bright!!
You'll need the following supplies: Paper Scissors Contact paper Tissue paper Marshmallows Frosting Sprinkles Gelt (chocolate coins) Pretzel sticks
Conveniently shop for missing supplies here: https://smile.amazon.com/hz/wishlist/ls/3O2IRTUABUT76?&sort=default
ZOOM link provided with RSVP RSVP here: https://jewishmiami.org/resources/community_directory/events/rsvp/pj_library_chanukah_at_mcm_event_rsvp
Start Up Your Future with Miami's Onward Israel Summer 2021 Internship in Tel Aviv
June 2 – July 27, 2021
Apply now, space is limited!
Miami's Onward Israel Internship in Tel Aviv offers exciting and immersive resume building opportunities. This highly subsidized eight-week summer internship provides a global, cross-cultural experience in Israel while working with Israeli peers.
Live in Tel Aviv while developing your professional future.
Work in your area of interest according to your skills.
Build your resume through a highly subsidized eight-week internship.
Onward Israel is intended for Jewish undergraduate students between the ages of 19-27.
Miami's Onward Israel summer internship in Tel Aviv is operated through a partnership between the Beacon and Shapira Foundations and other leading philanthropists, The Jewish Agency for Israel, Masa Israel Journey, and the Greater Miami Jewish Federation. Trip organizer: Tlalim.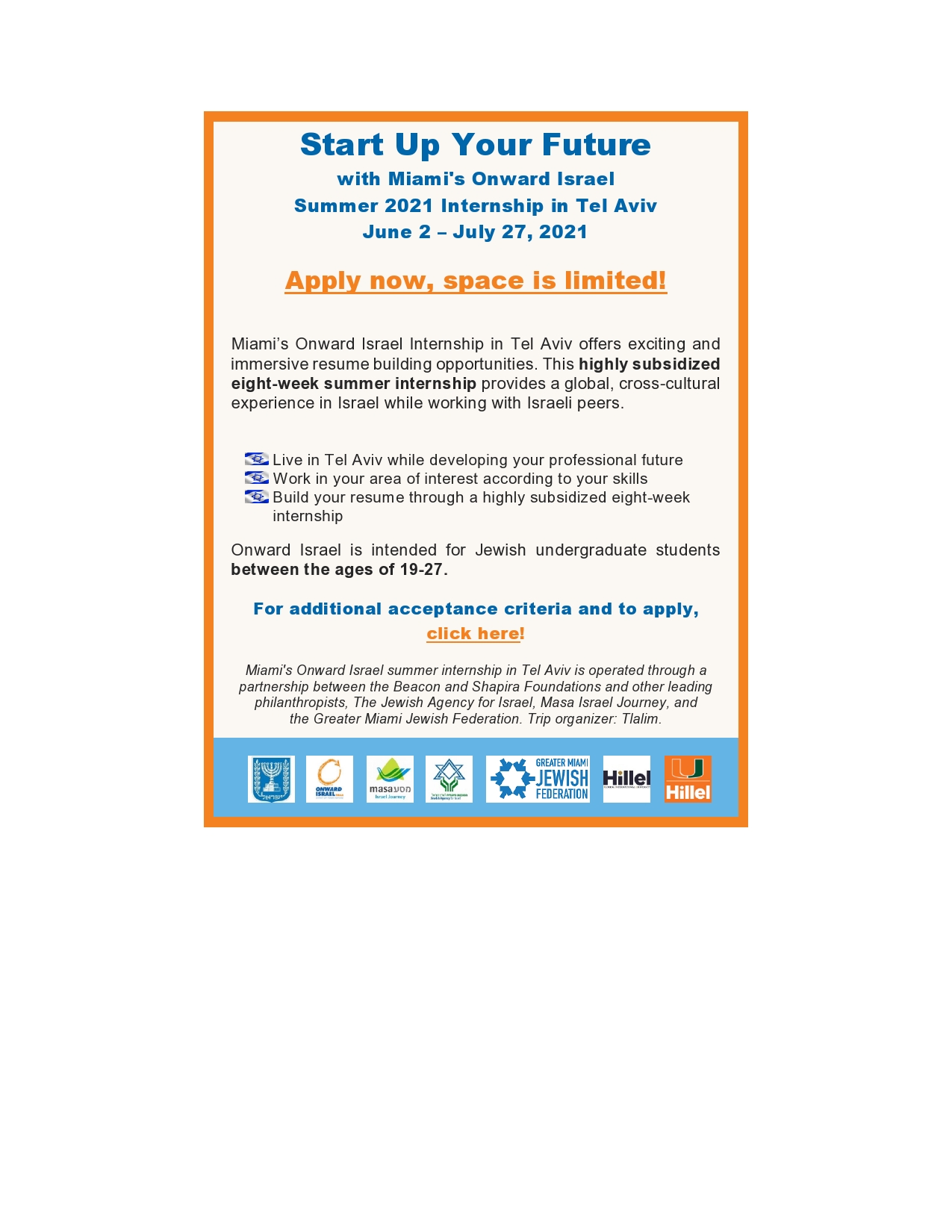 Watch JBS on Atlantic Broadband Ch168, Hotwire Ch269, Fios Ch798, DirecTV Ch388, Blue Stream Ch 110, streamed on Roku under "educational", Apple TV, Fire TV and jbstv.org. For a complete and timely schedule and other television providers, go to www.jbstv.org
Jewish Cinema: Peaches & Cream
Israeli director and actor Gur Bentwich and Israeli actor Alon Abutbul discuss Bentwich's award-winning film "Peaches and Cream" -- about a director trying to rescue his failed movie. With Jewish film scholar Eric Goldman on JBS's Jewish Cinematheque. Monday - 7:30pm & 2:00am; Wednesday - 1:30pm & 4:30am; Saturday - 10:00pm & 1:00am
AJC: Daniel Gordis on 2 States
Daniel Gordis, Senior VP at Shalem College in Israel, explains the reasons he still believes in the Two-State Solution and discusses why some American Jews have grown distant from Israel. With Laura Shaw Frank by AJC Advocacy Anywhere (2020). Monday - 8:00pm & 1:00am; Wednesday - 2:00pm; Saturday - 7pm
Jewish Book Month: Meryl Ain
Author Meryl Ain reads excerpts from her novel "The Takeaway Men" and discusses themes of the book. For Jewish Book Month, an Author Series by the Hampton Synagogue of Westhampton Beach, NY with Rabbi Avraham Bronstein. Wednesday - 7:00pm & 4:00am; Saturday - 10:30pm & 1:30am
Haifa U. & Academic Diversity
Prof. Ron Robin, Pres of Haifa University, discusses with Tammy Ben-Haim (Israeli Embassy in DC) diverse ethnic and socio-economic backgrounds of its 1,800 students and its "Multiversity." By American Friends of University of Haifa and Israeli Embassy. Wednesday - 8pm & 1:30am; Friday - 2pm; Saturday - 8pm & 2:00am
L'Chayim Roundtable: Biden & Israel
Steve Bayme (social commentator), Dovid Efune (Editor, Algeheime), Betty Ehrenberg (North America Director, World Jewish Congress) and Eric Yoffie (columnist and Pres Emeritus, Union for Reform Judaism) discuss ways in which the Biden Administration may change U.S. policies on Iran, funding the Palestinians, and on details of a two-state solution from those of Donald Trump. With Mark S. Golub. Wednesday - 9pm & Midnight; Thursday - 3:00 pm; Sunday 11/22 - 12 Noon & 6pm
Sunday: Itamar Marcus
Itamar Marcus of "Palestinian Media Watch," which monitors what Palestinians say in Arabic on PA Television and the PA website, speaks to whether there is a "moderate" Palestinian leadership with which Israel can make peace.
Sunday - 12 Noon; Sunday - 6:00pm; Monday - 3:00pm
New State Solution Pt 1
The founders of an organization dedicated to replacing the Two-State Solution with the "New State Solution," Benjamin Anthony (Our Soldiers Speak) and Brig. Gen (R) Amir Avivi, explain their plan and why Palestinians will accept it.
Monday - 9:00pm & 12 Midnight; Tuesday - 3:00pm
New State Solution Pt 2
In part two of a discussion exploring the idea of a Palestinian state in the Gaza Strip extending into the Egyptian Sinai, Benjamin Anthony and Brig. Gen (R) Amir Avivi continue to explain and defend their "New State Solution."
Tuesday – 9:00pm & 2:00am; Wednesday – 3:00pm
David Wolpe
Rabbi David Wolpe is author of a book on King David, and Senior Rabbi of the Sinai Temple in Los Angeles.
Thursday - 9:00pm & Midnight; Friday - 3:00pm
Hotel Moscow - Talia Carner
Talia Carner, author of four books, describes her Israeli family history that goes back seven generations, her response to anyone who questions Israel's legitimacy, and how her latest novel, "Hotel Moscow," is based on her own trip to Russia in 1993. Saturday - 6:00pm & 12 Midnight
92nd Street Y: Charles Bronfman
One of the Jewish communities leading philanthropists and co-founder of Birthright Israel, Charles Bronfman, discusses his life with Rabbi Peter Rubenstein, Director of Jewish Community and Bronfman Center for Jewish Life at the 92nd Street Y. Sunday – 8:30pm; Monday - 10pm; Tuesday - 4am; Wednesday - 10:30am; Friday - 8pm;Saturday - 1:30am & 4pm
Talmud: Brutal Honesty
How the Talmud requires that honesty be tempered with love is explained by Rabbi Mordechai Becher in a lesson entitled, "Brutal Honesty, Loving Lies" (based on Yevamot 65b) on JBS's original series "Dimensions of the Daf." Sunday Tuesday - 9:00am & 4:30pm; Thursday - 7:00pm; Friday - 2:00am
Talmud: Saul and David
Rabbi Mordechai Becher explores the different ways the Talmud views the first two kings of Israel, King Saul and King David, based on passages from the Biblical Book or Samuel. JBS original series, "Dimensions of the Daf." Sunday - 9:30am; Tuesday - 9:30am & 5:00pm; Thursday - 7:30pm; Friday - 2:30am
Jewish 101: Adam's Sin
The rabbinic explanation for why Adam and Eve were sent from the Garden of Eden (and why Judaism does not view it as the fall of man), and whom Adam and Eve actually look like. Wednesday - 9am & 4:30pm; Friday - 1:00pm
In The News: Tobin on Jewish Vote
Conservative journalist Jonathan Tobin, Editor in Chief of JNS (Jewish News Syndicate), analyzes the increase in the Jewish vote for Donald Trump and discusses the fracture of the Jewish community fueled by a hatred for Trump. With Mark S. Golub.
Sunday - 5:30pm & 11:30pm (2:30pm; Monday - 3:30am, 8:30am & 12:30pm
Jewish Story: Surviving Exile
The story of how, after Jews were exiled from their land, they were sustained in the Diaspora by Torah -- that has enabled the Jewish People to survive over the centuries. "The Jewish Story Explained," a series from OpenDor Media hosted by Rivka Deray. Monday - 7:15pm & 2:00am; Wednesday - 1:15pm
Kabbalat & Friday Evening Shabbat Services
Friday Night
Reform: Central Synagogue Shabbat Services - 6pm, 12 Midnight & 2:30am
Orthodox: Hampton Synagogue Kabbalat Shabbat – 7:30 & 11:00pm
Shabbat Morning
Reform: Central Synagogue Shabbat Morning Services - 9:30am & 1pm
Orthodox: Hampton Synagogue Shabbat Morning Services - 11am & 2:30pm
Edith Samers Vice President 203.536.6914 (cell phone) JBS Jewish Broadcasting Service, a 501c3 fulltime television channel Website: jbstv.org
Wednesday, November 18 at 8 p.m.
Virtual event via Zoom

BEYOND THE GHETTO GATES: A NOVEL
BY MICHELLE CAMERON

Curl up with a good book and then join us online for a discussion with the author. Even if you don't have time to read the book first...we want to see you online!

Dine in with UJG for KOSHER SENIOR NIGHT! Enjoy the luxury of restaurant dining in the safety of your own home. A contactless delivery will be arranged by a UJG volunteer on the last Wednesday of each month. The delivery will include a kosher catered dinner, allowing seniors to be treated to a delicious dinner in the safety of their own home. Click here to sign up for Kosher Senior Night or call: 305-770-4540. If you would like to volunteer by delivering meals to seniors once a month, email: admin@unitedjewishgenerations.com or call 305-770-4540.
Give Miami Day is almost here! This year, you can begin participating early starting on Monday, November 16 through Give Miami Day on Thursday November, 19.
Donate on givemiamiday.org/jewishmiami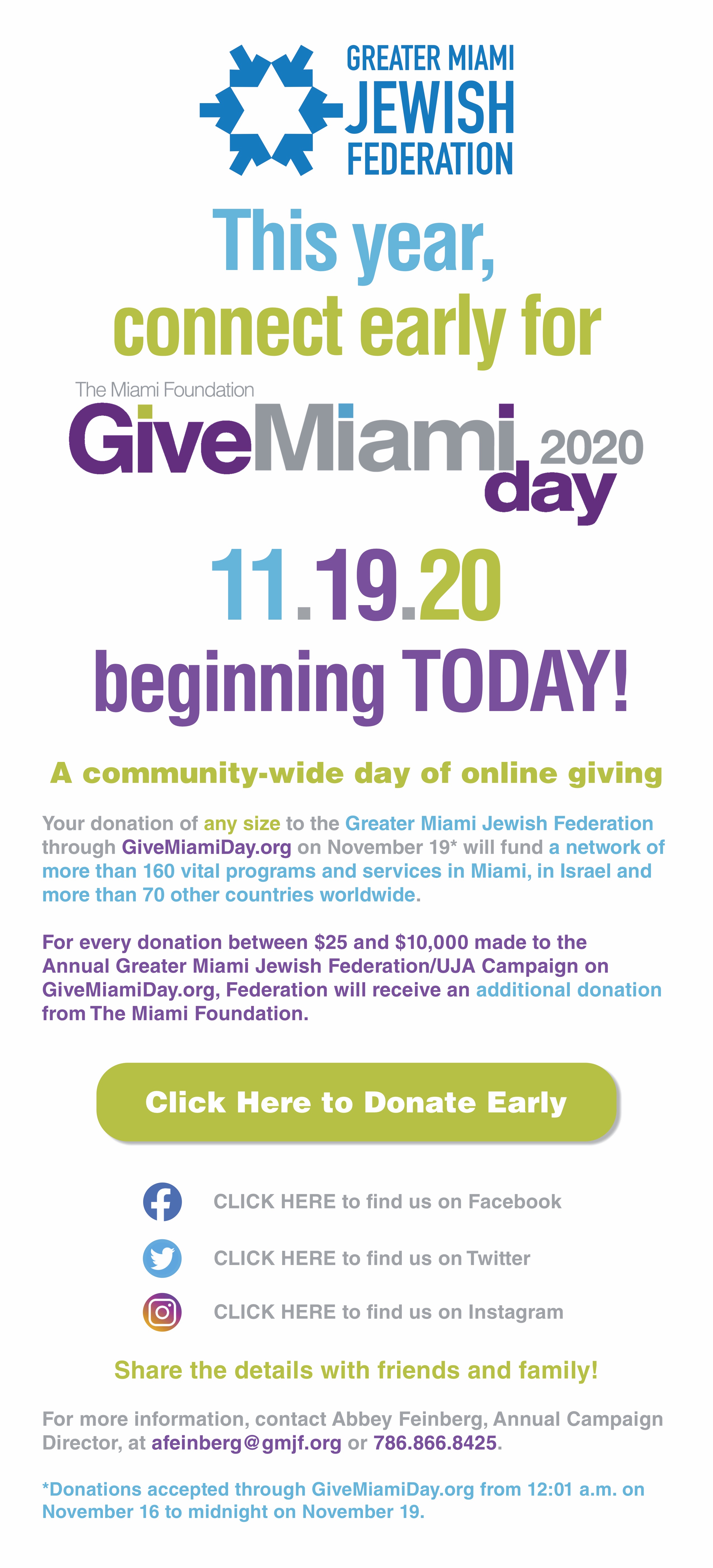 The Greater Miami Jewish Federation has established an Emergency Relief Fund to assist people affected by Hurricane Eta in Central America. As always, Federation will absorb all administrative costs so that 100 percent of funds collected will be used to provide critically needed aid to people in Central America impacted by the disaster.
Our community has decades of experience with hurricanes. We understand the devastation and suffering that follow a catastrophic storm like Hurricane Eta. Even in the midst of our own crisis, let us join together to help people affected — wherever they may live — to rebuild their lives.
Sharsheret: The Jewish Breast & Ovarian Cancer Community supports Jewish women and families facing breast and ovarian cancer. All of the organization's services are available online and over the phone, including peer support, connection to social workers and web-based resources. During a time when immunocompromised women are losing their support networks because of social distancing, these critical resources are incredibly important.