It's Happening In Miami
Posts by rabbismith
How We Win: Guest Speaker David Nesenoff
Thursday, November 30, 12:30 PM
Hello Retirees! Please join our Free Monthly Jewish Social Club and Luncheon called Cafe Chai. This week's guest is the dynamic and mesmerizing speaker and activist David Nesenoff.
Meet new people, socialize, be Inspired and enjoy delicious kosher catering. For information or to RSVP, contact [email protected] or call (305) 770-4540.
LOCATION: Marjorie & William McDonald Center, 17051 NE 19th Avenue, North Miami Beach
CLICK FOR INFORMATION AND TO RSVP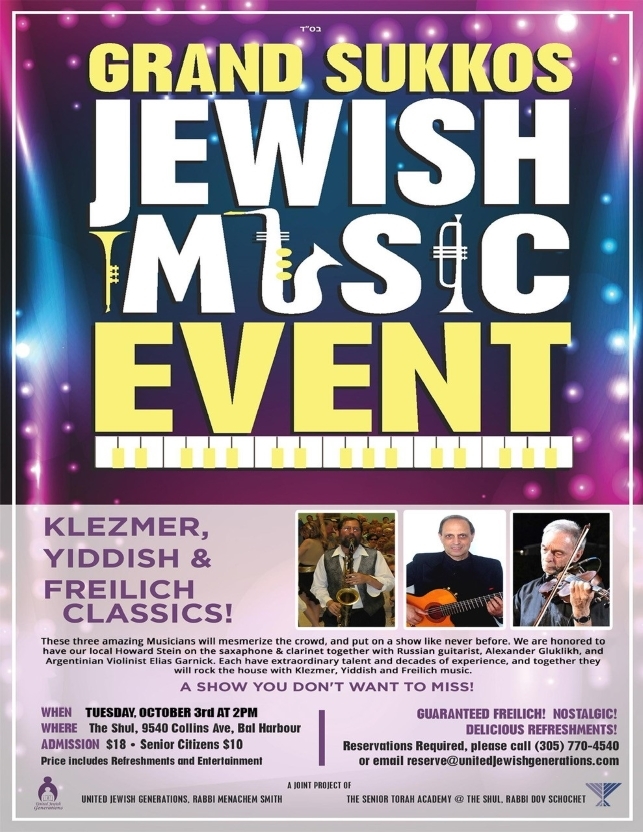 Grand Sukkah Party with Klezmer Music
Tuesday, October 3rd at 2PM at the Shul of Bal Harbour, 9540 Collins Ave
Admission:$10 for Seniors, $18 for everyone else
Please reserve by calling (305) 770-4540 or email [email protected]
Shana Tova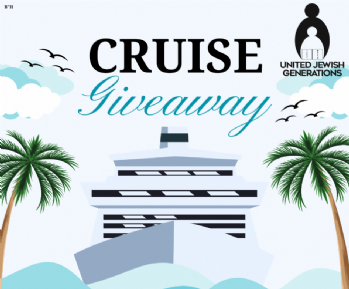 United Jewish Generations is running a survey to find out about the interests of Jewish retirees and seniors.
Dear Senior or Retiree, Your valuable input will help us meet your needs and the needs of your colleagues by providing engaging programs with relevant content.
If you are a retiree or a senior, please take 3 minutes and fill out their survey and you could be the winner of a *FREE CRUISE FOR 2.
WWW.JewishRetiree.com
Copy and paste the website and click on the Survey to win free Cruise for 2
May you be blessed with a sweet, happy and healthy new year
*More details for the cruise, are found on the survey page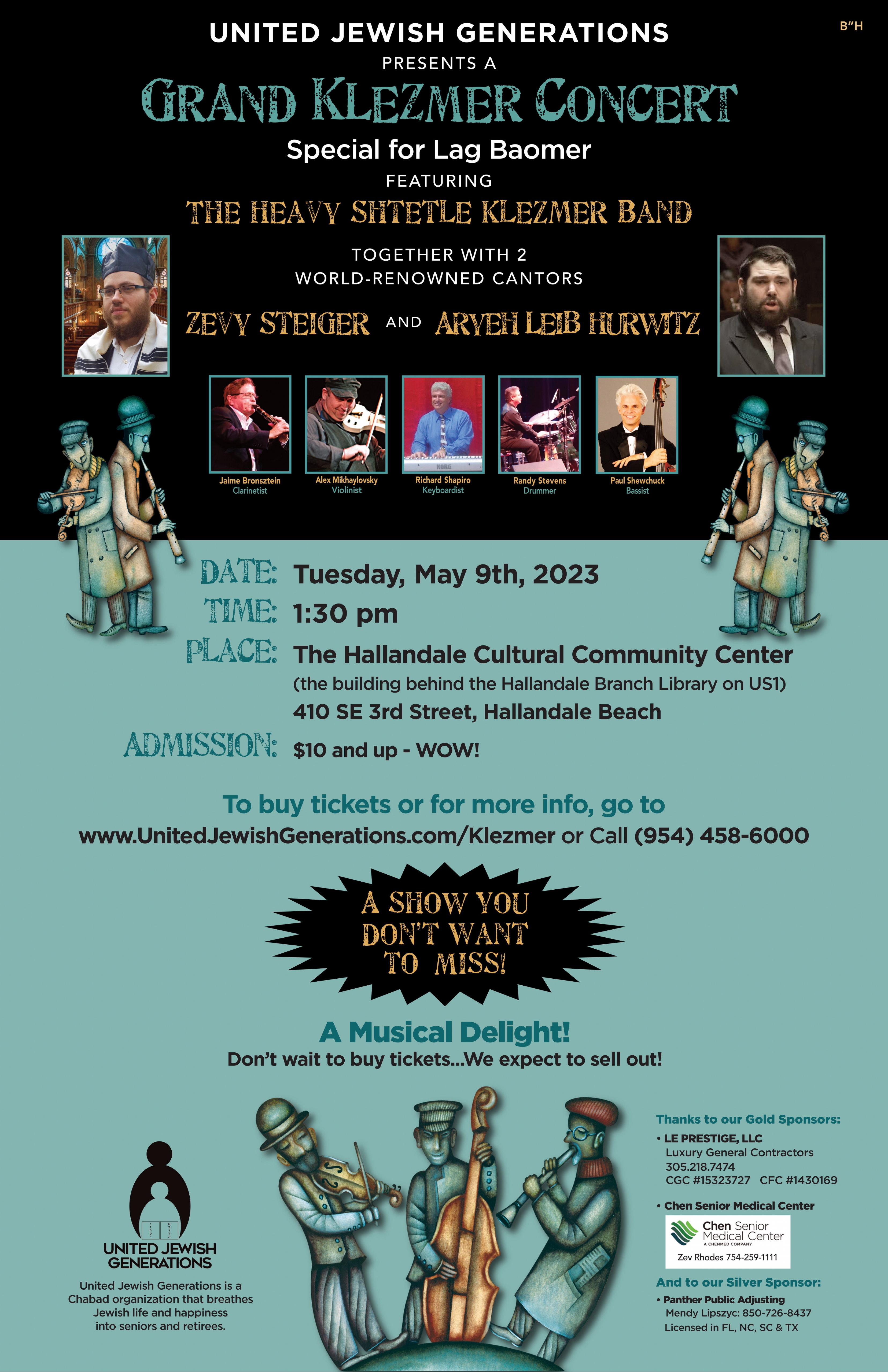 This concert is like no other! Amazing musicians and cantors, great fun and inspiration. A SHOW YOU DON'T WANT TO MISS! Tickets are very reasonably priced.
PURCHASE TICKETS ONLINE AT WWW.UnitedJewishGenerations.com/klezmer or in person at Aspaclaria Judaica (CASH ONLY) at 18240 W Dixie Highway, Aventura. If you need help purchasing tickets or need transportation, please call (954) 458-6000.
We look forward to greeting you at this concert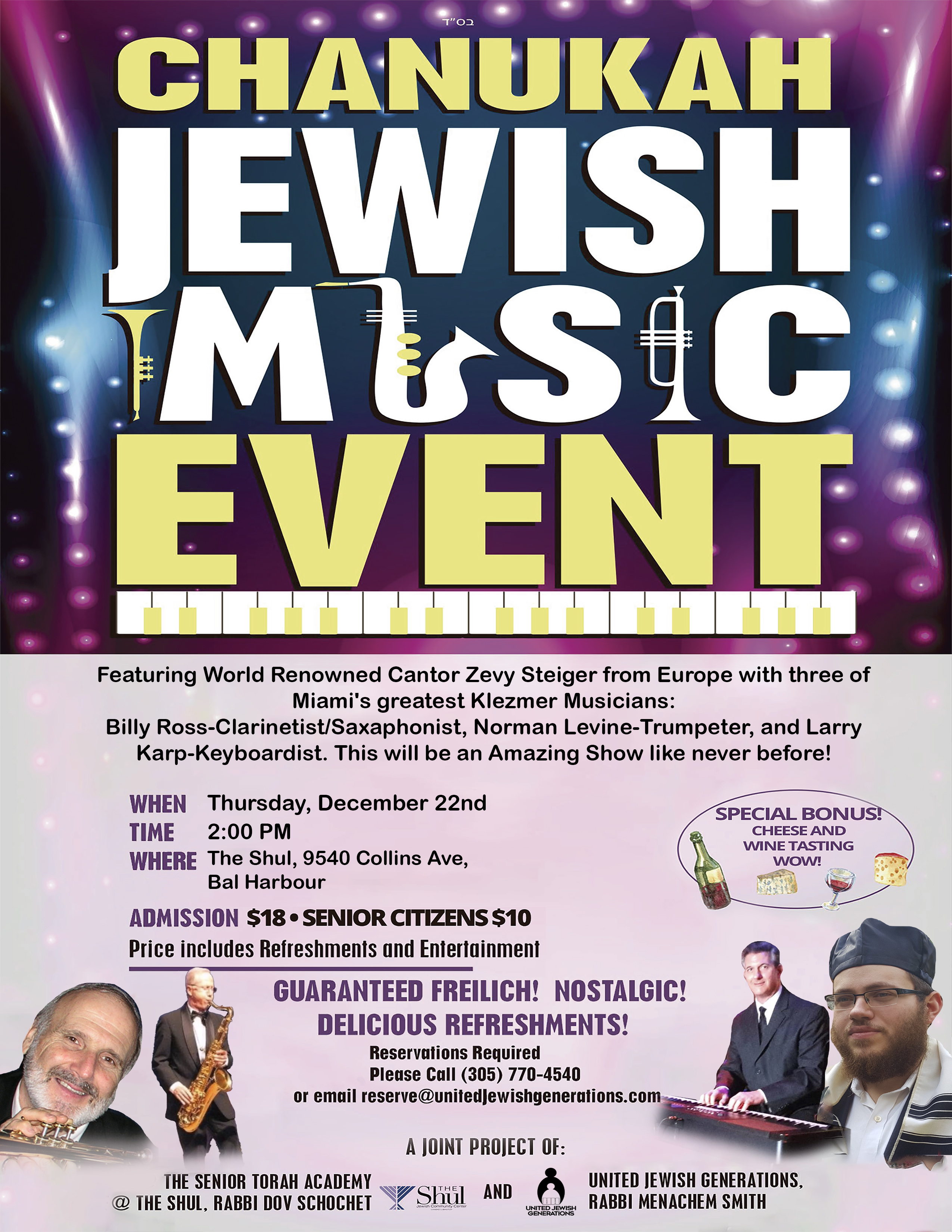 This is a show you don't want to miss!
Please reserve by email or by phone: [email protected] or (305) 770-4540
Happy Chanukah
United Jewish Generations has developed a program that retirees and seniors can enjoy from the comfort of their own homes. The Levi Yitzchok Senior Academy is an interactive Zoom class on Judaic topics with many seniors participating and interacting together online.
Their newest course is called "Jewish History in a FLASH," which will be starting on Thursday, Dec 1 st at 3 PM online. Join us and you may gain more knowledge in these 4 classes than you gained in years of Hebrew School! We are honored to have International Lecturer, Ronnie Halibard, the course author, to present this powerful course. There is a fee of $72 to join, but there are scholarships that can cover that fee. The classes will take place on Dec 1, 8, 15, and 29th from 3 pm-4 pm. To join, please sign up at JewishSeniorAcademy.com For more info, please email [email protected] or call (954) 458-6000.
The Levi Yitzchok Senior Academy is a project of United Jewish Generations, a Chabad organization for retirees and seniors. They offer numerous services to the community including visitations and social events. The Senior Academy offers many programs on Zoom so that senior citizens around the world can participate. They offer daily classes for men and women. If you know of any retiree or senior citizen that may be interested, please share this info.
Join United Jewish Generations on Wednesday, October 12 at 2:00 p.m. for our annual Sukkot event featuring the world-famous Klezmer musicians! This will be taking place at The Shul, 9540 Collins Avenue, Bal Harbour. Admission - $18 | Senior Citizens - $10. We hope to see you! RSVP at unitedjewishgenerations.com/sukkotevent
Please join our Zoom series of 5 classes presentation by acclaimed author and lecturer Rabbi Yisrael Rice. These classes will serve as a spiritual preparation for Rosh Hashanah,Yom Kippur and Sukkos.
This 5 class series is based on a Chassidic discourse explaining the special month before the holidays meant to develop our closeness to G-d. The course will begin on Wednesday, August 31st, at 3PM and will continue every Wednesday at 3PM for a total of 5 classes.
Rabbi Yisrael Rice is Head shliach of Marin County, Calif.. He is also the Chairman of the Editorial Board for the Rohr Jewish Learning Institute and a member of its Executive Committee. He has authored many courses on Mystical Jewish Life, and has now published The Four Keys of Kabbalah.
Please sign up for this course on our Website JewishSeniorAcademy.com For more info, please call Rabbi Smith at (954) 458-6000
If you are retired and would like to stay healthy, this is for you. Keeping the mind stimulated, socializing, voicing your opinions, and most importantly, studying about your Jewish heritage.
You can join our daily programs for free and stay healthy and truly enjoy your golden years. United Jewish Generations, an organization that concentrates on servicing the senior citizens, offers a daily afternoon class and discussion group on a variety of Judaic topics. 3PM Miami Time from Sunday thru Thursday you can join on ZOOM or by telephone and participate. Topics range from Book of Samuel, Torah insights by contemporary Jewish scholars, Jewish law, Chassidic philosophy, and guest speakers.
They also offer a morning Talmud class every day at 10AM on Zoom.
To join, sign up at JewishSeniorAcademy.com after you apply, we will send you the zoom information or the phone info.
We are restarting on Sunday August 28th.