Watch JBS on Comcast X-1 Box Ch 1684, Atlantic Broadband 168, Hotwire Ch 269, DirecTV Ch 388, Blue Stream Ch 110, streamed on Roku under "educational", Apple TV, Amazon Fire TV and jbstv.org. For a complete and timely schedule and other television providers, go to www.jbstv.org
Srugim: The Pond Corner Episode 3
The plots thickens and boundaries are tested as Hodaya meets a handsome stranger, Yifat finds a way to confess her feelings for Nati, and Amir needs a huge favor from Reut in an episode entitled The Pond Corner. Monday- 7:00pm Tuesday - 2:00am & 10:00am Wednesday - 5:00am Thursday - 2:00pm Friday - 2:00am Saturday - 10:00pm
In the Spotlight: Schwartz & Foer (Lehrhaus)
International Hillel veteran Rabbi Charlie Schwartz and bestselling author Joshua Foer discuss Lehrhaus, the first-of-its kind Jewish tavern they're launching that's focused on Chevrutah learning, creative cocktails, and "the best kosher food in New England."
Monday - 8:00pm Tuesday - 1:30am & 11:00am Wednesday - 4:00am Thursday - 1:00pm Saturday - 4:00pm
The Yad Vashem "Book of Names" Exhibit
United Nations officials together with Dani Dayan, the Chair of Yad Vashem - The World Holocaust Remembrance Center, join in the opening event for Yad Vashem's "The Book of Names of Holocaust Victims" exhibition, on display now in the UN Headquarters. Tuesday- 7:30pm Wednesday - 2:00am Thursday - 2:30am Friday - 11:00am
Understanding Israeli Judicial Reforms
Israeli MK Simcha Rothman (Religious Zionism party) and Yaniv Roznai (Harry Radzyner Law School) debate the controversial judicial reforms advanced by the new government in Israel, with moderator Shmuel Rosner (Jewish Journal). Tuesday- 8:00pm Wednesday - 1:00am & 1:00pm Thursday 2:00am Friday - 2:00pm Saturday - 7:30pm
Yehuda Kurtzer: The Zionist Idea
Addressing the question 'why Israel,' Yehuda Kurtzer (President, Shalom Hartman Institute of North America) discusses how "the Zionist idea" is not about statehood or culture alone but rather the audacious act of the Jewish people to dream about its future and then to commit itself to getting closer to that reality. Wednesday - 7:30pm Thursday - 1:00am & 10:00am Saturday - 8:30pm
In The News: Israel Judicial Reforms
The Times of Israel's senior analyst Haviv Rettig Gur weighs in on the judicial overhaul planned by Israel's government, the mass protests against it and the current political situation in the country as a whole. With Shahar Azani Sunday - 5:30pm
In The News: Abrahamic Family House
Rabbi Elie Abadie, Senior Rabbi of the Jewish Council of the Emirates discusses the significance of the opening of this first-of-its-kind complex which houses a mosque, a church and a synagogue , its message of tolerance and what it means for the Jewish community in the Gulf and the region as a whole. With Teisha Bader. Monday - 6:30pm & 11:30pm Tuesday - 3:30am, 8:30am & 12:30pm Saturday - 11:30pm
Thinking Out Loud: Earthquake Zones
Israel and Turkey are in an earthquake zone. Dauntingly, there is a 3000-year history of earthquakes in the region. The Bible describes them and Romans describe them. Everyone who lives there knows that there are devastating earthquakes. So they must build structures and homes that are quake-proof. Not to do so is political malpractice. Wednesday - 6:30pm & 11:30pm Thursday - 8:30am & 12:30pm
Top Story with Jonathan Tobin: David Bernstein
Jonathan Tobin speaks with law professor and author David Bernstein who argues that racial division in this country is actually perpetuated by critical race theorists and the vast number of people who benefit from efforts to make divisions permanent. Thursday - 8:00pm Friday - 1:00am & 10:00am Saturday - 4:30am
Good Week Israel: Technology, Martial Arts & Wine
ILTV sits down with key figures discussing the future of metaverse and technology; Israel has its first mixed martial arts champion who is a tough 19-year-old woman;and a taste of the holy land's finest export with ILTV's wine of the week. Tuesday - 6:30pm & 11:30pm Wednesday - 3:30am, 8:30am & 12:30pm
L'Chayim
Mordechai Kedar - Part 1
Mordechai Kedar, a leading scholar on Arab culture (Bar Ilan University), addresses the profound misconceptions Americans have about the structure and mentality of the Palestinian world and offers an alternative peace plan. Sunday - 12:00 Noon
Mordechai Kedar - Part 2
Mordechai Kedar explains why the Arab world needs to recognize Israel as a Jewish State and why the issue of Palestinian refugees reflects an anti-Israel bias. Sunday 6:00pm
Yityish Aynaw - Miss Israel
Yityish "Titi" Aynaw discusses the journey from her hometown in Ethiopia to Aliyah to Israel, to serving in the IDF, to becoming the first Ethiopian Miss Israel in 2013. Monday - 3:00pm
Francis Bok - Slave Trade Survivor
Francis Bok, kidnapped at the age of 7 in Sudan and held as a slave for ten years, shares the details of his harrowing story and describes his fight together with Charles Jacobs against black-on-black slavery in the Muslim world. Monday - 8:30pm & Midnight Tuesday - 3:00pm Saturday - 6:00pm
Jeffrey S. Gurock - Jews of Harlem
Jeffrey S. Gurock, Libby M. Klaperman Professor of Jewish History at Yeshiva University discusses the evolution of the Jewish community of Harlem, New York – and the revival of Jewish in life in Harlem today. Tuesday - 9:00pm & Midnight
Wednesday - 3:00pm
Shai Held - Part 1
Shai Held, Founding President, Dean and Chair in Jewish Thought of Hadar Institute, discusses growing up with Survivor Zionist parents and how his upbringing shaped his life and Jewish journey.
Wednesday - 9:00pm & Midnight Thursday - 3:00pm
Shai Held - Part 2
Shai Held talks theology, his understanding of God and his approach to teaching the Jewish Tradition in part two. Thursday - 9:00pm & Midnight Friday - 3:00pm
Jewish 101: Moses
Moses' early life, including his speech impediment and his marriage to Zipporah in Midian, is part of this week's study of the Exodus story which reveals the Jewish Tradition's notion of God and what it means to be a Jew. Sunday - 10:00am Monday - 5:00am Wednesday - 9:00am & 5:00pm Thursday - 4:00am Friday - 1:00pm
Talmud Study: Don't Add or Subtract
The importance of following (and accepting) rabbinic authority in matters of Jewish Law is explained by Rabbi Mordechai Becher. Sunday - 9:00am Monday - 4:00am Tuesday - 9:00am & 5:00pm Wednesday- 7:00pm
Talmud Study: "Privacy" in Jewish Law
A discussion of how Jewish law handles the issues of privacy and confidentiality. Sunday - 9:30am Monday - 4:30am Tuesday - 9:30am & 5:30pm Thursday - 7:00pm
REFORM AND ORTHODOX SHABBAT SERVICES
FRIDAY EVENING SHABBAT SERVICES
REFORM: CENTRAL SYNAGOGUE Closed Captioned 6:00pm, 11:30pm & 2:00am
ORTHODOX: HAMPTON SYNAGOGUE With Hebrew, transliteration and English subtitles 7:30pm & 10:30pm
SATURDAY MORNING SHABBAT SERVICES
REFORM: CENTRAL SYNAGOGUE Closed Captioned 9:30am & 1:00pm
ORTHODOX: HAMPTON SYNAGOGUE With Hebrew, transliteration and English subtitles 11:00am & 2:30pm
Edith Samers Vice President 203.536.6914 (cell phone) JBS Jewish Broadcasting Service, a 501c3 fulltime television channel Website: jbstv.org
Watch JBS on Comcast X-1 Box Ch 1684, Atlantic Broadband 168, Hotwire Ch 269, DirecTV Ch 388, Blue Stream Ch 110, streamed on Roku under "educational", Apple TV, Amazon Fire TV and jbstv.org. For a complete and timely schedule and other television providers, go to www.jbstv.org
PROGRAMS
In the Spotlight: Sara Luria
Sara Luria, Rabbi and founder of several Jewish community organizations, discusses her new resource for Jewish spiritual leaders called Beloved, which supports rabbis trying to create new spaces to support, connect and inspire their communities. Monday - 8:00pm Tuesday - 2:00am & 11:00am Thursday - 2:30pm Friday - 4:00am Saturday - 8:00pm
Eric Goldman's Jewish Cinematheque - Sandra Schulberg (Filmmakers for the Prosecution)
Eric is joined by Sandra Schulberg, producer of Filmmakers for the Prosecution, a documentary adapted from Schulberg's eponymous monograph which retraces the hunt for film evidence that could convict the Nazis at the Nuremberg Trial. Monday - 8:30pm Tuesday - 2:30am Wednesday - 2:30pm Thursday - 5:30am Saturday - 8:30pm
Rabbi Hirsch: When Hope and History Rhyme
Rabbi Hirsch reminds his congregation that ever since the splitting of the Red Sea all forms of enslavement, subjugation and repression have been not only crimes against humanity but against God himself. Tuesday - 7:00pm Wednesday - 2:30am & 2:00pm Thursday 5:00am Friday - 11:00am Saturday - 4:00pm
Benjamin Anthony with General Tamir
From the JBS Studios, MirYam Institute Co-Founder Benjamin Anthony speaks with General Moshe "Chiko" Tamir, Former IDF commander of the Golani Brigade and the IDF Gaza Division. Tuesday- 8:00pm Wednesday - 1:00am & 1:00pm Thursday 2:00am Friday - 2:00am Saturday - 7:00pm
Srugim: Episode 2 Sippuri Savtah (Grandmother's Stories)
In an episode of misinterpretations in the name of love, Nati seeks refuge from bachelorhood at Yifat's place, Hodaya faces a religious crisis, and Amir reads into Reut's request that he fix her bed. Tuesday- 7:30pm Wednesday - 2:00am Thursday - 2:00pm Friday - 2:30am Saturday - 4:30pm
In The News: You People
A new Netflix movie exploring Jewish-Black relations has some people claiming it reinforces antisemitic tropes, with others saying relax, it's a comedy! Journalists Malina Saval (Tablet) and David Suissa (Jewish Journal) weigh in. With Teisha Bader. Sunday - 5:30pm
In The News: Judicial Overhaul in Israel
The Times of Israel's senior analyst Haviv Rettig Gur weighs in on the judicial overhaul planned by Israel's government, the mass protests against it and the current political situation in the country as a whole. With Shahar Azani. Monday - 6:30pm & 11:30pm Tuesday - 3:30am, 8:30am & 12:30pm Saturday - 11:30pm
Thinking Out Loud: Purim : Micah Halpern discusses some of the communities that experience their own 'private Purims,' looking at the commemorations and traditions of those who celebrate victory over those who plotted destruction. Wednesday - 6:30pm & 11:30pm Thursday - 8:30am & 12:30pm
Top Story with Jonathan Tobin: The Netanyahu Government
Jonathan Tobin speaks with journalist Tom Gross about what Gross feels is biased coverage of Israel, and how the "hysteria of the left" over Netanyahu's supposed threats to democracy can do real damage to the effort to defend the Jewish state abroad. Thursday - 8:00pm & 1:00am Friday - 10:00am Saturday - 4:30am
Good Week Israel
Tel Aviv university researchers give robots the ability to smell, Meyers Leonard returns to basketball after two years suspension and Israeli Foreign Ministry looks to a world-renowned football superstar – to promote peace. Tuesday - 6:30pm & 11:30pm Wednesday - 3:30am, 8:30am & 12:30pm
On L'Chayim
Itamar Marcus
Itamar Marcus of Palestinian Media Watch, an Israel-based NGO and media watchdog group, speaks to whether there is a "moderate" Palestinian leadership with which Israel can make peace.
Today (Sunday) - 12:00 Noon
Aaron Ben-Ze'ev
Aaron Ben-Ze'ev, former President of the University of Haifa, professor of philosophy and author of Love Online, sits to discuss the psychology of love. Today (Sunday) 6:00pm
Yossi Prager - Abraham Lincoln
Yossi Prager, Avi Chai Foundation Executive Director for North America, reviews the enduring legacy of President Abraham Lincoln, and discusses the Jewish Tradition's notion of God's role in human events. Monday - 3:00pm Monday – Midnight
Jerome Chanes - JFK and Israel
Jerome Chanes, senior research fellow at the Center for Jewish Studies at CUNY's Gradate Center, discusses the positive impact President Kennedy had on U.S.-Israeli relations. Monday - 9:00pm Tuesday - 3:00pm Saturday - 6:00pm
Mordechai Kedar - Part 1
Mordechai Kedar, a leading scholar on Arab culture (Bar Ilan University), addresses the profound misconceptions Americans have about the structure and mentality of the Palestinian world and offers an alternative peace plan. Tuesday - 9:00pm & Midnight Wednesday - 3:00pm
Mordechai Kedar - Part 2
Mordechai Kedar explains why the Arab world needs to recognize Israel as a Jewish State and why the issue of Palestinian refugees reflects an anti-Israel bias. Wednesday - 9:00pm & Midnight Thursday - 3:00pm
Yityish Aynaw - Miss Israel
Yityish "Titi" Aynaw discusses the journey from her hometown in Ethiopia to Aliyah to Israel, to serving in the IDF, to becoming the first Ethiopian Miss Israel in 2013. Thursday - 9:00pm & Midnight Friday - 3:00pm
JEWISH STUDIES
The Exodus
What it means to be a "Jew" (according to the Jewish tradition), and Jewish sensitivity to the pain of one's enemies are explored through the Exodus story with rabbinic commentary of the midrash. Sunday - 10:00am Monday - 5:00am Wednesday - 9:00am & 5:00pm Thursday - 4:00am Friday - 1:00pm
Talmud Study: Temple Treasures
"Eight Blessings One Wedding," on the theme of marriage as found in Talmud tractates Kesuvos 7 and 8 Sunday - 9:00am Tuesday - 9:00am & 5:00pm Thursday - 7:00pm
Talmud Study: Genetic Screening
The Jewish obligation to use the benefits of modern medicine is explained. Sunday - 9:30am Tuesday - 9:35am & 5:35pm Wednesday- 7:00pm
REFORM AND ORTHODOX SHABBAT SERVICES
FRIDAY EVENING SHABBAT SERVICES
REFORM: CENTRAL SYNAGOGUE Closed Captioned 6:00pm, 11:30pm & 2:00am
ORTHODOX: HAMPTON SYNAGOGUE With Hebrew, transliteration and English subtitles 7:30pm & 10:30pm
SATURDAY MORNING SHABBAT SERVICES
REFORM: CENTRAL SYNAGOGUE Closed Captioned 9:30am & 1:00pm
ORTHODOX: HAMPTON SYNAGOGUE With Hebrew, transliteration and English subtitles 11:00am & 2:30pm
Edith Samers Vice President 203.536.6914 (cell phone) JBS Jewish Broadcasting Service, a 501c3 fulltime television channel Website: jbstv.org
Watch JBS on Comcast X-1 Box Ch 1684, Atlantic Broadband 168, Hotwire Ch 269, DirecTV Ch 388, Blue Stream Ch 110, streamed on Roku under "educational", Apple TV, Amazon Fire TV and jbstv.org. For a complete and timely schedule and other television providers, go to www.jbstv.org
PROGRAMS:
Eye on Israel: The New Guardian (EOI)
Yoel Zilberman, CEO and Founder of the New Guardian, Hashomer Hachadash in Hebrew, discusses the birth of his movement, which defends agricultural lands against crime & promotes values of Zionism, with Shahar Azani in a special from Israel. Monday - 8:00pm Tuesday - 2:00am & 11:30am Thursday - 1:00pm
Srugim: Episode 1
In the pilot episode of the hit Israeli drama series Srugim, meet Yifat and Hodaya, and their friends Reut, Nati and Amir -- five modern-Orthodox singles looking for love in Jerusalem as they approach the big 3-0. Tuesday- 8:00pm Wednesday - 2:00am Thursday - 2:00pm Friday - 2:00am Saturday - 7:00pm
Srugim Unraveled
Teisha Bader is joined by Shira Kaplan, a young modern Orthodox professional living and dating in New York City, and by Laizy Shapiro, the creator of the hit show Srugim. Tuesday- 8:30pm Wednesday - 2:30am Thursday 2:30pm Friday - 2:30am Saturday - 7:30pm
Robert Siegel: American Antisemitism Today
Robert Siegel asks panelists Mark Oppenheimer (Squirrel Hill), Dara Horn (People Love Dead Jews) and Rabbi David Sandmel (International Jewish Committee for Interreligious Consultations) why antisemitism is on the rise and what we should do about it Wednesday - 8:00pm Thursday - 2:00am & 11:00am Friday - 5:00am Saturday - 8:00pm
Top Story: Daniel Pipes
JNS editor-in-chief Jonathan Tobin speaks with Middle East Forum President Daniel Pipes who argues that the main challenge to Israel is not Palestinian terrorism but rather the Palestinian ability to generate toxic hostility among leftists. Thursday - 8:00pm Friday - 1:00am & 10:00am
In The News: Whispered in Gaza
What is life like for people under Hamas' terror rule? Joseph Braude, founder and president of the Center for Peace Communications, shares the back story behind this series of animated videos telling the story of ordinary people in Gaza. With Shahar Azani. Sunday - 5:30pm
In The News: You People
A new Netflix movie exploring Jewish-Black relations has some people claiming it reinforces antisemitic tropes, with others saying relax, it's a comedy! Journalists Malina Saval (Tablet) and David Suissa (Jewish Journal) weigh in. With Teisha Bader. Monday - 6:30pm & 11:30pm Tuesday - 3:30am, 8:30am & 12:30pm Saturday - 11:30pm
Thinking Out Loud: Israel Rescue in Turkey
JBS journalist Micah Halpern discusses Israeli rescue crews jumped into action and flew to Turkey to save lives after the devastating earthquake. Israeli mobile hospitals were immediately dispatched and set up to save lives. This is the norm. Israel has developed an unparalleled niche of helping after disasters. They have flown all over the world. Micah Halpern shows just how impressive and herculean Israel has become in necessary service Wednesday - 6:30pm & 11:30pm Thursday - 8:30am & 12:30pm
Good Week Israel
Stories this week include snow season coming with Israelis ready to fully enjoy it, two time Olympic judo medalist bringing sports opportunities to the remote Israeli desert and Israeli basketball player Deni Avida setting a new career record in the NBA. Tuesday - 6:30pm & 11:30pm Wednesday - 3:30am, 8:30am & 12:30pm
On L'Chayim
Scott Shay on Faith
Scott Shay, author of "In Good Faith – Questioning Religion and Atheism," explains how his book encourages atheists to consider intelligent and powerful reasons to doubt their certainty and to be open to the reality of God. Sunday - 12:00 Noon
Robin Kanarek
Robin Kanarek, who lost her teenage son David to cancer, describes how she has been able to continue to embrace life and why she feels the development of palliative care is so essential for patients of all ages.
Sunday 6:00pm
Fauda Star Lior Raz
The co-creator and star of the hit Israeli series on Netflix, Fauda, discusses how the action series draws a sharp distinction between Palestinian violence and the Israeli response while portraying the humanity of both societies.
Monday - 3:00pm
Dr. Aaron Ben-Ze'ev
Dr. Aaron Ben-Ze'ev, former President of the University of Haifa, professor of philosophy and author of "Love Online", sits to discuss the psychology of love. Monday - 9:00pm & Midnight
Tuesday - 3:00pm
The Second Sun
Film Director Jennifer Gelfer and male star John Buffalo Mailer discuss their feature film "The Second Sun", the poignant story of a "b'shert" romance between a survivor and a lost soul in post-World War II New York City. Tuesday - 9:00pm & Midnight Wednesday - 3:00pm Saturday - 6:00pm
Itamar Marcus
Itamar Marcus of "Palestinian Media Watch," which monitors what Palestinians say in Arabic on PA Television and the PA website, speaks to whether there is a "moderate" Palestinian leadership with which Israel can make peace.
Wednesday - 9:00pm & Midnight
Thursday - 3:00pm
Charles Jacobs
Dr. Charles Jacobs, President of Americans for Peace and Tolerance, discusses Avi Goldwasser' s documentary "Hate Spaces – The Politics of Intolerance on Campus" and the increasing bigotry and antisemitism in American universities. Thursday - 9:00pm & Midnight
Friday - 3:00pm
JEWISH STUDIES
Jewish 101: A pluralistic introduction to the teachings, ideas and values of the Jewish Tradition with Rabbi Mark S. Golub z"l Sunday Mornings at 10am ET Wednesdays at 9am & 5pm ET Friday at 1pm ET
Community
Learn how the Jewish Tradition's emphasis is on "the community" rather than on "personal salvation," through the contrast of rabbinic thought with the well-known hymn, "Amazing Grace." Sunday - 10:00am Monday - 5:00am Wednesday - 9:00am & 5:00pm Thursday - 4:00am Friday - 1:00pm
Talmud Study with Rabbi Mordechai Becher Sunday & Tuesday Mornings at 9am ET Wednesday & Thursday Evenings at 7pm ET
Talmud Study: Marriage
"Eight Blessings One Wedding," on the theme of marriage as found in Talmud tractates Kesuvos 7 and 8 Sunday - 9:00am Monday - 4:00am Tuesday - 5:00pm Wednesday- 7:00pm
Talmud Study: Love, Marriage & Giving
Rabbi Mordechai Becher (Gateways Organization Senior Lecturer) discusses the Talmud's attitude towards love and marriage, and how the Jewish Tradition teaches love is the pursuit of "oneness" achieved through acts of giving. "Dimensions Of The Daf." Tuesday - 9:00am
REFORM AND ORTHODOX SHABBAT SERVICES
FRIDAY EVENING SHABBAT SERVICES
REFORM: CENTRAL SYNAGOGUE Closed Captioned 6:00pm, 11:30pm & 2:00am
ORTHODOX: HAMPTON SYNAGOGUE With Hebrew, transliteration and English subtitles 7:30pm & 10:30pm
SATURDAY MORNING SHABBAT SERVICES
REFORM: CENTRAL SYNAGOGUE Closed Captioned 9:30am & 1:00pm
ORTHODOX: HAMPTON SYNAGOGUE With Hebrew, transliteration and English subtitles 11:00am & 2:30pm
Edith Samers Vice President 203.536.6914 (cell phone) JBS Jewish Broadcasting Service, a 501c3 fulltime television channel Website: jbstv.org
Posted by Noa Waks on 02/09/2023 @ 05:25 PM
Join Women's Philanthropy at the Mindy Solomon Gallery on Thursday, February 23 from 6:30pm-8:30pm for Otherwordly, an art exhibition and talk featuring works by Rodrigo Valenzuela, Jeremy Olson and Melanie Daniel. The Mindy Solomon Gallery, established in 2009, serves as an incubator for dynamic artists establishing their creative voices and exploring a broad range of exhibition possibilities.
Cost: $18 PER PERSON
Limited Space | Street Parking Available | Dietary Laws Observed
RSVP here by Monday, February 20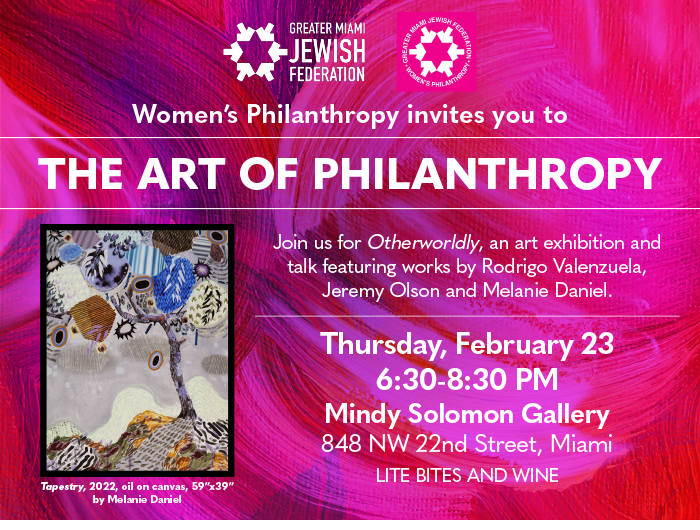 Temple Emanu-El Presents-
Alan Dershowitz and Josh Hammer. Israel's Judicial Reform: Pro and Con.
Join us for an evening discussion between Harvard Law School professor emeritus and popular commentator Alan Dershowitz and Newsweek opinion editor and syndicated columnist Josh Hammer on the new Israeli government's hotly contested proposed judicial reforms.
When?
Tue, February 28, 2023, 7:00 PM – 9:00 PM EST
Where?
Temple Emanu-El 1701 Washington Avenue Miami Beach (305) 538-2503
Tickets are free for all. Everyone MUST have a ticket to be admitted. Click here to purchase.

Posted by Noa Waks on 02/09/2023 @ 12:46 PM
Join us at our Community Mega Challah Bake on Thursday, February 9, 2023 at 6 PM for an evening of unity and inspiration as we preform this mitzvah.
Cost: $25 Per Person | $180 Table for 8
Where: Michael-Ann Russell JCC 18900 NE 25th Avenue North Miami Beach, FL 33180
Questions? Contact Diane Azout at diania@marjcc.org (305) 932-4200)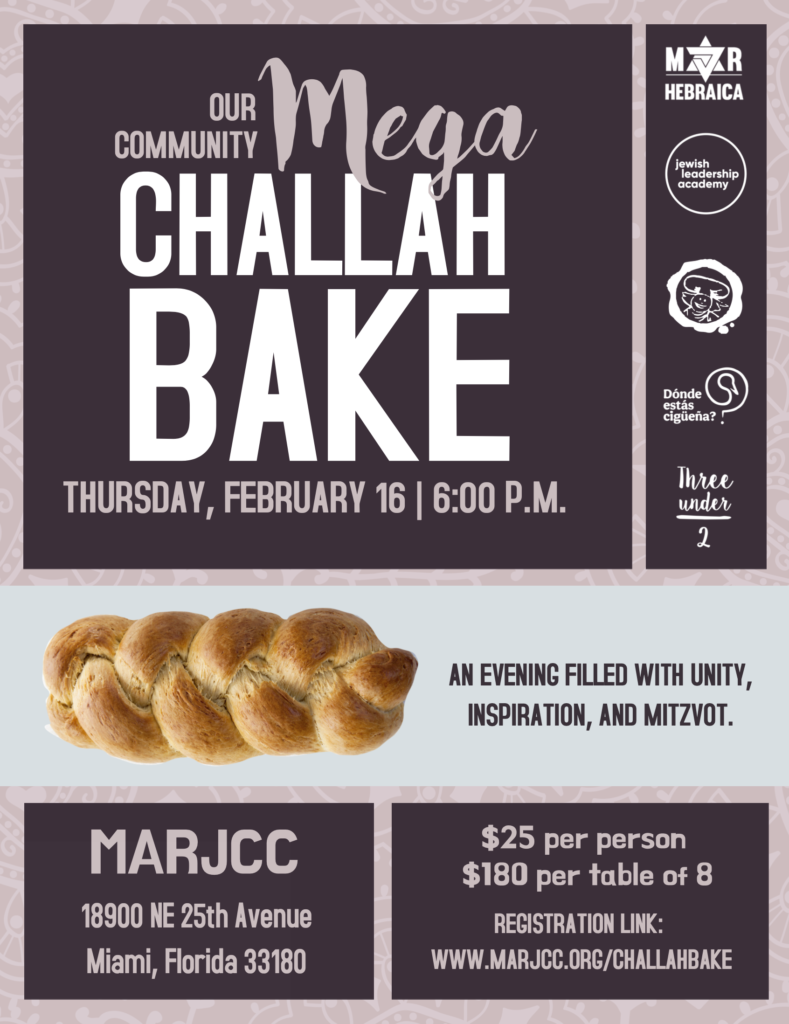 Posted by Noa Waks on 02/08/2023 @ 11:42 AM
When devastating earthquakes rocked Turkey and Syria earlier this week, killing thousands and injuring tens of thousands more, the Greater Miami Jewish Federation immediately responded with an emergency relief fund to bolster support for our overseas partners already on the ground administering critical humanitarian aid.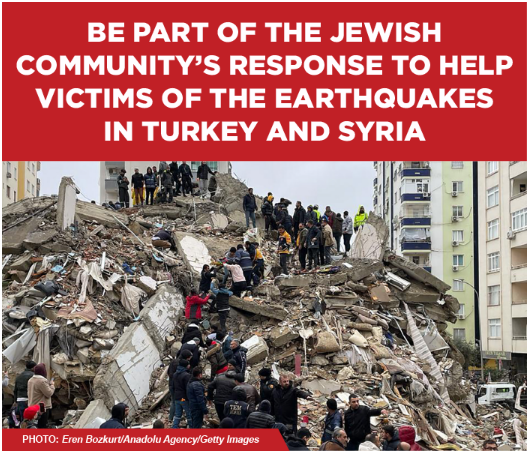 Please click here to make a secure donation now to the Turkey-Syria Earthquakes Emergency Fund online. Among the organizations assisting in the rescue and relief organizations are Federation partners including IsraAID, distributing life-saving assistance and winter items in Turkey, where the impact of the earthquake coupled with freezing conditions have left those affected by the catastrophic events extra vulnerable. IsraAID'S emergency response team includes specialists in water filtration, sanitation and hygiene; mental health and emergency logistics to bring urgent help to those in dire need. Overseas partner United Hatzalah of Israel has sent a delegation of 25 first responders and experts in search and rescue to Turkey to assist in rescue operations and provide medical assistance. Magen David Adom, another Federation beneficiary, will support Israel's military rescue delegation in Turkey, sending paramedics and EMTs trained in rescuing the injured from the rubble and treating "crush syndrome," a potentially fatal condition. As always, Federation will absorb all administrative costs so that 100 percent of funds collected for the Turkey-Syria Earthquakes Emergency Fund will go directly to those impacted by the disaster.
You may also call 305.576.4000 to make a donation.
JBS is mourning the loss of our president and founder, Rabbi Mark S. Golub z"l.
We will return with our regular Sunday highlights email next week. As always, our programming schedule can be found starting after 12:30 am Sunday morning at: https://jbstv.org/jbs-schedule
With our deepest thanks for your support and understanding.
The JBS Staff
Edith Samers Vice President 203.536.6914 (cell phone) JBS Jewish Broadcasting Service, a 501c3 fulltime television channel Website: jbstv.org
Posted by Noa Waks on 02/02/2023 @ 08:49 AM
Help restore natural areas in Miami-Dade and celebrate Tu BiShvat with a free Jackfruit tree to take home. Take part in the Environmentally Endangered Lands Program cleanup event Monday, February 6 at County-Line Scrub Preserve (NE 215 Street East of San Simeon Way) and celebrate Tu BiShvat. Be part of a team that helps restore environmentally sensitive lands and take a tour.
Email eel@miamidade.gov to register for the event and to get your free jackfruit tree. Learn more.