Greater Miami Jewish Federation and its JCRC Respond to the North Texas Synagogue Hostage Situation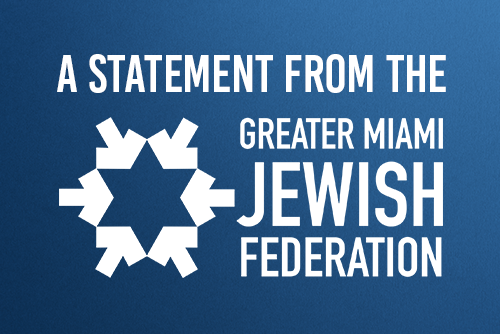 The Greater Miami Jewish Federation and its Jewish Community Relations Council (JCRC) are relieved and grateful for the safe rescue of the four hostages taken during Shabbat services at Congregation Beth Israel in Colleyville, Texas. We pray for the swift and complete healing of the entire Greater Dallas/Fort Worth community and for all who were traumatized by the violent event.
Upon learning of the incident, Federation's Office of Community Security immediately contacted our partners at Secure Community Network (SCN), the national security initiative of The Jewish Federations of North America, who confirmed that this was an isolated incident, as well as connected with local law enforcement, who confirmed that there were no known threats in South Florida. We communicated this information to our synagogues, Jewish Community Centers and agencies, and continued to stay in touch with all of our partners through the end of the hostage situation. We are appreciative to law enforcement for their extraordinary role in keeping the Jewish community safe.
Let us be clear: Despite the stated objective of the attacker, this was unquestionably an antisemitic attack. The decision to target a synagogue during Shabbat worship services, a holy time for rest, rejuvenation and peace; the attacker's preconceived notion that threatening only Jewish people would be the most effective way to achieve his goals; and the heightened sense of alarm felt by Jewish people everywhere as a result of his actions, all make clear the hateful anti-Jewish motivation of the perpetrator.
The Greater Miami Jewish Federation will not tolerate antisemitism or hate in any form. Keeping our Jewish community, as well as all other diverse communities, safe and secure is always top of mind. While we will forever be grateful that no one other than the perpetrator was harmed, this is yet another reminder – as were recent attacks in Pittsburgh, Poway, Jersey City, and Monsey – that we have much work to do.
We strongly encourage all community organizations, Jewish and otherwise, to review their emergency operation plan at the earliest opportunity to ensure that their policies and procedures are current, comprehensive and understood by their respective constituencies. We call on all people of goodwill everywhere to work together to prevent future attacks, and to remember that even in the present political climate, we have much more in common than we do that divides us.
Information and Resources:
Report a security concern to our Office of Community Security.
Report an antisemitic incident to our Jewish Community Relations Council.
Schedule a security training at your Jewish institution.
Review Secure Community Network's resources for keeping your institution safe.
Follow the Jewish Community Relations Council on Facebook.