We're sorry but we couldn't find that post.
For a complete schedule, go to www.jbstv.org
92 ND Street Y: Mandy Patinkin
Star of stage, screen and television, Mandy Patinkin (Homeland, Evita, Princess Bride, Yentl), reflects upon his Tony, Emmy & Golden Globe winning career with novelist Thane Rosenbaum. JBS television exclusive from the 92nd Street Y in NYC. Sunday - 8pm & 2am; Monday - 10pm & 4am; Wednesday - 10:30am; Friday - 8pm & 1am; Saturday - 3pm
Jewish Cinema: Michal Aviad
Israeli filmmaker Michal Aviad, who looks at Israeli society from a woman's point of view, explains how her movie "Working Woman" highlights the problem of sexual harassment in the workplace. On JBS's "Jewish Cinematheque" with Eric Goldman, a leading scholar in Jewish film. Monday - 7:30pm & 2am; Wednesday - 1:30pm; Saturday – 10:30pm
IsraAID: Seth Davis
Seth Davis, Executive Director of IsraAID USA, describes how IsraAID saves lives during crisis and supports local and national organizations as they build the future. A program of the Jewish Federation of Northern NJ and JCRC's "FED Talks" from JFNNJ in Paramus, NJ. Monday - 8pm & 1am; Wednesday - 2pm; Saturday - 7pm & 4am
Mayor of Efrat: Oded Revivi
The Mayor of the West Bank city of Efrat, Oded Revivi (who also heads the Efrat Municipal Council and is Chief Foreign Envoy of the YESHA Council - the umbrella organization of municipal councils of Jewish settlements on the West Bank), discusses how his community is seeking to "Build Bridges, Not Barriers." A program of the Zionist Organization of America. Tuesday - 8pm & 1am; Thursday - 2pm, 10pm & 1am; Saturday - 8pm & 1:30am
L'Chayim: Tal Keinan (Parts 1 & 2)
Israeli financier and former IDF fighter pilot Tal Keinan, author of God Is In The Crowd, explains why he sees American Jewry on the decline and in danger of "dying in its sleep," and offers suggestions for revitalizing Jewish life today.
Part 1 Wednesday - 9pm & Midnight; Thursday - 3pm
Part 2 Thursday - 9pm & Midnight; Friday - 3pm
Uri Regev - Judaism In Israel Today (Sunday) - 6pm; Monday - 3pm
Michael & Sue Ashner - "Beit Ruth" Home For Girls In Israel Monday - 9pm & Midnight; Tuesday - 3pm
Yishai Fleisher - Defending Israel Tuesday - 9pm & Midnight; Wednesday - 3pm
Irv Ungar - The Work of Arthur Szyk Saturday - 6pm
Edith Samers Vice President 203.536.6914 (cell phone) JBS Jewish Broadcasting Service, a 501c3 fulltime television channel
Join us for a special Mother's Day. An event supporting the women and children at JCS Shalom Bayit Jewish Domestic Abuse Program
Sunday May 5, 10:00am Beth Torah Beny Rok Campus
Space is limited REGISTER HERE
Come join us at our annual Mother's Day Sponsor-A-Child Luncheon & Bazaar featuring Gregor Collins an American author, actor, speaker and contributor, best known for writing the memoir "The Accidental Caregiver: How I Met, Loved and Lost Legendary Holocaust Refugee Maria Altmann". The woman that inspired the movie "A Woman in Gold".
Click here for more information.
On April 25 at 8:30 am at Buchanan Ingersoll & Rooney PC (One Biscayne Tower Two South Biscayne Boulevard, Suite 1500), join us for quality time with a true expert. Ask him everything you wish you had time to ask your pediatrician. Learn the secrets to getting your baby to sleep through the night and so much more! RSVP here: https://jewishmiami.org/resources/community_directory/events/rsvp/pjlibrary_sleep_other_hacks_free_rsvp/.
Join the Greater Miami Jewish Federation and the Holocaust Memorial Miami Beach on Sunday, April 28 at 6:30 p.m. to commemorate Yom HaShoah — Holocaust Remembrance Day. The powerful program includes an eyewitness account from a survivor, a candle lighting ceremony and musical selections.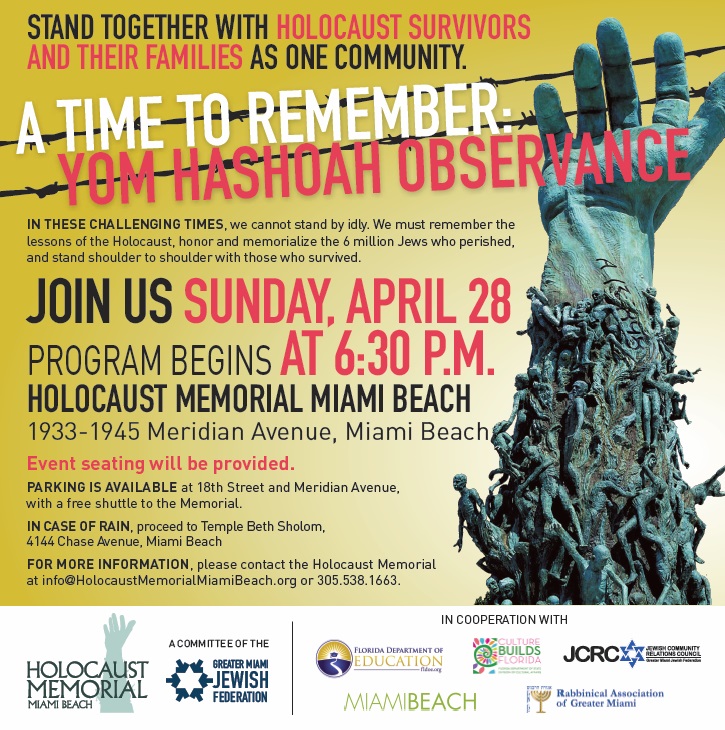 Enjoy dinner, dancing, music, a silent auction including artwork from our preschool program and lots of fun to benefit the Shirley and Chester Paul Special Needs Program.
This year the Special Needs Committee is honoring Renee and Mel Greenstein for their unwavering dedication to the Shirley and Chester Paul Special Needs Program and their continuous support of programs at the JCC.
Join us at 7:30pm on MAY 4, 2019 at THE 305 CLUB, 8770 SW 131st Street Miami, Florida 33176
For more information or sponsorship details, please contact Yolanda Perez: 305.271.9000 x243 | yperez@alperjcc.org
Click Here For Tickets | Click Here to Sponsor
Join hundreds of people to honor dedicated individuals for their service to the Jewish community and elect new leadership at the Greater Miami Jewish Federation's 81st Annual Meeting on Friday, May 31 at Hilton Miami Downtown, 1601 Biscayne Boulevard.
Click here to RSVP.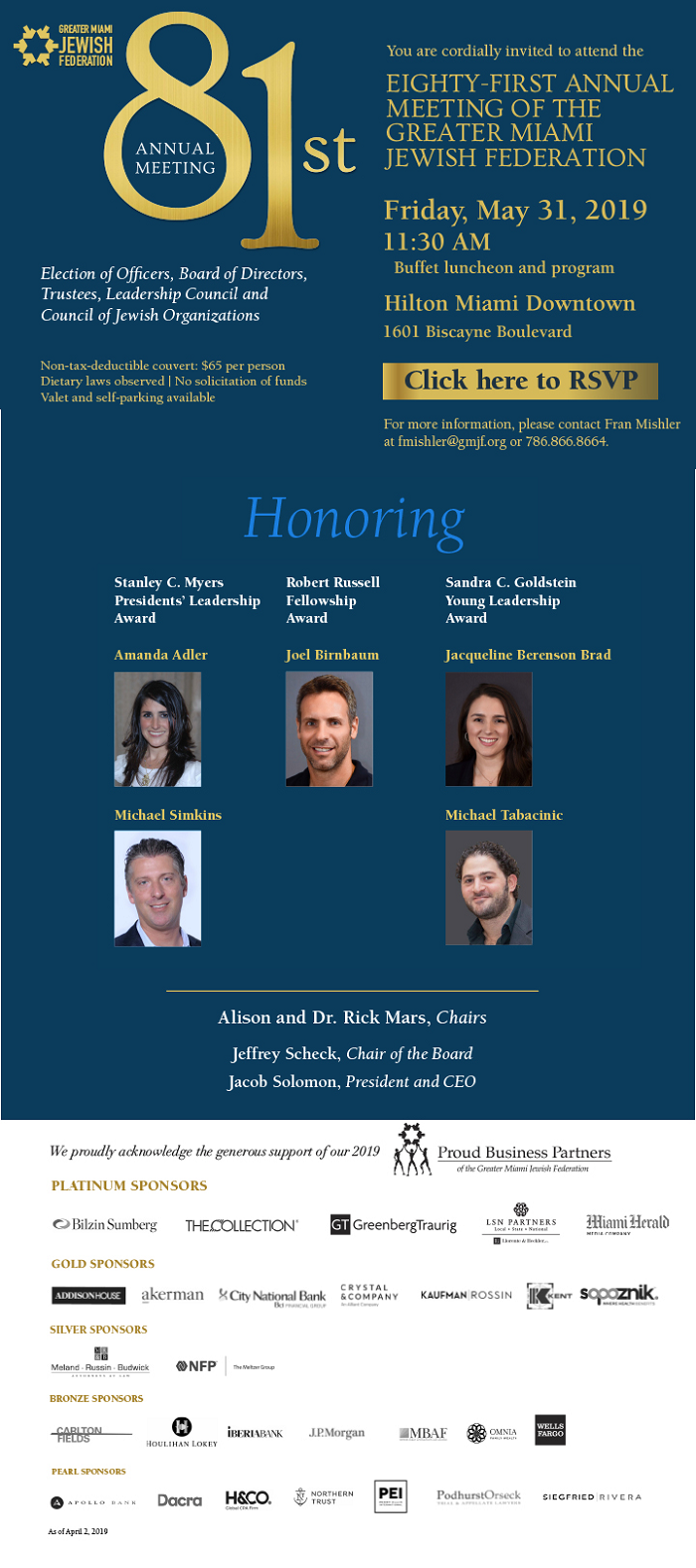 Celebrate Israel Independence Day at the J! Thursday, May 9 from 5:30 pm - 7:30 pm, join us for Israeli Dancing & Music, Make your Own Hummus, Arts & Crafts, Climb Masada, Bounce Houses and more. Israeli Style Dinner for purchase. Fun for the entire family.
This year, we are proud to host Hadassah Itzhak, Artist in Residence from Yerucham, Israel. Hadassah will be sharing her techniques in the art of Moroccan Tile Painting and helping the MBJCC to create a lasting art installation for our center.
Tickets may be purchased at mbjcc.org/israel or call Daryl Johnson, Special Events Coordinator at (305) 534-3206 x234.
Miami Beach JCC
4221 Pine Tree Drive
Miami Beach, FL 33140
For a complete schedule, go to www.jbstv.org
Scott Shay with Angela Buchdahl
Scott Shay (author of In Good Faith), Rabbi Angela Buchdahl (Central Synagogue in NYC) and Rabbi Elliot Cosgrove (Park Avenue Synagogue in NYC) discuss the question of whether "Faith Divides or Unites Us." With Rabbi Chaim Steinmetz (HUC-JIR), a program by The Jewish Week of NY with the Hebrew Union College-Jewish Institute of Religion in NYC. Monday - 8pm & 1:30am; Wednesday - 2pm; Saturday - 8pm & 1:30am
L'Chayim: Allen Fagin of the OU
Executive Vice President of the Orthodox Union Allen Fagin shares his perspectives on Jewish life, American Jewry and the State of Israel today Today (Sunday) - Noon
L'Chayim: Uri Regev Rabbi Regev, President and CEO of HIDDUSH - For Religious Freedom and Equality, discusses issues of Jewish pluralism in Israel and the way the Orthodox impacts how American Jews feel about Israel. Wednesday - 9pm & Midnight; Thursday - 3pm
Helen Nash - Kosher Cuisine Sunday - 6pm; Monday - 3pm
Rachel Robinson - Anniversary of Jackie Robinson's First Game Tuesday - 9pm & Midnight; Wednesday - 3pm
Dudu Fisher - International Israeli Singing Star Saturday - 6pm
Celebrate Passover on JBS all week
Talmud: Gratitude for Passover (Mordechai Becher) Sunday - 9am; Tuesday - 9am & 4:30pm; Thursday - 7pm & 4am; Friday - 11am
Jewish 101: Lessons of Passover (Mark S. Golub) Today (Sunday) - 10am
Hebrew: Learn The Four Questions Monday 9am & 4:30pm; Wednesday - 7pm & 4am
Jonathan Sacks for Passover
Rabbi Lord Jonathan Sacks, former Chief Orthodox Rabbi of the U.K., discusses Maimonides' insights into the way children and adults are to experience the Seder Night of Passover found in the Rambam's "Guide To The Perplexed." Monday - 7:30pm & 2:30am; Friday - 4:30pm; Saturday - 12:30pm
New American Haggadah (Foer)
One of America's foremost novelists ("Extremely Loud and Incredibly Close") explains why he created the "New American Haggadah" (Little, Brown and Company) and discusses his feeling for Jewish life. With Rabbi Michael Paley of UJA-Federation of NY. Tuesday - 8pm & 1am; Thursday - 2pm; Friday - 9am
L'Chayim: Yitz Greenberg
Rabbi Irving (Yitz) Greenberg on the meaning of Passover and why he considers it among the most important events in human history. Also, the beauty of Shabbat. Tuesday - 9pm & Midnight; Wednesday - 3pm
Hunger Seder
Rabbi Steve Gutow, Visiting Scholar at NYU' Graduate School of Public Service and former Pres. & CEO of the Jewish Council for Public Affairs, leads JCPA's & MAZON's annual inter-faith "Hunger Seder" with members of Congress in Washington, DC. (2012) Tuesday - 10pm & 4am
Jewish 101: The Exodus (Mark S. Golub) Wednesday - 9am & 4:30pm
Film: Passover At The Wellmans
Gathered for Passover, a dysfunctional New York family struggles with issues of faith and intermarriage. A thought-provoking dramatic film written for Jewish Unity Live by Gary Magder and directed by Ricky Magder. Followed by a Rabbinic Discussion with Conservative Rabbi Josh Hammerman and Orthodox Rabbi Daniel Schonbuch. Wednesday - 10:30am; Thursday - 9pm & Midnight; Friday - 3pm
The Red Sea Miracle Thursday - 10am
FRIDAY - FIRST SEDER NIGHT
Shlomo Riskin on Passover Friday - 11am, 5:30pm & 11:30pm; Saturday - 8:30am
City Winery Seder Friday - 6pm (3pm PT) Saturday - 9am
Passover Morning Services (Central Synagogue) Saturday - 9:30am
For Children:
Mr. Bookstein's Store, Mama Doni Passover Palooza' Shalom Kids: Passover Daily - 7am & 4pm
Plus :
Cantor Joseph Malovany Describes 70th Anniversary Celebration Warsaw Ghetto Secrets (Sam Kassow) Thursday - 7:30pm & 1:30am; Friday - 1pm
92ND Street Y: Meir Lau
Former Chief Rabbi of Israel Meir Lau describes his miraculous survival as a young child in Auschwitz and shares tales of his storied rabbinic career in conversation with Rabbi Menachem Genack at the 92nd Street Y. Tonight (Sunday) - 8pm & 1am; Tuesday - 4am; Saturday - 3pm
U.S. Bible Contest For Adults
JBS's exclusive coverage of the final rounds of the 2014 U.S. National Bible Contest for Adults to determine who will represent the U.S. in Jerusalem. Co-sponsored by the World Zionist Organization, the OU and YU from West Side Institutional Synagogue in NYC. Saturday - 1pm
Edith Samers Vice President 203.536.6914 (cell phone) JBS Jewish Broadcasting Service, a 501c3 fulltime television channel
Join us for a festive Shabbat B'Yachad
Friday May 10, 7:00pm