It's Happening In Miami
Posts by Noa W
Posted by Noa Waks on 12/02/2022 @ 02:18 PM
Op-Ed as appeared in the Miami Herald on Thursday, December 1, 2022. To read the full article, please click here.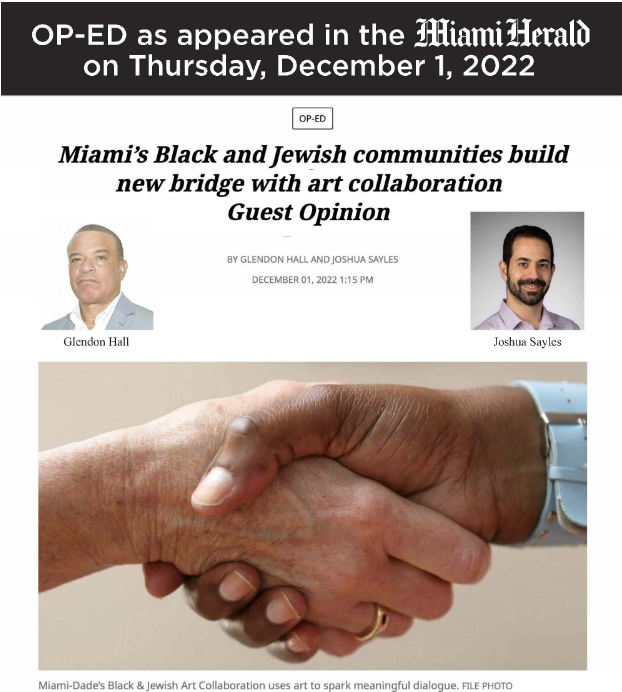 Posted by Noa Waks on 12/01/2022 @ 08:21 AM
Our mission is to create a unique live experience uniting Jews from diverse backgrounds and to celebrate the impact Jewish comics currently play in our comedy landscape.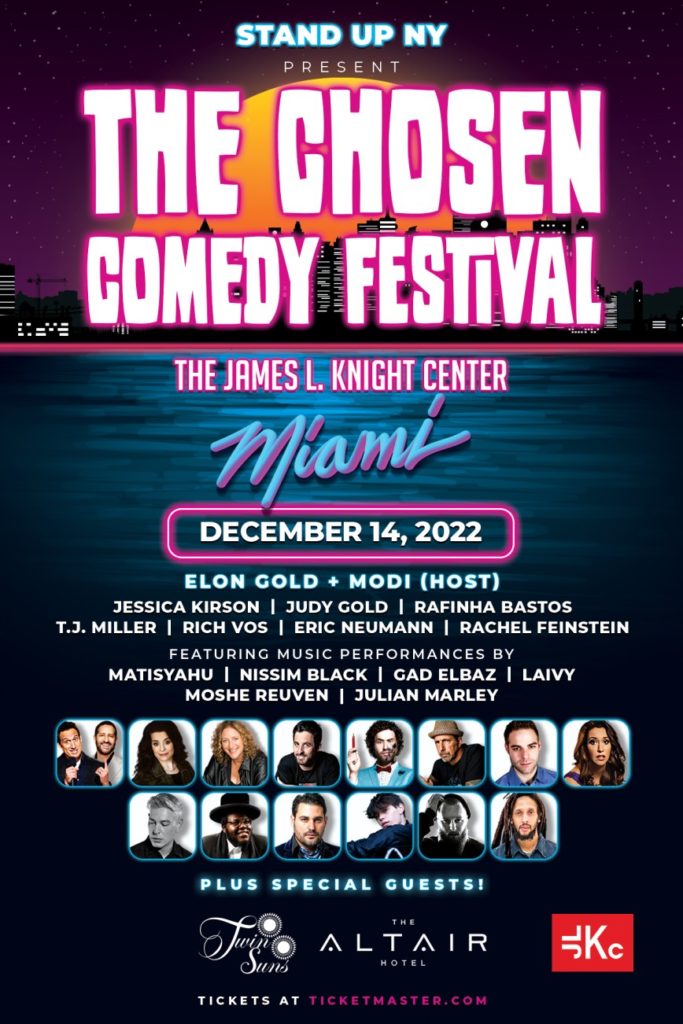 Posted by Noa Waks on 11/30/2022 @ 02:53 PM
Do you know a Jewish teen who has demonstrated leadership and a dedication to tikkun olam (repairing the world)?
Nominate them now for a Diller Teen Tikkun Olam Award! Each year, the Helen Diller Family Foundation awards 15 Jewish teens (AGES 13-19) throughout the US with $36,000 in recognition of their exceptional leadership and engagement in visionary service projects that embody the value of tikkun olam (repairing the world). Since 2017, two winners have come from our Miami community: Oliver Stern and Daniel Solomon (pictured above). Nominees must have the ability to impact and engage a growing number of individuals either as partners, participants or beneficiaries; show dedication to their projects over time; and articulate in their own words the history, meaning, goals, impact and significance of the project. For more information and to complete the nomination form, due Thursday, December 22, click here.

Posted by Noa Waks on 11/30/2022 @ 02:48 PM
Looking for a way to give back to your community? Join your Federation family throughout December for Season for Giving, a month-long event offering hands-on volunteer opportunities. The family-friendly service project aims to help meet our community's needs and ensure Miami's vulnerable individuals and families have a happy holiday season. Season for Giving is a partnership between Federation, our Jewish Volunteer Center and Repair the World. Participants of all ages can sign up to wrap or distribute holiday presents, assemble breakfast bags or winter kits, and prepare or serve holiday meals at locations throughout Miami-Dade County. To learn how you can get involved and to RSVP, click here.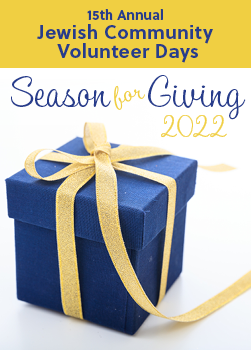 Posted by Noa Waks on 11/30/2022 @ 02:44 PM
Would you like your child's classroom to share in the fun and universal values of this seasonal celebration? Become a PJ Story Squad volunteer today to help make it happen.
To volunteer, please contact Amanda Burns at aburns@gmjf.org.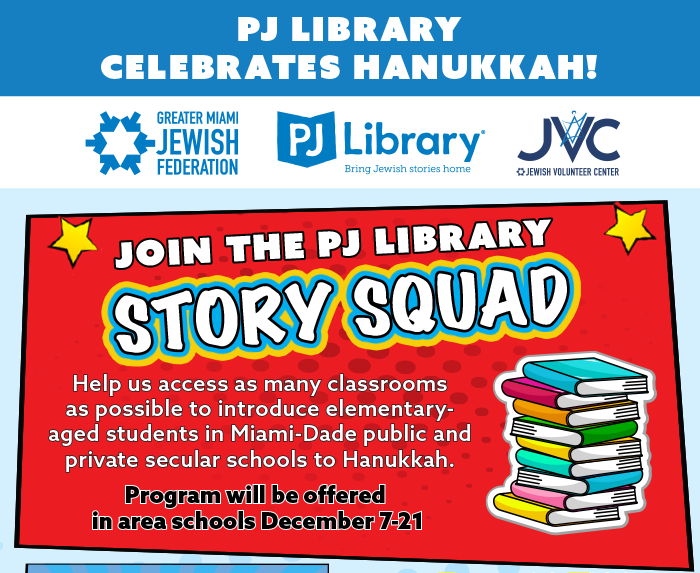 Posted by Noa Waks on 11/30/2022 @ 02:18 PM
Now is the time to review your 2022 charitable giving and make some tax-smart decisions while also improving the lives of others.
Many people review their charitable giving toward year-end. It is a wonderful opportunity to share your values and engage your loved ones in these important discussions. The Foundation of the Greater Miami Jewish Federation can help you maximize your charitable donations TODAY and make a lasting impact on the Jewish community TOMORROW. From donations of stock to using your IRA, there are several tax-smart ways to make a meaningful gift. To learn more, click here or contact Scott Kaplan, The Foundation Director, at skaplan@gmjf.org or 786.866.8623. If you would like to make tax-deductible gift by credit card before year-end, please click here to donate to the Annual Greater Miami Jewish Federation/UJA Campaign.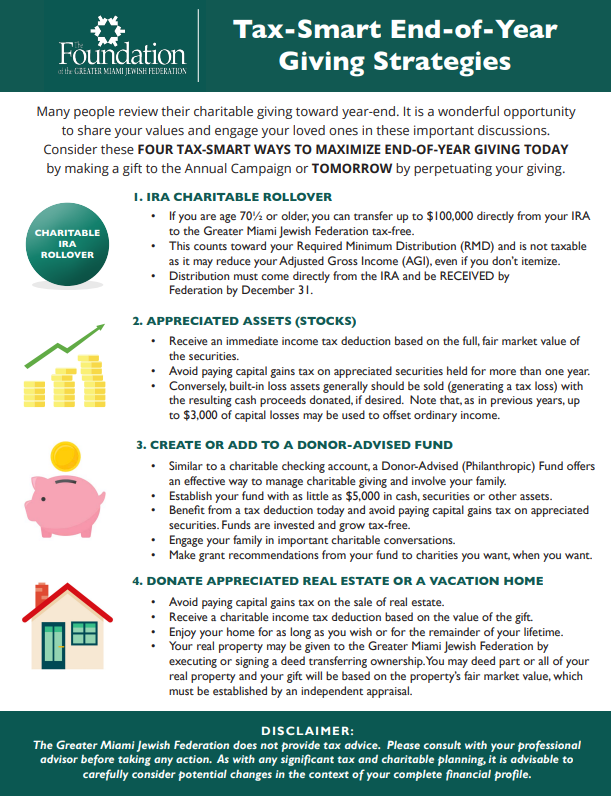 Posted by Noa Waks on 11/29/2022 @ 12:22 PM
American Friends of the Israel Philharmonic invites you to join us for a special performance by young, dynamic prodigy Pianist: YOAV LEVANON.
Israeli teenager, has won countless awards starting at the age of five, performing on prestigious stages including Carnegie Hall, the Verbier Festival in Switzerland and received the young talent award from Queen Sophia of Spain.
⚡️ Date: Monday, December 5, 2022
⚡️ Time: 7:00 p.m.
⚡️ Location: The Alan and Diane Lieberman Theater
Michael-Ann Russell JCC - 18900 NE 25th Avenue, North Miami Beach, FL 33180
Space is limited.
For tickets, please click here.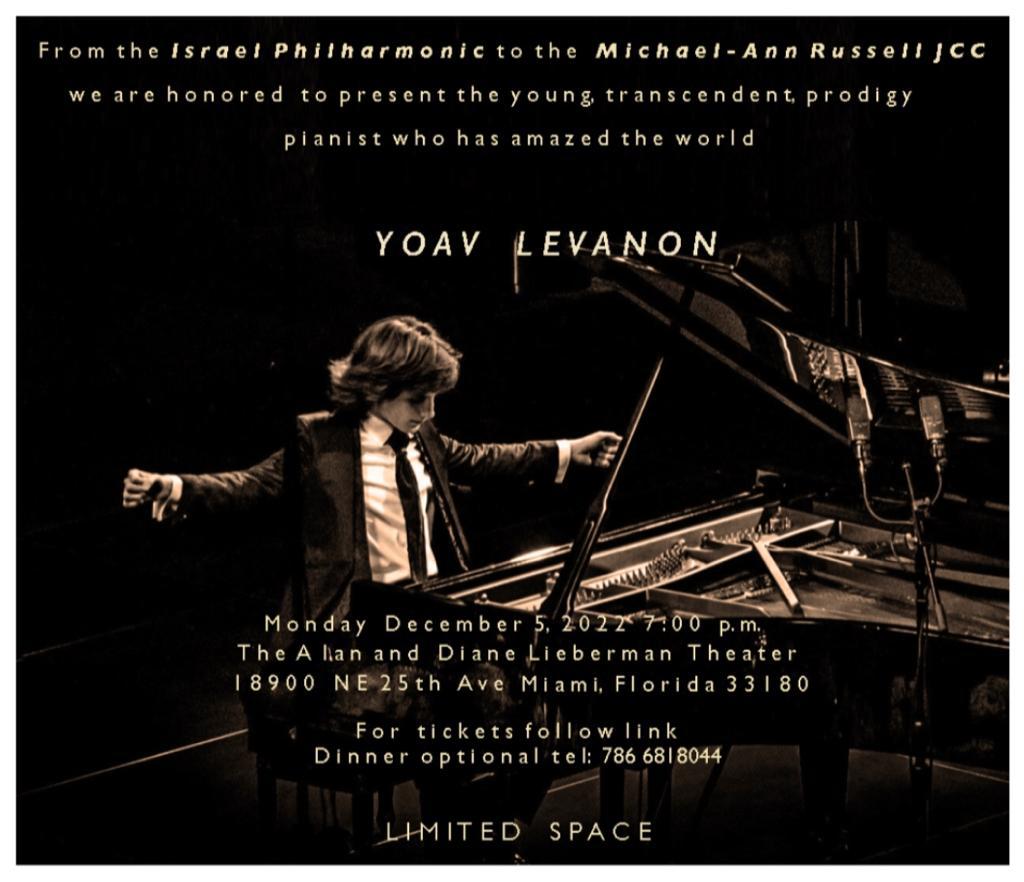 Posted by Noa Waks on 11/22/2022 @ 02:03 PM
Shine A Light on Antisemitism and Racism at the Miami Beach JCC.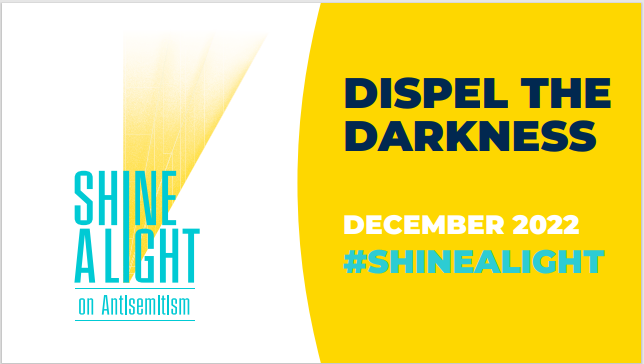 Posted by Noa Waks on 11/22/2022 @ 01:53 PM
Greater Miami Jewish Federation Women's Philanthropy is thrilled to announce we are back in person on Wednesday, January 18, 2023 for the signature Women's Event.
The event will feature guest speaker Noa Tishby, Israeli-American performing artist, producer, author, activist and Israel's first-ever Special Envoy for Combating Antisemitism and Delegitimization of Israel, who will share the importance of being a strong advocate for Israel. Join us to be inspired, feel empowered, enjoy friendship and make a difference. The $125 couvert includes brunch and a signed copy of Tishby's book, Israel: A Simple Guide to the Most Misunderstood Country on Earth and valet parking. A minimum gift of $500 is suggested for the Annual Federation/UJA Campaign. Space is limited and this event is expected to sell out quickly. Click here to RSVP by Tuesday, January 10.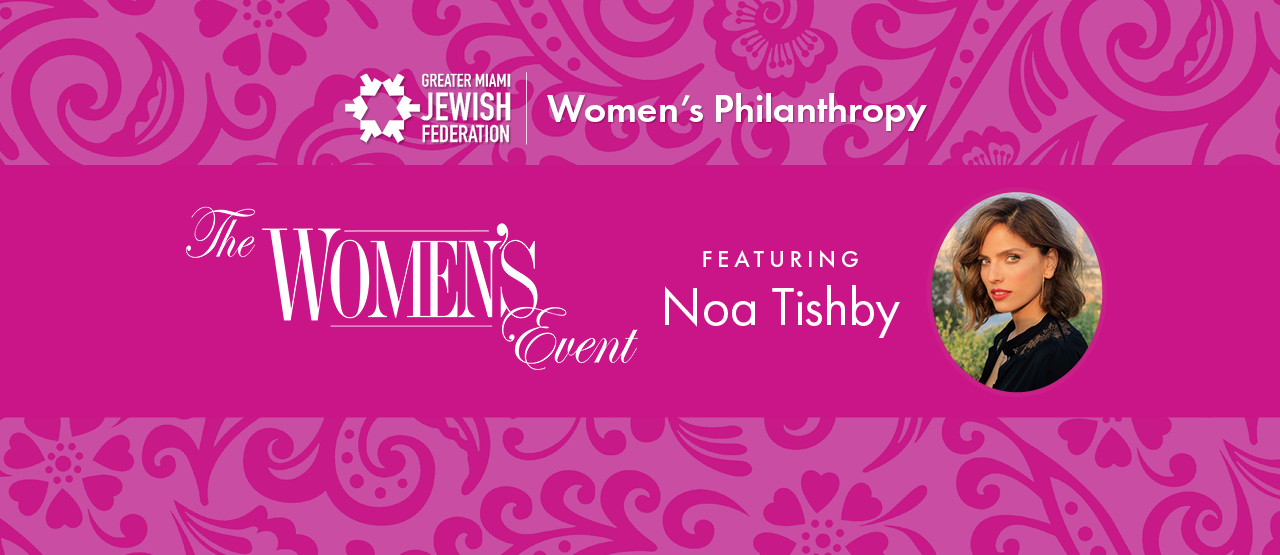 Posted by Noa Waks on 11/22/2022 @ 01:45 PM
Are you a good listener? Are you committed to making a difference? Are you seeking to grow emotionally, spiritually and Jewishly?