It's Happening In Miami
Posts by Noa W
Posted by Noa Waks on 05/11/2023 @ 05:45 PM
Please join the Jewish Museum of Florida - FIU on Sunday, May 21 at 2:00pm for the Exhibition Opening Reception and Curator Talk given by Kenneth Helphand, Philip H. Knight Professor of Landscape Architecture Emeritus University of Oregon.
Upon Thy Gates, The Elaine K. and Norman Winik Mezuzah Collection comes to JMOF-FIU from the Oregon Museum of the Jewish People and Center for Holocaust Education in Portland. Curated by Kenneth Helphand, the exhibition presents 73 mezuzahs collected by the Winiks that represent a wide range of styles, materials, and Jewish symbols. The mezuzahs were created in places all over the world, including Israel, the United States, Denmark, England, Ethiopia, Germany, the Netherlands, India, Iran, Italy, Morocco, Poland, and Yemen and date from the late 18th to the 21st century. The exhibition is sponsored at JMOF-FIU by John & Jo Sumberg and will be on display from May 10 thru August 6, 2023.
Buy tickets [here].(https://secure.qgiv.com/for/jmoffiu/event/uponthygatesopeningreceptioncuratortalk/embed/)
Posted by Noa Waks on 05/11/2023 @ 11:15 AM
Please join Jewish Community Services of South Florida for their Annual Meeting on May 31st, 6:00 PM, at Paradise Plaza Event Space in the Miami Design District! Celebrate JCS staff, funders, partners, and beloved community as we close out the 2022-2023 fiscal year.
Keynote Speaker: Greg Schneider, Executive Vice President, Conference on Jewish Material Claims Against Germany (Claims Conference)
Couvert: $36 per person; Dress: Cocktail Attire
For questions regarding sponsorship, please contact Morgan Weinblatt, Director of Resource Development and Engagement, at mweinblatt@jcsfl.org
For questions regarding the event, please contact Adriana Cano, Event Specialist, at acano@jcsfl.org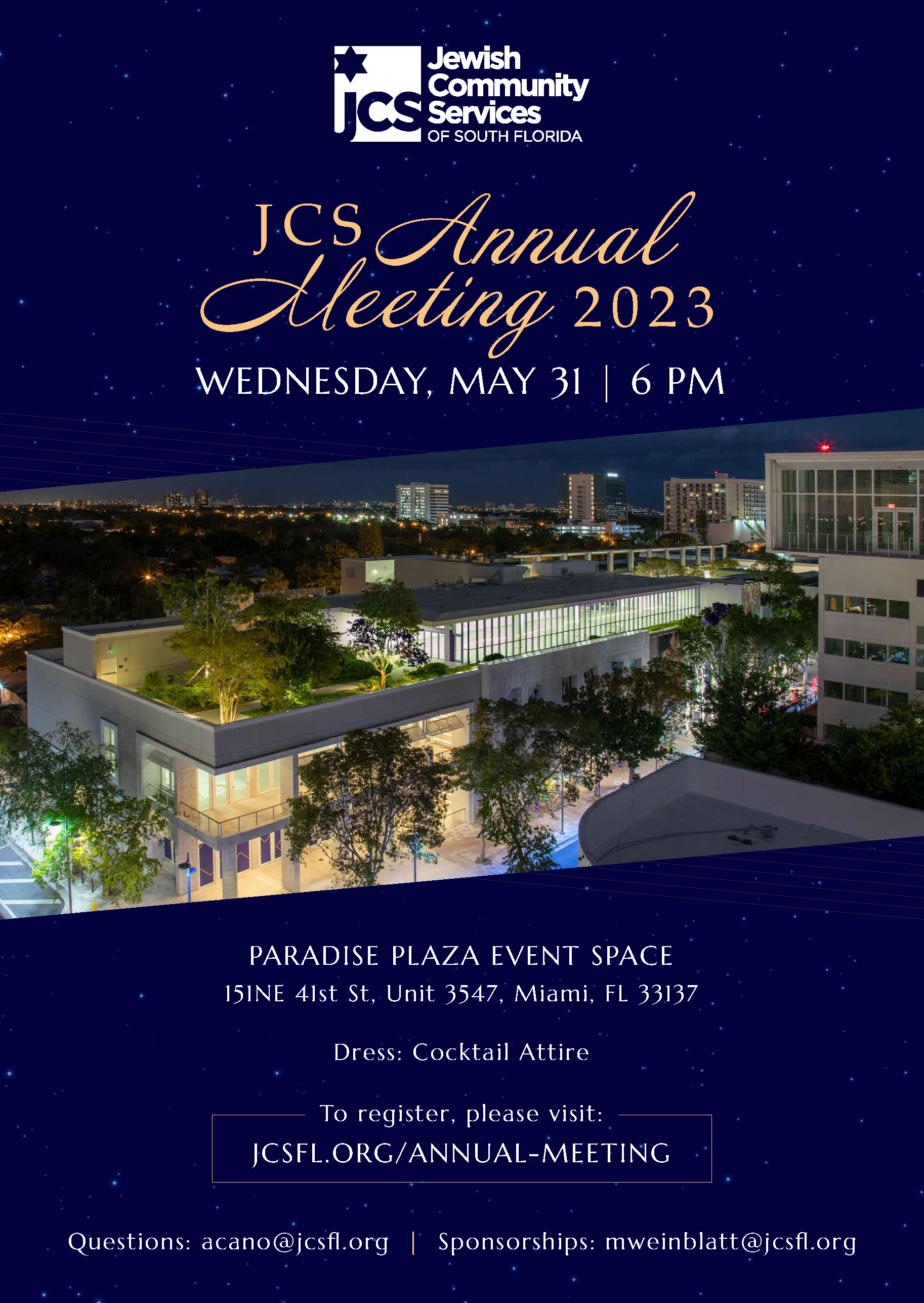 Posted by Noa Waks on 05/10/2023 @ 02:30 PM
A concert celebrating the original compositions of Cantor Rachelle Nelson.
With professional choir, cantors, soloists, instrumentalists, and singers, and the Aventura Turnberry Jewish Center Community Choir. Dr. Alan Mason and Cantor Rachelle Nelson, program directors.
Sunday afternoon, May 21, 2023 at 4pm.
To learn more click here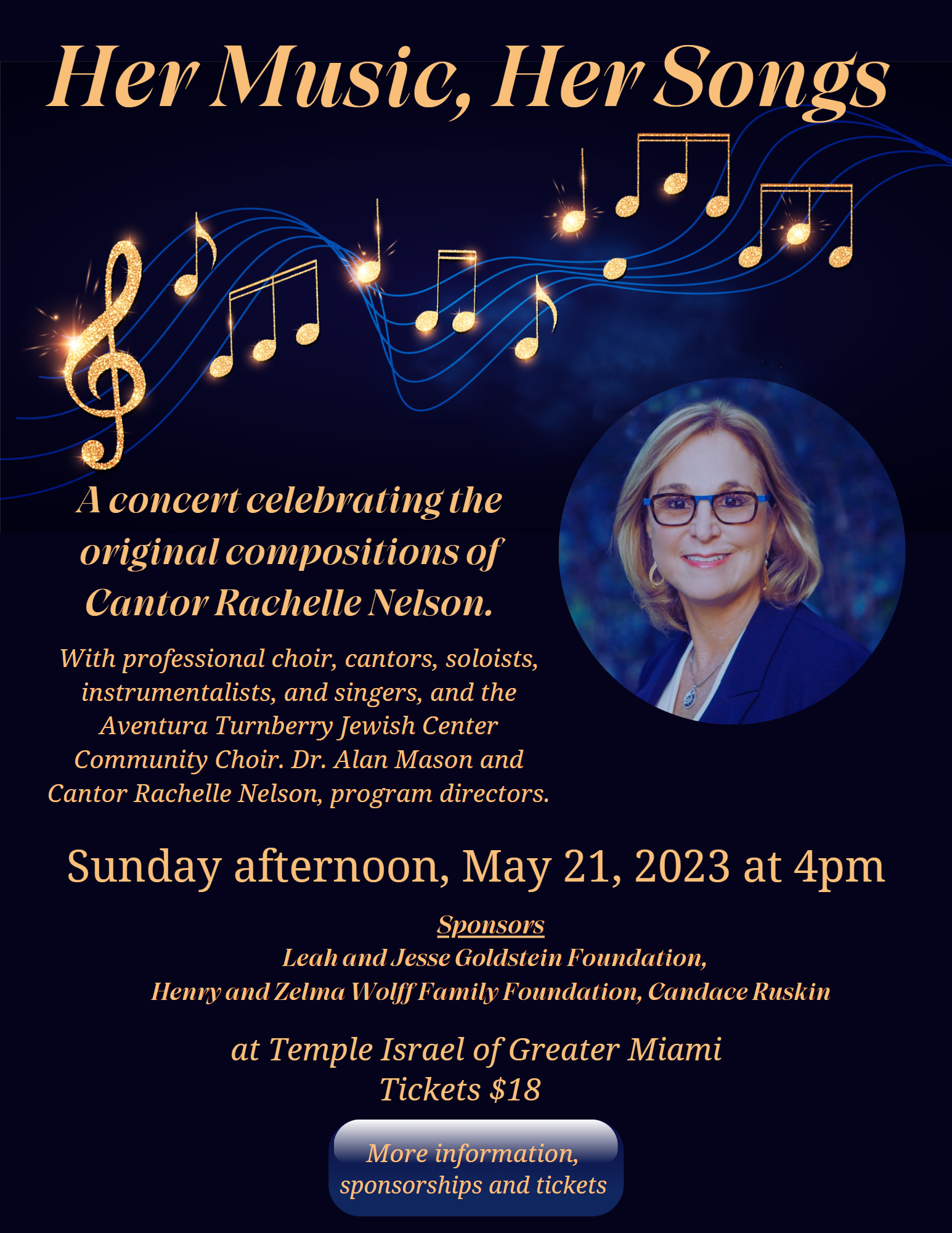 Posted by Noa Waks on 05/10/2023 @ 02:19 PM
AJC's Judge Learned Hand Award was established in memory of a legendary figure, Judge Learned Hand, Senior Judge of the United States Court of Appeals for the Second Circuit from 1924 to 1951. Widely admired as a dean among American jurists, Judge Learned Hand was famous for the extensive range of decisions he rendered in more than two thousand cases. The award is presented to outstanding leaders of the legal profession who exemplify the high principles for which Judge Hand was known.
When:
May 18, 2023 6:00 PM to 9:00 PM
Where:
PO Box 164706 Miami, FL 33116
Organizer:
Michael Winograd
Contact:
Nancy Reinhard at reinhardn@ajc.org ((305) 670-1019)
Cost:
Call for information .
Posted by Noa Waks on 05/04/2023 @ 03:46 PM
Federation's Jewish Community Relations Council (JCRC), in partnership with the Combating Antisemitism Movement, joined AJC and Hadassah as the Miami-Dade County Commission proclaimed May to be Jewish American Heritage Month (JAHM).
In the spirit of honoring Jewish contributions to American society, JCRC, the Miami Jewish Film Festival and Miami's three Federation-supported Jewish community centers (JCCs) collaborated to showcase the work of American Jewish film directors and share the stories of the American Jewish community. Each JCC hosted a different film on a different day. The last film in the series is The Levys of Monticello (May 22 at the Alper JCC). The screening will take place at 7:30 p.m.
Registration is required via the link above; there is no cost to attend.
Posted by Noa Waks on 05/04/2023 @ 12:27 PM
Diller Teen Fellows, a pluralistic and immersive leadership program that invites a select group of Jewish teens to step up, lead their communities and repair the world, is now accepting applications for their next Cohort that will take place during the academic year 2023-2024.
Operated by the Center for the Advancement of Jewish Education (CAJE), a Federation subsidiary, the fellowship welcomes rising 10th and 11th graders interested in growing their leadership skills and connecting with a diverse group of teens from Miami-Dade County. Diller Teen Fellows includes monthly workshops, three Shabbatonim, a weeklong cultural exchange with Israeli teens, and a three-week trip to Israel in July. Through experimental education, hands on volunteering and once-in-a-lifetime travel experiences, Diller provides teens with the tools to become a force of change throughout their lifetime. For more information and to apply, please click here. For additional questions, you may contact Ashley Schulman at ashleyschulman@CAJE-miami.org or 305.573.3499.
Posted by Noa Waks on 05/03/2023 @ 02:39 PM
Posted by Noa Waks on 04/27/2023 @ 12:15 PM
The Neal Edward Farr Memorial Golf Tournament, benefiting Bet Shira Congregation, will tee off on Sunday, May 21, beginning at 11 a.m., at the Miccosukee Golf & Country Club, 6401 Kendale Lakes Drive. The event is designed for golfers at all levels of play, and will be highlighted by an atmosphere of sportsmanship, camaraderie and fun.
In addition to 18 holes of golf in best ball format, the tournament will feature a Kosher barbecue lunch and cocktail awards dinner, as well as unlimited driving range balls, a variety of golf contests, and raffle prizes. Each golfer will receive a swag bag, including a tournament shirt and hat.
Entry fee for the tournament is $250 per golfer and sponsorship opportunities are available for golfers and non-golfers. For more information about the Neal Edward Farr Memorial Golf Tournament, visit www.betshira.org/golf or call 305.238.2601.
Bet Shira is an inclusive, egalitarian Conservative congregation, embracing Jewish tradition and change. The synagogue is a spiritual home where congregants and their families can develop closer relationships with God and with each other through inspiring worship, beautiful music, exciting learning opportunities, diverse and innovative programs for all ages, and meaningful Tikkun Olam, making the world a better place.
Posted by Noa Waks on 04/27/2023 @ 12:09 PM
Mental health experts from our community will be presenting and facilitating discussions around the topic of "Building Your Parent Toolbox: Learning to Support Your Child's Wellbeing in Adolescence and Beyond." There are two opportunities to attend: Monday, May 1 at Beth Torah Benny Rok Campus in North Miami Beach at 7:30 p.m., with Dr. Jessica Dahan, Clinical Supervisor from Jewish Community Services of South Florida and on Monday, May 8 at 7 p.m. at Temple Beth Am in Pinecrest with Dr. Amy Boyers, Clinical Psychologist. For more information and to register, please click here. The BeWell initiative is a resource designed to educate, prepare and support the mental health and wellbeing of teens and young adults in Miami's Jewish community. For additional questions, please contact BeWell Miami Coordinator Shoshana Farbman at sfarbman@gmjf.org or 786.866.8413. Click here to learn more about the national BeWell initiative, spearheaded by the Jewish Federations of North America.
Posted by Noa Waks on 04/27/2023 @ 12:03 PM
CAJE's Departments of Adult Learning and Teen Education & Engagement, in partnership with the Jewish Community Relations Council (JCRC) and the Anti-Defamation League (ADL), invite you to participate in an important virtual program, "How to Talk to Your Children and Grandchildren About Antisemitism" on May 11th at 7pm with
Josh Sayles, Director of the JCRC, will moderate a conversation amongst a panel of experts:
Sarah Emmons, FL Regional Director at the Anti-Defamation League
Rabbi Diana Fersko, author of "We Need to Talk about Antisemitism"
Carly Orshan, Director of CAJE's Teen Department
According to an article released by the ADL in March, 2023, "antisemitic incidents in Florida have more than doubled since 2020. Reports of antisemitic incidents have reached an all time high both locally and nationally". By empowering our children, our teens, and adults with knowledge and the skills to evaluate information critically, we can better identify and speak out against the influence of antisemitic propaganda and misinformation.
This virtual program is designed to provide information and offer participants helpful takeaways to facilitate meaningful conversations with their children and grandchildren. Don't miss this important program!
URL: Register Here