It's Happening In Miami
Posts by Noa W
Posted by Noa Waks on 02/14/2023 @ 02:08 PM
Join JDAIM on Wednesday, February 22 at 7:30pm at the Miami Beach Jewish Community Center (4221 Pine Tree Dive, Miami Beach) for a screening of Evan Beloff's documentary, Just As I Am.
Click here to register.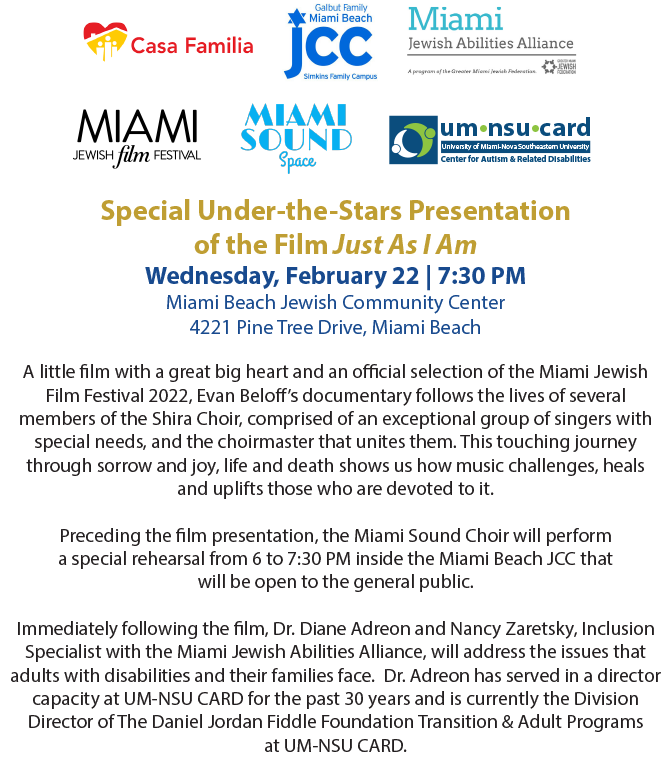 Posted by Noa Waks on 02/09/2023 @ 05:25 PM
Join Women's Philanthropy at the Mindy Solomon Gallery on Thursday, February 23 from 6:30pm-8:30pm for Otherwordly, an art exhibition and talk featuring works by Rodrigo Valenzuela, Jeremy Olson and Melanie Daniel. The Mindy Solomon Gallery, established in 2009, serves as an incubator for dynamic artists establishing their creative voices and exploring a broad range of exhibition possibilities.
Cost: $18 PER PERSON
Limited Space | Street Parking Available | Dietary Laws Observed
RSVP here by Monday, February 20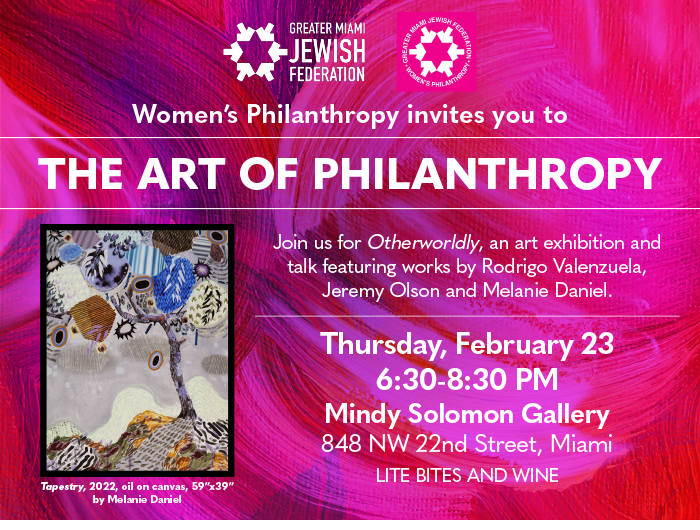 Posted by Noa Waks on 02/09/2023 @ 12:46 PM
Join us at our Community Mega Challah Bake on Thursday, February 9, 2023 at 6 PM for an evening of unity and inspiration as we preform this mitzvah.
Cost: $25 Per Person | $180 Table for 8
Where: Michael-Ann Russell JCC 18900 NE 25th Avenue North Miami Beach, FL 33180
Questions? Contact Diane Azout at diania@marjcc.org (305) 932-4200)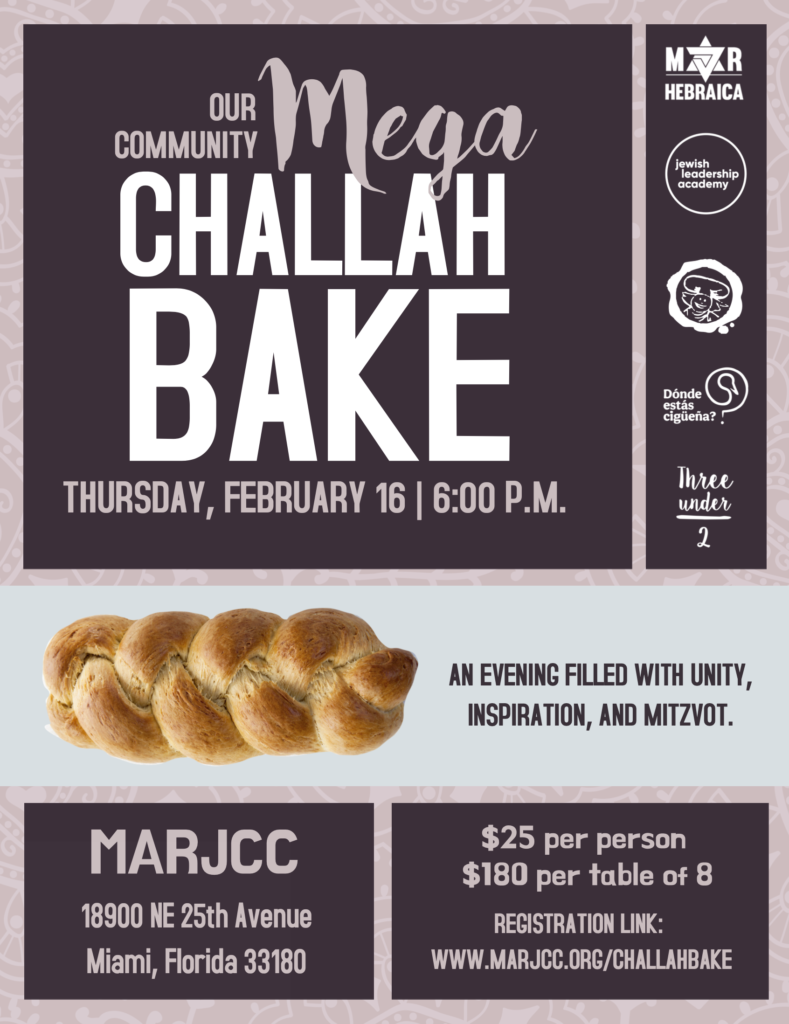 Posted by Noa Waks on 02/08/2023 @ 11:42 AM
When devastating earthquakes rocked Turkey and Syria earlier this week, killing thousands and injuring tens of thousands more, the Greater Miami Jewish Federation immediately responded with an emergency relief fund to bolster support for our overseas partners already on the ground administering critical humanitarian aid.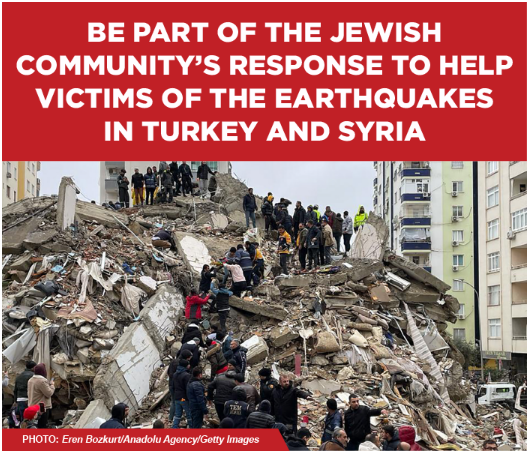 Please click here to make a secure donation now to the Turkey-Syria Earthquakes Emergency Fund online. Among the organizations assisting in the rescue and relief organizations are Federation partners including IsraAID, distributing life-saving assistance and winter items in Turkey, where the impact of the earthquake coupled with freezing conditions have left those affected by the catastrophic events extra vulnerable. IsraAID'S emergency response team includes specialists in water filtration, sanitation and hygiene; mental health and emergency logistics to bring urgent help to those in dire need. Overseas partner United Hatzalah of Israel has sent a delegation of 25 first responders and experts in search and rescue to Turkey to assist in rescue operations and provide medical assistance. Magen David Adom, another Federation beneficiary, will support Israel's military rescue delegation in Turkey, sending paramedics and EMTs trained in rescuing the injured from the rubble and treating "crush syndrome," a potentially fatal condition. As always, Federation will absorb all administrative costs so that 100 percent of funds collected for the Turkey-Syria Earthquakes Emergency Fund will go directly to those impacted by the disaster.
You may also call 305.576.4000 to make a donation.
Posted by Noa Waks on 02/02/2023 @ 08:49 AM
Help restore natural areas in Miami-Dade and celebrate Tu BiShvat with a free Jackfruit tree to take home. Take part in the Environmentally Endangered Lands Program cleanup event Monday, February 6 at County-Line Scrub Preserve (NE 215 Street East of San Simeon Way) and celebrate Tu BiShvat. Be part of a team that helps restore environmentally sensitive lands and take a tour.
Email eel@miamidade.gov to register for the event and to get your free jackfruit tree. Learn more.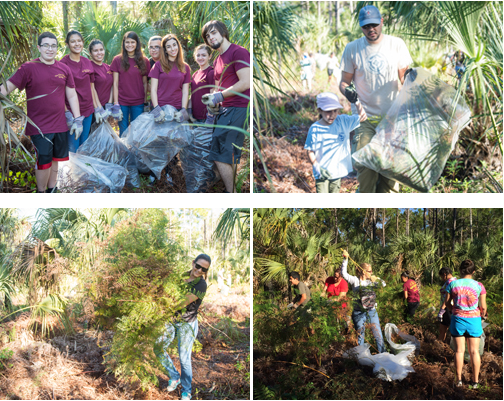 Posted by Noa Waks on 02/02/2023 @ 08:40 AM
The Greater Miami Jewish Federation will conduct a Food Distribution Drive-Thru event in response to ongoing food insecurity in the surrounding community.
WHEN: Friday, February 24, 2023 9 A.M. – 11 A.M.
WHERE: Greater Miami Jewish Federation Stanley C. Myers Building (Parking Lot) 4200 Biscayne Boulevard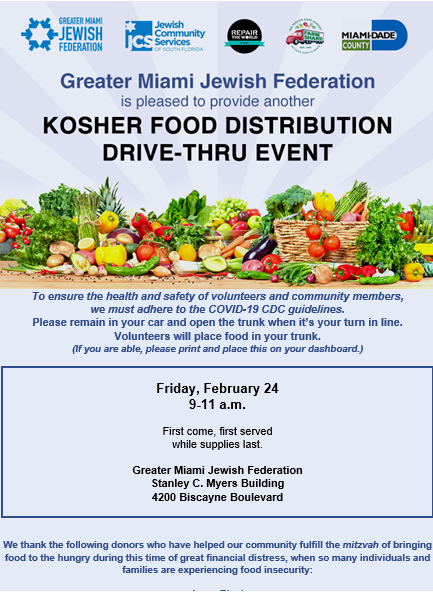 Posted by Noa Waks on 02/01/2023 @ 11:42 AM
Join National Israel Bond's Women's Division for an evening with business strategist, Beth Kaplan, on February 9 at 7:00pm at Brizia on the Bay. Beth Kaplan is the visionary behind many companies, including: Rent the Runway, Covergirl, GNC, Rite Aid, Crocs, Bath & Body Works, and more! A minimum $360 Israel bond purchase is required to attend. Dietary laws observed.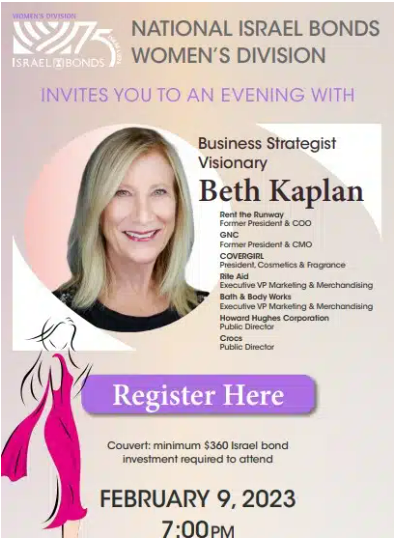 Posted by Noa Waks on 02/01/2023 @ 11:09 AM
Camp Sol Taplin, one of the largest and most established Jewish summer camps in South Florida, offers more than 25 camps for children ages 2 months to 15 years old, loaded with fun-filled activities in a safe and well-supervised environment!
June 12–August 11, 2023
REGISTRATION FOR CAMP SOL TAPLIN IS OPEN; REGISTER TODAY!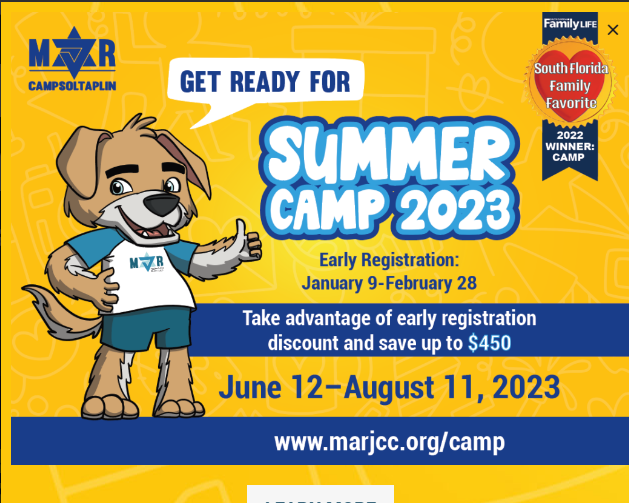 Posted by Noa Waks on 02/01/2023 @ 10:50 AM
Are you a lifelong learner looking for a way to nourish your mind and your soul? The Florence Melton School for Adult Learning & Growth/Melton & More classes are? is now accepting adult students for a wide variety of classes during the spring season that offer meaningful, relevant and dynamic Jewish learning. Explore the Theology of Rabbi Sacks; Jewish composers; Beginners' Hebrew; The Secret Behind the Survival of the Jewish People; and so much more. One student said, "Melton & More brings the Jewish world to us in such thoughtful and engaging ways, as it helps us connect Jewish learning across the ages to the lives we are living in the 21st century."
All classes will be held virtually. Adult Learning & Growth is a department of Federation subsidiary agency the Center for the Advancement of Jewish Education (CAJE).
For more information and to register, click here.

Posted by Noa Waks on 02/01/2023 @ 10:40 AM
Join us on February 16, 2023 from 7:30 PM to 10:00 PM at the Miami Beach JCC for a live play reading of the "Disabled" by Gur Koren.
The winner of "The Best Comedy of 2014" Israeli Tony Award and the Israeli Academy Award for Gur Koren for "Playwright of 2014," "The Disabled" is a hard-hitting comedy that centers around the impossible partnership between a crime family and a troupe of disabled actors who are in the middle of rehearsing "Romeo and Juliet." "The Sopranos meet The Innocents meet Shakespeare"- The Jerusalem Post.
Click here to donate.
For more information, reach out to Avi Hoffman at info@yilovejewish.org ((888) 945-6835)
Sponsored by Greater Miami Jewish Federation Jewish Incubator Grant 2023, and is co-sponsored by Dr. Bruce and Lesley Zafran of Parkland, the Sue and Leonard Miller Center for Contemporary Judaic Studies/George Feldenkreis Program in Judaic Studies at the University of Miami, The Betsy South Beach, Miami Beach JCC and the Adolph, Rose Levis JCC, Mo's Deli, and the Yiddish Theatre Alliance.