It's Happening In Miami
Posts by chabad c
Bows and Arrows of Love##
by Rabbi Moishe Kievman Chabad Chayil
Lag BaOmer is a festive day on the Jewish calendar, celebrating the anniversary of the passing of the great sage and mystic Rabbi Shimon bar Yochai. Also known as the Rashbi (an acronym for his name), he was the author of the Zohar, a foundational work of the Kabbalah, who requested that the day of his passing be celebrated, and not mourned.
It also commemorates another event. In the weeks between Passover and Shavuot, a plague raged amongst the disciples of the great sage Rabbi Akiva and on Lag BaOmer the dying ceased. The Talmud tells us that the plague affected the students of Rabbi Akiva "because they did not act respectfully towards each other." Thus, Lag BaOmer carries the theme of the imperative to love and respect one's fellow (ahavat yisrael). Lag BaOmer teaches us that while working to help improve our fellow man, we must never allow these efforts to compromise our love and respect for him.
It is traditional to light bonfires on Lag BaOmer eve, commemorating the immense light that Rabbi Shimon bar Yochai introduced into the world via his mystical teachings.
Children customarily go out into the fields and play with imitation bows and arrows. This commemorates the midrashic tradition that no rainbow was seen during Rabbi Shimon's lifetime.
Rainbows first appeared after Noah's flood, when G‑d promised to never again devastate the world. When the world is deserving of punishment, G‑d sends a rainbow instead. Rabbi Shimon's merit protected the world, rendering the rainbow superfluous.
But there's a much deeper meaning behind the bow and arrow game, with a lesson not just for Lag BaOmer, but something we can apply every day of the year.
The first weapons devised by man were designed for hand-to-hand combat. But a person's enemy or prey is not always an arm's-length away, or even within sight. Soon the warrior and hunter felt the need for a weapon that could reach a target a great distance away, or which lies invisible and protected behind barriers of every sort.
With a bow and arrow, the tension in an arched bough of wood is exploited to propel a missile for great distances and slash through barriers. The inventor of this device first had to grasp the paradox that the deadly arrow must be pulled back toward one's own heart in order to strike the heart of the opponent, and that the more it is drawn toward oneself, the more distant an adversary it can reach.
Chassidut teaches us that the same rules that apply to tools of destruction, apply to tools of construction - the tools we use to help build each other. And this is the deeper theme and lesson of Lag BaOmer: In order to reach a friend or relative who is otherwise unreachable, we have to first dig deep within our own heart. The deeper place from within our heart this love comes from, the deeper it will penetrate in our loved ones heart. The more we work on our own character, the more our children will work on theirs.
The Rebbe writes in Hayom Yom "If you rebuke your brother and he does not listen, then it is you who is to blame. Words that come from the heart, enter the heart". If you haven't penetrated their heart, dig deeper within your own heart.
This year, Lag BaOmer is Wednesday Night - Thursday, May 18-19, 2022. I encourage you to join a Lag BaOmer celebration taking place at any Chabad or synagogue near you. You are of course welcome to join us at Chabad Chayil in HIghland Lakes for a bonfire, bbq and kumzitz, to G-d willing take place Wednesday, May 18 at 8:30pm. There's no charge and you can bring your own music instruments to join the kumzitz. For the complete history and more lessons you can learn from this fun and Kabbalistic holiday visit www.ChabadChayil.org/Lag.
About the author: Rabbi Kievman is the ambassador of The Rebbe to Highland Lakes, FL. He is founder of CHAP - an afterschool program for Jewish children in Public Schools, rabbi at The Family Shul & together with his wife directs Chabad Chayil. He can be reached at (305) 770-1919 or rabbi@ChabadChayil.org
This past Sunday marked the groundbreaking for Chabad's new education center. Located in the North Miami-Dade neighborhood of Highland Lakes, Chabad Chayil has broken ground on a new five story building that is estimated to cost $12 million, with construction costing close to $9 million.
Chabad Chayil was founded as the local Chabad Center in the 1980's by the late Rabbi Dovid Bryn who passed away in 2002. Brought to Miami by Rabbi Bryn to replace him during his illness, Rabbi Moishe Kievman and his wife Layah have run the center ever since, and expanded its services.
Daily prayer services, as well as an array of classes, weekly Shabbat & Holiday dinners & Kiddush lunch and an array of community programs are still held in a small synagogue and are available for men, women and youth of all ages. But the primary focus of this Jewish center is CHAP, Chabad Chayil's uniquely designed Community Hebrew Afterschool Program - an all encompassing daily after-school program geared towards Jewish children in public schools who have no formal Jewish education.
The new center has been designed to serve thousands of students. It measures 37,737 square feet of indoor space and approximately 10,000 square feet of outdoor terraces including a rooftop park. The design includes 14 regular classrooms and 2 specialty classrooms, an indoor playground, jungle gym, social hall, a children's library and a library for adults, which will double over as a synagogue.
Strategically located at the Northern border of Miami-Dade and close to the Southern edge of Broward, Chabad Chayil is centrally located between 9 major public schools. CHAP curriculum Includes: Traditions, Holidays, Jewish History, Parsha, Jewish Art, Prayer & Judaic study with a primary focus on Hebrew Reading custom designed to teach each child at whichever level they may be. The program offers a first taste of Jewish learning in a creative, joyful, hands-on and interesting way. "We try to impart a sense of tradition using modern and innovative teaching techniques" says Mrs Layah Kievman who directs the program. This is a Hebrew School of the highest quality that kids can't wait to go to!
During its construction phase, Chabad Chayil's synagogue and classrooms have been relocated to a number of small homes that are adjacent to the location where the new building will be located. Children ranging in age from 5 to 18 are taught the importance of being kind to one another, and how each and every person can bring good and light into the world.
Arts and craft is incorporated into the daily assignments, and the children especially love working on holiday related creations. This year each child created their own unique menorah creation which were displayed at Chabad Chayil's 18th annual Chanukah Fair.
Combining the Groundbreaking with The Chanukah Fair made for a festive atmosphere. Thousands of children attended and had a great time playing in the bounce house, obstacle course, laser tag, and having their faces painted. Smashing pinatas for kosher candy was a big hit. A delicious BBQ was available for lunch or dinner, and for dessert, both children and adults loved the assorted array of donuts that were served (donuts are traditionally served on Chanukah).
The Kievman family crowded onto the stage for the lighting of the menorah, singing the holiday blessings for the entire crowd.
"This center has touched the lives of so many adults and children over the past 40 years" says Rabbi Kievman, "we are very excited by our expansion which allows us to reach even more people."
The adults were inspired by speeches from local political leaders that included Aventura Mayor Enid Weisman, State Rep Christopher Benjamin, school board member Lucia Baez-Geller, Miami-Dade commissioner Sally Heyman and others.
Rabbi Avraham Korf who heads Chabad's operations in the entire State of Florida was in attendance to wish a mazal tov (congratulations) to the community. Korf was sent to Florida over 60 years ago and is one of The Rebbe's first emiseries.
It was a tremendous honor to have Rabbi Korf in attendance, and a special treat to hear Korf's stories from the old country. He knew Kievman's great-grandfather since he was only a small child in Russia. Kievman's great-grandfather officiated at Korf's older brother's Bar Mitzvah, in Samarkand, a city in Uzbekistan. Rabbi Korf spoke of Chasidic dynasty leaders, "The Rebbe Rashab said it was worth establishing the entire Lubavitch Yeshiva just for Reb Dovid Hordoker (Kievman)."
"It was worth me being sent to Florida, just to see the tremendous work done by Kievman's great grandson at Chabad Chayil" Rabbi Korf said with emotion.
Please visit ChabadChayil.org/BuildNow to have a part in this tremendous undertaking or to learn more about its' programs. Rabbi Kievman can be reached at (305) 770-1919.
For pictures of the vent see https://www.facebook.com/media/set/?set=a.10158535532525954&type=3 https://youtu.be/S57ENu6rZQY
After 9 years of dealing with red tape, Chabad Chayil finally got the full set of permits to build a new state of the art center in the Highland Lakes section of North Miami.
Chabad Chayil was founded in the late eighties by the legendary Rabbi Dovid Bryn of blessed memory, at the directive of The Lubavitcher Rebbe, to service the local Jewish community with meaningful programming, for adults, teens and children. Before Rabbi Bryn passed away, he brought Rabbi Moishe Kievman down to cover for him and run his growing operation. Since Rabbi Bryn's passing in 2002 from marfan syndrome, Rabbi Kievman and his wife, Layah, have kept Chabad Chayil going and expanded its services with innovative programming.
At first Chabad Chayil ran out of the California Club Mall. It was known as California Club Shul - Chabad Chayil. It then rented several spaces, until it was able to purchase its first house on the corner of NE 26th Ave & 211 Ter. Although the space was tight from day one, it took several years until they were able to purchase the neighboring house and expand the Shul into it, and make more room for its growing afterschool programs. The new building will sit on 5 lots, in which there were 4 houses. Moving to a temporary location is already on the way, and demolition for the houses is scheduled for late January of 2021.
Before taking the plans before the zoning board, the rabbi presented the project to the community and addressed any issues that were brought up. Although some were skeptical, when the plans did finally come before the zoning commission, it passed unanimously. Many people came, but not one person had any concerns. "This project is a win win for everyone" said Rabbi Kievman who has been running Chabad Chayil now for more than 19 years. "It will beautify the neighborhood, create a safe place for our children, servicing their after school needs, and bring quality programs for children, teens and adults of all ages". He explained that while one of the main concerns is always traffic, this will actually help alleviate the traffic issue, as it will stagger school pickup and allow parents to bring their children to a preschool closer to home.
To date, thousands have been impacted by the dedicated staff of Chabad Chayil, including several thousand children and teens who have enjoyed their well known afterschool activities. "This is a blessing for us and a dream come true for everyone" said Mark Levy who has been a part of the community for the past decade. "Just come by and see the smiling faces. See the children who are well taken care of and just want to stay. This is a blessing and the best news. I'm super excited".
Community activist Avi Freunlich has coordinated volunteers who want to help in any way possible to make things go smoother. "I'm looking forward to have a place to call home for every Jew in the community," said Erica Chao who's 2 daughters attend CHAP and who volunteers at Chabad Chayil, any free second she has. "I was going to say a 'home away from home', but for so many Chabad is actually their 'first home'!
The new 5 story building will host its current award winning programs: CHAP Community Hebrew Afterschool Program, CKids, CTeen, GROW Enrichment, Hebrew School, Dovid Bryn Library and The Family Shul. It will G‑d willing include 14 regular classrooms, 2 specialty classrooms, adult & children's libraries, an indoor playground, jungle gym, social hall & rooftop park! With over 36,000 square feet of indoor space and 10,000 square feet of rooftop park and terraces, it will be a gem for the entire community, allowing Chabad to expand its current programming and services to include a preschool & a whole line up of extra curricular activities!
If you have access to the funds, here's something to think about. You can enable the building to go up, without it costing you a dime, by making an Impact Investment. Think of it as recycling your charity, where you can give the same funds over and over again! You're money will be 100+% secure, and if you want, you can even make money on it! For anyone looking to have a legacy that they are proud of, while investing in the local community, for an educational & humanitarian cause, this is the safest and smartest place to lend your money.
If you would like to join any of the committees, make a donation of any sort (financial, building materials, services..) or want to help in any way, please reach out. For the full set of plans & to see what dedications are available go to ChabadChayil.org/build or call (305) 770-1919.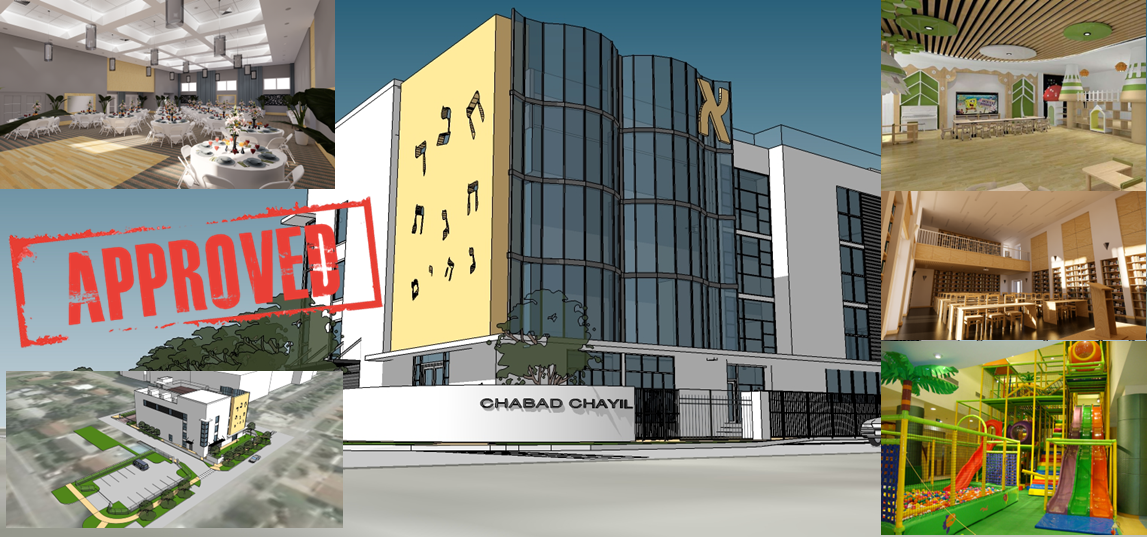 Trust & Faith with guest speaker Leah Rubashkin (wife of Sholom Rubashkin from Agri Star) + Singer Judith Gerzi from Israel with some inspirational songs. A Project Connect series, uniting all Jewish women of North Dade.
Tuesday, May 5, 1:30pm
Venue: Zoom Meeting ID: 771 7336 8764 - Password: Sholem It will also stream live at JewishFlorida.news/LIVE
Cost: No Charge
Add HASHTAGS as applicable http://best-hashtags.com/
Chabad #ChabadChayil #JewishFlorida #ProjectConnect
Information & RSVP at (305) 770-1919 or visit www.chabadchayil.org
Virtual classes geared for Jewish children in public schools. No membership required to participate. This week will focus on love and respect.
Date: Sunday, May 3, 10:30am
Venue: Go to HebrewSchool.info for login info
Cost: No charge for now
Direct Link: https://www.chabadchayil.org/templates/articlecco_cdo/aid/4723767/jewish/Virtual-Hebrew-School.htm
Chabad #ChabadChayil #CHAP #VirtualHebrewSchool #StayHome #JewishFlorida
Get Educated! Save a life! Workshop is a 2.5 hour suicide alertness training which equips participants with the tools to help in times of crisis. Open to anyone over the age of fifteen. $18 Covers Curriculum, Books & Certificate RSVP at (305) 770-1919 or ChabadChayil.org/EVENTS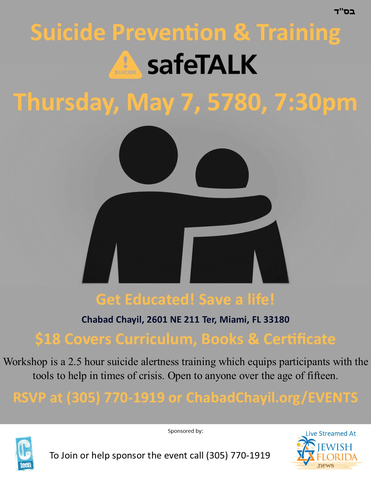 Venue: Chabad Chayil 2601 NE 211 Ter, Miami, FL 33180
RSVP at (305) 770-1919 or ChabadChayil.org/EVENTS
Amazing, out-of-this-world Street Party with Live Music, Food, Games, Fireworks, Farbrengen & the whole Megillah! No charge. Must RSVP! Family Party 5:15pm / Rocking Youth Party 7:00pm. Info & RSVP at (305) 770-1919 or ChabadChayil.org/PURIM
Learn how to taste wine like a pro with Wine Connoisseur & Kosher Expert, Ricardo Kasinsky. Taste an amazing selection of world class wines, paired with delicious gourmet Passover canapés! Order Wine for Purim & Passover at wholesale prices! Art, Handmade Shmura Matzah & Seder Tickets at cost price! No charge. A donation of any amount helps cover cost.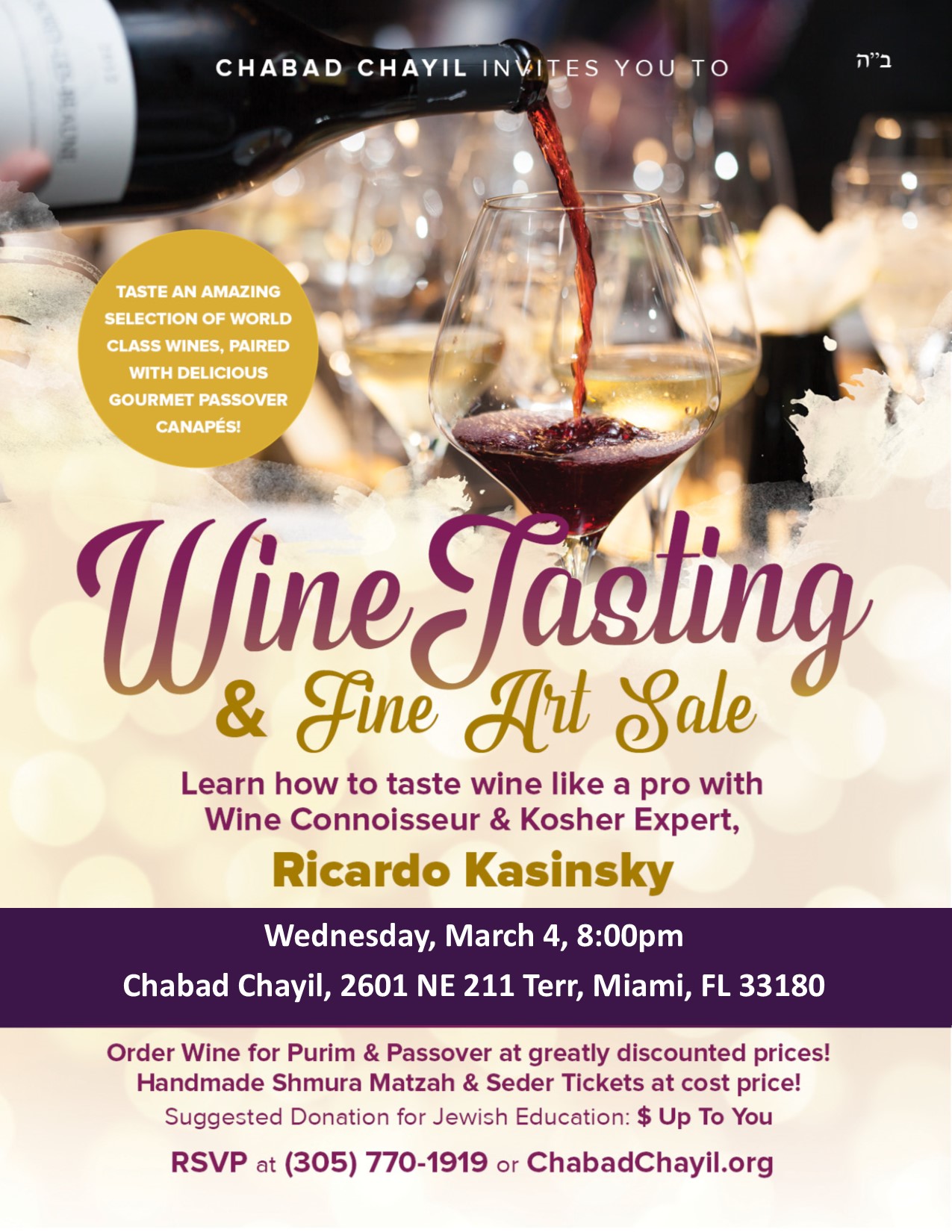 More information at (305) 770-1919 or ChabadChayil.org
WONDER
Award winning film with an extraordinary lesson of a child born with facial differences who eventually learned to deal with his struggles... and shine. Rated PG13, suggested for all ages.
Saturday Night, Feb 8, 8:00pm
Chabad Chayil, 2601 NE 211 Ter, Miami, FL 33180
No charge. A donation of any amount will help cover costs.
RSVP at https://ChabadChayil.org/EVENTS
Direct Link: https://www.chabadchayil.org/templates/articlecco_cdo/aid/4635520/jewish/Film-Wonder.htm
Chabad #JewishFlorida #stopbullying #bullyingawareness #antibullying #mentalhealth #ShabbaTTogether #ChabadIsInclusion #ChabadChayil
Free Concealed Carry Permit Class For the South Florida Jewish Community Must Register at ChabadChayil.org/events
Thursday, Feb 6, 6:15pm
Chabad Chayil, 2601 NE 211 Ter, Miami, FL 33180