We're sorry but we couldn't find that post.
Watch JBS on Comcast X-1 Box Ch 1684, Atlantic Broadband 168, Hotwire Ch 269, DirecTV Ch 388, Blue Stream Ch 110, streamed on Roku under "educational", Apple TV, Amazon Fire TV and jbstv.org. For a complete and timely schedule and other television providers, go to www.jbstv.org
Eric Goldman's Jewish Cinematheque: Tantura
Director Alon Schwarz joins Eric Goldman to discuss "Tantura," his documentary that wrestles with Israel's founding story as it investigates controversial events at the Palestinian village of Tantura in 1948, where survivors claimed to witness a massacre of civilians by Israeli troops. Monday - 7:30pm
Tuesday - 2:00am & 11:00am Thursday - 2:30am Friday - 5:00am Saturday - 7:00pm
In the Spotlight: Women in Law
Dahlia Lithwick (Senior Legal Correspondent, Slate), joins Abigail Pogrebin to discuss Lady Justice, her book that takes a deep dive into how women lawyers across the country came forward to fight the racism, sexism and xenophobia of the Trump Administration, doubling down on legal redress for everything from the Muslim ban to forced abortions, to the Charlottesville march. Monday - 8:00pm Tuesday - 1:30am & 11:30am Thursday - 2:30pm Friday - 2:00am Saturday - 8:30pm
Rabbi Hirsch: A Tale of Two Elections
In the context of the recent elections in the U.S. and Israel, Rabbi Hirsch discusses the national need to constantly cultivate democracy and guard against the dangers of extremism, and to hold politicians morally accountable for the support and promotion of rhetoric and policies that impact millions of people. Tuesday- 7:00pm & 1:30am Wednesday - 1:30am Thursday - 10:35am Friday - 11:00am Saturday - 4:00pm
Voices for Truth and Humanity (Awards Dinner)
JBS President Mark S. Golub receives an award and champion of the Uyghur people, Prime Minister Salih Hudayar, is honored in this special presentation of highlights from this year's Voices for Truth and Humanity gala in support of Holocaust education and the fight against all hatred, bigotry and BDS. Tuesday- 8:00pm Wednesday - 11:00am Friday - 2:00pm
Author Discussion Series: Letty Cottin Pogrebin
Feminist icon and author Letty Cottin Pogrebin discusses the Jewish cultural heritage of secrecy for survival which she writes about in her book Shanda: A Memoir of Shame and Secrecy, with The Hampton Synagogue's Rabbi Avraham Bronstein. Wednesday - 7:30pm Thursday - 2:00am & 2:00pm Friday - 2:30am Saturday - 5:30am & 7:30pm
Rabbi On The Sidelines: Steve Springer
Veteran Los Angeles Times sports journalist, LA Lakers historian, author of 14 books and committed member of the Jewish community, Steve Springer joins Rabbi Sherman to discuss the world of faith and sports. Follow on Twitter @RabbiESherman, Instagram @rabbi_erez_sherman, and Facebook @SinaiTempleLA. Sunday - 7:30pm Monday - 2:00am Tuesday - 10:00am Thursday - 5:00am
In the News: Avi Melamed
Avi Melamed, founder of Inside the Middle East Institute and former Israeli Intelligence Official, analyzes recent Palestinian terror against Israel in Jerusalem and beyond, and shares his insights about the Palestinian Authority's future and what lies ahead. Today (Sunday) - 5:30pm
In The News: Israel's Forming a Government (ITN)
Netanyahu emerged victorious in Israel's 5th elections round. As the Likud Party is forming the next coalition government, Shahar Azani, JBS Senior VP, shares his insights from his recent trip to Israel and analyzes the elections results. With Mark Golub Monday - 6:30pm & 11:30pm Tuesday - 3:30am, 8:30am & 12:30pm Saturday - 11:30pm
ZOA Gala Dinner 2022
The 2022 Annual Dinner of the Zionist Organization of America (ZOA) in New York City featured award recipients Donald Trump, Jason Greenblatt, Israeli Gen. Amir Aviv, Joseph Lubeck and Ali Meli, with presenters Miri Adelson and Alan Dershowitz. Introductory conversation from Mark S. Golub and Mort Klein.
Thursday - 7:00pm & 1:00am Friday - 3:30am & 1:00pm
Thinking Out Loud: JBS journalist Micah Halpern
This week, Micah discusses the World Cup in Qatar. Tens of thousands of Israelis have traveled there to watch in person and at home almost every Israeli will watch or listen to at least part of a game. But -- Israelis have not been received in Qatar with open arms. Wednesday - 6:30pm & 11:30pm Thursday - 3:30am, 8:30am & 12:30pm Saturday - 5:30pm
The Dershow: Ukraine's Chutzpah
While standing in support of Ukraine, Harvard Law Professor Emeritus Alan Dershowitz looks at Ukraine's "chutzpah," addressing things he says should not be excused, including honoring notorious Nazis. Tuesday - 6:30pm & 11:30pm Wednesday - 3:30am, 8:30am & 12:30pm
Top Story: Michael Walsh
JNS Editor-in-Chief Jonathan Tobin is joined by critic, historian and novelist Michael Walsh to discuss wokism, the influence of the World Economic Forum and Davos, politics and art, and other ideas from his book, Against The Great Reset. Thursday - 8:00pm Friday - 1:00am & 10:00am
On L'Chayim
David M. Friedman
Trump's Ambassador to Israel, David M. Friedman, shares his views about the Israeli-Palestinian conflict, the viability of a two-state solution, the impacts of the Abraham Accords, the embassy move to Jerusalem, and more. Today (Sunday) - 12:00 Noon Today (Sunday) - 6:00 pm Monday - 3:00pm
Phyllis Chesler
Bestselling author, scholar and one of the Jewish community's iconic feminists, Phyllis Chesler discusses her autobiography A Politically Incorrect Feminist, her rape experience, the betrayal of the American feminist movement and more. Monday - 9:00pm & Midnight
Tuesday - 3:00pm
Israelis Fight BDS
While on a visit to the U.S. to tour college campuses and fight BDS, American-born Israelis Josh Malchman and Kayla Dulin, who each served in the IDF as "Lone Soldiers" (with no family in Israel) discuss their personal journeys and feelings for Israel Tuesday - 9:00pm & Midnight Wednesday - 3:00pm
Saturday - 6:00pm
David Wolpe
David Wolpe, Senior Rabbi of Sinai Temple in Los Angeles and author of David:The Divided Heart, discusses his battle with cancer, the purpose of prayer, why faith matters and other aspects of Jewish life today. Wednesday - 9:00pm & Midnight Thursday - 3:00pm Saturday - 6:00pm
Orin Wolf
Broadway producer Orin Wolf discusses his Jewish background, his love of Israel, his philosophy of theater, and the story behind his creating the Tony Award-winning Best Musical of 2018, "The Band's Visit." Thursday - 9:00pm & Midnight Friday - 3:00pm
Threefold Blessing
Learn about Shabbat and how the rabbis' interpretation of the Creation Story's threefold blessing given to human beings in Genesis Chapter 1 suggests a role most people don't normally imagine. Today (Sunday) - 10:00am Monday - 5:00am Wednesday - 9:00am & 5:00pm Friday - 1:00pm
Download Lessons and Worksheets free on the JBS website
Hebrew: Lesson 18
Recognize Hebrew letters that tend to look alike in a complete review of all the Hebrew letters and vowel sounds. Monday - 9:00am & 5:00pm Thursday - 10:00am & 5:00pm Friday - 4:00am
Talmud Study: In Heaven's Hands?
Rabbi Mordechai Becher discusses a letter from Rabbi Ovadiah to Maimonides about the Talmudic statement "everything is in the hands of Heaven except for the fear of Heaven." Today (Sunday) - 9:00am Tuesday - 9:00am & 5:00pm Wednesday- 7:00pm
Talmud Study: Abortion in Judaism
Rabbi Becher describes the Talmudic view of abortion and the way in which the definition of a fetus impacts Jewish Law. Today (Sunday) - 9:30am Tuesday - 9:30am & 5:30pm Thursday - 7:00pm
REFORM AND ORTHODOX SHABBAT SERVICES
FRIDAY EVENING SHABBAT SERVICES
REFORM: CENTRAL SYNAGOGUE Closed Captioned 6:00pm, 11:30pm & 2:00am
ORTHODOX: HAMPTON SYNAGOGUE With Hebrew, transliteration and English subtitles 7:30pm & 10:30pm
SATURDAY MORNING SHABBAT SERVICES
REFORM: CENTRAL SYNAGOGUE Closed Captioned 9:30am & 1:00pm
ORTHODOX: HAMPTON SYNAGOGUE With Hebrew, transliteration and English subtitles 11:00am & 2:30pm
Edith Samers Vice President 203.536.6914 (cell phone) JBS Jewish Broadcasting Service, a 501c3 fulltime television channel Website: jbstv.org
Posted by Noa Waks on 12/02/2022 @ 02:18 PM
Op-Ed as appeared in the Miami Herald on Thursday, December 1, 2022. To read the full article, please click here.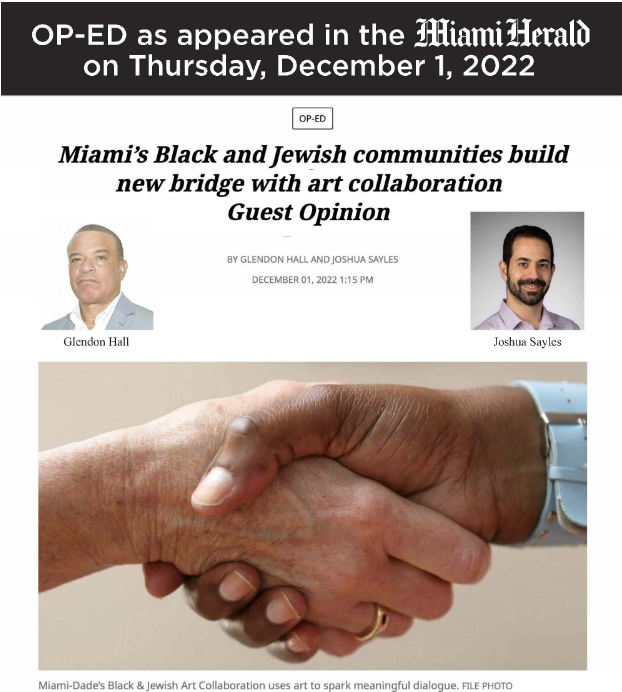 Miami Works, a group exhibition of Miami-based artists Opening Wednesday November 30th through January 28, 2023 at Temple Emanu-El's new Blu Sky Gallery in the Blank Chapel 1701 Washington Avenue, Miami Beach
Blu Sky Gallery will be open as follow: 1. Open hours for Art Week: 1. 2. Thursday, Dec 1st 2-7 PM 3. Friday, Dec 2nd 1-6 PM 4. Saturday, Dec 3rd 2-7 PM 5. Sunday, Dec 4th 10 AM - 2 PM 1. Open hours Dec 9th - Jan 28th (Closed Dec 23-23 and Dec 30-Jan 1) 1. Fridays 2-6 PM 2. Saturdays 1-5 PM 3. Sundays 1-5 PM 4. Or By Appointment
Miami Works features seven internationally renowned artists: Charo Oquet, Emilio Martinez, Horst Kohlem, Kim Keever, Rafael Vargas Bernard,
Sandra Ramos, and Sheila Elias who live and work in Miami. The works of art selected vary in media and content reflecting Miami's exciting cultural mix.
The art was curated by Diane W. Camber and generously supported by the Blavatnik Family Foundation and Temple Emanu-El.
Father & Son, Mother & Daughter Learning together the prepared materials on the Parsha or any topic you like! This weeks Hakhel CommUNITY event will take place at Chabad! Pizza & Hot Cocoa Melava Malka will be served. Raffle & Prizes!
Saturday, Dec 3, 7:30pm
Venue: Chabad Chayil 2601 NE 211 Ter, Miami, FL 33180
Cost: No charge
RSVP at ChabadChayil.org or just come!
Great Chanukah Fair
Free Event Includes Roaming Entertainment, Free Snow Cones, Fresh Donunts, Pony Rides, Laser Tag, Bounce Houses, Family Train, Kongo Shoes, Aviation Show & Airplane Gelt Drop, Face Painting, Circus Shows, Live Performances, Music, Food Court, Holiday Boutique, & Grand Menorah Lighting! RSVP at ChabadChayil.org/Fair
ShareTheLights
Sunday, Dec 18th 3:00-5:30pm
Venue: Chabad Chayil 2601 NE 211 Ter, Miami, FL 33180
Cost: No charge
RSVP at ChabadChayil.org/fair
Posted by Noa Waks on 12/01/2022 @ 08:21 AM
Our mission is to create a unique live experience uniting Jews from diverse backgrounds and to celebrate the impact Jewish comics currently play in our comedy landscape.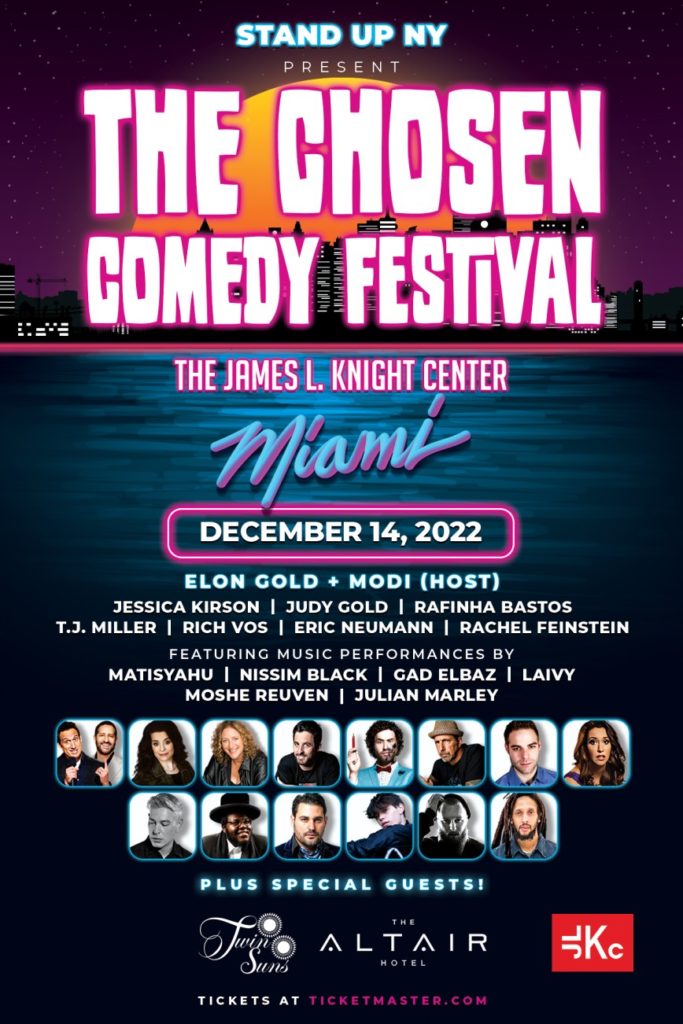 Posted by Noa Waks on 11/30/2022 @ 02:53 PM
Do you know a Jewish teen who has demonstrated leadership and a dedication to tikkun olam (repairing the world)?
Nominate them now for a Diller Teen Tikkun Olam Award! Each year, the Helen Diller Family Foundation awards 15 Jewish teens (AGES 13-19) throughout the US with $36,000 in recognition of their exceptional leadership and engagement in visionary service projects that embody the value of tikkun olam (repairing the world). Since 2017, two winners have come from our Miami community: Oliver Stern and Daniel Solomon (pictured above). Nominees must have the ability to impact and engage a growing number of individuals either as partners, participants or beneficiaries; show dedication to their projects over time; and articulate in their own words the history, meaning, goals, impact and significance of the project. For more information and to complete the nomination form, due Thursday, December 22, click here.

Posted by Noa Waks on 11/30/2022 @ 02:48 PM
Looking for a way to give back to your community? Join your Federation family throughout December for Season for Giving, a month-long event offering hands-on volunteer opportunities. The family-friendly service project aims to help meet our community's needs and ensure Miami's vulnerable individuals and families have a happy holiday season. Season for Giving is a partnership between Federation, our Jewish Volunteer Center and Repair the World. Participants of all ages can sign up to wrap or distribute holiday presents, assemble breakfast bags or winter kits, and prepare or serve holiday meals at locations throughout Miami-Dade County. To learn how you can get involved and to RSVP, click here.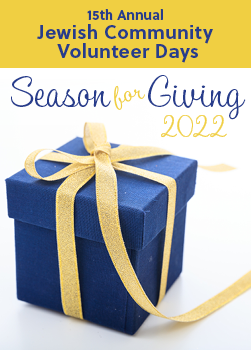 Posted by Noa Waks on 11/30/2022 @ 02:44 PM
Would you like your child's classroom to share in the fun and universal values of this seasonal celebration? Become a PJ Story Squad volunteer today to help make it happen.
To volunteer, please contact Amanda Burns at aburns@gmjf.org.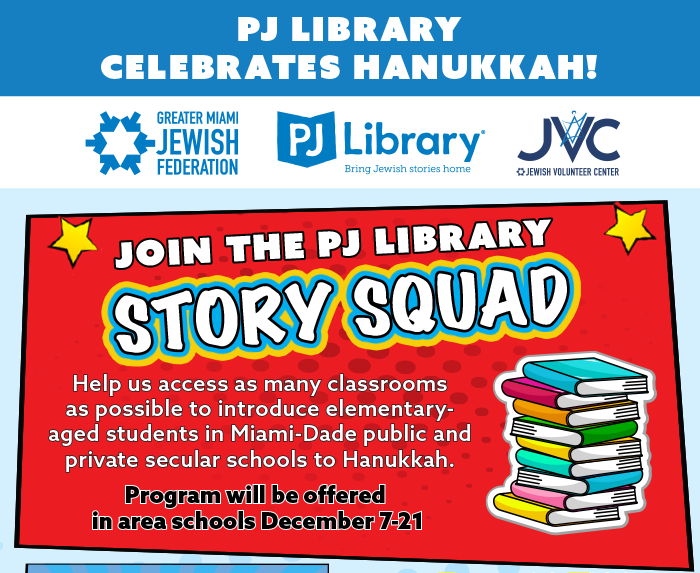 Posted by Noa Waks on 11/30/2022 @ 02:18 PM
Now is the time to review your 2022 charitable giving and make some tax-smart decisions while also improving the lives of others.
Many people review their charitable giving toward year-end. It is a wonderful opportunity to share your values and engage your loved ones in these important discussions. The Foundation of the Greater Miami Jewish Federation can help you maximize your charitable donations TODAY and make a lasting impact on the Jewish community TOMORROW. From donations of stock to using your IRA, there are several tax-smart ways to make a meaningful gift. To learn more, click here or contact Scott Kaplan, The Foundation Director, at skaplan@gmjf.org or 786.866.8623. If you would like to make tax-deductible gift by credit card before year-end, please click here to donate to the Annual Greater Miami Jewish Federation/UJA Campaign.