We're sorry but we couldn't find that author.
Alper JCC Berrin Family Jewish Book Festival Presents Steven Levenson, Dear Evan Hansen: The Novel In conversation with Christine Dolan, Artburst Theater Critic | Includes refreshments Sunday, February 10, 2019 4pm at the Alper JCC 11155 SW 112 Avenue • Robert Russell Theater Admission packages: Student $10 (no book) | Student $20 (with book) | 1 Adult (with book) $30 | 2 Adults (one book) $40
The Tony Award-winning co-creator of Dear Evan Hansen, Broadway's 2017 Best Musical, presents his groundbreaking novel inspired by the show. A letter that was never meant to be seen by anyone draws high school senior Evan Hansen into a family's grief, and he is given the chance of a lifetime: to belong. No longer tangled in his once-incapacitating anxiety, this new Evan has a purpose. And a website. Every day is amazing until everything is in danger of unraveling. A simple lie leads to complicated truths in this big-hearted coming-of-age story of grief, authenticity and the struggle to belong in an age of instant connectivity and profound isolation. Show Tunes performed by Miami Children's Theater
WHAT "THE MAMBONIKS," a new film about the Jewish love of Latin music and dance, will make its world premiere at the Miami Film Festival. Directed by Peabody Award-winning producer Lex Gillespie, the movie was filmed in South Florida and features many local residents in starring roles.
WHEN March 3, 2019, at 3PM
WHERE The Coral Gables Art Cinema, 260 Aragon Avenue, Coral Gables, FL 33134, 786.385.9689
TICKETS HERE https://2019.miamifilmfestival.com/films/mamboniks/
ABOUT THE FILM Bagels meet bongos in THE MAMBONIKS, a 90-minute documentary that tells the little-known story of the Jewish love affair with Latin music. Set in New York, Havana, Miami Beach, and the Catskill Mountains, this uplifting film features a lovable, somewhat zany collection of dancers from the 1950s. Now retired yet still dancing in Florida, they share their passion for the mambo, the hot dance from Cuba that became a world-wide sensation. With an infectious soundtrack including Tito Puente, Celia Cruz and mambo king Pérez Prado, this film explores a mostly unexamined aspect of Jewish life and culture.
WATCH THE TRAILER https://vimeo.com/267148924
Scheck Hillel Community School's Jordan Alexander Ressler Arts Program presents "Once Upon a Mattress." Grade 6-12 students and crew will take you to the faraway kingdom of Queen Aggravain with this classic musical favorite for the whole family to enjoy!

WHAT:
Musical Theatre Production of "Once Upon a Mattress" directed by Anthony Campisi with musical direction by Laura Bass and choreography by Justine Rosales.

WHO:
Scheck Hillel Community School's Jordan Alexander Ressler Arts Program (Student cast and crew).

WHEN:
Wednesday, February 20, 2019 @ 7 PM
Thursday, February 21, 2019 @ 7 PM
Sunday, February 24, 2019 @ 2 PM

WHERE:
Scheck Hillel Community School (19000 NE 25th Avenue, North Miami Beach, FL 33180).

BOX OFFICE:
Purchase tickets at eHillel.org/boxoffice ($13/ticket online or $15/ticket at the door).

ABOUT THE PLAY:
This musical theatre adaptation of Hans Christian Andersen's fairy tale, "The Princess and the Pea," tells the story of a prince in search of a true princess. "Once Upon A Mattress" begins in a faraway kingdom long ago, where due to an unhappy curse, the King is unable to speak. Meanwhile, his terror-of-a-wife, Queen Aggravain, has taken over control of the kingdom. Most importantly, in an attempt to keep Prince Dauntless single, she has decreed that only the princess that can pass her test may marry her son. Further, no one else in the kingdom may marry until Prince Dauntless does.

Luckily, Sir Harry is able to find an amazing princess, Winnifred the Woebegone. She instantly catches the attention of Prince Dauntless, and in the end, is able to pass the Queen's supposedly impassable sensitivity test. When the Queen still tries to prevent Prince Dauntless from marrying, he ends up standing up to her, which ends up breaking the curse on the King. Now able to speak, the King regains his rightful position as leader of the kingdom, and all is well.

Hans Christian Andersen wrote more than 150 fairy tales including "The Little Mermaid," "The Emperor's New Clothes," "The Ugly Duckling," "Thumbelina" and "The Snow Queen." More than 120 years after the publication of "The Princess and the Pea," Mary Rodgers, Marshall Barer and Jay Thompson adapted "The Princess and the Pea" to musical theatre in 1958.

About Scheck Hillel Community School
Scheck Hillel Community School educates and inspires students 18 months-Grade 12 to become exemplary global citizens with enduring Jewish identity and values through an individualized college preparatory curriculum highlighted by Design/STEM, Capstone, college dual enrollment, arts, athletics and community service. Its 14-acres include a 115,000-sq.-ft athletic complex with academic expansion plans. Set within a nurturing, diverse community, Scheck Hillel is one of the world's largest Jewish community day schools and a National Blue Ribbon School of Excellence. For more information about Scheck Hillel Community School or to arrange a visit to the school, please contact our Admissions office at 305.931.2831x173 or write to admissions@eHillel.org.
Please join us for a North Dade Business Network Breakfast on February 28, 2019 at Skylake Synagogue. We will have time to network with other professionals as well as hear from Dr. Arthur Agatston, world renowned cardiologist and author of The South Beach Diet.
Arthur Agatston MD, FACC is a world renowned cardiologist who is best known for his contribution to medicine by his development of the "Agatston Score." Dr. A is also an expert in nutrition who authored the New York Times #1 best seller "South Beach Diet" in followed by 12 other nutrition, cardiac prevention and gluten related books which have sold more than 23 million copies in 33 languages worldwide. He has authored more than 200 scientific papers and abstracts. He was recognized as one of "Time 100" most influential individuals in 2004.
To register, please click here.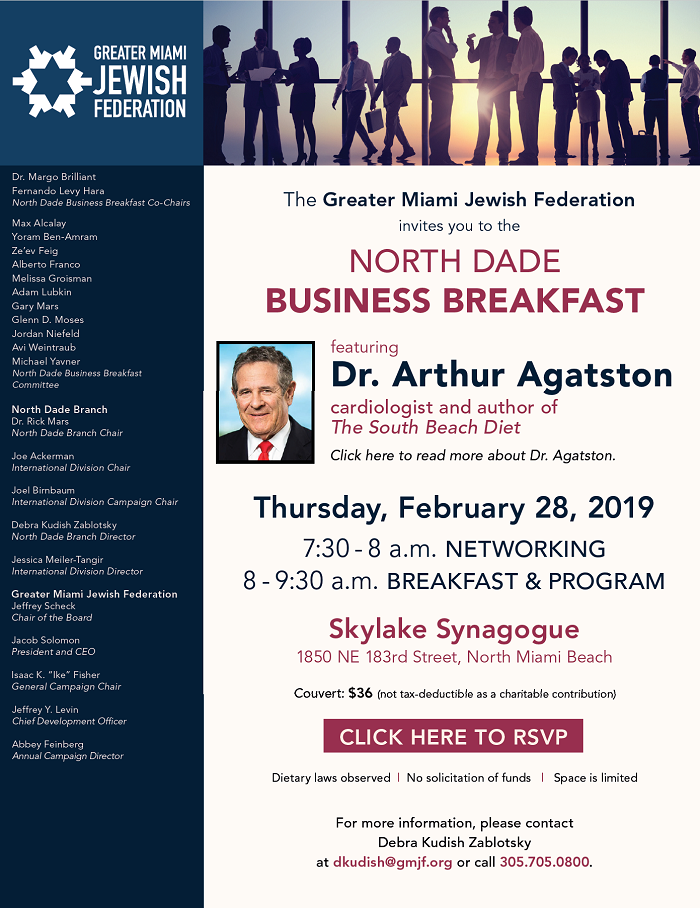 June 6-13, 2019

http://jewishfederations.org/LGBTQmission
Double Occupancy $4,199 | Single Occupancy $5,567

For more information contact Abby Mandel at amandel@gmjf.org
Like in America, the LGBTQ community in Israel is actively seeking equality and acceptance. Explore Israel through a unique LGBTQ lens at this historic moment in time. Experience Israel's thriving, vibrant LGBTQ community against the complex cultural backdrop of the country. Witness the energy, tradition, and love as you travel with our Federation family.
Join us next summer, with mission co-chairs Lee Jason Goldberg of UJA-Federation of New York and Michael Bauer of the Jewish United Fund of Metropolitan Chicago. You won't want to miss this incredible journey.
This worldwide effort advocates for making Jewish life accessible for all. Federation is proud to help local organizations raise disability awareness, remove barriers and celebrate diversity in our community and around the world. Get involved in local activities including a Shabbat service, a fundraising bike ride, a sensory-friendly movie and much more.

To view the most recent and updated JDAIM events and details, click here.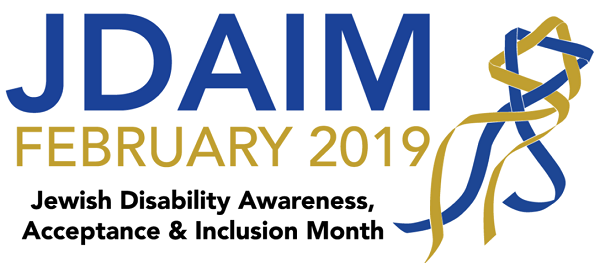 Spring Break Camp A jam-packed week full of spring break fun! Mon-Fri ~ March 25-29
Includes: Breakfast, Snacks & Hot Lunch! Early drop-off & late pick-up! Educational Fun Trips! For Boys & Girls, Ages 5-9! Girls until age 12! 9:00am-3:00pm!
Registration at (305) 770-1919 or ChabadChayil.org/camp
2601 NE 211 Terr, Miami, FL 33180
Saturday, February 9th, 10:30am Chabad Chayil, 2601 NE 211 Terr. Miami, FL 33180
Inviting all children (and parents!) to a Mega Kids Shabbat Party! Celebrating all of those who have a birthday in the Hebrew month of Shevat and Adar 1! Everyone is invited so please join us for Tefillah, Treats, Games, and Special Entertainment!
Tuesday, February 12th 7-9 PM
The Glory Days of the Catskills
The evening will be a celebration of the glory days of the Catskill Mountains. The 1986 documentary, Rise and Fall of the Borscht Belt, chronicles the popularity and demise of the summer pilgrimage from New York City to the Catskills once made by a million people each year from the 1920s to the 1960s. Written and directed by Peter Davis. Starring Joseph Wiseman.
Following, a short film on the upcoming Catskill Resort Museum will be shown by it's director Jack Godfrey. The Catskill Resort Museum will enlighten visitors of all ages and they will be educated about the unique history of the Catskill resort region. The legendary comedians who performed during the glory days of the Catskill resort era will be enshrined in a Comedy Hall of Fame. Many of these comedians and entertainers went on to star in stage, screen and television. The core exhibition will include photographs, videos, film documentaries, music, oral history and numerous artifacts. The principle objective is to provide a comprehensive understanding of the history of the resorts and the contribution to American culture. There are few people around who can tell the real story of those classic Catskill days better than Elaine Grossinger Etess, granddaughter of Selig and Malke Grossinger. Elaine will present the history of Grossinger's Resort, one of the great hotels of the world in its day.
                $9 per person, includes refreshments.  Temple Emanu-El.  1701 Washington Avenue.  Miami Beach.    Call for reservations: (305) 538-2503 x 221  www.tesobe.org

Saturday, March 2, 2019, 7:30 PM Monica Lewinsky will be the guest speaker at Temple Emanu-El, 1701 Washington Avenue on Miami Beach. She will be discussing our online culture of humiliation, offering advice on how to overcome bullying, and drawing from personal experience. This event is open to the public, but will be a closed event to press and media. As such, the speaker's remarks and Q&As will be off the record. $75 general admission. $200 VIP admission includes preferred seating and Meet and Greet reception with Ms. Lewinsky. Tickets may be purchased by calling (305) 538-2503 ext. 221 or online at tesobe.org/monicalewinsky.