We're sorry but we couldn't find that author.
Chabad, 2601 NE 211 Terrace, North Miami Beach, FL 33180 Starting June 12 for Boys & Girls, Ages 4-9! Includes: Field Trips, Swimming, Cooking, Sports, Arts & Crafts, Survival, Crazy Science, Kabala 101, Team Building & Tons of Fun! Includes Breakfast, Snacks, Hot Lunch, Early drop-off & late pick-up!
Information at www.ChabadChayil.org/camp or (305) 770-1919
Posted by Tomasg on 04/11/2019 @ 02:06 PM
Michael-Ann Russell JCC
WEDNESDAY, MAY 8, 2019 MARJCC / SCHECK FAMILY PLAZA 5:30 - 8:30pm
Israeli Dancing
Interactive Israeli games
Carnival attractions
Kosher food for purchase
and more...
Yom Ha'Zikaron Ceremony / 7:30pm
MARJCC 18900 NE 25th Avenue North Miami Beach, FL 33180
FREE COMMUNITY-WIDE EVENT FOR THE WHOLE FAMILY
You are cordially invited to the Israel Innovation Expo in Surfside - reserve your FREE BUDGE today!.
The 5th annual Israel Innovation Expo in Florida is Sponsored by: The Town of SURFSIDE Tourist Bureau and will take place in May, 14-15, 2019 at Grand Beach Hotel - Surfside. www.israelinnovationexpo.com
Location: Grand Beach Hotel Surfside - 9449 Collins Avenue Surfside, FL 33154
Dates & Times: May, 14-15, 2019 - 10am -4pm both days
Key-note Speakers: Surfside Mayor, Israel Consulate General in Miami, & innovation luminaries - see link: https://www.israelinnovationexpo.com/copy-of-about
ATTENDEES - Its FREE. Registration is now open - Reserve your badge today: https://www.israelinnovationexpo.com/attend
The Expo showcases the newest Israeli products and technology across multiple industries while connecting start-ups/companies with strategic-partners, buyers, and investors in the U.S., Mexico, Israel and abroad. Participants will gain a direct access to the global marketplaces, government officials, community and business leaders from Expo affiliates around the world.
Preview our Exhibitors: https://www.israelinnovationexpo.com/copy-of-israel-help-s-partner-1
The Expo will give rise to insightful discussions, Israel innovation, focused on M&A, cross-border investment, global betterment, venture capital, education and asset management. The Spring 2019 Surfside Expo will feature a distinguished panel of speakers which will include business/community leaders, elected officials and innovation luminaries. Participants will meet and collaborate with innovators and developers of new products and solutions.
Sponsorship Opportunities available:https://www.israelinnovationexpo.com/sponsors
Looking forward to seeing you all, reserve your FREE BUDGE today!
Media Dept.
Israel Innovation Expo & Conference Sponsored by: The Town of SURFSIDE Dates: May, 14-15, 2019 Grand Beach Hotel - SURFSIDE
Email: isinexpomedia@gmail.com Site: www.israelinnovationexpo.com
Meet the world-class experts at Miami Cancer Institute and join us for a VIP tour of this incredible facility!
Thursday, April 25th, 6:30–8:30 pm Room 3N110, 8900 North Kendall Drive, Miami
6:30–7:00 pm: Reception and Hors d'oeuvres
7:00 pm: Welcome Michael Zinner, M.D., Founding CEO and Executive Medical Director Leonard Kalman, M.D., Executive Deputy Director and Chief Medical Officer Senior Rabbi Jeremy Barras, Temple Beth Am
7:10 pm: Meet Our Experts Kate Lampen-Sachar, M.D., Breast Radiologist Starr Mautner, M.D., Surgical Breast Oncologist Guilherme Rabinowits, M.D., Head and Neck and Cutaneous Medical Oncology Peg Hairston, Manager of Special Programs and Community Relations, Cancer Patient Support Center and Integrative Medicine
8:00 pm: Showcase Proton Therapy and Dessert Reception Minesh Mehta, M.D., Deputy Director and Chief of Radiation Oncology
This program is free, but reservations are required. Please email MCIEvents@BaptistHealth.net or call 786.527.7680.
Complimentary valet parking is available.
Yodeah will be speaking on BRCA mutations during Shabbat Services on Friday, April 12. at Temple Beth Sholom on Miami Beach. Join and learn about the very high incidence of BRCA mutations AND provide solutions to help prevent cancer. Saliva testing will be available on site.
This program is sponsored in part by a Jewish Incubator Grant from the Greater Miami Jewish Federation.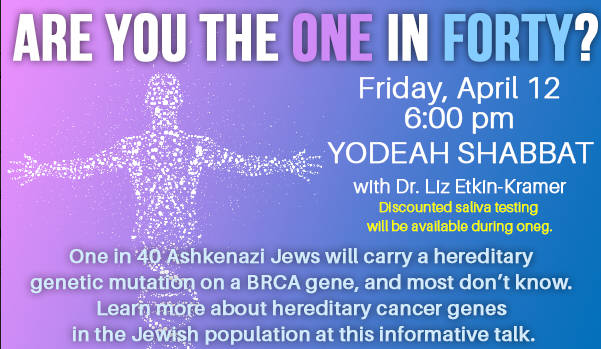 Monday, April 15, 7:15pm Chabad Chayil, 2601 NE 211 Terrace, Miami, FL 33180
Join us for an inspiring Chassidic Farbrengen filled with stories & song, and spiced with L'chaims & refreshments, as we mark the day Hashem shared with us the Rebbe. Annually the President of the United States designates Education and Sharing Day U.S.A. on the anniversary of the birth of the Rebbe who dedicated his life to the cause of education & kindness. For Men & Women. No charge.
For more information and RSVP call (305) 770-1919 or visit www.ChabadChayil.org
Breaking the Chains of Addiction Sunday, April 14, 5:00 p.m. at Temple Beth Am 5950 N. Kendall Drive, Pinecrest, FL 33156 Celebrate our freedom from Egypt and our freedom to lead a clean and sober life. Passover tells the foundational story of the Jewish people and serves as an inspiration for recovery. Join our Jewish recovery community for this unique Seder experience. Open to all adults and teens who want to explore recovery through a Jewish lens. $10 per person. Register at tbam.org/soberseder through Friday, April 12th. Program sponsored in part by the Greater Miami Jewish Federation and the Kislak Fund Program Endowment.
Posted by jsmith on 04/09/2019 @ 09:53 AM
Israel is turning 71! Join us for a Yom HaZikaron commemoration and a Yom Ha'atzmaut celebration!
Wednesday, May 8, 2019
Where? @ Hebrew Academy, 2400 Pine Tree Drive, Miami beach, FL 33140
Schedule of Events:
6:15 pm Jewish Organization Fair in breezeway
6:30 pm Mincha at Beth El
6:45 pm SHARP Ceremony in Auditorium
7:45 pm Ran Oz performance, food for sale, music, and dancing in the gym
FREE TO ATTEND
Please register at: http://bit.ly/HAcommUNITY2019
Modest Dress Requested
Passover is just around the corner and, how better to get into the Passover mood than to read Murder In Another Inn by Barbara Fox. The book is set in Miami Beach and deals with a murder that takes place during a Passover Seder. Sandy, the new owner of the inn, knows nothing about Passover but has to learn quickly because a local temple has booked the inn for their two seders. Sophie, the kosher caterer next door and Rabbi Josh the handsome young Rabbi introduce Sandy to the traditional foods and customs for Passover; the book includes several ofSophies recipes including a flourless chocolate cake. A mystery club and a book signing are scheduled for the same night as the seder and when a murder occurs, the police find that the victim had ties to all three events. The suspects include the caterer, the book publisher, a noted author and a few members of the congregation. A romance between Sandy's step-daughter (who may or may not be Jewish) and the rabbi takes up Sandy's time as she tried to solve the mystery. Murder In Another Inn is the third in the Murder In The Inn Series; it was just re-released as an ebook and is available from Barns and Noble and many other online book stores.
For a complete schedule and other TV providers in the United States, go to www.jbstv.org
The Israeli Election 2019 Results and Analysis
A panel discusses the early results of Tuesday's national elections in Israel with Rabbi Josh Weinberg (Union of Reform Judaism), Thane Rosenbaum (Forum on Law, Culture & Society), Richard Stone (past Chairman of the Conference of Presidents) and Danielle Ziri (Haaretz' New York Correspondent). LIVE: Tuesday Night - 7pm & Midnight; Wednesday - 3pm
And Watch JBS Election Updates Throughout the Day
Jewish Cinema: Oren Rudavsky
Filmmaker Oren Rudavsky discusses his film "Joseph Pulitzer: Voice of the People" which tells the story of the Jewish newspaper publisher With American Jewry's leading film scholar Eric Goldman on "Eric Goldman's Jewish Cinematheque."
Monday - 7:30pm & 2am; Wednesday - 1pm
Ron Dermer and Ethan Bronner
Israel's U.S. Amb. Ron Dermer discusses some of the major issues relating to the US-Israeli relationship with Senior Bloomberg News Editor Ethan Bronner. A program of The Jewish Week and Sutton Place Synagogue from Sutton Place Synagogue in NYC.
L'Chayim: Y. Fleisher-Elections
Yishai Fleisher, the International Spokesperson for the Jewish Community of Hebron, shares his perspective on a range of issues including the Israeli-Palestinian conflict and the 2019 Israeli elections. Monday - 9pm & Midnight; Tuesday - 3pm
On L'Chayim this week
Josh Hammerman - "Mensch Marks" Today - Noon & 6pm; Monday - 3pm
Shlomo Riskin & Ken Brander - Women in Judaism Tuesday - 9pm & Midnight; Wednesday - 3pm
Mordechai Kedar - The Muslim Mind Thursday - 9pm & Midnight; Friday - 3pm
Jay Goldberg - "The Courtroom Is My Theater" Saturday - 6pm
92nd Street Y - Harold Kushner on Psalm 23 Rabbi Harold S. Kushner, author of "When Bad Things Happen To Good People," delivers a moving and inspiring commentary to Psalm 23, "The Lord Is My Shepherd." An exclusive Shalom TV (now JBS) presentation taped before a live audience at New York's 92nd Street Y. Tonight (Sunday) - 8pm & 1:30am; Monday - 10pm & 4am; Wednesday 10:30am; Friday 8pm & 1am; Saturday 3pm & 5am
Finale - "A Touch Away"
The story of a young Jew from the former Soviet Union who makes Aliyah and moves into the Haredi community of B'nai B'rak - and falls in love with a young Haredi girl who has been betrothed to another by her parents. Today (Sunday) - 2pm & 4am; Tuesday - 9pm & 2am; Wednesday 9am & 5pm
The Jake Ehrenreich Show
This month, Jake welcomes the Hasidic singer who has taken the American music world by storm, Shulem; and author, TV Reality and "America's Worst Mom," Lenore Skenazy. And this month Jake inducts Totie Fields into the Catskills Hall of Fame. Saturday (April 6) - 8pm & 1am; Next Sunday - 10pm & 2am
ITN: Ron Kampeas on AIPAC
Ron Kampeas, the Washington Bureau Chief of the JTA, describes the mood this year's AIPAC National Policy Conference in Washington, DC in the wake of comments made by Democratic members of Congress disparaging Israel and AIPAC. This Morning (Sunday) - 8:30am
ITN: Dov Lipman on Elections Israeli commentator and former Yesh Atid Knesset Member, Dov Lipman, explains why the Israeli electorate still wants Benjamin Netanyahu to head the government and what that will mean for American Jewish relations with Israel. Tonight - 11:30pm & 3:30am; Monday - 8:30am & 12:30pm
Edith Samers Vice President 203.536.6914 (cell phone) JBS Jewish Broadcasting Service, a 501c3 fulltime television channel