We're sorry but we couldn't find that author.
Join Aventura Turnberry Jewish Center Lifelong Learning Institute in a 5 part study of
The Book of Ruth - A Story of Love & Kindness with Rabbi Guido Cohen
All are welcome
Tuesday Evenings at 6:00 PM July 17th - August 14th In this Special 5-Week Series we will explore the Book of Ruth, which is characterized by hope, and optimism, describing Ruth's journey from sadness to happiness and from emptiness to fullness. Course Fee: Free to ATJC Members and $100 for Non-Members ( for entire series) RSVP: (305) 937-1880 or RSVP@atjc.org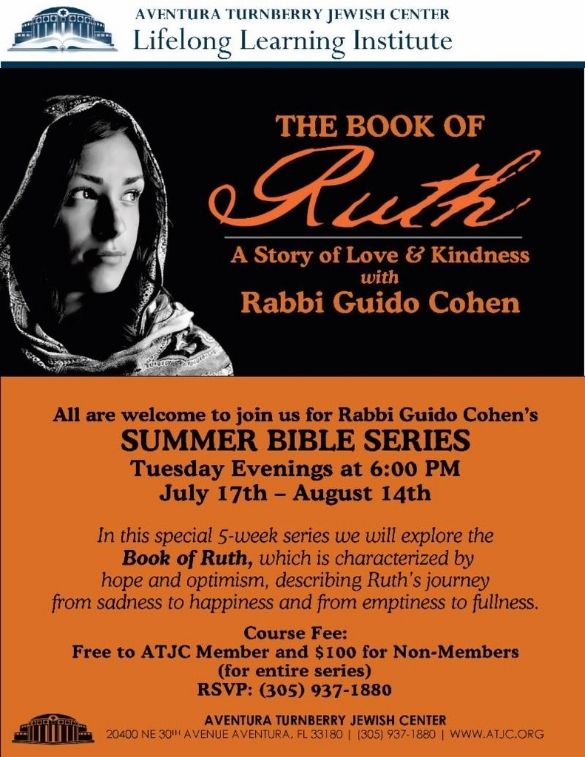 Go to our website for an up-to-date schedule of the full programming this week.
L'Chayim: Brooke Goldstein
Brooke Goldstein describes the way her film "The Making of a Martyr" documents how Palestinians abuse their children; and discusses why she created The Lawfare Project to fight antisemitism in courts of law around the world. Today (Sunday) - Noon & 6pm; Monday - 3pm
Series Premiere: Outspoken
Brooke Goldstein (Executive Director of The Lawfare Project, award-winning filmmaker, author) discusses going on the offense on campus with students Ryan Yazdi (Muslim Zionist), Rudy Rochman (SSI) & Adela Cojab (SSI); discusses legal strategies for students with Benjamin Ryberg (Lawfare Project); and gets advice from "Stormin' Norman" (Brooke's activist father). Thursday - 8pm & 1am; Friday - 2pm; Next Sunday - 8pm
Jewish Cinematheque: Avi Nesher
Israeli film producer, director, screenwriter and actor Avi Nesher discusses his family's history in the Holocaust; the success of his past films; and his upcoming film, Pilgrim, the second in a trilogy of films set in Jerusalem. With Eric Goldman. Thursday - 8:30pm & 1:30pm; Friday - 2:30pm; Next Sunday - 8:30pm
Political Legacy of Yigal Alon
Professor of politics Ehud "Udi" Manor (Oranim Acadenuc College, Israel) discusses his biography of former Israeli Foreign Affairs Minister Yigal Allon and explains how Allon's approach to a two-state solution can be relevant today. From the Taub Center for Israel Studies NYU. Monday - 8pm & 1am; Wednesday - 2pm; Thursday - 10pm; Saturday - 8pm & 1:30am
L'Chayim: "Spiral" - Charles Cohen
Charles Cohen (Cohen Media Group) discusses his new documentary film "Spiral" opening June 22nd in NYC and LA that probes the causes behind the resurgence of antisemitism in Europe, and addresses the claim that Israel is in some part responsible. Wednesday - 9pm & Midnight; Thursday - 3pm; Saturday - 6pm
Talmud: Don't Argue With Me
As the Jewish world reads Parashat "Korach" (Num 16), which describes the rebellion against Moses in the Wilderness, join Rabbi Mordechai Becher of Gateways for a lesson entitled, "Don't Argue With Me." On the JBS original series "Dimension of the Daf." Today (Sunday) - 9am; Tuesday - 9am & 4:30pm; Thursday - 7pm
Talk Books with Connie Martinson on a book about Anne Frank
For the anniversary of Anne Frank's birth (June 12, 1929), share Susan Goldman Rubin's discussion of her book "Searching For Anne Frank: Letters from Amsterdam to Iowa," about letters between Anne Frank and a girl in Iowa. Connie Martinson "Talk Books." Tuesday 7:30 pm; Wed 4:30 am; Thurs 1:30 pm
A Talk with Eva Schloss , Anne Frank's stepsister
**For the anniversary of Anne Frank's birth (June 12,1929), hear Eva Schloss, whose mother married Otto Frank after the war, describe her friendship with Anne and her own harrowing tale of survival
Posted by Edith Samers Vice President 203.536.6914 (cell phone) JBS Jewish Broadcasting Service, a 501c3 fulltime television channel
Mega Kids Shabbos Inviting all children (and parents!) to a Mega Kids Party! Celebrating all of those who have a birthday in the Hebrew month of Tammuz! Everyone is invited so please join us for Treats, Games, and Ice Cream!
Chabad Chayil 2601 NE 211th Ter. Miami, FL 33180 RSVP at www.ChabadChayil.org/3825418 Learn about your jewish birthday at http://www.chabadchayil.org/birthday
Mezuzah Checking Tuesday, June 19 Chabad Chayil, 2601 NE 211 Terrace, Miami, FL 33180
A certified scribe will be visiting the community checking Mezuzas & Tefillin. He will only be with us for a few hours, so his time is limited. To make sure you reserve a spot to have yours checked, please call ahead. He charges $9 per Mezuzah and $55 for Tefillin ($80 Gasos). Discounts & payment plans available to anyone that needs. Go to ChabadChayil.org/2675078 or call (305) 770-1919. The scribe will be at the Shul from 10:00 am. https://www.facebook.com/events/266516163892460/
We will be commemorating Juneteenth by bringing together friends for Cocktails with a Conscience. We'll discuss racial justice and learn from community members! This event is free and participants will receive a drink ticket for signing up!
What is Juneteenth? Juneteenth, also known as Juneteenth Independence Day or Freedom Day, is an American holiday that commemorates the June 19, 1865, announcement of the abolition of slavery in the U.S. state of Texas, and more generally the emancipation of enslaved African-Americans throughout the former Confederacy of the southern United States. Its name is a portmanteau of "June" and "nineteenth", the date of its celebration. Juneteenth is recognized as a state holiday or special day of observance in forty-five states.
The Greater Miami Jewish Federation has established an Emergency Relief Fund to assist those affected by the Fuego Volcano disaster in Guatemala. One hundred percent of all donations to this fund will provide critically needed humanitarian aid to disaster victims and their families.
We will continue to monitor the situation and assess its impact so that we can provide immediate assistance to those affected.
Donation checks with the notation of "Fuego Volcano Relief" can be mailed to the Greater Miami Jewish Federation, 4200 Biscayne Boulevard, Miami, FL 33137. For assistance, please call 305.576.4000, ext. 428.
Hurricane Season has begun. Do you want to lend a hand to others? Federation's Jewish Volunteer Center is seeking compassionate, helpful people to join the 2018 Jewish Volunteer Emergency Response Team (JVERT) and assist our community in case of a disaster. Whether you own a truck, are handy with a saw, are good at organizing others or have other important skills or resources, all volunteers with a "can-do" attitude are welcome!
Click here to register for JVERT by July 3. For more information, call 786.866.8680.
JWorks Miami invites you to attend a FREE Networking Skills workshop on Thursday, June 21st, 10:30am-12:30 pm. ###
Please RSVP at JWorks Miami - RSVP is required! The workshop will begin promptly at 10:30am, so please arrive a few minutes prior and dress to impress! Business casual attire is recommended.
Networking Works! The idea is to develop a network of people who share information to help each other. It can be a useful strategy for opening the hidden job market, i.e. for getting a good job. Because many jobs are never advertised, it is essential that you develop friendly relationships with people who can tip you off to job openings and perhaps even introduce you to the person who is doing the hiring. There is some truth in, "It's not what you know, but who you know."
Join us for what promises to be a great workshop and learn how to build a network to achieve greater success in your job search and beyond!

* What is networking?
* How to craft an impactful elevator pitch
* Networking tips to expand your circle
* Hidden job market
* Infomation interview
These events are also a great way for JWorks Miami staff to get to know you! Please note, we are unable to refer you to available opportunities unless we have met you in person.
All events will be held at:
Greater Miami Jewish Federation
4200 Biscayne Blvd.
Miami, FL 33137
Parking lot entrance is on Federal Highway, parallel to Biscayne Blvd. Map
If you have any questions please visit our website or call us at 305-403-6554.
We look forward to seeing you!
The JWorks Miami Team
JWorks Miami is a partnership of the Greater Miami Jewish Federation and
Jewish Community Services of South Florida
www.jworksmiami.org
jobs@jworksmiami.org
305-403-6554, option 1
Check www.jbstv.org for the up-to-date schedule as well as other television providers.
"Six Days In June"
Stunning archival footage and first-hand soldier accounts of the war punctuate Ilan Ziv's documentary file chronicling the complete story of the Six-Day War of 1967, from the days leading up to the war marked by Abdul Nasser's promise to destroy the State of Israel, through Israel's decisive victory, to the dramatic consequences the war has had upon the history of Israel and the entire Middle East. "Six Days in June" was co-written by Stephen Phizicky and Ilan Ziv. Tonight (Sunday) - 9pm & Midnight; Tuesday - 1pm; Friday - 9pm & 4am; Saturday - 9pm & Midnight
"Jerusalem"
As the Jewish world celebrates the liberation and reunification of Jerusalem, take a tour of Jerusalem spanning 300 years of Jewish history, showing the city's religious past and its lively present, as seen from the eyes of people who live in Jerusalem. An Aish documentary Film produced for "Israel at 60." Thursday - 11am, 7pm & 1am
"Israel Indivisible: A Case for the Ancient Homeland"
JBS presents a film that documents the Jewish connection to the Land of Israel, placing the "Palestinian narrative" and the Islamic Jihad against Israel into historical perspective. Written and Directed by Stan Moore, it as a production of PJTN. Friday - 10am, 9pm, 1am; Saturday - 1pm
"Body and Soul: The State of the Jewish Nation"
A documentary film by Gloria Greenfield that shows the undeniable historical connection between the Jewish People and the Land of Israel. Including Jonathan Sacks and Benny Morris. Thursday 7:30pm & 1am; Saturday 10am
L'Chayim: The Six Day War
Yossi Klein Halevi Mon 9am and 12 am; Tue 3pm, Sat 6pm
Danny Ayalon Tue 9pm and 12 am; Wed 3pm
Ehud Diskin Thurs 9pm and 12am; Fri 3pm
L'Chayim: Lasting Impact of the Six Day War
Thane Rosenbaum, Eric Yoffee, Betty Ehrenberg, Abe Foxman, Mark S Golub Wed 9pm and 12 am; Thurs 3pm
Talmud: Our Historic Homeland
Rabbi Mordechai Becher (Gateways Lecturer and author of "Gateway To Judaism") discusses the central role the land of Israel plays in rabbinic literature in an episode he entitles: "Occupied or Liberated, Whose Land is it Anyway?" From the JBS original series based "Dimensions of the Daf." Today (Sunday) - 9am; Tuesday - 9am & 4:30pm; Thursday - 7pm
Daniel Gordis: Israel Reborn
Daniel Gordis (Shalem College) discusses a range of issues addressed in his book Israel - A Concise History of a Nation Reborn. With Jonathan Greenblatt (ADL), a program of The Temple Emanu-El Skirball Center with the Jewish Week of NY and Hadassah. Today (Sunday) - 10am; Saturday - 8pm & 4am
Jerusalem Sovereignty Who has international legal rights to the city of Jerusalem? Christian international scholar and lawyer Dr. Jacques Gauthier of Toronto offers penetrating analysis at an address organized by CAMERA and Columbia/Barnard Hillel. Thursday - 10am
Edith Samers Vice President 203.536.6914 (cell phone) JBS Jewish Broadcasting Service, a 501c3 fulltime television channel