We're sorry but we couldn't find that post.
Join us for our Gospel Shabbat on Friday January 25, at 7:00pm
The Israeli-American Council (IAC) is putting down new roots across America for a first-of-its-kind national "Israeli-style" celebration of Tu Bishvat, also known as the Jewish New Year for Trees or Jewish Earth Day. This special mega celebration of the holiday will take place during a weekend-long program beginning on Friday, January 18th, and ending on Sunday, January 20th. The IAC's National Shishi Israeli Tu Bishvat will unite 40 communities and college campuses around the country.
Event Details for Florida Region, Hosted by IAC Florida & Temple Beth El
Friday, January 18, 2019 from 5:30 to 10:00 PM at Temple Beth El: 1351 S. 14th Avenue, Hollywood, FL 33020 Ticket Pricing: $25 Adult / $15 12 and Under / Children 3 and Under Free, Event Language: English
For more information and to register, please visit: https://www.israeliamerican.org/florida/iac-events/shishi-israeli-tu-bishvat
If you are affected by the government shutdown, the Jewish community is here to help 24 hours a day. If you or someone you know is in need of emergency assistance, call 305.576.6550. Operated by Federation's partner agency, Jewish Community Services of South Florida (JCS), this free, confidential helpline can guide you to the services and information you need.
Click here for additional help.

Posted by cbk203 on 01/15/2019 @ 09:23 PM
The Association for Jewish Special Education (AJSE) invites Jewish adults with developmental disabilities and their friends to join in the celebration of Tu B'Shvat (Jewish Arbor Day) on Sunday, January 27, from 12:00pm to 2:00pm, at Temple Sinai of North Dade, 18801 NE 22 Ave. Miami 33180.
Lunch will be served. Activities include games and music. Potted flowers will be distributed.
The AJSE is a 40+ year-old, local, private, non-profit, sponsored by the Greater Miami Jewish Federation, with the mission to arrange Jewish celebrations for Jewish adults with developmental disabilities and their friends.
To plan correctly, let us know that you will be coming by responding to this email or by phoning 305-205-3846 or 954-442-9624. There is no charge.
Also to celebrate JDAIM (Jewish Disabilities and Inclusion Month), guests are welcomed to this TuB'Shvat event and to view the AJSE JDAIM display from 12pm to 2:30pm. All JDAIM guests will be entered in a drawing, the prize being a year's AJSE membership. Welcome!
JWorks Miami invites you to attend a FREE * Social Media Job Search Skills* workshop on Thursday, February 21st, 10:30am-12:30 pm.
These days, social media is a critical part of the job search. Gain insight and ideas for your social media job search strategy:
The agenda will include:
* Online job search resources
* Searching employment websites
* Making LinkedIn work for you
* Elevator pitch
These events are also a great way for JWorks Miami staff to get to know you! Please note, we are unable to refer you to available opportunities unless we have met you in person.
Please RSVP at JWorks Miami - RSVP is required! Workshop will begin promptly at 10:30am, arrive a few minutes prior and dress to impress, business casual is recommended.
All events will be held at:
Greater Miami Jewish Federation
4200 Biscayne Blvd,
Miami, FL 33137
Click here for directions to parking lot entrance
If you have any questions please visit our website or call us at 305-403-6554.
We look forward to seeing you!
The JWorks Miami Team
JWorks Miami is a partnership of the Greater Miami Jewish Federation and
Jewish Community Services of South Florida
www.jworksmiami.org
jobs@jworksmiami.org
305-403-6554, option 1
Join us Wednesday, February 6, for a panel conversation moderated by Carol Brick-Turin.
Email wp@gmjf.org to RSVP.

Posted by jsmith on 01/15/2019 @ 10:53 AM
Addressing Cyberbullying, Sexting, and Unwise Social Media Use: The Role of Parents with Dr. Sameer Hinduja
Learn how to manage your child's social media
Cyberbullying
Digital citizenship
...and more
Tuesday, February 19 @ 7:00 pm Hebrew Academy (RASG) 2400 Pine Tree Drive Miami Beach, Florida 33140
FREE
About Dr. Sameer Hinduja Dr. Sameer Hinduja is a Professor in the School of Criminology and Criminal Justice at Florida Atlantic University and Co-Director of the Cyberbullying Research Center. He is recognized internationally for his groundbreaking work on the subjects of cyberbullying and safe social media use, concerns that have paralleled the exponential growth in online communication by young people. He has written seven books, and his interdisciplinary research is widely published and cited in a number of peer-reviewed academic journals. As a noted speaker and expert on teens and social media use, Dr. Hinduja also trains students, educators, parents, mental health professionals, and other youth workers how to promote the positive use of technology.
Through the power of flowers, volunteers will spruce up the live and homes of the residents living at The Sterling. Together, we will repurpose flowers, creating beautiful bouquets and arrangements while socializing with older adults.
Click here to RSVP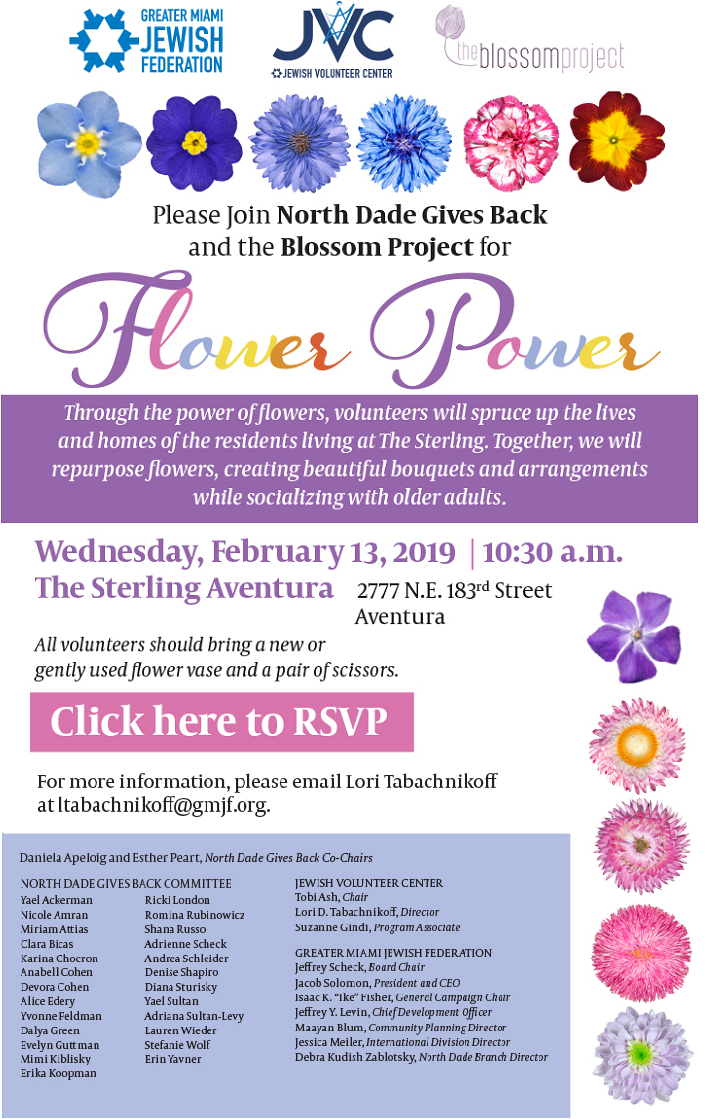 Ahavat Olam welcomes back the Big Bad Bima Band on Friday, January 25th at 7:45 P.M. These talented musicians will uplift the Shabbat service with a contemporary meaning to traditional Hebrew prayers. A delicious oneg will follow. Ahavat Olam is located at 10755 SW 112 Street, 33176, on the grounds of Killian Pines United Methodist Church, in Kendall. For further information, please call 305 412-4240 or write members@ahavatolam.org
How do you spell inspiration? J-A-C-K-O, as in Virginia A. Jacko, President and CEO of Miami Lighthouse For The Blind. Virginia will speak on her book, "The Blind Visionary", which explains her journey through blindness, and how it is possible to lead a productive and full life while blind. One of only a handful of blind chief executives in our country, on her watch Miami Lighthouse has become an innovation engine, heralded globally for its leadership and management. From facilitating fully equipped mobile optometric offices traveling to schools throughout Florida, a pre-school created for blind early learners, to providing consulting service for compliant websites for many types of business, Ms. Jacko has achieved an enviable record of outstanding accomplishments.
Virginia will also speak about her recent trip to Israel; visiting institutions for the blind there, providing a unique opportunity to exchange curricula, pedagogy, and share descriptions of their respective facilities, and seeking to identify commonalities and differences in order to learn from each other.
Ms. Jacko will speak on Friday, February 8th, during the evening Shabbat service at Ahavat Olam, a Kendall synagogue located at 10755 SW 112 Street, on the grounds of Killian Pines United Methodist Church. The service begins at 7:45 p.m. Don't miss this extraordinary and kindhearted dynamo! For further information, please call 305 412-4240 or write members@ahavatolam.org