We're sorry but we couldn't find that author.
On Monday, May 22, 8-9:15 PM, join Moving Traditions' Rabbi Daniel Brenner in conversation with Dr. Lisa Miller, clinical psychology professor at Columbia University and author of The Awakened Brain and The Spiritual Child, in observance of Mental Health Awareness Month.
Also hear from Brooke Wilensky, a teen activist who has found mental health support within her Jewish community. Through the Meyer-Gottesman Kol Koleinu Teen Feminist Fellowship, Brooke is speaking about the topic in various spaces to educate adults about how to support teen mental health.
The webinar will explore the latest data around teen mental health and wellbeing, the neuroscience behind spirituality, and share practical strategies to help the teens in your life to thrive.
Friday, May 26, 8:00pm The Family Shul - 2601 NE 211 Terrace, Miami, FL 33180
Delicious Shavuot Shabbat Dinner spiced with stories, song, holiday insights and camaraderie. (Meal is Fleishig. The dairy meal will be for lunch). Must RSVP in advance! For more info call (305) 770-1919 or go to ChabadChayil.org/ShavuotEvent
Enjoy coffee, ice cream and a whole dairy buffet together with the Ten Commandments! From Men, women & children. No charge. Holiday dinners also available for a nominal feel Must RSVP.
Date: Friday, May 26, 11:30am
Venue: Chabad Chayil 2601 NE 211 Ter, Miami, FL 33180
Cost: No charge
RSVP at ChabadChayil.org/ShavuotEvent
Hurricanes AZA #843 from BBYO or the Bnai Brith Youth Organization is hosting its annual Rush Week events. If you do not know, BBYO is a Jewish teen youth group where boys and girls form bonds through shared Jewish backgrounds and exciting experiences. The boy's chapter has our annual Rush Week with free events throughout the week of 5/15-5/22. These events include J-Serve or packing bags for the homeless, Ultimate Frisbee, Shabbat dinner, and more! Joining BBYO for your teens can be a great opportunity to continue their involvement within the Jewish community past their Bar Mitzvots. This is not only a way to continue Jewish learning, but also have fun with friends playing sports and meeting new people!
Here is the
https://docs.google.com/document/d/1j7E4lY6bVROt_o0r534BHpScUwlsSMEdK4IkIDPzAoY/edit?usp=sharing
Burton Litman Miami Regional Moreh Hurricanes AZA #843 7865609770
Watch JBS on Comcast X-1 Box Ch 1684, Atlantic Broadband 168, Hotwire Ch 269, DirecTV Ch 388, Blue Stream Ch 110, streamed on Roku under "educational", Apple TV, Amazon Fire TV and jbstv.org. For a complete and timely schedule and other television providers, go to www.jbstv.org
FIDF Live: Female Soldiers
Three influential female soldiers give insight into the ways the IDF has historically been, and continues to be, a trailblazer in advancing young women into positions of leadership, catapulting them to success for their service, careers, and beyond! Sunday - 11:00am Monday - 2:00am Tuesday - 8:00pm Wednesday - 2:00am Saturday - 7:00pm
Srugim Episode 14 - "Strict Divorce" Reut gets clarity in her dating life, Nati gets a surprise party, and as Amir is forced to undergo a second divorce from his ex-wife, he and Yifat grow closer. Monday - 7:00pm Tuesday - 2:30am & 10:00am Thursday - 2:00pm Friday - 2:30am Saturday - 10:30pm
In the Spotlight: Daniel Gordis
Daniel Gordis, American-born Israeli author, speaker, Koret Distinguished Fellow at Shalem College and a passionate Israel advocate, joins Abigail Pogrebin to discuss his latest book Impossible Takes Longer: 75 Years After Its Creation, Has Israel Fulfilled its Founders' Dreams. Monday - 8:00pm Tuesday - 1:00am & 11:00am Wednesday - 5:00am Thursday - 10:00pm Saturday – 1:00am & 6:00pm
Rabbi Hirsch: Israel at 75
In a sermon to his congregation of the Stephen Wise Free Synagogue in New York City, Rabbi Hirsch puts all criticism of Israel on pause to make room for celebration of the miracle that is the Jewish state, for the occasion of its 75th birthday. Tuesday - 7:00pm Wednesday - 1:00am Friday - 11:00am Saturday - 4:00pm
ADL National Leadership Summit (Highlights)
During its National Leadership Summit, emerging and established leaders including Deborah Lipstadt and engage over critical anti-hate issues and discuss strategies to more effectively carry out the mission and ideals of the ADL. Wednesday - 8:00pm Thursday - 1:00am Saturday - 8:00pm
NEWS & ANALYSIS
In the News: Rocket Fire
Amid the barrage of rocket attacks from Gaza, Amir Avivi, Founder and CEO of Israel's Defense and Security Forum, shares insights on the global context of the operation and what lies ahead. With Shahar Azani. Sunday - 3:30am & 8:30am
Good Week Israel: Organ Transplant, Golda Coin & 2023 Genesis Prize
Terror victim Lucy Dee donates organs, National Geographic to debut miniseries on Dutch Holocaust rescuer, Barbara Streisand wins the Genesis Prize, Noa Kirel performs, and Jezreel Winery wine of the week. Monday - 6:30pm & 11:30pm Tuesday - 3:30am, 8:30am & 12:30pm
Thinking Out Loud: Micah Halpern on "A Tale of 2 Worlds" that most westerners just cannot comprehend.
Israel warns the people of Gaza before an airstrike. Now, Hamas has threatened that anyone who leaves their homes after the warning will be killed as Israeli collaborators. Yes, Hamas is a terror group with the objective of murdering Israelis.
But now we have insight into the diabolical nature of their mindset. If Gaza residents do not leave their homes and seek shelter they will be killed by the Israeli airstrike. AND- Israel will be blamed for their deaths. Wednesday - 6:30pm & 11:30pm Thursday - 8:30am & 12:30pm
On L'Chayim
Woman of Valor
For Mother's Day, speaker, educator and writer Sara Esther Crispe and Rabbi Jeffrey Segelman of the Westchester Jewish Center look at the secular holiday through discussion of the Jewish prayer "Ayshet Chayil," a tribute to the Jewish woman traditionally recited on Shabbat. Sunday - 12 Noon
Leah Goldin
The mother of Hadar Goldin (z"l), an IDF lieutenant who was murdered by Hamas in 2014, Leah Goldin describes her more than five years of efforts to move the world community to demand Hamas comply with international norms and return her son's body Sunday - 6:00pm
Aryeh Green
Aryeh Green, former policy advisor for Natan Sharansky and author of My Israel Trail: Finding Peace In The Promised Land, discusses ideas from his book and the need for liberal Jews to be unwavering in their defense of Israel. PART 1 Monday - 9:00pm Tuesday - 12:00am & 3:00pm PART 2 Tuesday - 9:00pm Wednesday - 12:00am & 3:00pm
Ruth Wisse
Ruth Wisse, noted scholar of Yiddish literature and of Jewish history and culture (Harvard University) discusses the BDS Movement and the Jewish community's response, reflects on aspects of Jewish life, and describes her online course on George Eliot's last and most controversial novel, Daniel Deronda. Wednesday - 9:00pm Thursday - 12:00am & 3:00pm
Ron Eliran
Israel's "Ambassador of Song" Ron Eliran reflects on his career and his love for the State of Israel, shares stories behind some of his most popular songs, and performs with his guitar. Thursday - 9:00pm & Midnight Friday - 12:00am & 3:00pm
Talmud Study with Rabbi Mordechai Becher Lessons of the week begin every Sunday at 9am & 9:30am ET
Motherhood
While the Talmud notes a man's obligation to have children, for women this is a voluntary act. Sunday - 9:00am Tuesday - 9:00am & 5:00pm Wednesday- 7:00pm
Love, Marriage & Giving
A discussion on the Talmud's attitude towards love and marriage, and how the Jewish Tradition teaches that love is the pursuit of "oneness" achieved through acts of giving. Sunday - 9:30am Tuesday - 9:30am & 5:30pm Thursday - 2:30pm
A pluralistic introduction to the teachings, ideas and values of the Jewish Tradition with Rabbi Mark S. Golub z"l Lesson of the week begins every Sunday at 10am ET
Preparing for Sinai
**A dramatic telling of what it was like for the Children of Israel to stand at Sinai and hear the voice of God, and how the rabbis explain that each person "heard" God in their own way that day. Sunday - 10:00am Monday - 5:00am Wednesday - 9:00am & 5:00pm Thursday - 4:00am Friday - 1:00pm
REFORM AND ORTHODOX SHABBAT SERVICES
FRIDAY EVENING SHABBAT SERVICES
REFORM: CENTRAL SYNAGOGUE Closed Captioned 6:00pm, 11:30pm & 2:00am
ORTHODOX: HAMPTON SYNAGOGUE With Hebrew, transliteration and English subtitles 7:30pm & 10:30pm
SATURDAY MORNING SHABBAT SERVICES
REFORM: CENTRAL SYNAGOGUE Closed Captioned 9:30am & 1:00pm
ORTHODOX: HAMPTON SYNAGOGUE With Hebrew, transliteration and English subtitles 11:00am & 2:30pm
Edith Samers Vice President 203.536.6914 (cell phone) JBS Jewish Broadcasting Service, a 501c3 fulltime television channel Website: jbstv.org
Posted by Noa Waks on 05/11/2023 @ 05:45 PM
Please join the Jewish Museum of Florida - FIU on Sunday, May 21 at 2:00pm for the Exhibition Opening Reception and Curator Talk given by Kenneth Helphand, Philip H. Knight Professor of Landscape Architecture Emeritus University of Oregon.
Upon Thy Gates, The Elaine K. and Norman Winik Mezuzah Collection comes to JMOF-FIU from the Oregon Museum of the Jewish People and Center for Holocaust Education in Portland. Curated by Kenneth Helphand, the exhibition presents 73 mezuzahs collected by the Winiks that represent a wide range of styles, materials, and Jewish symbols. The mezuzahs were created in places all over the world, including Israel, the United States, Denmark, England, Ethiopia, Germany, the Netherlands, India, Iran, Italy, Morocco, Poland, and Yemen and date from the late 18th to the 21st century. The exhibition is sponsored at JMOF-FIU by John & Jo Sumberg and will be on display from May 10 thru August 6, 2023.
Buy tickets [here].(https://secure.qgiv.com/for/jmoffiu/event/uponthygatesopeningreceptioncuratortalk/embed/)
Posted by Noa Waks on 05/11/2023 @ 11:15 AM
Please join Jewish Community Services of South Florida for their Annual Meeting on May 31st, 6:00 PM, at Paradise Plaza Event Space in the Miami Design District! Celebrate JCS staff, funders, partners, and beloved community as we close out the 2022-2023 fiscal year.
Keynote Speaker: Greg Schneider, Executive Vice President, Conference on Jewish Material Claims Against Germany (Claims Conference)
Couvert: $36 per person; Dress: Cocktail Attire
For questions regarding sponsorship, please contact Morgan Weinblatt, Director of Resource Development and Engagement, at mweinblatt@jcsfl.org
For questions regarding the event, please contact Adriana Cano, Event Specialist, at acano@jcsfl.org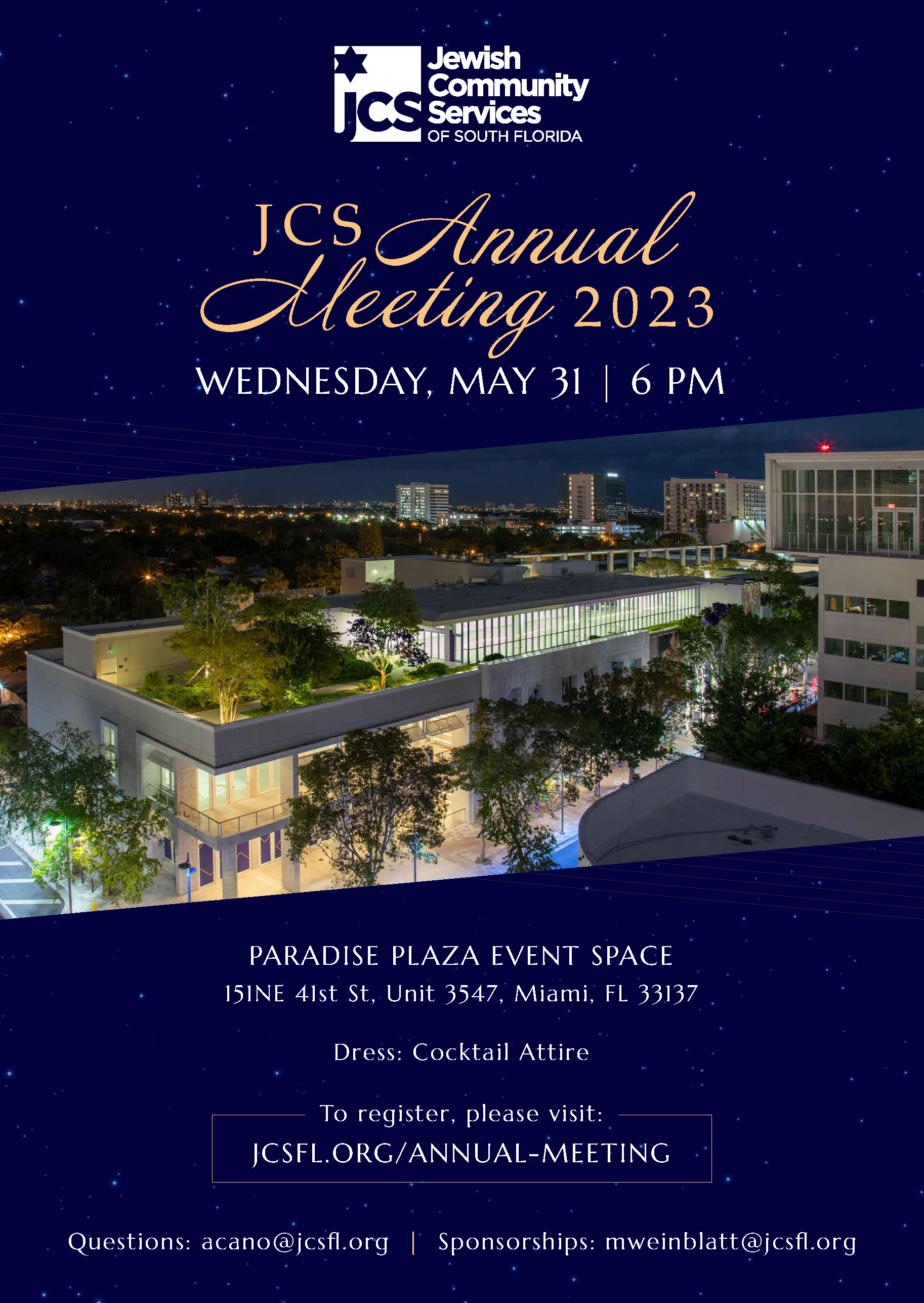 Posted by Noa Waks on 05/10/2023 @ 02:30 PM
A concert celebrating the original compositions of Cantor Rachelle Nelson.
With professional choir, cantors, soloists, instrumentalists, and singers, and the Aventura Turnberry Jewish Center Community Choir. Dr. Alan Mason and Cantor Rachelle Nelson, program directors.
Sunday afternoon, May 21, 2023 at 4pm.
To learn more click here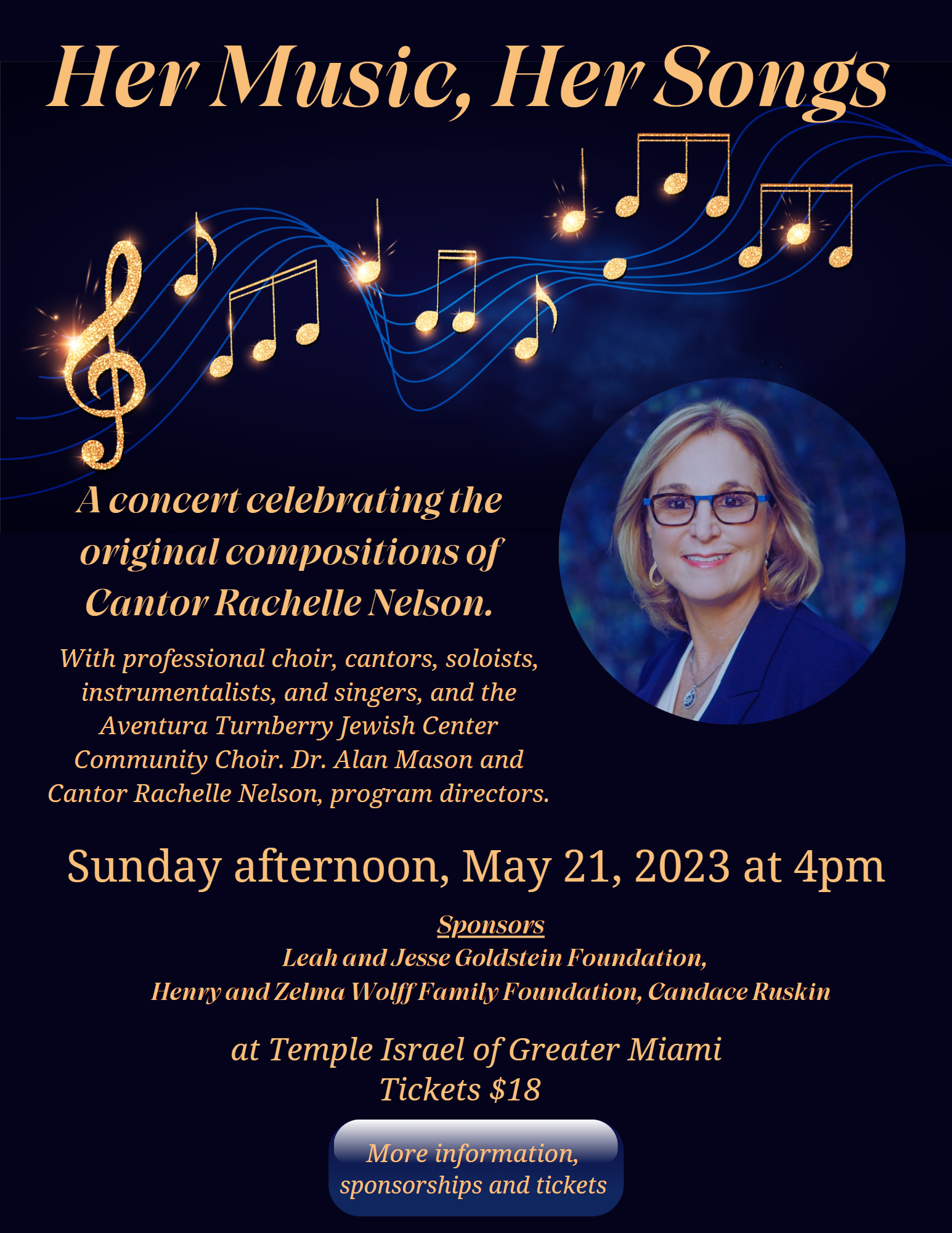 Posted by Noa Waks on 05/10/2023 @ 02:19 PM
AJC's Judge Learned Hand Award was established in memory of a legendary figure, Judge Learned Hand, Senior Judge of the United States Court of Appeals for the Second Circuit from 1924 to 1951. Widely admired as a dean among American jurists, Judge Learned Hand was famous for the extensive range of decisions he rendered in more than two thousand cases. The award is presented to outstanding leaders of the legal profession who exemplify the high principles for which Judge Hand was known.
When:
May 18, 2023 6:00 PM to 9:00 PM
Where:
PO Box 164706 Miami, FL 33116
Organizer:
Michael Winograd
Contact:
Nancy Reinhard at reinhardn@ajc.org ((305) 670-1019)
Cost:
Call for information .
Men, Women & Children are invited to the annual authentic Lag BaOmer Bonfire, BBQ & Kumzits celebration. Bring your instruments!
Date: Monday, May 8, 8:30pm
Venue: Chabad Chayil 2601 NE 211 Ter, Miami, FL 33180
Cost: No charge. Sponsors welcome.
RSVP at ChabadChayil.org/Events