Food Insecurity in South Florida, JCC Conversations at the Miami Beach JCC
When:
March 16, 2023 7:30 PM to 9:00 PM
Where:
Miami Beach JCC
4221 Pine Tree Drive
Miami Beach, FL 33140
Organizer:
Karen Sepsenwol
Contact:
Debbie Sack at debbie@mbjcc.org ((305) 534-3206)
Cost:
Free
Summary:
Food Insecurity in South Florida. Local organizations that are making a difference..
Event Details
Description
MBJCC Artist-in Residence Patti Grabel joins a panel of So. Florida's leaders addressing food insecurity. Local food Anthropologist, Wendy Yared, will moderate the discussion.
Address
Miami Beach JCC
4221 Pine Tree Drive
Miami Beach, FL 33140
Directions
Get detailed directions and more on Google Maps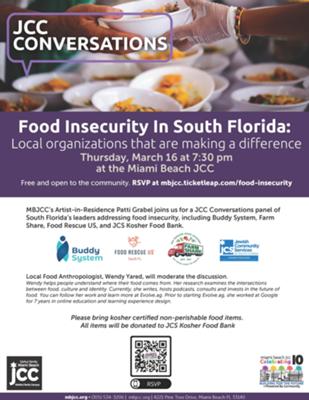 Actions
2023-03-16 19:30:00 2023-03-16 21:00:00 America/New_York Food Insecurity in South Florida, JCC Conversations at the Miami Beach JCC Food Insecurity in South Florida. Local organizations that are making a difference.. (http://jewishmiami.org/events/food_insecurity_in_south_florida_jcc_conversations_at_the_miami_beach_jcc) Miami Beach JCC, Miami Beach, FL 33140 Karen Sepsenwol debbie@mbjcc.org