We're sorry but we couldn't find that post.
Community Passover Seders Join the Family Shul for a Traditional Seder with Meaningful Kabbalistic Insights & Delicious Food in a warm environment! Limited space. Advance reservations are a must. Friday & Saturday (April 19-20) 8:00 - 11:00pm The Family Shul - 2601 NE 211 Terrace, North Miami Beach, FL 33180 Reservations and information at (305) 770-1919 or ChabadChayil.org/Passover Link: http://www.ChabadChayil.org/Passover
For a complete schedule, go to www.jbstv.org or sign up for our weekly email on our website:
Bnai Zion Foundation Gala
The 2018 Bnai Zion Foundation NY Gala honoring philanthropist William K. Langfan, Rabbi Elie Abadie (Sephardic Academy of Manhattan), Kenneth Abramowitz (savethewest.com) and Mark Langfan (Americans For A Safe Israel). From the Museum of Jewish Heritage in NYC. Monday - 8pm & 1am; Wednesday - 2pm; Saturday - 8pm & 1am
The U.S. Today: Lieberman & Lew
Former Sen. Joe Lieberman and former Treasury Sec. Jack Lew offer their view of "The State of the Union," from incivility in Washington to the decision to move the U.S. Embassy to Jerusalem. With Abigail Pogrebin, a Jewish Week event from The Streicker Center at Temple Emanu-El, NY (2019). Tuesday - 8pm & 1am; Thursday - 2pm; Saturday - 7pm
Jews & the Democratic Party
A L'Chayim Round Table discussing the implications of anti-Israel statements by Democratic freshman Congresswomen, and opposition to anti-BDS legislation by Democratic candidates, with Thane Rosenbaum (Forum on Law Culture & Society), Eric Yoffie (Haaretz), Betty Ehrenberg (World Jewish Congress) and Jonathan Mark (Jewish Week). Wednesday - 9pm & Midnight; Thursday - 3pm; Next Sunday - Noon & 6 pm
Abraham Lincoln: Yossi Prager
For Presidents' Weekend, Yossi Prager, Avi Chai Foundation Executive Director for North America, reviews the enduring legacy of President Abraham Lincoln, and discusses the Jewish Tradition's notion of God's role in human events. Today (Sunday) - Noon & 6pm
Washington's Letter To The Jews: Jonathan Sarna, Meir Soloveichik and Louise Mirrer
A discussion of President George Washington 1790 letter to the Jews of Rhode Island, affirming the principle of religious tolerance, with Dr. Jonathan Sarna (Brandeis U), Rabbi Meir Soloveichik (YU) and Dr. Louise Mirrer (AHJS). At Cong. Shearith Israel. Today (Sunday) - 1pm; Monday - 7pm & 2am
U.S. Presidents and Israel: Jerome Chanes
Professor Jerome Chanes of CUNY discusses how the American Presidential administrations of the 20th Century each interacted with the state of Israel. JBS exclusive coverage of Limmud NY 2016. Today (Sunday) - 7pm; Monday - 2pm
Harry S. Truman Recognizes Israel: Kurt Graham Dr. Kurt Graham, the Director of the Harry S. Truman Presidential Library and Museum, describes the heroic contribution Pres. Truman made to the infant State of Israel when it became a state on May 14, 1948. From the 2018 AJC Global Forum in Jerusalem. Monday - 8:15pm & 1:45 am; Wednesday - 2:45pm
JFK and Israel: Jerome Chanes
On the anniversary of John F. Kennedy's assassination in Dallas, Texas (November 22, 1963), Prof. Jerome Chanes of the Center for Jewish Studies at CUNY's Gradate Center discusses the profound positive impact President Kennedy had on U.S.-Israeli relations.
Monday - 9pm & Midnight; Tuesday - 3pm
Honoring Black History Month on L'Chayim:
Jews & Civil Rights Movement: Clarence Jones Tuesday - 9pm & Midnight; Wednesday - 3pm
L'Chayim: Rachel Robinson Jackie Robinson's widow Rachel Robinson discusses the challenges she and her husband had to face as he broke the Major League color barrier in 1947-- - and recalls the Jews who helped them. Thursday - 9pm & Midnight; Friday - 3pm
92Y: Alan Dershowitz vs Jeremy Ben Ami
Harvard Law Professor Emeritus Alan Dershowitz and J Street Executive Director Jeremy Ben Ami debate the proper role for American Jews in any Israeli-Palestinian peace process. From the 92nd Street Y in Nov 2009. Tonight (Sun) - 8pm & 1:30am; Monday - 10pm & 4am; Wednesday - 10:30am; Friday - 8:30pm & 1am;Saturday - 3pm & 5am
Submitted by Edith Samers Vice President 203.536.6914 (cell phone) JBS Jewish Broadcasting Service, a 501c3 fulltime television channel
Sunday, February 24, 2019 (6:00pm - 8:30pm)
ATJC Cantorial Gala Community Concert featuring the prestigious NY Cantors: Yaakov (Yanky) Lemmer, Head Cantor of the Lincoln Square Synagogue in New York City; Azi Schwartz, a native of Israel and Cantor at New York's Park Avenue and Netanel Hershtik, Cantor at The Hampton Synagogue, Westhampton Beach, New York accompanied by a 16 piece orchestra and choir.
This 90-minute concert will include some of the most beautiful songs in the Jewish musical history, secular favorites that evoke memories of Jewish tradition and its rich musical culture, as well as music with a nod to Broadway.
Beautiful cocktail intermission includes, passed hor d'oeuvres, open bar and decadent desserts.
Aventura Turnberry Jewish Center | Soffer Sanctuary 20400 NE 30th Avenue in Aventura
Open to the Community. $50 General Admission $125 Preferred Seating
RSVP:(305) 937-1880 or CLICK HERE to register online
Posted by mmasia on 02/13/2019 @ 03:30 PM
Every February, Jewish communities worldwide join to advocate for inclusion of people with disabilities and mental health conditions to be accepted and included in all aspects of Jewish life like anyone else. Please join us this Shabbat, February 16 at 10:45 am, for a very special presentation from Mr. Alan T. Brown. Please bring your family and friends as we make a special welcome to all people with disabilities.
Beit David Highland Lakes Shul 2600 NE 209th Street Miami, FL. 33180
Alan T. Brown was injured in 1988, at the age of 20, when his neck was crushed. The accident left Alan, a hockey player, a quadriplegic. For nearly 31 years since the accident, Alan and his family have, through the Alan T Brown Foundation to Cure Paralysis, provided support, education, and advocacy for the paralysis community. Alan is Director of Public Impact at the Christopher & Dana Reeve Foundation. He also has achieved many personal goals, including completing three New York City Marathons, skydiving, and scuba diving. His proudest accomplishment is becoming a father to his two young sons.
We hope to see you there!
Temple Emanu-El on Thursday, March 14th at 7 PM, will feature Whim 'n Rhythm, Yale University's all-senior SSAA a cappella group, for an evening of music. 1701 Washington Avenue, Miami Beach.
Regular price tickets available at the door (cash/card/check): Priority $40 Adults $25 Seniors (65+) $20
Students $15 Member Discount at the door: Priority $35 Adults $20. Discounted tickets are available for pre-order at whimattempleemanuel.eventbrite.com.
For further info, contact Ariela Zebede-Yale College Class of 2019/Tour Manager, Whim 'n Rhythm 2019 (305) 206-8644 ariela.zebede@yale.edu
Let's make a lot of noise this Purim and celebrate with joy while we raise funds to help the Jewish community.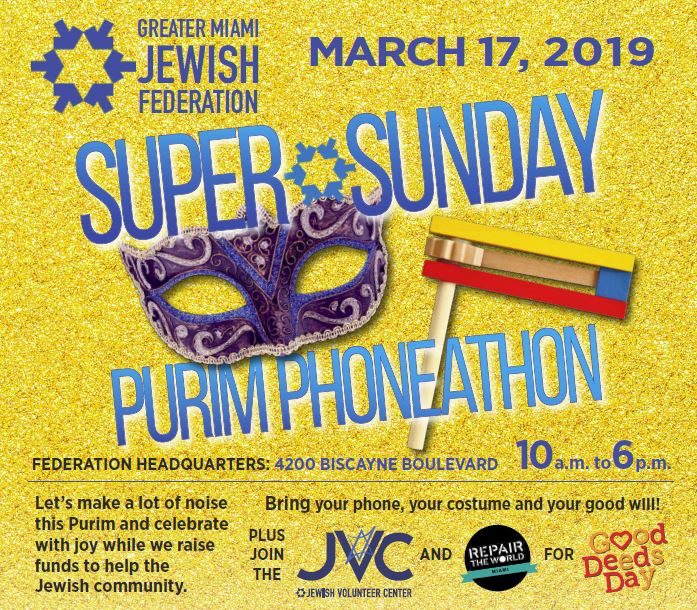 Take a voyage into the mysteries of the human mind with a captivating show on Sunday, February 24 at 4pm in the Russell Theater at the Alper JCC. The phenomenal Guy Bavli, Master of the mind, will have audiences laughing and shaking their heads in disbelief as he reads their minds with a mix of mentalism, illusion, psychology, physiology and intuition. His amazing ability to move objects and read minds will leave you in wonder and astonishment long after this performance. The celebrity mentalist has appeared on TV more than 400 times, put on thousands of shows in more than 60 countries, and performed 1,200 shows at Caesar Palace, Las Vegas. Not a believer? Come join us and see for yourself!
JCC Members $35 | Community $40 | Students $15 | Family Package: 2 Adults/2 Students $75
For tickets visit alperjcc.org or call 305.271.9000 x268 or email asantana@alperjcc.org.
Located at the Dave and Mary Alper Jewish Community Center, Russell Theater Bldg. 4, 11155 SW 112 Avenue, Miami 33176
For a complete schedule, go to www.jbstv.org:
Witness: William Bernheim
William "Willie" Bernheim, born in 1922 in Lodz, Poland, describes his experiences in the Shoah and his survival in Buchenwald, and shares his Holocaust paintings published in his book "My Story: From Hell To Rebirth." Today (Sunday) - 3pm ; Monday - 10:30am; Tuesday - 7pm & 4am; Thursday - 1pm & 5am
92Y: Living Well, Aging Well
Rabbi Harold Kushner (When Bad Things Happen to Good People) and Rabbi Rachel Cowan z"l (Wise Aging) discuss what it means to live a good life. With Rabbi Peter J. Rubinstein, Director of Jewish Community, at the 92nd Street Y in NYC. Tonight (Sun) - 8pm & 1:30am; Monday - 10pm & 4am; Wednesday - 10:30am; Friday - 8:30pm & 1am; Saturday - 3pm & 5am
Israel @ 70: The Arts (CUNY TV)
For Israel's 70th birthday, an array of Israel's leading artists celebrates the vibrancy and diversity of the Israeli art scene, including jazz clarinetist Anat Cohen, blues singer Ravid Khalani and host Donna Hanover. A special presentation of CUNY TV. Monday - 7:30pm & 2am; Wednesday - 1:30pm
StandWithUs Gala: Royce & Engel
The 2018 StandWithUs NY "Leaders of Tomorrow Gala" with Israeli Consul Gen. Dani Dayan, former Rep. Ed Royce (R-CA), Rep. Eliot Engel (D-NY), TV matchmaker Siggy Flicker, founder Roz Rothstein, Shahar Azani and emcee Elon Gold. From Gustavino's in NYC. Monday - 8pm & 1am; Wednesday - 2pm; Saturday - 8pm & 1am
UN & Israel: Cotler/Rubinstein
Irwin Cotler (Former Minister of Justice of Canada) and Elyakim Rubinstein (Former VP of Israeli Supreme Court) discuss why the U.N. should not be rejected despite its anti-Israel bias. Touro Law Center & and University System from the Jewish Center in NYC. Tuesday - 8pm & 1am; Thursday - 2pm; Saturday - 7pm
L'Chayim: Yechiel Eckstein z"l
A 2015 L'Chayim in memory of the founding Pres. of the International Fellowship of Christians and Jews Rabbi Yechiel Eckstein z"l (2/6/19) who talked of his personal journey, answered his critics, and analyzed Israeli and Jewish life. Tuesday - 9pm & Midnight; Wednesday - 3pm
David Goodman
In honor of Black History Month, David Goodman remembers his brother's sacrifice and how the murders of Andrew Goodman, James Cheney and Michael Swerner helped sway a nation in support of the Civil Rights movement (Saturday 6pm)
On L'Chayim this Week:
Allen Lewis Rickman: "Tevye Served Raw" Today - Noon & 6pm
Brooke Goldstein Monday - 9pm & Midnight; Tuesday - 3pm
Richard Haass Tuesday - 9pm & Midnight ; Wednesday - 3pm
Talmud: Marriage Rabbi Mordechai Becher, senior lecturer at Gateways and author of Gateways to Judaism, reviews the theme of marriage as found in Talmud.
On the JBS series "Dimensions of the Daf." Today (Sunday) - 9:30am; Tuesday - 9:30am & 5pm; Thursday - 7:30pm & 4am
L'Chayim: The Psychology Of Love
Dr. Aaron Ben Ze'ev, former President of the University of Haifa, professor of philosophy and author of "Love Online", discuss the psychology of love. Thursday - 9pm & Midnight; Friday - 3pm
Series: A Touch Away
For Valentine's Day, JBS begins the 8-part hit Israel TV mini-series, "A Touch Away" -- a story of forbidden love and secrets when a secular Jewish family from Russia moves in next to a Haredi family in B'nai B'rak - and their daughter, about to be part of an arranged marriage, falls in love with the charismatic son. (In Hebrew with English Subtitles.) Wednesday - 8:20pm; Thursday 1am; Friday - 10:30am; Saturday 10pm
Submitted by: Edith Samers Vice President 203.536.6914 (cell phone) JBS Jewish Broadcasting Service, a 501c3 fulltime television channel
Join Women's Philanthropy Central Area Board for a conversation about making the film My Survivor with Helen Sachs Chaset, Ed.D. (Executive Producer), Jerry Levine (Director) and Maxine E. Schwartz (Executive Producer).
Click here to RSVP.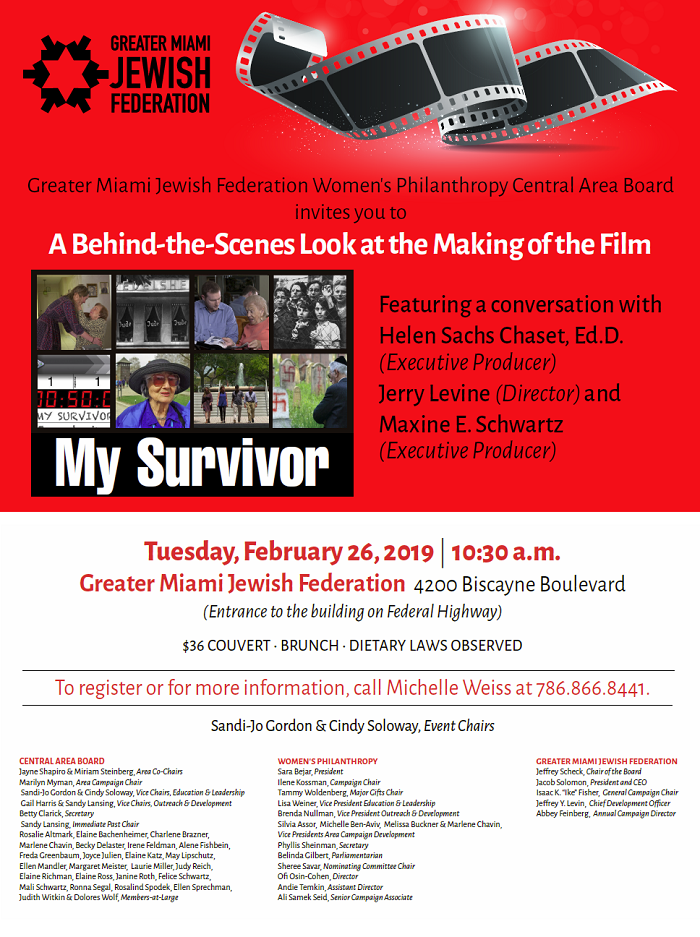 In honor of Jewish Disability Awareness & Inclusion Month, The Friendship Circle Miami, The Alper JCC & Jewish Community Services invites you to a special screening of My Hero Brother, Wednesday, February 13 at 7:30pm Located in the Robert Russell Theater at the Alper JCC 11155 SW 112 Avenue, Bldg. 4, Miami
A group of people with Down Syndrome embark on a demanding trek through the Himalayas with their siblings. As they deal with physical and emotional challenges, unresolved conflicts come to surface and heartwarming friendships develop.
$10 per person / Max $25 per family Tickets: www.friendshipcirclemiami.org/myherobrother