It's Happening In Miami
Posts by Jonathan B
The Community is invited to join us on March 9th for a Casino Royale Purim Masquerade Party. Enjoy a gourmet strolling dinner, passed hors d'oeuvres, Dim Sum, Panini Stations, Sliders, Sushi & Poke Stations, and so much more. While trying your luck at the tables or slots for fabulous prizes, from hotel stays, spa days, to free memberships, gift certificates and more.
Adults Only | Open Bar | Music
CLICK HERE TO RSVP Aventura Turnberry Jewish Center 2040 NE 30th Avenue, Aventura, FL 33180
The Community is welcome to join us as we celebrate the Jewish New Year. The High Holy Days are a time for reflection, introspection, prayer, and reconnection. We welcome all of you to join us as we once again celebrate and observe these special holy days in person. We pray that everyone will be inspired by our various experiences available. May the New Year bless us and the entire world with good health, peace and prosperity.
AVENTURA TURNBERRY JEWISH CENTER - Aventura, FL. Servicios en español con el rabino Guido Cohen junto al hazzan Roger Rosenthal y maestro Ariel Liberczuk. Servicios tradicionales con tefilá, lectura de la Torá, reflexiones y Shofar en el Indich Auditorium en español y hebreo. Se requieren reservar para asistir a este servicio. Hay asientos disponibles. Donación sugerida de $180 por familia. (305) 937-1880.
The Community is invited to join us for this special event.
The Challah Prince is coming to Aventura during his USA Challah Tour.
Sunday, May 1 at 3:30 PM at ATJC
Lite Bites Dinner, Open Bar, Kids Challah Bake and more!
Pre-Registration is required.
FRIDAYS AT 12:30 PM
IN-PERSON AT THE AVENTURA TURNBERRY JEWISH CENTER
ATJC Members $10 per person | Non-Members $18 per person
FEBRUARY 11
AFTER PRESIDENT BIDEN'S FIRST YEAR IN OFFICE:Assessing the 79 year-old "Rookie's" performance.
FEBRUARY 25
XI JINPING IS ONLY 68 BUT IS COMPLETING HIS FIRST DECADE AS CHINA'S SUPREME LEADER - WITH NO TERM LIMITS IN SIGHT. What we can expect from the world's other superpower in the years ahead.
MARCH 4
FROM 6 TO 61:HOW PRIME MINISTER BENNET MANAGES TO PRESERVE A COALITION WHILE LEADING ONE OF ISRAEL'S SMALLEST POLITICAL FACTIONS. How long can it last and how will he navigate relations with key countries in the region and beyond.
MARCH 11
8 MONTHS TILL "FINALS." Studying for the midterm elections and handicapping key House and Senate races across the country. We will explore tensions within the two major parties and the implications for America's future.
About Lyon Roth
Lyon Roth has enjoyed an extensive career in law, business and financial services in Canada, Israel and the United States. He is a graduate of McGill university and Harvard law school and served as a law clerk at the Supreme Court of Canada. Lyon is chairman of Yarotek (a solar energy company), director of the friends of Tel Aviv Sourasky Medical Center (Ichilov) and, along with his daughter Israela, a godparent at Jewish adoption and family care options (JAFCO). He also co-chairs the Florida congressional committee pro-Israel PAC and is a member of the Israeli consulate's speakers bureau. Lyon has been chairman of Israel Bonds (Florida), a governor of Ben-Gurion university and has taught business law and ethics at various universities in Israel and the US. He has served on multiple corporate and community boards and speaks frequently on topics relating to Israel, the political and economic climate in the middle east, energy, water and environmental sustainability. Lyon has traveled to over 50 countries and is fluent in English, Hebrew and French.
Join us for a Summer of fun at Aventura Turnberry Jewish Center
for children ages 3 months up to 2nd grade
June 7th - July 29th Call Samantha Melamad (305) 931-0010 or email samantha@atjc.org for more details.
Join Aventura Turnberry Jewish Center
March 16, 2022 at 6:30 pm
FOR AN INTERACTIVE PURIM SHPIEL WITH SONGS, HUMOR, DANCING AND AUDIENCE PARTICIPATION created and performed by
Martin Sipicki & Silvio Berlfein
Come in costume
Boo Haman
Food | Drinks & More
Kid Friendly
Groggers
Hamentaschen
ATJC MEMBERS: $10 | NOT YET MEMBERS: $18 | ALL CHILDREN 3-12 FREE
MEGILLAH READING TIMES
MARCH 16 - 7:45 pm
MARCH 17 - 8:30 AM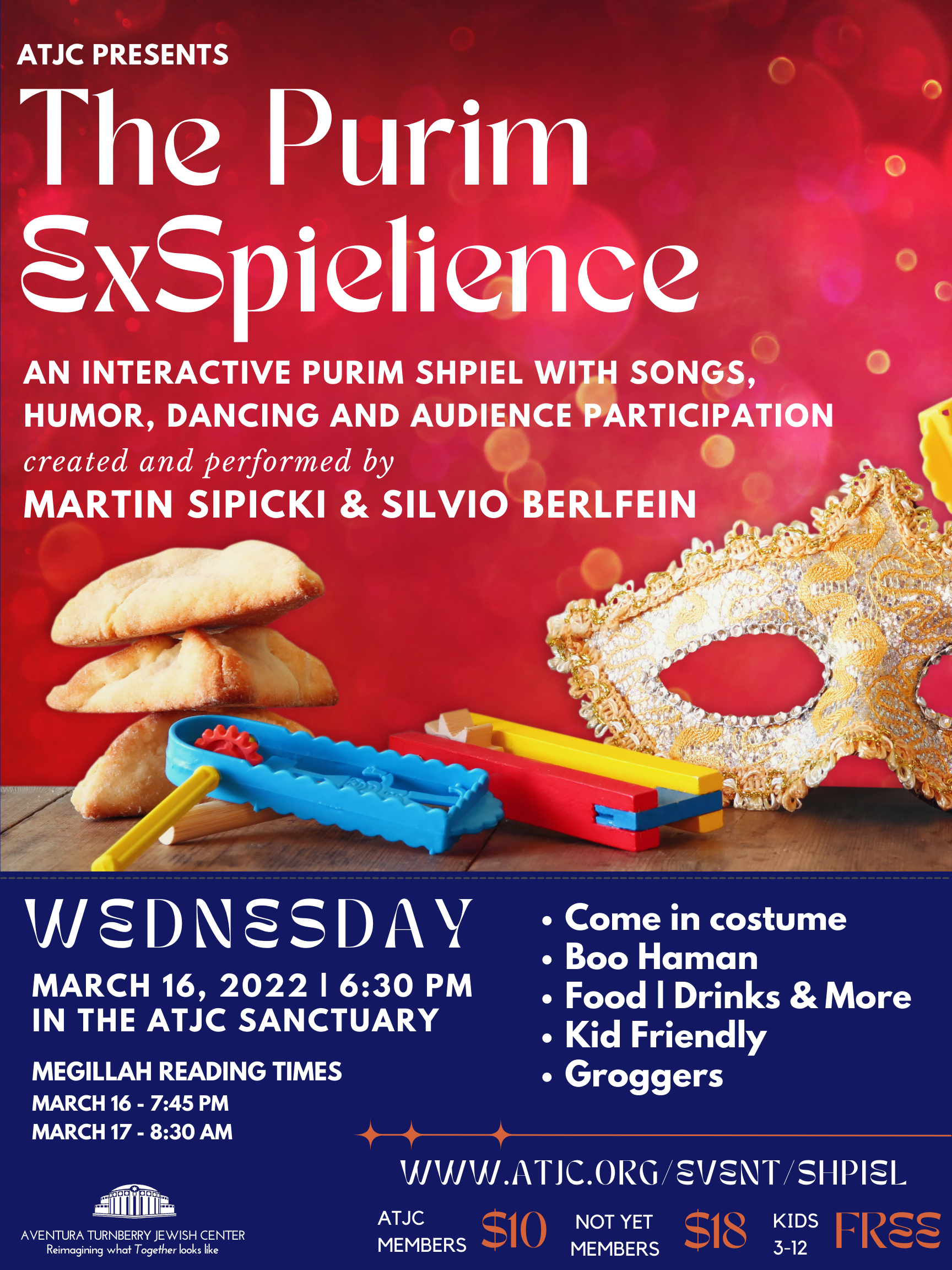 The ATJC community is invited to join for a dynamic, meaningful, and inspiring High Holy Days experience. 3 incredible evening services with beautiful music, traditional prayers & inspiring messages LIVE on stage and on a huge 40-foot screen at Dezerland Park in NMB.
Erev Rosh Hashanah -- September 18th | 6:30 PM
2nd Night of Rosh Hashanah -- September 19th | 7:00 PM servicios en español
Ne'ilah - Yom Kippur Night -- September 28th | 6:00 PM
Cant make it? Don't worry services will be streamed live on Facebook | YouTube | ATJC Website
Not affiliated? Contact the synagogue office for further details, (305) 937-1880
The Community is invited to join ATJC as we celebrate and honor Dr. Amir Baron on his retirement and his achievements over the past 30 years as Executive Vice President. Special Guests include Ambassador Ido Aharoni, Renowned Singer, Dudu Fisher and Emcee Michael Putney. Proceeds from this event will benefit the newly established Dr. Amir Baron Education Endowment Fund.