Temple Judea Honors Sydney and David Schaecter at annual Gala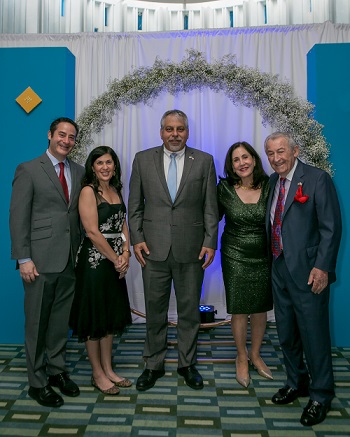 On April 13, Temple Judea, one of Miami's largest Reform congregations, honored Holocaust survivor David Schaecter, and his wife Sydney Schaecter, at their premier fundraising Gala at the synagogue, 5500 Granada Blvd., in Coral Gables. Entitled L'Chaim, To Life!, the sold out Gala celebrated the lives of these two unique individuals. 350 people attended and the Gala raised $230,000. Gala Co-Chairs were Linda & Michael Bittel and Bella & Jay Newmark.
Holocaust survivor David Schaecter is a founding member of the Holocaust Memorial Miami Beach. Born in a small village in Czechoslovakia, Schaecter was a young boy when the Nazis rose to power in Germany and is the only member of his family to survive the Holocaust. Sydney Schaecter's contributions to the South Florida Jewish community have been recognized for more than 40 years dating back to her board leadership positions at the South Dade area office of the Greater Miami Jewish Federation and the Alper JCC.
Now celebrating 70 years of Jewish Learning and Living in Coral Gables, Temple Judea is one of Miami's largest Reform synagogues with approximately 600 member families.
Photo credit: Claudia Storper Photography
Photo ID L-R: Brian Siegal, AJC; Rabbi Judith Siegel, Temple Judea; Israeli Consul General Lior Haiat; Sydney Schaecter, Honoree; David Schaecter, Honoree