We're sorry but we couldn't find that author.
North Miami Beach, Florida – Scheck Hillel Community School senior Orli Algranatti was recognized by the Heisman Trophy Trust as a 2019 Heisman High School Scholarship School Winner.
Orli plays three varsity sports for Scheck Hillel: tennis, volleyball and basketball. She is a leader who exemplifies the tenets of Scheck Hillel's educational philosophy.
"When Coach Lyon sent me the nomination, my whole world turned upside down because I hadn't realized I was so involved," Orli said. "I play so many sports, and I dedicated my whole life to sports and the school! I am very excited for this recognition."
The 2020 senior also thrives academically. She participates in Scheck Hillel's Dual Enrollment program with Florida International University, earning college credit while in high school. In 2017, she was honored by the Miami Herald for her academic achievement, community service and sports involvement. Through Scheck Hillel's Experiential Learning Program, Orli interns at Skylake Animal Hospital, where she has immersed herself in the science and art of caring for animals. The aspiring veterinarian is looking to learn as much as possible about the field and develop mentoring relationships before college. Orli is also very active in the community. She volunteers at ACEing Autism, teaching kids with autism how to play tennis, and with Kesher, teaching students how to play basketball.
The prestigious Heisman High School Scholarship recognizes outstanding scholar-athletes who understand that the most important victories not only happen on the field, but in their schools and communities. These remarkable young leaders set the example and make a game-changing difference every day, paving the way to greatness for everyone around them.
About Scheck Hillel Community School
Scheck Hillel Community School educates and inspires students 18 months-Grade 12 to become exemplary global citizens with enduring Jewish identity and values through an individualized college preparatory curriculum highlighted by Design/STEM, Capstone, college dual enrollment, arts, athletics and community service. Its 14-acres include a 115,000-sq.-ft athletic complex with academic expansion plans. Set within a nurturing, diverse community, Scheck Hillel is one of the world's largest Jewish community day schools and a National Blue Ribbon School of Excellence. For more information about Scheck Hillel Community School or to arrange a visit to the school, please contact our Admissions office at 305.931.2831x173 or write to admissions@eHillel.org.
There are still spaces available for this fun and engaging night of innovation!
If your child is in Pre-K to Second Grade, make sure to RSVP for Science Night on Wednesday, December 18 at 5:00 pm.
Dr. Richard Cuenca, Head of the Posnack School System, will lead students in various science experiments.
Please RSVP to schooloffice@gordonschoolmiami.org or call 305-854-3282 to save a spot for you and your child.
Vodka Latke 2019
The Tribe's Annual Chanukah Party
December 19, 2019 8:00pm-11:00pm @Treehouse
Celebrate Miami's premier Chanukah party – Vodka Latke 2019, presented by The Tribe.
Enjoy an amazing evening of celebration at Treehouse on Miami Beach. Featuring: unlimited vodka, unlimited latkes, music from DJ Eran Hersh, our famous Dreidel Pool, and more.
Join us on December 19th for our annual Chanukah celebration!
Posted by Danielle on 12/09/2019 @ 01:41 PM
Martin Simmonds (Tim Roth) has been haunted throughout his life by the mysterious disappearance of his "brother" and extraordinary best friend, a Polish Jewish virtuoso violinist, Dovidl Rapaport, who vanished shortly before the 1951 London debut concert that would have launched his brilliant career. Thirty-five years later, Martin discovers that Dovidl (Clive Owen) may still be alive, and sets out on an obsessive intercontinental search to find him and learn why he left.
Almost four decades later, Martin follows the clues that lead him ever closer to his friend, until he learns the meaning of 'The Song of Names,' a profoundly moving piece of music that holds the answer to why his brother vanished so suddenly from his life.
From director François Girard ("The Red Violin") and producer Robert Lantos ("Eastern Promises," "Being Julia") comes a film Rabbi David Wolpe calls "heartbreaking and heart-healing at the same time."
IN THEATERS THROUGHOUT SOUTH FLORIDA on JANUARY 10
Regal South Beach 18--Tower Theater--Boca Raton Shadowood Square 16--Boca Raton Living Room Theaters--AMC Aventura 24
or a complete and timely schedule and other television providers, go to www.jbstv.org
Film Premiere: Victor "Young" Perez
The story of Victor "Young" Perez, a Tunisian Jewish boxing champion whose life is turned upside down by the Nazi occupation of Paris. By Jaacques Ouaniche starring Brahim Asloum, an Olympic gold medalist in boxing (French with English subtitles). Sunday – 9pm & Midnight; Friday – 9pm & 4am
Jewish Cinematheque: Comrade Dov
Barak Heymann, director of the 2019 documentary "Comrade Dov" showcased in the Other Israel Film Festival, explains how his chronicles the life and times of controversial Israeli Member of Knesset Dov Khenin, and avowed communist. With Eric Goldman. Monday 7:30pm & 2am; Wednesday 1:30pm
Other Israel Film Festival: "Left?"
The Other Israel Film Festival brings arts, culture and politics together in a panel that explores the deepening divide between the left and the right in Israel. With human rights lawyer Lea Tsemel, (subject, The Advocate), former MK Dov Khenin (subject, Comrade Dov), filmmaker Barak Heymann (Comrade Dov) and Palestinian-Israeli singer, actress and activist Mira Awad (creator of TV Series "Muna"). With Libby Lenkinski (VP for Public Engagement, New Israel Fund), a program of the Marlene Meyerson JCC Manhattan's Other Israel Film Festival. Monday 8pm & 1am; Wednesday – 2pm; Saturday – 8pm & 4am
Other Israel Film Festival-Awad
Arab-Israeli singer, actress and activist Mira Awad discusses the drama series she created ("Muna") about a successful photographer who works in Tel Aviv. With Michelle Divon from the Other Israel Film Festival at the Marlene Meyerson JCC Manhattan. Tuesday 7:30pm & 1:30am; Wednesday – 2pm
Israel Briefing: Yoaz Hendel
Lt Col Yoaz Hendel of the Israeli Navy SEALS, and a Knesset Member of Telem in the Blue & White faction, briefs future officers of the U.S. armed forces on the current warfare-based concerns facing the State of Israel. From the Miryam Institute. Tuesday - 7pm & 1am; Thursday - 1pm
L'Chayim: Gurock on Parkchester
In Parkchester: A Bronx Tale of Race and Ethnicity, Jeffrey S. Gurock (Prof. of Jewish History, Yeshiva U.) describes the unique "get along" character of his own childhood community, a "model" neighborhood built in NYC in 1940. With Mark S. Golub.
Wednesday - 9pm & Midnight; Thursday - 3pm
Sunday: Survivor & War Hero
Holocaust survivor and war veteran Michael Taylor, with his son Shannon, shares his remarkable story of escaping concentration camps, rescuing fellow Jews, sailing to Palestine and fighting in the Haganah in the Independence War. With Mark S. Golub. Sunday - Noon & 6pm
Monday: Producer-Band's Visit
Broadway producer Orin Wolf discusses his Jewish background, his love of Israel, his philosophy of theater, and the story behind his creating the Tony Award Winning Best Musical of 2018, "The Band's Visit." L'Chayim with Mark S. Golub. Monday - 9pm & Midnight; Tuesday - 3pm
Tuesday: Settler Leader Dilmoni
Yigal Dilmoni, CEO of the Yesha Council of communities on the West Ridge (West Bank) of Israel, describes plans to expand settler communities and shares his perspective on the Israel-Palestinian conflict.
Tuesday - 9pm & Midnight; Wednesday - 3pm
Thursday: Stars of "Marvelous Mrs. Maisel"
As the hit TV Series "The Marvelous Mrs. Maisel" begins a new season on Amazon Prime, see conversations with cast members from Amy Sherman-Palladino's hit Amazon series "The Marvelous Mrs. Maisel," including Rachel Brosnaham (Marvelous Midge Maisel), Alex Borstein (Susie), Michael Zegen (Joel) and Marin Hinkle (Rose).
Thursday - 9pm & Midnight; Friday – 2:30pm; Saturday 6pm
92nd Street Y: New State Law
The new Jewish state law and Israel's future is discussed with Peter Beinart, Einart Wilf, Eugene Kontorovich, and Sayed Kashua from the stage of the 92nd Street Y in New York City. Sunday – 8am & 2am; Monday – 10:00pm & 4am; Wednesday – 11am; Friday – 8pm & 1am; Saturday - 3pm
A Touch Away - Episode 6
The preparations for the wedding are full steam ahead. However, Rochale' is depressed, and in a moment of weakness she invites Zorik to her apartment to-be. In Hebrew with English Subtitles. Sunday 7pm &1am; Tuesday - 10:30am; Wednesday - 5am; Thursday - 9am & 4:30pm
A Touch Away - Episode 7
Rochale's secret is revealed, and Motti Katz cancels the marriage. Shmuel finds out in the 'to-be' apartment a map of Zorik's trip to Europe. He confronts his daughter, and realizes that she has lied to him. In Hebrew with English Subtitles. Saturday – 7pm & 2:00am
From the Aleph-Bet: Lesson 7
Learn three new Hebrew letters, "Gimmel," "Daled," and "Yud" on this lesson of JBS's original series From the Aleph-Bet, designed for anyone of any age who wishes to learn to read and understand Hebrew. Taught by Rabbi Mark S. Golub. Monday - 9am & 4:30pm; Wednesday – 7pm
Tues, Dec 10, 8:00pm
Chabad Chayil 2601 NE 211 Terr, Miami, FL 33180
Hear first hand from Napa Valley's original and most successful Kosher Wine Maker! Taste why this wine has been used at White House events for 3 decades! Enjoy (& perhaps bring home) beautiful Jewish Art from local & international artists! Suggested Donation for Jewish Education: $You Decide (Any amount is accepted and appreciated)
Learn more & RSVP at (305) 770-1919 or ChabadChayil.org/wine
Hear first hand from staff, Campers and fellow Parents. Find out more about scholarship and grant programs. There will be raffle for a FREE full week of camp just for participating in this informative meeting!
Monday, Dec 9, 5:00pm
At Chabad Chayil, 2601 NE 211 Terr, Miami, FL 33180
Learn more and RSVP at http://cgipoconos.org
Please join us Friday night, December 13 for a musical, soulful, lively Carlebach shabbat service.
9580 Abbott Ave Surfside, FL 33154
Mincha and Kabbalat Shabbat begging at 5:15 pm, followed by elegant shabbat dinner at 6:30 pm
To register, please visit http://tiny.cc/miami_carlebach
For more information, please contact steveevents2019@gmail.com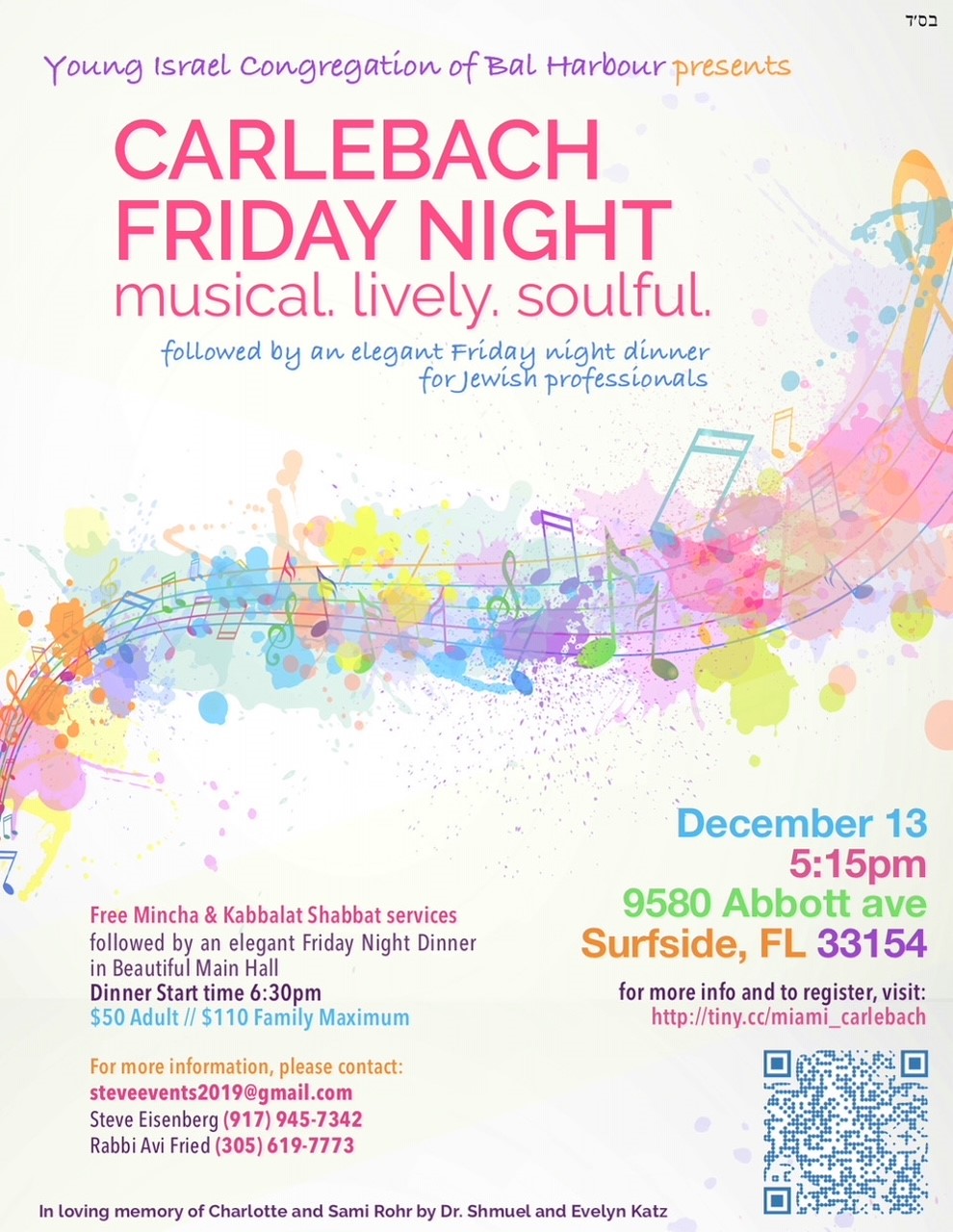 On Wed., Nov. 27th, the day before Thanksgiving, the team at Tiktin Real Estate Investment Services (TREIS) spent the afternoon volunteering at Miami Jewish Health, one of the largest providers of healthcare for seniors in the Southeast.
The Tiktin team gathered together at 20-acre facility at 5200 NE Second Ave. in Miami and spent the afternoon serving a pre-Thanksgiving lunch accompanied by live entertainment for patients and residents. This was the second time that TREIS partnered with Miami Jewish Health as part of TREIS' philanthropic initiative campaign, Tiktin Gives Back.
Launched in March 2018, Tiktin Gives Back partners the commercial real estate investment sales brokerage firm with various local nonprofit organizations throughout the year. Tiktin Gives Back aims to build team morale and corporate culture, encourage corporate social responsibility and promote local nonprofit organizations.
Miami Jewish Health is one of the most innovative healthcare providers in the United States, treating annually more than 12,000 people of all ages, ethnicities and religions. The nearly 80-year-old organization draws patients from across the nation and around the world for its pioneering Centers of Excellence that include: Rosomoff Comprehensive Rehabilitation Center; Memory Center; Rehabilitation Services at Miami Jewish Health's Nursing Facility; and the Florida PACE Centers (Program of All-Inclusive Care for the Elderly).
To learn more about Miami Jewish Health and the services they provide, please visit www.miamijewishhealth.org. If you are a non-profit organization with volunteer opportunities, please contact Nayrobi Garcia at TREIS at 844-4-TIKTIN.
About Tiktin Real Estate Investment Services (TREIS) Tiktin Real Estate Investment Services (TREIS) is a South Florida-based commercial real estate investment sales brokerage firm specializing in the sale of shopping centers, single-tenant net lease properties and office buildings in Florida. Founded in 2001 by industry veteran Adam J. Tiktin, TREIS is committed to a higher level of service and an unmatched standard of integrity. The investment sales firm is distinguished by its personalized approach, transactional expertise, comprehensive market analysis and aggressive strategies. www.tiktinrealestate.com.
#