Please share with friends! We are dedicating the learning to all the sick amongst our people / the whole world!
Telecall: Monday Night Class with Steve Eisenberg Monday, April 6th, 2020 Weekly Torah Portion- MONDAYS 8PM- (USA- EST TIME) TOPIC: "Leaving Behind the Personal Egypt's in our Lives"
DIAL INFO Phone: (1) 605-475-5950 Access Code: 768774
About Steve Eisenberg: A risk arbitrage specialist who previously served as a Vice President at Bear Stearns and a Managing Director at the investment firm Ehrenkrantz King Nussbaum, Inc., Steve juggles a demanding Wall Street career with a passionate commitment to Jewish outreach programming. In addition to delivering JICNY's flagship weekly Torah class on Monday evenings he also manages JICNY's Job Assistance website and coordinates the organization's networking events. A gifted speaker and a celebrated educator, Steve is frequently invited to speak at events around the world and develops programs for outreach organizations across the United States.
For more info visit: www.jicny.com
Please join us for musical, inspiring Carlebach-style Friday night service at 5:50 pm followed by a gourmet dinner at 7:00 pm
Young Israel of Bal Harbour Social Hall 9580 Abbott Ave, Surfside
Connect with friends Meet new people Enjoy an inspiring and elegant evening
$36 Adult $110 Family Max
RSVP required at tinyurl.com/tv8fauj
Questions? Please contact Steve Eisenberg at steveevents2019@gmail.com
Meet hundreds of young Jewish professionals in their 20s and 30s.
Carlebach services beginning at 6:00 pm Gourmet shabbat dinner at 7:00 pm (cost $50)
At Young Israel of Bal Harbour
To register, visit: https://tinyurl.com/qru3kw4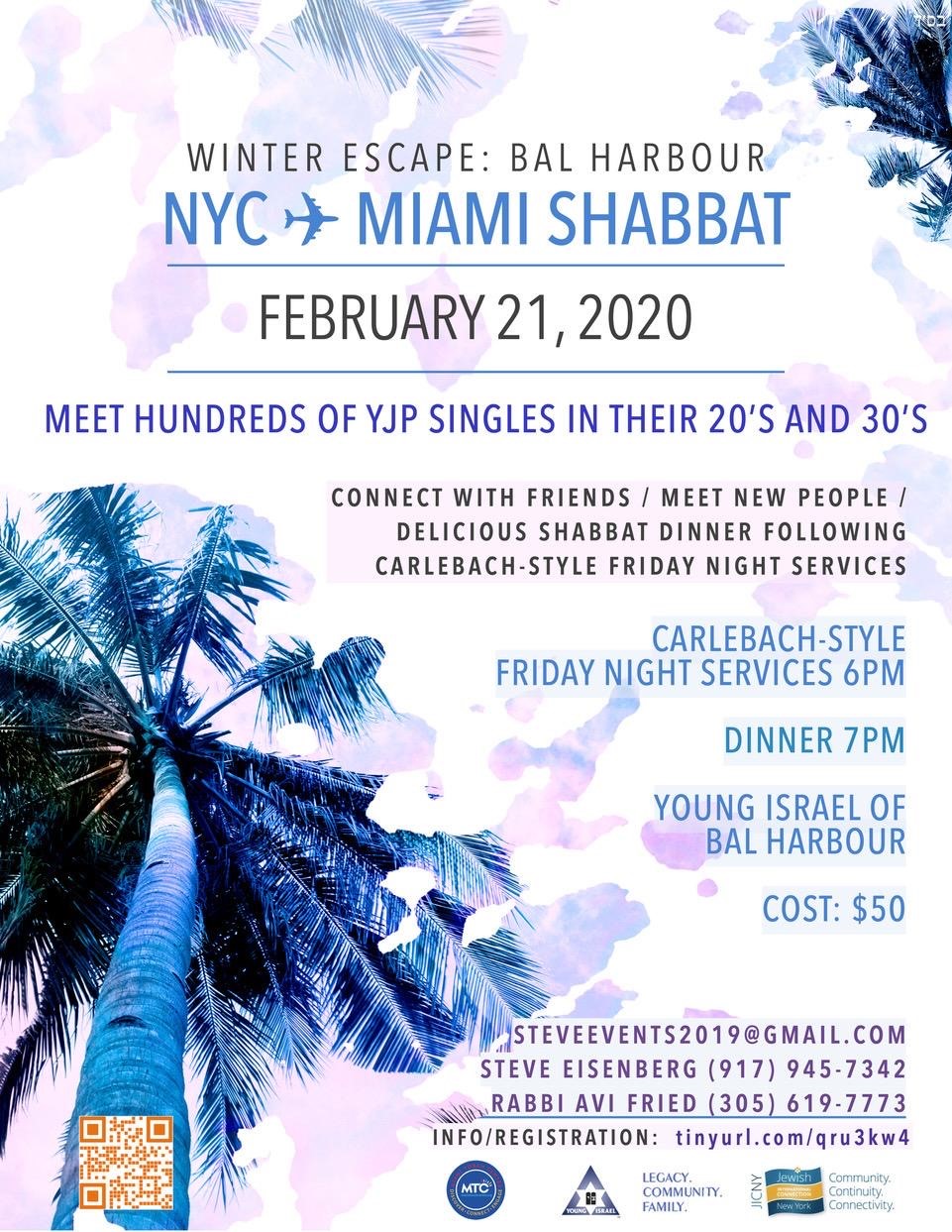 Learn how to read and write basic Hebrew. Practice basic skills, become comfortable with prayer services, experience Israeli and Jewish culture to the fullest.
Free Hebrew classes will be offered every Tuesday and Thursday 6-7:30 pm beginning February 11 at Young Israel of Bal Harbour.
To register, please contact Jonathan Gerszberg at YIBHYJPEvents@gmail.com
Please join us for a women's only workshop with Yani Gantz on Wednesday, January 29th at 7:30 pm at Torah Gems Bal Harbour location.
Please join us for an inspiring evening with Carlebach services and gourmet shabbat dinner on Friday, January 31
5:50 pm Services (free to attend) 7:00 pm Dinner ($36 per person, family max of $110)
RSVP at https://www.eventbrite.com/e/131-friday-night-services-and-shabbat-dinner-tickets-88057272673
Please contact steveevents2019@gmail.com with any questions or inquiries.
Please join Steve Eisenberg for a class on Parshat Vayechi: The True Meaning of Life.
Monday, January 6 at 7:30 pm. RSVP to steveevents2019 for address (Bal Harbor location)
Exclusively for young Jewish professionals. Wine and light refreshments will be provided.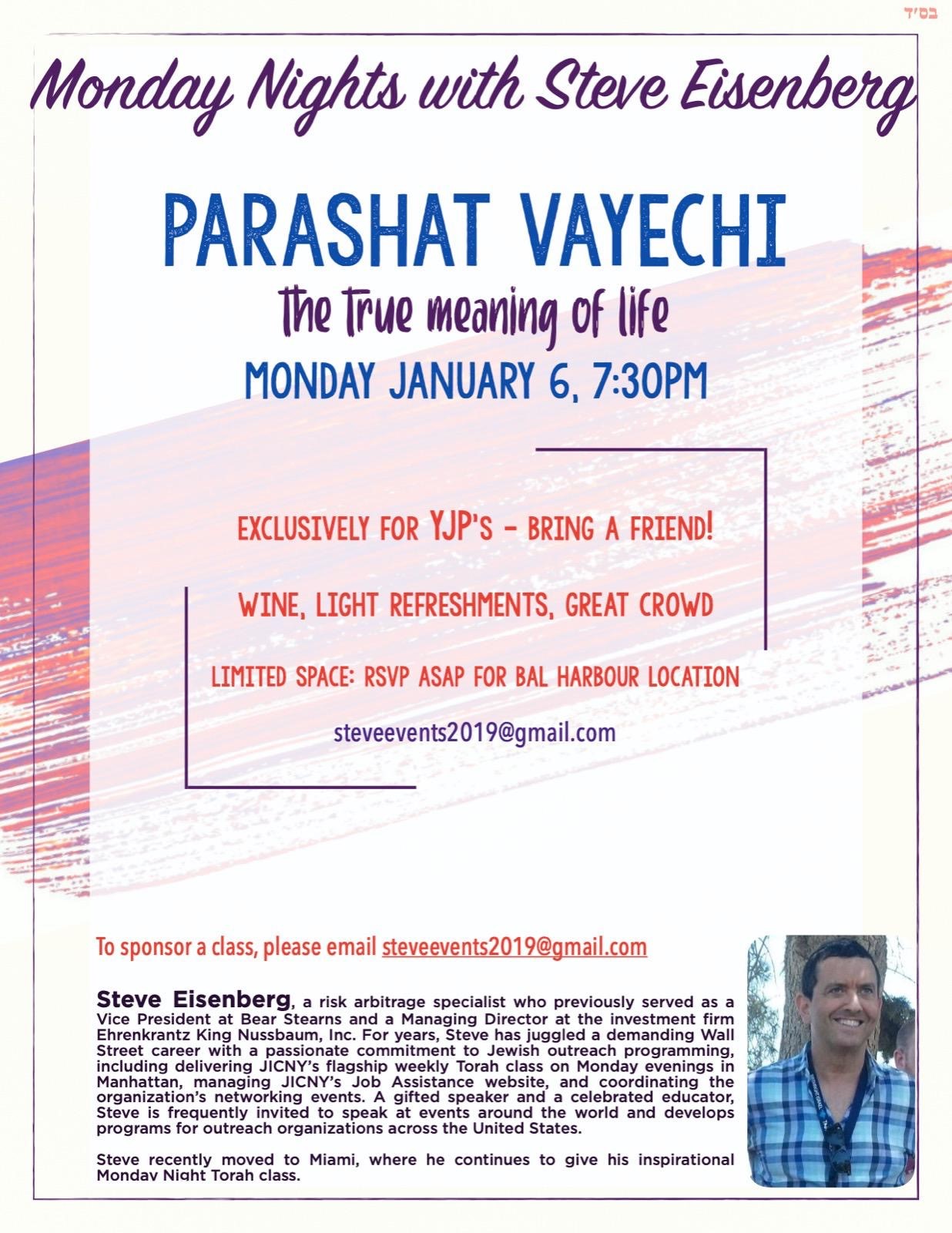 Tropical Hanukkah Party in the City
Sunday, December 22 at 8:30 pm Baru Latin Bar901 Brickell Plaza Miami, FL 33130
$20 online, $30 at the door
http://events.r20.constantcontact.com/register/event?oeidk=a07egqlsd93a34958fc&fbclid=IwAR28mjk3MfIej2rBwYNlvPjUT-QLvNu2pdN9Ljl0eZavNnM08ZUpyj8R37U&llr=a4iuaydab
Please join us Friday night, December 13 for a musical, soulful, lively Carlebach shabbat service.
9580 Abbott Ave Surfside, FL 33154
Mincha and Kabbalat Shabbat begging at 5:15 pm, followed by elegant shabbat dinner at 6:30 pm
To register, please visit http://tiny.cc/miami_carlebach
For more information, please contact steveevents2019@gmail.com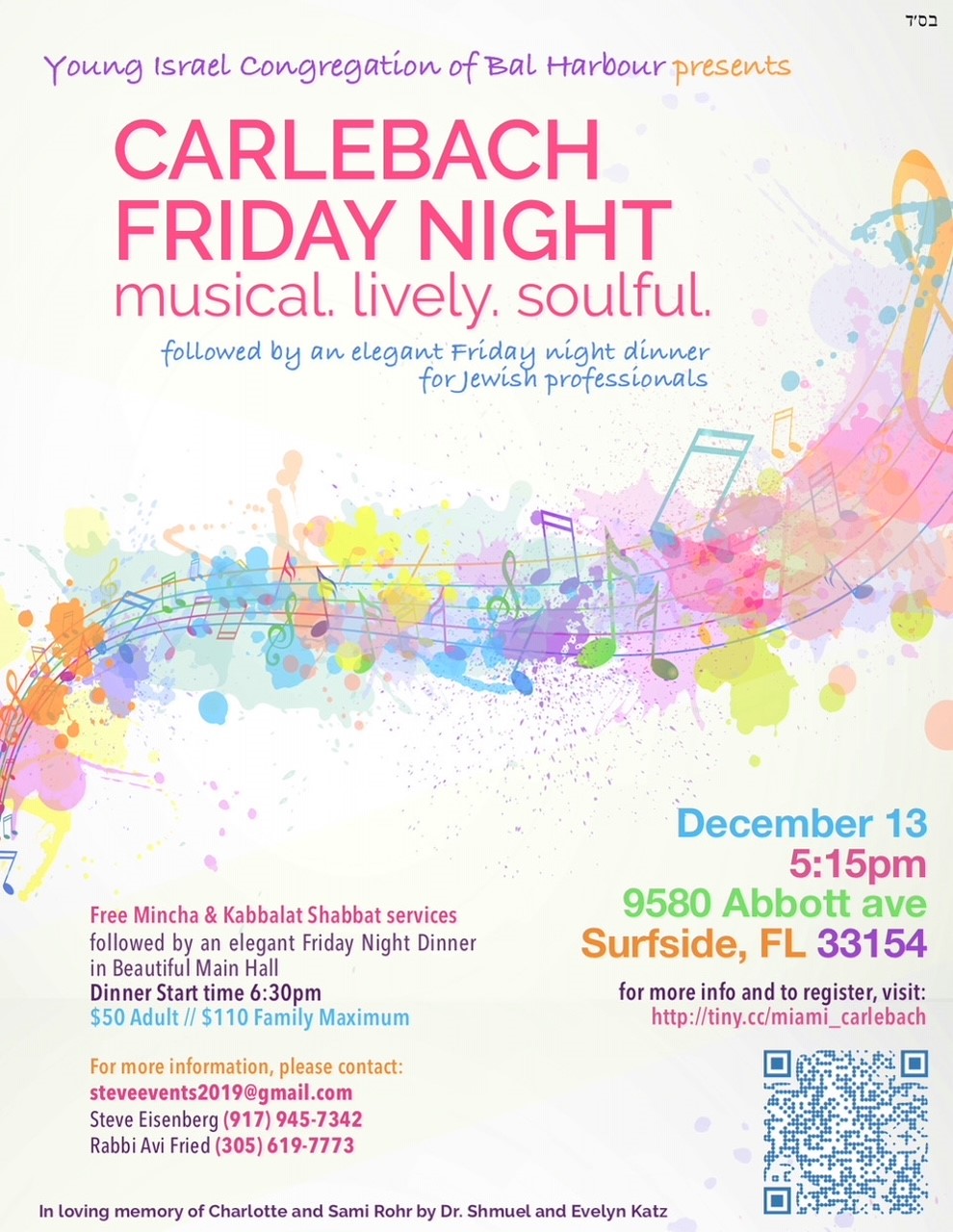 Friday Night, December 13 Services at 5:15 pm and Shabbat Dinner at 6:30 pm at the Young Israel of Bal Harbor
RSVP is required at http://tiny.cc/Friday_Night_Dinner
Young Israel of Bal Harbour 9580 Abbott Ave Surfside, FL 33154 Phone: 305-866-0203 Contact: yakira@yicbh.org