It's Happening In Miami
Posts by
Dennis Prager Shabbat Keynote Address: How to Raise a Mensch - How to Be a Mensch
Saturday, May 28 at 9:30 am at Beth Torah Benny Rok Campus - 20350 NE 26th Ave, North Miami Beach, FL 33180
Join us for Shabbat Morning Services Saturday, May 28 at 9:30 am with a special keynote address by Dennis Prager "How to Raise a Mensch- How to be a Mensch"
Dennis Prager is a best-selling author, columnist, and one of America's most respected and popular radio talk show hosts. He is the co-founder of PragerU, which has garnered more than 5 billion views on its website, mobile app, and social media channels.
Free event. Open to the community.
For more details, visit: http://btbrc.org/event/dennis-prager/
Join Beth Torah's Rabbi Rojzman, Cantor Gastón, and Cantorial Soloist Evelyn Goldfinger for a special evening of moving spiritual, gospel music and Jewish prayers to uplift your spirit!
STREAMING LIVE, FRIDAY, JANUARY 22 AT 7:00 PM @ btbrc.org
OPEN TO THE COMMUNITY – FREE OF CHARGE
Sponsored by the Consulate General of Israel in Miami
With Special Guests:
The Church of the Open Door Choir
The Miami Temple Adventist Church Choir
The Florida Memorial University Chamber Ensemble
Singer Tianna Strong
Dr. Nelson Hall as music director
For more information and to attend virtually, click here: btbrc.org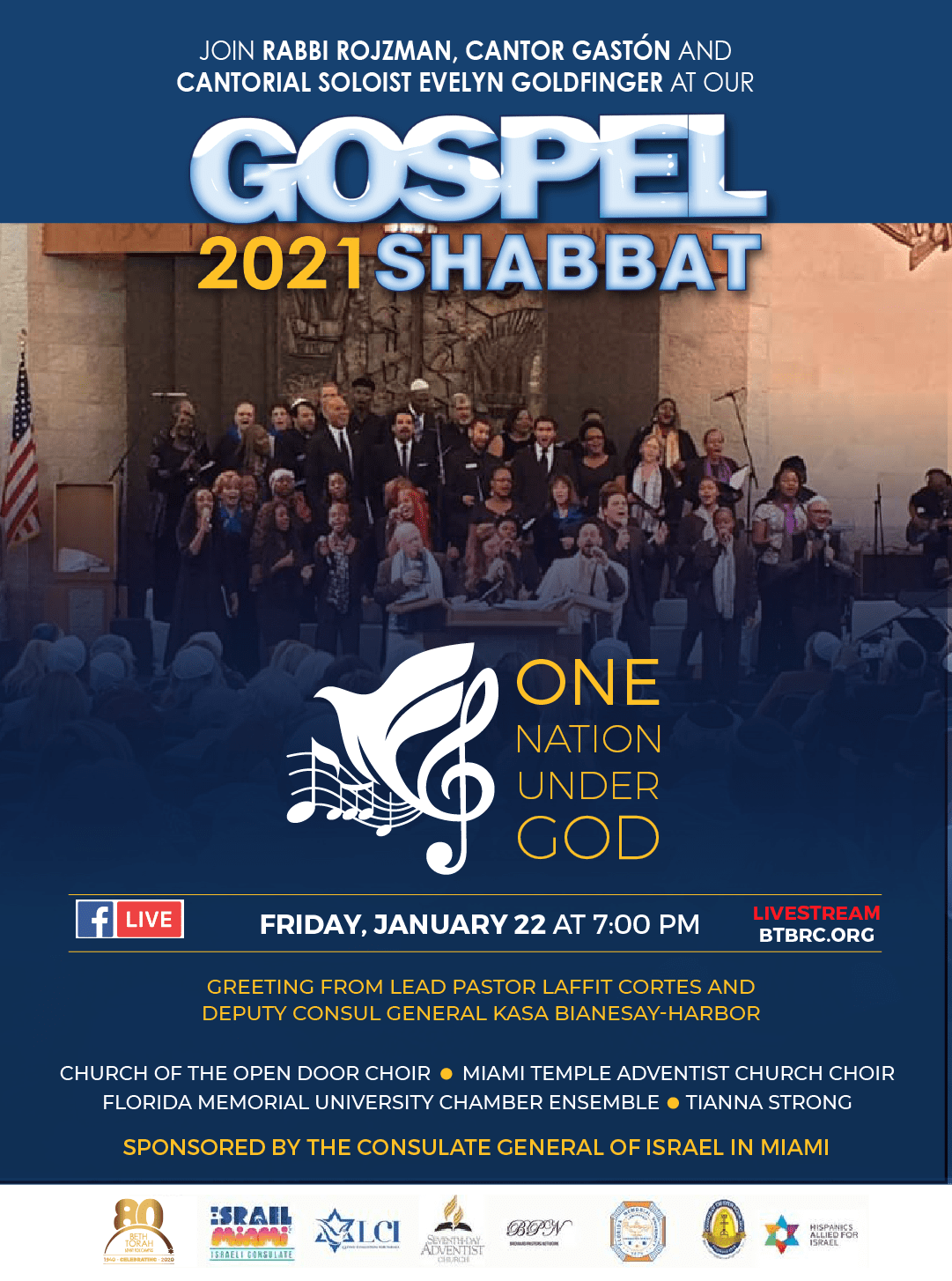 Dialogando con el Rabino Mario Rojzman – NAZISMO EN BUCHENWALD
JUEVES, 7 DE ENERO A LAS 6:00 PM (Hora de Miami) y 8:00 PM (Hora de Chile y Argentina)
Te invitamos a participar en un Diálogo con el Rabino Mario Rojzman y dos invitados especiales conversando sobre el tema de Nazismo en Buchenwald:
MARIO KREUTZBERGER "DON FRANCISCO" – Renombrada personalidad en la TV latinoamericana cuyo padre fue deportado a Buchenwald. PAMELA CASTILLO – Pedagoga en el Memorial del Campo de Concentración de Buchenwald ESTE EVENTO ES ABIERTO A LA COMUNIDAD Y LIBRE DE CARGO
Requiere registración para recibir el numero de ZOOM y la contraseña!
To register visit: https://btbrc.shulcloud.com/form/Nazismo-en-Buchenwald.html