It's Happening In Miami
Posts by TatianaRoe
Travel Dates: March 3-13, 2022
Application deadline: September 13
The HMI trip is a nine-day journey through Israel with the one you love and 19 other couples from your city. It's exhilarating, romantic and memorable as you explore Israel in luxury. You'll learn about Israeli culture, beauty and society in a way you could never do on your own and return home with a new community and friends who feel like family. The experience continues in your city through local HMI alumni events and programs.
CLICK HERE to learn more about HMI.
Investment: $2,500 per couple, all-inclusive of flight and ground costs
CLICK HERE for eligibility requirements.
For more information, please contact Nicole Erdfrocht at nerdfrocht@gmjf.org.
August 28, 2021 9:30 AM to 4:30 PM
Temple Beth Sholom 4144 Chase Ave Miami Beach, FL 33140
$125 Early Bird/$150 2 weeks or less
A Jewishly framed complete childbirth class for expecting moms and their partners. Come for the childbirth education, stay for the Jewish community!
Daylong class includes breakfast, a thorough, doula-taught childbirth education class and intimate conversation with one of Temple Beth Sholom's rabbis regarding Jewish names and naming rituals. They day concludes with Havdalah with your peers.
You'll then have the opportunity to return subsequent evenings for the following, all included in Shalom Baby: lactation consultant focusing on breastfeeding, swaddling, and diapering; pediatrician; psychologist focusing on maternal post-partum mental health; LCSW's experiential workshop entitled "From Partners to Parents/Couples to Families"; Mommy self-care coach, sleep consultant; and infant/toddler CPR!
The community building continues with a reunion for all to meet and play with the babies months later.
Included in Shalom Baby is the opportunity for a child naming ceremony during Shabbat services at Temple Beth Sholom.
While the tragedy in Surfside has started to fade from the headlines, the Greater Miami Jewish Federation remains committed to helping individuals and families recovering from devastating loss. We are continuing to work closely with our primary human service partner Jewish Community Services of South Florida to ensure survivors and families have a complete continuum of assistance, crisis counseling and housing opportunities. If you or someone you know requires financial assistance, food, counseling, bereavement support or is facing other challenges, please call 2-1-1. Operated by JCS, the free, confidential helpline can guide you to the services you need.
Join us via ZOOM on Sunday, August 29 at 11:00 am to kick-off your Rosh Hashanah festivities with a PJ Library story time and a special holiday craft with Maker Monkey Workshop.
Eating foods with special symbolic value is an important part of starting the Jewish New Year off right. Together, we'll create a beautiful Maker Monkey Workshop platter of these foods and learn all about how they connect to our Rosh Hashanah wishes for this coming year!
FREE with RSVP HERE
You'll need the following supplies:
Click here to shop any missing supplies!
Date: August 26, 2021 Time: 8:00 pm Contact: Marcy Levitt Email: mlevitt@alperjcc.org
Jake Cohen Jew-ish: Reinvented Recipes from a Modern Mensch
Ticket $6 or Book & Ticket $38, VIRTUAL Cooking demo event for High Holidays in partnership with National JCC Literary Consortium
In Conversation with Holly Firfer, Atlanta Media Personality
A brilliantly modern take on Jewish culinary traditions for a new generation of readers, from a bright new star in the culinary world.
When you think of Jewish food, a few classics come to mind: chicken soup with matzo balls, challah, maybe a babka if you're feeling adventurous. But as food writer and nice Jewish boy Jake Cohen demonstrates in this stunning debut cookbook, Jewish food can be so much more.
In Jew-ish, he reinvents the food of his Ashkenazi heritage and draws inspiration from his husband's Persian-Iraqi traditions to offer recipes that are modern, fresh, and enticing for a whole new generation of readers.
The Hebrew Free Loan Association of Miami Offers Help to Those in Need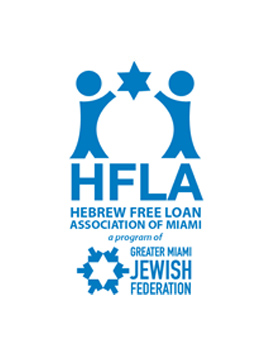 The Hebrew Free Loan Association of Miami (HFLA) is a program of the Greater Miami Jewish Federation. Since 1989, HFLA has been offering interest-free loans to Jewish individuals and families who may not qualify for normal loan resources. HFLA has provided 600 interest-free loans during the past three decades totaling more than $2 million.
HFLA's interest-free loans, as opposed to charity, fill an important gap in our social system by promoting self-sufficiency with discretion. Every loan disbursed by HFLA is a community investment in the dignity and independence of borrowers.
For more information, contact us at info@hebrewloan.org or 305.692.7555.
August 25, 2021 6:30 PM to 8:30 PM
Brickell Chabad Rooftop
From online to offline, we're back in person! Join JNF-USA and Fuel for Truth with local young Jewish professionals for a fun Rooftop Social in Miami as a part of our JNFuture Summer Social Events.
Featuring special guest speaker, Gabriel Groisman, Mayor of Bal Harbor. This event is open to young professionals 22-40. Jewish National Fund-USA events adhere to all CDC guidelines, as well as State and Federal regulations.
Wednesday, August 18 at 8 pm ET
Daniel Levin, Proof of Life: Twenty Days on the Hunt for a Missing Person in the Middle East
Ticket $6 or Book & Ticket $36, VIRTUAL event in partnership with National JCC Literary Consortium
In Conversation with Holly Firfer, Atlanta Media Personality
Daniel Levin the son of a diplomat who spent his early years in the Middle east and in Africa then trained as a lawyer. This is a true story about his receiving an urgent call from an acquaintance about a young man who had gone missing in Syria. Over the course of twenty intense days, Levin barters and negotiates his way through Istanbul, Beirut, Amman, and Dubai on a quest to find the young man who disappeared under suspicious circumstances. This dangerous journey brings him into contact with the shadowy world of the underground war economy where everything is for sale, and he sees first-hand the power of the industries that endlessly fuel these conflicts—the trade of cash, goods, weapons, drugs and most devastatingly, people. PROOF OF LIFE is a mind-blowing exploration of how people use leverage to get what they want, entangling Levin in a dizzying web of favors and counter favors with the highest armed-conflict negotiator, navigating the seedy and dangerous underbelly of the Middle East, where he encounters powerful sheiks, drug lords, and sex traffickers in pursuit of the truth.
Melissa Goldfarb & Sarah Wilson, PJ Library Program Co-Chairs invite you to Do a Mitzvah!
On August 22, JCS Milk & Honey will deliver holiday food baskets to people in need. Make their day with a PJ Library Rosh Hashanah card from your child.
MITZVAH CHECKLIST:
1) Use our templates* to make your card. 2) Sign-up* to deliver a food package. 3) Bring your card with you!
If you can't join on August 22, please mail us your card by August 17 and we will include it in a food package:12000 Biscayne Blvd. St. 303 Miami, FL 33181 Attn: Jocelyn Kinzer
DOWNLOAD THE PRINTABLE PDF PACKAGE HERE!
FOR MORE INFORMATION, CHECK OUT OUR LINKTREE
Shabbat shalom!
Virtually Limitless: Our Shared Shelf A Monthly Book and Author Series presents, More: Get More Out of Life with Less Complication by Elise Scheck Bonwitt
Moderated by Sheree Bloch (Philadelphia)
July 28, 2021
8pm EST
CLICK HERE TO JOIN THE ZOOM ROOM
Meeting ID: 957 0786 8022
Passcode: NWPBooks
Order the book on Amazon here.
Even if you don't have time to read the book... we want to see you on Zoom!
All female philanthropists can join this event. To register yourself or encourage your friends and family to join, please visit this link: http://jfeds.org/NWPsharedshelf