A Statement from the Greater Miami Jewish Federation on the Surfside Building Collapse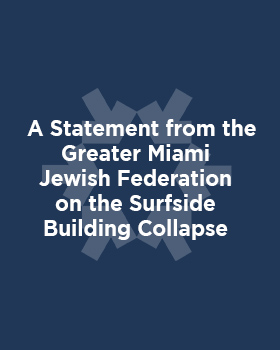 The Officers, Board of Directors and Staff of the Greater Miami Jewish Federation are shocked and devastated by the collapse of Champlain Towers South, an apartment building in Surfside, Florida. We join with the entire community to mourn the loss of life and pray for a full recovery of those injured, even as we hold out hope for the fate of those who remain missing.
We are grateful to the first responders who put themselves in harm's way to rescue people trapped in their apartments, as well as beneath the wreckage, and who remain steadfastly on the scene carrying out search and rescue efforts.
In the short time since this catastrophe occurred, tremendous needs have already emerged. The Greater Miami Jewish Federation is in touch with our network of agencies, elected officials, the American Red Cross, the United Way of Miami-Dade County, local synagogues and law enforcement to respond.
Multiple government agencies and municipalities are providing immediate care for victims. In addition, we have identified four other areas of need.
Emergency funding for families and individuals – Federation has opened an Emergency Fund for the Surfside Building Collapse to help individuals and families' short- and long-term needs. Donations can be made online at JewishMiami.org/surfsidebuildingcollapse.
Chaplaincy Services – members of the clergy are on-site at the Surfside Community Center through Federation's program Mishkan Miami: The Jewish Connection for Spiritual Support and from multiple local synagogues. To reach a chaplain, email rabbiklein@gmjf.org.
Crisis Counseling and Social Services –Federation's primary human service agency Jewish Community Services of South Florida (JCS), is the community's initial contact point for impacted individuals requiring short- or long-term assistance through its JCS Helpline Services. If you or someone you know requires support, call 2-1-1.
Housing Assistance – Together with JCS and multiple other resources, we will be working with individuals and families who have been displaced and who require assistance in securing short-term and longer-term housing solutions. If you are in need of housing, call 2-1-1.
In addition, sadly, we know that there may be families who require help arranging appropriate funeral and burial services for loved ones in the days ahead. Federation is ready to provide assistance as necessary as this tragedy continues to unfold.
The Greater Miami Jewish Federation will continue to provide updates as more information surfaces.