We're sorry but we couldn't find that author.
For the schedule of News, Jewish Studies, Culture and more, go to www.jbstv.org
L'Chayim: Jews & America
Dr. Jeffrey Gurock, professor of American Jewish History at Yeshiva University, reviews the Jewish experience in America. Sunday Noon & 6pm; Monday 3pm, 9pm, Midnight
JBS Honors U.S. Veterans
Honoring our Veterans Sunday 3pm; Monday 1pm & 7pm
Major Moments From The Jerusalem Post Conference 2016 in New York: Part 1
Likud MK Gilad Erdan (Minister of Public Security, Strategic Affairs and Minister of Information)
Ron Lauder (President of the World Jewish Congress)
Prime Minister Benjamin Netanyahu (a video)
Tuesday Evening 7pm & 1am; Wednesday 2pm; Thursday 1pm
Major Moments From The Jerusalem Post Conference 2016: Part 2
Amb. Dennis Ross (former Middle East advisor to many Presidential administrations) explains why the U.S. does injury to Israel and to itself when it portrays itself as "even-handed
Israeli U.N. Amb. Danny Danon explains the extent to which the world body is overwhelmingly anti-Israel sentiment
Mosab Hassan Yousef, whose story as the son of a Hamas leader who became an Israeli informant (Green Prince), pleads for a greater understanding of the danger posed by the religion of Islam and a greater appreciation for the unique social good of the State of Israel
Tuesday Evening 8pm & 2am; Thursday 2pm
Major Moments From the Jerusalem Post Conference 2016: Part 3
Yisrael Katz (Minister of Transportation and Intelligence)
Rep. Ed Royce (R-CA, and Chairman of the Foreign Affairs Committee)
David Broza (Israeli singing star performs Y'hiyeh Tov)
Caroline Glick (Senior Editor of the Jerusalem Post)
Wednesday Evening 8pm & 2am; Friday, 2pm
L'Chayim: 6-Day War Remembered
Former Israeli Intelligence expert Avi Perry recounts his experiences in the Six-Day War of June 1967, and comments on the modern-day Iranian nuclear threat as well as the Israeli-Palestinian conflict. Thursday 9pm & Midnight; Friday 3pm
L'Chayim: Ehud Diskin
Ehud Diskin, IDF veteran of the 6-Day War ('67) and the Yom Kippur ('73), recalls the emotional context of each war; remembers Ariel Sharon; and talks about his autobiography, "Yes, It's Possible." Saturday 6pm
L'Chayim: Israel & War (David Hartman)
Donniel Hartman, President of the Shalom Hartman Institute in Jerusalem, reflects on his time as a tank commander in the IDF, and offers his perspective on the Middle East conflict today and policies of the State of Israel. Wednesday 9pm & Midnight; Thursday 3pm
This fundraiser event will include appearances and performances by a number of artists like Jon Secada, a Grammy Award-winning performing artist, with 20 million albums sold, and starring roles on Broadway, as well as numerous hits in English and Spanish that have established him as one of the first bilingual artists to have international crossover success. The Coaches of the Area Stage Company Ryan Townsend, Molly Gorman, J. Romero, Minerva Borjas-Owen ("La Voz Kids" Coach) and Conservatory students will be present in an amazing evening of music. Musically directed by award-winning composer and musician Jon Rose. This benefit concert will be performed on June 16th at 8:00pm. All profits will go directly to benefit children that have lost their parents in the Ecuador Earthquake. Tickets will be $100, $75, and $50 as all proceeds will go directly to the Ecuador Earthquake Relief Campaign. Please join us in our efforts to collect for the Area Stage Company's Ecuador Earthquake Relief Campaign where any donation, no matter how small, can make a significant impact on the lives of those in need.
Volunteer to make Challah for Shabbat! Unleash the holiness of bread (bring some home too!)
Join us on Thursday June 2nd at 7pm
1701 Washington Ave., Miami Beach, FL 33139 Sirkin Hall Kitchen Call the Temple Emanu-El office to RSVP: (305) 538-2503
Danny Bister, Diller Teen Fellow
As a high school student preparing for my college future, there are many things that I take into consideration when deciding among colleges to choose from. One of factors in my decision making is the Jewish presence in each of these colleges.
In this day and age, it is extremely important for Jewish college students to be part of a large, significant, and welcoming Jewish community in the colleges they are attending. Now, Hillel has now made it easier to find a place that's right for you.
Through Jewish College Bound, Jewish teens and their parents can easily reach out and communicate with the Hillel of the college they are attending in the fall, giving these future students an easier time making connections and friends during their college experience.
Friday, May 27th at 6:00 pm
ATJC & Tauber Academy present Graduation Friday Night Live on Friday, May 27th at 6:00 pm. Followed by a Celebration honoring our Graduating students from the Tauber Academy and Religious School. With Rabbi Jonathan Berkun on guitar, Cantor David Muchnick on Keyboard and Cantor Marcos Askenazi on drums in the Soffer Sanctuary followed by celebration in the Social Hall.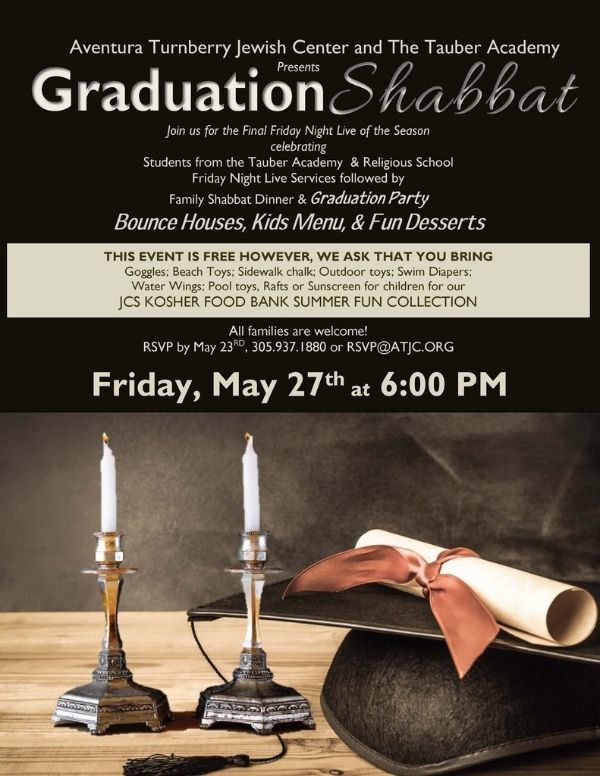 Live Today (Sunday, May 22)The Jerusalem Post Conference 9am-6pm in New York
Hosted by The Jerusalem Post's distinguished outgoing Editor-in-Chief Steve Linde, participants will include Caroline Glick, Naftali Bennett, Amb. Danny Danon, Gen. Gabi Ashkenazi, Dennis Ross, Ronald Lauder, Rabbi Yechiel Eckstein, and Dr. Ruth Westheimer plus Israeli singing star David Broza and actor Michael Douglas
Also this week, JBS begins its telecasts of the Global Antisemitism Conference from Kean University. See times below:
Global Antisemitism: Cotler
Irwin Cotler, former Justice Minister of Canada and a major voice fighting the BDS Movement, describes the many examples of spreading anti-Israel and anti-Semitic sentiment, and suggests strategies to combat it. JBS coverage of Kean University's Conference on Global Antisemitism, March 2016 Tuesday Evening 8pm & 1am; Thursday 2pm
Global Anti-Semitism: Panel 1
A discussion of the root causes of contemporary anti-Semitism and the failures of the Jewish home and community to address the problem. With Prof Deborah Lipstadt, Jonathan Tobin, Mark Weitzman, Daniel Guadalupe and moderator Rabbi Joe Potasnik. From Kean University's Conference on Global Antisemitism, March 2016. Wednesday Evening 8pm & 1am; Friday 2pm
Conversion Crisis In Israel
Ronen Neuwirth, founder of the egalitarian Orthodox Beit Hillel in Israel, discusses the challenges Israel is facing in conversion and civil marriage, and suggests solutions that might build bridges between Israel and the Diaspora. From JBS's exclusive television coverage of Limmud NY 2016 in Stamford, Ct. Monday Evening 8pm & 1am; Wednesday 2pm
L'Chayim: Yoram Ettinger
Career diplomat and advisor on Israeli foreign policy, Amb. (Ret.) Yoram Ettinger ("The Ettinger Report") discusses the mistakes made by the American Administration and by American Jewry regarding the Israeli-Palestinian conflict. Wednesday Evening 9pm & Midnight; Thursday 3pm
In the News: BDS on Campus (CAMERA)
Gilad Skolnick, Director of Campus Programming for CAMERA (Committee for Accuracy in Middle East Reporting in America) discusses the BDS Movement on campus (exemplified by incidents at Connecticut College and Brown University) and why many young Jews are critical of Israel. Monday 6:30pm, 11:30pm; Tuesday 3:30am, 8:30am, 12:30pm
For the rest of the schedule including News, Culture, Jewish Studies and much more, go to www.jbstv.org
MiamiARTMatters:
It's more than a school! It is a TIME for creativity, interaction and learning
It is beyond a physical studio space! It is an immersive art EXPERIENCE
It is a high quality art program! All within a welcoming SOCIAL environmen
It is for everybody! For the art CURIOUS and the PRACTICING artist
==> Find out more about our new creative initiative to Jewish community building by visiting our website: http://www.immersiveartmiami.com <==
MiamiARTMatters:
It's more than a school! It is a TIME for creativity, interaction and learning
It is beyond a physical studio space! It is an immersive art EXPERIENCE
It is a high quality art program! All within a welcoming SOCIAL environmen
It is for everybody! For the art CURIOUS and the PRACTICING artist
==> Find out more about our new creative initiative to Jewish community building by visiting our website: http://www.immersiveartmiami.com <==
MiamiARTMatters:
It's more than a school! It is a TIME for creativity, interaction and learning
It is beyond a physical studio space! It is an immersive art EXPERIENCE
It is a high quality art program! All within a welcoming SOCIAL environmen
It is for everybody! For the art CURIOUS and the PRACTICING artist
==> Find out more about our new creative initiative to Jewish community building by visiting our website: http://www.immersiveartmiami.com <==