We're sorry but we couldn't find that author.
Relax after work by playing with the children living at the Lotus House women's shelter! We will be playing games and spending time with the young residents.
To sign up please email jon.cohen@werepair.org
This volunteer event is for young professionals and 18-40
For the full up-to-date schedule, go to www.jbstv.org
Jewish Film Festival: "Forgotten Refugees"
The little-known story of the mass expulsion of Jews from Arab countries and Iran in the 20th century after richly contributing to these cultures. Produced by Avi Goldwasser of the David Project and IsraTV. Tonight (Sunday) - 9pm & Midnight; Friday - 9pm & 4am
Paradigm Shift: BDS In Academia
Scholars for Peace in the Middle East's Asaf Romirowsky (Exec. Dir.) and Alex Joffe (Editor, BDS Monitor) discuss Jewish professors' fear to take action against anti-Israel movements in the halls of academia and on college campuses. With Charles Jacobs. Monday - 7:30pm & 2am; Wednesday - 1:30 pm; Saturday - 11:30am
Zionism & Me (Olga Meshoe)
Olga Meshoe, a Christian South African attorney and founder of a pro-Israel advocacy group, explains why it is ludicrous to refer to Israel as an apartheid state and explains Israel's commitments to human rights. From SSI at Columbia University, NY. Monday - 8pm & 1am; Wednesday - 2pm; Thursday - 10pm & 2am; Saturday - 8pm & 1am
L'Chayim: Mike Burstyn's "Azimuth"
Mike Burstyn, star of stage, screen and Yiddish theater, talks about his theatrical journey, his feelings for Israel, and his first feature film (Writer/Director) "Azimuth" - about an Israeli and Egyptian soldier after the 6-Day War. Wednesday - 9pm & Midnight; Thursday - 3pm; Next Sunday - Noon & 6pm
L'Chayim: Remembering Goodman, Chaney & Schwerner
David Goodman, younger brother of Andrew Goodman - murdered together with Michael Schwerner and James Chaney by the Klu Klux Klan in Mississippi on June 21, 1964 - talks about his brother, the murder, and a legacy of social action. Thursday - 9pm & Midnight; Friday - 3pm
Jewish Film Festival: Six Days in June
In the documentary "Six Days in June," co-writer/director Ilan Ziv tells the story of the days leading up to the 6-Day War of 1967, of Israel's decisive victory; and of the dramatic consequences of the war upon the history of Israel and the Middle East. Saturday - 1pm
Jewish Film Festival: Blue & Grey
The story of the 10,000 Jewish soldiers who fought in America's deadliest war, the Civil War -- brother against brother, Jew against Jew, in numbers proportionally higher than other American group, 7,000 for the Union and 3,000 for the Confederacy. Saturday - 9pm & Midnight
Posted by: Edith Samers Vice President 203.536.6914 (cell phone) JBS Jewish Broadcasting Service, a 501c3 fulltime television channel
Are you a young Jewish professional in your 20's-40's? Do you know someone in their 20's-40's? We have an event for you! The Next Century Young Professionals invite you for a morning of bagels, mimosas, and pop-culture trivia. Bring friends, or meet new ones!
For more info email Olga Zelzburg at ozelzburg@bethdavidmiami.org
June 12, 2018 – North Miami Beach, Fla - Alan Sataloff has been named Chief Executive Officer of the Michael-Ann Russell Jewish Community Center effective this July, it was announced by Fanny F. Hanono, Chair of the Board. "We are very excited about Alan coming on board. With his vast experience we are sure that our MAR-JCC will reach new heights and further expand its presence as the center of our Jewish community." Sataloff's appointment is the result of an extensive national search conducted by the MAR-JCC to engage the services of a proven and experienced CEO who would provide the professional leadership to direct an institution that serves 3,500 individuals on a daily basis, with social, cultural, recreational, and educational programming. Moreover, his arrival will coincide with the opening of the Feldenkreis Cultural Center which will add an additional 40,000 foot facility, allowing the MAR-JCC to further bolster its broad-based and diverse programming for ages two months to senior adults.
Sataloff will be leaving the post of CEO of the JCC of Chicago. Prior to that, he was CEO of Oshman Family Jewish Community Center in Palo Alto, Calif., and CEO of the Weinstein JCC in Richmond, Va. "The Michael-Ann Russell JCC offers me the opportunity to enhance an already thriving Community Center, especially as we get set to open our Feldenkreis Cultural Center with programs from high-quality gymnastics to more visual arts to a 200+ seat professional theater to the largest Israeli dance troupe outside of Israel," Alan stated.
A graduate of Yeshiva University with a MSW degree, he also holds a B.S. in Education from S.U.N.Y. at Brockport.
Alan originally hails from Staten Island, N.Y., but has lived in numerous places around the U.S. He and his wife, Susan have two children. Their daughter, Laura is the Program Director of the Tampa Bay (Fla.) Jewish Community Center, Aaron, their son, is a Rabbi in Macon, Ga. In Alan's downtime, he can be found cycling, doing yoga, and playing golf. Alan and Susan have one grandchild, Eliana.
About the Michael-Ann Russell Jewish Community Center
The Michael-Ann Russell Jewish Community Center/Sanford L. Ziff Campus is dedicated to the enrichment of Jewish life and fosters the emotional, physical, and intellectual development of its individual members through all of life's stages and circumstances. The MAR-JCC represents a model of acceptance, understanding and diversity. As such, people look at the MAR-JCC as a center of excellence that epitomizes how shared Jewish values support a vibrant and evolving constituency. The MAR-JCC is a beneficiary agency of the Greater Miami Jewish Federation and the United Way of Miami-Dade County, and a member of the Jewish Community Center Association of North America5) 932-4200 x189 MaryEllenB@marjcc
Join Aventura Turnberry Jewish Center Lifelong Learning Institute in a 5 part study of
The Book of Ruth - A Story of Love & Kindness with Rabbi Guido Cohen
All are welcome
Tuesday Evenings at 6:00 PM July 17th - August 14th In this Special 5-Week Series we will explore the Book of Ruth, which is characterized by hope, and optimism, describing Ruth's journey from sadness to happiness and from emptiness to fullness. Course Fee: Free to ATJC Members and $100 for Non-Members ( for entire series) RSVP: (305) 937-1880 or RSVP@atjc.org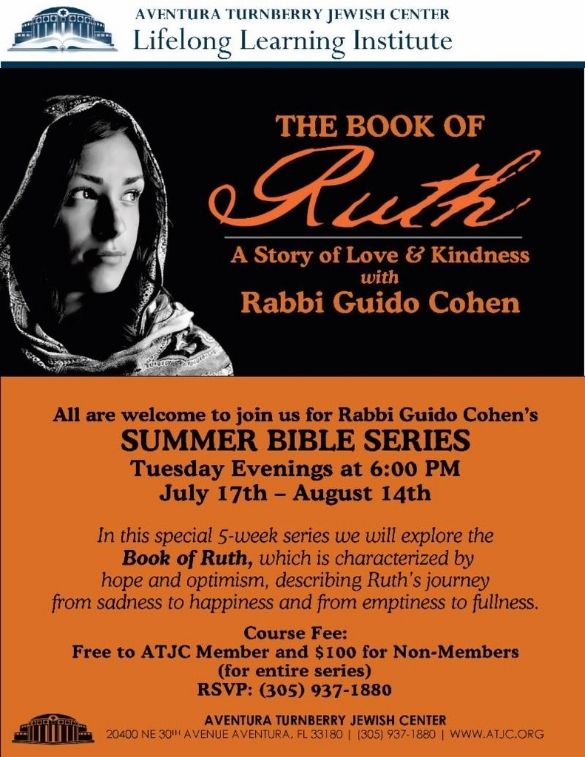 Go to our website for an up-to-date schedule of the full programming this week.
L'Chayim: Brooke Goldstein
Brooke Goldstein describes the way her film "The Making of a Martyr" documents how Palestinians abuse their children; and discusses why she created The Lawfare Project to fight antisemitism in courts of law around the world. Today (Sunday) - Noon & 6pm; Monday - 3pm
Series Premiere: Outspoken
Brooke Goldstein (Executive Director of The Lawfare Project, award-winning filmmaker, author) discusses going on the offense on campus with students Ryan Yazdi (Muslim Zionist), Rudy Rochman (SSI) & Adela Cojab (SSI); discusses legal strategies for students with Benjamin Ryberg (Lawfare Project); and gets advice from "Stormin' Norman" (Brooke's activist father). Thursday - 8pm & 1am; Friday - 2pm; Next Sunday - 8pm
Jewish Cinematheque: Avi Nesher
Israeli film producer, director, screenwriter and actor Avi Nesher discusses his family's history in the Holocaust; the success of his past films; and his upcoming film, Pilgrim, the second in a trilogy of films set in Jerusalem. With Eric Goldman. Thursday - 8:30pm & 1:30pm; Friday - 2:30pm; Next Sunday - 8:30pm
Political Legacy of Yigal Alon
Professor of politics Ehud "Udi" Manor (Oranim Acadenuc College, Israel) discusses his biography of former Israeli Foreign Affairs Minister Yigal Allon and explains how Allon's approach to a two-state solution can be relevant today. From the Taub Center for Israel Studies NYU. Monday - 8pm & 1am; Wednesday - 2pm; Thursday - 10pm; Saturday - 8pm & 1:30am
L'Chayim: "Spiral" - Charles Cohen
Charles Cohen (Cohen Media Group) discusses his new documentary film "Spiral" opening June 22nd in NYC and LA that probes the causes behind the resurgence of antisemitism in Europe, and addresses the claim that Israel is in some part responsible. Wednesday - 9pm & Midnight; Thursday - 3pm; Saturday - 6pm
Talmud: Don't Argue With Me
As the Jewish world reads Parashat "Korach" (Num 16), which describes the rebellion against Moses in the Wilderness, join Rabbi Mordechai Becher of Gateways for a lesson entitled, "Don't Argue With Me." On the JBS original series "Dimension of the Daf." Today (Sunday) - 9am; Tuesday - 9am & 4:30pm; Thursday - 7pm
Talk Books with Connie Martinson on a book about Anne Frank
For the anniversary of Anne Frank's birth (June 12, 1929), share Susan Goldman Rubin's discussion of her book "Searching For Anne Frank: Letters from Amsterdam to Iowa," about letters between Anne Frank and a girl in Iowa. Connie Martinson "Talk Books." Tuesday 7:30 pm; Wed 4:30 am; Thurs 1:30 pm
A Talk with Eva Schloss , Anne Frank's stepsister
**For the anniversary of Anne Frank's birth (June 12,1929), hear Eva Schloss, whose mother married Otto Frank after the war, describe her friendship with Anne and her own harrowing tale of survival
Posted by Edith Samers Vice President 203.536.6914 (cell phone) JBS Jewish Broadcasting Service, a 501c3 fulltime television channel
Mega Kids Shabbos Inviting all children (and parents!) to a Mega Kids Party! Celebrating all of those who have a birthday in the Hebrew month of Tammuz! Everyone is invited so please join us for Treats, Games, and Ice Cream!
Chabad Chayil 2601 NE 211th Ter. Miami, FL 33180 RSVP at www.ChabadChayil.org/3825418 Learn about your jewish birthday at http://www.chabadchayil.org/birthday
Mezuzah Checking Tuesday, June 19 Chabad Chayil, 2601 NE 211 Terrace, Miami, FL 33180
A certified scribe will be visiting the community checking Mezuzas & Tefillin. He will only be with us for a few hours, so his time is limited. To make sure you reserve a spot to have yours checked, please call ahead. He charges $9 per Mezuzah and $55 for Tefillin ($80 Gasos). Discounts & payment plans available to anyone that needs. Go to ChabadChayil.org/2675078 or call (305) 770-1919. The scribe will be at the Shul from 10:00 am. https://www.facebook.com/events/266516163892460/
We will be commemorating Juneteenth by bringing together friends for Cocktails with a Conscience. We'll discuss racial justice and learn from community members! This event is free and participants will receive a drink ticket for signing up!
What is Juneteenth? Juneteenth, also known as Juneteenth Independence Day or Freedom Day, is an American holiday that commemorates the June 19, 1865, announcement of the abolition of slavery in the U.S. state of Texas, and more generally the emancipation of enslaved African-Americans throughout the former Confederacy of the southern United States. Its name is a portmanteau of "June" and "nineteenth", the date of its celebration. Juneteenth is recognized as a state holiday or special day of observance in forty-five states.
The Greater Miami Jewish Federation has established an Emergency Relief Fund to assist those affected by the Fuego Volcano disaster in Guatemala. One hundred percent of all donations to this fund will provide critically needed humanitarian aid to disaster victims and their families.
We will continue to monitor the situation and assess its impact so that we can provide immediate assistance to those affected.
Donation checks with the notation of "Fuego Volcano Relief" can be mailed to the Greater Miami Jewish Federation, 4200 Biscayne Boulevard, Miami, FL 33137. For assistance, please call 305.576.4000, ext. 428.