It's Happening In Miami
Posts by jsmith
Posted by jsmith on 04/17/2023 @ 10:00 AM
CommUNITY for Israel
Yom HaZikaron Commemoration & Yom Ha'atzmaut Celebration
Tuesday, April 25, 2023 Hebrew Academy Miami 2400 Pine Tree Drive, Miami Beach, Florida 33140
Doors Open at 6:30 pm
Schedule: 6:45 pm - Special Ceremony/7:45 pm - Music, Fun, Fireworks and Delicious Food
Posted by jsmith on 05/02/2022 @ 09:29 AM
CommUNITY Event for Israel
Commemorate Yom HaZikaron & Celebrate Yom Ha'atzmaut
On Wednesday, May 4th will be Hebrew Academy's incredible Community for Israel event at Hebrew Academy Miami, 2400 Pine Tree Drive, Miami Beach. We have many exciting festivities planned including a meaningful program at 6:45 pm, music, face painting, delicious food for purchase and fireworks! Doors open at 5:30 pm and raffle tickets for The Warrior Auction for Education are available for purchase now through May 4th! Check out our amazing prizes today (app.galabid.com/thewarriorauction) and good luck. Please join us and bring your family members to celebrate Yom Ha'atzmaut with Hebrew Academy!
Posted by jsmith on 09/24/2019 @ 09:50 AM
Hebrew Academy 72nd Annual Light the Path Gala Sunday, November 17, 2019 | 19 Cheshvan 5780
NEW LOCATION Frost Science Museum 1101 Biscayne Blvd, Miami, FL 33132
Honoring: Jean and Marc Lehmann, Light the Path to Leadership Award
Dr. Ami Eskanos, Light the Path to Education Award
6:30 PM VIP Reception
7:00 PM Roaming Cocktail Dinner
8:30 PM Program
Couvert: General Admission $250 Young Alumni (30 and under) $118
RSVP or purchase Roll of Honor listings online at hebrewacademymiami.org/lightthepathgala
Event Committee Chairs: Nicole and Jordan Kavana, Rachel and Jonathan Laoui
Roaming Dinner Gala Committee: Johana and Jackie Abraham, Sharon and Michael Budwick, Riva and Chaim Cahane, Elissa and Ari Ciment, Meital and Nir Dahabash, Yael and John Delgado, Shena and Eli Dominitz, Chani and Mickey Ettelson, Rebecca Brock Farkas, Claudia and Errol Feldman, Sabrina and Ighal Goldfarb, Barbara and Mark Hershkowitz, Hillary and Judah Holland, Havi and Cantor Joshua Kunis, Chani and Shimon Laber, Tila and Moshe Levi, Fancy and Jimmy Saka, Esther and Moshe Schwab, Stephanie and David Schwartz, Dina and Ryan Shapiro, Dori and Joseph Shwirtz, Shoshanna Stein, Aliza and Eli Strohli, Faye and Emilio Suster, Debbie and Richard Waserstein, Sarit and Eyal Zohar
Posted by jsmith on 04/09/2019 @ 09:53 AM
Israel is turning 71! Join us for a Yom HaZikaron commemoration and a Yom Ha'atzmaut celebration!
Wednesday, May 8, 2019
Where? @ Hebrew Academy, 2400 Pine Tree Drive, Miami beach, FL 33140
Schedule of Events:
6:15 pm Jewish Organization Fair in breezeway
6:30 pm Mincha at Beth El
6:45 pm SHARP Ceremony in Auditorium
7:45 pm Ran Oz performance, food for sale, music, and dancing in the gym
FREE TO ATTEND
Please register at: http://bit.ly/HAcommUNITY2019
Modest Dress Requested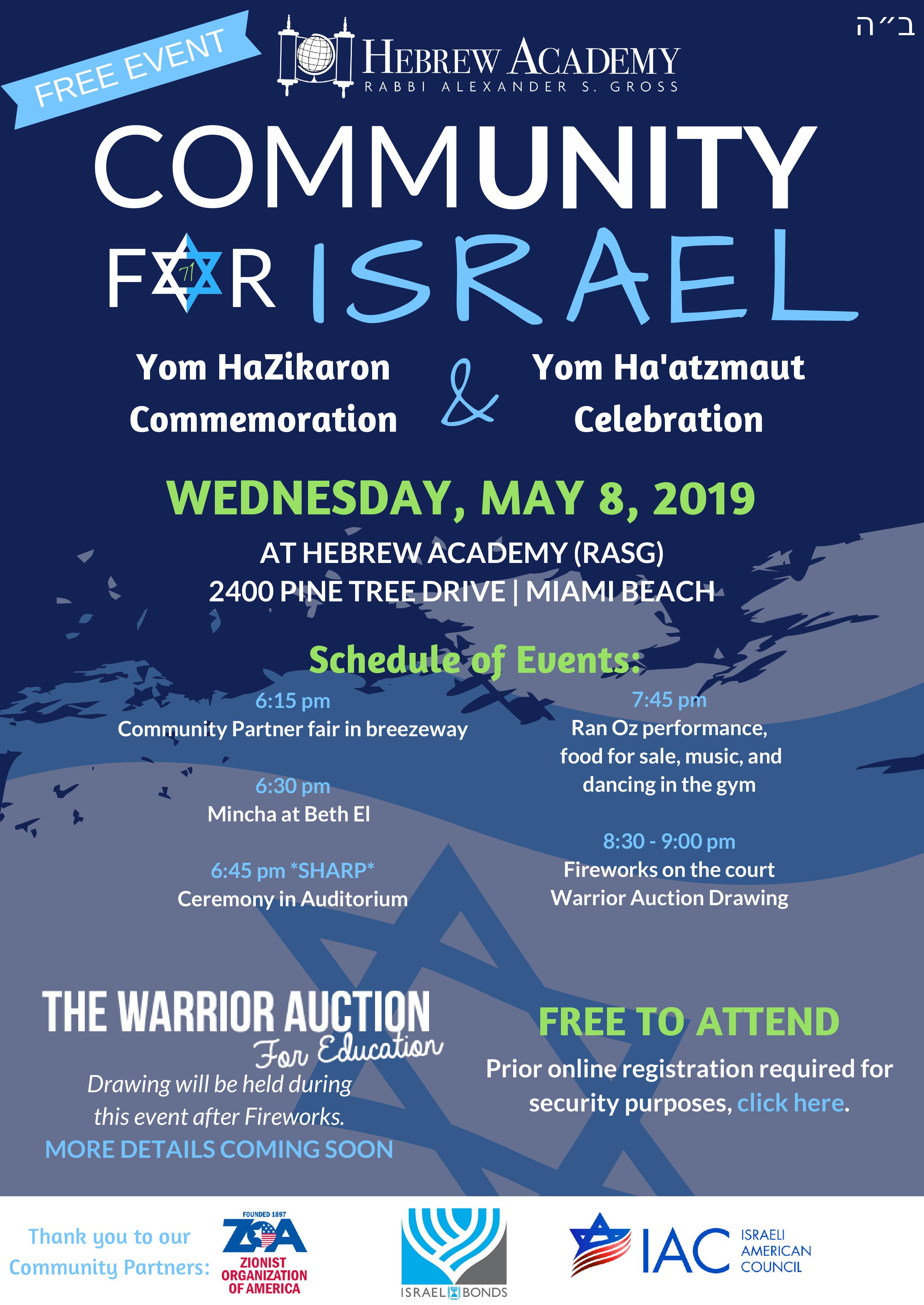 Posted by jsmith on 01/15/2019 @ 10:53 AM
Addressing Cyberbullying, Sexting, and Unwise Social Media Use: The Role of Parents with Dr. Sameer Hinduja
Learn how to manage your child's social media
Cyberbullying
Digital citizenship
...and more
Tuesday, February 19 @ 7:00 pm Hebrew Academy (RASG) 2400 Pine Tree Drive Miami Beach, Florida 33140
FREE
About Dr. Sameer Hinduja Dr. Sameer Hinduja is a Professor in the School of Criminology and Criminal Justice at Florida Atlantic University and Co-Director of the Cyberbullying Research Center. He is recognized internationally for his groundbreaking work on the subjects of cyberbullying and safe social media use, concerns that have paralleled the exponential growth in online communication by young people. He has written seven books, and his interdisciplinary research is widely published and cited in a number of peer-reviewed academic journals. As a noted speaker and expert on teens and social media use, Dr. Hinduja also trains students, educators, parents, mental health professionals, and other youth workers how to promote the positive use of technology.
Posted by jsmith on 01/02/2019 @ 08:54 AM
Parents with little ones who are not enrolled in school are invited to join us, and invite their friends, for ECE Open House. This Mommy and Me event will give you quality time with your child and provide you with information about what our ECE Program can offer your family.
ECE Open House for potential babies, toddlers and preschoolers, is on Tuesday, January 8, at 8:30 am at Hebrew Academy, 2400 Pine Tree Drive, Miami Beach, Florida 33140.
RSVP at 305-532-6421 ext.113 or at admission@rasg.org.