Posted by jsmith on 04/09/2019 @ 09:53 AM
Israel is turning 71! Join us for a Yom HaZikaron commemoration and a Yom Ha'atzmaut celebration!
Wednesday, May 8, 2019
Where? @ Hebrew Academy, 2400 Pine Tree Drive, Miami beach, FL 33140
Schedule of Events:
6:15 pm Jewish Organization Fair in breezeway
6:30 pm Mincha at Beth El
6:45 pm SHARP Ceremony in Auditorium
7:45 pm Ran Oz performance, food for sale, music, and dancing in the gym
FREE TO ATTEND
Please register at: http://bit.ly/HAcommUNITY2019
Modest Dress Requested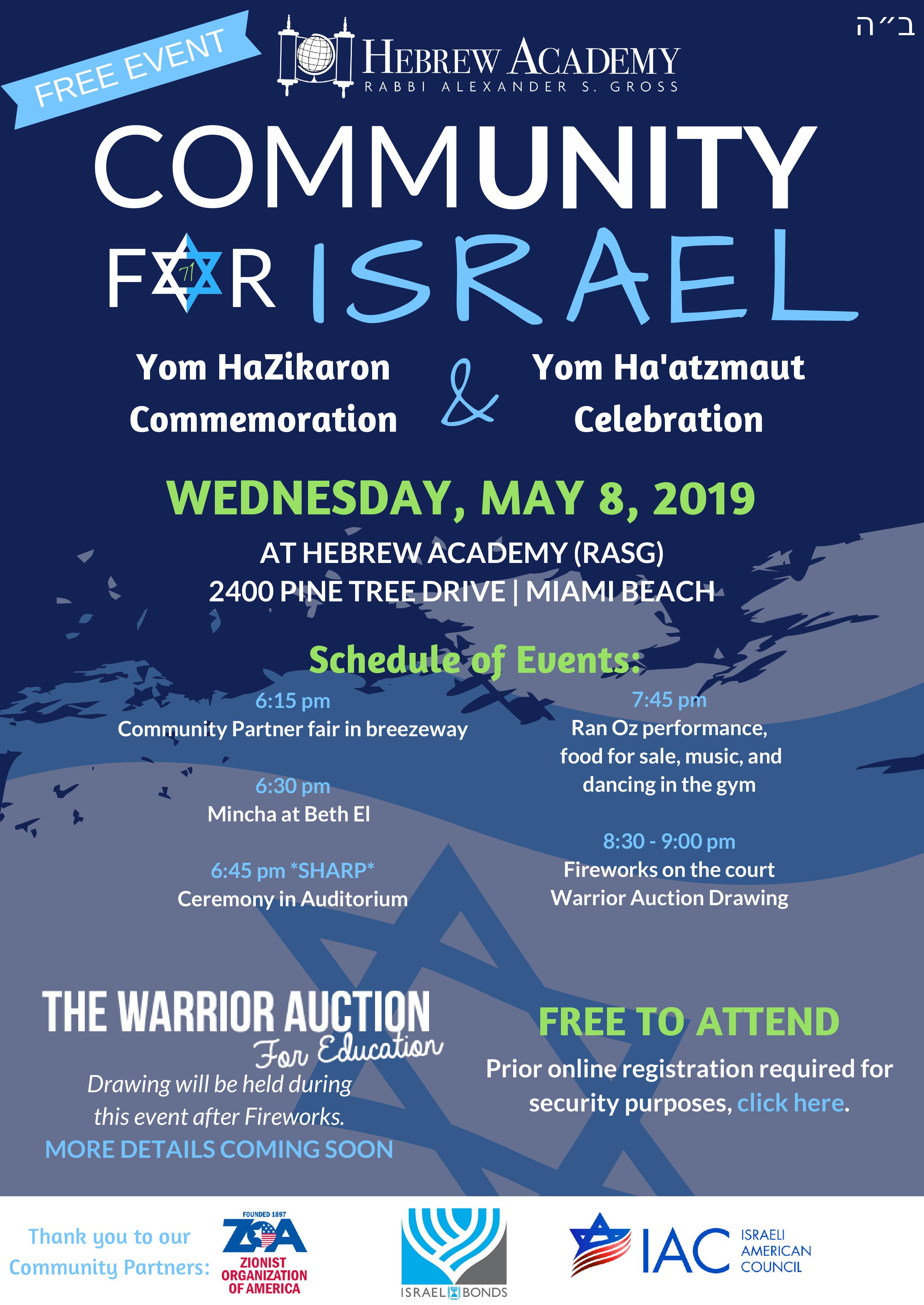 Posted by jsmith on 01/15/2019 @ 10:53 AM
Addressing Cyberbullying, Sexting, and Unwise Social Media Use: The Role of Parents with Dr. Sameer Hinduja
Learn how to manage your child's social media
Cyberbullying
Digital citizenship
...and more
Tuesday, February 19 @ 7:00 pm Hebrew Academy (RASG) 2400 Pine Tree Drive Miami Beach, Florida 33140
FREE
About Dr. Sameer Hinduja Dr. Sameer Hinduja is a Professor in the School of Criminology and Criminal Justice at Florida Atlantic University and Co-Director of the Cyberbullying Research Center. He is recognized internationally for his groundbreaking work on the subjects of cyberbullying and safe social media use, concerns that have paralleled the exponential growth in online communication by young people. He has written seven books, and his interdisciplinary research is widely published and cited in a number of peer-reviewed academic journals. As a noted speaker and expert on teens and social media use, Dr. Hinduja also trains students, educators, parents, mental health professionals, and other youth workers how to promote the positive use of technology.
Posted by jsmith on 01/02/2019 @ 08:54 AM
Parents with little ones who are not enrolled in school are invited to join us, and invite their friends, for ECE Open House. This Mommy and Me event will give you quality time with your child and provide you with information about what our ECE Program can offer your family.
ECE Open House for potential babies, toddlers and preschoolers, is on Tuesday, January 8, at 8:30 am at Hebrew Academy, 2400 Pine Tree Drive, Miami Beach, Florida 33140.
RSVP at 305-532-6421 ext.113 or at admission@rasg.org.
Posted by jsmith on 09/01/2017 @ 09:37 AM
Join us for our PTSA Holiday Spectacular on Sunday, September 17 at 10:00 am at the Hebrew Academy (RASG), 2400 Pine Tree Drive Miami Beach, Florida 33140.
There will be fun for the whole family!
Activities: Wind Chimes Edible Sukkah & Kotel Sand Art Place Mats Velvet Posters Bottle Cap Necklaces Chihuly Inspired Projects ....and more
Food: Popcorn Cotton Candy Make your own Ice Cream Sundae Snow Cones Smoothies Fruit Kabobs
Fun: Game Trucks Krav Maga Bounce Houses Open Gym Puppet Show Music with Mr. Shlomik Story Time
FREE TO ATTEND
*in place of the annual Sukkot Spectacular
For more information, click here: https://www.hebrewacademymiami.org/files/1515/0366/6657/Holiday_Spectacular_v7-1.png