A Musical Showcase
When:
June 2, 2022 7:30 PM to 8:30 PM
Where:
Beth Moshe Congregation
2225 NE 121 St
North Miami, FL 33181
Organizer:
Lior Friedman
Contact:
Lior Friedman at lior@bethmoshe.com ((305) 891-5508)
Summary:
A Musical Showcase presented by the South Florida Jewish Community Choir. A gift of gratitude to the community. Dr. Alan Mason, director.
Event Details
Description
A Musical Showcase presented by the South Florida Jewish Community Choir. A gift of gratitude to the community.
http://www.bethmoshe.com
A free/ free admission event
Address
Beth Moshe Congregation
2225 NE 121 St
North Miami, FL 33181
Directions
Get detailed directions and more on Google Maps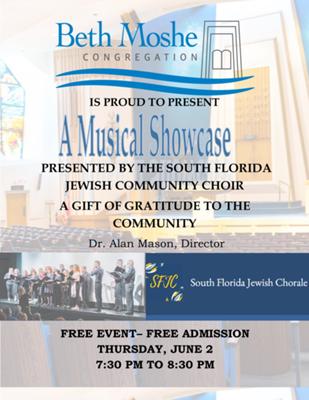 Actions
2022-06-02 19:30:00 2022-06-02 20:30:00 America/New_York A Musical Showcase A Musical Showcase presented by the South Florida Jewish Community Choir. A gift of gratitude to the community. Dr. Alan Mason, director. (http://jewishmiami.org/events/a_musical_showcase) Beth Moshe Congregation, North Miami, FL 33181 Lior Friedman lior@bethmoshe.com