A Service for Wellbeing
When:
June 14, 2022 6:30 PM to 7:30 PM
Where:
Kodesh House
FL
Contact:
rabbi Marc Philippe at rabbimarc@kodeshhouse.org ((305) 409-2611)
Cost:
free
Summary:
A session of sacred music for wellbeing and healing.
Event Details
Description
Kodesh House organizes - amongst other things- sessions for wellbeing, healing and connection. In this session, we will play Jewish sacred music, sing and pray together. We will tap into the energy of the weekly Torah portion and manifest beautiful things with guided Kabbalistic meditations.
Welcome!
Directions
Contact rabbimarc@kodeshhouse.org for directions. Thank you!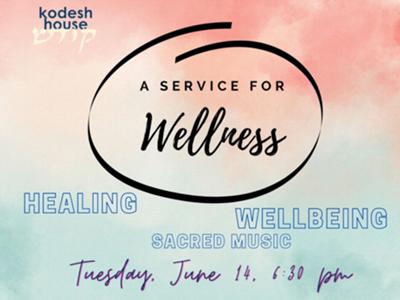 Actions
2022-06-14 18:30:00 2022-06-14 19:30:00 America/New_York A Service for Wellbeing A session of sacred music for wellbeing and healing. (http://jewishmiami.org/events/a_service_for_wellbeing) Kodesh HousePlease refer to event page rabbimarc@kodeshhouse.org