Israel's 74th Independence Day Event
When:
May 5, 2022 4:30 PM to 8:30 PM
Where:
Michael-Ann Russell JCC
18900 NE 25th Ave
North Miami, FL 33180
Organizer:
Grecia Saavedra
Contact:
Dror Gershoni at drorg@marjcc.org
Cost:
Free
Summary:
Celebrate Israel's 74th Independence Day on May 5 at 4:30 p.m. – 8:30 p.m. at the Michael-Ann Russell Jewish Community Center. Enjoy complimentary admission for the whole family.
Event Details
Description
Activities include: carnival attractions, laser light show, drum circle, interactive activity stations, Make-It/Take-It Art Corner, Israeli Artists Exhibition, and Glatt Kosher Food Court.

Children's entertainers Hanny Hahmias & Gili Ba Levaker will perform a kid's show. The Kulna musicians from Yerucham will perform live Israeli music. The Re-Vital Dance Company from Petach Tivkva, who compromise of 20 dancers, will dance to music pieces that honor the history and stories of Israel.
Address
Michael-Ann Russell JCC
18900 NE 25th Ave
North Miami, FL 33180
Directions
Get detailed directions and more on Google Maps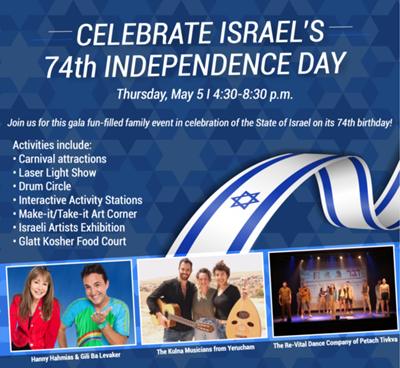 Actions
2022-05-05 16:30:00 2022-05-05 20:30:00 America/New_York Israel's 74th Independence Day Event Celebrate Israel's 74th Independence Day on May 5 at 4:30 p.m. – 8:30 p.m. at the Michael-Ann Russell Jewish Community Center. Enjoy complimentary admission for the whole family. (http://jewishmiami.org/events/israels_74th_independence_day_event) Michael-Ann Russell JCC, North Miami, FL 33180 Grecia Saavedra drorg@marjcc.org