Dr. Michael Berenbaum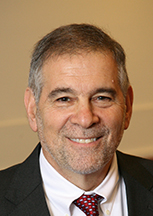 Michael Berenbaum is a writer, lecturer, and teacher consulting in the conceptual development of museums and the development of historical films. He is director of the Sigi Ziering Institute: Exploring the Ethical and Religious Implications of the Holocaust at the American Jewish University (formerly the University of Judaism) where he is also a Professor of Jewish Studies. In the past he has served as the Weinstein Gold Distinguished Visiting Professor at Chapman University, the Podlich Distinguished Visitor at Claremont-McKenna College, the Ida E. King Distinguished Professor of Holocaust Studies at Richard Stockton College for 1999–2000 and the Strassler Family Distinguished Visiting Professor of Holocaust Studies at Clark University in 2000.

He was the Executive Editor of the Second Edition of the Encyclopaedia Judaica that reworked, transformed, improved, broadened and deepened, the now classic 1972 work and consists of 22 volumes, sixteen million words with 25,000 individual contributions to Jewish knowledge. The EJ won the prestigious Dartmouth Medal of the American Library Association for the Outstanding Reference Work of 2006.

For the three years, he was President and Chief Executive Officer of the Survivors of the Shoah Visual History Foundation. He was the Director of the United States Holocaust Research Institute at the U.S. Holocaust Memorial Museum and the Hymen Goldman Adjunct Professor of Theology at Georgetown University in Washington, D.C. From 1988–93 he served as Project Director of the United States Holocaust Memorial Museum, overseeing its creation. He also served as Director of the Jewish Community Council of Greater Washington, Opinion‑Page Editor of the Washington Jewish Week and Deputy Director of the President's Commission on the Holocaust where he authored its Report to the President. He has previously taught at Wesleyan University, Yale University and has served as a visiting professor at three of the major Washington area universities — George Washington University, The University of Maryland, and American University.

Berenbaum is the author and editor of twenty books, scores of scholarly articles, and hundreds of journalistic pieces. Of his book, After Tragedy and Triumph, Raul Hilberg said, "All those who want to read only one book about the condition of Jewry in 1990 would do well to choose Michael Berenbaum… In his description of contemporary Jewish thought, he sacrifices neither complexity nor lucidity." Charles Silberman praised The World Must Know as "a majestic and profoundly moving history of the Holocaust…It is must reading for anyone who would like to be human in the post‑Holocaust world." The Village Voice praised Anatomy of the Auschwitz Death Camp with, "The scholarship, broad and deep, makes this the definitive book on one of our century's defining horrors."