Nov 15, 2023
The March for Israel: The Largest Pro-Israel Gathering in US History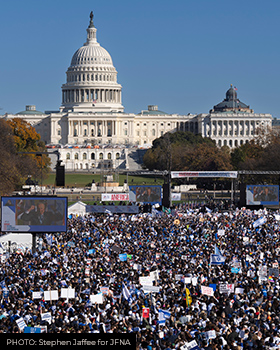 More than 290,000 ardent supporters from across the country — including 1,100 from Miami — rallied at the March for Israel on Tuesday in Washington, D.C. at what proved to be the largest pro-Israel gathering in US history. "Be There, Be Heard," proclaimed march organizers the Jewish Federations of North America and the Conference of Presidents of Major American Jewish Organizations, who initiated the event as "an opportunity for all Americans to come together in solidarity with the people of Israel to demonstrate our commitment to America's most important ally" in the region. The focus was combatting antisemitism, eradicating global terrorism, supporting those fighting and those impacted by the war in Israel and demanding that Hamas immediately and unconditionally release all 240 hostages held in Gaza. The record-breaking turnout was supplemented by 250,000 livestream viewers.
The program began with a preshow dedicated to Jewish youth and young adults that mixed speeches, music and spoken word performances by student advocates and performers. At 1 p.m., a succession of Jewish and Israeli luminaries and government officials took the stage and, for almost three and a half hours, engaged the sea of Jews and allies flooding the breadth of the National Mall with impassioned words and songs.
Performances by Israeli singers Omer Adam, the Maccabeats and Ishay Ribo thrilled the crowd, as did a surprise appearance by reggae rock artist Matisyahu who led everyone onstage and off in his mega hit One Day.
Throughout the afternoon, chants of "Bring them home now!" erupted from the audience. Onstage, actress Debra Messing requested a moment of silence for those kidnapped and relatives of hostages held by Hamas shared their agony and their resolve to see their loved ones again. Among them, Alana Zeitchik recounted the harrowing abduction of six of her cousins and the mother of hostage Omer Neutra, an American lone soldier, lamented that her son celebrated his 22nd birthday as a captive in Gaza.
Speaking on behalf of the Biden administration, US Special Envoy to Combat and Monitor Antisemitism Debra Lipstadt asserted, "[Antisemitism] is a direct danger to our democracy and we, the United States government will fight it, full stop." Israeli President Isaac Herzog, delivered his message from the Kotel in Jerusalem, he said, "to remind us that AmYisrael, the people of Israel, are eternal and no one will break us." Nonpartisan unity for Israel was evident as Senate Majority Leader Chuck Schumer and Democratic Leader Hakeem Jeffries took the stage with Speaker of the House Mike Johnson and Senator Joni Ernst.
Other speakers included Natan Sharansky, former Soviet dissident; CNN political commentator Van Jones, Pastor John Hagee, Cornerstone Church founder and senior pastor; Dr. Rochelle Ford, President of Dillard University and Anila Ali, women's rights activist. In addition, there were more than 100 members of Congress in attendance and several ambassadors, including Gilad Urdan of Israel.
The March for Israel began with actress Tovah Feldshuh declaring, "We stand here together as the yahrzeit candles for over 1,400 slaughtered … because they were Jews" — candles transformed into "one supernova of light and hope." And it ended with seemingly every soul present reciting the daily prayer of thanks, Modeh Ani, in one irrepressible, unified voice of faith in today for a better tomorrow.
Click here to view photos from the March for Israel.

Click here to watch a recording of the March.