Miami Diller Teens Return From Memorable Trip to Israel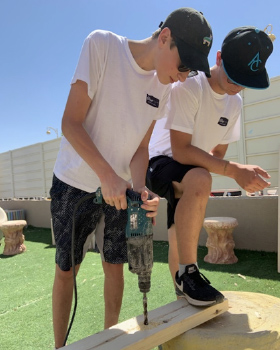 Twenty Miami Diller Teen Fellows recently returned from a transformative experience in Israel. The group traveled from the Kineret and the Upper Galilee in the North to Yerucham and Ein Gedi in the South. The teens met and collaborated with Diller Fellows from all over the world, including those from Federation partner city Yerucham, where the two groups spent a week together — building relationships, exploring the country and participating in tikkun olam projects.
A highlight of the experience included the Annual Global Congress, which hosted the teens from all 32 Diller communities across six continents for several days of programming. The fellows heard from Jewish leaders in different fields, learned about leadership opportunities in the worldwide Jewish community and enjoyed group activities that fostered collaboration and teamwork, including obstacle courses and scavenger hunts. The three-week trip to Israel gave the teen leaders a strong connection to their spiritual homeland and the understanding that they are part of a global Jewish network.
"The Israel Summer Seminar was an amazing and unique experience where I was able to connect with different Jewish teens from around the world and explore the beautiful state of Israel with my new Diller family," said participant Samuel Levy.
The international, immersive Jewish leadership program seeks extraordinary teen leaders to apply in the spring of each year. Diller Teen Fellows is operated in Miami by the Center for the Advancement of Jewish Education (CAJE), a Federation subsidiary agency. For more information about the program, click here.