Nov 6, 2023
Displaced Israeli Students Continue Learning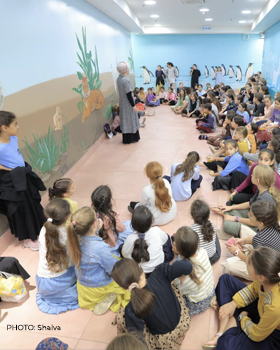 Thousands of school-age evacuees from Israel's southern communities, whose education has come to a halt due to the war, are attending makeshift schools in the hotels where their families are now residing. Approximately 6,500 Israelis, who fled their homes after the October 7 terror attacks, are currently living in Dead-Sea-area hotels. This includes 2,500 children — preschoolers through 12th graders — in need of classroom studies and the normalcy of routine they provide. In response, Greater Miami Jewish Federation partner the American Jewish Joint Distribution Committee (JDC) created education centers in each hotel, in some cases even utilizing tents as classrooms.
"We brought principals from all over Israel and started working with the Ministry of Education to build an educational system," said Tomer Oshry, Program Director of JDC's Dead Sea Area Emergency Education Initiatives. "Now, in each and every hotel, we have a school and that's helped a lot. … Thank you to all those people that help bring a little bit of light in this period of darkness."
JDC Video Producer Alex Weisler, an American, arrived in Israel to document the emergency education initiative. "What we're doing at JDC is trying to provide some measure of continuity, of stability," said Weisler. Walking into the makeshift schools in tents filled with books and toys and brightly colored drawings, his initial response — "These are tents that I'd be happy to send my four-year-old to" — was quickly reconsidered when he remembered why the tents were there and the tremendous trauma these children and their parents have lived through. In one instance, he was told, "Be quiet as you walk into this kindergarten, there's a shiva happening right over there, on a few couches in the lobby."
Of the omnipresent grief and pain, noted Weisler, "You anchor yourself in the resilience and the response and you move forward. Our job at JDC is to walk with these communities, to partner with them, to listen to them and to extend a helping hand."
This critical education initiative is made possible with your generous support of Miami's Israel Emergency Fund (IEF), which has raised more than $25 million since the war began as part of the $600-million-plus historical response by the Jewish Federations of North America. Click here to learn more about the IEF and to make a secure donation.