Sep 25, 2022
Base Miami Starts Jewish Learning Experience For Interfaith Couples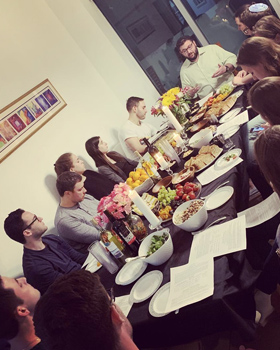 Greater Miami Jewish Federation subsidiary Base Miami has been chosen as the pilot partner for Embark, a project of The Jewish Federations of North America (JFNA) created in an effort to help interfaith couples discover the beauty of Judaism together. The program, which has already enrolled 10 participating couples in Miami, brings the group together to study the tenets of Judaism and works to create a sense of community and a foundation for Jewish learning upon which participants can build their lives and raise their children.
According to the website ejewishphilanthropy.com, more than 70 percent of non-Orthodox American Jews intermarry, creating a sizeable demographic that lacks Jewish experiences and products tailored specifically to them. Embark is intended to help fill that gap. Director of Base Miami Rabbi Adam Gindea said, "Our goals are to forge deep personal connections to Jewish heritage and values, while building and fostering meaningful shared experiences that will connect each cohort to the Jewish community."
Miami was a natural choice for Embark's pilot community since Base Miami was already involved in a number of initiatives targeting intermarried couples and those who didn't have an easy access point into Jewish communal spaces. One of those programs is Honeymoon Israel, which brings interfaith couples married less than five years to Israel for immersive Jewish experiences and provides follow-up educational activities upon their return.
Director of Base Miami Rabbi Adam Gindea shared that Embark will offer two meetings per month, in addition to opportunities to join other events organized by Base Miami and Federation's Young Leadership Division. Interfaith couples interested in joining the program's first cohort may contact Rabbi Gindea at RabbiAdam@gmjf.org.
Founded in 2017, Base Miami is aimed at attracting the involvement of young Jewish adults living in the downtown Miami corridor. Base Miami is committed to pluralism and is founded on the values of hospitality, learning and service.